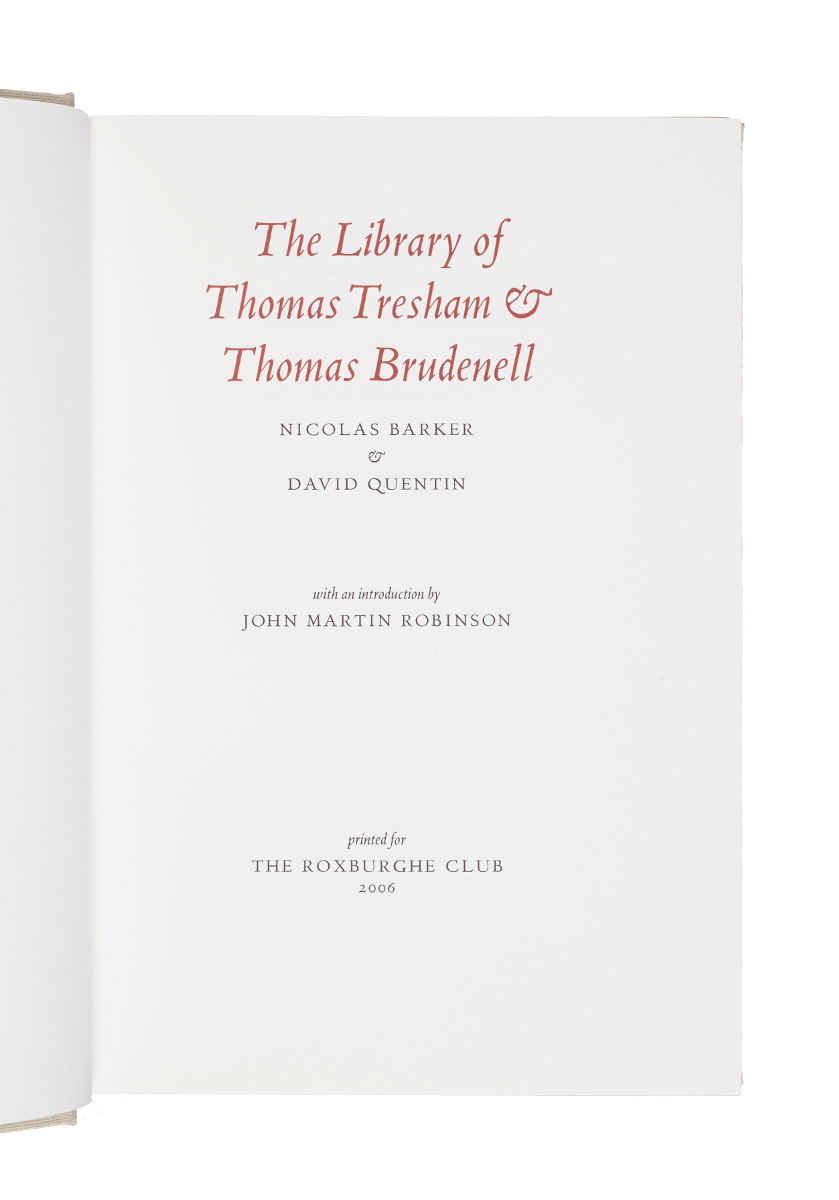 BARKER, Nicolas, and David QUENTIN.
The Library of Thomas Tresham and Thomas Brudenell. With an introduction by John Martin Robinson.
The Roxburghe Club, 2006.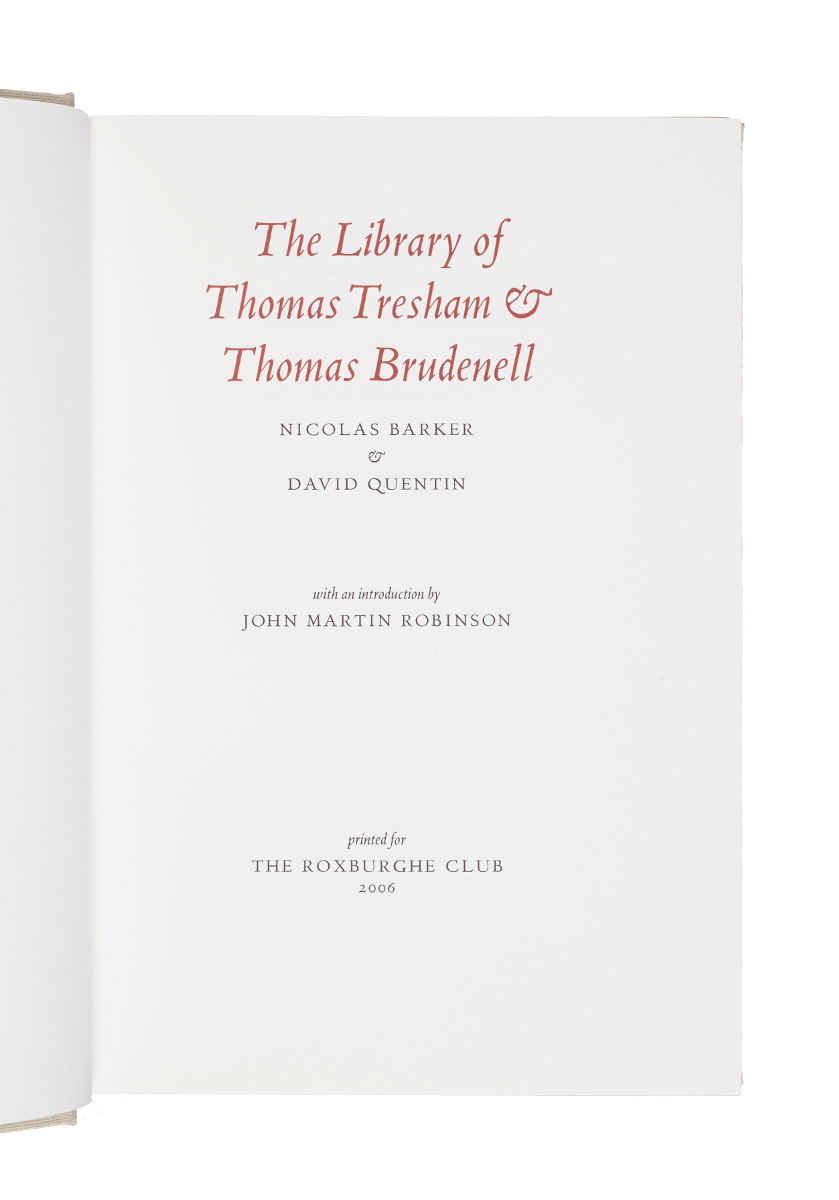 Added to your basket:
The Library of Thomas Tresham and Thomas Brudenell. With an introduction by John Martin Robinson.
Sir Thomas Tresham (1543–1605) remains best-known for his buildings, especially the market house at Rothwell, the Triangular Lodge at Rushton and Lyveden New Bield. His library, one of the largest in England of its time, has hitherto attracted comparatively little interest. Now, as a result of a careful examination of both the portion of the library which has been preserved at Deene Park in Northamptonshire by the descendants of Tresham's son-in-law, Thomas Brudenell, and of a manuscript inventory of the original library, Nicolas Barker and David Quentin have provided a detailed picture of the library and the circumstances of its creation.  The catalogue of nearly 2,000 works shows that Tresham owned the latest works on architecture, mathematics, astronomy and science, Catholic theology and devotion, with a wide range of works on history and literature. John Martin Robinson's introduction gives much information on Tresham's family and his patronage of architecture.
You may also be interested in...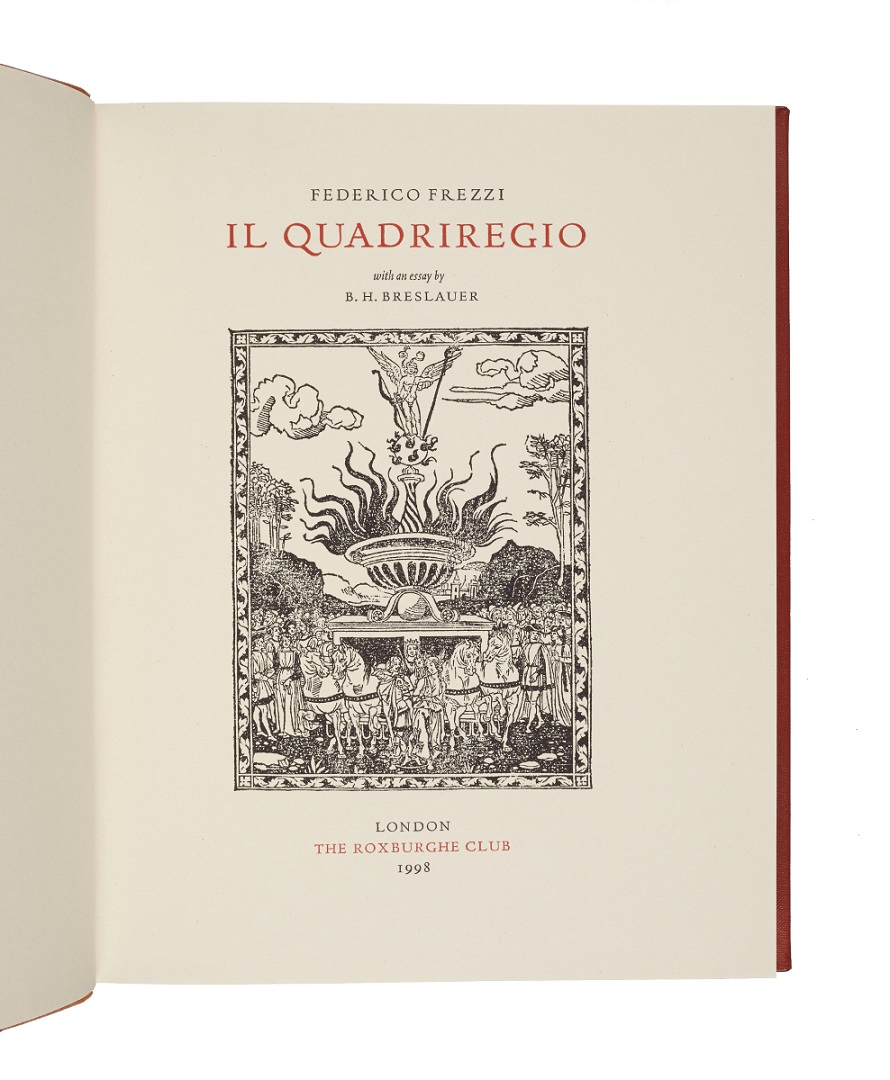 FREZZI, Federico.
Il Quadriregio. With an essay by B.H. Breslauer. Facsimile based on the edition printed in Florence in 1508.
This is the first facsimile reproduction of one of the greatest Florentine illustrated books of the Renaissance – Il Quadriregio is to Florentine book illustration what the Hypnerotomachia Poliphili is to Venetian. The only surviving work of Federico Frezzi (c. 1350–1416), bishop of Foligno, the text is an allegorical poem in the vernacular, describing a journey through four regions: Love, Satan, Vice, and Virtue. The Earl of Crawford's copy, one of only two remaining in private hands, is reproduced here in its entirety. The prefatory essay, by Bernard Breslauer, not only treats the book, its remarkable publisher Piero Pacini, and its place in the history of Florentine book illustration, but considers how it has been assessed by the critics and art historians of the last hundred years.
SMITH, Alan G.R., ed. with an introduction by.
The Last Years of Mary Queen of Scots. Documents from the Cecil Papers at Hatfield House.
This volume draws on the great collection of Cecil Papers at Hatfield House to present, in a sequence of some forty selected documents, a startlingly immediate narrative of the intrigue and drama that inform the last act of the Scots Queen's tragedy.  The documents have been edited by Dr Alan G. R. Smith of Glasgow University, who has contributed a substantial and informative introduction to the volume. Further interest is added by the inclusion of 'An Epitaph upon the death of … Marie' (1604), reproduced from the unique copy at Hatfield and accompanied by an authoritative note by Dr David Rogers.