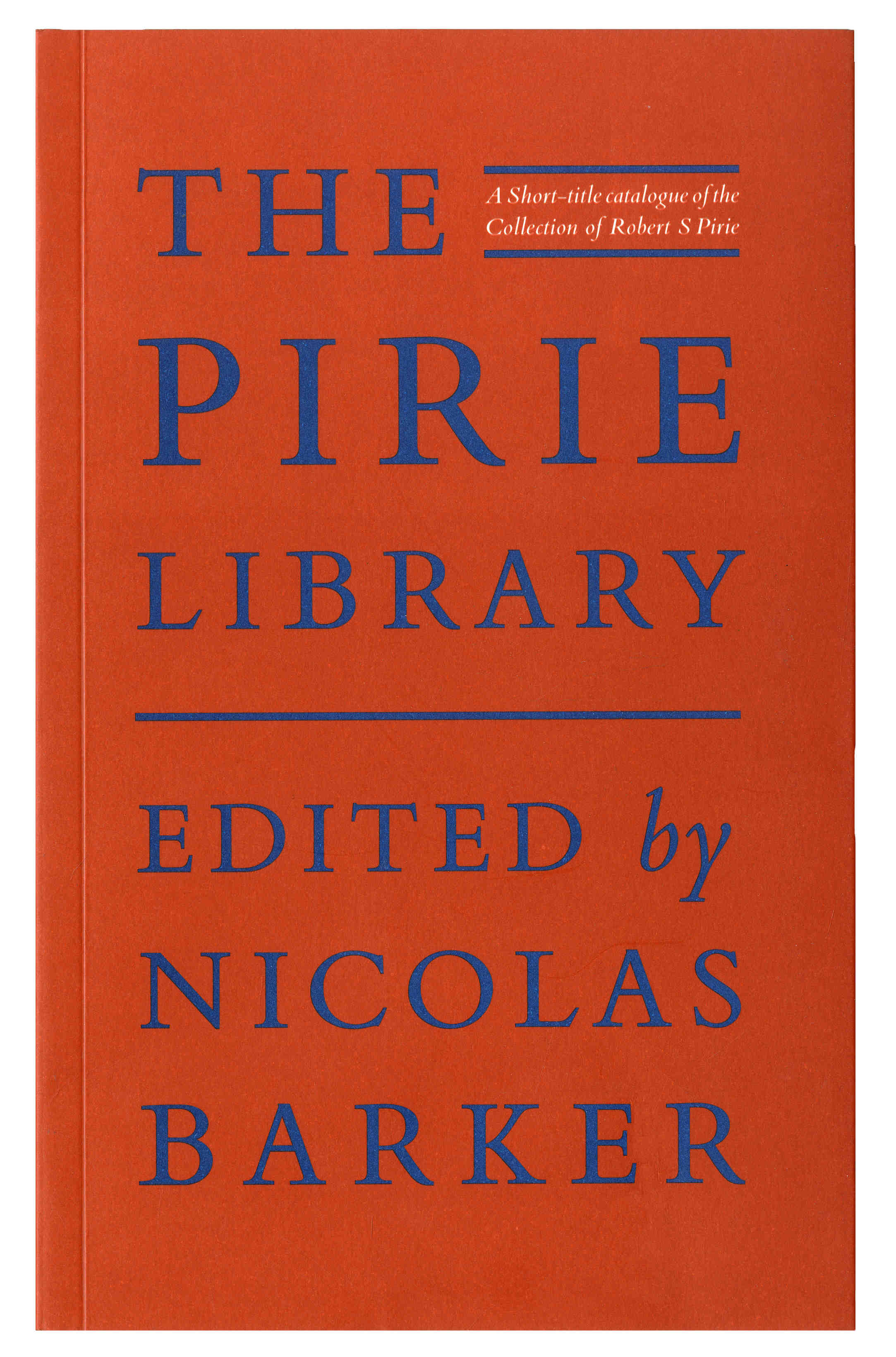 BARKER, Nicolas, ed.
The Pirie Library. A Short-Title Catalogue of the Collection of Robert S Pirie.
London, Bernard Quaritch Ltd, 2019.
8vo (222 x 140 mm), pp. 96; bound in orange stiff card wrappers.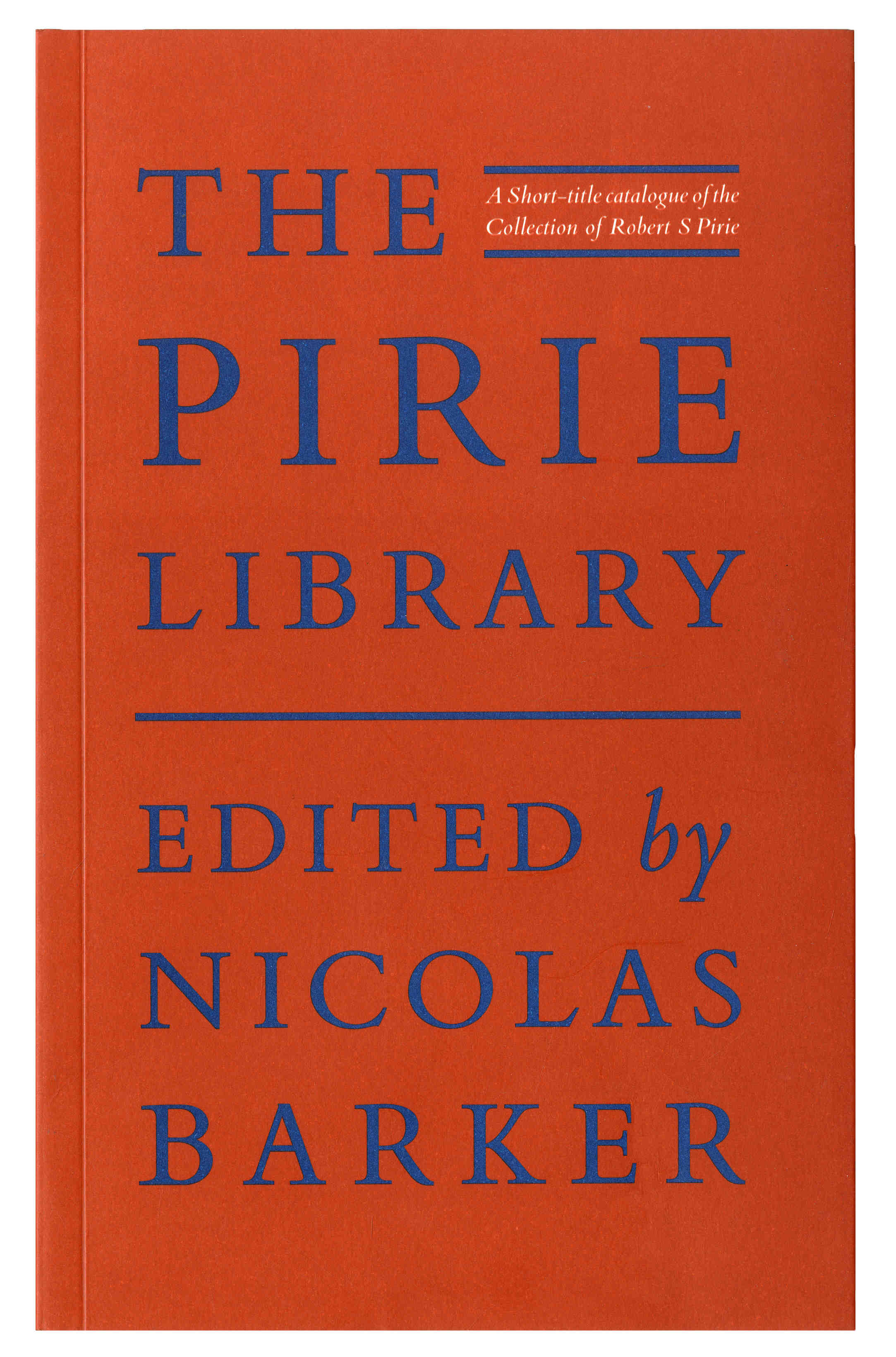 Added to your basket:
The Pirie Library. A Short-Title Catalogue of the Collection of Robert S Pirie.
The library of Robert S Pirie, 'one of the finest private libraries of English literature, not just of our time but of all time' (James Stourton), was sold at Sotheby's New York on 2-4 December 2015. This account is based on Sotheby's catalogue of the sale, and augmented by Mr Pirie's acquisition cards and information supplied by Irene Adams. It contains indexes of provenances, sources, bindings, armorials and devices, & a list of prices, along with a preface and memoir by Nicolas Barker, and recollections by Nicholas Poole-Wilson.

ISBN 978-0-9955192-2-0

You may also be interested in...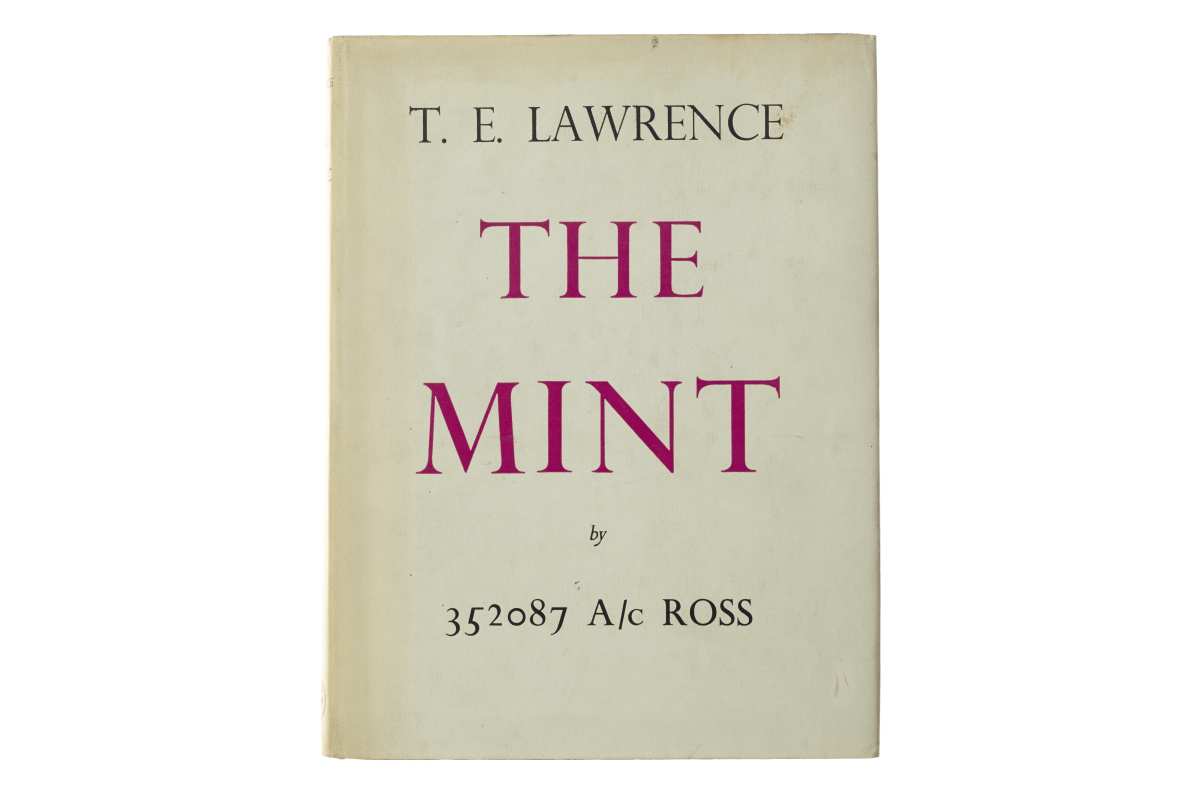 LAWRENCE, Thomas Edward.
The Mint. A Day-Book of the R.A.F. Depot between August and December 1922 with Later Notes, by 352087 A/c Ross. Edited by A.W. Lawrence.
First British edition, the trade issue. 'One of Lawrence's avowed purposes in joining the RAF, though not the only one, was to write of the ranks from the inside. He began immediately making notes when he enlisted in 1922. With his dismissal in January 1923, because of unfavourable publicity, the project was set aside, not to be taken up again until he was posted to India in 1927 [...] While in India he edited the text of his earlier notes and began revisions. In March 1928 he sent a clean copy of the revised text to Edward Garnett. Garnett had copies typed which were circulated to a small circle, among them Air Marshal Trenchard [...] Trenchard's concerned response led Lawrence to guarantee that it would not be published at least until 1950. Later revisions were made by Lawrence in the last months of his life with a possible view to publication in a private edition on a handpress' (O'Brien, pp. 119-120). Although an American edition was printed in 1936 to forestall a possible piracy, the present edition was printed from a later, revised version of the text and the type was set up by Cape in 1948. However, publication was delayed until 1955, when an officer described unfavourably by Lawrence died. The British edition appeared in two issues: the limited issue and the present trade issue 'which had all objectionable words lifted out of the text, leaving blank spaces' (loc. cit.).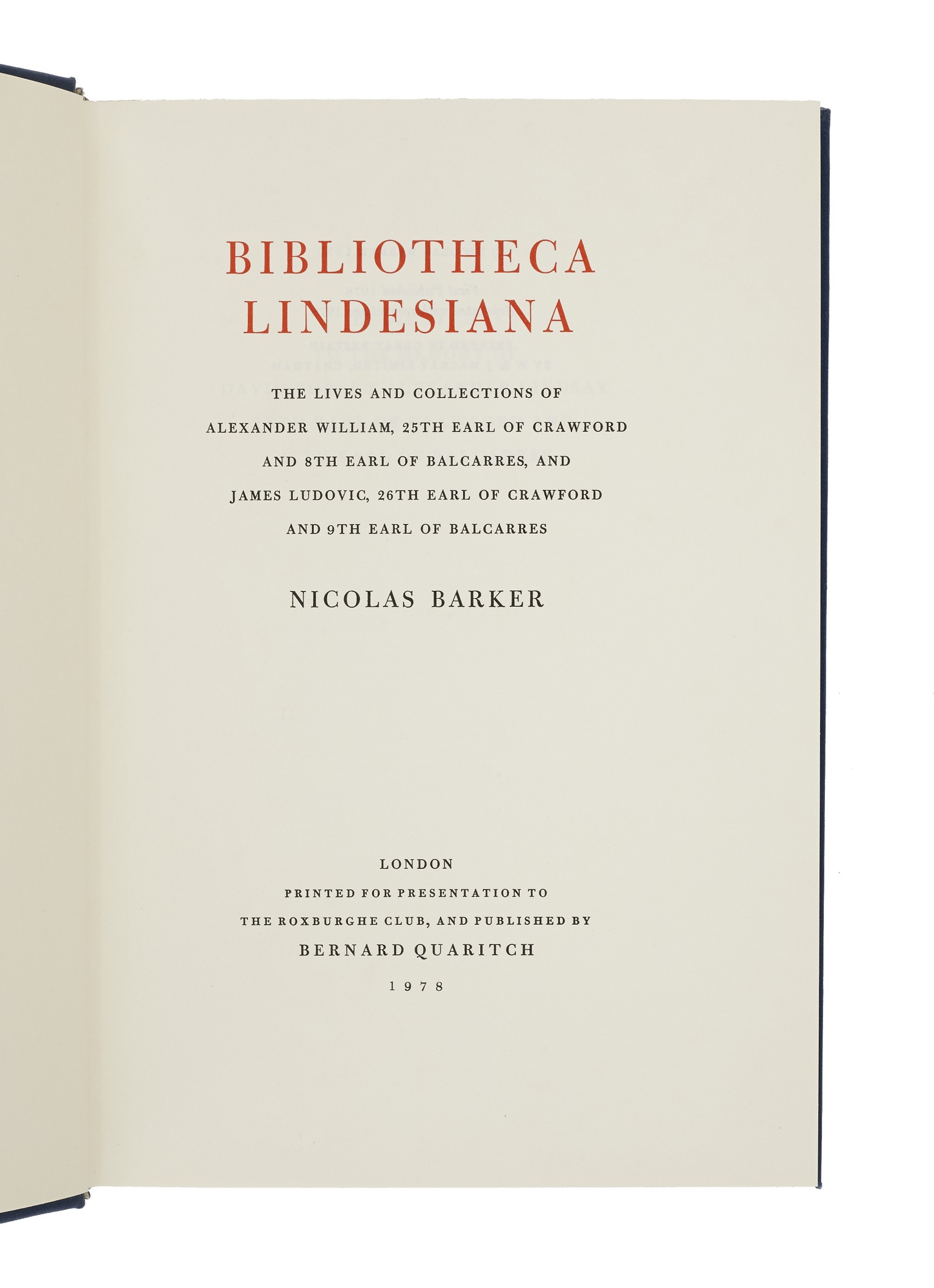 BARKER, Nicolas.
Bibliotheca Lindesiana. The Lives and Collections of Alexander William, 25th Earl of Crawford and 8th Earl of Balcarres, and James Ludovic, 26th Earl of Crawford and 9th Earl of Balcarres.
The Bibliotheca Lindesiana was perhaps the finest private library assembled in the nineteenth century. Nicolas Barker considers the library's purpose and traces the circumstances of its formation in detail, in the process adding considerably to the biographies of the 25th and 26th Earls of Crawford, two highly significant figures in the history of collecting.