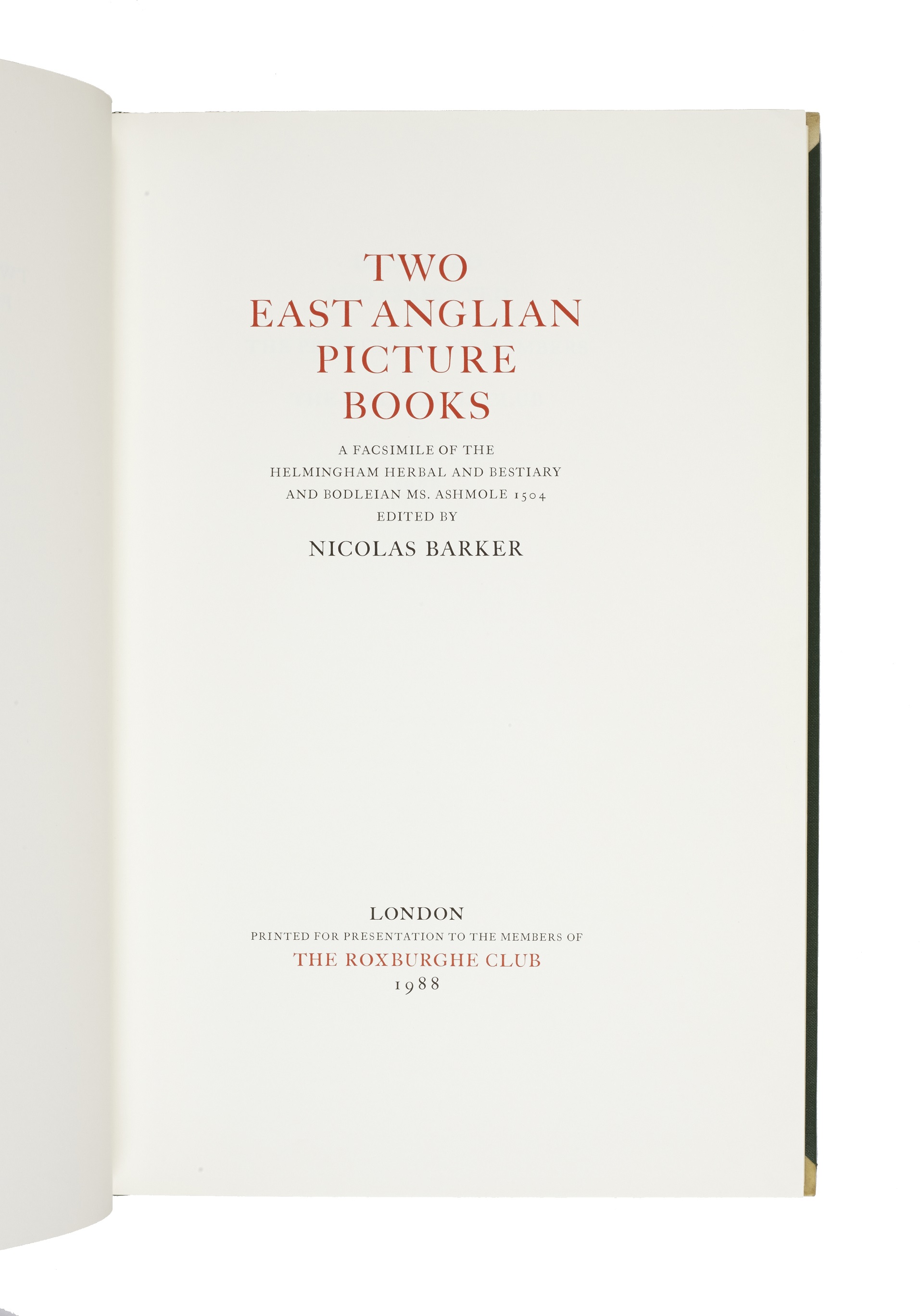 BARKER, Nicolas, ed.
Two East Anglian Picture Books. A facsimile of the Helmingham Herbal and Bestiary and Bodleian MS. Ashmole 1504.
The Roxburghe Club, 1988.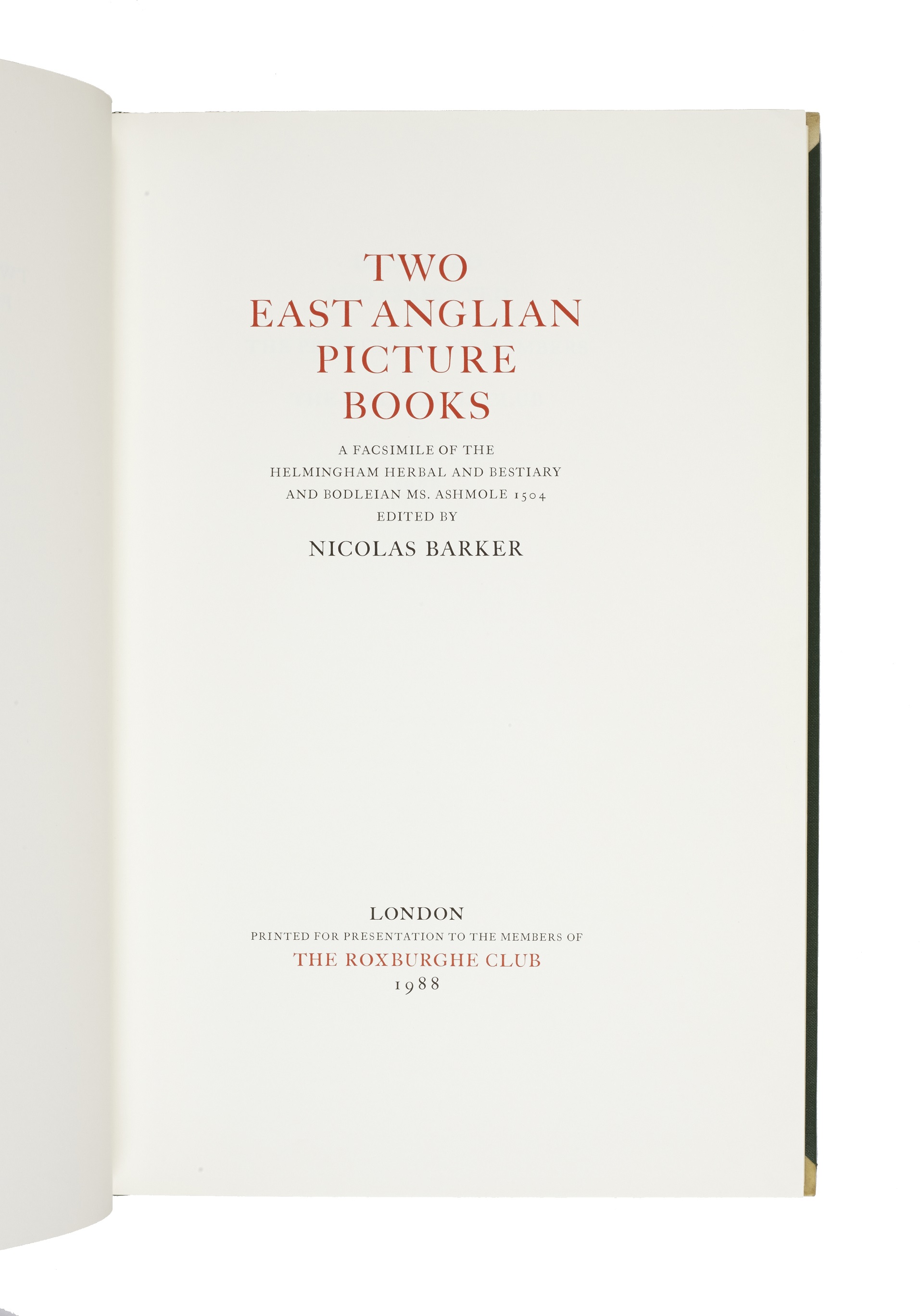 Added to your basket:
Two East Anglian Picture Books. A facsimile of the Helmingham Herbal and Bestiary and Bodleian MS. Ashmole 1504.
Full-size colour facsimiles of two extraordinary, and almost identical, medieval picture books containing a total of 98 pictures of flowers and trees and 58 of birds and animals together with a variety of other material (ornamental alphabets, drawings of coats of arms, household gear, embroidery patterns, landscapes and grotesques) representing the full range of medieval ornament.

Nicolas Barker's wide-ranging introductory text examines the precise relationship between the two manuscripts, their purpose and provenance, the extent of the naturalism of their images, and connections with the other arts. The text is amplified with 61 black and white plates, and with a map and diagrams.
You may also be interested in...
ANTIPHONAL,
with neumes, containing music for Holy Saturday and Easter Sunday; a complete leaf written in dark brown ink in a good early gothic bookhand, 14 lines, ruled in ink, neumes on four-line staves ruled in dark brown ink (red marking the C-clef), capitals touched in red, small initials in red, rubrics, two large initials 'V' ('Vespere autem sabbati') and 'A' ('Angelus domini descendit') in red with elaborately entwined leafy tendrils; rather soiled and slightly rubbed from use in a binding, the recto very worn, but the verso mostly clear and legible. 290 x 200 mm (written space 260 x 170 mm)
From a well-written Antiphonal with elaborate penwork initials.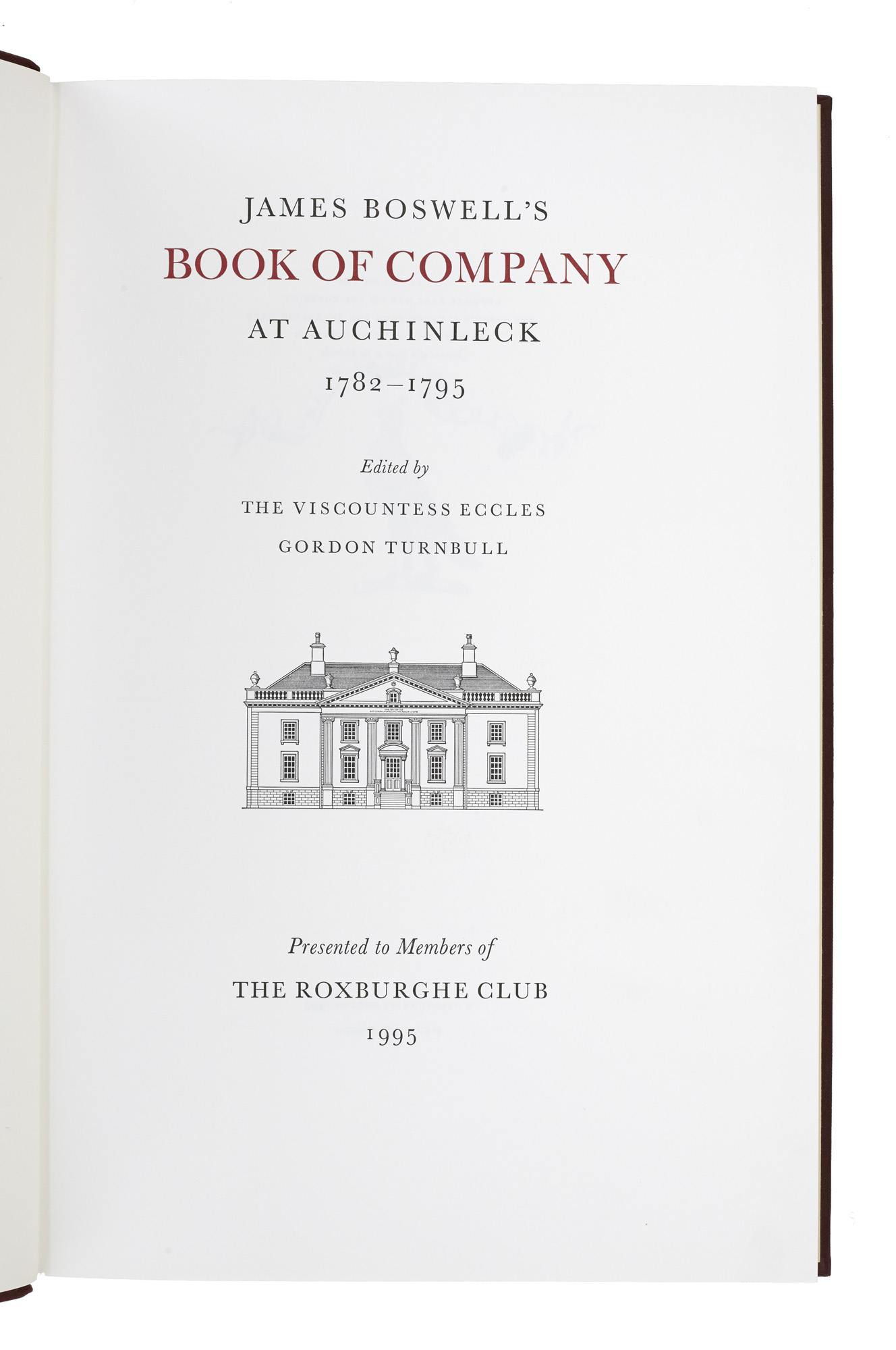 ECCLES, Mary, Viscountess, and Gordon TURNBULL, eds..
James Boswell's Book of Company at Auchinleck.
The Book of Company is much more than a visitor's book, since James Boswell comments on the men and women he met and entertained, and the occasions of his doing so, are all his own. It is therefore an important addition to his many-sided self-portrait. Beginning in 1782, two years before Samuel Johnson died, and ending five months before Boswell's own death in May 1795, it reflects Boswell's anguished uncertainties, as well as the everyday details of where he was, with whom he dined, whom he saw in the evening and – punctually recorded – how many bottles of wine and spirits were dispatched. The book is here reproduced in full facsimile, interleaved with a transcript on facing pages. At the foot of each page is a commentary, largely drawn from Boswell's correspondence and journals, which converts it into a comprehensive day by day diary of his thoughts and actions throughout the period.