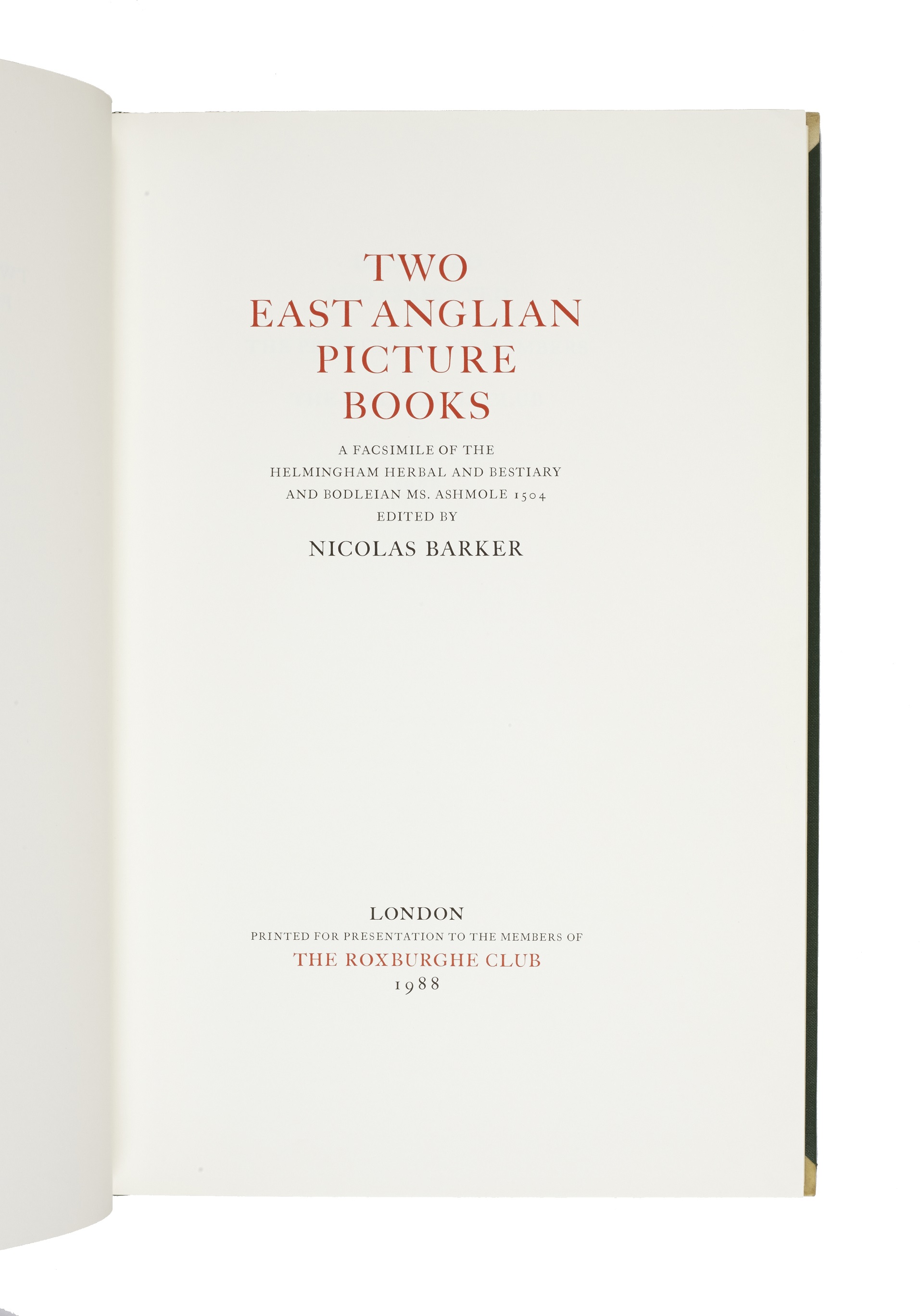 BARKER, Nicolas, ed.
Two East Anglian Picture Books. A facsimile of the Helmingham Herbal and Bestiary and Bodleian MS. Ashmole 1504.
The Roxburghe Club, 1988.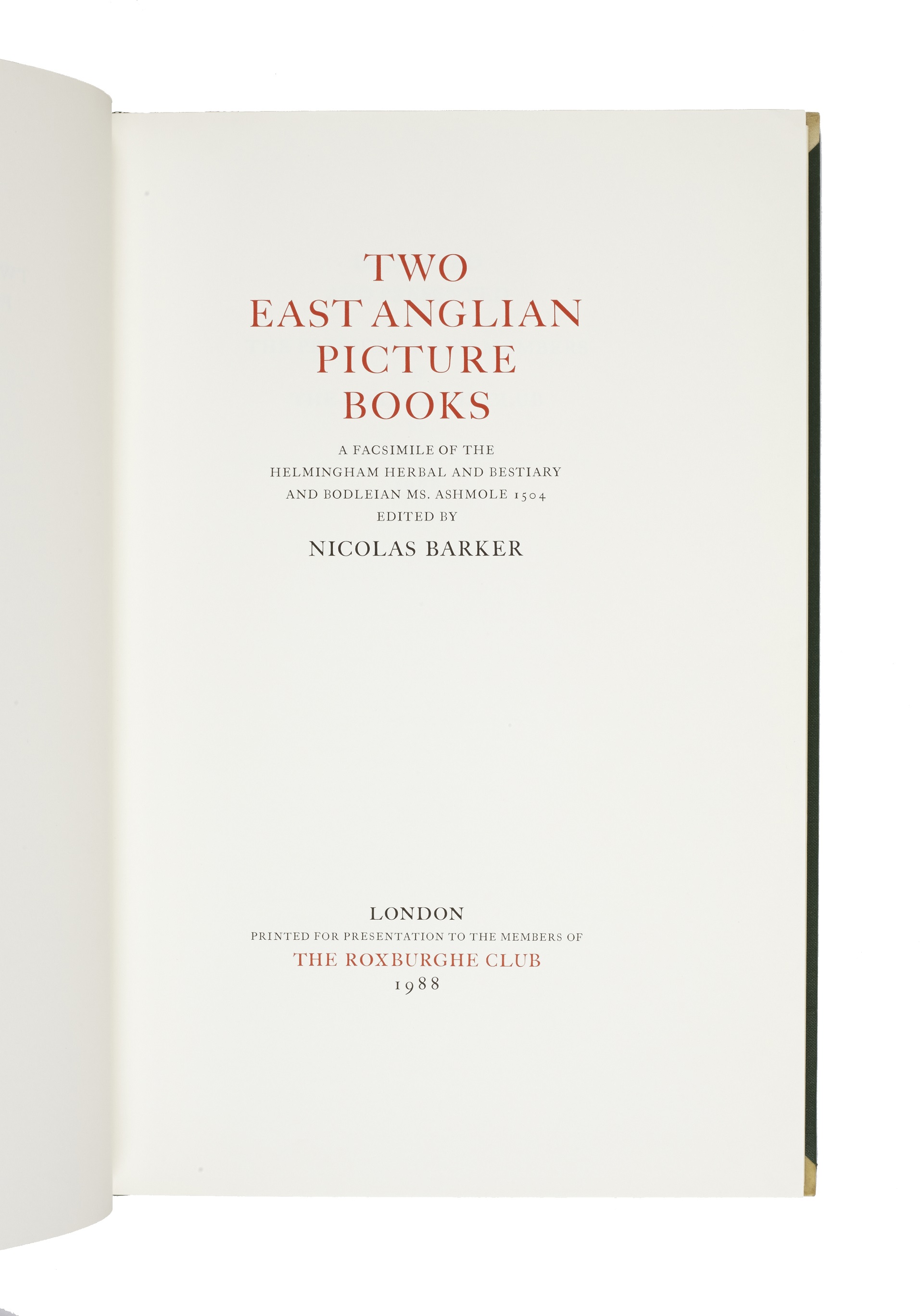 Added to your basket:
Two East Anglian Picture Books. A facsimile of the Helmingham Herbal and Bestiary and Bodleian MS. Ashmole 1504.
Full-size colour facsimiles of two extraordinary, and almost identical, medieval picture books containing a total of 98 pictures of flowers and trees and 58 of birds and animals together with a variety of other material (ornamental alphabets, drawings of coats of arms, household gear, embroidery patterns, landscapes and grotesques) representing the full range of medieval ornament.

Nicolas Barker's wide-ranging introductory text examines the precise relationship between the two manuscripts, their purpose and provenance, the extent of the naturalism of their images, and connections with the other arts. The text is amplified with 61 black and white plates, and with a map and diagrams.
You may also be interested in...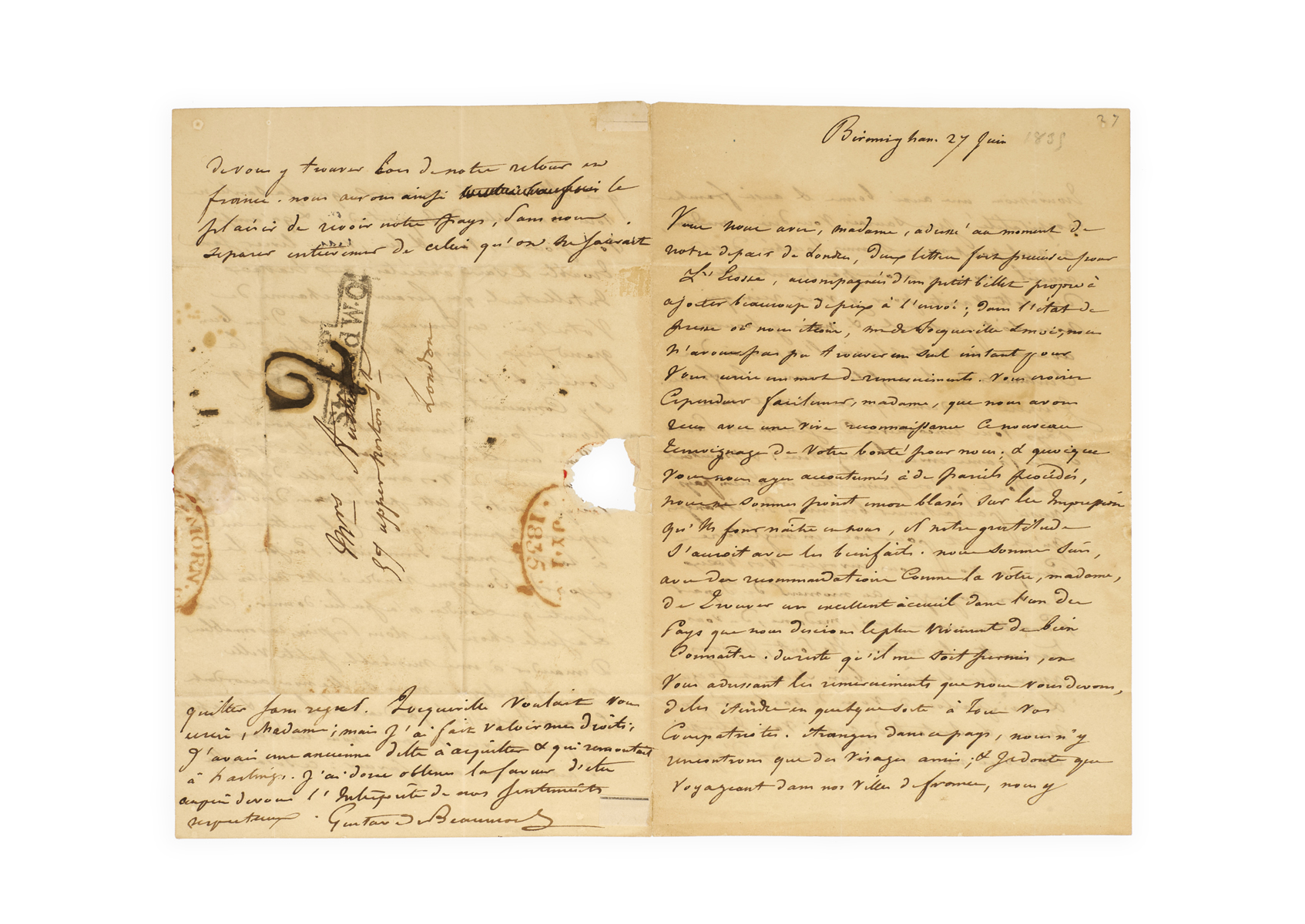 PRAISE FOR ENGLISH HOSPITALITY FROM TOCQUEVILLE AND BEAUMONT BEAUMONT, Gustave-Auguste de la Bonninière de (1802–1866), French prison reformer and travel companion to Alexis de Tocqueville.
Autograph letter signed ('Gustave de Beaumont') to Sarah Austin.
A warm and personal autograph documenting the relationship between the reformer Beaumont and one of the most accomplished contemporary catalysts of philosophical exchange, the translator Sarah Austin. In 1831 Beaumont was sent by the French government with his friend and colleague Alexis de Toqueville to study the prison system in America, a trip that resulted in several publications, not least Toqueville's De la démocratie en Amérique. Beaumont was particularly struck by the number of Black slaves in America and in the same year as this letter wrote a novel on the subject.
[HERALDRY.]
Album of embossed heraldic letterheads.
An intriguing collection of embossed emblems, used to create an album of elaborate designs. Several designs appear to be arranged by their source, including two pages of Cambridge colleges and others of military regiments (both of which feature heavily throughout the album), while others are likely arranged aesthetically, for example one comprising only monograms and another only escutcheons. The emblems represent an extensive range of both institutions and individuals (including many devices incorporating women's forenames), and alongside the familiar English and Latin mottos can be found examples in Hebrew and Arabic.