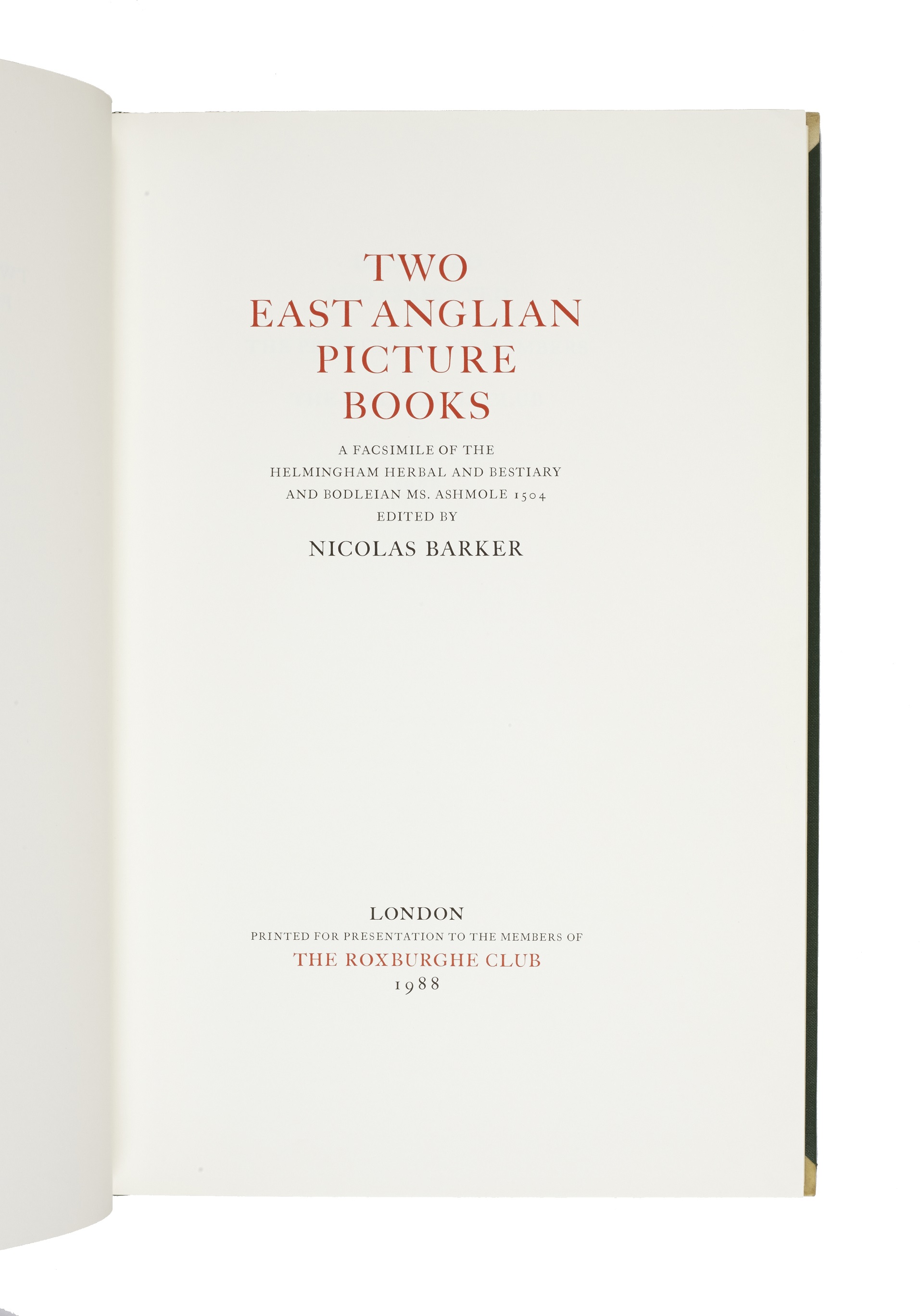 BARKER, Nicolas, ed.
Two East Anglian Picture Books. A facsimile of the Helmingham Herbal and Bestiary and Bodleian MS. Ashmole 1504.
The Roxburghe Club, 1988.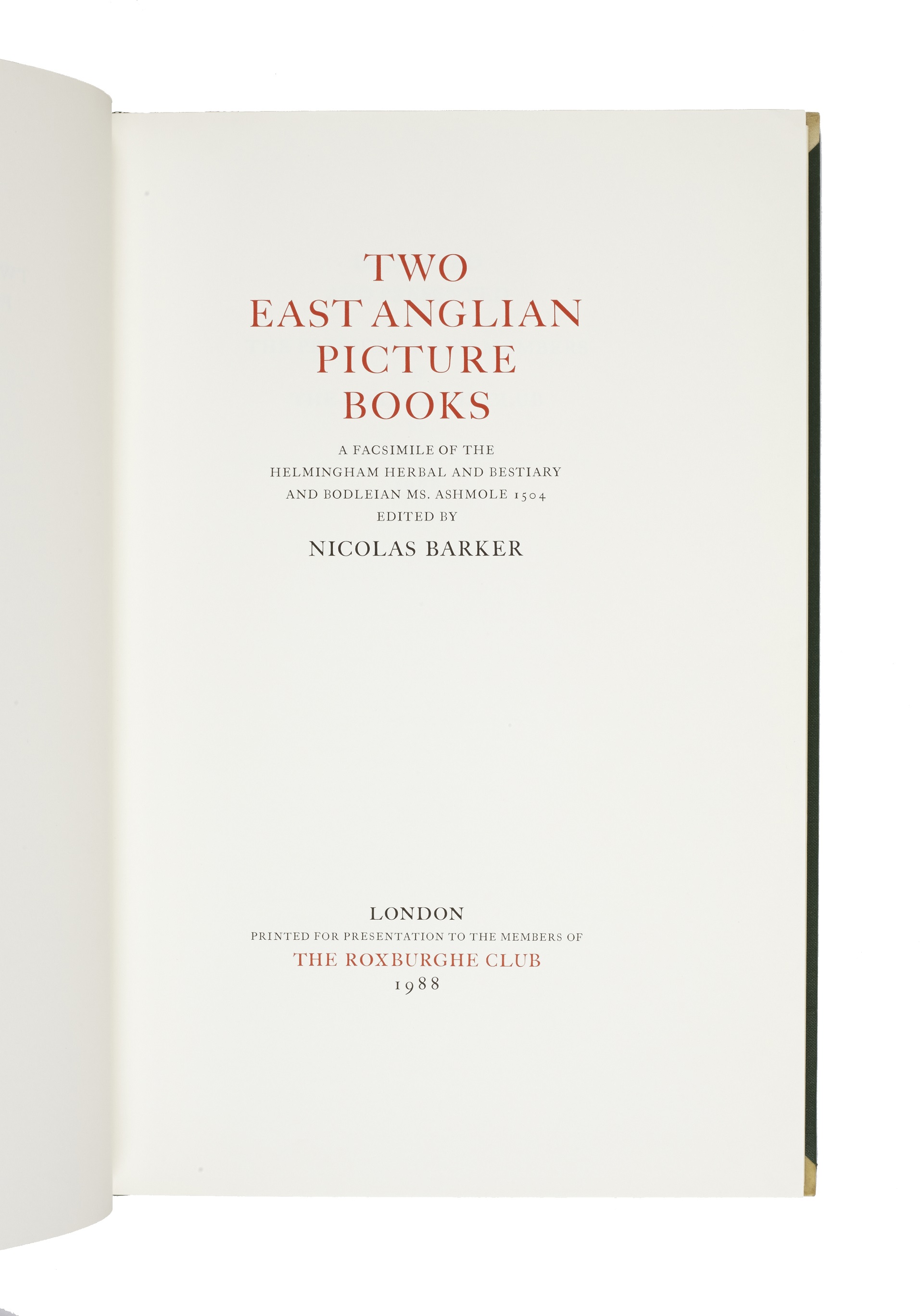 Added to your basket:
Two East Anglian Picture Books. A facsimile of the Helmingham Herbal and Bestiary and Bodleian MS. Ashmole 1504.
Full-size colour facsimiles of two extraordinary, and almost identical, medieval picture books containing a total of 98 pictures of flowers and trees and 58 of birds and animals together with a variety of other material (ornamental alphabets, drawings of coats of arms, household gear, embroidery patterns, landscapes and grotesques) representing the full range of medieval ornament.

Nicolas Barker's wide-ranging introductory text examines the precise relationship between the two manuscripts, their purpose and provenance, the extent of the naturalism of their images, and connections with the other arts. The text is amplified with 61 black and white plates, and with a map and diagrams.
You may also be interested in...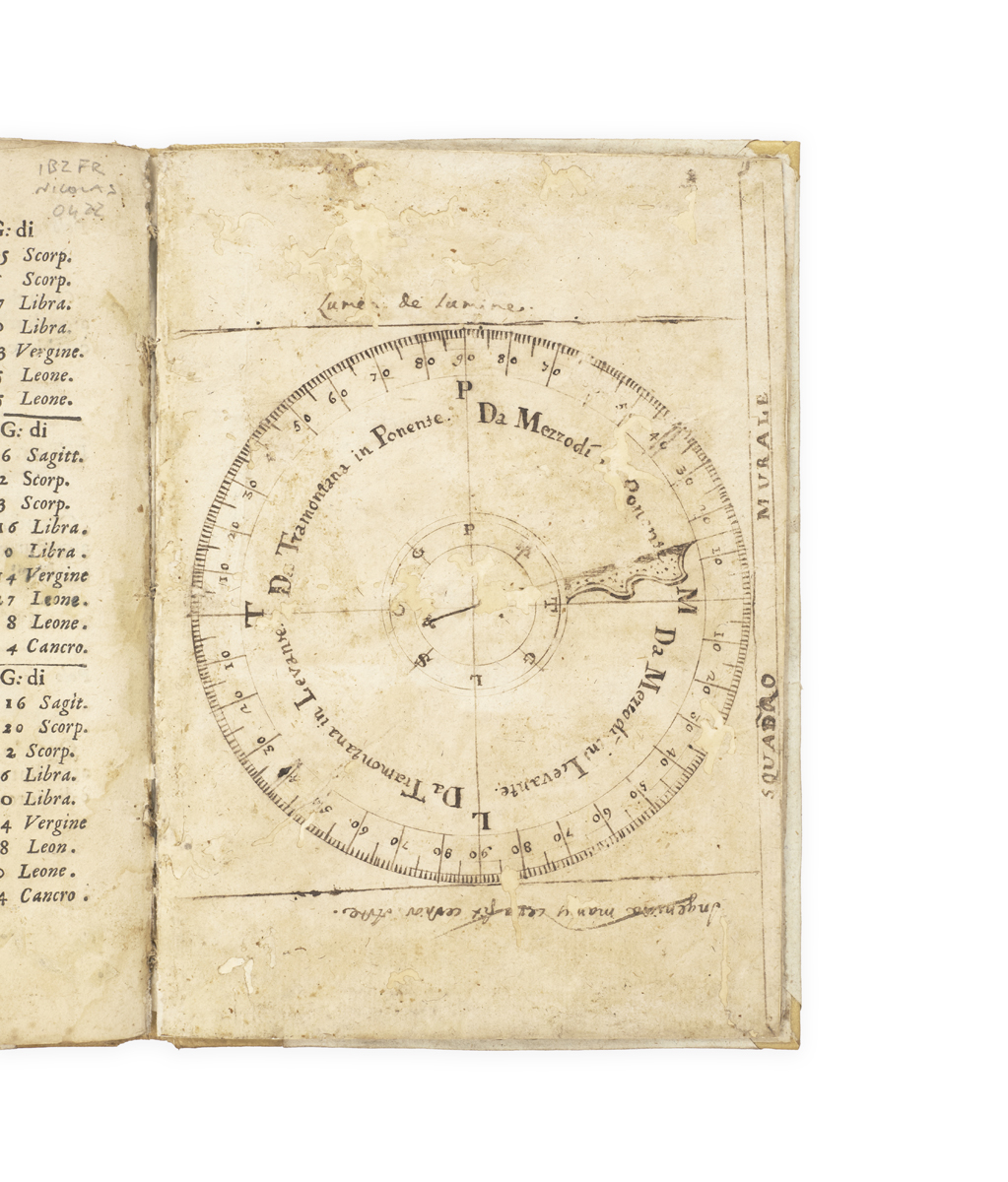 WITH A MANUSCRIPT DESIGN FOR A SUNDIAL TALIANI, Giuseppe. 
Orologi riflessi, per mezo di un picciolo specchio parallelo o perpendicolare all'orizonte. 
Only recorded edition, rare, of this work by mathematician Taliani on the construction of sundials in the interior of buildings, to be achieved through mirrors reflecting solar rays – our copy uniquely furnished with a contemporary large hand-drawn representation of the face of a sundial.  Giovanni Battista Benedetti of Imola (1530–1590), pioneer of Italian mathematical humanism, had first applied reflection to sundials.  Taliani, a true child of the Galilean and experimental era, develops the notion of exploiting the most refined geometry and applying it to material construction, taking great care in the visual representation of his solutions. 
PFYFFER VON WYHER, Ludwig.
Panorama oder Zirkel-Aussicht vom Rigi Berg. Guide des voyageurs sur le mont Righi.
Fine panorama giving a 360-degree view from the Rigi Mountain in Switzerland, with four individual views engraved in the corners: a view of the mountain from the valley; a view of the cottage at the top; a view from a higher mountain down to the Rigi; and a larger scale map. This is a fine survival from the time mountaineering was in its infancy. Twenty years later Turner climbed the mountain and painted his series of fine watercolours. Mark Twain visited in 1878 and wrote extensively about the mountain.