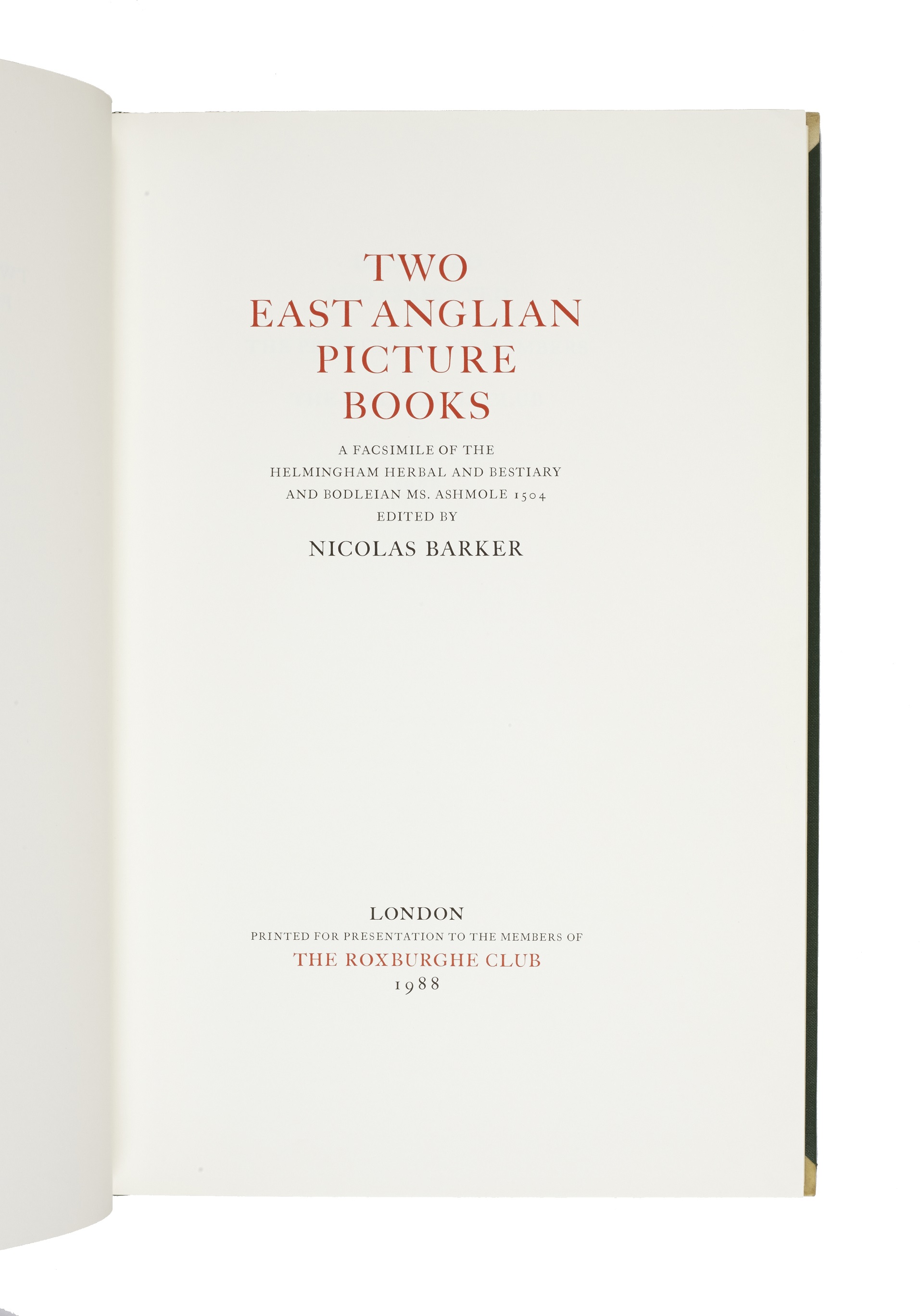 BARKER, Nicolas, ed.
Two East Anglian Picture Books. A facsimile of the Helmingham Herbal and Bestiary and Bodleian MS. Ashmole 1504.
The Roxburghe Club, 1988.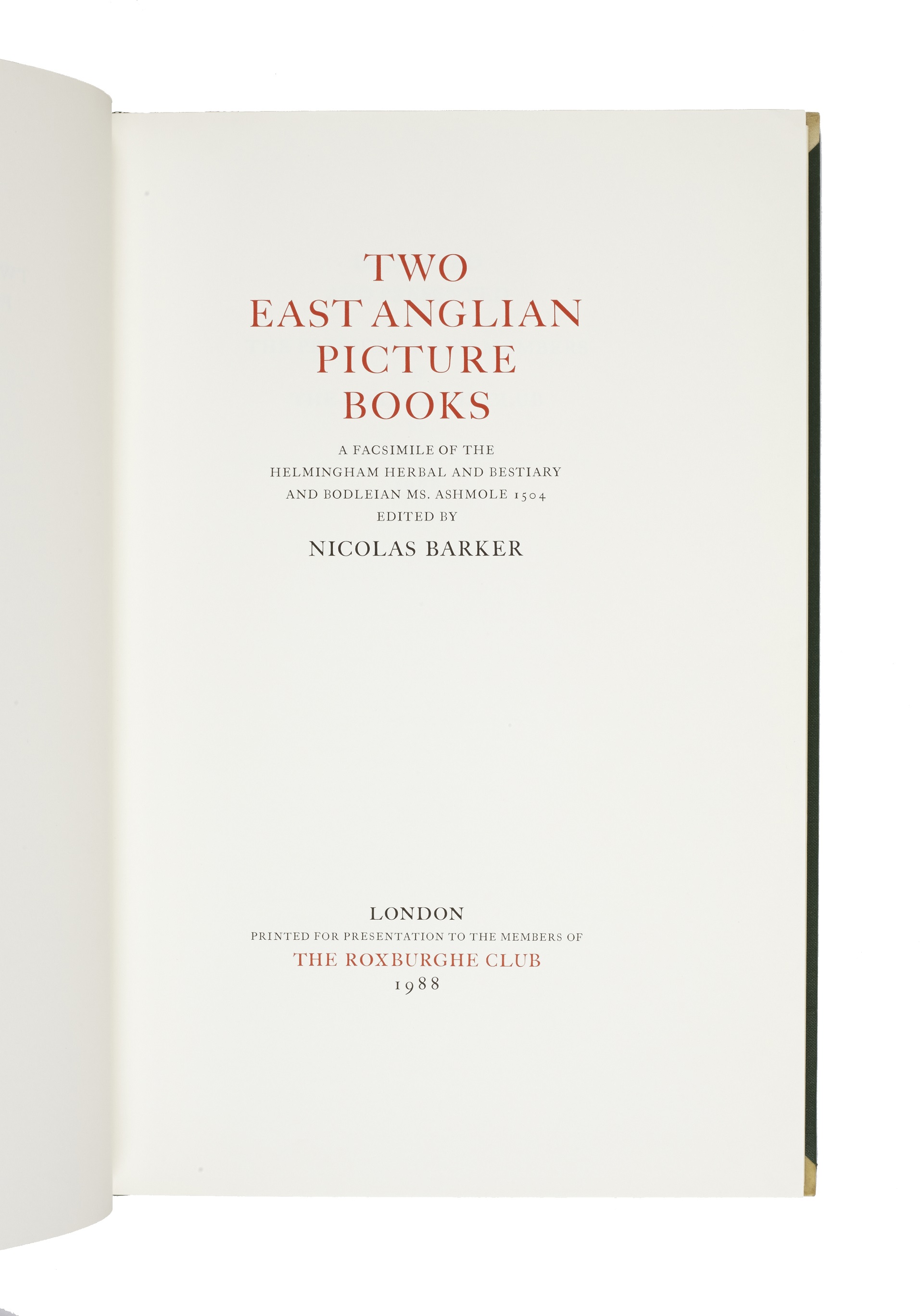 Added to your basket:
Two East Anglian Picture Books. A facsimile of the Helmingham Herbal and Bestiary and Bodleian MS. Ashmole 1504.
Full-size colour facsimiles of two extraordinary, and almost identical, medieval picture books containing a total of 98 pictures of flowers and trees and 58 of birds and animals together with a variety of other material (ornamental alphabets, drawings of coats of arms, household gear, embroidery patterns, landscapes and grotesques) representing the full range of medieval ornament.

Nicolas Barker's wide-ranging introductory text examines the precise relationship between the two manuscripts, their purpose and provenance, the extent of the naturalism of their images, and connections with the other arts. The text is amplified with 61 black and white plates, and with a map and diagrams.
You may also be interested in...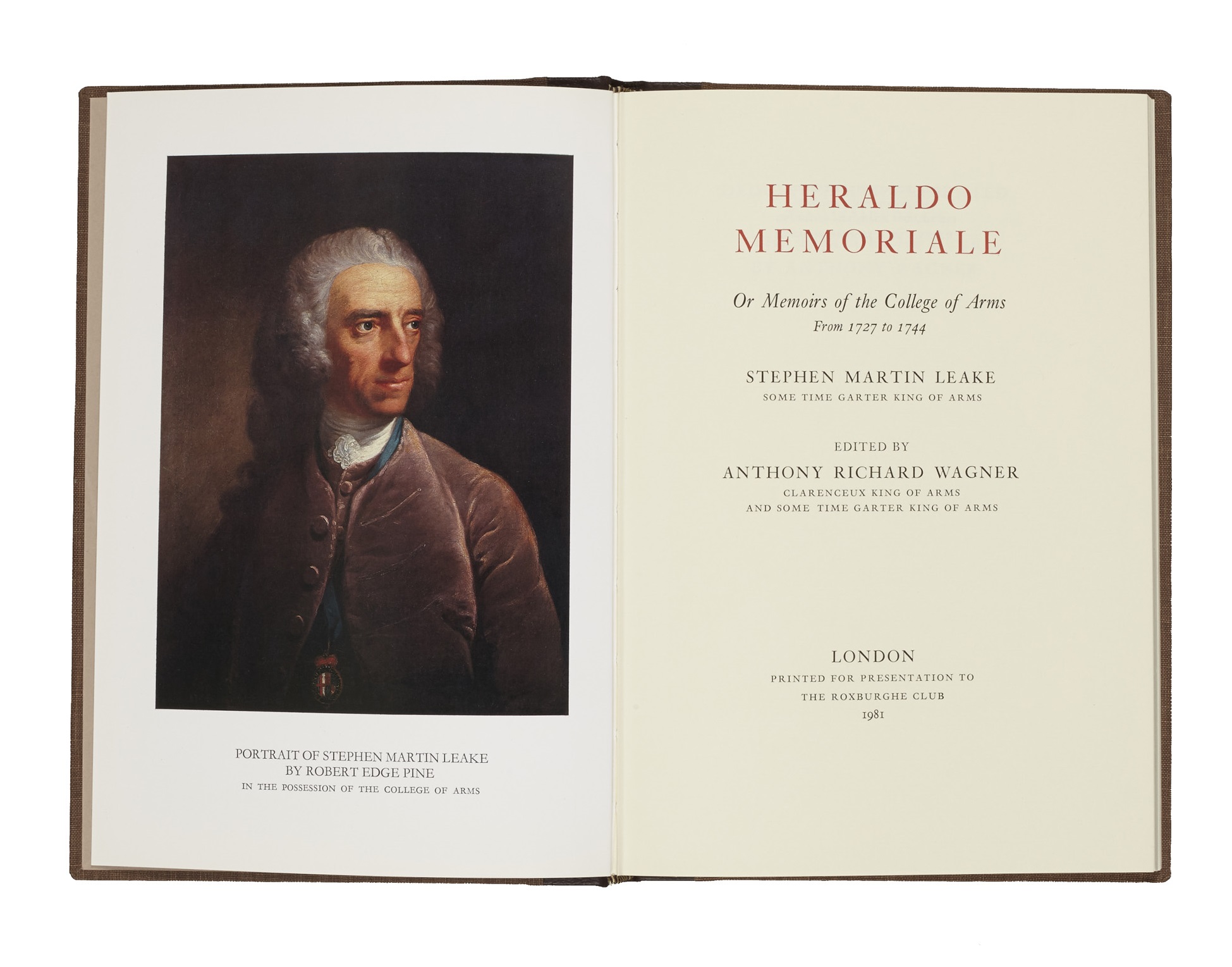 LEAKE, Stephen Martin.
Heraldo Memoriale, or Memoirs of the College of Arms from 1727 to 1744. Edited by Anthony Richard Wagner.
Stephen Martin Leake was Garter principal king of arms from 1754 to 1773. The three volumes of his extensive manuscript journal, Heraldo-Memoriale, are preserved in the College of Arms.
CHRISTMAS CAROLS BROWN, Arthur Henry (1830-1926), composer and church organist.
Autograph manuscript notebook mainly of Christmas carols compiled carefully over some 25 years by Brown from various sources including manuscripts in the British Museum, early printed books, and contemporary books and periodicals. Brown transcribes a few other poems too, suggesting that one purpose of the notebook was to identify carols and verse that he might set to music. An endleaf is inscribed 'Ascension Day 1864' and latest dated entry is 1887.
For all but five years of his long career Brown was organist at churches in Brentwood, Essex, and at Sir Anthony Browne's School in the town. He was a fertile composer of more than 800 pieces of church music, including the hymn tunes 'Ingatestone', 'Purleigh', 'Saffron Walden', and 'Tiltey Abbey' named for Essex churches. Ten of his tunes figured in various editions of Hymns ancient and modern, including St. Anatolius composed for 'The day is past and over', which is still in H&M revised. His setting of the traditional carol 'When Christ was born of Mary free' was widely popular, and his settings of other hymns and carols such as 'Sing we now the Christmas tiding', 'A little child is born tonight', 'Arise, and hail the sacred day', and 'O, sing we a carol all blithe and free' were published in contemporary collections and sheet music.