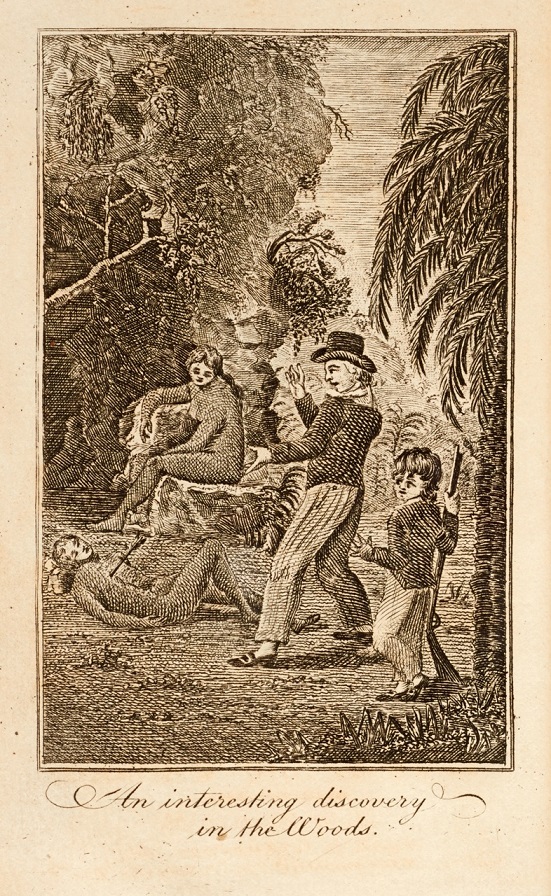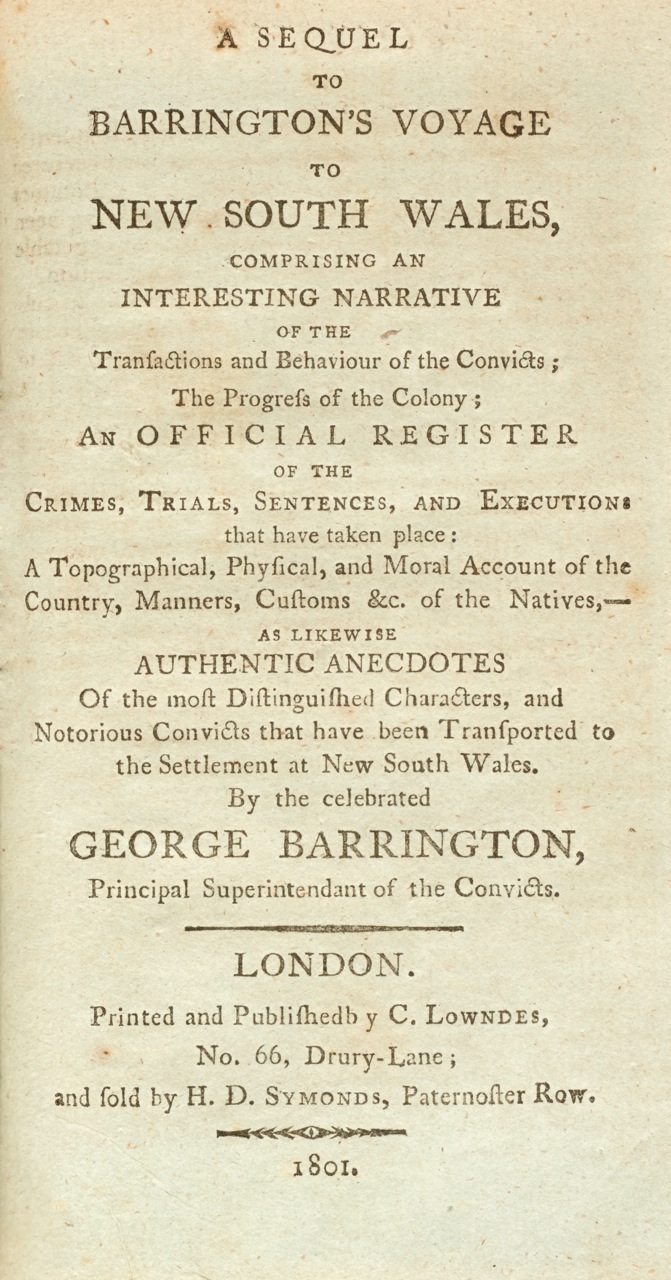 'A WELL-WRITTEN ACCOUNT OF THIS VERY SINGULAR COLONY' OR 'A SERIES OF ACTS OF FABRICATION, INT
BARRINGTON, George.
A Voyage to Botany Bay with a Description of the Country, Manners, Customs, Religion, &c. of the Natives by the Celebrated George Barrington. To which is Added his Life and Trial.
London: C. Lowndes for H.D. Symonds, [c. 1800 - 1802, A1 watermarked '1800'].
12mo in 6s; pp. [2, engraved title, verso blank], 120; engraved frontispiece, engraved title-vignette depicting prisoners landing at Sydney Cove; title slightly marked, some light offsetting. Early edition. N. Garvey, The Celebrated George Barrington (New South Wales, 2008) AB21b (combined edition; citing this copy). [Bound with:]

G. BARRINGTON. A Sequel to Barrington's Voyage to New South Wales. London: C. Lowndes for H.D. Symonds, 1801 [-1802].

12mo in 6s; pp. [iii]-viii (title, verso blank, contents), [5]-88, [6, 'An Official Register of the Crimes, Trials, and Executions of the Convicts in New South Wales…']; printed on grey and white stock; some light offsetting. Second edition, published the year after the first. Garvey AB21b (combined edition, calling for 6 preliminary pages only, numbered to 'viii'; citing this copy).

2 volumes bound in one (as issued), 12mo (175 x 102mm). Contemporary sheep-backed, vellum-tipped paper boards, the flat spine gilt in compartments, gilt morocco lettering-piece in second compartment, others with central foliate tools, green silk marker; extremities lightly rubbed and bumped, small losses at head of spine, slip of paper tipped on to upper pastedown, nonetheless a very good copy; provenance: Hordern House, Potts Point, NSW, 2008 (cf. Garvey p. 271).
£2250

Approximately:
US $3000
€2486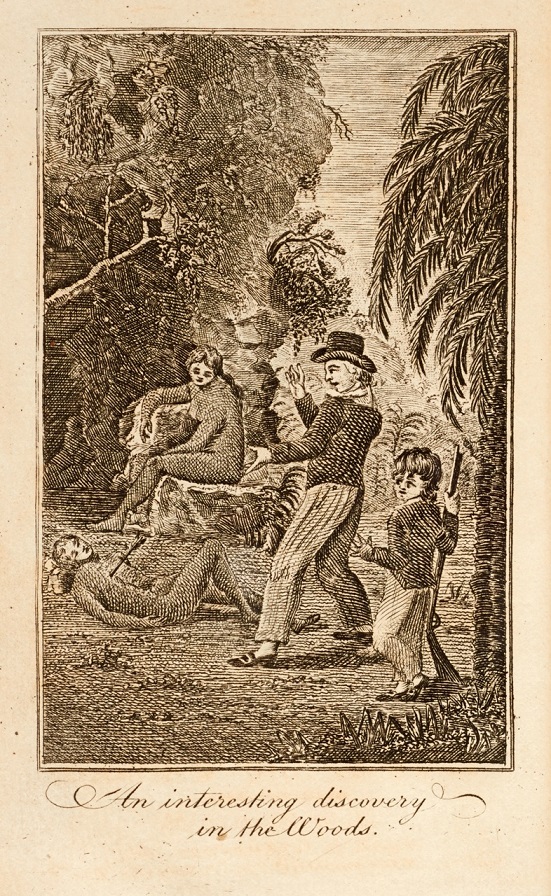 Added to your basket:
A Voyage to Botany Bay with a Description of the Country, Manners, Customs, Religion, &c. of the Natives by the Celebrated George Barrington. To which is Added his Life and Trial.
First and only combined edition, second issue. George Barrington was a 'genteel young Irishman known for his sartorial elegance, his command of the etiquette of romantic sensibility, and for his prowess at picking pockets' (Garvey p. 2). Born George Waldron in 1758 in County Kildare, Ireland, he left school 'following a violent quarrel in 1771 [when] he stabbed a schoolmate with a penknife and then absconded after a severe flogging, having stolen money and his headmaster's gold hunter watch' (ODNB). The young Waldron then joined a troupe of travelling players under the management of one John Price, who coached him as both an actor and a thief. It was at this point that the name 'Barrington' was chosen to connote an aristocratic and theatrical heritage. Shortly, the fascinating contrast between Barrington's charming demeanour and criminal activities drew the attention of the press and the public and, under the sobriquet the 'Prince of Pickpockets', he became a household name in Ireland and England. Numerous attempts were made to arrest and convict him but Barrington continually evaded punishment, safeguarded by his charisma and convincing protestations of innocence, and his exploits became legendary. However, in 1790 Barrington was finally arrested for the attempted theft of one Henry Hare Townsend's gold watch and chain, and sentenced to seven years' transportation.

Barrington's adventures in transit and upon arrival in New South Wales are just as much the stuff of legend as his pickpocketing career. The principal myth is that Barrington single-handedly foiled a mutiny on board his transport ship and was consequently made superintendent of the convicts. Whilst there was a mutiny during the voyage of the Third Fleet, it was not on Barrington's ship (the Active) but on the Albemarle, and 'superintendent' is an exaggeration of the position he actually attained within the constabulary, which was a law-enforcement service primarily composed of well-behaved convicts (there were too few officers and no free settlers to help maintain order within the colony).

However, the more dramatic version of Barrington's transformation suited the publishers in London, who unscrupulously used his name and notoriety to sell cheap and popular accounts of the newly-established penal colony in New South Wales: 'By the turn of the century, Barrington was being celebrated as the putative author of a popular travel narrative that had already passed through numerous editions, piracies and a translation into French' (Garvey p. 103). Barrington was the perfect figurehead for a new genre, which described the distant and exotic convict-populated colony – the subject of great public curiosity. While Governor Hunter's An Historical Journal of the Transactions at Port Jackson and Norfolk Island (London: 1793), was issued in standard and large paper editions, priced at £1 11s. 6d. and £2 2s. respectively, the first allonymous Barrington book, A Voyage to New South Wales (London: 1795), was published by Symonds at only 2s. 6d., making it accessible to a broader, more popular audience than Hunter's work. The content of the Voyage was ingeniously concocted from plagiarised sections of Hunter's Journal and other contemporary travel narratives, and entirely fictitious passages about Barrington (which were presumably commissioned by Symonds). Contemporary reviewers greeted it with some scepticism – for example, it was stated in Gentleman's Magazine that, 'whether this be the genuine work of the celebrated convict or not, it contains nothing that has not been seen before on the subject' (volume 78 (1795), p. 760). However, the Voyage was never incontrovertibly exposed as fraudulent; the initial incredulity was probably subsumed by the desire of the public and the press (which had originally proliferated the tales about Barrington) for the story to be true. For instance, a contemporary issue of the Monthly Review stated, 'This production certainly carries with it a sufficiency of internal evidence that it is really the performance of that ingenious adventurer' (quoted in The Times, 4 January 1802, p. 2).

The success of the first publication spawned numerous versions, often issued by different publishers, some abridged and others simply copied. This encouraged Symonds to publish a sequel in 1800 – formed of material appropriated almost entirely from David Collins' An Account of the English Colony from New South Wales (London: 1798) – which was the first new 'Barrington' text since the original publication of the Voyage in 1795. The sequel was not as successful as the first part so Symonds reissued the unabridged text in a cheaper, smaller format. He then decided to publish a combined volume formed of the 1796 edition of the Voyage (A Voyage to Botany Bay (London: c. 1796), Garvey AB17), bound up with the cheaper issue of the sequel in one readily marketable volume (AB21a). The present edition (AB21b) is the second issue of the combined volume, published shortly after the first with minor amendments to the Voyage (the short 's' form substituted for the long 's' form; the misnumbering of p. 30 corrected; and the colophon removed from the end of the Voyage). This combined edition was only correctly identified by Garvey in 2008, and is apparently rarely seen on the market, particularly in a contemporary binding as here – indeed, this copy was used by Garvey to illustrate the entry for this issue.

These two works by Barrington were formed one of the most important sources for the popular perception of Australia in the years immediately after the arrival of the First Fleet. Therefore, they should not be viewed simply as brilliant forgeries that preyed upon the public imagination, but also as 'a series of acts of fabrication, intellectual transgression and commercial opportunism' (Garvey p. 171). The authority with which the Barrington texts were endowed by public rumours and myth-making, embellished and exaggerated by his publishers, gave them a disproportionate influence on the way a hitherto-unknown continent was 'first apprehended by generations of ordinary readers' (op. cit. p. 172). To refer once more to the Monthly Review notice, 'We have here a well-written account of this very singular colony; an amusing sketch of the colony, its soil, produce, native inhabitants, natural history, &c.' (as quoted in The Times, 4 January 1802, p. 2).
You may also be interested in...
MARKHAM, Gervase.
Markhams Maister-Peece, containing all Knowledge belonging to the Smith, Farrier, or Horse-Leech, touching the Curing of all Diseases in Horses, drawne with great Paine, and most approved Experience, from the publick Practise of all the forraigne Horse-Marshals in Christendome, and from the private Practise of all the best Farriers of this Kingdome, being divided into two Books, the first containing all Cures physical, the second all belonging to Chyrurgery, with an Addition of 160 principall Chapters, and 370 most excellent Medicines, never written of nor mentioned in any Author whatsoever, together with the true Nature, Use, and Quality of every simple spoken of through the whole Worke, now the sixt time newly imprinted, corrected, and augmented, with above thirty new Chapters, and above forty new Medicines that are most certaine and approved, and heretofore never published, which you shall finde noted thus, all which never was before made knowne, but concealed in the Authors Breast for his owne Credit.
Sixth edition of the first work on farriery by an Englishman since Blundeville's translation of Grisone. Published after his Discourse of Horsemanshippe (1593) and Cavelarice (1607), Gervase Markham (1568?-1637) likely wrote Maister-Peece (1610) to satisfy a popular demand for a work on cures for horses, though much of the material is unscrupulously drawn from Blundeville. Markham's prolific output of equestrian books, many covering similar subjects, led some to suggest he was writing purely for profit, Smith to dismiss him as a charlatan, and the Stationers' Company to force from him an agreement 'hereafter never to write any more book or books to be printed of the deseases or Cures of any Cattle, as Horse, Oxe, Cowe, Sheepe, Swine, Goates etc.'.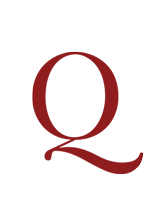 ROSSELLI, Cosimo.
Thesaurus artificiosae memoriae, concionatoribus, philosophis, medicis, iuristis, oratoribus, procuratoribus, caeterisque; bonarum litterarum amatoribus: negociatoribus insuper, aliisque; similibus, tenacem, ac firmam rerum memoriam cupientibus, perutilis ...
an unusually well preserved copy of the first edition of one of the principal texts of the dominican art of memory.