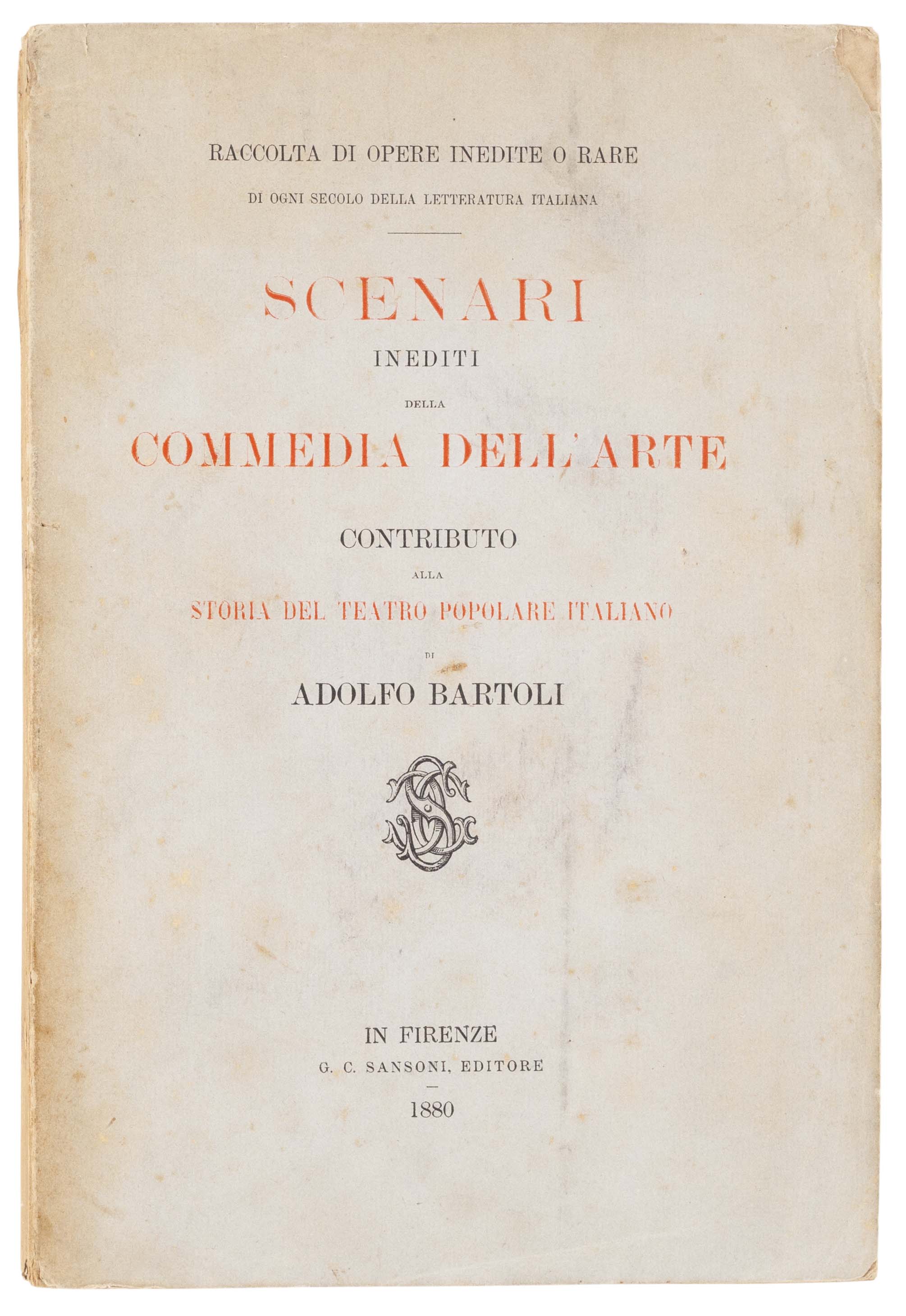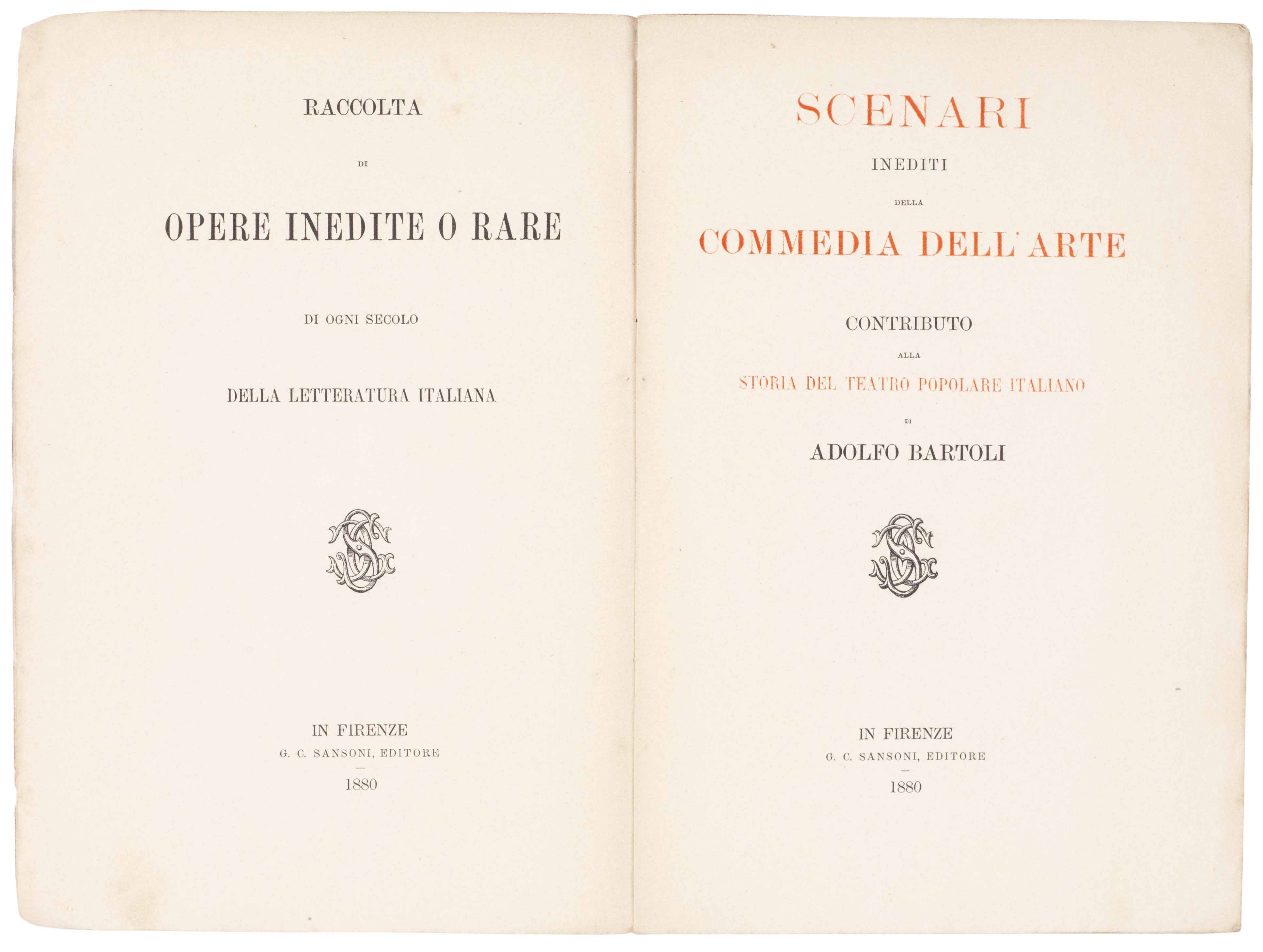 TWENTY-TWO PREVIOUSLY UNPUBLISHED COMMEDIA DELL'ARTE DRAMAS
BARTOLI, Adolfo.
Scenari inediti della Commedia dell'arte. Contributo alla storia del teatro popolare italiano.
Florence, Sansoni, 1880.
8vo, pp. clxxxiii, [1], 303, [5]; title printed in red and black; occasional light spotting, but a very good, wide-margined copy in the publisher's duck-egg wrappers printed in red and black; small chip to upper outer corner of upper wrapper and to head of spine, some light staining and dusting.
£500

Approximately:
US $605
€577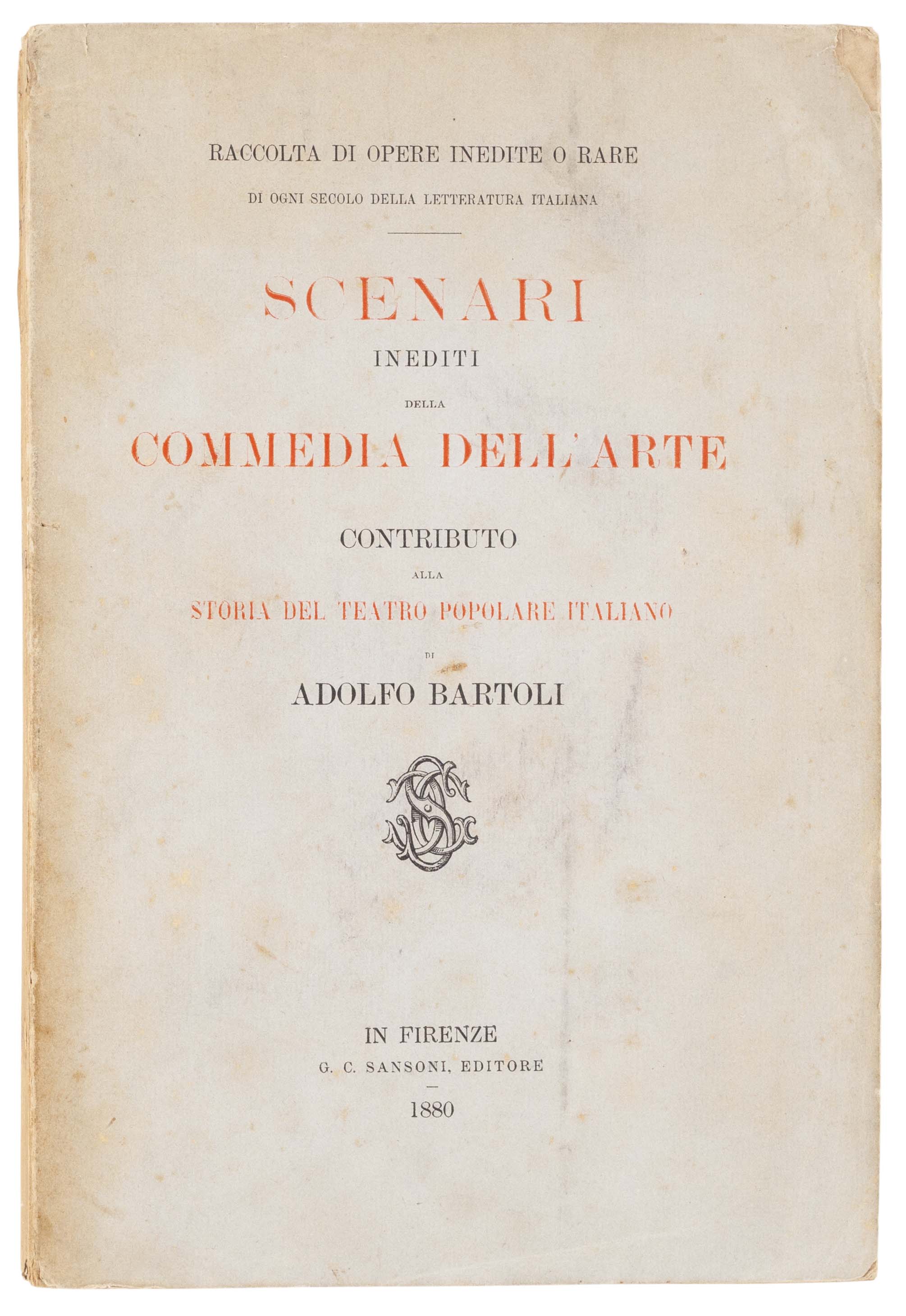 Added to your basket:
Scenari inediti della Commedia dell'arte. Contributo alla storia del teatro popolare italiano.
Rare first edition, one of only 350 copies, of a foundational source for the study of Commedia dell'Arte. The exceptionally well-loved and widely-performed form of drama is the subject of the author's pioneering study: he examines tropes, characters, plots, structures and lines of 'scenarios' (the plan around which actors would improvise) with punctual references to all the published repertoires, and, in the second part, gives the text of twenty-two previously unpublished scenarios, which he copies from the manuscript identified as Magliabechiano II, I, 80.
You may also be interested in...
WITH CONTRIBUTIONS BY JOHNSON BARETTI, Giuseppe.
An Introduction to the Italian Language. Containing Specimens of both Prose and Verse ... with a literal Translation and Grammatical Notes ... for the Use of those who ... attempt to learn it without a Master ...
First edition. Giuseppe Baretti (1719–1789) offers a fine range of examples for learning Italian selected from twenty-seven authors, including Castiglione, Machiavelli, Galileo, Boccaccio, Ariosto, Tasso, Michelangelo, Petrarch, and Milton (one of his Italian sonnets, a choice perhaps prompted by Johnson). Johnson met Baretti shortly after he came to England in 1751, and their long and close literary friendship is well known. He made some contribution by way of preface or dedication to most of Baretti's books. Here the preface and the footnotes on pages 48 and 198 were attributed to Johnson by James Crossley in Notes and Queries in 1852; the consensus now is that Johnson wrote only the opening paragraphs of the preface, but 'there is no strong reason to doubt the footnotes' (Fleeman).
A FLORENTINE FROST FAIR AND FIREWORK FESTIVAL [FRANCESCHINI, Pietro (editor).]
Relazione delle feste fatte in Firenze sopra al ghiaccio nel fiume Arno il 31 dicembre 1604.
A limited edition nineteenth-century reprint of the rare description of the festival held on the frozen river Arno in Florence in 1604, published in only fifty copies (of which ours is numbered 10).