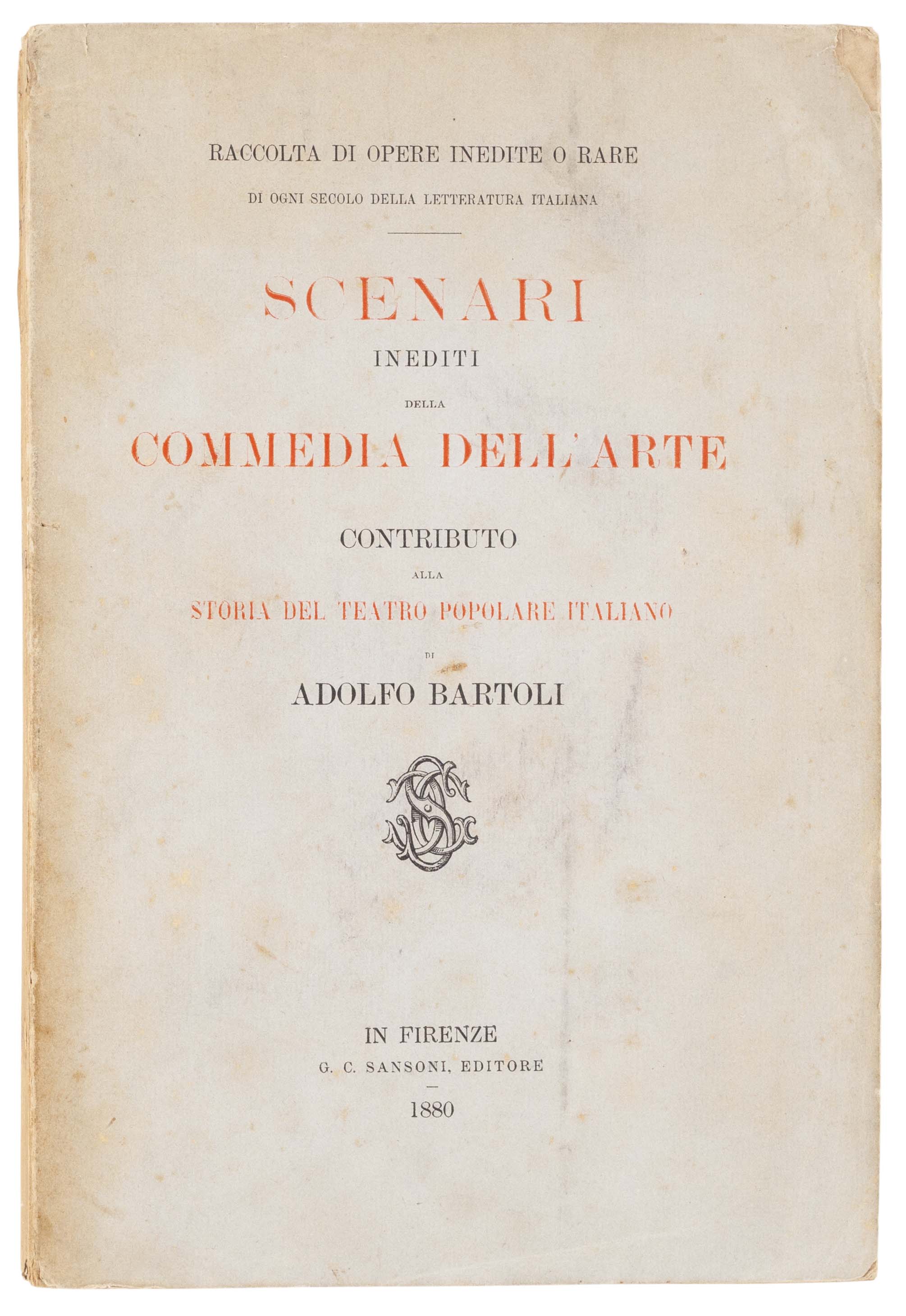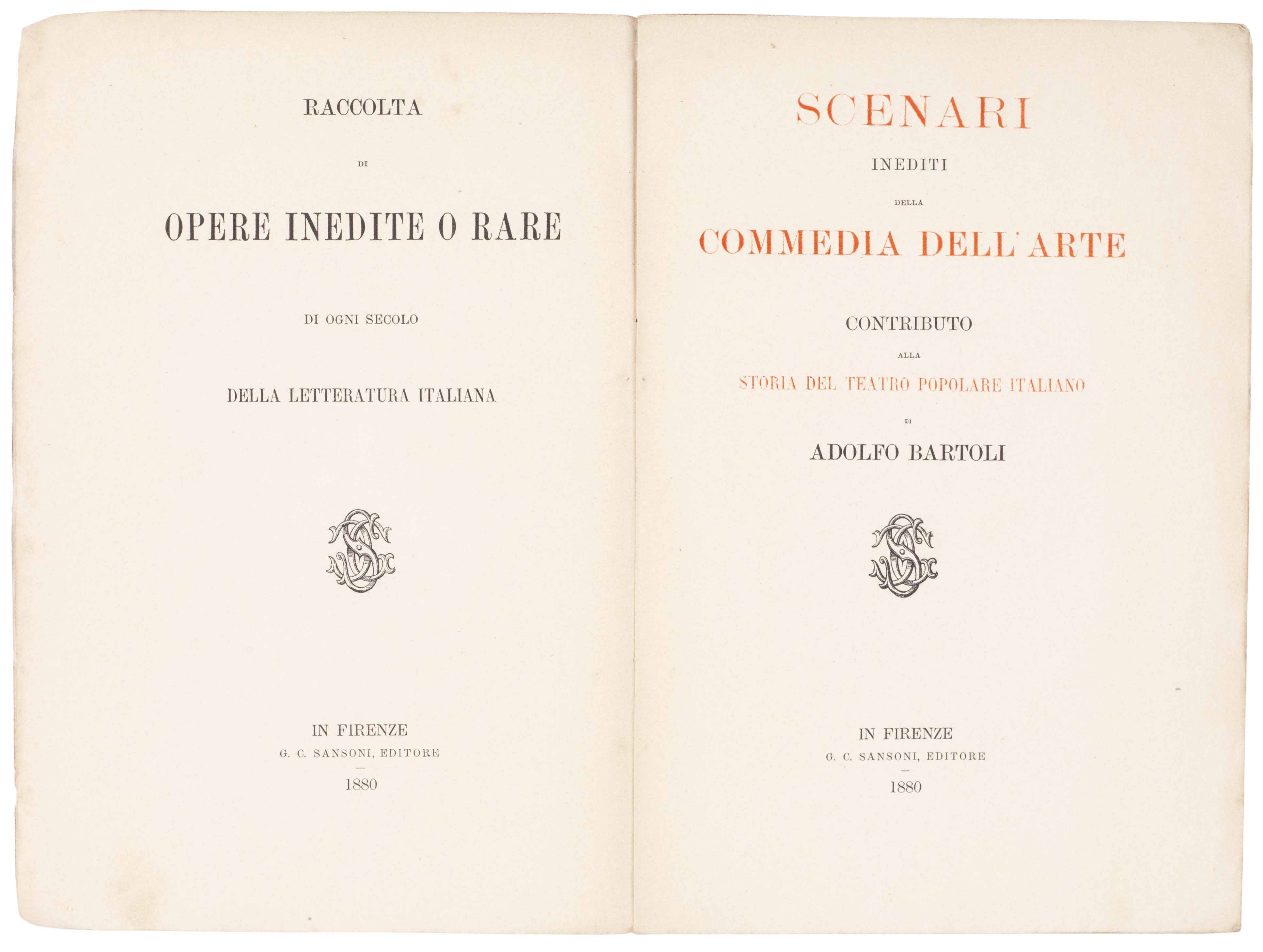 TWENTY-TWO PREVIOUSLY UNPUBLISHED COMMEDIA DELL'ARTE DRAMAS
BARTOLI, Adolfo.
Scenari inediti della Commedia dell'arte. Contributo alla storia del teatro popolare italiano.
Florence, Sansoni, 1880.
8vo, pp. clxxxiii, [1], 303, [5]; title printed in red and black; occasional light spotting, but a very good, wide-margined copy in the publisher's duck-egg wrappers printed in red and black; small chip to upper outer corner of upper wrapper and to head of spine, some light staining and dusting.
£500

Approximately:
US $687
€585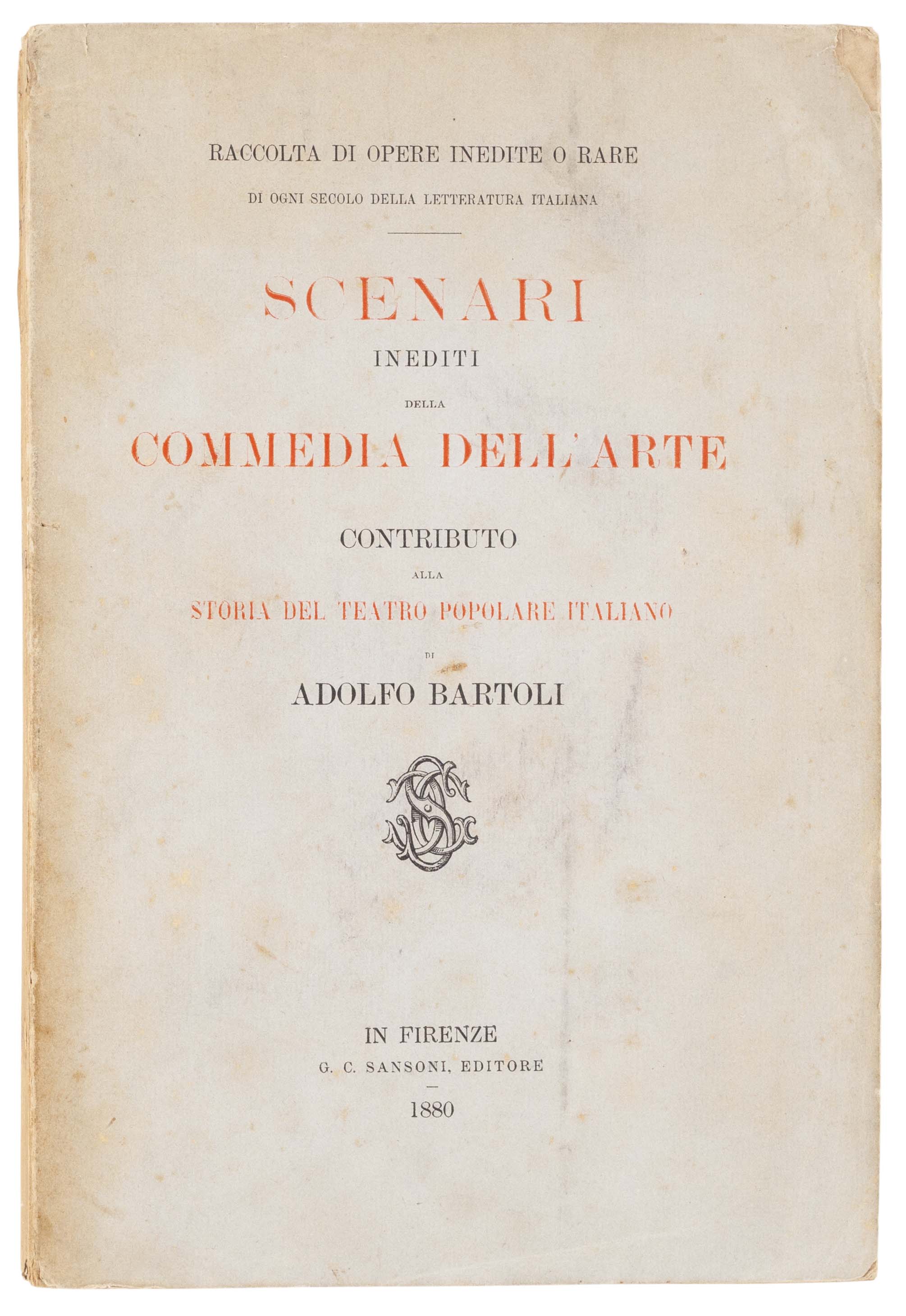 Added to your basket:
Scenari inediti della Commedia dell'arte. Contributo alla storia del teatro popolare italiano.
Rare first edition, one of only 350 copies, of a foundational source for the study of Commedia dell'Arte. The exceptionally well-loved and widely-performed form of drama is the subject of the author's pioneering study: he examines tropes, characters, plots, structures and lines of 'scenarios' (the plan around which actors would improvise) with punctual references to all the published repertoires, and, in the second part, gives the text of twenty-two previously unpublished scenarios, which he copies from the manuscript identified as Magliabechiano II, I, 80.
You may also be interested in...
[RICHEOME, Louis].
La vérité defendue pour la religion catholique. En la cause des Iesuites, contre le Plaidoyé d'Antoine Arnaud, par François des Montaignes.
First edition of Richeome's vindication of the Jesuits against the charges made by Antoine Arnaud in his famous defence of the University of Paris in 1594. Richeome (1544-1625), known as the 'French Cicero', was one of the leading French Catholic controversialists of his age and played a crucial role in overcoming prohibitions against the Jesuit order in France. In La vérité defendue he constructs a history of the Society of Jesus from its foundation, highlighting its achievements in education and the work of Jesuit missions in Japan, the Far East, America, and Brazil. The work was translated into Latin the following year.
THE MANIFESTO OF ITALIAN BAROQUE VERSE MARINO, Giambattista.
La Murtoleide fischiate del cavalier Marino con la Marineide risate del Murtola.
Rare first edition of the manifesto of Italian Baroque poetry, appearing in the bitterly satirical 'literary feud' between the leading Italian baroque poet Giambattista Marino and his adversary, Gasparo Murtola. Marino, who thrived in his notoriously misbehaving public persona, had been banned from several courts, while his opponent Murtola had enjoyed a formal position with the Savoy and - indeed used it to have Marino jailed. Released through the offices of several influential friends in 1615, Marino took refuge in France. His collection of anti-Murtola verse, Murtoleide, circulated widely in manuscript before appearing in print for the first time in 1619. Murtola's in-kind reply, the Marineide, asserted the latter's position immediately and was published alongside it.