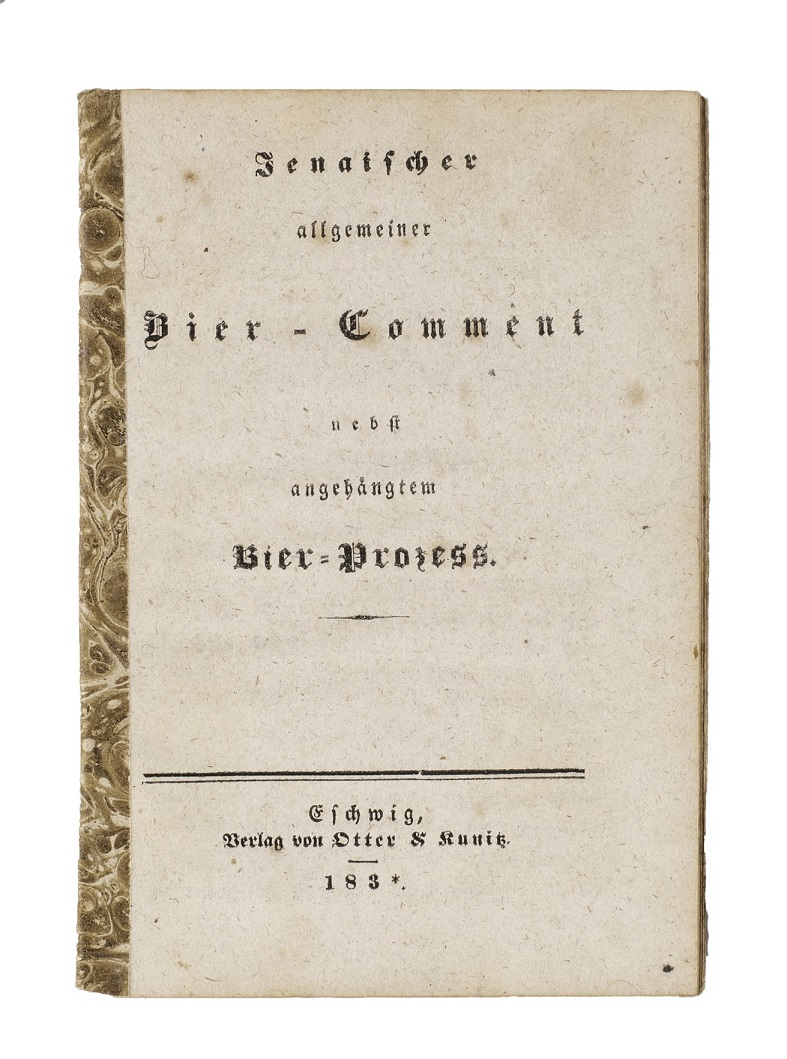 REVELLERS' RULE BOOK
[BEER.]
Jenaischer allgemeiner Bier-Comment nebst angehängtem Bier-Prozess.
'Eschwig, Otter & Kunitz, 183*.'
12mo, pp. iv, 28; a little light foxing, light damp staining to lower margins; very good; without covers, strip of contemporary marbled paper to spine.
£375

Approximately:
US $459
€435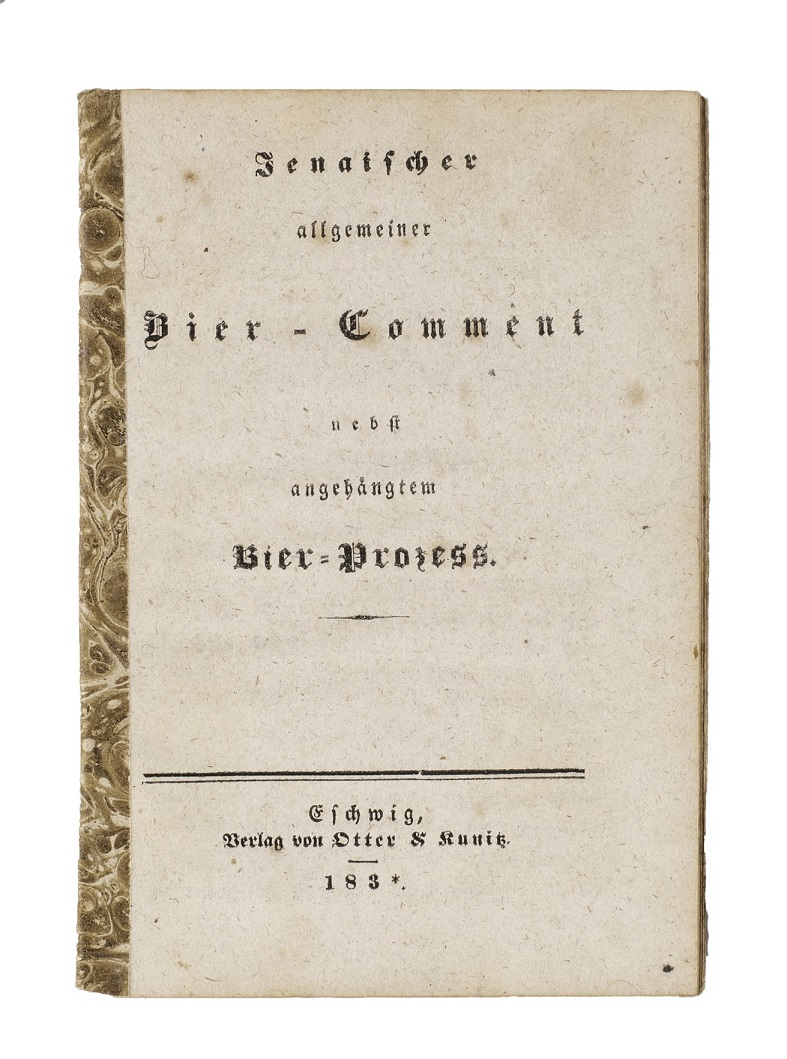 Added to your basket:
Jenaischer allgemeiner Bier-Comment nebst angehängtem Bier-Prozess.
An apparently unrecorded humorous handbook of drinking rules for students at the university of Jena, famous both as a centre of German idealism and Romanticism, and for its professors, who included Schiller, Fichte, Hegel, and Schlegel.

Arranged in numbered paragraphs, in parodical imitation of contemporary legal codes, the text covers pre-drinking etiquette; drinking games, including duels known as 'Bierscandal'; disqualification due to improper behaviour or drunkenness, called 'Bierverschiss'; rejoining festivities upon recovering some semblance of sobriety; singing; and 'legal' matters, including the settling of disputes with recourse to the 'Codex Cerevisiae' (a reference to the peakless student cap known as a 'cerevis').

No copies are recorded on OCLC or KVK, which list comparable codes around the same period for Göttingen and Heidelberg.
You may also be interested in...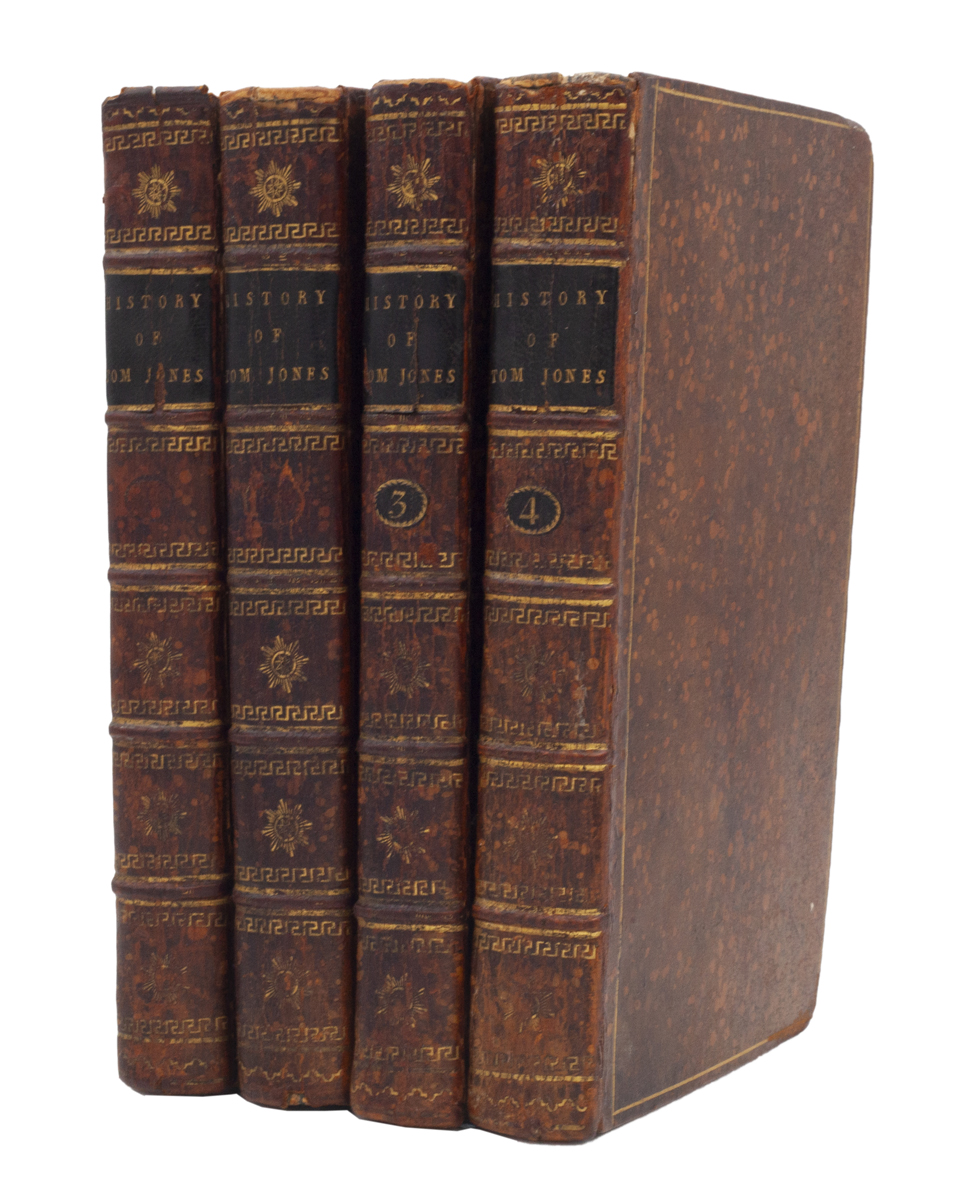 FIELDING, Henry.
The History of Tom Jones, a Foundling …
The first French edition in English of Fielding's masterpiece, only the second English edition to be printed abroad (after Dresden, 1774). Here the text benefits from critical attention by Didot, who collated Murphy's edition of Fielding's Works with the last separate English edition.
AN UNHAPPY PRINCE [GOSCH, Josias Ludwig.]
Der unglückliche Dauphin von Frankreich. Ein dramatisches Gemählde von Louis.
Very rare first edition of this dramatised account of the life, imprisonment and death of Louis-Charles (1785–1795), son of Louis XVI and Marie Antoinette, Dauphin of France from 1789, and titular King of France, as Louis XVII, from 1793, composed by the German philosopher and writer Josias Ludwig Gosch (1765–1811).