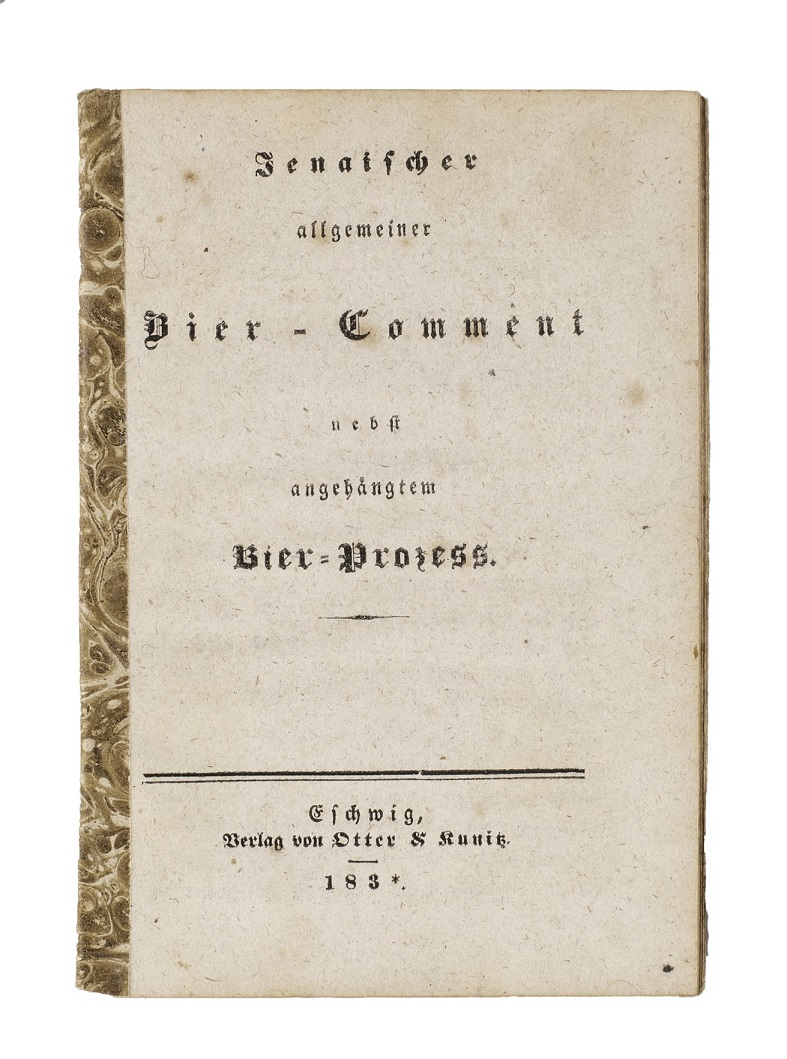 REVELLERS' RULE BOOK
[BEER.]
Jenaischer allgemeiner Bier-Comment nebst angehängtem Bier-Prozess.
'Eschwig, Otter & Kunitz, 183*.'
12mo, pp. iv, 28; a little light foxing, light damp staining to lower margins; very good; without covers, strip of contemporary marbled paper to spine.
£375

Approximately:
US $455
€443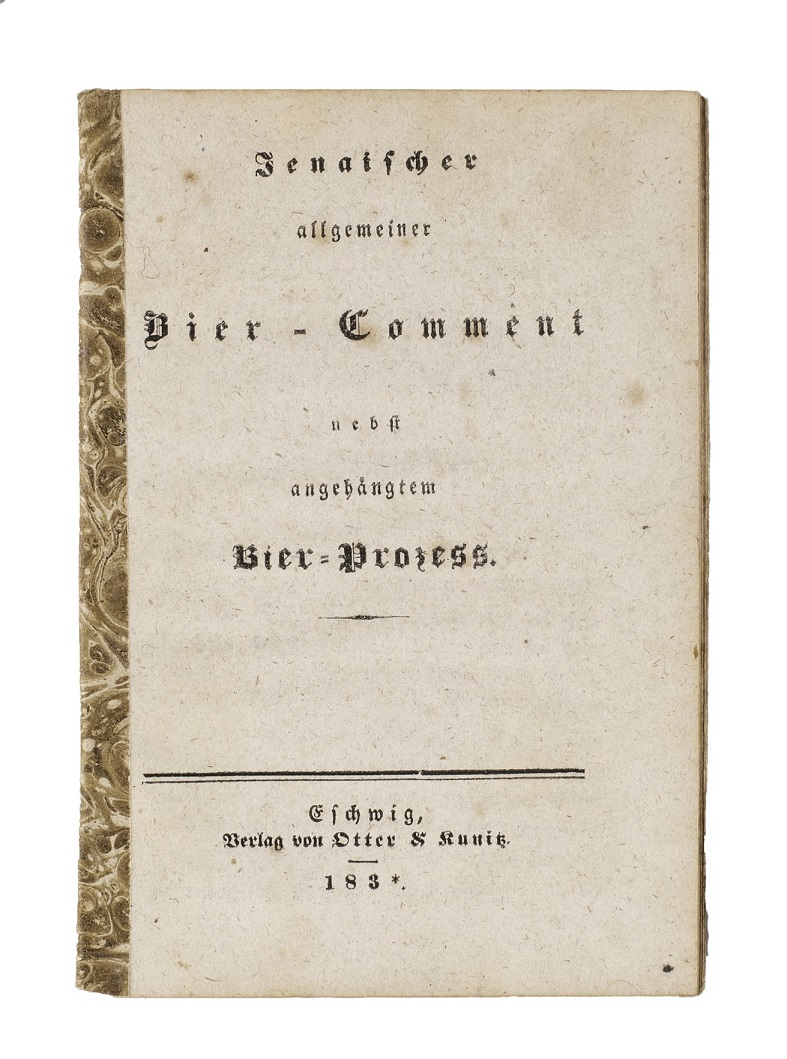 Added to your basket:
Jenaischer allgemeiner Bier-Comment nebst angehängtem Bier-Prozess.
An apparently unrecorded humorous handbook of drinking rules for students at the university of Jena, famous both as a centre of German idealism and Romanticism, and for its professors, who included Schiller, Fichte, Hegel, and Schlegel.

Arranged in numbered paragraphs, in parodical imitation of contemporary legal codes, the text covers pre-drinking etiquette; drinking games, including duels known as 'Bierscandal'; disqualification due to improper behaviour or drunkenness, called 'Bierverschiss'; rejoining festivities upon recovering some semblance of sobriety; singing; and 'legal' matters, including the settling of disputes with recourse to the 'Codex Cerevisiae' (a reference to the peakless student cap known as a 'cerevis').

No copies are recorded on OCLC or KVK, which list comparable codes around the same period for Göttingen and Heidelberg.
You may also be interested in...
POEM ON THE 1755 LISBON EARTHQUAKE ALMEIDA, Theodoro de.
Lisboa destruida poema, author o P. Theodoro de Almeida, da Congregaçaõ do Oratorio de Lisboa.
First edition of this poem in six cantos, with extensive notes, on the disastrous 1755 Lisbon earthquake, by the Oratorian priest and philosopher Almeida (1722-1804). One of the deadliest in history, the earthquake almost totally destroyed the Portuguese capital and accentuated political tensions within the kingdom. It was widely discussed by European Enlightenment philosophers, including Voltaire and Rousseau, and led to important debates around theodicy and philosophical optimism.
UNRECORDED SALUZZO BODONI IMPRINT [BODONI.] 
D. Francesco Giacinto Rovero Cavaliere di Piea, e della Sagra Religione, ed Ordine Militare de' Santi Morizio, e Lazaro, Colonnello di Cavalleria, e Commandante della Città, e Provincia di Saluzzo per Sua Maestà.  [Incipit:] Ad effetto di proccurare col mantenimento del buon ordine la pubblica tranquillità, restando opportuno di rendere nuovamente pubblici li Provvedimenti, che ad un tal fine sono diretti. 
Very rare survival, apparently unrecorded, of this bill of public order laws printed by Giovandomenico Bodoni at Saluzzo.