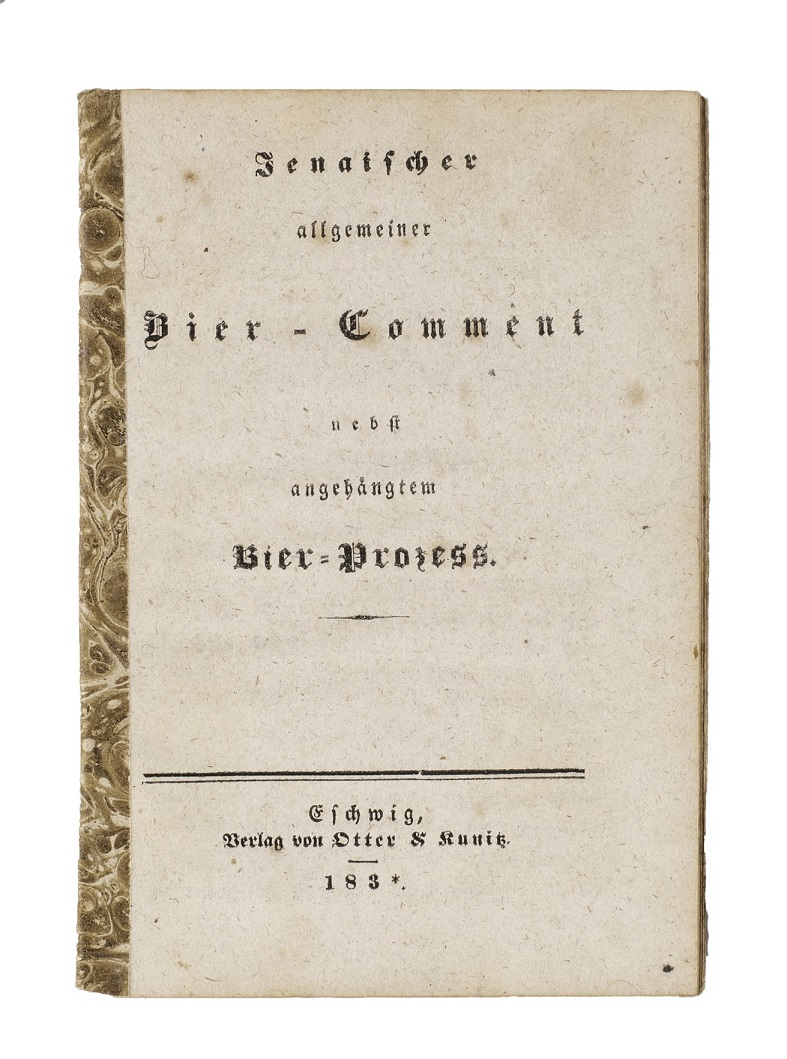 REVELLERS' RULE BOOK
[BEER.]
Jenaischer allgemeiner Bier-Comment nebst angehängtem Bier-Prozess.
'Eschwig, Otter & Kunitz, 183*.'
12mo, pp. iv, 28; a little light foxing, light damp staining to lower margins; very good; without covers, strip of contemporary marbled paper to spine.
£375

Approximately:
US $460
€432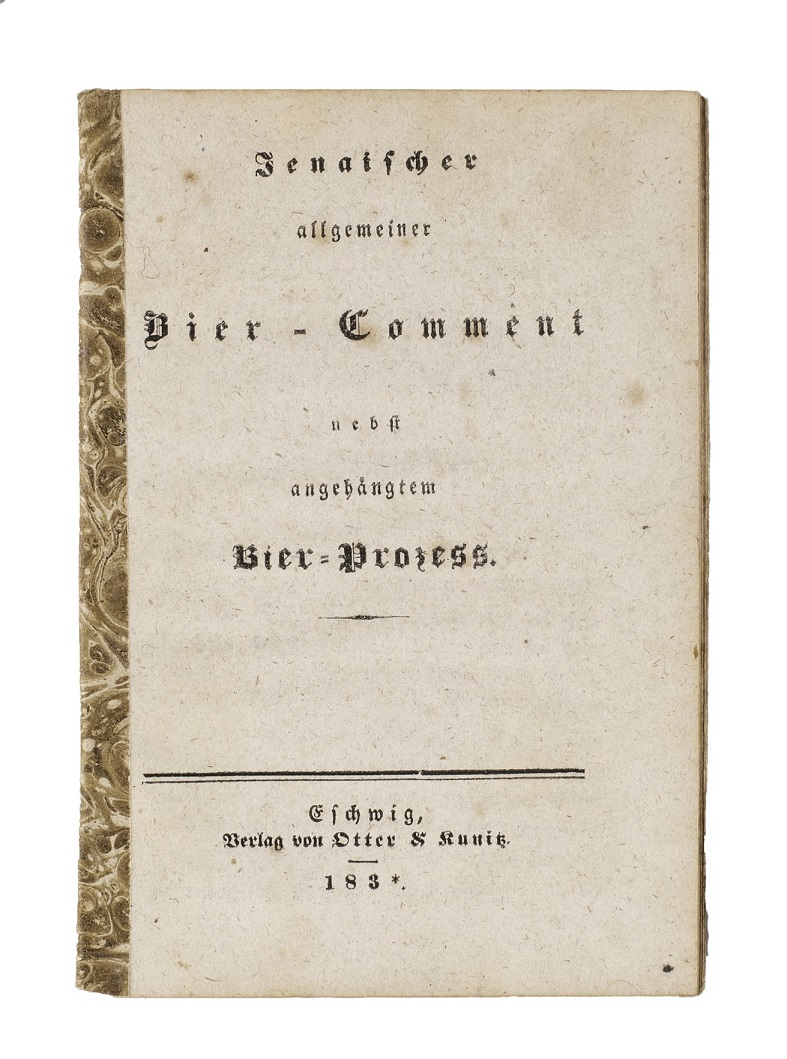 Added to your basket:
Jenaischer allgemeiner Bier-Comment nebst angehängtem Bier-Prozess.
An apparently unrecorded humorous handbook of drinking rules for students at the university of Jena, famous both as a centre of German idealism and Romanticism, and for its professors, who included Schiller, Fichte, Hegel, and Schlegel.

Arranged in numbered paragraphs, in parodical imitation of contemporary legal codes, the text covers pre-drinking etiquette; drinking games, including duels known as 'Bierscandal'; disqualification due to improper behaviour or drunkenness, called 'Bierverschiss'; rejoining festivities upon recovering some semblance of sobriety; singing; and 'legal' matters, including the settling of disputes with recourse to the 'Codex Cerevisiae' (a reference to the peakless student cap known as a 'cerevis').

No copies are recorded on OCLC or KVK, which list comparable codes around the same period for Göttingen and Heidelberg.
You may also be interested in...
AUDEN, Wystan Hugh, and Chester KALLMAN.
The Magic Flute.
First UK edition.
LOVE LETTERS AND LITERARY VENTRILOQUISM
FROM THE LIBRARY OF TYCHO BRAHE'S NEPHEW PARABOSCO, Girolamo. 
Libro primo [- quarto] delle lettere amorose di M. Girolamo Parabosco.  Con alcune altre di nuovo aggiunte. 
Uncommon collected edition of Girolamo Parabosco's (1524–1557) immensely popular letters to anonymous lovers, literary contemporaries, and a courtesan, with several letters written from a female point of view, this copy formerly in the possession of Tycho Brahe's nephew and with several manuscript love poems.