BEISNER, Monika.
Dante Alighieri: La Commedia in 100 tavole.
Turin, Attini, 2021.
100 colour-printed postcards (150 x 100 mm), with 3 part-titles and printed limitation leaf, in 3 trays within a printed case.
Added to your basket:
Dante Alighieri: La Commedia in 100 tavole.
Limited edition, one of 500 numbered sets, of Monika Beisner's one hundred illustrations of the Divine Comedy, each accompanying one canto, conveying with remarkable fidelity the vivacity of Dante's verse.

'Realising the importance of written text as a stimulus to her art, [Beisner] embarked on a successful career as an illustrator of children's books which earned her an international reputation and exhibitions worldwide. In these books, as in all her work, images are always more than illustrations, her aim being to make image and text speak to each other, guided by the principle that the pleasure of looking encourages careful reading and vice versa. In 1992 she undertook a seven-year project to illustrate Dante's Commedia. Many artists have illustrated several cantos but few have illustrated all one hundred, as Monika Beisner has done. Her paintings are now part of Livio Ambrogio's prestigious Dante collection and have been published with Dante's Italian text and also alongside German and English translations.'
You may also be interested in...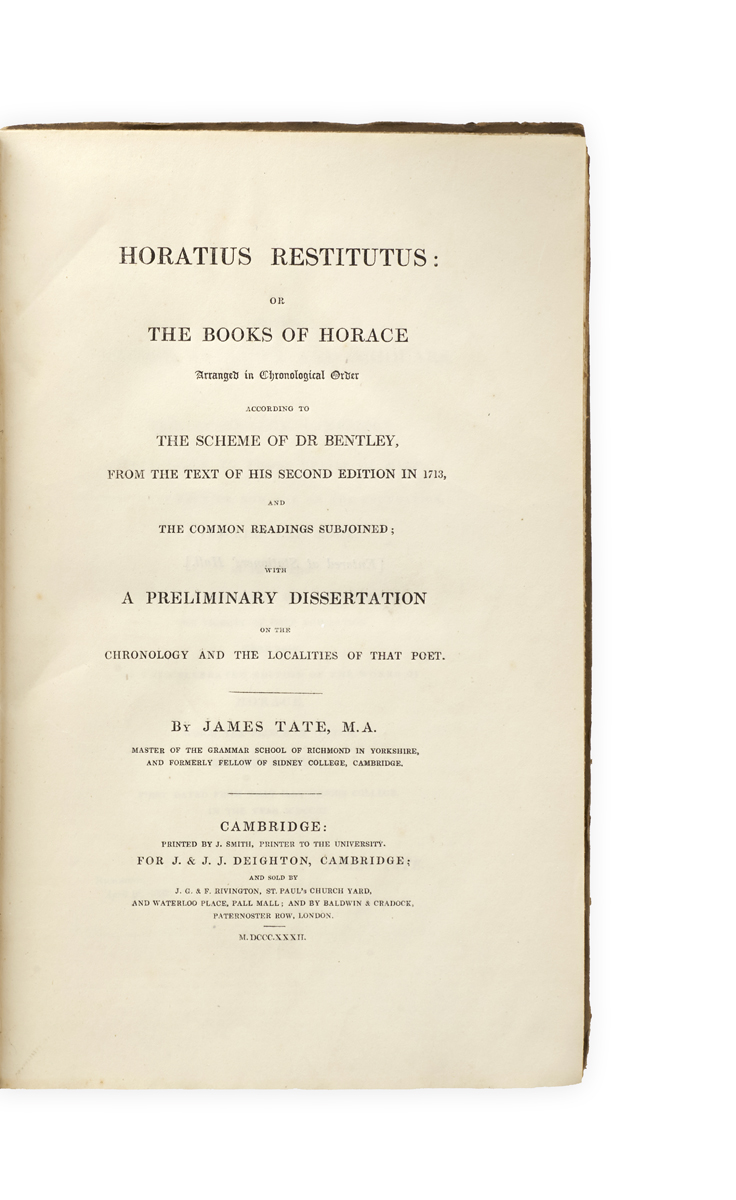 PRESENTATION COPY HORACE; James TATE (editor). 
Horatius restitutus: or the books of Horace arranged in chronological order according to the scheme of Dr Bentley, from the text of his second edition in 1713, and the common readings subjoined; with a preliminary dissertation on the chronology and the localities of that poet …  Cambridge, J. 
First edition of this attempt to arrange the books of Horace in chronological order by the classical scholar and master of Richmond School, James Tate (1771–1843), this copy presented by him to Thomas Gaisford (1779–1855), classicist, Dean of Christ Church Oxford, Regius Professor of Greek, curator of the Bodleian Library, and delegate of the Clarendon Press. 
A 'HIDDEN GEM' BY GALILEO'S PUPIL SOLDANI, Jacopo. 
Lezione di Jacopo Soldani sopra il Brindisi recitata da lui nell'Accademia Fiorentina il dì 20 di gennaio nel 1597. 
First and only edition of satirist Jacopo Soldani's 1597 debut address to the Accademia Fiorentina on the art of making a toast.