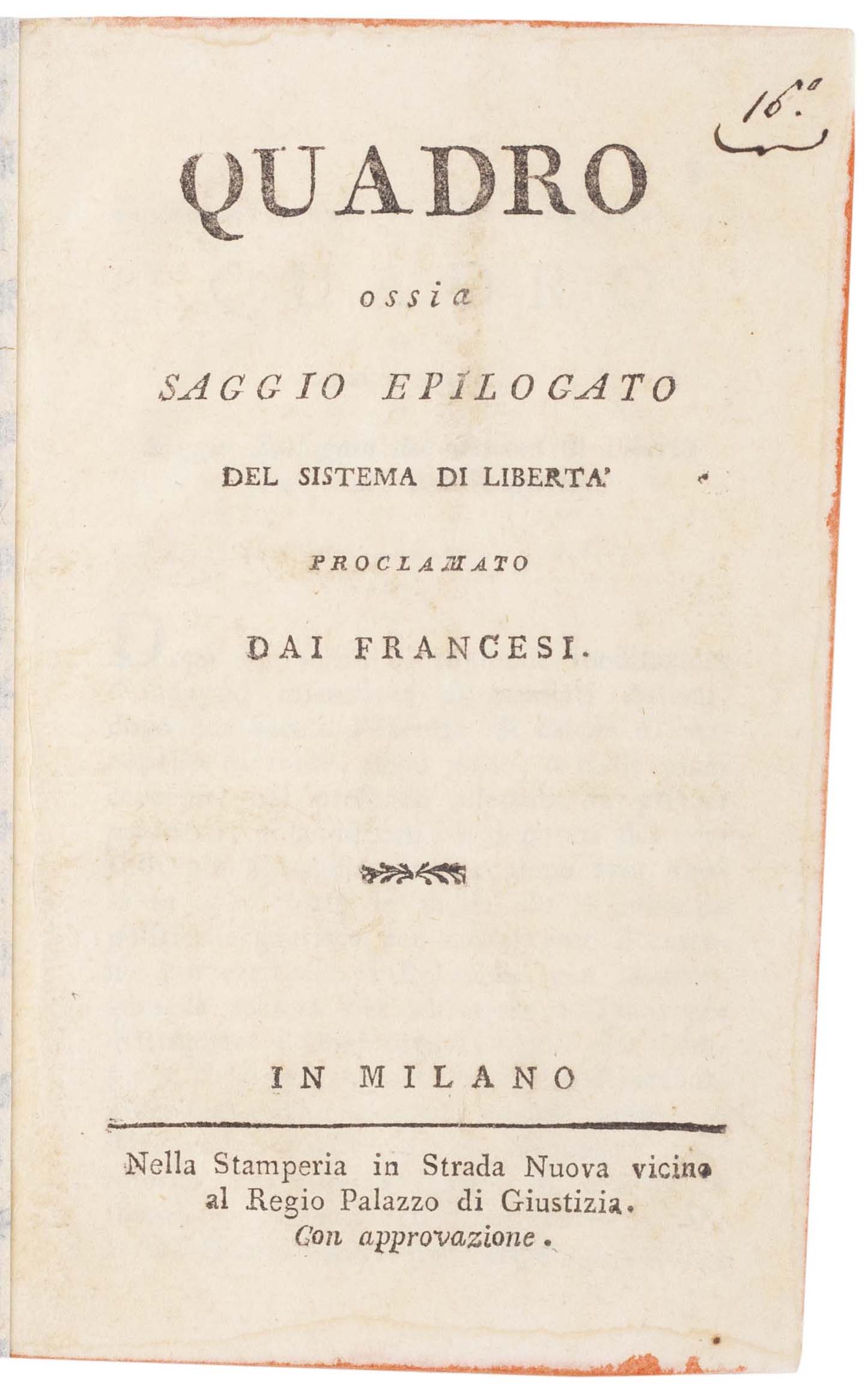 LIBERTY – WHAT LIBERTY?
[BENDISCIOLI, Faustino.]
Quadro ossia saggio epilogato del Sistema di liberta' proclamato dai Francesi.
Milan, Stamperia [dei Patrioti d'Italia] di Strada Nuova, [1799].
8vo, pp. 16; a very good, clean copy recently wrapped using early nineteenth-century patterned paper.
£200

Approximately:
US $242
€231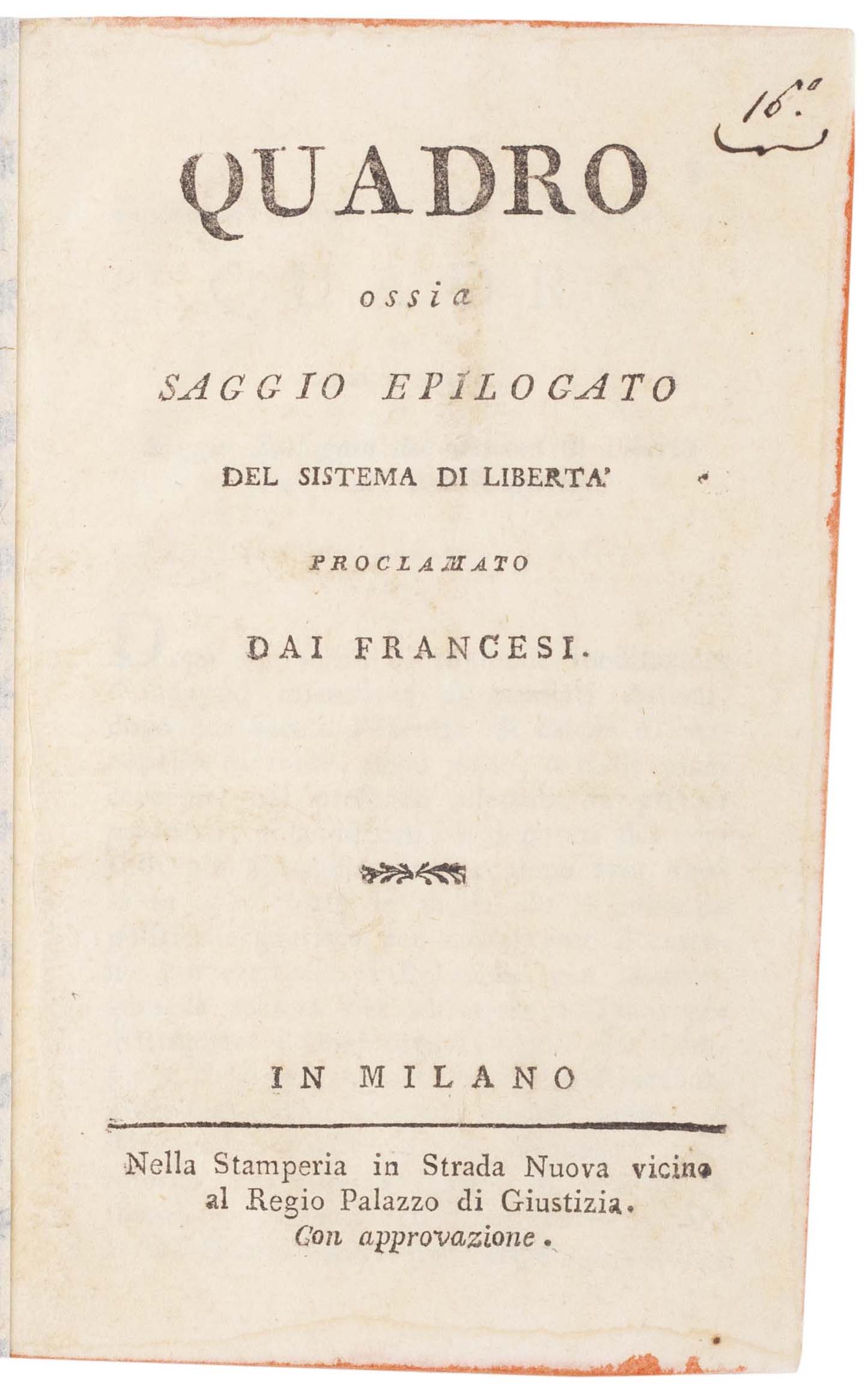 Added to your basket:
Quadro ossia saggio epilogato del Sistema di liberta' proclamato dai Francesi.
An impassioned tract attacking the claims of a new life of liberty promoted in Europe after the French Revolution, very rarely to be found in any of the three editions published in the same year.

The Quadro first appeared in Brescia published by Bendiscioli, father of the author, in 1799 (Peroni, Biblioteca Bresciana I, p. 120). The French Revolutionary enthusiasm promoted in Northern Italy had given rise to short lived versions of the Cisalpine Republic. The author takes issue with the violence, pretence of freedom and, ultimately, oppression that marked the experiment, revealing Northern Italy as little more than a playing card in the hands of the interest of Austria-Russia and France.

IT\ICCU\MILE\050152 (two copies in Italy, none elsewhere).
You may also be interested in...
[MONTAGU, Mary Wortley (attr.), and PUISSIEUX, Madeline de (translator).]
La femme n'est pas inferieure a l'homme, traduit de l'anglois.
First French translation, uncommon, of Woman not inferior to Man: or, a short and modest Vindication of the natural Right of the fair-Sex to a perfect Equality of Power, Dignity, and Esteem, with the Men, first published in 1739 under the name 'Sophia, a person of quality' and sometimes attributed to Mary Wortley Montagu (1689–1762; see Quaritch, Women (2019) 36). Drawing on De l'égalité des deux sexes of Poulain de la Barre, the work examines the justness of the esteem (or lack thereof) in which men hold women, the relative intellectual capacities of the two sexes, whether men are fitter to govern and hold public office than women, and whether women are capable of teaching the sciences and serving in the military. The author concludes: 'let us show [men], by what little we do without aid of education, the much we might do if they did us justice; that we may force a blush from them, if possible, and compel them to confess their own baseness to us, and that the worst of us deserve much better treatment than the best of us receive'.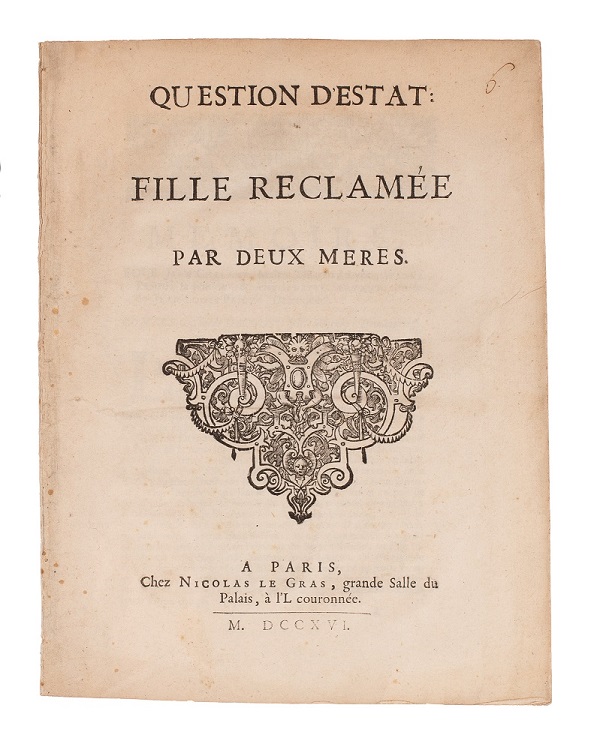 SWITCHED AT BIRTH GAYOT DE PITAVAL (Conseil).
Question d'estat: fille reclamée par deux meres.
First edition of this account by the famous advocate François Gayot de Pitaval (1673–1743) of a 1709 case, where a midwife had substituted a new-born girl who was then claimed both by the real mother and the woman to whom the baby had been given. Pitaval's account details the principles by which decisions are made about parenthood in lieu of proper evidence, and seeks to prove who the true parents are, with evidence from the midwife and others. Various objections, both factual and legal, are addressed, and the account closes with a statement of the damages awarded to the parents after the lengthy and public case.