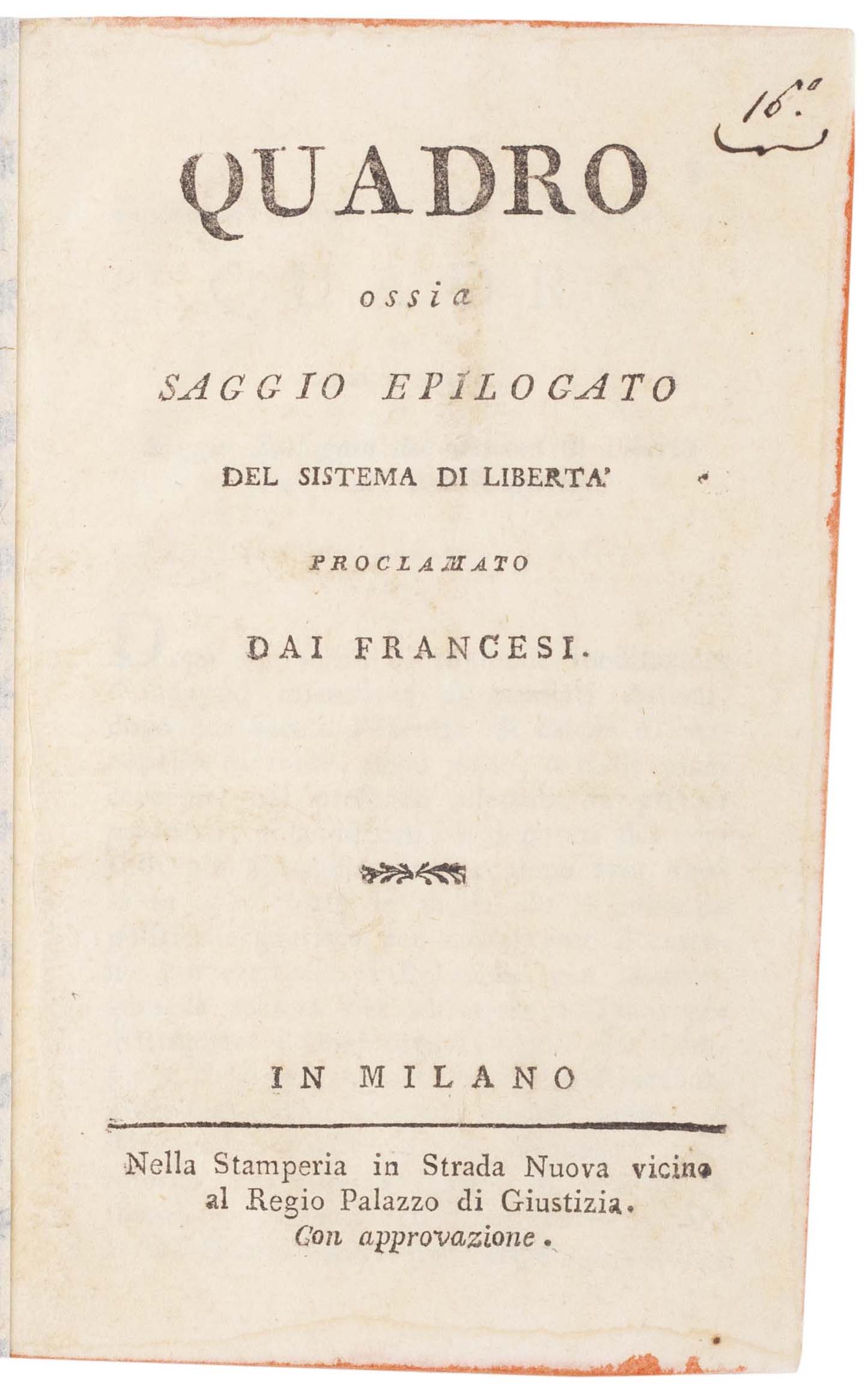 LIBERTY – WHAT LIBERTY?
[BENDISCIOLI, Faustino.]
Quadro ossia saggio epilogato del Sistema di liberta' proclamato dai Francesi.
Milan, Stamperia [dei Patrioti d'Italia] di Strada Nuova, [1799].
8vo, pp. 16; a very good, clean copy recently wrapped using early nineteenth-century patterned paper.
£200

Approximately:
US $274
€237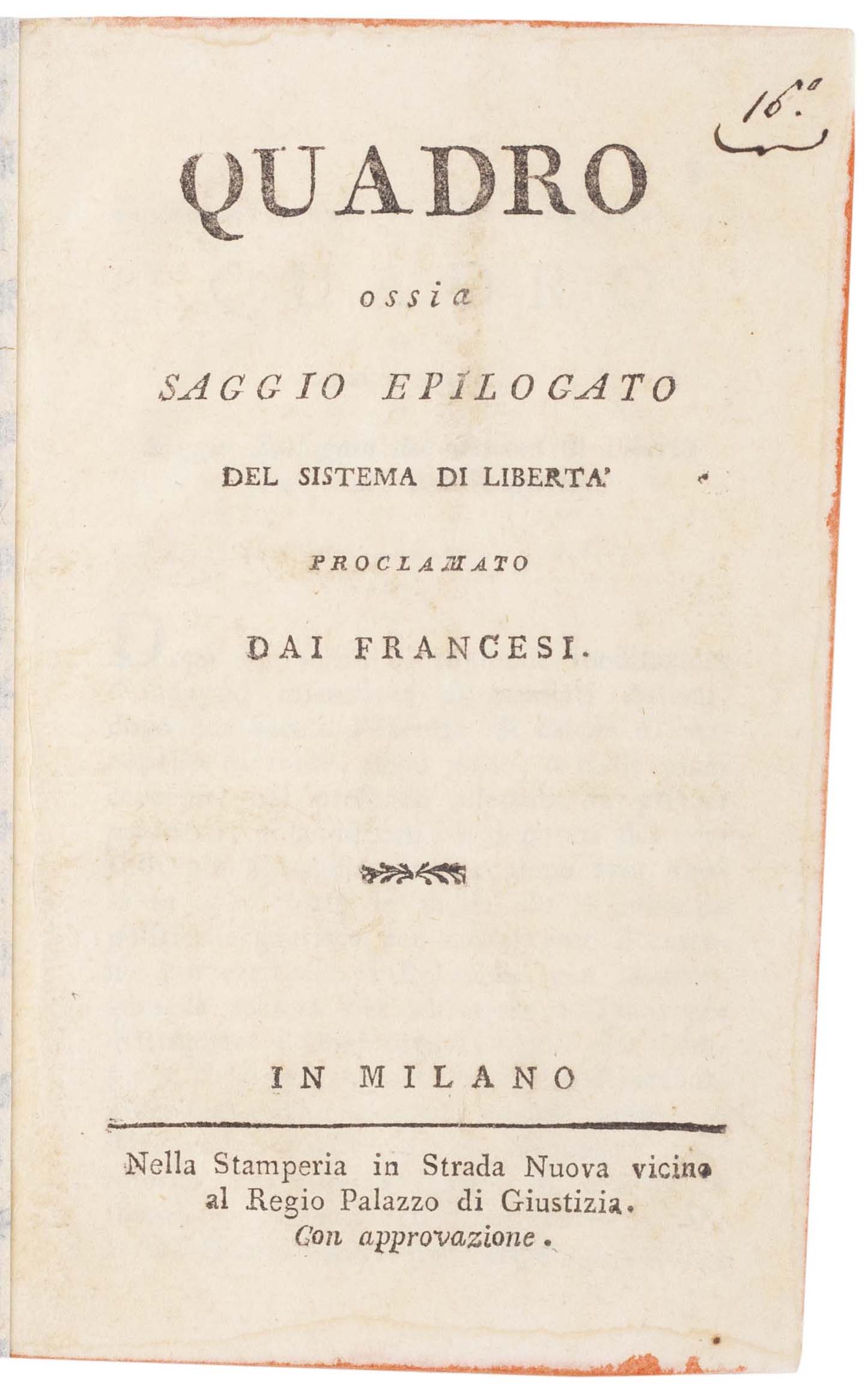 Added to your basket:
Quadro ossia saggio epilogato del Sistema di liberta' proclamato dai Francesi.
An impassioned tract attacking the claims of a new life of liberty promoted in Europe after the French Revolution, very rarely to be found in any of the three editions published in the same year.

The Quadro first appeared in Brescia published by Bendiscioli, father of the author, in 1799 (Peroni, Biblioteca Bresciana I, p. 120). The French Revolutionary enthusiasm promoted in Northern Italy had given rise to short lived versions of the Cisalpine Republic. The author takes issue with the violence, pretence of freedom and, ultimately, oppression that marked the experiment, revealing Northern Italy as little more than a playing card in the hands of the interest of Austria-Russia and France.

IT\ICCU\MILE\050152 (two copies in Italy, none elsewhere).
You may also be interested in...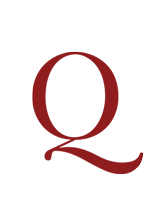 [HERBERT, Henry John George, third earl of Carnarvon.]
Portugal and Gallicia, with a review of the social and political state of the Basque Provinces; and a few remarks on recent events in Spain. To which is now subjoined, a reply to the 'Policy of England towards Spain' . . . Second edition.
Second, expanded, edition; first published the previous year. Carnarvon (or, as he then was, Viscount Porchester) visited Spain and Portugal in July 1827. 'His companion on the voyage out to Lisbon had been Sir Arthur de Capell Brooke, who was on his way to Cádiz en route to North Africa . . . . After three weeks in Lisbon, Porchester rode north to Oporto and crossed the Miño at Tuy. From Vigo, with its ría sparkling in the sun, he entered Pontevedra in drenching rain. Hence – although the landlord's daughter was pretty and not disinclined to a little flirtation – he pressed on to Santiago' (Robertson). After taking in La Coruña, where he visited the battlefield of 1809, Porchester crossed to El Ferrol and then 'rode inland to Lugo, where he was arrested in the middle of the night on obscure "political grounds", and to his great personal inconvenience and irritation was sent back under escort to Santiago. Instead of visiting Orense as had been his plan, all he saw was the interior of a number of horrid ventas, which he had always tried to avoid' (ibid.). The Secretary of Police at Santiago set Porchester at liberty, but the following morning he was arrested again and subjected to a farcical cross-examination during which he had to refute allegations that he was a Spanish Liberal agent acting in concert with Spanish Constitutional refugees in Portugal. He returned to Portugal shortly afterwards.
PRESERVING POTATOES [POTATOES.]
Aus den Kartoffeln Mehl zu verfertigen, oder Die Kartoffel, auf ein, ja auch auf mehrere Jahure aufzubewahren. Ze zemčat (erteplí) mauku dělati, aneb zemčata na jeden rok, ano i na wíce let zachomati.
An excellent copy of these instructions, printed in German and Czech, on the manufacture and use of potato flour and the technique of preserving potatoes for more than a year.