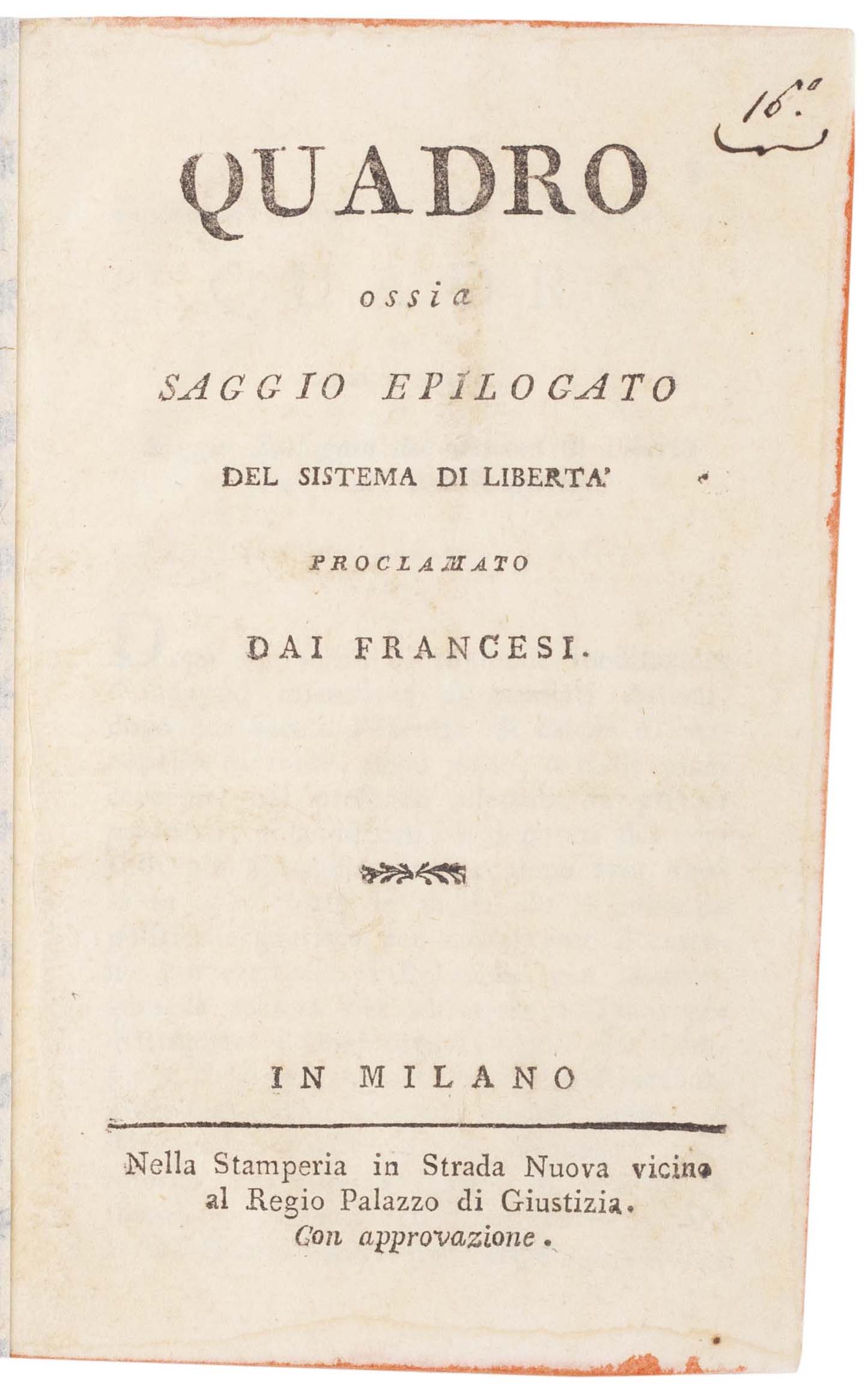 LIBERTY – WHAT LIBERTY?
[BENDISCIOLI, Faustino.]
Quadro ossia saggio epilogato del Sistema di liberta' proclamato dai Francesi.
Milan, Stamperia [dei Patrioti d'Italia] di Strada Nuova, [1799].
8vo, pp. 16; a very good, clean copy recently wrapped using early nineteenth-century patterned paper.
£200

Approximately:
US $246
€230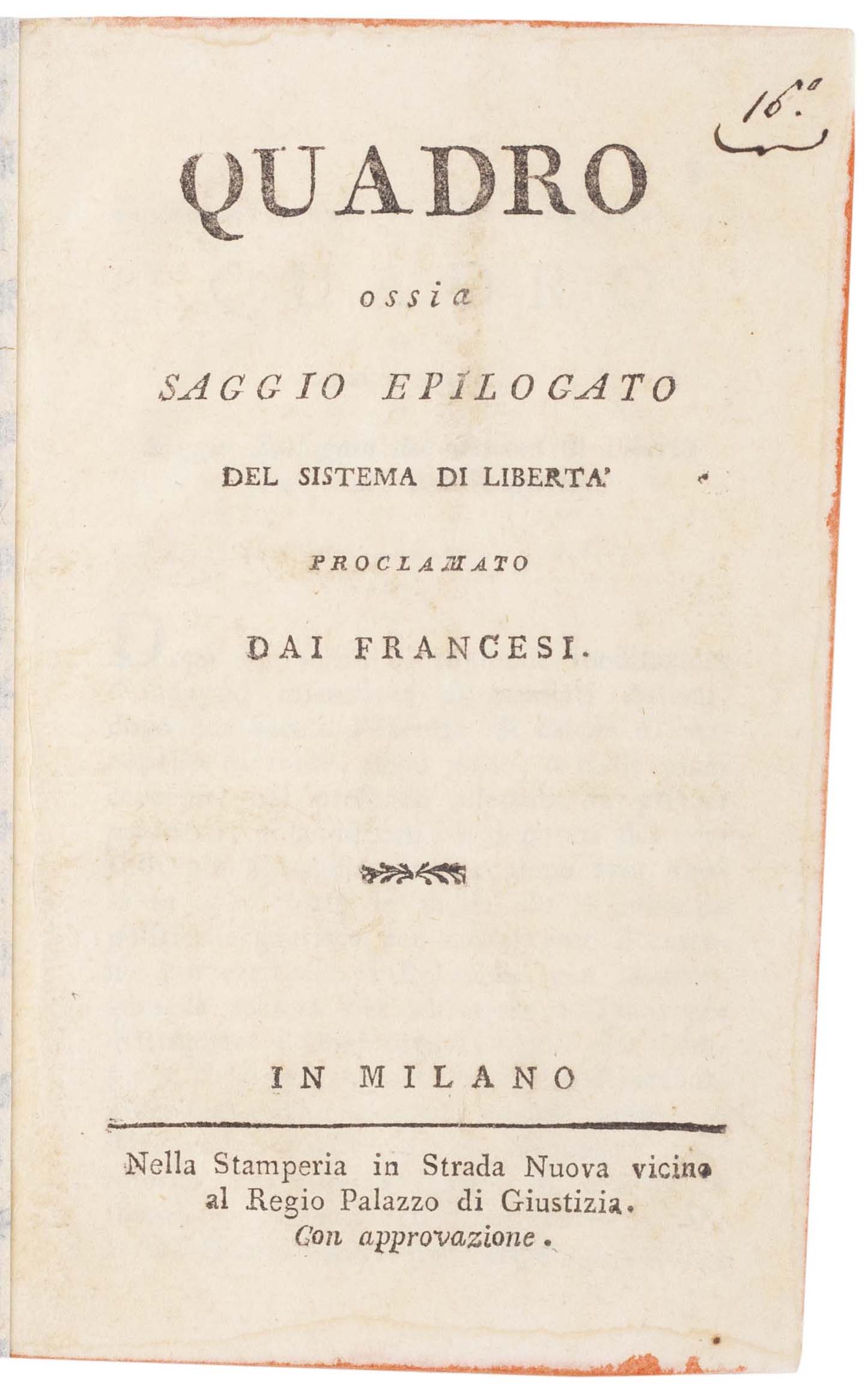 Added to your basket:
Quadro ossia saggio epilogato del Sistema di liberta' proclamato dai Francesi.
An impassioned tract attacking the claims of a new life of liberty promoted in Europe after the French Revolution, very rarely to be found in any of the three editions published in the same year.

The Quadro first appeared in Brescia published by Bendiscioli, father of the author, in 1799 (Peroni, Biblioteca Bresciana I, p. 120). The French Revolutionary enthusiasm promoted in Northern Italy had given rise to short lived versions of the Cisalpine Republic. The author takes issue with the violence, pretence of freedom and, ultimately, oppression that marked the experiment, revealing Northern Italy as little more than a playing card in the hands of the interest of Austria-Russia and France.

IT\ICCU\MILE\050152 (two copies in Italy, none elsewhere).
You may also be interested in...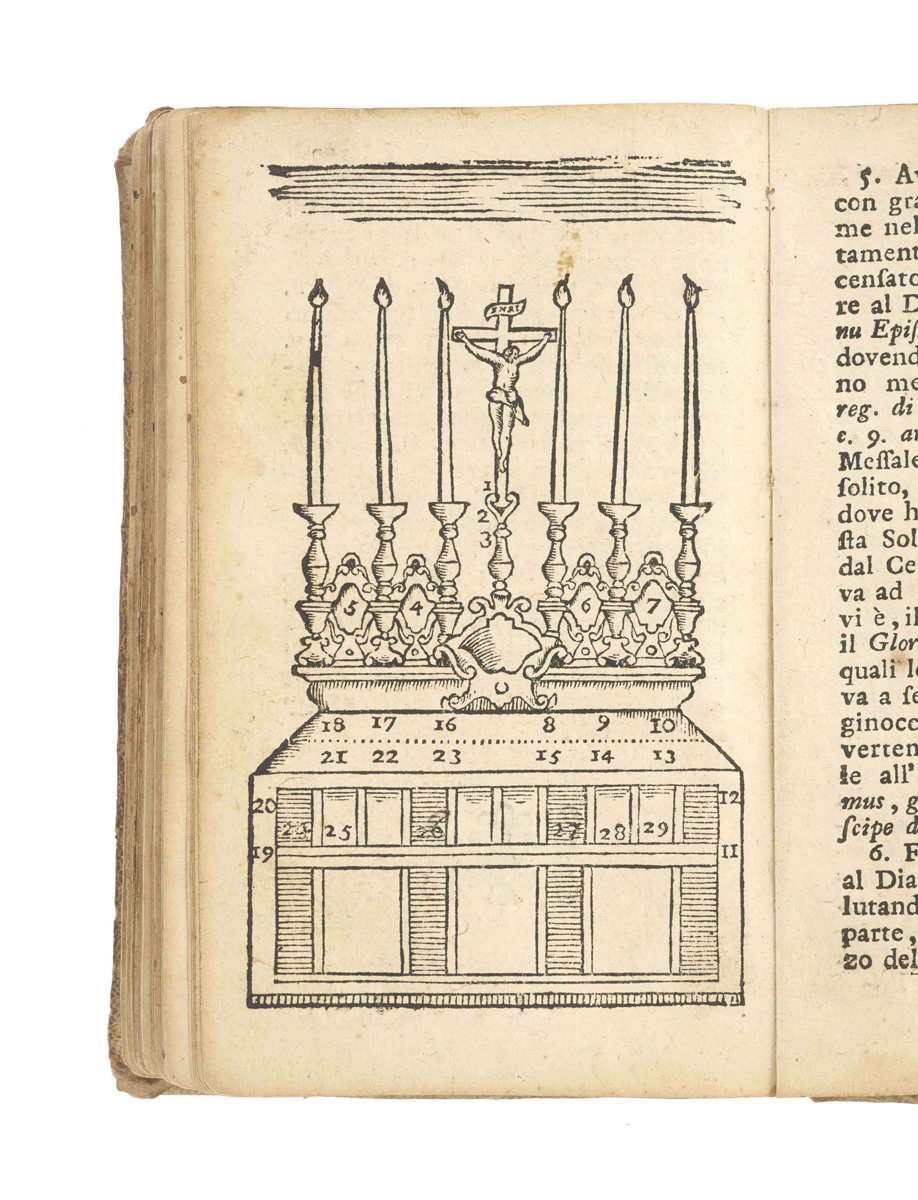 [LITURGY.]
Cerimonie piu' notabili della messa privata; Cavate dalle rubriche del Missale, ed altri autori da un Sacerdote D.C.D.M. Coll'aggiunta di quelle della messa, e vespri solenni si pei vivi, che pei defunti, col modo di servire alla messa privata. Da un'Alunno del Seminario di Torino.
As far as we are aware unrecorded edition of this uncommon treatise on the celebration of the mass and its associated rituals. Dealing both with private (low) masses and with solemn mass and solemn vespers, the work explains the meaning and performance of the non-verbal aspects of the liturgy: genuflection, the sign of the cross, the communion of the faithful, the movements of the celebrant's hands, the role of acolytes and thurifers (also during requiem masses), the office of the subdeacon and deacon, the use of incense, and instructions for serving at the missa private. The woodcut on page 200 depicts the altar, annotated with numbers referring to the relevant parts of the text.
The text itself appears first to have been published around the turn of the century; the earliest issue in SBN is a Naples printing of 1701, but that claims to be 'novamente riviste, ed accresciute', and is only of 134 pages in 12s. Other editions appeared in Pavia, Turin, and Modena, while Venetian printings were issued in 1739 and 1750. All seem very scarce.
Not in OCLC, which records only a Venice printing of the same year (in the Polish Union Catalogue); SBN does not record this edition.
HAWTHORNE, Nathaniel. 
Transformation: or, the romance of Monte Beni [Title on spine: The Marble Faun]. 
First edition thus, extra-illustrated with ninety-nine albumen print photographs.