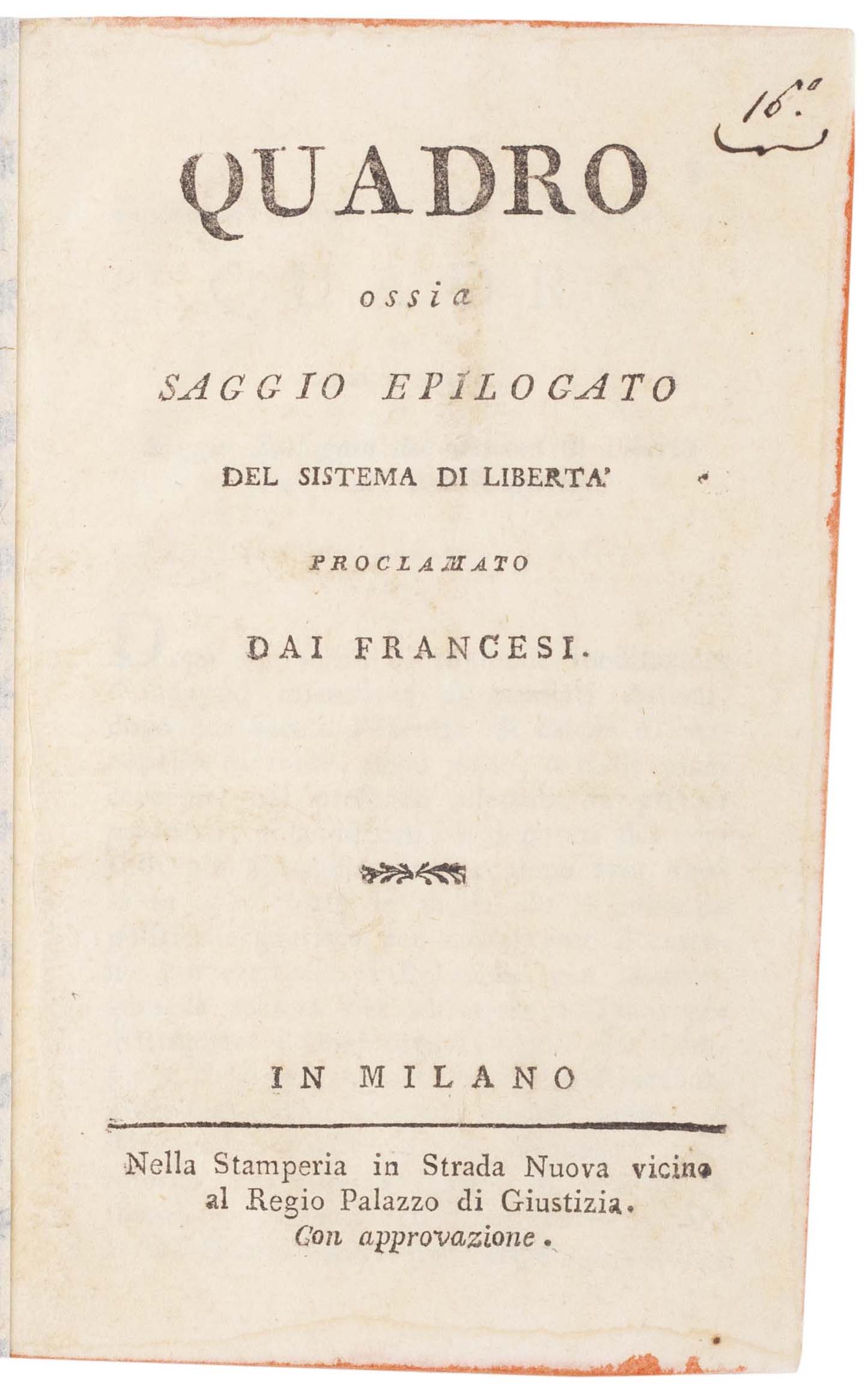 LIBERTY – WHAT LIBERTY?
[BENDISCIOLI, Faustino.]
Quadro ossia saggio epilogato del Sistema di liberta' proclamato dai Francesi.
Milan, Stamperia [dei Patrioti d'Italia] di Strada Nuova, [1799].
8vo, pp. 16; a very good, clean copy recently wrapped using early nineteenth-century patterned paper.
£200

Approximately:
US $244
€231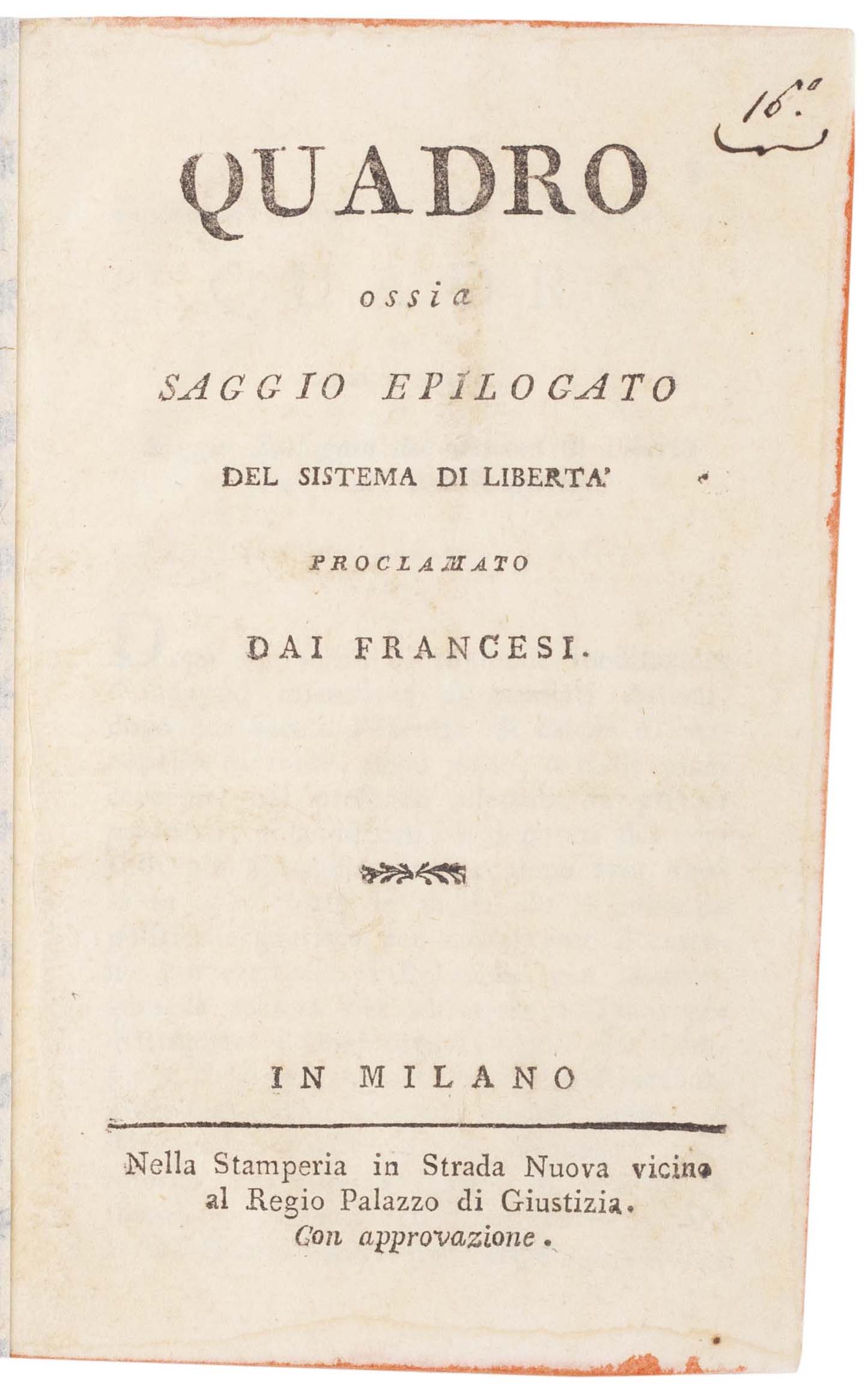 Added to your basket:
Quadro ossia saggio epilogato del Sistema di liberta' proclamato dai Francesi.
An impassioned tract attacking the claims of a new life of liberty promoted in Europe after the French Revolution, very rarely to be found in any of the three editions published in the same year.

The Quadro first appeared in Brescia published by Bendiscioli, father of the author, in 1799 (Peroni, Biblioteca Bresciana I, p. 120). The French Revolutionary enthusiasm promoted in Northern Italy had given rise to short lived versions of the Cisalpine Republic. The author takes issue with the violence, pretence of freedom and, ultimately, oppression that marked the experiment, revealing Northern Italy as little more than a playing card in the hands of the interest of Austria-Russia and France.

IT\ICCU\MILE\050152 (two copies in Italy, none elsewhere).
You may also be interested in...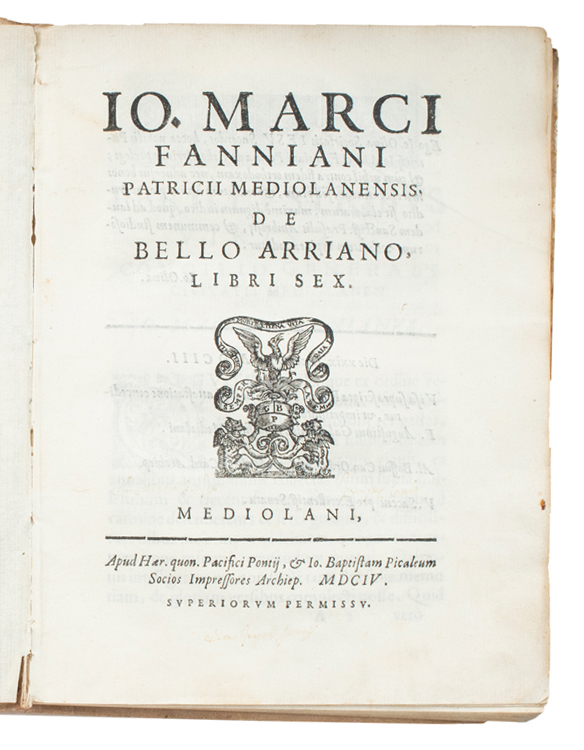 ST AMBROSE FIGHTS ARIANISM FAGNANI, Giovanni Marco. 
De bello Arriano libri sex. 
First and only edition of the sole published work by the Italian nobleman Giovanni Marco Fagnani (1524–1609), an epic poem recounting Ambrose of Milan's campaign against local Arians in late fourth-century Lombardy. 
JESUIT LOGIC AND PHYSICS [LALANDE, Fr.] 
[Philosophy course.] 
Fair manuscript copy of a course of philosophy for the use of clerical students offering a systematic treatment of Aristotelian Logic and Physics.  The initial inscription states that this course was given by a Jesuit, Fr. Lalande, to Jacques Becheau of Périgord in 1681.  The course is articulated in the disputationes dealing in depth with logics and metaphysics at first, then physics and astrology in the second part.  A fair example of Jesuit Aristotelianism with significant departures from Aquinas's interpretation, this manuscript offers an insight into the Jesuit order's agility in adapting the received 'calculations' of syllogism and deduction to early-modern challenges coming from the emergence of experimental science in the age of Galileo.