NUMISMATIC IN THE EARLY 1800S
BENTHAM, William, barrister and numismatist.
Autograph letter to the bookseller Lackington.
Upper Gower Street [London], 25 August 1819.
8vo, pp. 1 + 1 blank, slightly trimmed at upper right-hand corner, light foxing, creases where folded.
£100

Approximately:
US $124
€118
Added to your basket:
Autograph letter to the bookseller Lackington.
Writing in the third person, Bentham requests that he be sent the 'Supplemt of Mr Ruding's Coins intended for the purchasers of the quarto edn'. Rogers Ruding (1751-1820) published his Annals of the Coinage, a chronological account of English coinage, in four quarto volumes in 1817. It sold out quickly and was republished in 1819.

William Bentham, barrister, lived at 98 Upper Gower Street, between 1789 and 1836. He was probably a descendant of Bishop Thomas Bentham (1513/14-1579) and therefore a cousin of the philosopher Jeremy Bentham. The following note appeared in the Proceedings of the Royal Numismatic Society upon his death in 1836: 'In Mr Bentham, numismatic science has lost an ardent promoter and extensive collector, as the catalogue of his collection, now in the Society's library, evinces.'
You may also be interested in...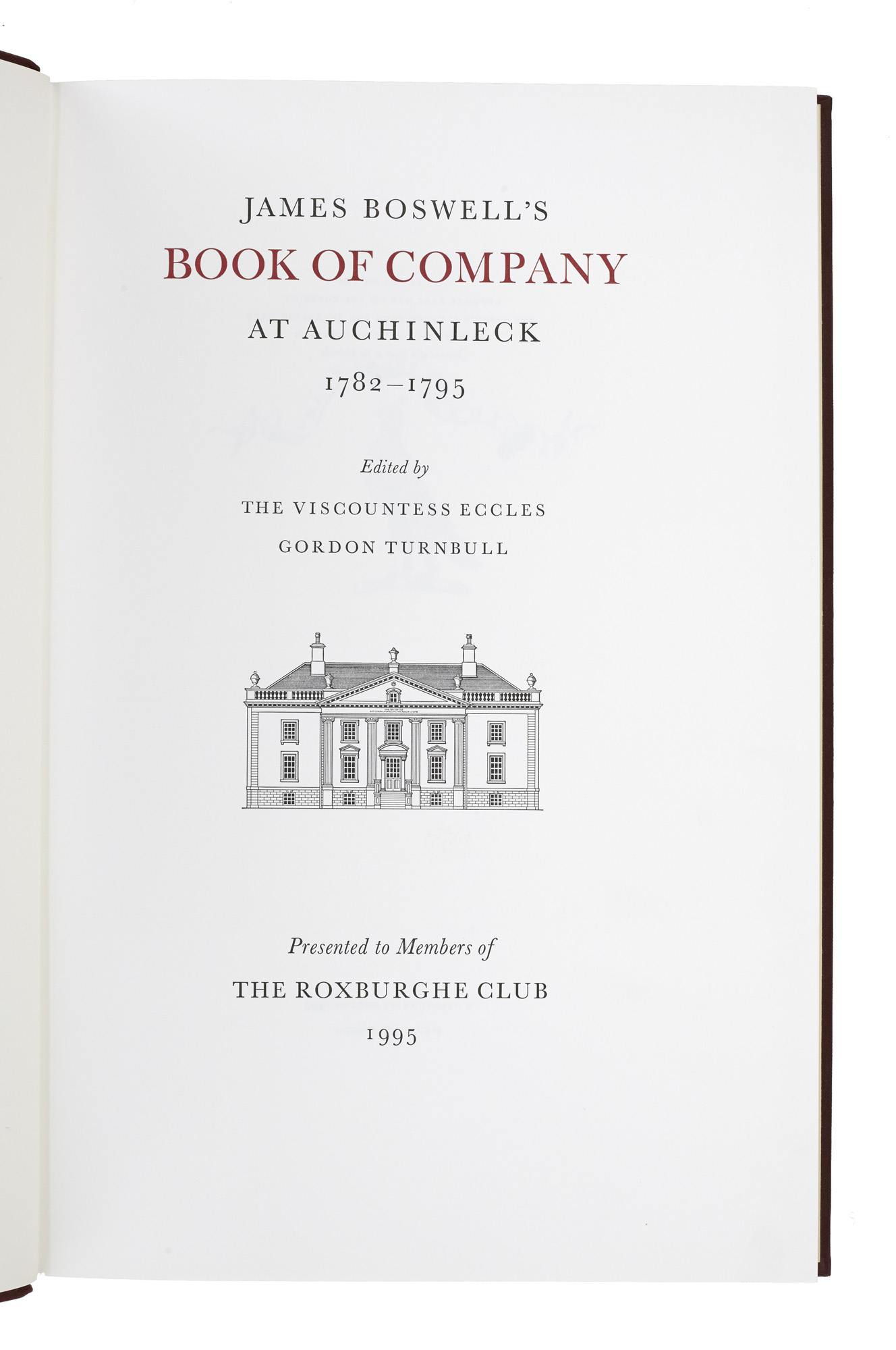 ECCLES, Mary, Viscountess, and Gordon TURNBULL, eds..
James Boswell's Book of Company at Auchinleck.
The Book of Company is much more than a visitor's book, since James Boswell comments on the men and women he met and entertained, and the occasions of his doing so, are all his own. It is therefore an important addition to his many-sided self-portrait. Beginning in 1782, two years before Samuel Johnson died, and ending five months before Boswell's own death in May 1795, it reflects Boswell's anguished uncertainties, as well as the everyday details of where he was, with whom he dined, whom he saw in the evening and – punctually recorded – how many bottles of wine and spirits were dispatched. The book is here reproduced in full facsimile, interleaved with a transcript on facing pages. At the foot of each page is a commentary, largely drawn from Boswell's correspondence and journals, which converts it into a comprehensive day by day diary of his thoughts and actions throughout the period.
PRESENTED BY THE AUTHOR TO OTTO RANK JONES, (Alfred) Ernest.
Papers on psycho-analysis … Revised and enlarged edition.
Enlarged second edition (first 1913) of Ernest Jones's collected papers on psychoanalysis, an extraordinary association copy presented by the author to the Austrian psychologist Otto Rank (1884–1939).