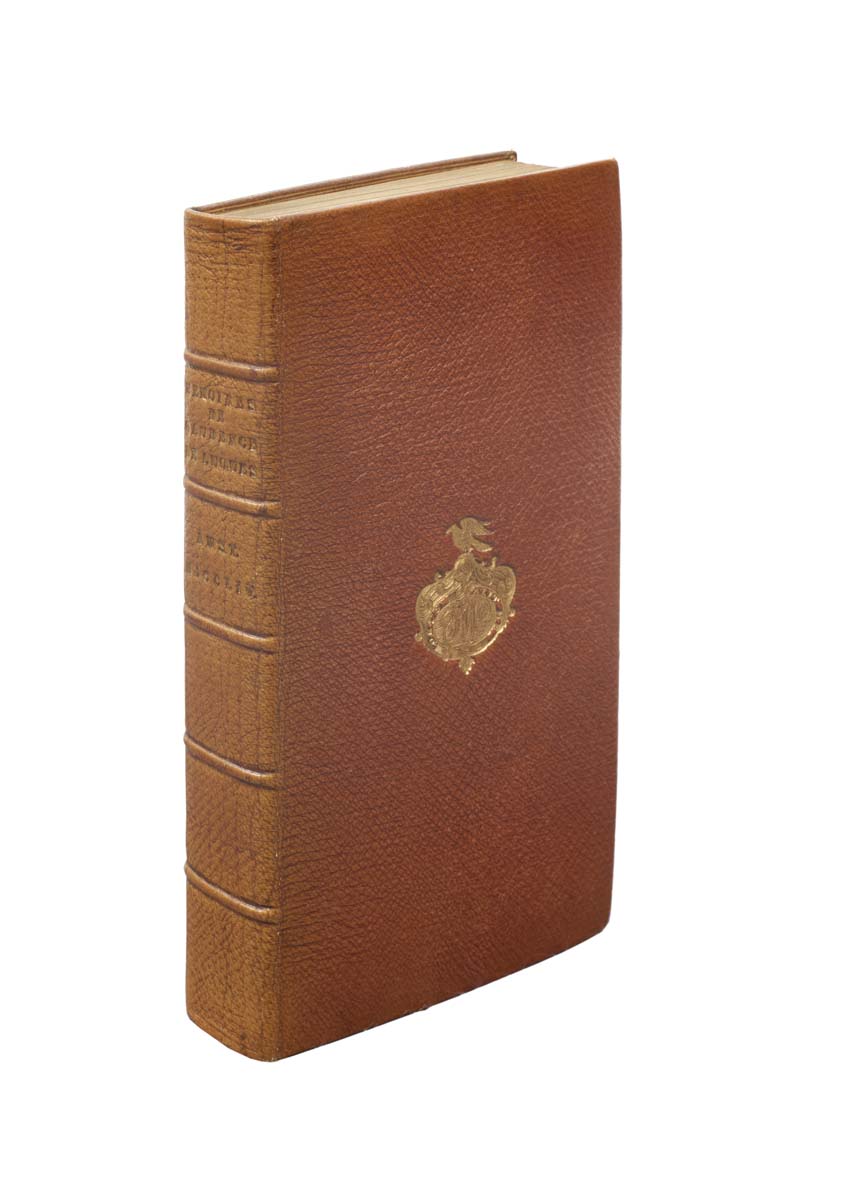 THEODORE WILLIAM'S COPY
[BERINGTON, Simon, adapted by Jean-Baptiste DUPUY-DEMPORTES.]

Memoires de Gaudence de Luques, prisonnier de l'Inquisition … Première [– quatrième] partie.
Amsterdam and Leipzig, Arkstée & Merkus, 1754.
Four parts in one vol., 12mo. pp. [2], lxiv, 98; [2], 154; [2], 148; [2], 166, [2 (errata)]; with an engraved frontispiece to each part; title-pages printed in red and black; some scattered foxing, else a very good copy from the library of the Rev. Theodore Williams, in a characteristic binding of full crushed orange morocco with his gilt crest and arms to the covers, spine lettered direct; later bookplate of Lord Northwick.
£650

Approximately:
US $789
€768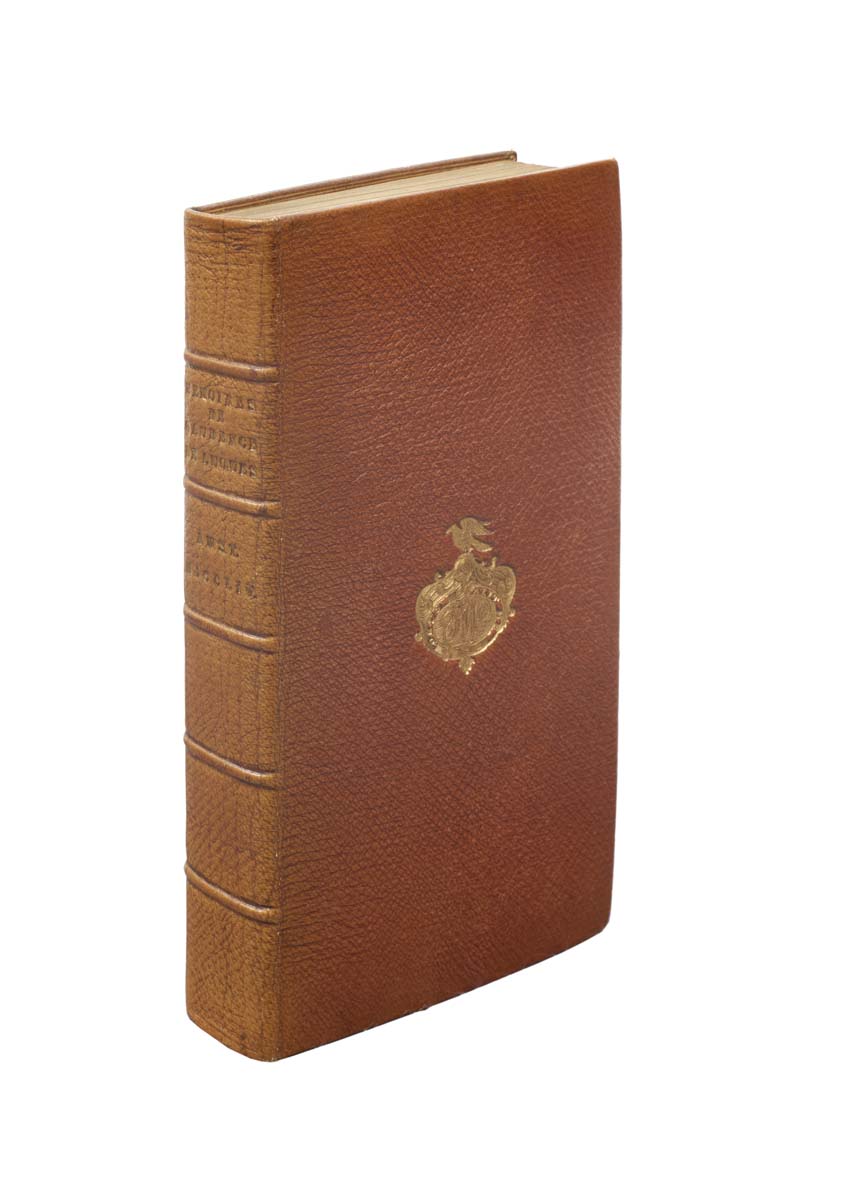 Added to your basket:
Memoires de Gaudence de Luques, prisonnier de l'Inquisition … Première [– quatrième] partie.
Second edition of this much expanded and altered translation of Berington's celebrated utopian novel, Memoirs of Sigr Gaudentio di Lucca (1737). The Memoirs enjoyed immense popularity, undergoing at least twelve eighteenth-century editions in English and contemporary translations into French, German and Dutch. With the author thought to be George Berkeley, the great Christian idealist, 'it attained to a rank and dignity comparable to that of the Republic of Plato, the Utopia of Sir Thomas More, and the New Atlantis of Lord Bacon' (Lee M. Ellison, 'Gaudentio Di Lucca: a Forgotten Utopia', PMLA, L [1935], 494-509).

'The earlier utopias lacked concreteness. In fact, they can hardly be said to exist in an objective sense, but only as abstractions. Berington's Mezzorania, on the other hand, is as real as Mexico and Peru; and integrated with his philosophy and social theory is a narrative that runs the whole gamut from idyllic romance to luscious intrigue and bloody adventure' (Ellison).

The (anonymous) first French translation of the Memoirs appeared in a two-volume edition of 1746. Dupuy-Demportes' version (first published in Paris in 1753) included a number of new episodes, and was so liberally and successfully adapted to its new context that it became a firm part of the French utopian tradition.

The library of Theodore Williams 'mainly consisting of biblical texts, books printed on vellum and volumes on large or largest paper' (De Ricci), many in similar bindings of brightly coloured morocco, was sold in 1827.

Gove, pp. 295-300; McBurney 323; Esdaile, p. 163.
You may also be interested in...
CORNELIUS NEPOS.
Cornelii Nepotis vitae excellentium imperatorum, editio nova emendatior.
An uncommon pocket edition of Cornelius Nepos's Lives, attractively bound with striking gilt endpapers. The only surviving work by the first-century BC biographer Cornelius Nepos, the Vitae excellentium imperatorum once formed part of a broader De viris illustribus. The Lives include Themistocles, Pausanias, and Hannibal; the most interesting character portrayal is that of Alcibiades, while the last two biographies are the most accomplished, describing the elder Cato and Atticus, with whom Nepos was intimate.
LIFE OF THE BLACK HAITIAN SLAVE TURNED REVOLUTIONARY LEADER [COUSIN D'AVALLON.] 
Histoire de Toussaint-Louverture, chef des noirs insurgés de Saint-Domingue; précédée d'un coup d'oeil politique sur cette colonie, et suivie d'anecdotes et faits particuliers concernant ce chef des noirs, et les agens directoriaux envoyés dans cette partie du Nouveau-Monde, pendant le cours de la révolution ... 
First edition, uncommon on the market, of this biography of Toussaint Louverture (1743–1803), former slave and leader of the Haitian Revolution, complete with a famous portrait of him in military dress.  The only slave uprising that led to the founding of a state both free from slavery and ruled by non-whites and former captives, the revolution in Haiti, with Louverture at its centre, represents a defining moment in the history of the Atlantic world.