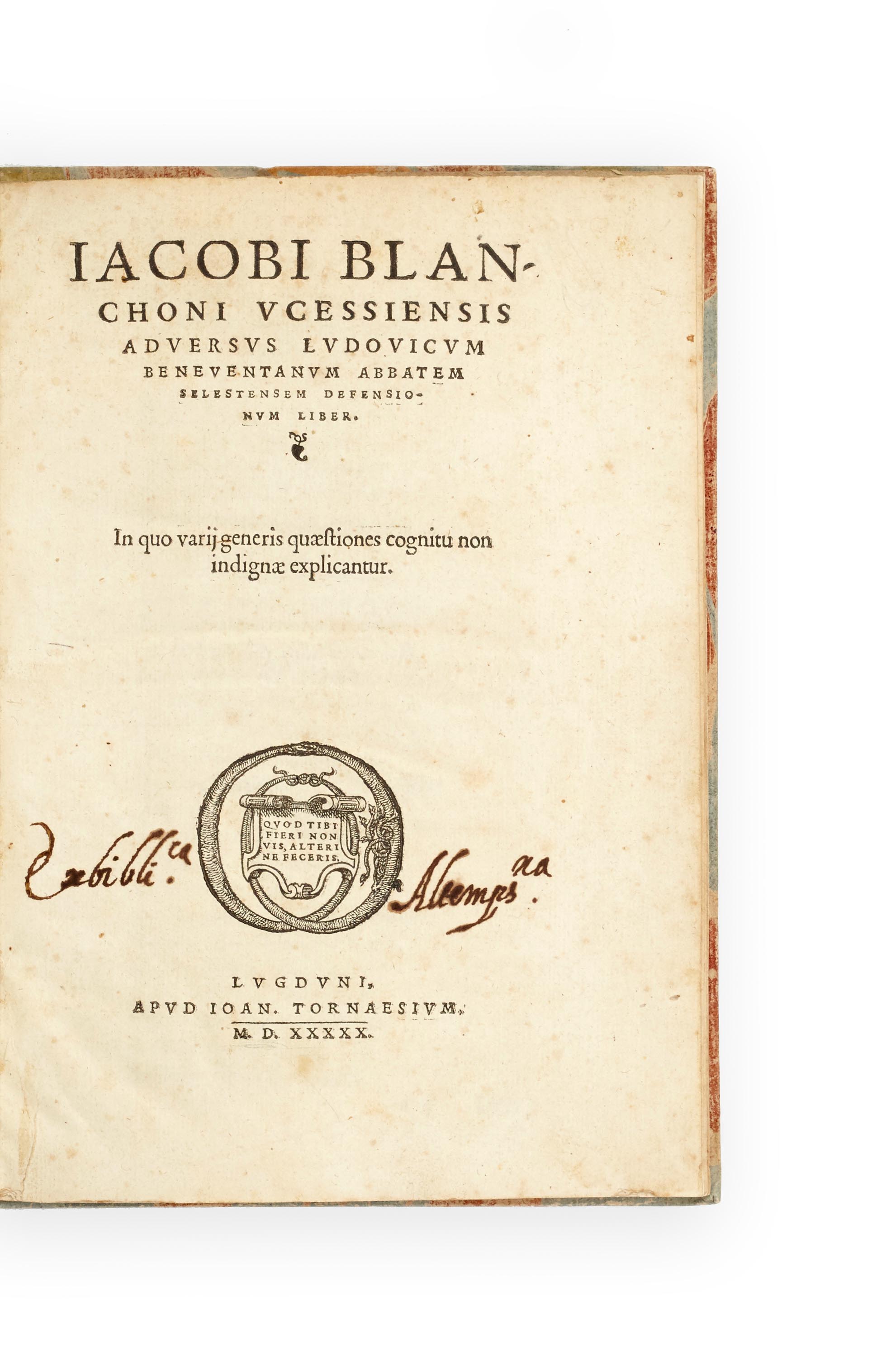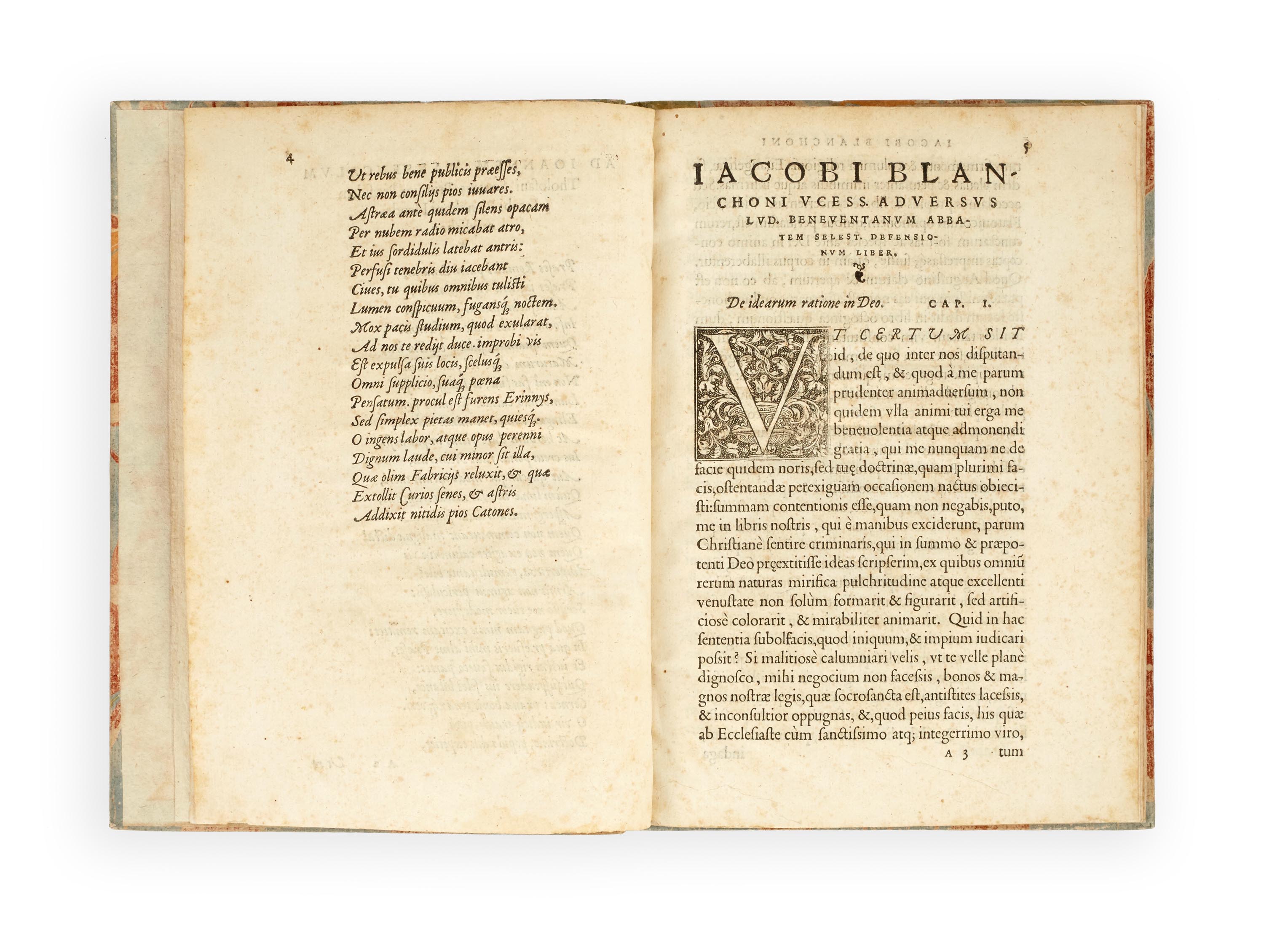 BLANCHON, Jacques.
Iacobi Blanchoni ucessiensis adversus Ludovicum beneventanum abbatem selestensem defensionum liber.
Lyon, Jean de Tournes, 1550.
4to, pp. 40; printer's device on title, one large and several 5-line finely engraved initials, some criblé, some historiated, some grotesque; a very good copy in modern marbled boards, the manuscript ownership inscription of Cardinal Altemps (1561-1595) on the title-page.
£950

Approximately:
US $1224
€1049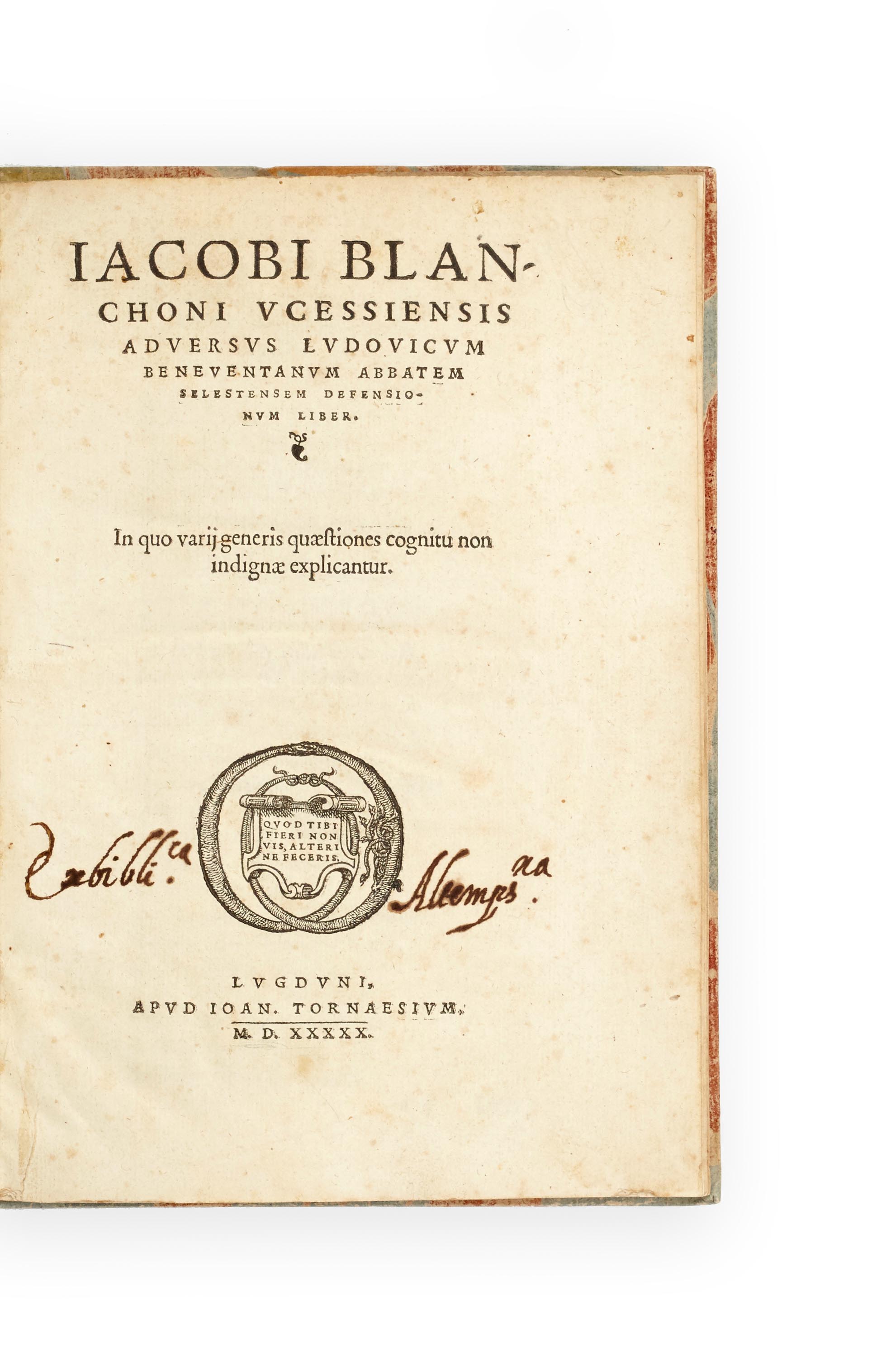 Added to your basket:
Iacobi Blanchoni ucessiensis adversus Ludovicum beneventanum abbatem selestensem defensionum liber.
First edition of a very rare work of sixteenth-century Lyonnese Neoplatonism, an elegantly-printed de Tournes edition. Ostensibly a simple series of remarks against the theses of the (presumably sternly Scholastic) abbot of Selestan, this is a tract of Renaissance moral philosophy. The theme of dignitas hominis concentrated the philosophical efforts of several Lyonnese men of letters inspired by Ficino and Pico della Mirandola. Like Charles de Bovelles and P. Boaistuau, Jacques Blanchon systematically harmonizes Aristotle's philosophy and science with the hermetic thought associated with the writings of Hermes Trismegistus.

Anticipating Charron and Montaigne, Blanchon does not accept demonology and witchcraft, exposing the foolishness of popular beliefs largely on grounds of common sense rather than strict Scholastic rationalism. Further chapters address ideas and knowledge, nature, the soul, the impact of need on morality, human freedom from predestinations and from the stars, and some false etymologies. Blanchon was also the author of a tract 'De summo hominis bono' published in the same year.

Adams B2099. Rare: two locations in the UK (Cambridge and St. Andrews), one in the US (Newberry), one in France (BNF) and two in Switzerland (Basel and Bern).
You may also be interested in...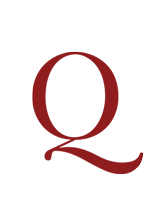 [GOUDAR Ange and Giacomo CASANOVA].
L'Espion Chinois, ou l'envoyé secret de la cour de Pékin, pour examiner l'état présent de l'Europe. Traduit du Chinois.
Definitive edition, a fresh and attractive set, of the most sensational and wide-spread of Goudar's works: his exuberant epistolary satire of the French and European Ancien Régime, sometimes attributed to Voltaire, a rich mine of anecdotes and acutely observed information on the religion, personalities, scandals, fashion, and politics of his age. First published in 1764, translated into English in 1765, it went through ten editions in ten years.
[GOUDAR, Ange].
Les intérêts de la France mal entendus, dans les branches de l'agriculture, de la population, des finances, du commerce, de la marine, & de l'industrie ...
A nice copy of Goudar's principal work, and the one that made his name, volumes II and III in the first edition and volume I in a later edition of the same year, uniformly bound (copies are frequently found in mixed editions). 'Of the pre-physiocratic French writers who approached the population problem in terms of agricultural values and reforms, Ange Goudar (1720-1791) was the most important. He looked upon population growth as an index of the soundness of a nation's laws, and shared the mercantilist view that the state must be made strong. While he believed with the mercantilists that the strength of a state depended upon the size of its population relative to that of other states, and upon the degree of concentration of the population, he reasoned that a state's power rests ultimately upon agriculture, and not upon industry and bullion. For agriculture was independent of foreign influence and of shifts in tastes and demands, inasmuch as its products were always needed and always consumed at home. Moreover, population, the immediate source of national power, was dependent primarily upon agriculture for its support, even as armies were dependent upon it for food and the power to win victories' (Spengler, French predecessors of Malthus, p. 57).