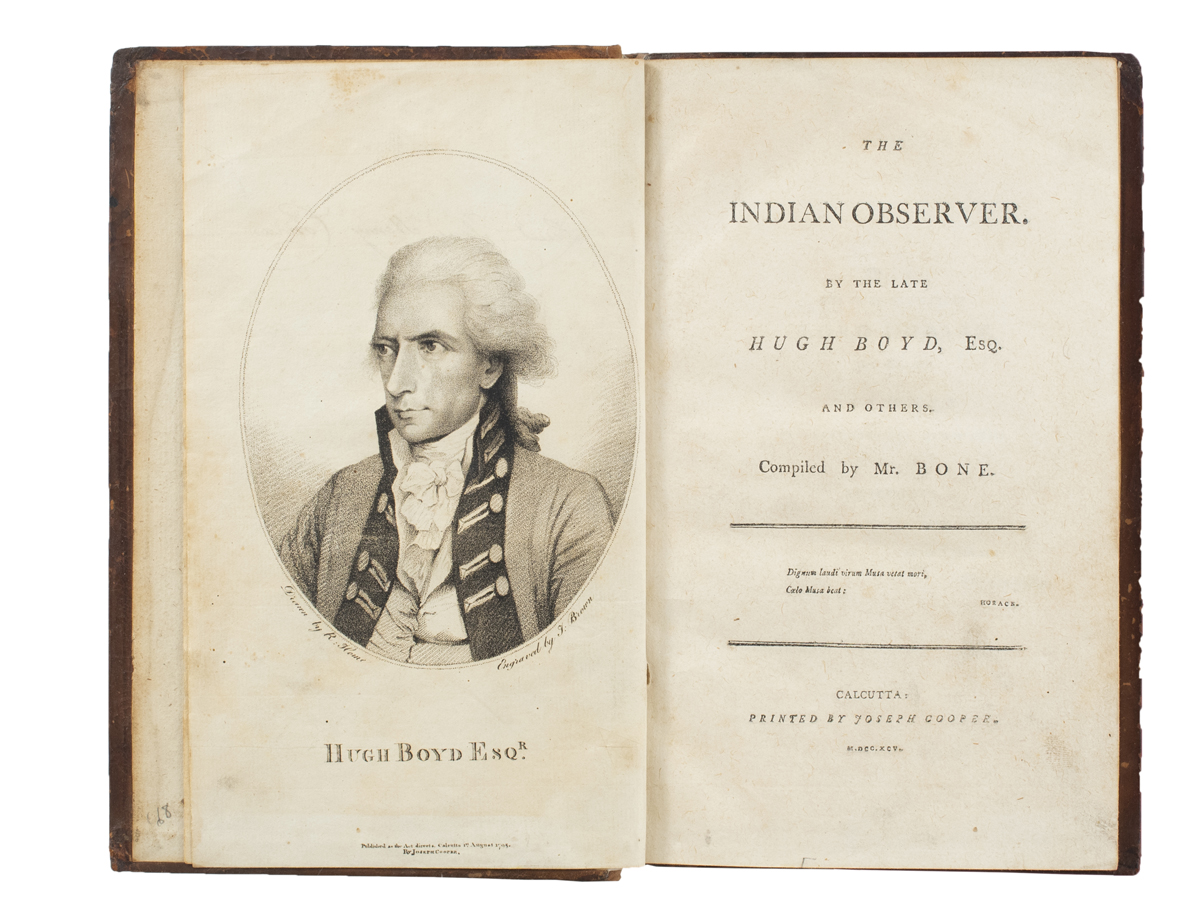 CALCUTTA-PRINTED
BOYD, Hugh Macauley.
The Indian observer. By the late Hugh Boyd, Esq. and others. Compiled by Mr. Bone.
Calcutta, Joseph Cooper, 1795.
8vo, pp. [12 (including list of subscribers)], xxxv, [5], 273, ii, [1 (blank)], with engraved frontispiece portrait of Boyd; some loss at head of pp. 155-156 (touching headline), closed tear to pp. 269-270 (without loss), a few light marks; very good in contemporary calf, neatly rebacked with original gilt red morocco lettering-piece; corners neatly repaired; ink inscription to recto of frontispiece 'Lieut: Colonel Henry Conran' (c.1767-1829, later Lieutenant Governor of Jamaica).
£2750

Approximately:
US $3396
€3171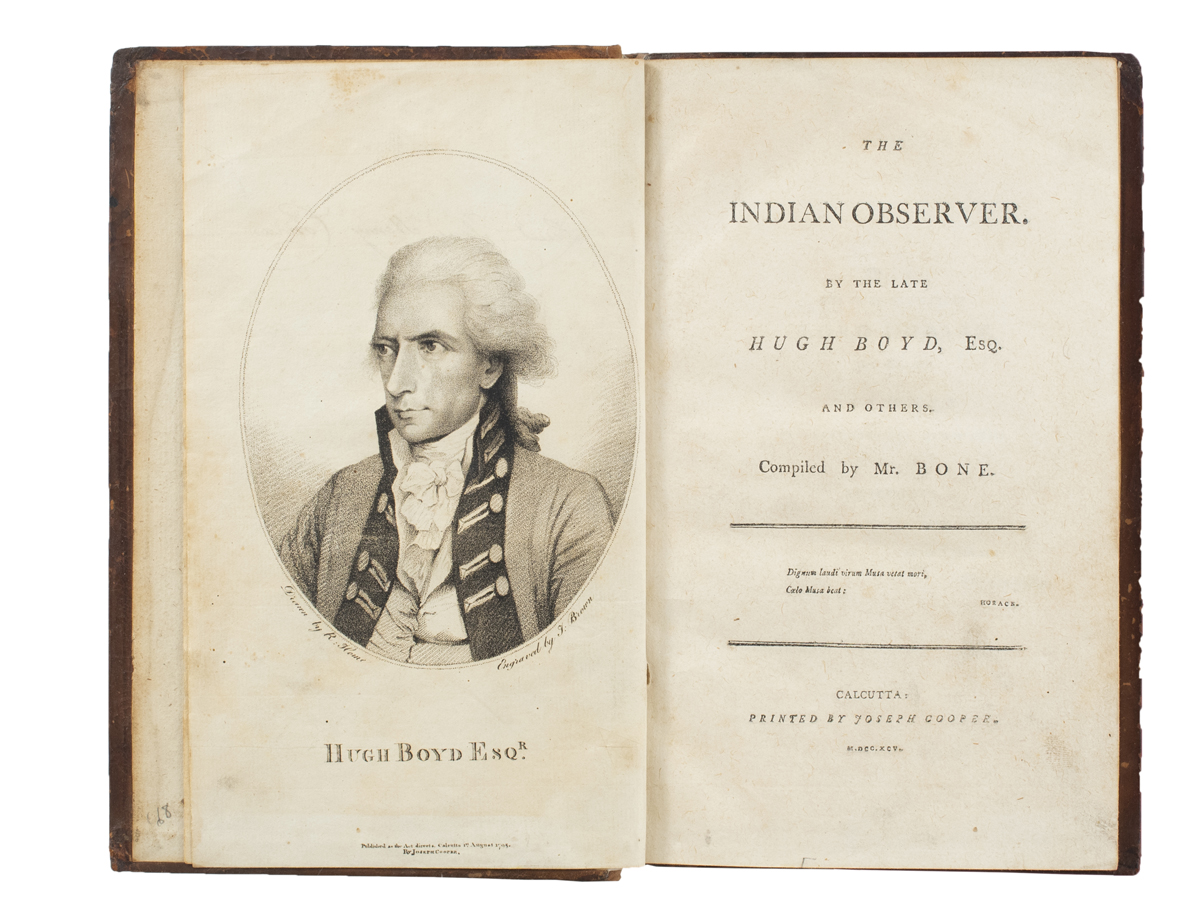 Added to your basket:
The Indian observer. By the late Hugh Boyd, Esq. and others. Compiled by Mr. Bone.
Scarce first edition thus of this collection of letters by the Irish writer Hugh Boyd (1746-1794), compiled by Andrew Burchet Bone, and with a life of Boyd by Lawrence Dundas Campbell.

Originally published in the Hircarrah in 1793 and 1794, the letters here discuss, inter alia, philosophy (especially Rousseau), the French, poetry and painting, conversation, dress, the theatre, ancient Greece and Rome, music, marriage, human nature, Sir William Jones, and, naturally enough, the British in India. Apologising for the delay in publication and typographical inaccuracies, the editor refers to 'the yet infant state of the press in India'. The list of subscribers includes the Madras Circulating Library.

Boyd had a colourful career: a popular figure in London fashionable society, he numbered 'Edmund Burke, Catharine Macaulay, David Garrick, John Wilkes, and Joshua Reynolds among his wide circle of acquaintances' (ODNB). He married into money but having exhausted his wife's fortune was forced to join the East India Company in Madras, being captured by the French on his return from an unsuccessful diplomatic mission to Ceylon. Following his release, he devoted himself to journalism, running the Madras Courier and launching the Hircarrah. He gained fame after his death when it was claimed that he was Junius, the pseudonymous writer of letters to the Public Advertiser which were highly critical of the government.

ESTC T135037; Shaw 284. ESTC records only 3 holding libraries in the US (California State Library, NYPL, and Library of Congress); Library Hub shows only the British Library copy in the UK.
You may also be interested in...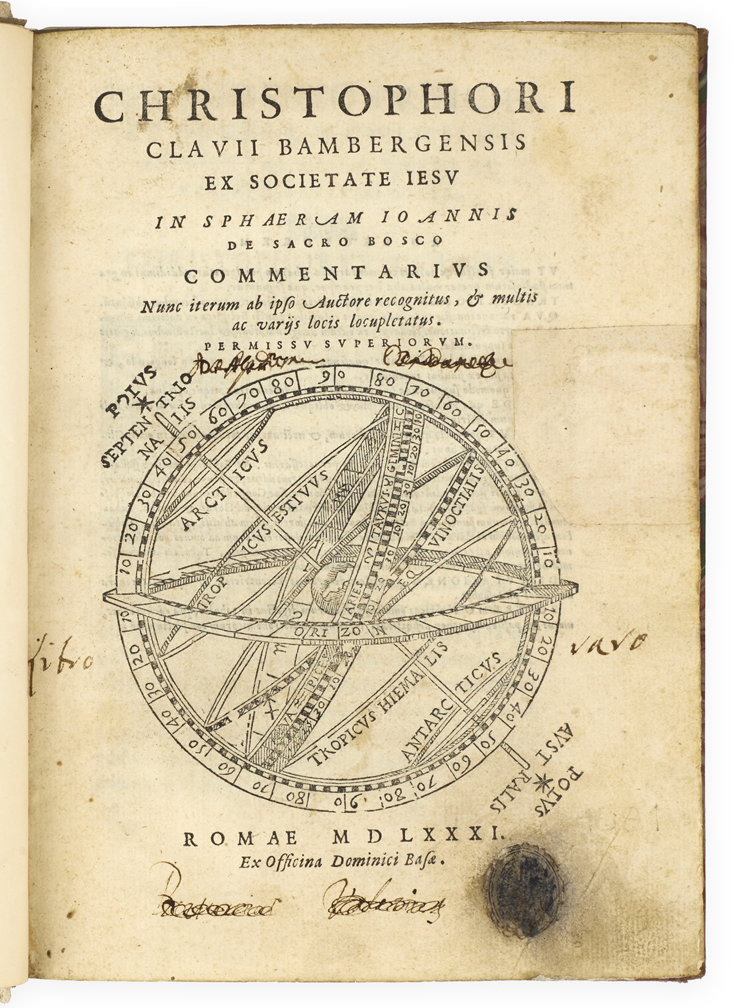 COPERNICANISM CONDEMNED [SACROBOSCO, Johannes de.] 
CLAVIUS, Christophorus.  In sphaeram Ioannis de Sacro Bosco commentarius, nunc iterum ab ipso Auctore recognitus, & multis ac variis locis locupletatus. 
Third edition, the first to contain Clavius's condemnation of Copernicus, with ten highly detailed woodcut diagrams of solar and lunar eclipses not included in the first edition. 
CENSORED, AND WITH MANUSCRIPT VERNACULAR TRANSLATIONS TERENCE Afer, Publius. 
Comoediae: Andria, Eunuchus, Heautontimorumenos, Adelphi, Hecyra, Phormio, ex emendatissimis ac fide dignissimis codicibus summa diligentia castigate … 
A profusely annotated copy of an excellent illustrated edition of Terence's comedies.  The early owner and annotator clearly took issue with this edition's association with Protestant thinkers: Melanchthon's and Erasmus's names are struck through in ink in the preliminaries, which contain, respectively, their 'argumenta' and study of metre.  Moving to Terence's text, however, the annotator assumes a much more creative profile: while the marginalia in Latin are textual or philological in nature, or citations from other classics, the much more abundant marginalia in Italian are accomplished snippets of translation, and represent a considerable body of work which may add to our understanding of early vernacular renditions.