POLITICS AND PYROTECHNICS
[BRISTOL.] 
The Bristol Contest, being a Collection of all the Papers published by both Parties, on the Election, 1754. 
Bristol, 'sold by the Printing-Office … and by J. Palmer', [1754]. 
[bound after:]

[PERRINET D'ORVAL, Jean-Charles.]  Essay sur les feux d'artifice pour le spectacle et pour la guerre, par Mr. P. d'O.  Paris, Coustelier, 1745. 

Two works in one vol., 8vo, Bristol Contest: pp. [2], 74, with woodcut portrait medallion to title, Perrinet d'Orval: pp. xii, [4], 224, with 13 copper-engraved plates, large woodcut ornaments and initials; final two leaves creased, but very good, clean copies; in contemporary English half calf with marbled sides, spine gilt-ruled in compartments with gilt red morocco lettering-piece, edges speckled red; a little rubbed; contemporary ink ownership inscription 'J. Le Claudel' and authorship attribution to front flyleaf.
£650

Approximately:
US $793
€749
Added to your basket:
The Bristol Contest, being a Collection of all the Papers published by both Parties, on the Election, 1754. 
Extremely rare first edition of this Bristol-printed political pamphlet, bound with the first edition of a French work on pyrotechnics used both for spectacle and for war. 

Propaganda publications abounded during the disputed 1754 parliamentary elections in Bristol, in which Tory and Whig representatives faced each other in bitter arguments over trade, prosperity, and security of local interests.  Josiah Tucker threw his considerable writer's weight to support the Whig candidate, Robert Nugent, and to mastermind his campaign – successfully.  Nugent's most bitterly disputed actions throughout the multifarious literature reported in this collection was the introduction and support in Parliament, between 1751 and 1753, of a Bill for the Naturalisation of Foreigners and Jewish Naturalisation Bill.  These actions appear to go to the very heart of partisan literature on both sides of the argument, here collected and printed together for the first time. 

Bound before the Bristol pamphlet is the first edition of an illustrated French work on pyrotechnics for use both in festivities and during wars, accompanied by thirteen engraved plates showing fireworks and the equipment for their installation and implementation.  This work featured as an important source for the related articles in Diderot and D'Alembert's Encyclopédie. 

ESTC, Library Hub, and OCLC together record only two copies of the Bristol Contest worldwide, at the BL and Yale. 

Perrinet d'Orval: Barbier II, 257; Quérard VII, 69.  Bristol Contest: ESTC T232042. 
You may also be interested in...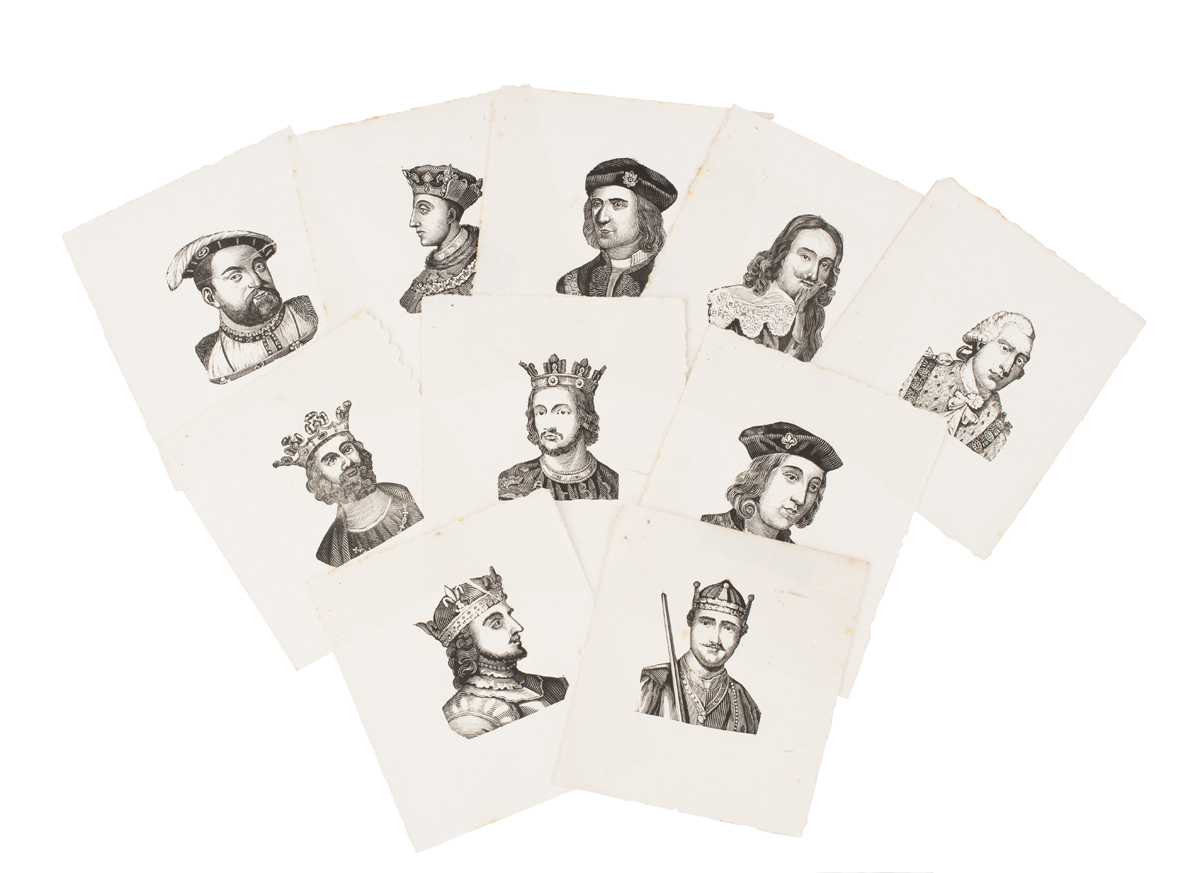 UNIQUE? [BEWICK, Thomas?]
Twenty-six rubbings from engraved woodblocks of the heads of Kings and Queens and England, apparently never published in this form.
Twenty-six apparently unrecorded wood-engravings – heads of the monarchs of England from William the Conqueror to George III – these images taken by rubbing from the blocks rather than printing. The engravings bear strong similarity to the 26 which appear in An Abridgement of the History of England … by Dr. Goldsmith … with Heads by Bewick (London, 1803), of which Thomas Bewick apparently bought a copy on 20 April of that year: his account book records a 'Parcel / Goldsmith Hisy Engd / Grafton Piccy 4s d.' (A Provisional Checklist of the Library of Thomas Bewick, by David Gardner-Medwin, item 1, online).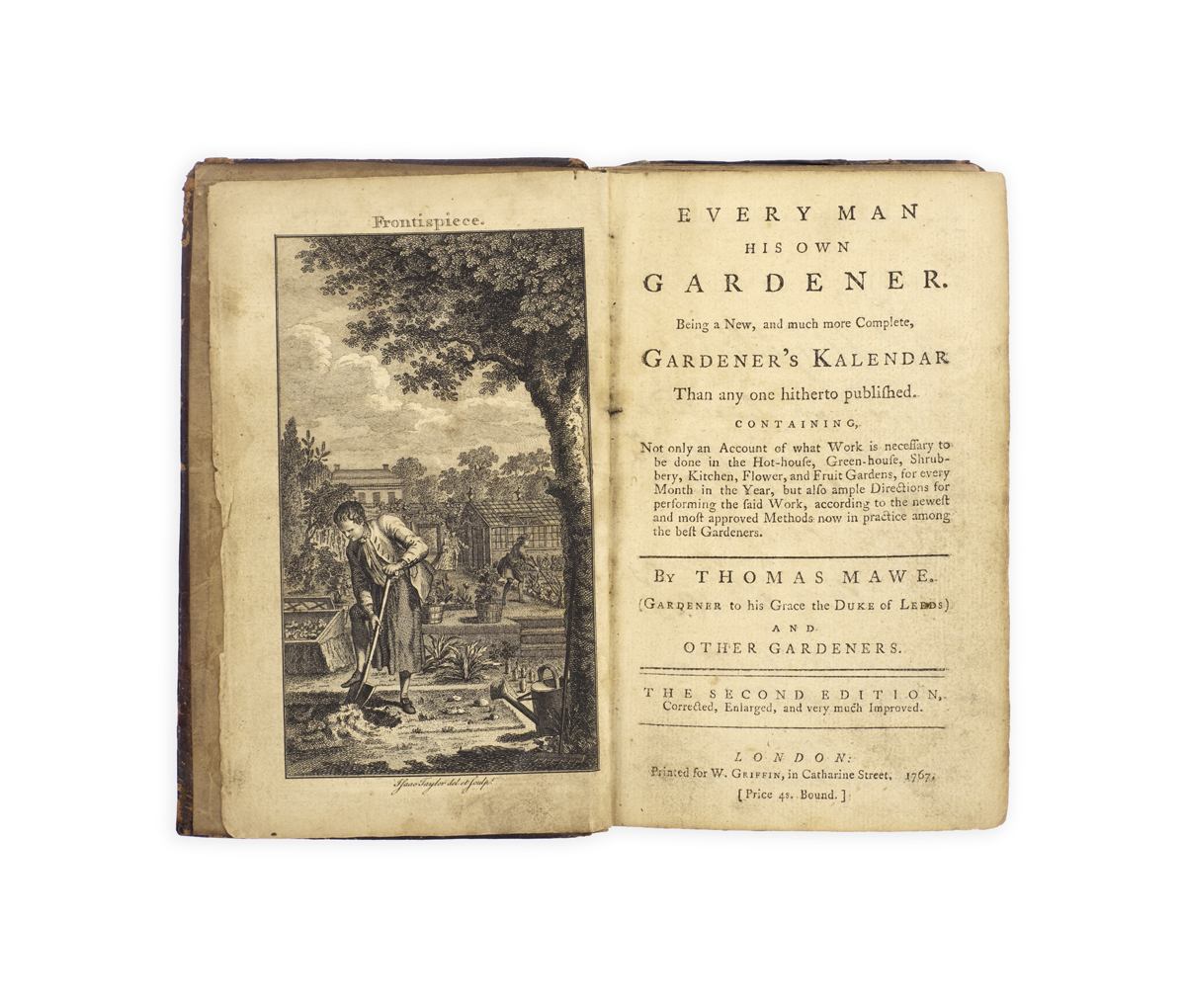 OWNED BY THE GARDENER TO THE LORD MAYOR 'MAWE, Thomas' [but John ABERCROMBIE]. 
Every Man his own Gardener.  Being a new, and much more complete Gardener's Kalendar than any one hitherto published …  The second Edition, corrected, enlarged, and very much improved. 
Second edition, published in the same year as the first, of an immensely popular work, which went through at least twenty-five editions.  'Abercrombie was the son of a market gardener near Edinburgh who went on to be a gardener at Kew and Leicester House, as well as for a number of noblemen and gentlemen.  Despite the title page, he is generally regarded as the sole author of this popular gardening manual, which originally appeared with Mawe, the gardener to the Duke of Leeds, listed as the author because of that worthy's greater reputation' (Johnston).