BROGGI, Ugo.
Die Axiome der Wahrscheinlichkeitsrechnung.
Göttingen, Dieterischen Universitäts-Buchdruckerei, 1907.
8vo, pp. 32, [2]; a very good copy, sewn as issued, paper back strip mostly split, number stamp to the head of the title page.
£375

Approximately:
US $453
€432
Added to your basket:
Die Axiome der Wahrscheinlichkeitsrechnung.
Rare first edition of this doctoral dissertation on the solution of Hilbert's sixth problem, written under the supervision of David Hilbert. The problem posed tried to axiomatize those branches of science in which mathematics is prevalent. Broggi here aims to establish a system with which to prove the consistency, completeness and the mutual independence of the axioms, following the model of Hilbert's geometry.

Broggi (1880-1865) is one of the neglected figures in modern mathematical economics, an eminent academician, he held office in various seats at different institutions, producing numerous works.

Schneider, Entwicklung der Wahrscheinlichkeitstheorie, 367 ff.
You may also be interested in...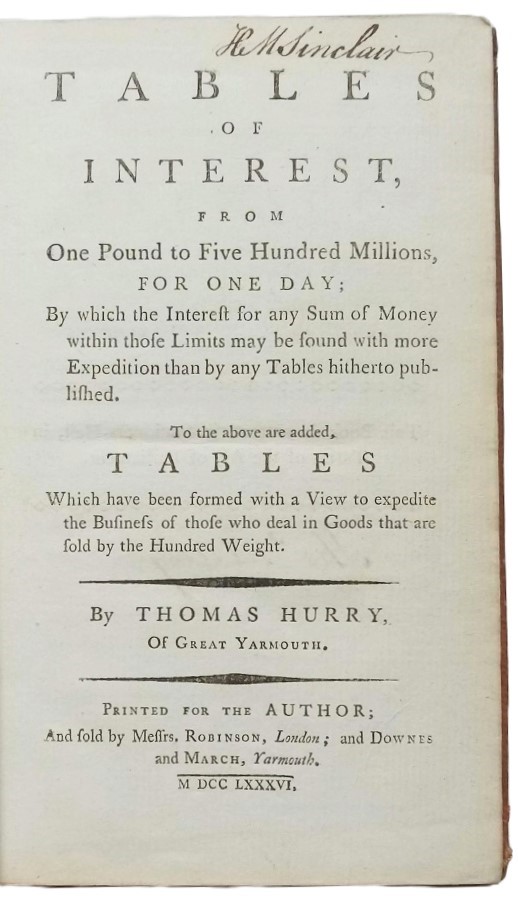 HURRY, Thomas.
Tables of interest, from one pound to five hundred millions, for one day; by which the interest for any sum of money within those limits may be found with more expedition than by any tables hitherto published. To the above are added, tables which have been formed with a view to expedite the business of those who deal in goods that are sold by the hundred weight.
One of two editions published in 1786, the other one undated, ESTC does not give any precedence. Tables for calculating interest at a quarter, half, three-quarters, three, four, and five percent; intended as a quick reference for bankers and merchants. Hurry precedes his tables with four pages of example banker's accounts, demonstrating how his tables can be used.
[MABBUT, George].
Sir Isaac Newton's tables for renewing and purchasing the leases of cathedral-churches and colleges, according to the several rates of interest: with their construction and use explained. Also tables for renewing and purchasing the leases of land or houses, very necessary and useful for all purchasers, but especially those who are any way concerned in church or college leases. To which is added, the value of church and college leases consider'd, and the advantage to the lessees made very apparent. By a late Bishop of Chichester. To which are also added, tables of interest exactly computed at 3, 3 ½, 4, and 5 per cent. With other useful tables.
Sixth edition, first published in 1686, this issue was sometimes also published with a separate title page and imprint reading, 'The money'd man's pocket-book', London, 1742' immediately preceding the title-page of the second part. A series of tables calculating the amounts owed on leases based on varying interest rates and time periods. The author also includes tables for the calculation of fines for late payment based on varying interest rates. The third section, 'tables of interest…' calculates the interest due on loans of set amounts given an interest rate of 3, 3 ½, 4, or 5 per cent. Amongst the useful tables mentioned at the end of the title, is a series of Tables of Brokerage and Commission.