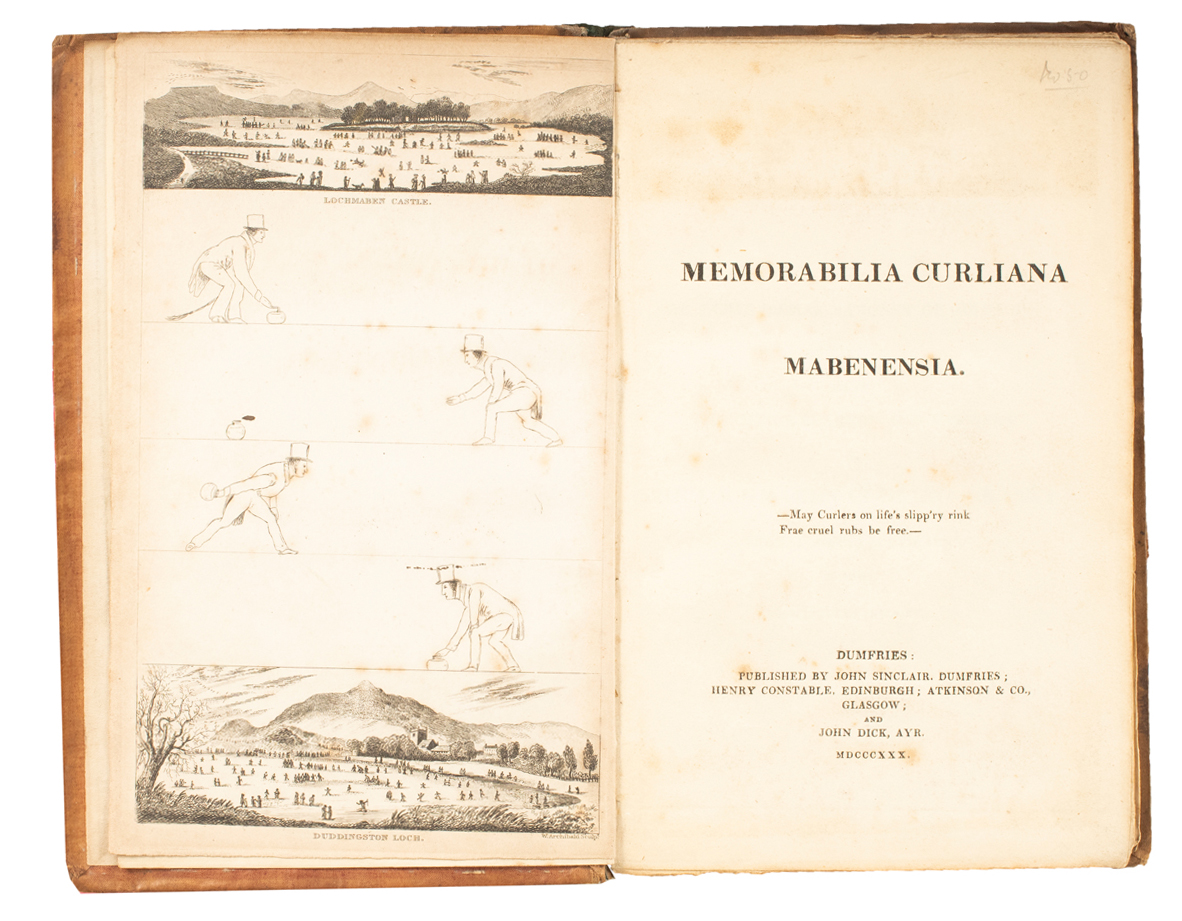 'MAY CURLERS ON LIFE'S SLIPP'RY RINK FRAE CRUEL RUBS BE FREE'
[BROUN, Richard, Sir.] 

Memorabilia curliana Mabenensia. 
Dumfries, John Sinclair, 1830. 
8vo, pp. 111, [1 (blank)]; with 2 engraved plates; a little light foxing to title and plates; overall a very good uncut copy in original cloth, printed decorative label to upper cover; spine reinforced with leather, some ink stains to covers and wear to corners; book label of Captain J. MacNair of Edinburgh to upper pastedown.
£675

Approximately:
US $819
€779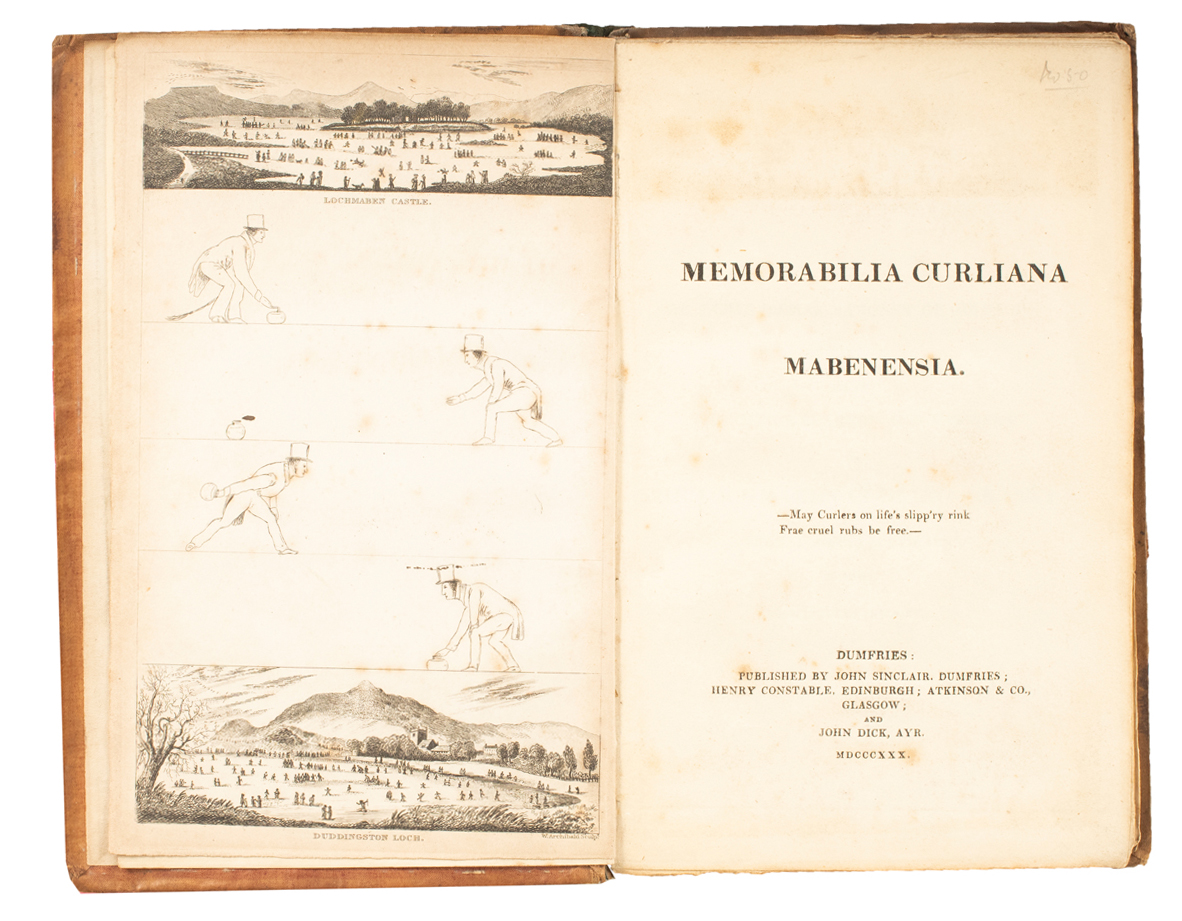 Added to your basket:
Memorabilia curliana Mabenensia. 
Uncommon first edition of this charming work on the sport of curling by the eccentric Scottish baronet Sir Richard Broun (1801–1858), with a focus on his native Lochmaben, being one of the earliest books on the sport. 

The Memorabilia covers the sport's history, the manner of playing, various memorable matches contested by the Lochmaben Curling Society, and curling stones and other equipment.  The text includes numerous curling songs, and ends with the rules of the sport, various traditional toasts and sayings, a glossary of terms, and a list of the 'principal curling societies in Scotland'.  The frontispiece depicts curlers in action and incorporates views of skaters on the frozen Castle Loch and Duddingston Loch, while the second plate shows various rinks, means of scoring, and paraphernalia including stones and specially designed footwear. 

Broun, who became eighth Baronet Broun of Coulston in 1844, was one of the proponents of the London Necropolis, a cemetery of huge proportions near Woking serviced by regular coffin trains, intended to tackle the contemporary crisis of dealing with London's dead. 
You may also be interested in...
DEPICTING THE PASSION LE CLERC, Sébastien, the Elder. 
Figures de la passion D. N. S. Iesus Christ presentées à Madame Madame de Maintenon, par son très humble et très obeisst. serviteur Seb. le Clerc. 
Scarce later issue of this wonderful suite of engravings depicting the Passion of Christ by the noted engraver Sébastien Le Clerc (1637–1714), running from Christ's arrival in the Garden of Olives to the Holy Spirit descending upon the Apostles.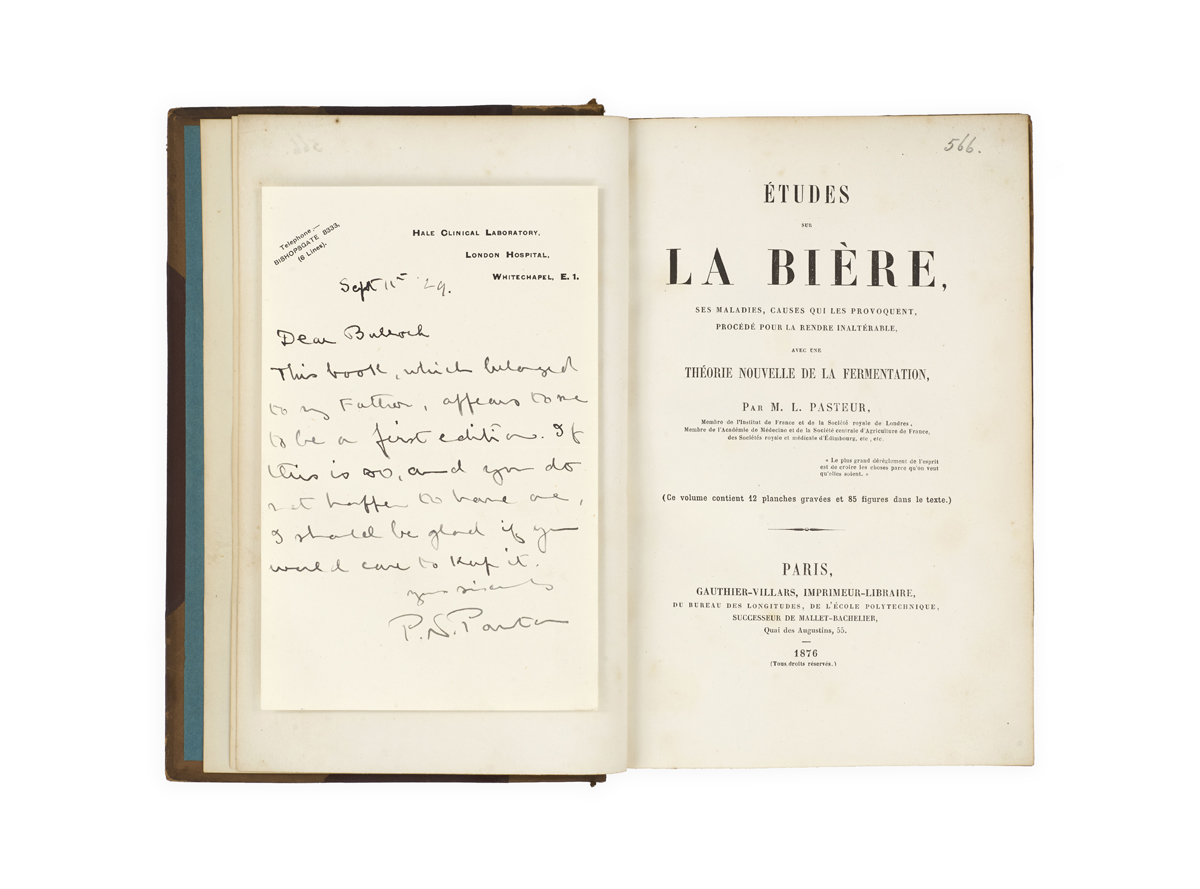 PASTEUR, Louis. 
Études sur la bière, ses maladies, causes qui les provoquent, procédé pour la rendre inaltérable, avec une théorie nouvelle de la fermentation. 
First edition.  In his Études sur la bière, Pasteur 'described a new and perfected method of preparing pure yeast [and] emphasized that yeast occasionally required small quantities of oxygen in order to retain its "youth" and its capacity to germinate in oxygen-free environments.  Having now achieved a new appreciation for the importance of oxygen in brewing, and especially the advantages of aerated wort, he insisted only that air should be carefully limited and freed of foreign germs rather than entirely eliminated' (DSB).