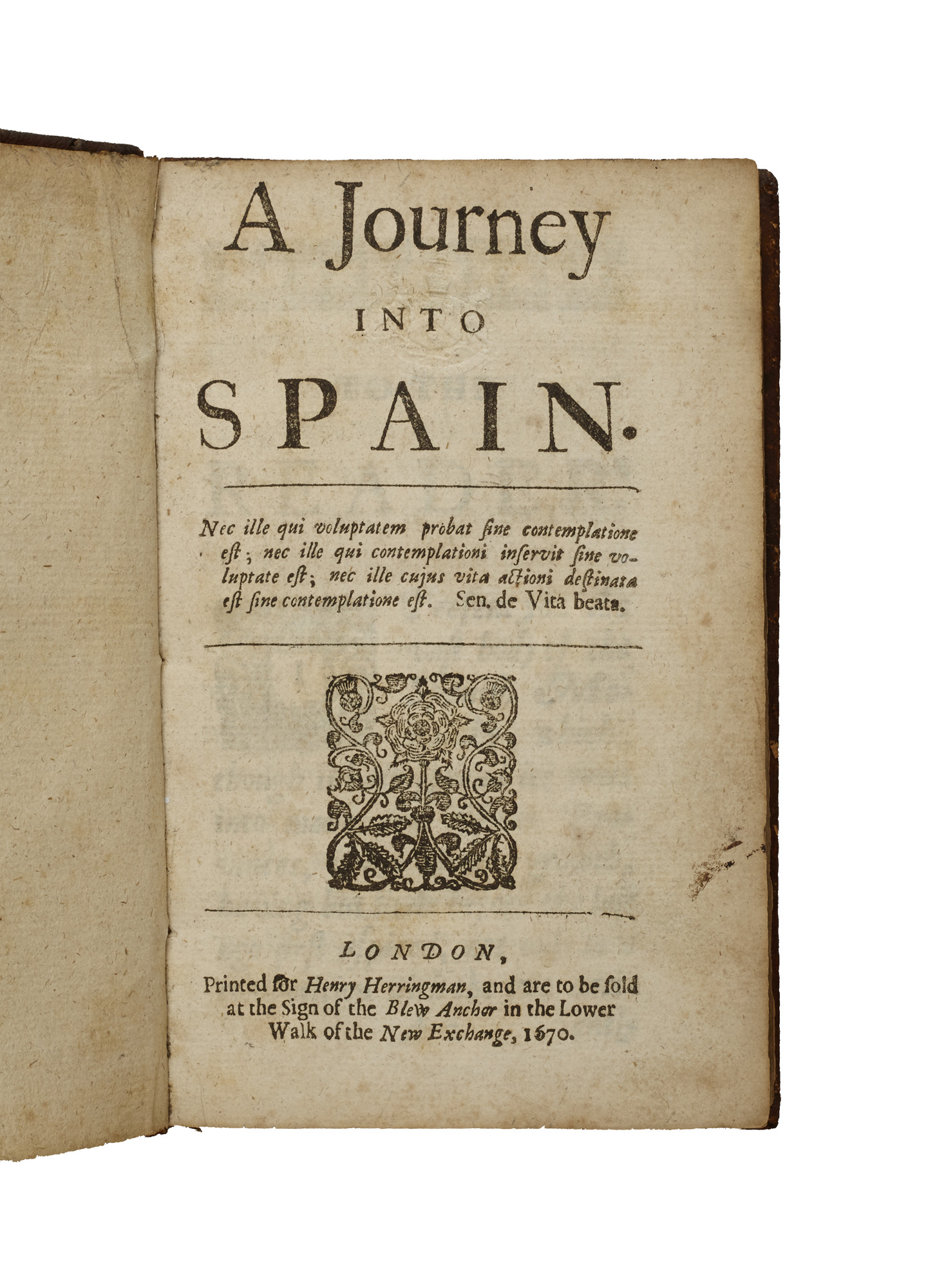 [BRUNEL, Antoine de.]
A journey into Spain.
London, printed for Henry Herringman, 1670.
8vo (165 x 105 mm), pp. [viii], 247, [1, blank]; slightly browned; contemporary sheep; extremities rubbed; some worming to front cover; remnants of label on spine; from the library of the earls of Macclesfield.
£950

Approximately:
US $1239
€1053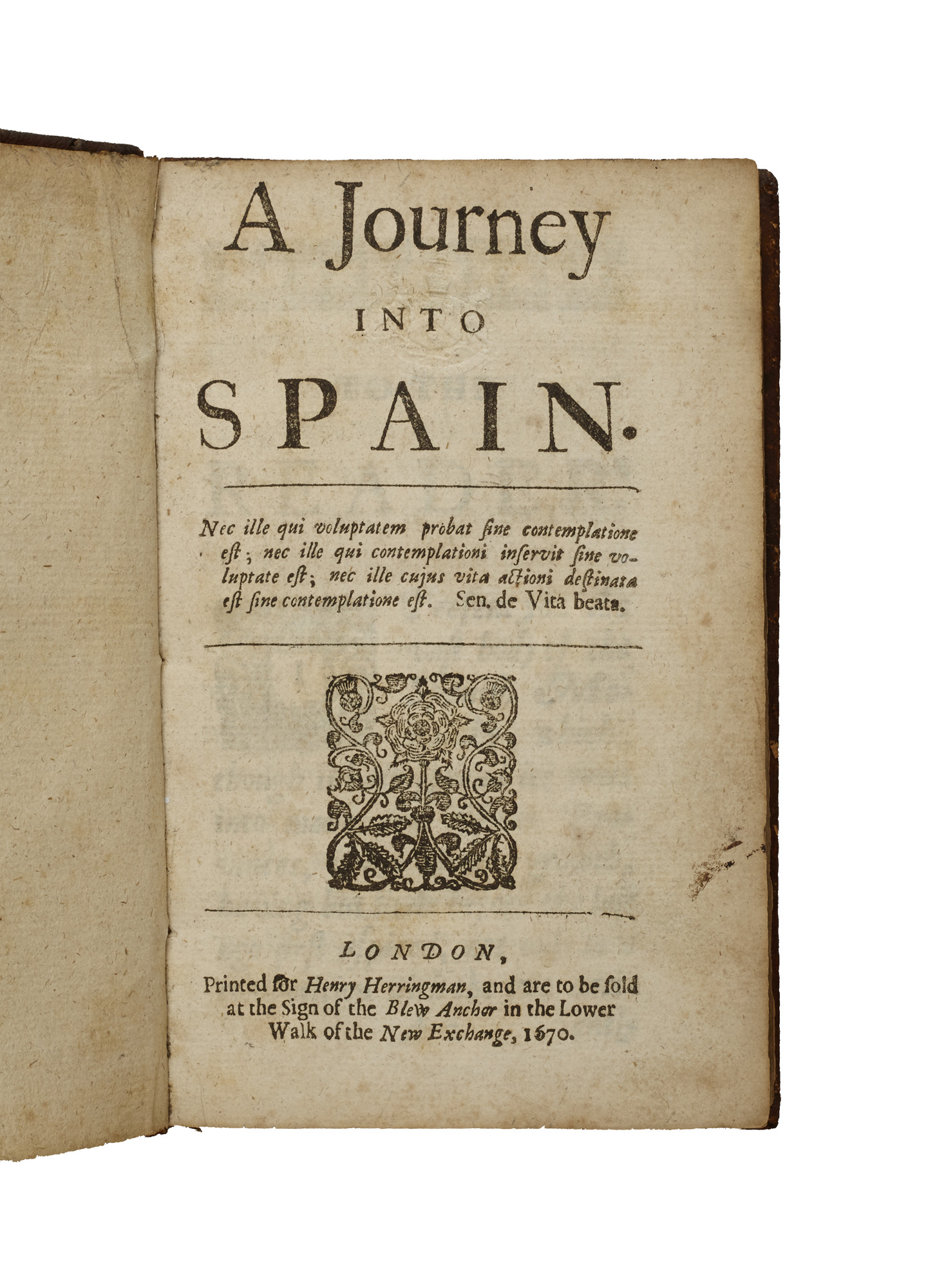 Added to your basket:
A journey into Spain.
First edition in English. A free and abridged translation of Voyage d'Espagne curieux, historique et politique, first published anonymously in 1665. Setting out from the Netherlands in 1651 in the company of François van Aerssen, Brunel toured France, Germany and Italy before travelling to Spain in March 1655. The party made its way to Madrid via San Sebastián, Vitoria and Burgos, returning to France at the end of June via Zaragoza, Tudela and Pamplona. Aranjuez and Alcalá de Henares are also described. Brunel compiled this account of his travels around 1657 using his own notes and those of Van Aerssen (who drowned on his return to the Netherlands and to whom the work is sometimes attributed).

A Journey into Spain, in its portrayal of the country as religiously, politically and socially backward, demonstrates a conscious awareness in Europe of Spain's decline as a world power during the mid-seventeenth century. Brunel's account of his experiences in Spain confirm John Lynch's statement that the 'syndrome of rural poverty, depopulation, financial chaos, and recession of American trade produced Spain's first great crisis in the modern period. The crisis can be dated between 1598 and 1620, and it was a crisis of change, denoting a reversal of the economic trends of the sixteenth century. The worst was still to come. From 1640 political disintegration and military collapse compounded the economic disorder and reduced Spain to absolute depression. And by this time there was no hope of relief from America' (Lynch, Spain under the Habsburgs II pp. 10–11).

Palau 372954; Wing B5230.
You may also be interested in...
SECOND, ENLARGED EDITION OF A BEST-SELLING ACCOUNT OF RUSSIA AND THE CRIMEA ON THE EVE OF THE CRIMEA OLIPHANT, Laurence.
The Russian Shores of the Black Sea in the Autumn of 1852 with a Voyage down the Volga, and a Tour through the Country of the Don Cossacks ... Second Edition – Revised and Enlarged.
Second edition, revised and enlarged. The diplomat and traveller Oliphant (1829-1888) and his companion Oswald Smith journeyed through Russia and the Crimea shortly before the outbreak of the Crimean War, and his overview of the region also includes details of visits to Nizhnii Novgorod (which is depicted in the frontispiece) and other Russian cities, including Sevastapol, which Oliphant and Smith entered in disguise in order to map its fortifications. Nerhood considers that Oliphant 'describes places and people in an informative way, especially the long journey down the Volga River, with its peculiar means of transportation and the peoples along its banks', and this, together with the approach of the Crimean War (which led Lord Raglan to approach Oliphant for information), ensured the work's popularity. The first edition appeared in late 1853 as the Crimean War broke out (an advertisement on p. 10 of The Times of 25 October 1853 describes it as 'preparing for publication') and this second edition was published shortly afterwards (the preface is dated December 1853), with an additional chapter, since '[t]he Eastern Question has now assumed so serious an aspect, that facts connected with the Russian Shores of the Black Sea, which at the period of my visit in 1852 were devoid of any special political interest, are invested with the utmost importance, for it is possible that the southern portion of the Empire may shortly become the theatre of war, and considerations, the value of which I scarcely appreciated a few months ago, have since occurred to me as possessing strong claims upon our attention' (p. [v]). Third and fourth editions, which were reprints of this second edition, appeared in 1854.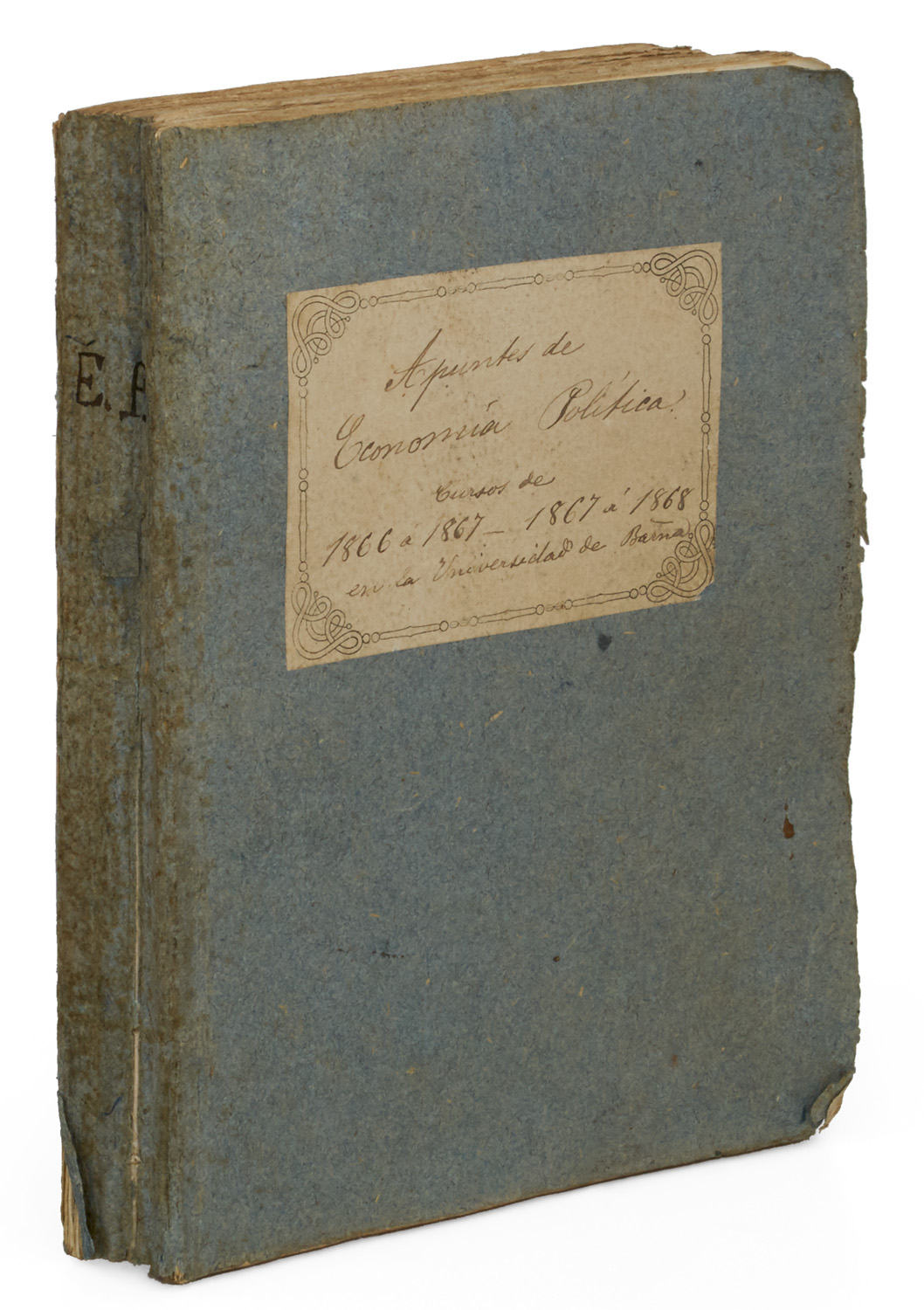 GUASP Y PUJOL, Manuel.
Apuntes de Economia Política. Cursos de 1866 a 1867 – 1867 a 1868. University of Barcelona.
Unique witness to the lectures of political economy taught by Manuel Guasp y Pujol at Barcelona in the mid 1860s: a ponderous manuscript, endowed with the depth of numerous corrections and additions, amounting to an unpublished full-blown treatise on political economy, with topics such as labour, capital, theory of value and ownership at its core.