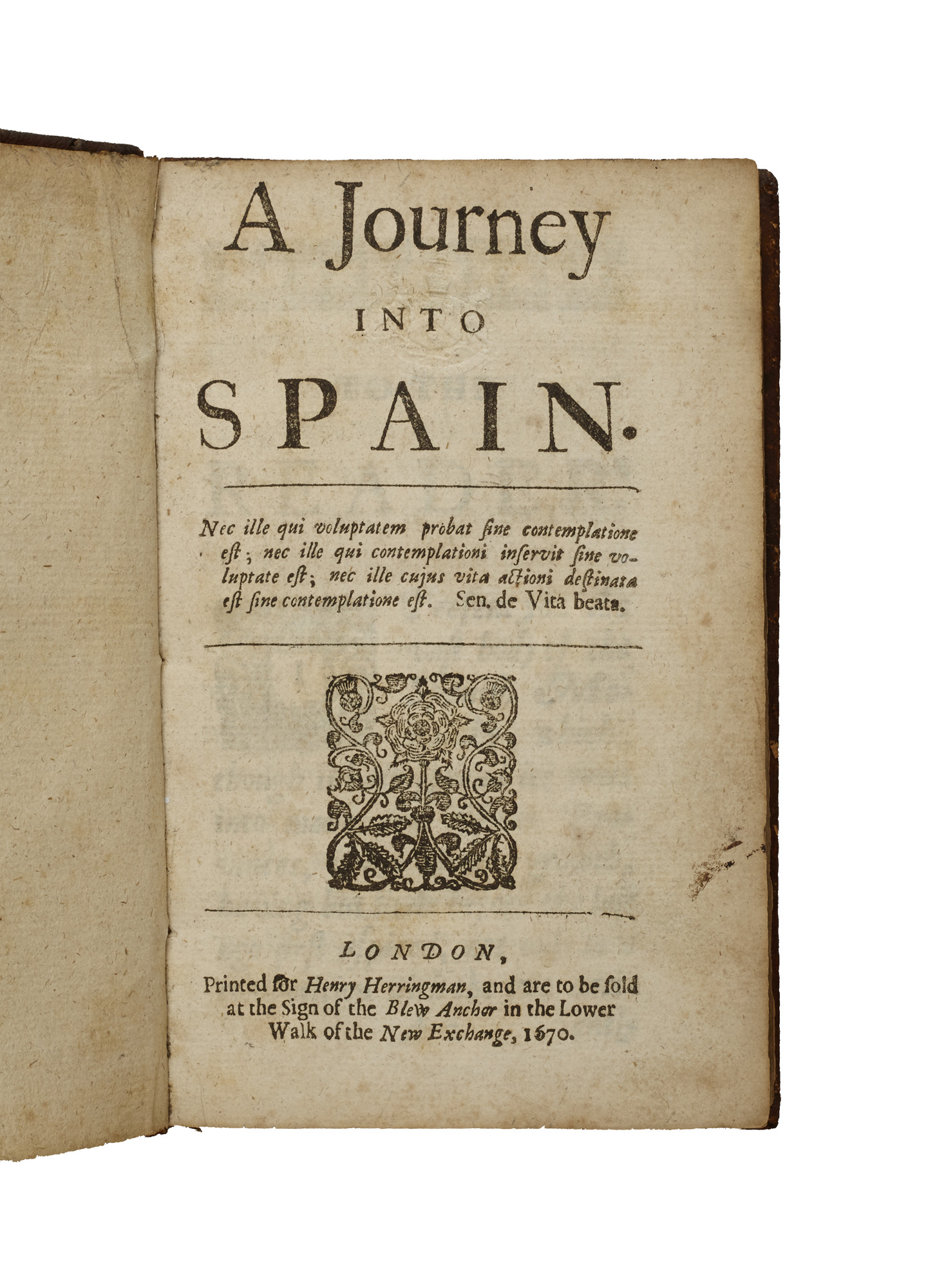 [BRUNEL, Antoine de.]
A journey into Spain.
London, printed for Henry Herringman, 1670.
8vo (165 x 105 mm), pp. [viii], 247, [1, blank]; slightly browned; contemporary sheep; extremities rubbed; some worming to front cover; remnants of label on spine; from the library of the earls of Macclesfield.
£950

Approximately:
US $1327
€1090
First edition in English. A free and abridged translation of Voyage d'Espagne curieux, historique et politique, first published anonymously in 1665. Setting out from the Netherlands in 1651 in the company of François van Aerssen, Brunel toured France, Germany and Italy before travelling to Spain in March 1655. The party made its way to Madrid via San Sebastián, Vitoria and Burgos, returning to France at the end of June via Zaragoza, Tudela and Pamplona. Aranjuez and Alcalá de Henares are also described. Brunel compiled this account of his travels around 1657 using his own notes and those of Van Aerssen (who drowned on his return to the Netherlands and to whom the work is sometimes attributed).

A Journey into Spain, in its portrayal of the country as religiously, politically and socially backward, demonstrates a conscious awareness in Europe of Spain's decline as a world power during the mid-seventeenth century. Brunel's account of his experiences in Spain confirm John Lynch's statement that the 'syndrome of rural poverty, depopulation, financial chaos, and recession of American trade produced Spain's first great crisis in the modern period. The crisis can be dated between 1598 and 1620, and it was a crisis of change, denoting a reversal of the economic trends of the sixteenth century. The worst was still to come. From 1640 political disintegration and military collapse compounded the economic disorder and reduced Spain to absolute depression. And by this time there was no hope of relief from America' (Lynch, Spain under the Habsburgs II pp. 10–11).

Palau 372954; Wing B5230.
You may also be interested in...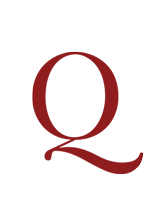 ALLONVILLE, Charles-Auguste d', marquis de Louville.
Mémoires secrets sur l'établissement de la maison de Bourbon en Espagne, extraits de la correspondance du Marquis de Louville, gentilhomme de la chambre de Philippe V, et chef de sa maison française.
First edition. Allonville (1668–1731) was French ambassador to Spain. His memoirs, edited here by Auguste F. L. S. Grimoard Beauvoir, marquis du Roure, describe his life at the court in Madrid as well as missions to Versailles, Naples and Rome. Reproduced at the end of volume II, amongst 'pièces diverses recueillies par le Marquis de Louville', are four letters from the Directeur de l'Assiento des Nègres relating seven years he spent in Buenos Aires in 1703–1710 (pp. 249–316).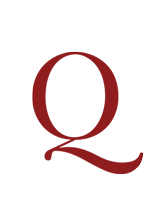 BRISSOT, Jacques Pierre.
Report of the committee of general defence on the dispositions of the British government towards France, and on the measures to be taken. Addressed to the National Convention of France, in the sitting of January 12, 1793, the second year of the Republic. Also the second report on a declaration of a war with England: . . . Translated from the copy published by order of the National Assembly. To which is added, the protests entered upon the Journals of the Lords House of Parliament against a war with France; by the marquis of Lansdown, earl of Lauderdale and earl of Derby.
First edition in English. A translation of Brissot's report giving the reasons for war with England outlined at the National Convention's sitting on 12 January 1793, as well as the subsequent declaration of war on 1 February. Brissot, a leading Girondist, directed the Legislative Assembly's foreign policy throughout this time. In England, most of the opposition blamed Pitt's government for France's declaration of war, including the three Whigs who signed the protest included at the end of this tract. William Petty, second earl of Shelburne, first marquess of Lansdowne, and prime minister (1782–3), had 'close contacts with French writers and statesmen, among them Mirabeau and Talleyrand . . . and he was convinced that the French sought only a liberal constitution' (Oxford DNB). In August 1792, James Maitland, earl of Lauderdale had travelled to Paris, 'leaving for Calais during the September massacres and returning in December. A founder member of the Society of the Friends of the People at home, he styled himself Citizen, affected Jacobin costume, and befriended the revolutionary Brissot. Back in the Lords, he twice intemperately attacked the Aliens Bill and on 1 February 1793 attributed French hostilities and atrocities to counter-revolutionary pressure. He subsequently opposed the war with France and the British government's repression of civil liberties' (Oxford DNB). Edward Smith Stanley, twelfth earl Derby, was a Foxite who also considered England's involvement in the war against France as despotic.