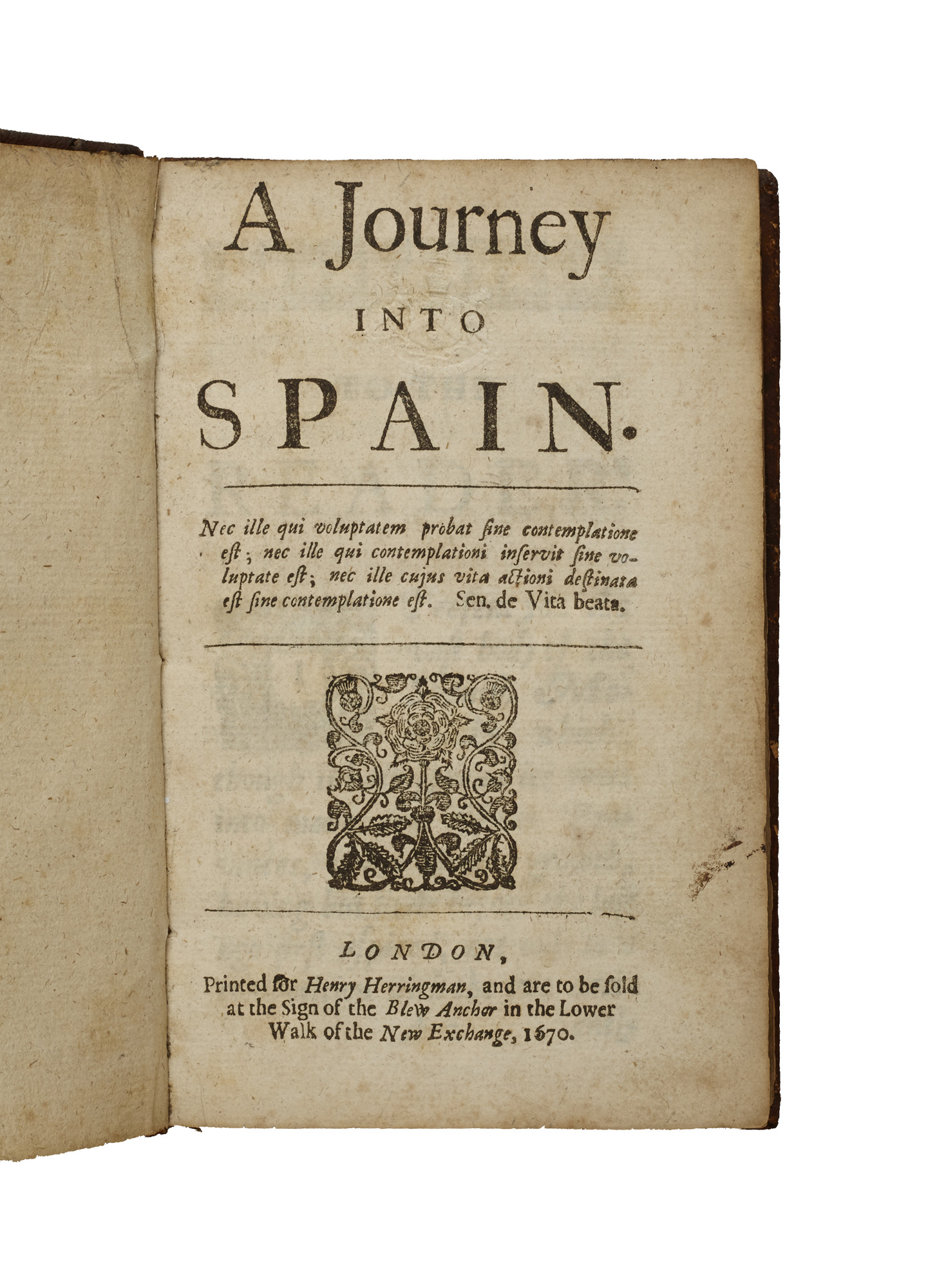 [BRUNEL, Antoine de.]
A journey into Spain.
London, printed for Henry Herringman, 1670.
8vo (165 x 105 mm), pp. [viii], 247, [1, blank]; slightly browned; contemporary sheep; extremities rubbed; some worming to front cover; remnants of label on spine; from the library of the earls of Macclesfield.
£950

Approximately:
US $1153
€1097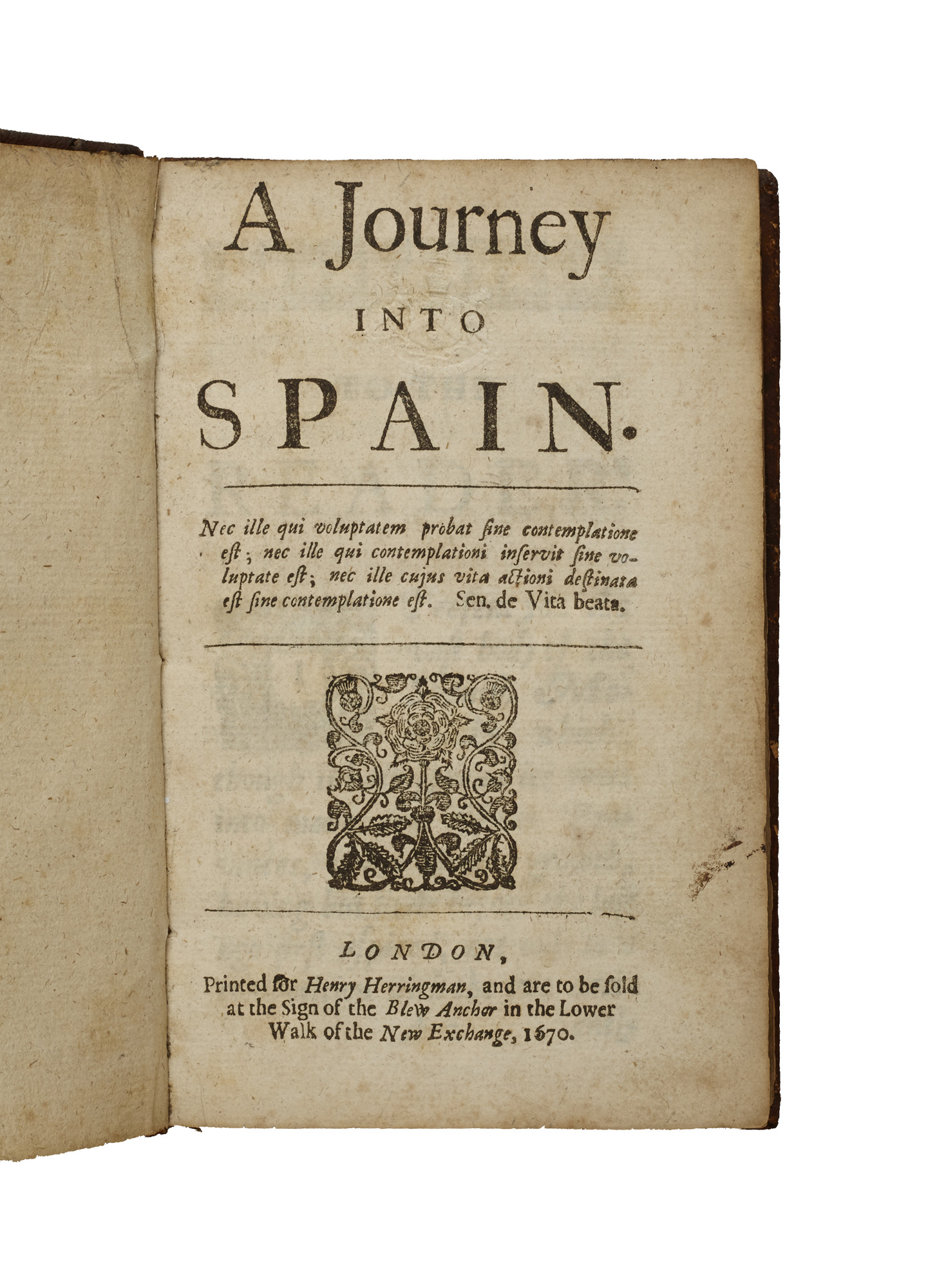 Added to your basket:
A journey into Spain.
First edition in English. A free and abridged translation of Voyage d'Espagne curieux, historique et politique, first published anonymously in 1665. Setting out from the Netherlands in 1651 in the company of François van Aerssen, Brunel toured France, Germany and Italy before travelling to Spain in March 1655. The party made its way to Madrid via San Sebastián, Vitoria and Burgos, returning to France at the end of June via Zaragoza, Tudela and Pamplona. Aranjuez and Alcalá de Henares are also described. Brunel compiled this account of his travels around 1657 using his own notes and those of Van Aerssen (who drowned on his return to the Netherlands and to whom the work is sometimes attributed).

A Journey into Spain, in its portrayal of the country as religiously, politically and socially backward, demonstrates a conscious awareness in Europe of Spain's decline as a world power during the mid-seventeenth century. Brunel's account of his experiences in Spain confirm John Lynch's statement that the 'syndrome of rural poverty, depopulation, financial chaos, and recession of American trade produced Spain's first great crisis in the modern period. The crisis can be dated between 1598 and 1620, and it was a crisis of change, denoting a reversal of the economic trends of the sixteenth century. The worst was still to come. From 1640 political disintegration and military collapse compounded the economic disorder and reduced Spain to absolute depression. And by this time there was no hope of relief from America' (Lynch, Spain under the Habsburgs II pp. 10–11).

Palau 372954; Wing B5230.
You may also be interested in...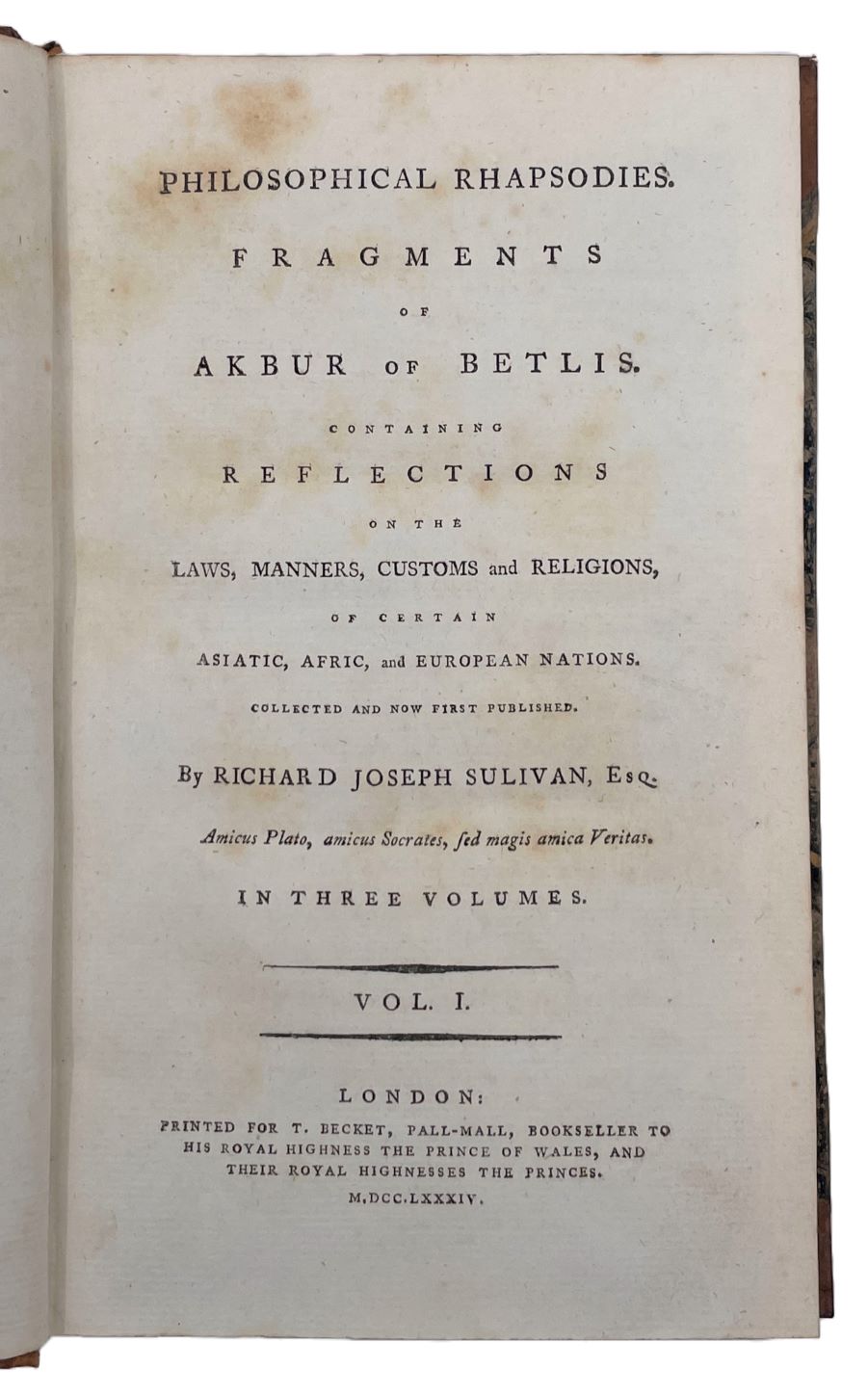 INDIAN TRAVEL SULIVAN, Richard Joseph.
Philosophical Rhapsodies. Fragments of Akbur of Betlis. Containing Reflections on the Laws, Manners, Customs and Religions, of certain Asiatic, Afric, and European Nations. Collected and now first published … In three Volumes …
First edition of this eccentric travel-inspired treatise drawing upon the author's experience in India and his travels in Europe. The prefatory 'advertisement' establishes the fiction that 'the following fragments were written by a native of Assyria [Akbur], who … was removed to the continent of Europe, and thence to England … he then travelled; and in various countries threw together the reflections which appear in the following sheets'. Compartmentalised into 'fragments' rather than chapters, the work is generically indistinct, and offers a compilation of fiction, philosophy, history and travel to reflections on foreign lands, notably China, Japan, Tartary, Hindostan, Greece and the Middle East. Sulivan cites widely in order to illustrate his points, emphasising Akbur's familiarity with Milton, Pope, Thomson, and Dryden, as well as law, the classical canon and contemporary scholarship.
ARTISTIC MAPS FER, Nicolas de.
Introduction à la geographie avec une description historique sur touttes les parties de la terre … Seconde édition augmentée …
Second enlarged edition (first 1708) of an introduction to geography – containing six handsome folding plates – by Nicolas de Fer, a French geographer, cartographer, and engraver who was particularly well-known for the artistry of his work. Born into a family of cartographers, de Fer took over his father's business at the age of just twenty-seven and came to specialise in the production of maps and atlases. While his maps were perhaps cherished more for their artistry than accuracy, they registered well with the public, and de Fer's cartographic business quickly flourished: by 1691 he was official geographer to the Dauphin, and in later years he served the kings of both France and Spain.