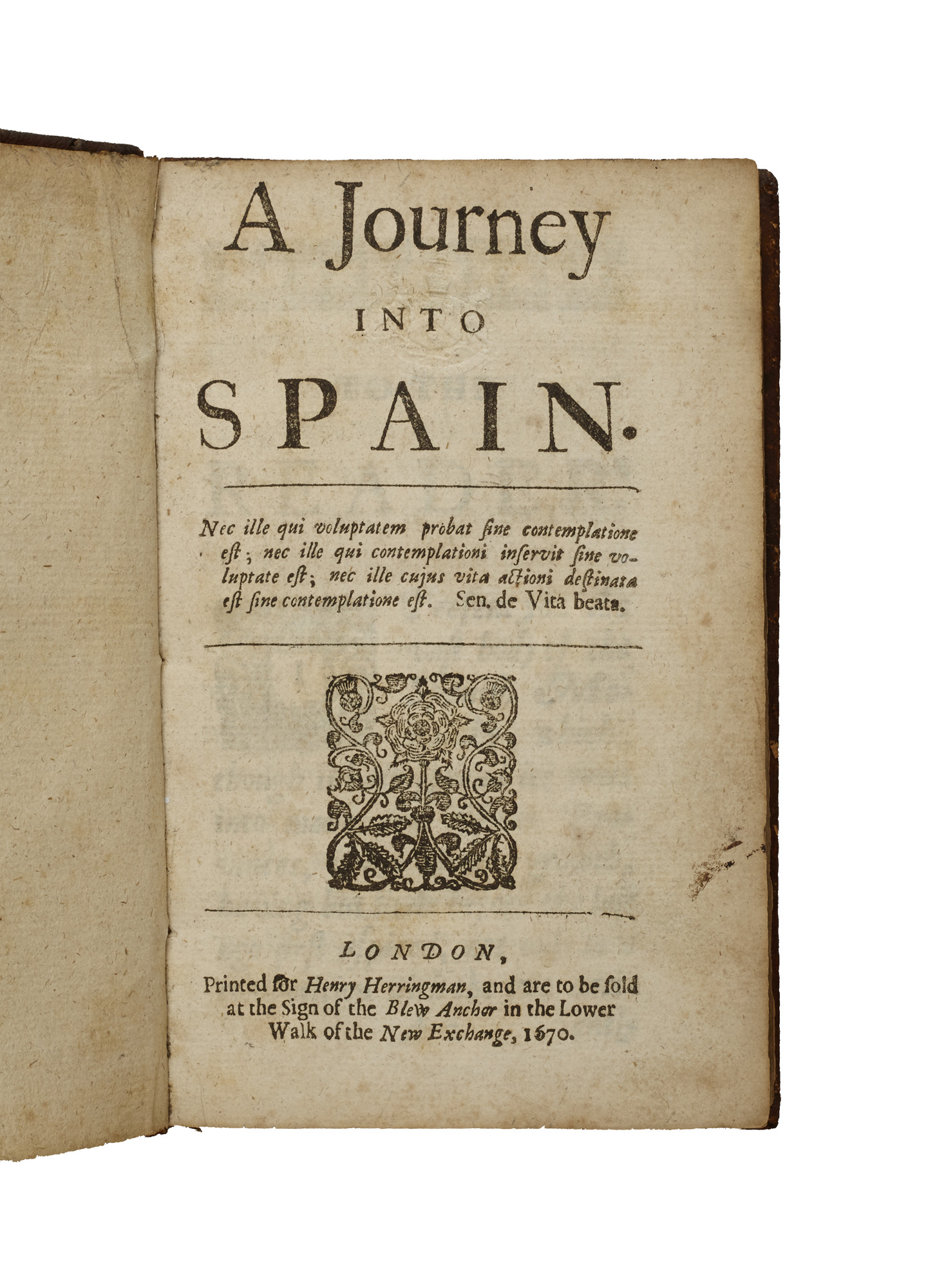 [BRUNEL, Antoine de.]
A journey into Spain.
London, printed for Henry Herringman, 1670.
8vo (165 x 105 mm), pp. [viii], 247, [1, blank]; slightly browned; contemporary sheep; extremities rubbed; some worming to front cover; remnants of label on spine; from the library of the earls of Macclesfield.
£950

Approximately:
US $1271
€1137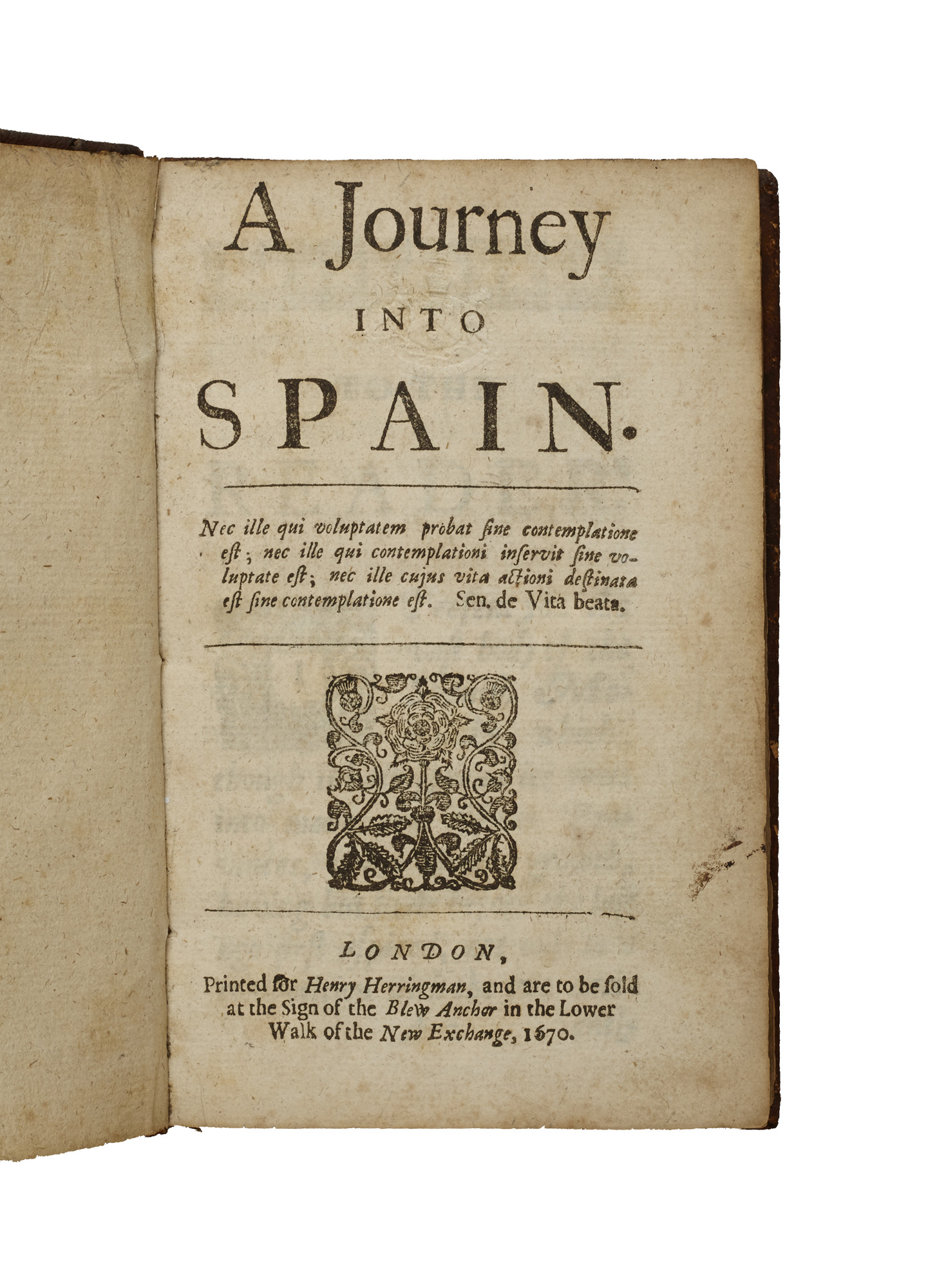 Added to your basket:
A journey into Spain.
First edition in English. A free and abridged translation of Voyage d'Espagne curieux, historique et politique, first published anonymously in 1665. Setting out from the Netherlands in 1651 in the company of François van Aerssen, Brunel toured France, Germany and Italy before travelling to Spain in March 1655. The party made its way to Madrid via San Sebastián, Vitoria and Burgos, returning to France at the end of June via Zaragoza, Tudela and Pamplona. Aranjuez and Alcalá de Henares are also described. Brunel compiled this account of his travels around 1657 using his own notes and those of Van Aerssen (who drowned on his return to the Netherlands and to whom the work is sometimes attributed).

A Journey into Spain, in its portrayal of the country as religiously, politically and socially backward, demonstrates a conscious awareness in Europe of Spain's decline as a world power during the mid-seventeenth century. Brunel's account of his experiences in Spain confirm John Lynch's statement that the 'syndrome of rural poverty, depopulation, financial chaos, and recession of American trade produced Spain's first great crisis in the modern period. The crisis can be dated between 1598 and 1620, and it was a crisis of change, denoting a reversal of the economic trends of the sixteenth century. The worst was still to come. From 1640 political disintegration and military collapse compounded the economic disorder and reduced Spain to absolute depression. And by this time there was no hope of relief from America' (Lynch, Spain under the Habsburgs II pp. 10–11).

Palau 372954; Wing B5230.
You may also be interested in...
[YULE, Adam and] James Reid M'GAVIN, editor.
Perils by Sea and Land: a Narrative of the Loss of the Brig Australia by Fire, on her Voyage from Leith to Sydney, with an Account of the Sufferings, Religious Exercises, and Final Rescue of the Crew and Passengers.
First edition in book form. Perils by Sea and Land was first published in the United Secession Magazine, and is an account of the brig Australia, captained by Adam Yule and bound for Sydney, which set sail from Leith on 2 October 1840 with a 'general cargo of merchandize', thirteen crew and fifteen passengers. On 29 December, about 600 miles off the Cape of Good Hope, the hold caught fire and Yule soon realised that the ship would have to be abandoned. The long-boat, however, 'had been converted into a stall for two live bulls, and in attempting to get them over the side, one of them, in the confusion, unfortunately got out of the slings, and ran frantic along the deck. This accident, as may be supposed, greatly increased the general consternation' (p. 16). The crew and passengers were eventually transferred to the long-boat and a small skiff, wherein seven days were spent at sea before making landfall on the South African coast near the mouth of the Olifants River. The party endured the deaths of two of their number and further days in the wilderness before civilization was eventually reached. Despite Yule's attribution of every favourable turn of events to divine intervention, the narrative is a compelling one.
BERDINI, Vincenzo.
Historia dell'antica, e moderna Palestina. Descritta in tre parti . . . Nella quale si hà particolare descrittione de' luoghe più singolari del sito, qualità di essi, governo, costume, guerre, rivolutioni, & altri successi notabili.
First edition; scarce. The Minorite friar Vincenzo Berdini was named Commissioner General of the Holy Land by Paul V in 1615. It is not known how long he spent in the Near East, but it was apparently long enough for him to visit and carefully study the principal holy sites ('di vedere, ed'intender bene la verità de i luoghi santi della Palestina', p. [v]). This extensive work, the fruit both of his travels and of professedly wide reading, is divided into three parts: the first is concerned with Palestine in relation to the Old Testament, the second is an analysis of the places mentioned in the Gospels, and in the third are described the various Christian communities then present in the Near East (Greeks, Latins, Georgians, Maronites, Armenians, and so on) as well as the prayers, hymns and rites used in the principal churches and by pilgrims.