[BURY, Lady Charlotte].
The Exclusives. In three Volumes ...
London: Henry Colburn and Richard Bentley ... 1830.
3 vols., 12mo., with the half-titles but without the terminal advertisement leaves in vols. II and III; some foxing in volume III, else a very good copy in mid nineteenth-century half calf and marbled boards.
£950

Approximately:
US $1260
€1081
First edition of a society novel written after the enormous success of Marianne Spencer Stanhope's Almack's (1826), a roman à clef centred on the fashionable assembly rooms in St. James's. In The Exclusives Lady Tilney plans a new coterie as Almack's is in decline ('that circle of exclusiveness had been polluted, its brief course was run'). She is clearly meant to represent the heiress Lady Jersey, the acknowledged leader of London society, who also figures in Almack's as Lady Hauton and in Coningsby and Sybil as Lady St. Julian. The Comtesse Leinsengen (Princess Lieven) is another character who finds that Almack's has become 'tiresome' and 'stupid': 'It was good enough at first, when it put people in a passion, et pendant que se faisoit fureur; but now that, somehow or oder, you liberales admitted every petite demoiselle vid her red elbows, and vulgar mama ... it has lost all its character'.

The new société choisie is to be 'quite exclusive – we shall settle d'avance every particular and qualification of the persons who may be admitted':

'The first requisite for a newly-initiated member to know is, how to cut all friends and relations who are not deemed worthy of being of a certain côterie; – the next, is to dress after a particular fashion, talk a particular species of language, not to know any thing or any person that does not carry the mark of the côterie, and speak in a peculiar tone of voice. To hold any conversation which deserves that name is called being prosy; – to understand any thing beyond the costume of life, pedantic' (II, 136).

Shortly after publication A Key to the Royal Novel, The Exclusives appeared as a pamphlet 'to extend the [novel's] sphere of usefulness ... by supplying the real name of the characters' (partly reprinted in Bentley's Private List and in Sadleir). The novel itself was remarkably successful, running to three editions within three months.

Sadleir 475; Wolff 1011.
You may also be interested in...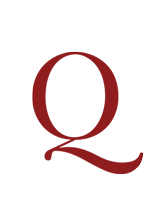 REVISED [SMOLLETT, Tobias].
The Adventures of Roderick Random … in two Volumes … The second Edition.
Second edition, with 'major imaginative changes', and frontispieces which appear here for the first time. Even though there were only a few weeks between the first and second editions, Smollett found time to make a number of significant corrections in the text, on average about one substantive change for every two to three pages, mainly to improve characterisation or style. See O. M. Brack, Jr. and James B. Davis in PBSA, LXIV (1970), 295-311.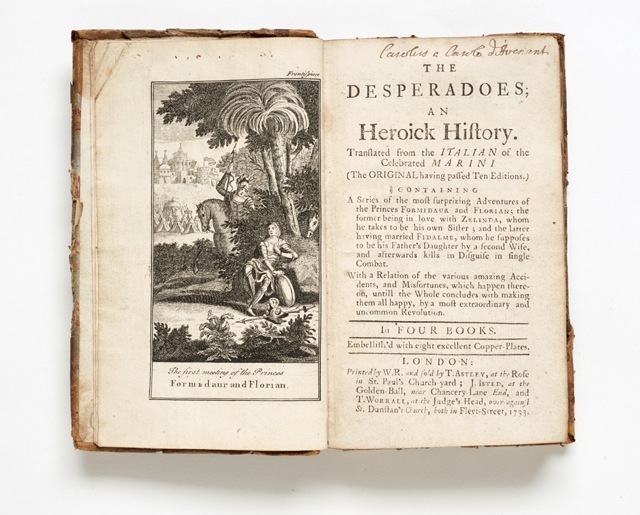 MARINI, Giovanni Ambrogio.
The Desperadoes; an heroick History. Translated from the Italian of the celebrated Marini (the Original having passed ten Editions.) Containing a Series of the most surprizing Adventures of the Princes Formidaur and Florian … In four Books. Embellish'd with eight excellent Copper-Plates.
First and only edition in English of Le gare de' disperati (1644), the second of three romances by Marini (1596-1668). Inevitably, 'It was necessary to omit many Things that were contrary to our Morals; to Decency, and to the Purity of the English Tongue …'. But the general scheme of events is the same as the original, and is outlined on the title-page: 'A Series of the most surprizing Adventures of the Princes Formidaur and Florian; the former being in love with Zelinda, whom he takes to be his own Sister; and the latter having married Fidalme, who he supposes to be his father's Daughter by a second Wife, and afterwards kills in Disguise in single Combat. With a Relation of the various amazing Accidents, and Misfortunes, which happen thereon, until the Whole concludes with making them all happy, by a most extraordinary and uncommon Revolution.'