[BURY, Lady Charlotte].
The Exclusives. In three Volumes ...
London: Henry Colburn and Richard Bentley ... 1830.
3 vols., 12mo., with the half-titles but without the terminal advertisement leaves in vols. II and III; some foxing in volume III, else a very good copy in mid nineteenth-century half calf and marbled boards.
£950

Approximately:
US $1153
€1123
Added to your basket:
The Exclusives. In three Volumes ...
First edition of a society novel written after the enormous success of Marianne Spencer Stanhope's Almack's (1826), a roman à clef centred on the fashionable assembly rooms in St. James's. In The Exclusives Lady Tilney plans a new coterie as Almack's is in decline ('that circle of exclusiveness had been polluted, its brief course was run'). She is clearly meant to represent the heiress Lady Jersey, the acknowledged leader of London society, who also figures in Almack's as Lady Hauton and in Coningsby and Sybil as Lady St. Julian. The Comtesse Leinsengen (Princess Lieven) is another character who finds that Almack's has become 'tiresome' and 'stupid': 'It was good enough at first, when it put people in a passion, et pendant que se faisoit fureur; but now that, somehow or oder, you liberales admitted every petite demoiselle vid her red elbows, and vulgar mama ... it has lost all its character'.

The new société choisie is to be 'quite exclusive – we shall settle d'avance every particular and qualification of the persons who may be admitted':

'The first requisite for a newly-initiated member to know is, how to cut all friends and relations who are not deemed worthy of being of a certain côterie; – the next, is to dress after a particular fashion, talk a particular species of language, not to know any thing or any person that does not carry the mark of the côterie, and speak in a peculiar tone of voice. To hold any conversation which deserves that name is called being prosy; – to understand any thing beyond the costume of life, pedantic' (II, 136).

Shortly after publication A Key to the Royal Novel, The Exclusives appeared as a pamphlet 'to extend the [novel's] sphere of usefulness ... by supplying the real name of the characters' (partly reprinted in Bentley's Private List and in Sadleir). The novel itself was remarkably successful, running to three editions within three months.

Sadleir 475; Wolff 1011.
You may also be interested in...
[JOHNSTONE, Charles.]
Chrysal, or the Adventures of a Guinea, wherein are exhibited Views of several striking Scenes, with curious and interesting Anecdotes of the most noted Persons in every Rank of Life, whose Hands it passed through, in America, England, Holland, Germany, and Portugal … by an Adept.
First edition. Chrysal's enormous popularity derived from its thinly-veiled chronicle of contemporary scandals in political high life: 'An excoriating satire that won Johnstone respect as a wit but few friends, the novel is set roughly during the period of the Seven Years' War (1757-63) and pretends to reveal political secrets, and to expose the private profligacy of many of the well-known – an highly colourful – public characters of the time' (ODNB).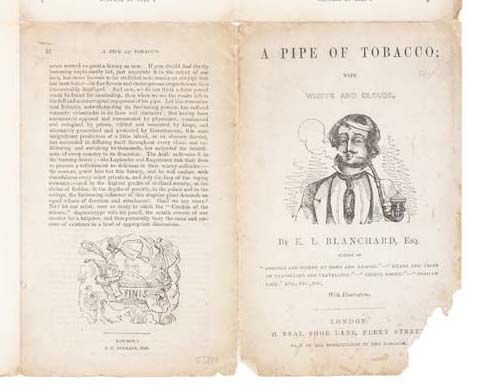 BLANCHARD, Edward Litt Leman.
A Pipe of Tobacco: with Whiffs and Clouds … With Illustrations.
First edition, by the editor and play- and pantomime-writer E.L. Blanchard, comprising three 'whiffs' and two 'clouds' on the subject of tobacco, aimed 'at a niche in the waistcoast pocket, rather than a more presuming station on the library shelf'. Blanchard knew Dickens and was in the 1840s a contributor and editor of Punch – the illustrations here have a very Punch-like flavour.