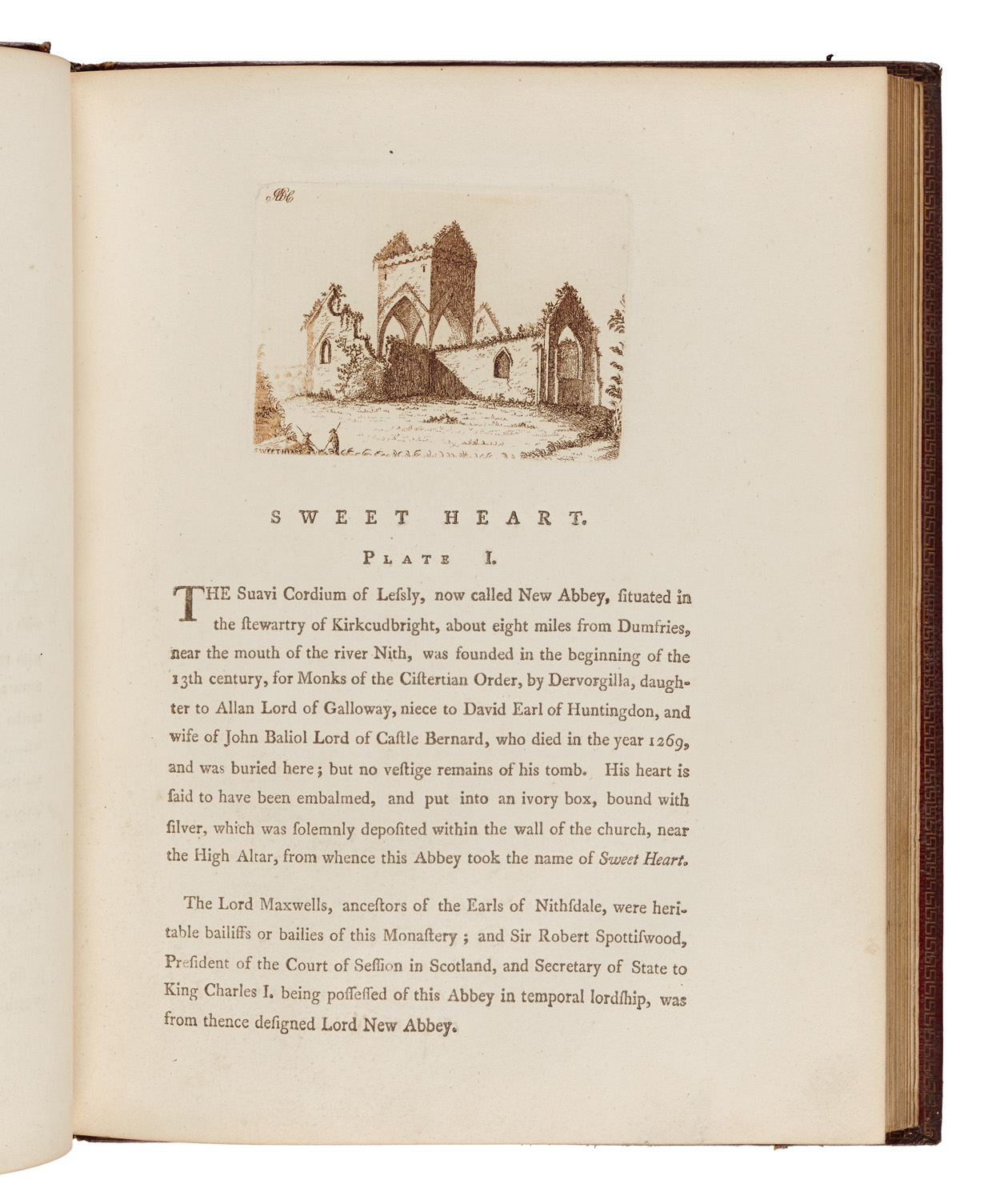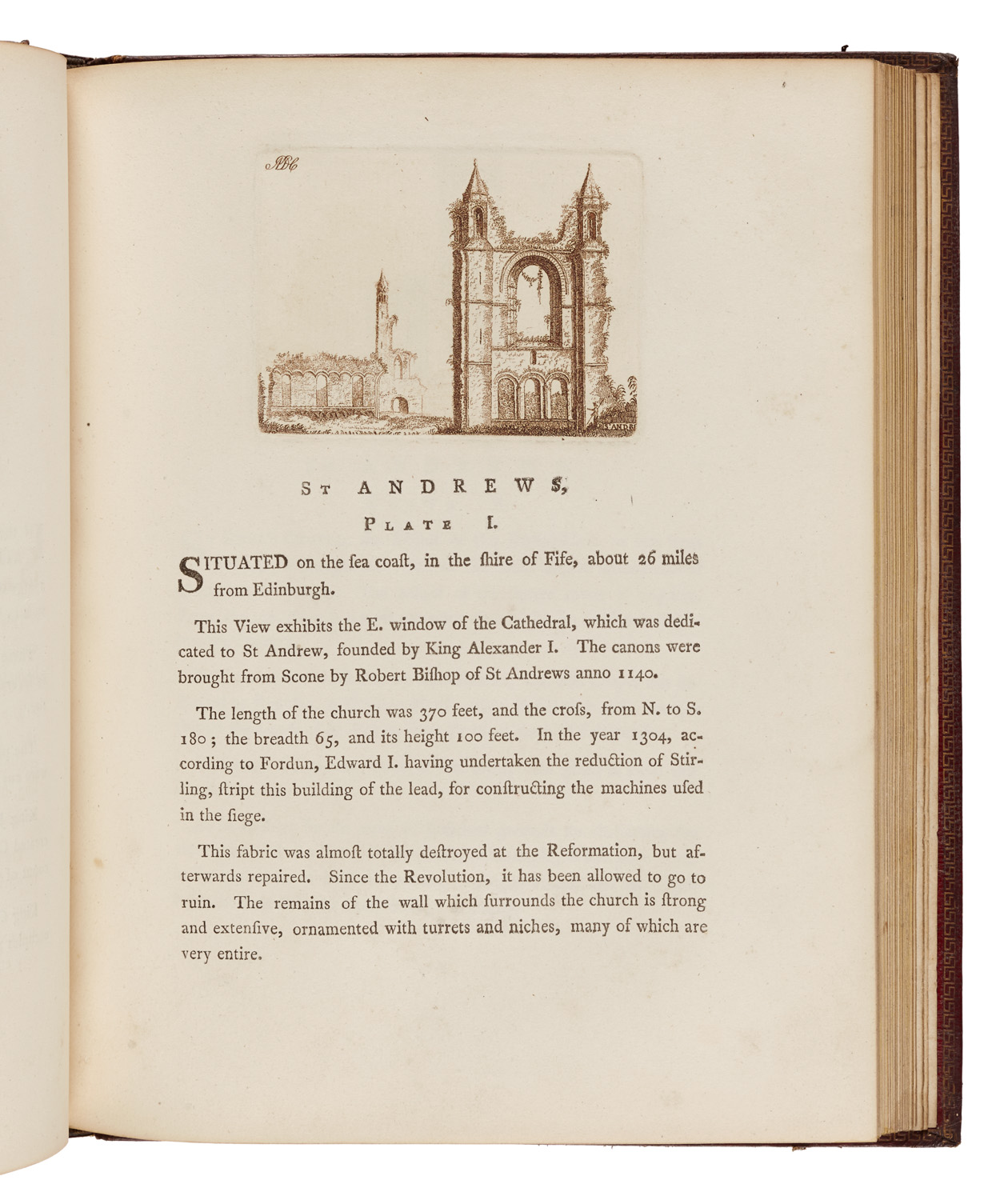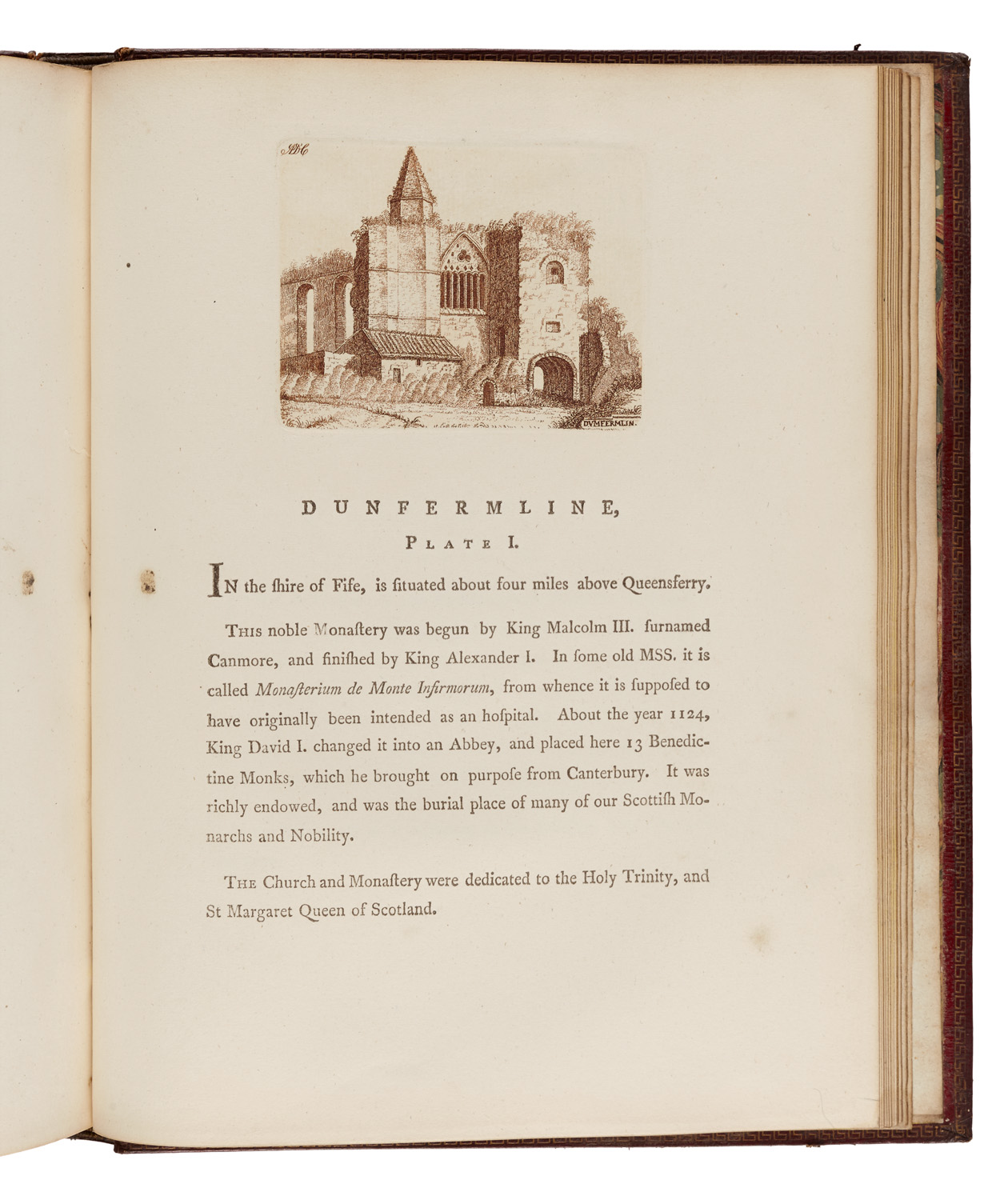 WITH 50 SEPIA ILLUSTRATIONS
CARDONNEL, Adam de.
Picturesque Antiquities of Scotland [I–II] …
London: Printed for the Author, and sold by Edwards … also by Edwards's, in Halifax. 1788.
Two parts, 4to., pp. iv, 27, [1] [25 leaves]; 11, [1], [25 leaves], the unnumbered leaves prints on rectos only, with an etched illustration at the head (all signed by Cardonnel) and a letterpress description below; a fine copy, with the etchings printed in sepia, in contemporary red morocco by Edwards of Halifax, covers gilt with a border of wheels and floral sprays, spine gilt in compartments and lettered direct.
£975

Approximately:
US $1174
€1084
Added to your basket:
Picturesque Antiquities of Scotland [I–II] …
First edition, the very rare issue with the plates in sepia, printed directly onto thick wove paper.

Picturesque Antiquities is the chief work of the Scottish doctor turned antiquarian Adam Cardonnel, who assisted Francis Grose with his studies on Scotland in 1788-91 (Burns wrote to Grose care of Cardonnel in 1789). Cardonnel provided both the delightful illustrations and the text here, his work having one foot in the Picturesque movement and one in the revival of interest in the Gothic. Shortly afterward, in 1791, he left Scotland, having succeeded to estates in Northumberland, and took the name Adam Mansfeldt de Cardonnel-Lawson.

The work went through several forms. This, the first, is found more commonly with the illustrations on india paper, pasted above the letterpress text; we can find no record of a sepia printing, nor of a quarto issue with the engravings printed directly on the paper. An octavo issue followed, and then a reprint of the quarto with a new introduction, still dated '1788' but probably printed to coincide with the publication of two further parts in 1793.

See G. E. Bentley, The Edwardses of Halifax, Appendix 2 pp. 76-84
You may also be interested in...
WITH SCOTTISH PROVENANCE VALERIUS Maximus; Stephanus PIGHIUS and Justus LIPSIUS (editors). 
Dictorum factorumque memorabilium libri IX, infinitis mendis ex veterum exemplarium fide repurgati, atque in meliorem ordinem restituti, per Stephanum Pighium Campensem; accedunt in fine eiusdem annotationes, et breves notae Justi Lipsii. 
Fourth Plantin edition of Valerius Maximus's compendium of anecdotes, one of the most popular Classical texts and an insightful source on Roman life.  Compiled in the early first century, the nine books of Facta et dicta memorabilia ('Memorable deeds and sayings') comprise anecdotes and examples for the use of orators, covering religion, omens, social customs, good and evil conduct, good fortune, military stratagems, and much besides.  While unoriginal and rhetorical in style, the work proved very popular in the Middle Ages and Renaissance.  The present edition is printed with notes by the humanist scholars Stephanus Pighius (1520–1604) and Justus Lipsius (1547–1606). 
[ALMANACS.] 
The Royal Kalendar; or complete and correct annual Register for England, Scotland, Ireland, and America, for the Year 1769 [– 1772, 1776-8, 1780-2, 1787, 1793-5, 1804] … 
The Royal Kalendar was begun in 1767 by John Almon, 'upon a new and more extensive plan than any hitherto offered to the public', though earlier equivalents included the Court Kalendar and the Court and City Register.  Like those works it was offered with or without an almanac – generally issues of Rider's British Merlin or the cheaper Cardanus Rider's Sheet Almanack.  For some years new corrected editions were published in January and April – all those found here are the first printings.  The first three issues (for the years 1767 to 1769) also included a 48-page engraved section providing the arms of the Earls, Dukes, and Barons of England, Scotland, and Ireland.  It is particularly interesting to note the swelling and contraction of land and sea forces during the American Revolutionary War and then the French Revolutionary Wars.  Almon was succeeded by Debrett in 1782, and later by Stockdale.