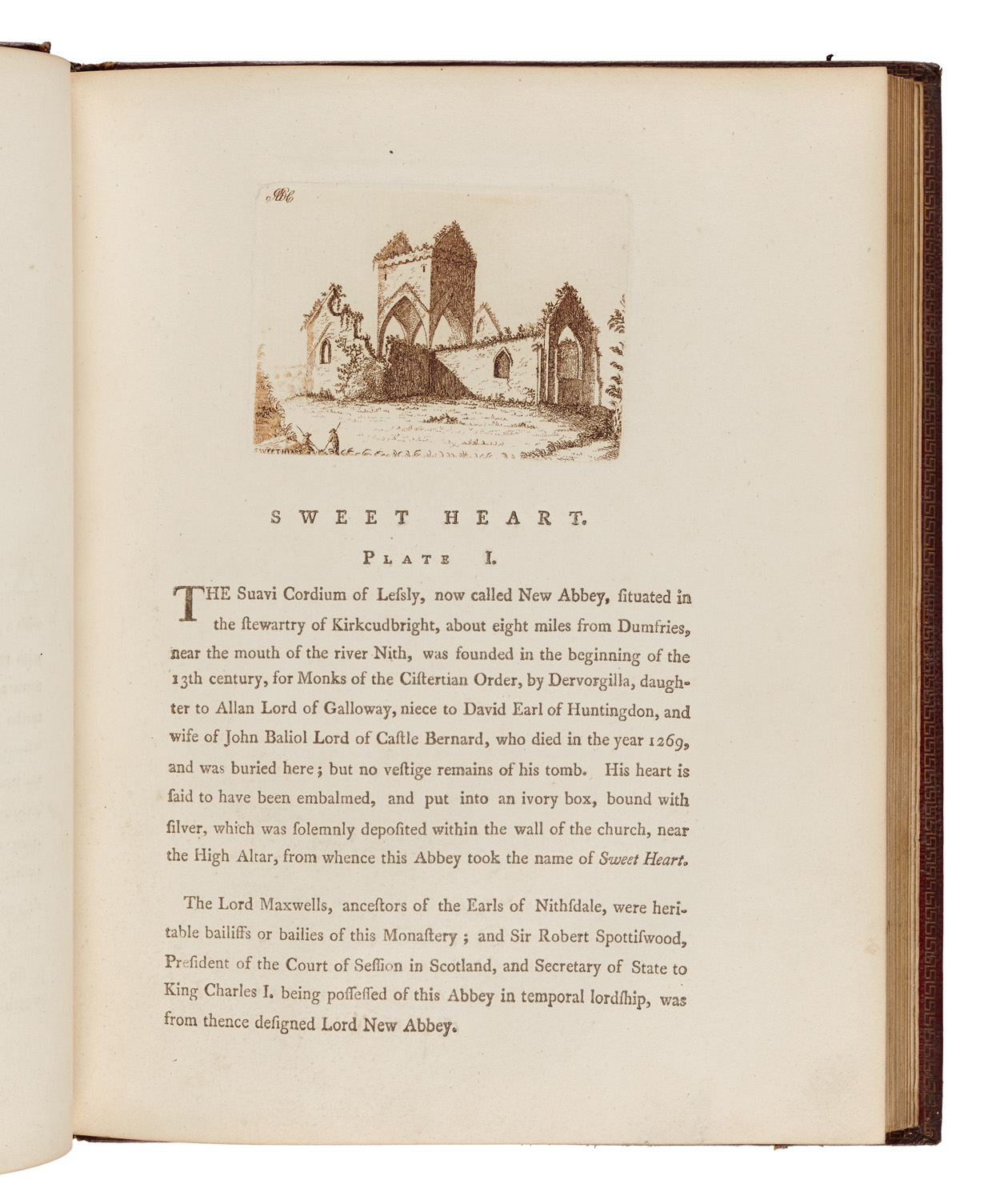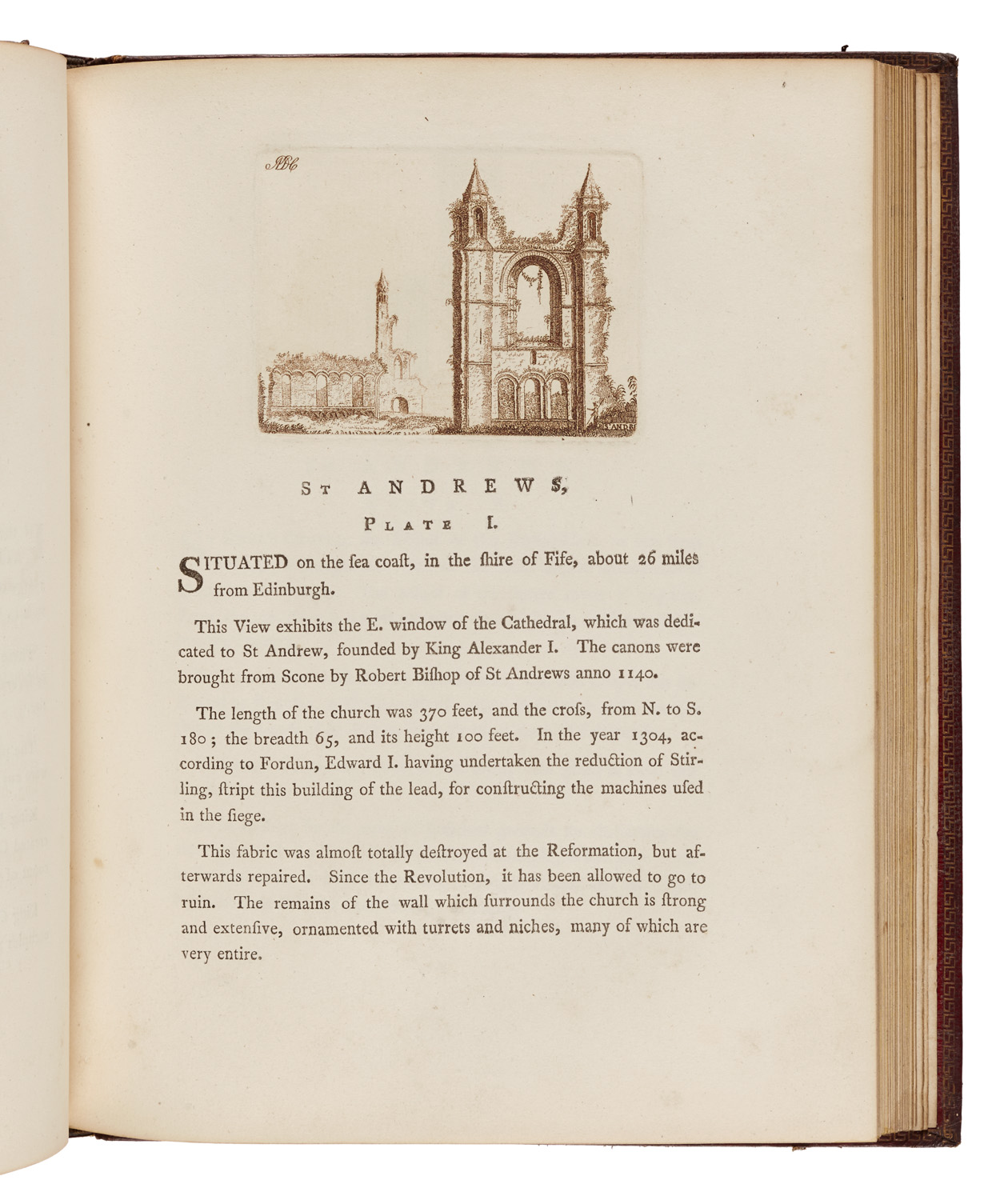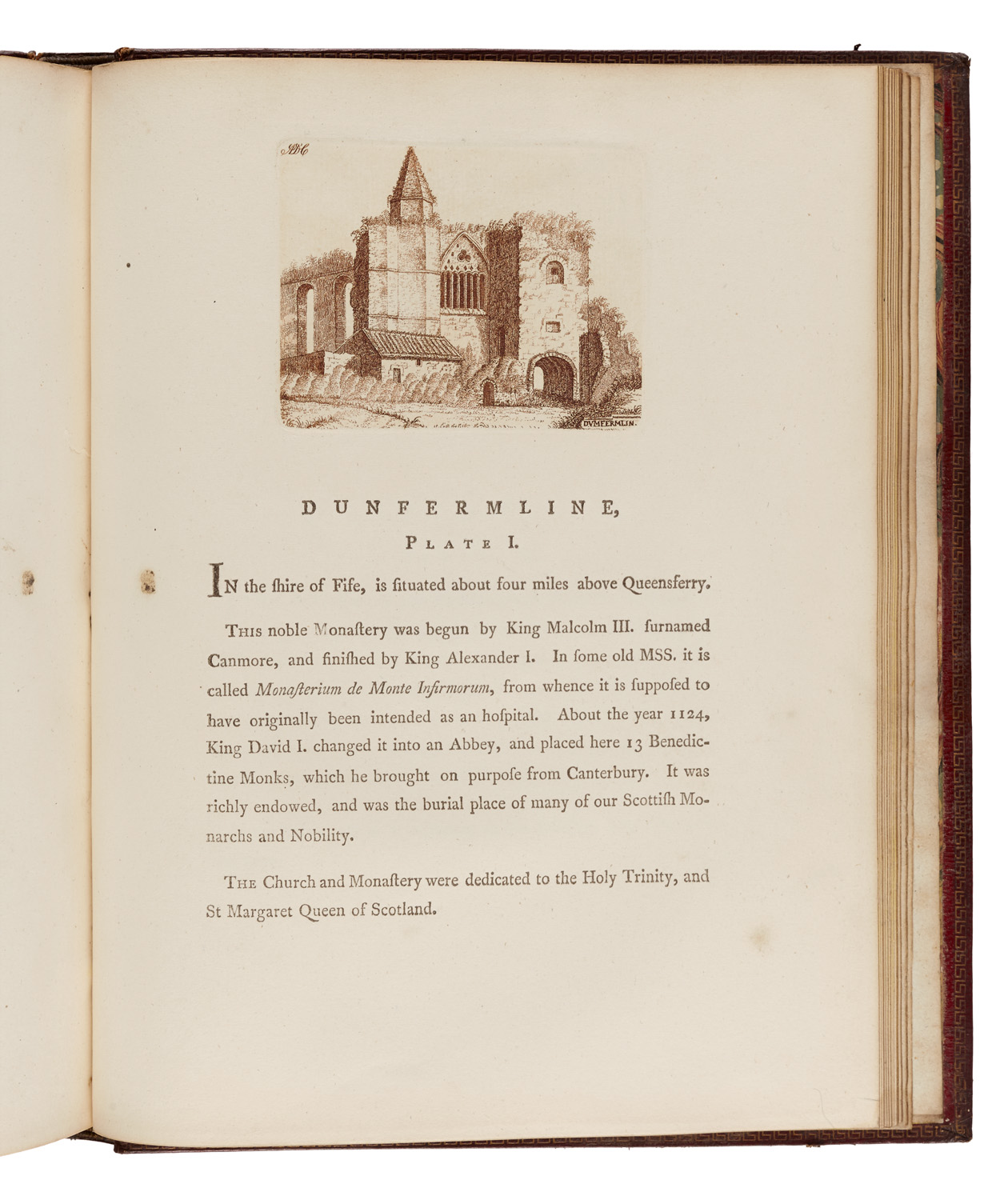 CARDONNEL, Adam de.
Picturesque Antiquities of Scotland [I–II] …
London: Printed for the Author, and sold by Edwards … also by Edwards's, in Halifax. 1788.
Two parts, 4to., pp. iv, 27, [1] [25 leaves]; 11, [1], [25 leaves], the unnumbered leaves prints on rectos only, with an etched illustration at the head (all signed by Cardonnel) and a letterpress description below; a fine copy, with the etchings printed in sepia, in contemporary red morocco by Edwards of Halifax, covers gilt with a border of wheels and floral sprays, spine gilt in compartments and lettered direct.
£975

Approximately:
US $1205
€1102
Added to your basket:
Picturesque Antiquities of Scotland [I–II] …
First edition, the very rare issue with the plates in sepia, printed directly onto thick wove paper.

Picturesque Antiquities is the chief work of the Scottish doctor turned antiquarian Adam Cardonnel, who assisted Francis Grose with his studies on Scotland in 1788-91 (Burns wrote to Grose care of Cardonnel in 1789). Cardonnel provided both the delightful illustrations and the text here, his work having one foot in the Picturesque movement and one in the revival of interest in the Gothic. Shortly afterward, in 1791, he left Scotland, having succeeded to estates in Northumberland, and took the name Adam Mansfeldt de Cardonnel-Lawson.

The work went through several forms. This, the first, is found more commonly with the illustrations on india paper, pasted above the letterpress text; we can find no record of a sepia printing, nor of a quarto issue with the engravings printed directly on the paper. An octavo issue followed, and then a reprint of the quarto with a new introduction, still dated '1788' but probably printed to coincide with the publication of two further parts in 1793.

See G. E. Bentley, The Edwardses of Halifax, Appendix 2 pp.76-84
You may also be interested in...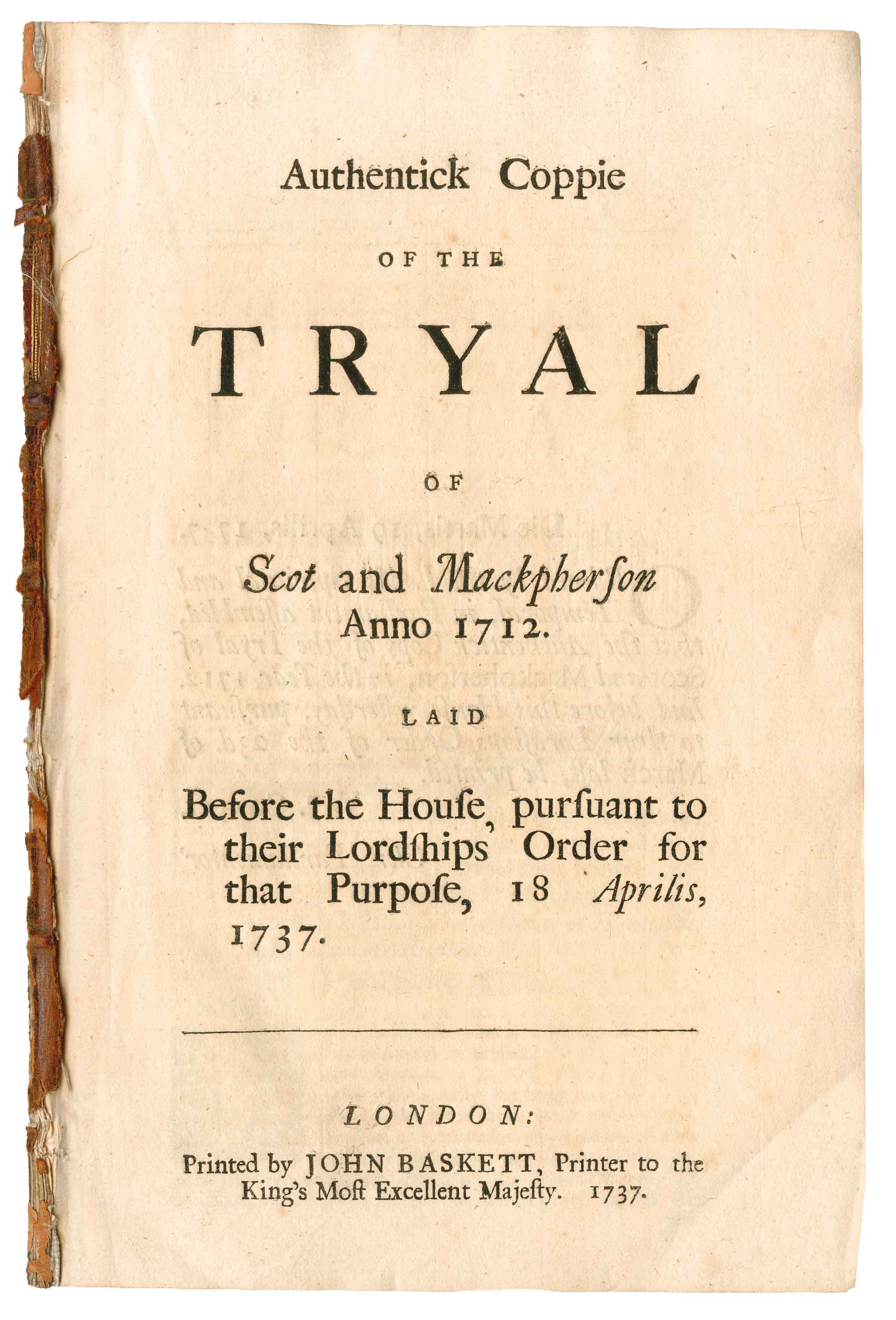 [TRIALS.]
Authentick Coppie of the Tryal of Scot and Mackpherson Anno 1712. Laid before the House, pursuant to their Lordships' Order for that Purpose, 18 Aprilis, 1737. London: Printed by John Baskett, Printer to the King's Most Excellent Majesty. 1737.
First edition of this London trial of Scottish cattle-rustlers. Donald McPherson, a merchant drover, was driving black cattle from the North of Scotland into England, when he was attacked near the river Tweed by William Laidly, or 'Scot', his brother Walter and their gang. McPherson was dragged backwards from his horse by his hair and severely beaten with horse-whips, and his servant's finger was nearly severed with a shearing hook. The Laidlys proceeded to drive the cattle over rough terrain, laming a number of them.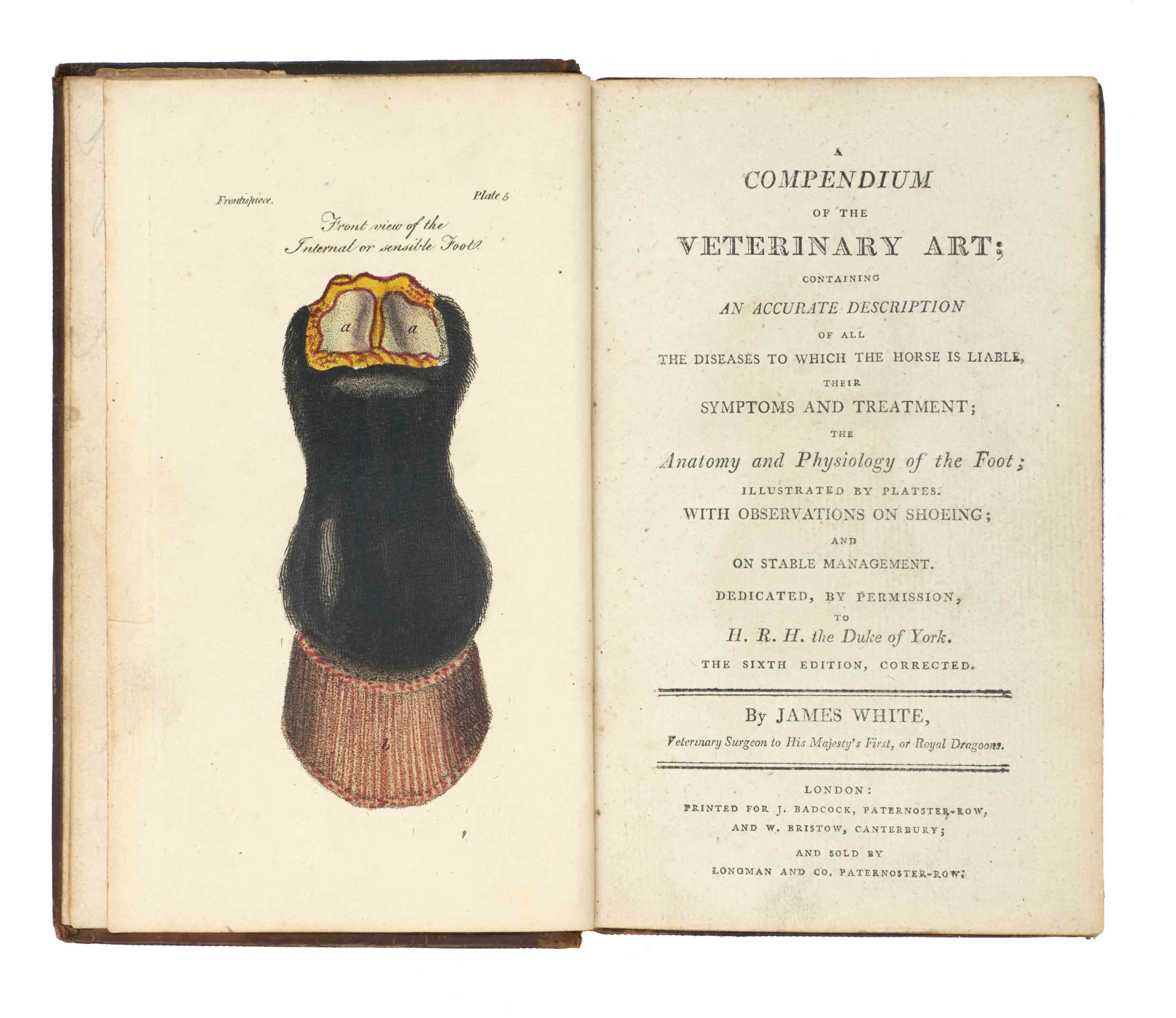 WHITE, James.
A Compendium of the veterinary Art, containing an accurate Description of all the Diseases to which the Horse is liable, their Symptoms and Treatment, the Anatomy and Physiology of the Foot, illustrated by Plates, with Observations on Shoeing and on Stable Management … the sixth Edition, corrected.
Sixth edition. Evidently a successful text, further editions appeared soon after the work's first publication and would eventually be expanded into four volumes (the present edition is often found accompanied by The materia medica and pharmacopoeia).