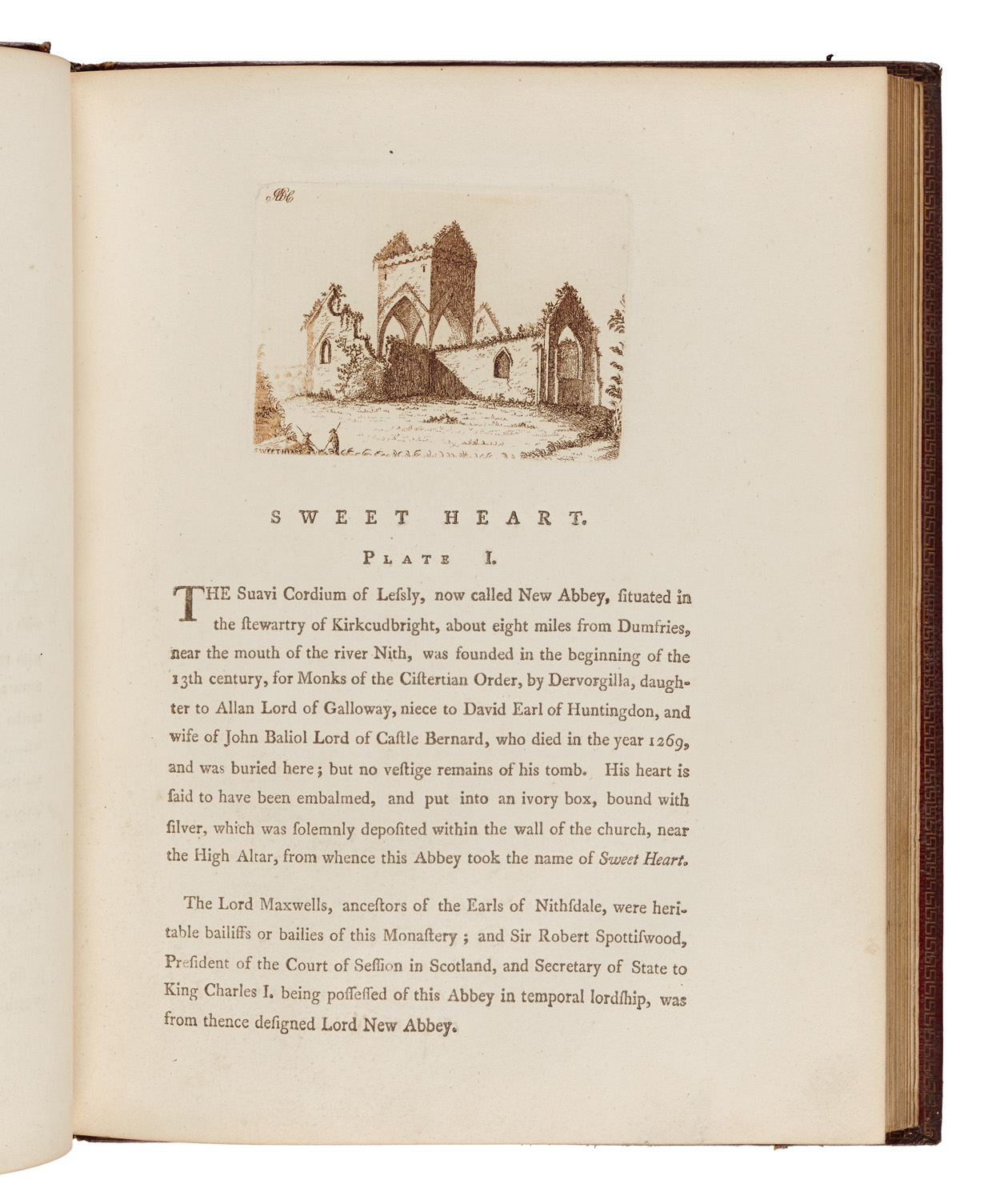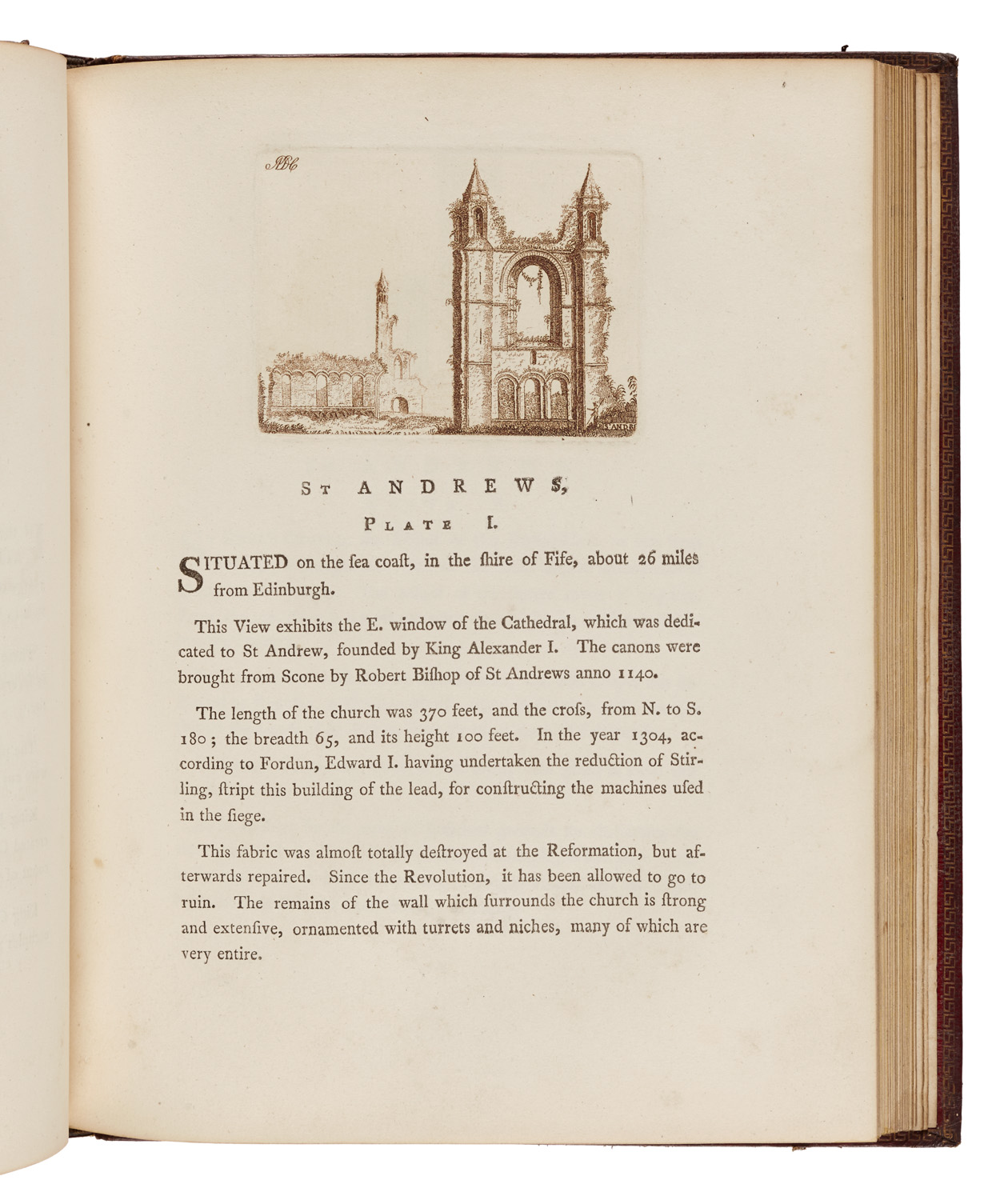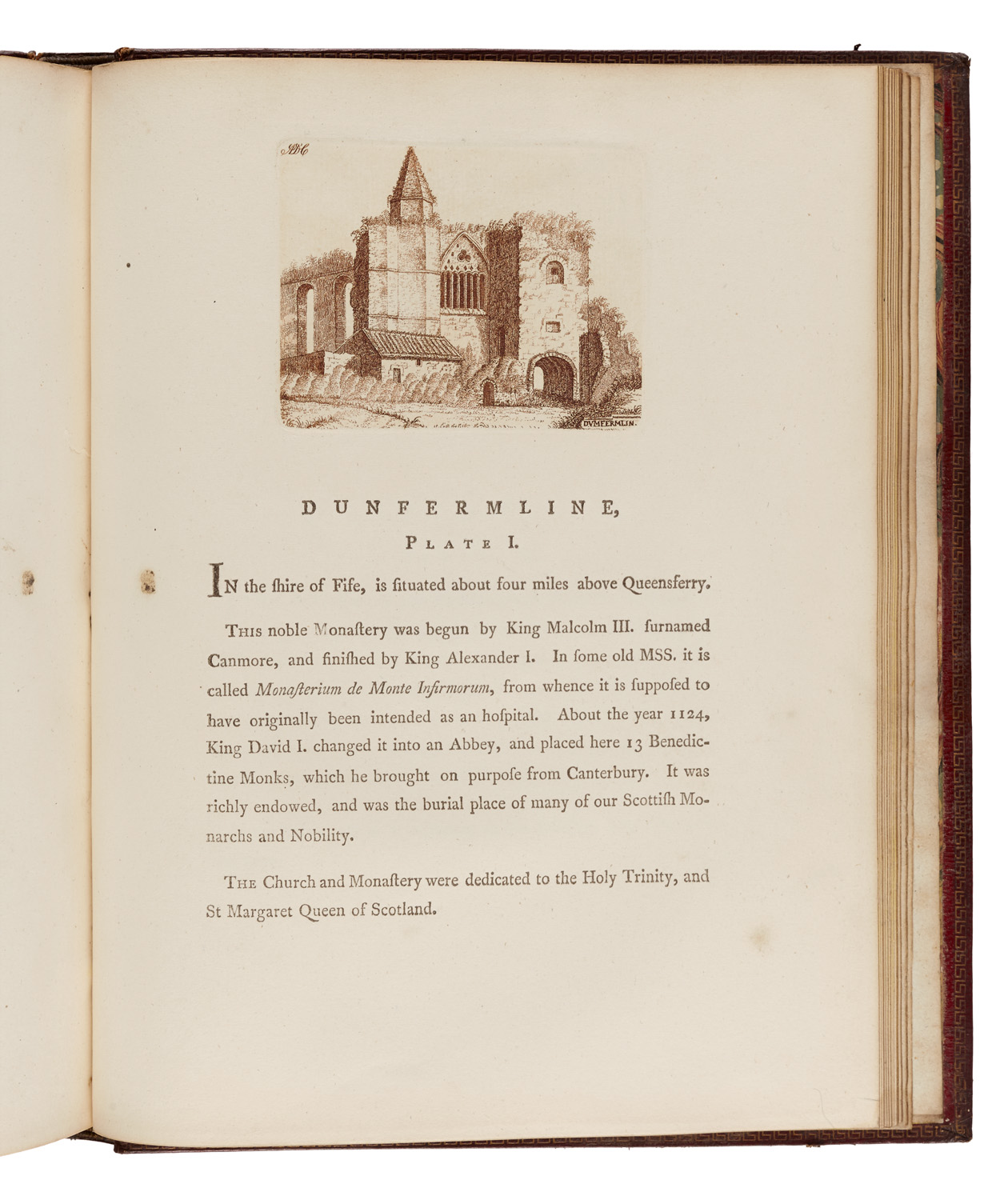 CARDONNEL, Adam de.
Picturesque Antiquities of Scotland [I–II] …
London: Printed for the Author, and sold by Edwards … also by Edwards's, in Halifax. 1788.
Two parts, 4to., pp. iv, 27, [1] [25 leaves]; 11, [1], [25 leaves], the unnumbered leaves prints on rectos only, with an etched illustration at the head (all signed by Cardonnel) and a letterpress description below; a fine copy, with the etchings printed in sepia, in contemporary red morocco by Edwards of Halifax, covers gilt with a border of wheels and floral sprays, spine gilt in compartments and lettered direct.
£975

Approximately:
US $1279
€1090
First edition, the very rare issue with the plates in sepia, printed directly onto thick wove paper.

Picturesque Antiquities is the chief work of the Scottish doctor turned antiquarian Adam Cardonnel, who assisted Francis Grose with his studies on Scotland in 1788-91 (Burns wrote to Grose care of Cardonnel in 1789). Cardonnel provided both the delightful illustrations and the text here, his work having one foot in the Picturesque movement and one in the revival of interest in the Gothic. Shortly afterward, in 1791, he left Scotland, having succeeded to estates in Northumberland, and took the name Adam Mansfeldt de Cardonnel-Lawson.

The work went through several forms. This, the first, is found more commonly with the illustrations on india paper, pasted above the letterpress text; we can find no record of a sepia printing, nor of a quarto issue with the engravings printed directly on the paper. An octavo issue followed, and then a reprint of the quarto with a new introduction, still dated '1788' but probably printed to coincide with the publication of two further parts in 1793.

See G. E. Bentley, The Edwardses of Halifax, Appendix 2 pp.76-84
You may also be interested in...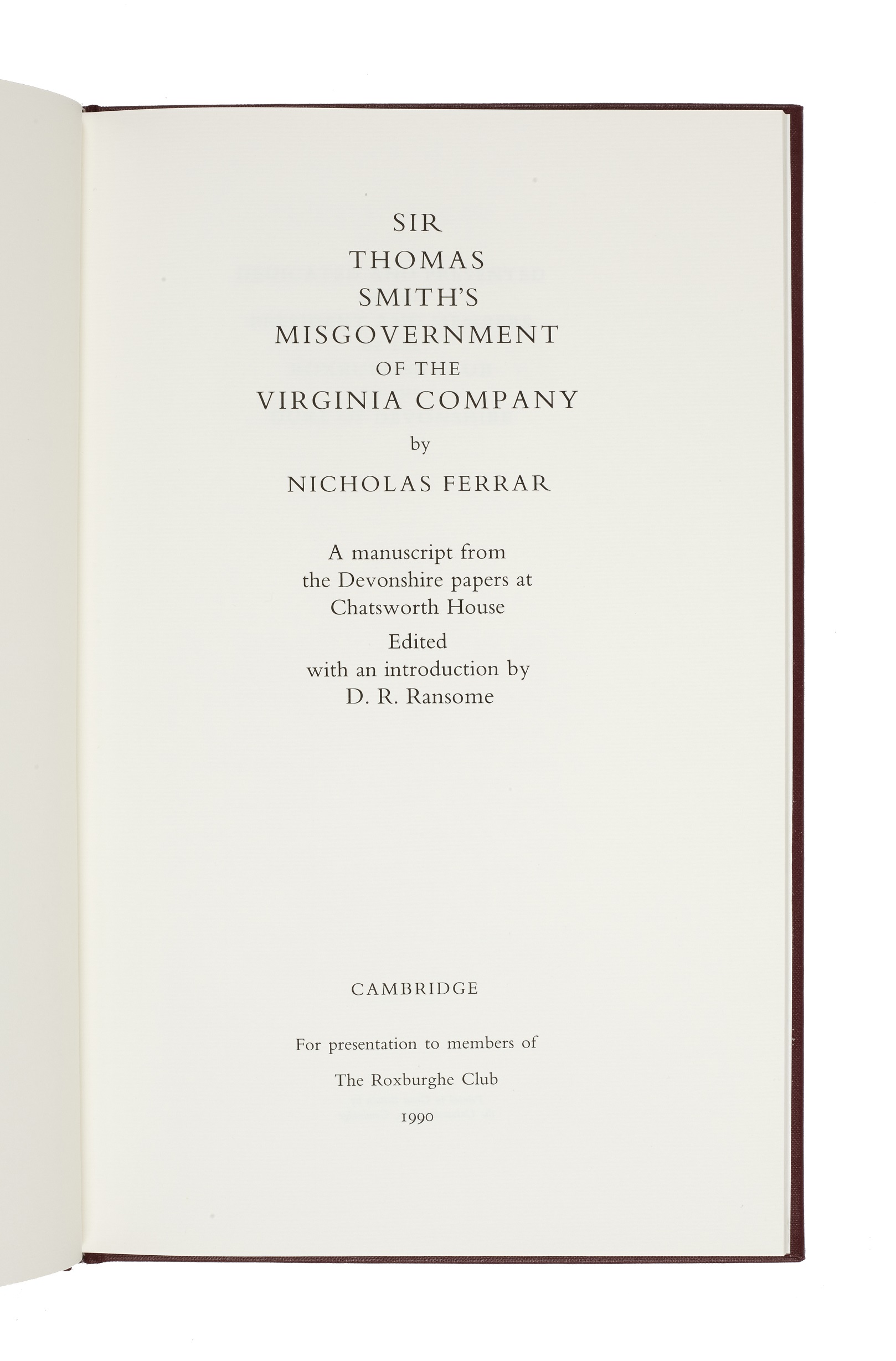 FERRAR, Nicholas.
Sir Thomas Smith's Misgovernment of the Virginia Company by Nicholas Ferrar. A manuscript from the Devonshire papers at Chatsworth House. Edited with an introduction by D. R. Ransome.
Ferrar's text is a crucial document in the history of the Virginia Company and its colony. It reveals the intense animosity which destroyed the Company and is a vivid, powerful and one-sided denunciation of the maladministration that had brought the Company down. It is also something more – a vital document of the first English colony to be permanently established in the New World. The document is printed here in full facsimile, together with a diplomatic transcription and introduction by David Ransome, a distinguished historian of early America.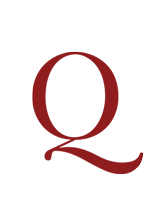 FORD, Richard (Ian ROBERTSON, editor).
A hand-book for travellers in Spain, and readers at home. Describing the country and cities, the natives and their manners; the antiquities, religion, legends, fine arts, literature, sports, and gastronomy: with notices on Spanish history. Foreword by Sir John Balfour. Edited and with an introduction by Ian Robertson.
The Centaur Press reprint of Richard Ford's classic Hand-book for travellers in Spain, with an introduction by Ian Robertson and a revised index.