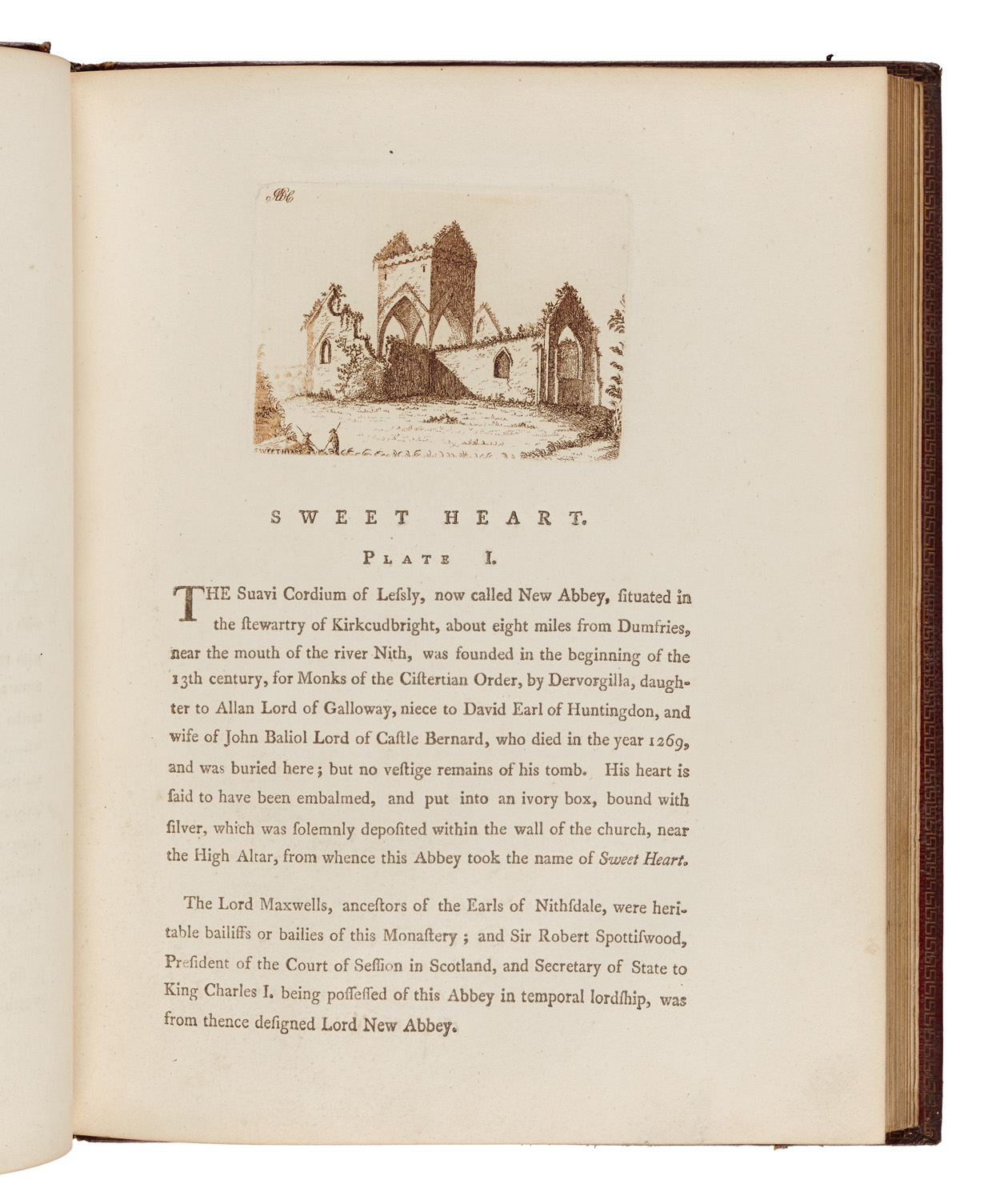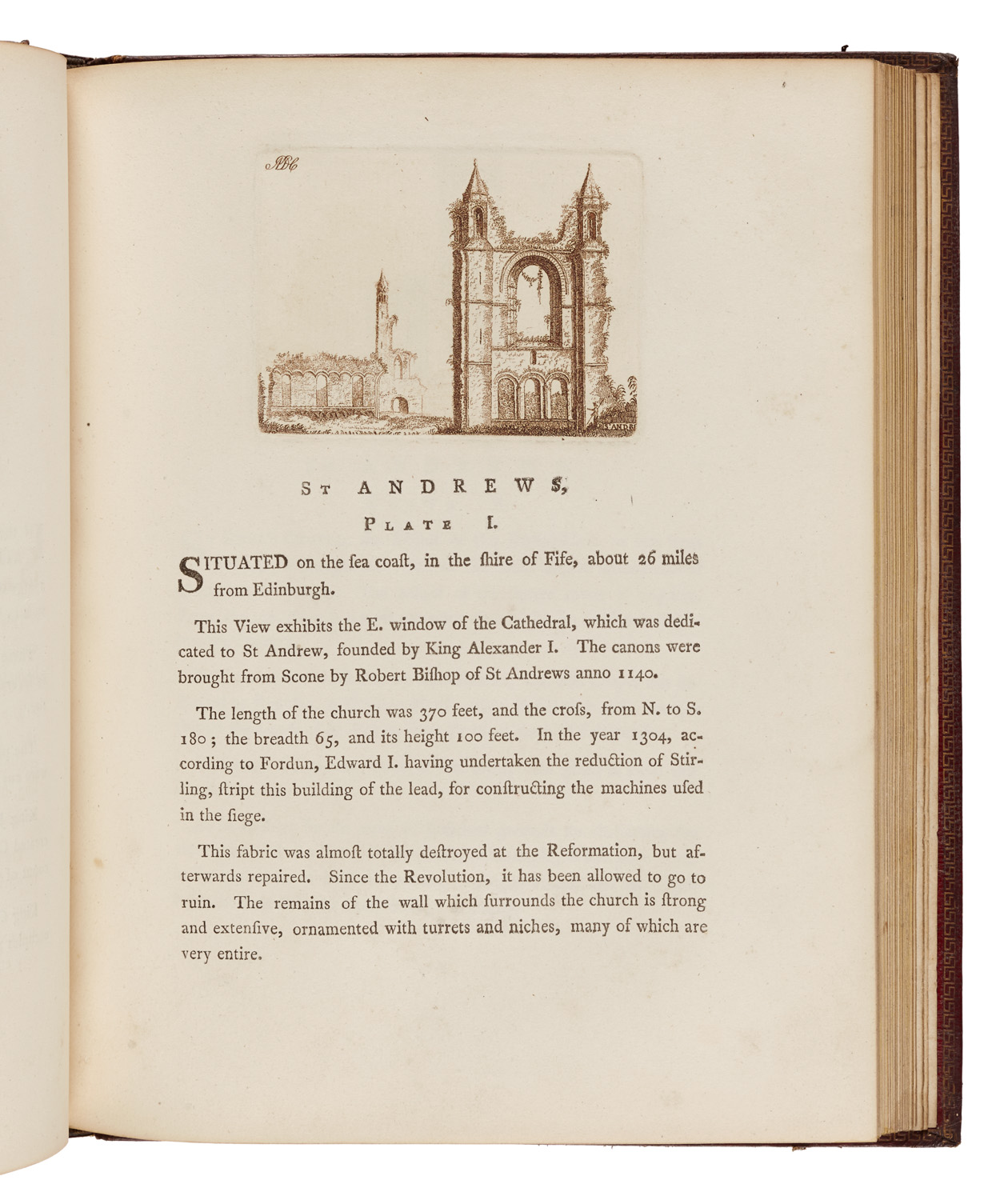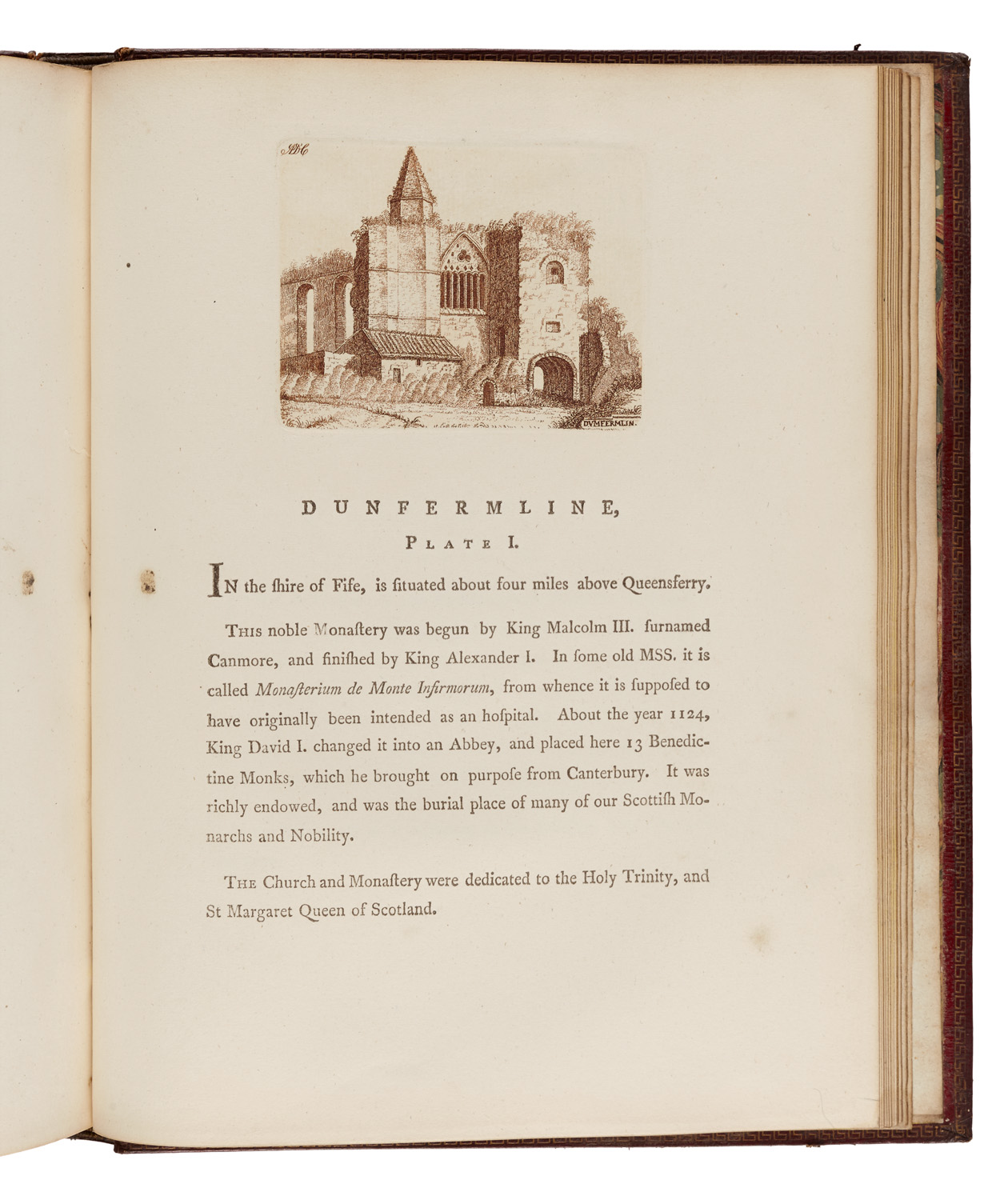 WITH 50 SEPIA ILLUSTRATIONS
CARDONNEL, Adam de.
Picturesque Antiquities of Scotland [I–II] …
London: Printed for the Author, and sold by Edwards … also by Edwards's, in Halifax. 1788.
Two parts, 4to., pp. iv, 27, [1] [25 leaves]; 11, [1], [25 leaves], the unnumbered leaves prints on rectos only, with an etched illustration at the head (all signed by Cardonnel) and a letterpress description below; a fine copy, with the etchings printed in sepia, in contemporary red morocco by Edwards of Halifax, covers gilt with a border of wheels and floral sprays, spine gilt in compartments and lettered direct.
£975

Approximately:
US $1195
€1132
Added to your basket:
Picturesque Antiquities of Scotland [I–II] …
First edition, the very rare issue with the plates in sepia, printed directly onto thick wove paper.

Picturesque Antiquities is the chief work of the Scottish doctor turned antiquarian Adam Cardonnel, who assisted Francis Grose with his studies on Scotland in 1788-91 (Burns wrote to Grose care of Cardonnel in 1789). Cardonnel provided both the delightful illustrations and the text here, his work having one foot in the Picturesque movement and one in the revival of interest in the Gothic. Shortly afterward, in 1791, he left Scotland, having succeeded to estates in Northumberland, and took the name Adam Mansfeldt de Cardonnel-Lawson.

The work went through several forms. This, the first, is found more commonly with the illustrations on india paper, pasted above the letterpress text; we can find no record of a sepia printing, nor of a quarto issue with the engravings printed directly on the paper. An octavo issue followed, and then a reprint of the quarto with a new introduction, still dated '1788' but probably printed to coincide with the publication of two further parts in 1793.

See G. E. Bentley, The Edwardses of Halifax, Appendix 2 pp. 76-84
You may also be interested in...
A PRESENTATION COPYFROM HERSCHEL TO LACROIX HERSCHEL, John F.W.
On the Development of exponential Functions, together with several new Theorems relating to finite Differences … from the philosophical Transactions.
Presentation copy of one of Herschel's earliest papers, an offprint from the Philosophical Transactions inscribed by the author to Silvestre Lacroix. Though the majority of his scientific celebrity was founded on his later work in astronomy, John Herschel's (1792–1871) early promotion of continental analysis proved a significant contribution to British mathematics. With fellow undergraduates at Cambridge, principally Charles Babbage and George Peacock, Herschel established in 1811 the Analytical Society, which proved instrumental in ending the isolation of the Cambridge curriculum from continental mathematics and promoting the work of European mathematicians. First among these was Silvestre Lacroix (1765–1843), to whom this copy is inscribed, and whose Traité du calcul différentiel et du calcul integral was translated by Herschel in the same year.
AN UNHAPPY PRINCE [GOSCH, Josias Ludwig.]
Der unglückliche Dauphin von Frankreich. Ein dramatisches Gemählde von Louis.
Very rare first edition of this dramatised account of the life, imprisonment and death of Louis-Charles (1785–1795), son of Louis XVI and Marie Antoinette, Dauphin of France from 1789, and titular King of France, as Louis XVII, from 1793, composed by the German philosopher and writer Josias Ludwig Gosch (1765–1811).