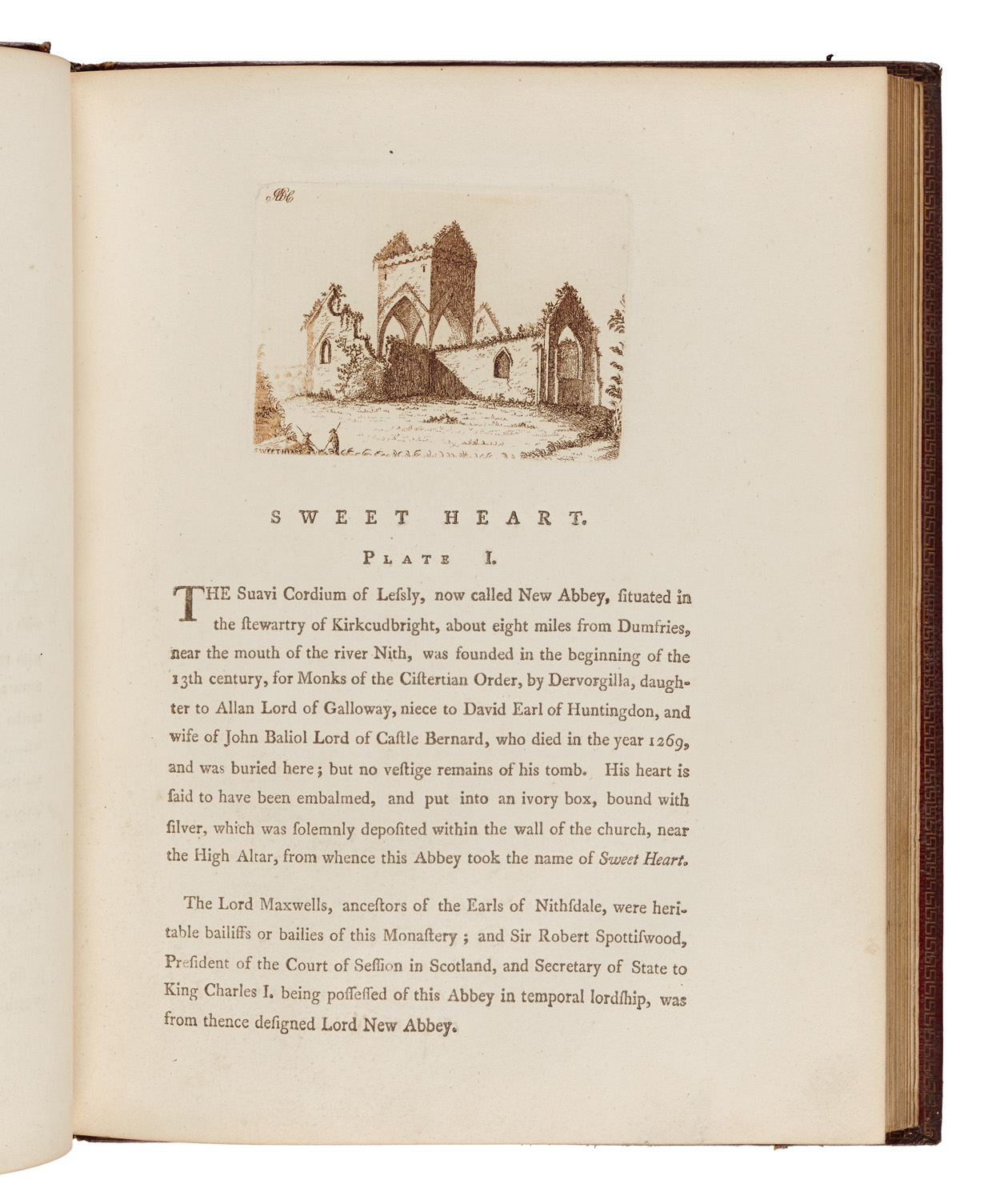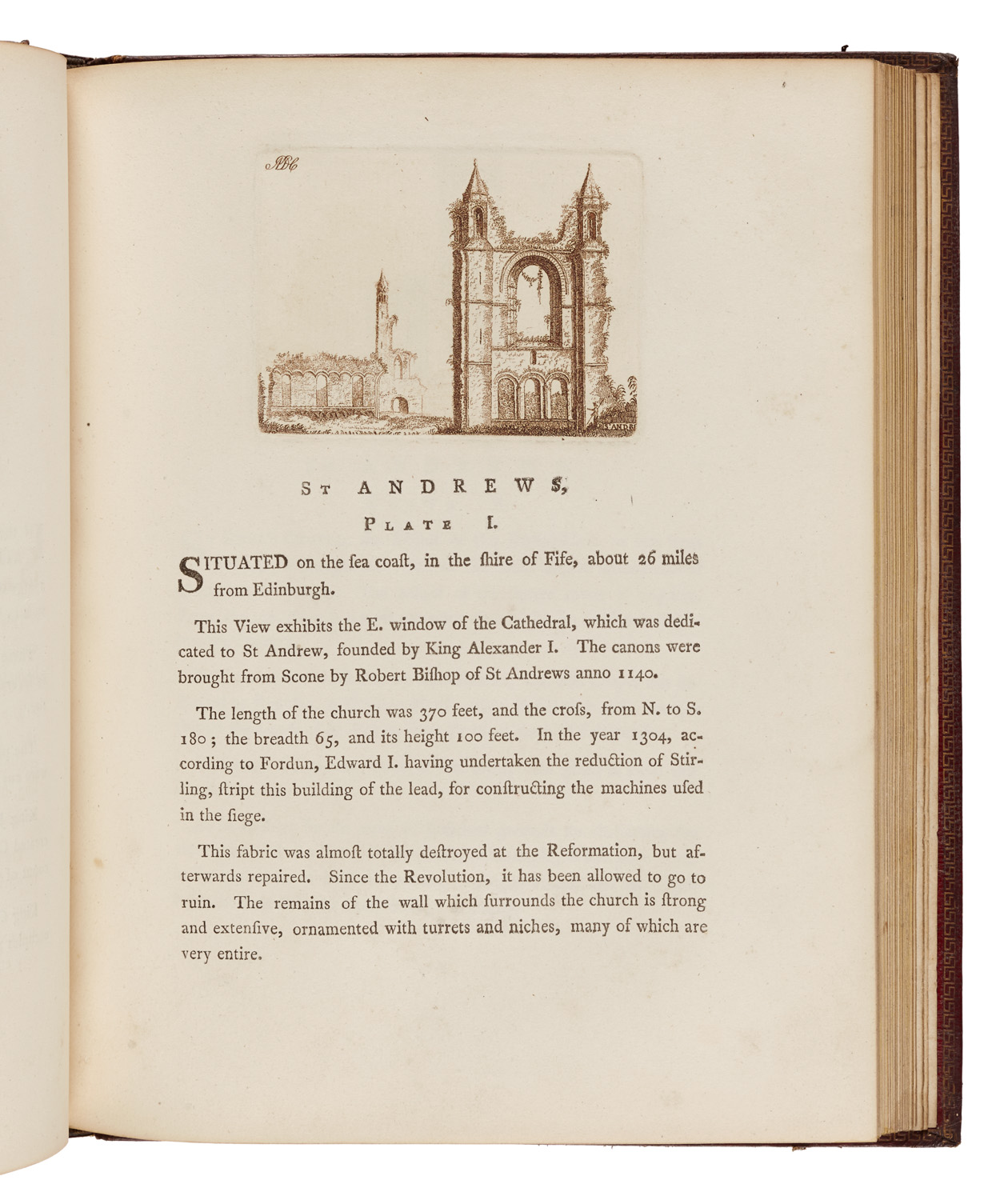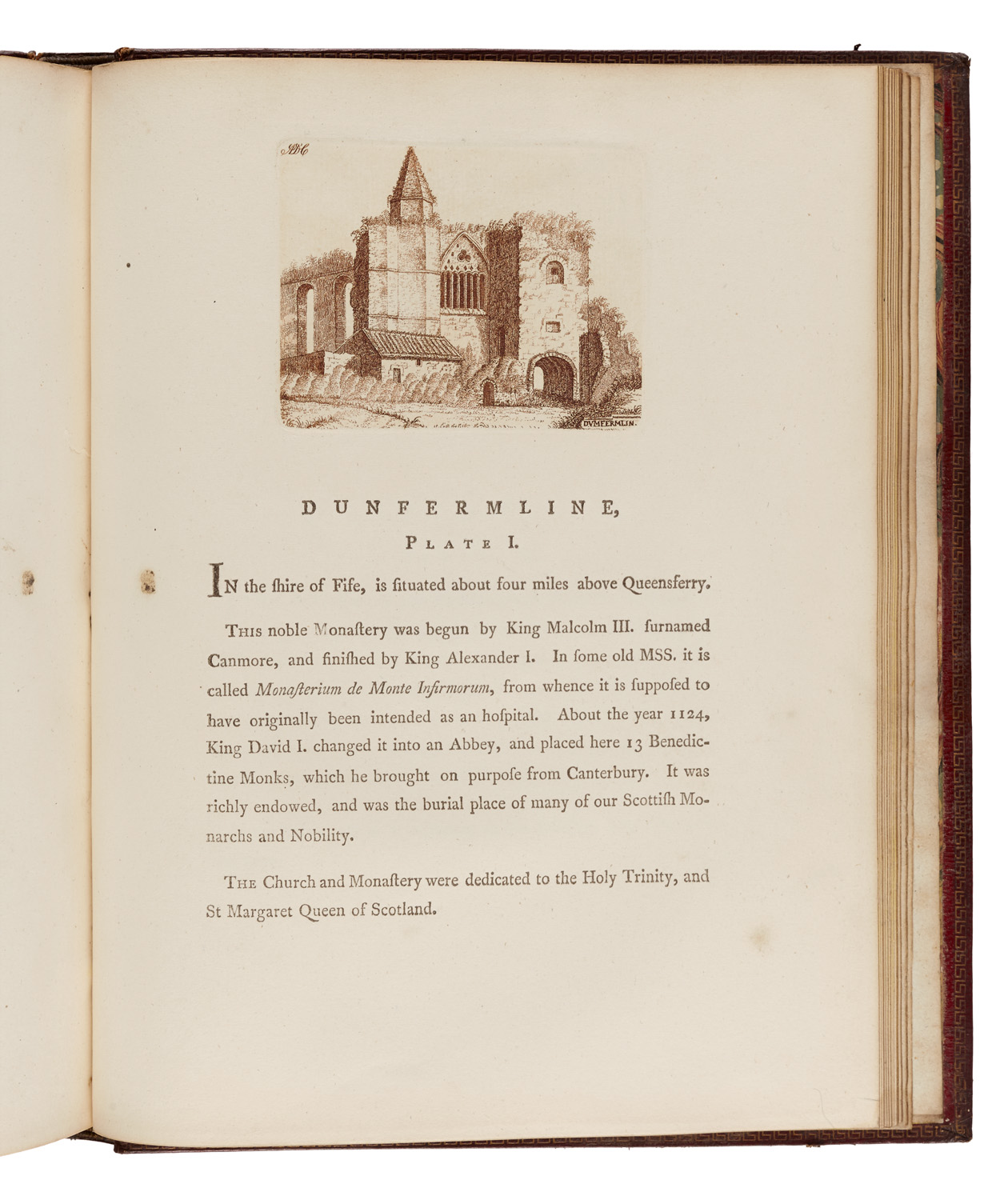 CARDONNEL, Adam de.
Picturesque Antiquities of Scotland [I–II] …
London: Printed for the Author, and sold by Edwards … also by Edwards's, in Halifax. 1788.
Two parts, 4to., pp. iv, 27, [1] [25 leaves]; 11, [1], [25 leaves], the unnumbered leaves prints on rectos only, with an etched illustration at the head (all signed by Cardonnel) and a letterpress description below; a fine copy, with the etchings printed in sepia, in contemporary red morocco by Edwards of Halifax, covers gilt with a border of wheels and floral sprays, spine gilt in compartments and lettered direct.
£975

Approximately:
US $1251
€1068
Added to your basket:
Picturesque Antiquities of Scotland [I–II] …
First edition, the very rare issue with the plates in sepia, printed directly onto thick wove paper.

Picturesque Antiquities is the chief work of the Scottish doctor turned antiquarian Adam Cardonnel, who assisted Francis Grose with his studies on Scotland in 1788-91 (Burns wrote to Grose care of Cardonnel in 1789). Cardonnel provided both the delightful illustrations and the text here, his work having one foot in the Picturesque movement and one in the revival of interest in the Gothic. Shortly afterward, in 1791, he left Scotland, having succeeded to estates in Northumberland, and took the name Adam Mansfeldt de Cardonnel-Lawson.

The work went through several forms. This, the first, is found more commonly with the illustrations on india paper, pasted above the letterpress text; we can find no record of a sepia printing, nor of a quarto issue with the engravings printed directly on the paper. An octavo issue followed, and then a reprint of the quarto with a new introduction, still dated '1788' but probably printed to coincide with the publication of two further parts in 1793.

See G. E. Bentley, The Edwardses of Halifax, Appendix 2 pp.76-84
You may also be interested in...
OCCITAN POETRY GODOLIN, Pierre.
Las obros de Pierre Goudelin, augmentados de forço péssos, é le dictiounari sus la lengo moundino. Ount es mes per aiustie sa bido, remarquos de l'antiquitat de la lengo de Toulouso, le trinfle del moundi, é soun oumbro.
Second edition (first 1647-8) of the collected works of the great Toulouse poet Pierre Godolin (1580 – 1649), an ardent exponent and highly inventive writer of the Occitan language. Included here is his masterpiece the 'Ramelet Moundi', comprising odes, stanzas in honour of Henry IV, sonnets, quatrains, carnivalesque prose, drinking songs, and Christmas carols. The Obros ends with a substantial dictionary – stretching to over 100 pages – of the Toulouse dialect, 'contenant principalement les mots les plus éloignés du François, avec leur explication'.
A BRIGHT COPY OF GRIFFIS' ACCOUNT OF KOREA IN THE ORIGINAL CLOTH GRIFFIS, William Elliot.
Corea the Hermit Nation.
First British edition. The American orientalist, minister and writer Griffis (1843-1928) was educated at Rutgers University and travelled to Japan in 1870, in the early years of the Meiji period, when Japan was beginning to engage with the West. After four years teaching in Japan, Griffis returned to the United States and studied at New Brunswick Theological Seminary in order to become a minister. He then embarked on a fifty-year career of lecturing, writing and teaching, becoming one of the greatest American experts on Japan, the author of many books on the country and its culture and history, and the leading interpreter of America to Japan. From his earliest days in Japan, while living at Fukui in 1871, Griffis had come into contact with Koreans and Korean culture, and, whilst usually a strong supporter of Japan, he was an advocate of Korea's policies and positions in its political disputes with Japan.