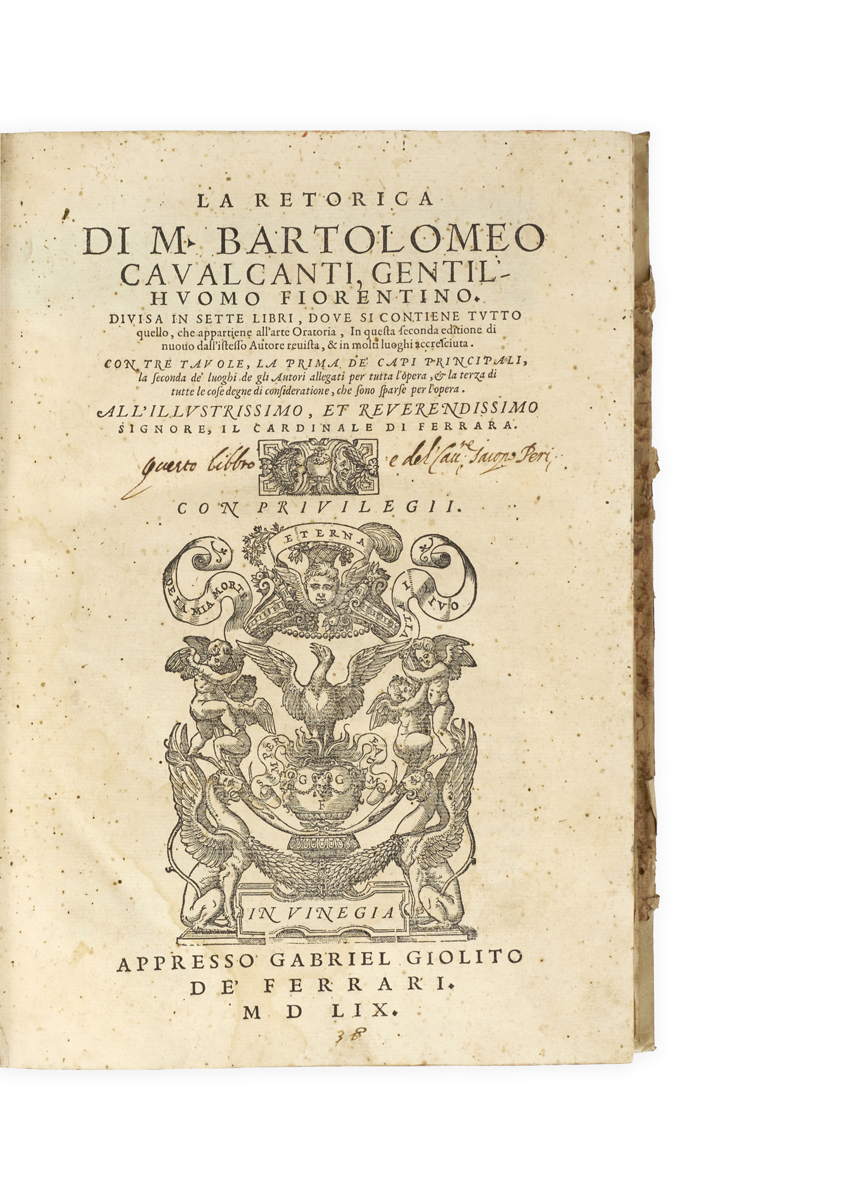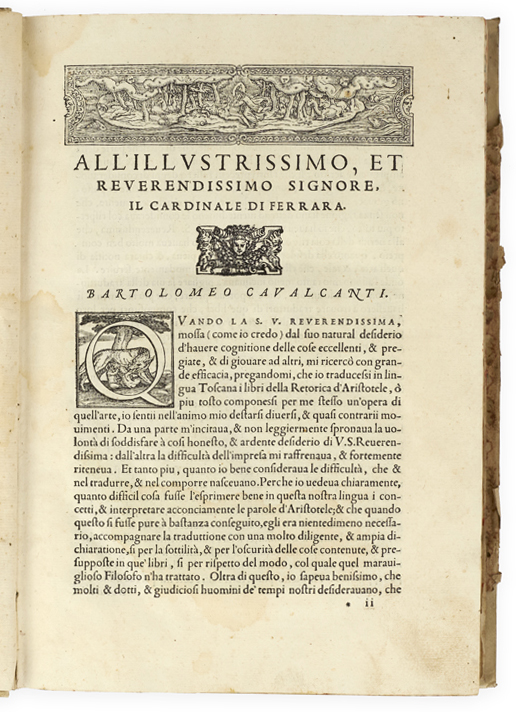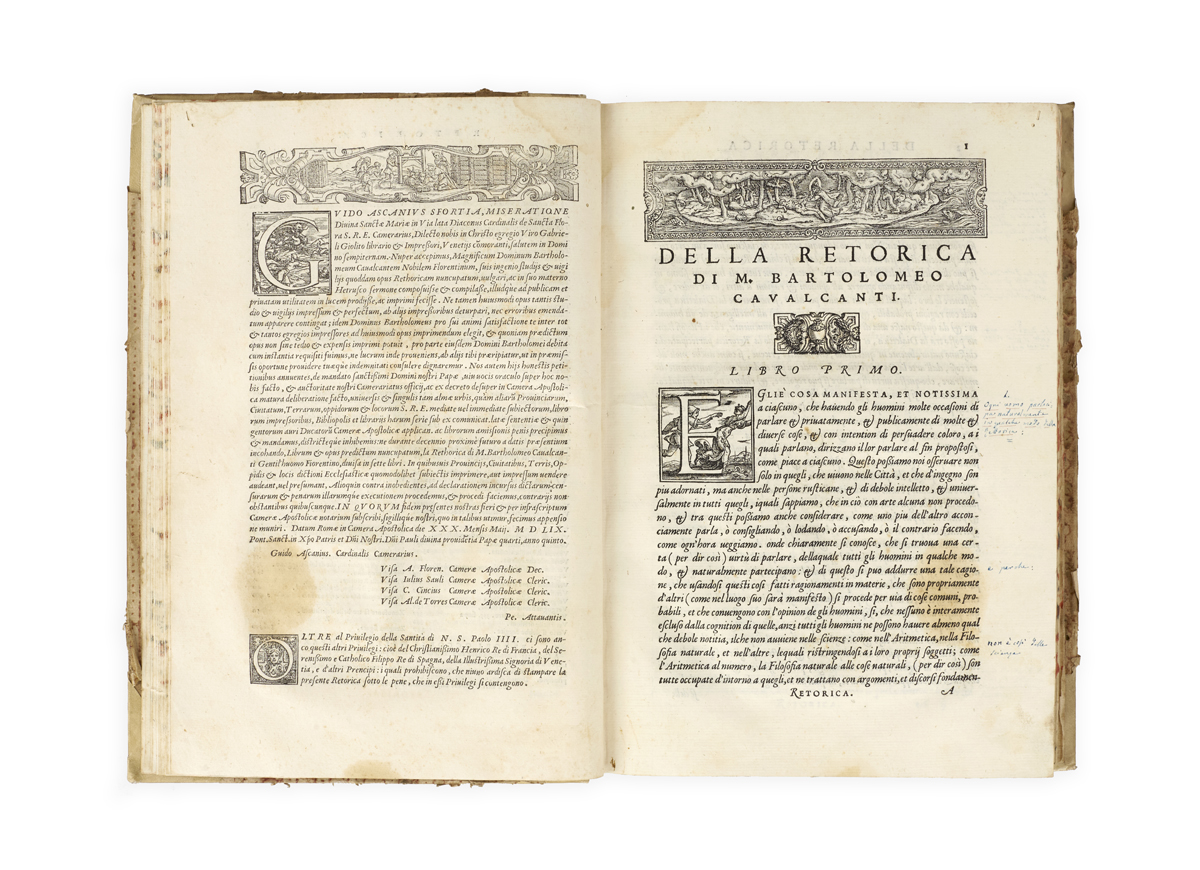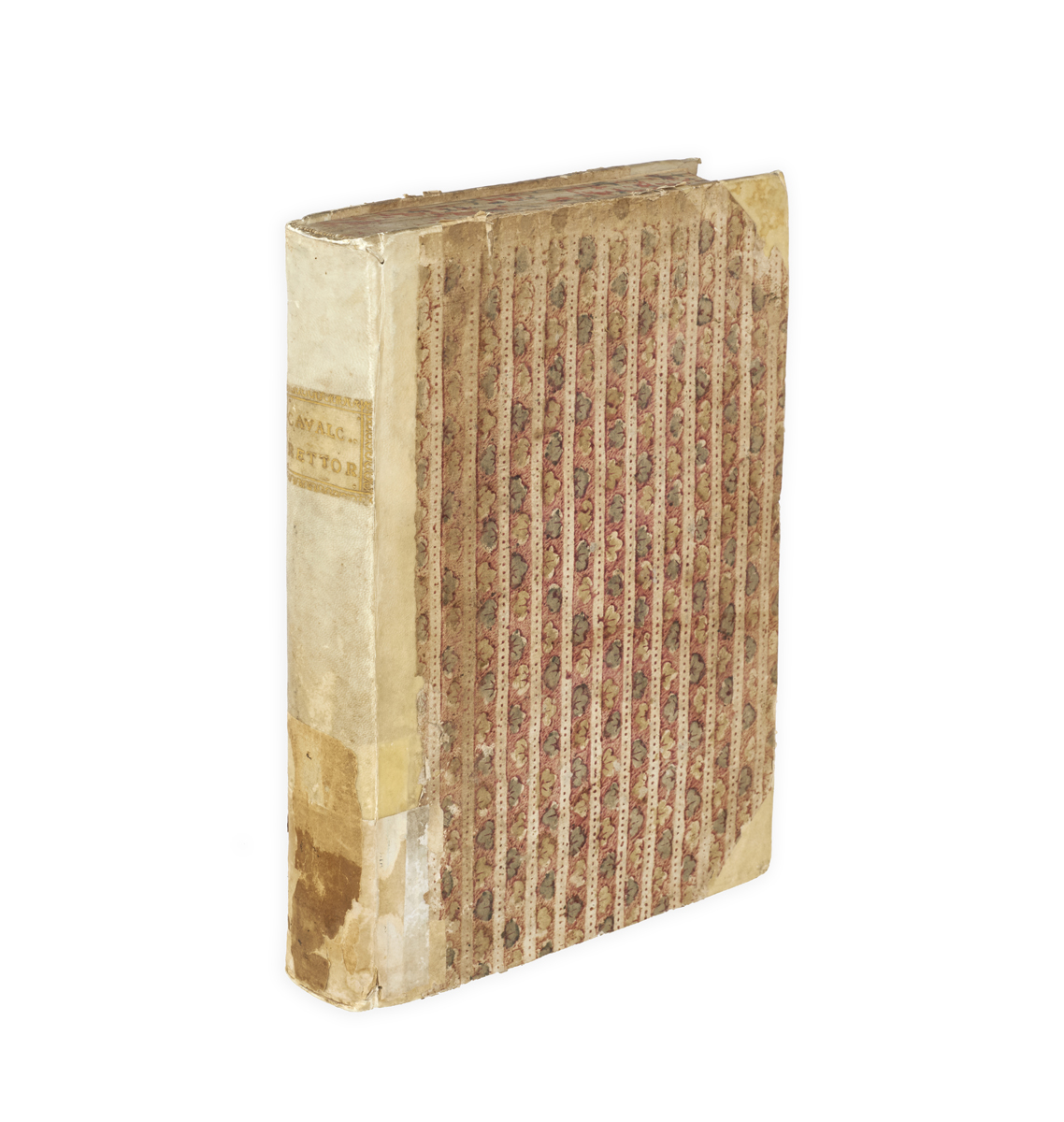 OWNED BY THE COMPOSER OF THE EARLIEST EXTANT OPERA
CAVALCANTI, Bartolomeo. 
La retorica … divisa in sette libri, dove si contiene tutto quello, che appartiene all'arte Oratoria. In questa seconda editione di nuovo dall'istesso Autore revista, et … accresciuta. 
Venice, Gabriel Giolitto, 1559. 
Folio, pp. [xxxii], 563, [1 (blank)]; woodcut printer's device on title, fine historiated woodcut headpieces and initials throughout; two minute marginal wormholes (not affecting text), some flecks to title, sporadic light browning; but a very good copy in eighteenth-century Italian half vellum with patterned paper sides, spine lettered in gilt, edges mottled in red and blue; remnants of paper label at foot of spine; ownership inscription of Jacopo Peri (see below) to title; some short nineteenth-century annotations to the first ten leaves of text.
£2250

Approximately:
US $2751
€2551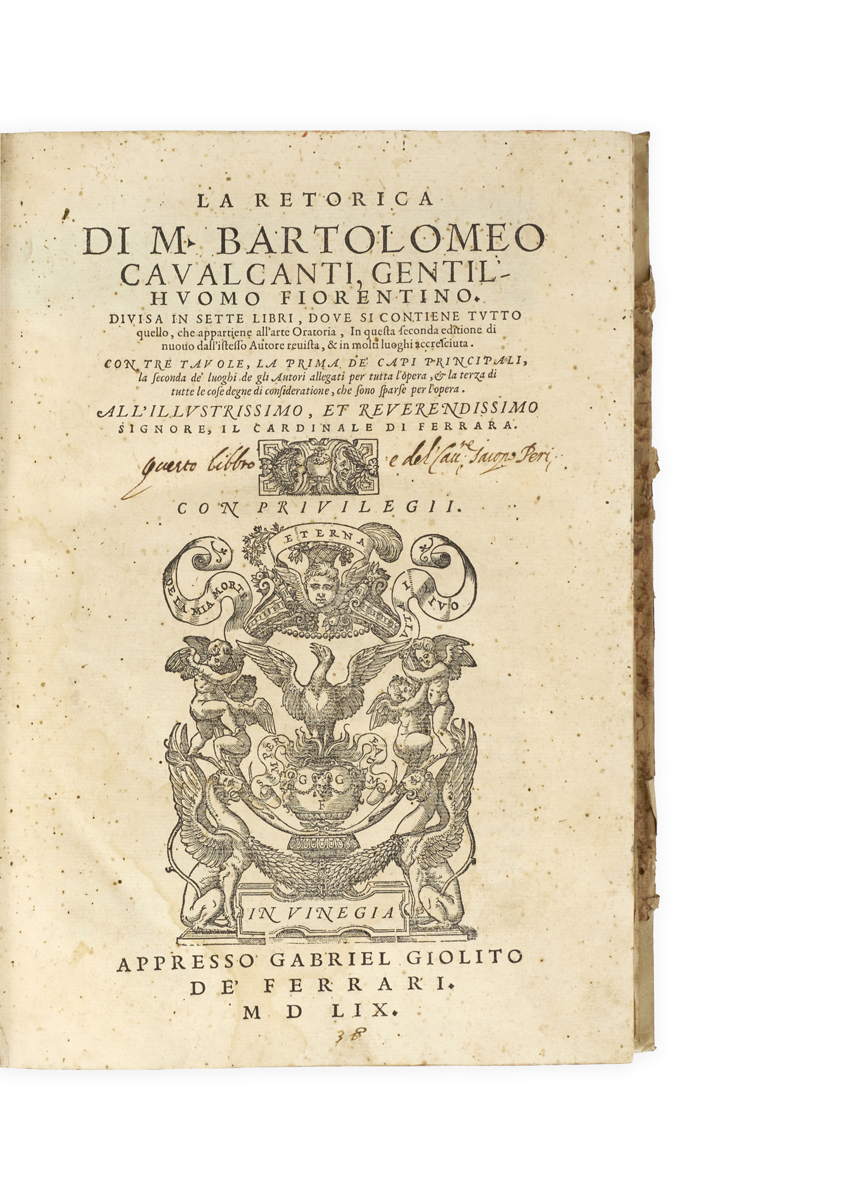 Added to your basket:
La retorica … divisa in sette libri, dove si contiene tutto quello, che appartiene all'arte Oratoria. In questa seconda editione di nuovo dall'istesso Autore revista, et … accresciuta. 
Second edition, published in the same year as the first with a few amendments, of the earliest Italian and most innovative treatise on rhetoric.  The author 'builds an original account of rhetoric by adding Ciceronian and Hermogenean material to an Aristotle base' (Mack, p. 172). 

This copy is of notable provenance, formerly belonging to the composer and singer Jacopo Peri or 'Zazzerino' (1561-1663), hailed by many as the inventor of opera.  He wrote Dafne, the earliest work which is today described as opera (around 1597), and Euridice, the earliest surviving opera (1600).  Peri began his career by studying in Florence and working there as a church organist and singer; he was soon invited to join the Medici court to sing tenor, play keyboard instruments, and compose, and for many years he took part in the Camerata de' Bardi.  He worked with Giulio Caccini to define the stile recitativo, a key moment in the development of melodrama.  His work greatly influenced seventeenth-century music writers. 

In Peri's Preface to his setting of Euridice his deep interest in aesthetic questions in connection with rhetoric is evident.  There, for example, he minutely justifies the stress on the Bass line on grounds of links between style and mood – a method of reasoning wholly adopted by Aristotle and Cicero, which Cavalcanti modernizes and exemplifies in the present treatise.  It would be very interesting to explore to what extent Peri, a firm believer in the superiority of the Greeks, in fact aligned himself with Cavalcanti's renewed aesthetics. 

EDIT16 10434; Adams C-1175; Bongi II, pp. 72-74; Parenti 147; Gamba 1307.  See Mack, A History of Renaissance Rhetoric 1380-1620 (2011). 
You may also be interested in...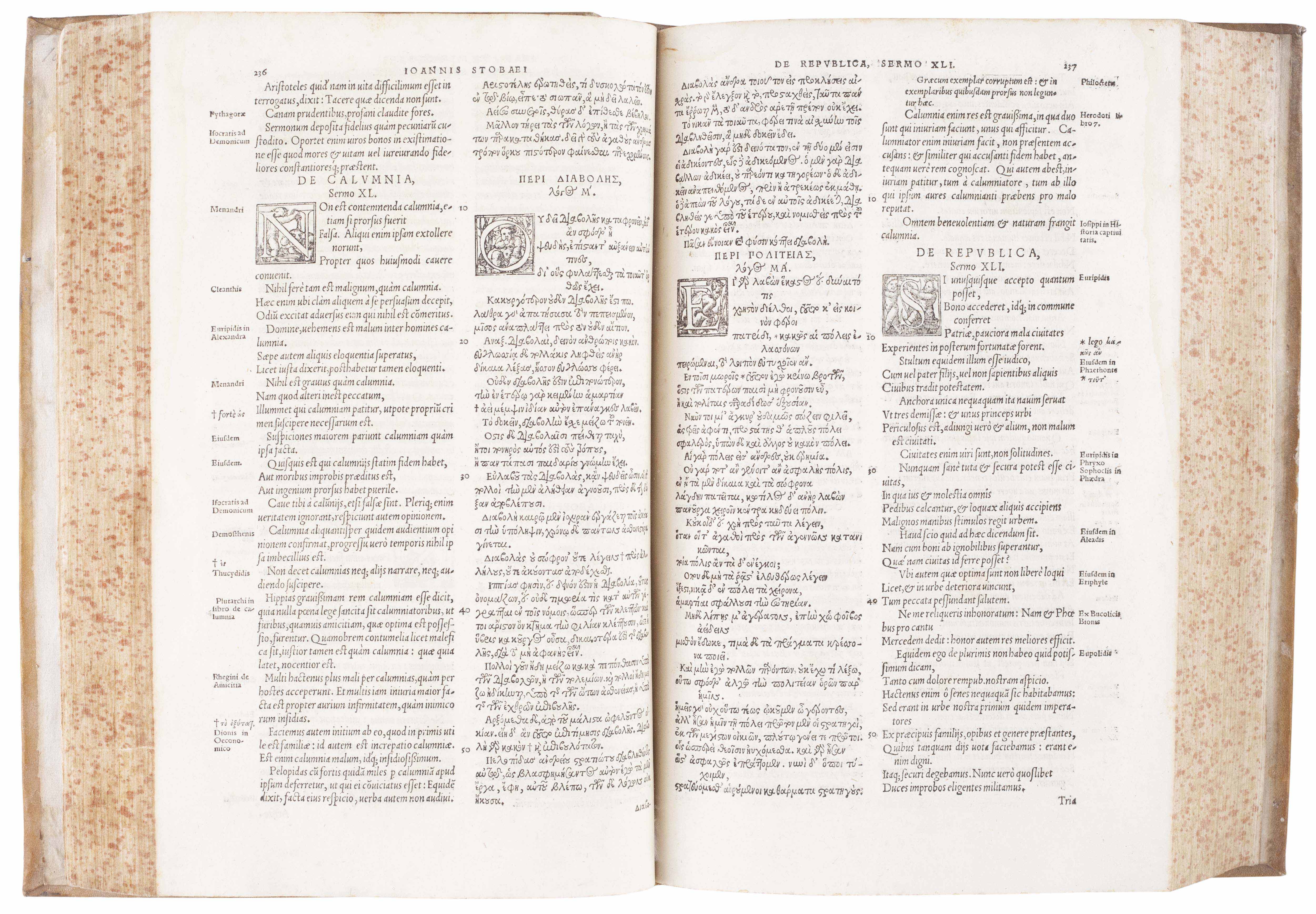 THE BEST AND FIRST CRITICAL EDITION OF THE GREEK FLORILEGIUM STOBAEUS, Johannes.
Εκλογαι αποϕθεγματων και υποθηκων … Sententie ex thesauris Graecorum delectae … a C. Gesnero … traductae.
Second, 'in every respect preferable' (Dibdin) edition of Gesner's Stobaeus, acclaimed as 'the first critical impression of the text of the Florilegium' (ibid.), philologically and critically much superior to the first, published in 1543. Gesner's parallel printing of the Greek text and the Latin translation of Stobaeus's excerpts from hundred of Greek writings – an invaluable source for texts many otherwise lost – was a key and lasting achievement of humanist philology.
HUMANISM DISPLACES COURTLY LOVE
A MUSIC SCHOLAR'S ANNOTATIONS RIDOLFI, Luca Antonio. 
Aretefila, dialogo, nel quale da una parte sono quelle ragioni allegate, le quali affermano, lo amore di corporal bellezza potere ancora per la via dell'udire pervenire al quore: et dall'altra, quelle che vogliono lui havere solamente per gl'occhii l'entrata sua: colla sentenza sopra cotal quistione. 
Annotated copy, once owned by a music book collector, of the third edition (first 1557) of a remarkable Renaissance philosophical dialogue on the nature of love which marked the culmination of the very divisive 'questione d'amore' hotly debated in sixteenth-century literature.