CHACHIKOV, Aleksandr Mikhailovich.
Chai-Khane.
Moscow, Moscow Guild of Poets, 1927.
Sm. 8vo, pp. 47; in the original printed wrappers, a few stains.
£100

Approximately:
US $120
€115
Added to your basket:
Chai-Khane.
First edition of a collection which highlights the poet's interest in the Caucasus and other (non-Russian) parts of the Soviet Union, often employing foreign words in the poems. A short vocabulary is appended. Chachikov produced a number of volumes of verse, including translations from Georgian.

Tarasenkov p. 397; not in Kilgour.
You may also be interested in...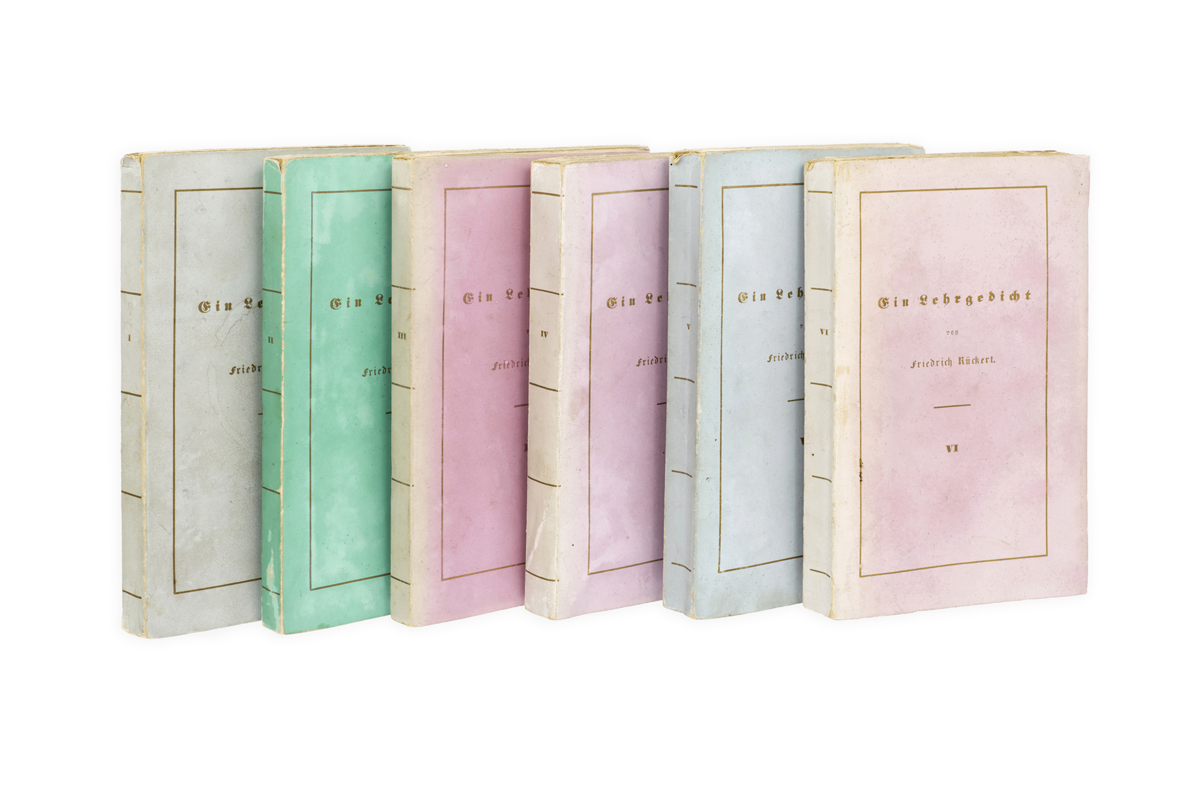 RÜCKERT, Friedrich.
Die Weisheit des Brahmanen, ein Lehrgedicht in Bruchstücken. Erstes [- Sechstes] Bändchen.
First edition of one of the most important poetical works by Rückert, here in the publisher's attractive original paper wrappers. Rückert's large output of poetry inspired many composers, among them Schubert ('Du bist die Ruh'), Schumann ('Widmung'), and Mahler ('Kindertotenlieder' and 'Rückert-Lieder'). The Wisdom of the Brahmin consists of a large number of poems of varying length, of from 2 to 72 distichs, arranged in 12 books or Stufen.
JABÈS, Edmond.
Les Pieds en l'Air. Poèmes précedés d'une lettre de Max Jacob. Couverture et dessins de Mayo.
First edition. One of 200 unnumbered copies on papier bouffant, part of a total edition of 373 copies. '… The Cairo/Alexandria journal La Semaine Égyptienne became Jabès's publisher with Maman in 1932 and Les Pieds en l'air and Arches poétiques in 1934 and 1935. These are taller and slimmer than the Figuière books with their flat spines. All are illustrated, and rules, both single and double, abound on covers and pages. Each carries a full, French tirage showing that it was possible for Jabès to offer and inscribe copies on special papers (Antique White Laid, Antique Blue Laid) to family, friends, fellow poets, and critics. Les Pieds en l'air is the most advanced of the three. Illustrated with nightmare line drawings by the surrealist artist Mayo, each page of the book is bracketed with double rules at head and foot, and the poem titles are printed in bold face within rule boxes' (Stoddard, p. 6).