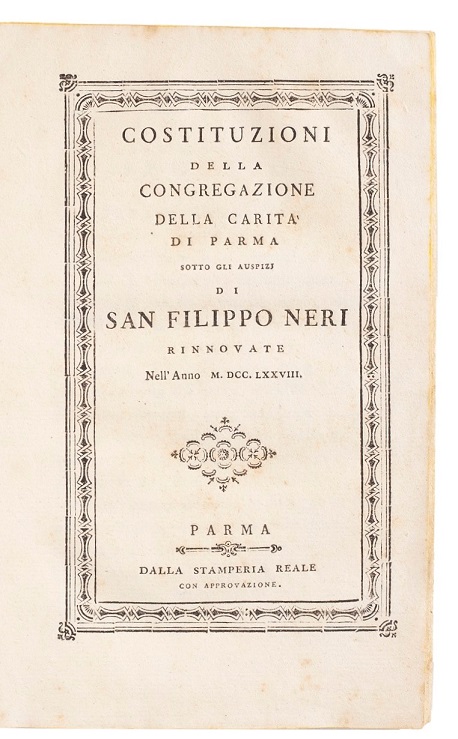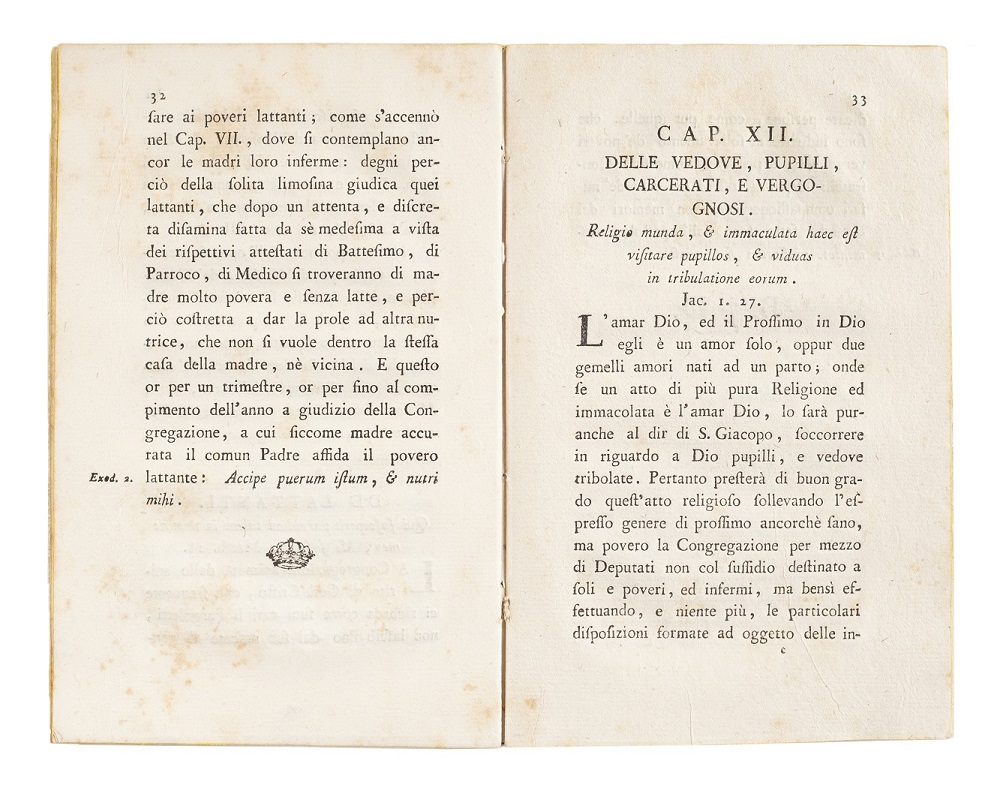 [CHARITY.]
Costituzioni della Congregazione della Carità di Parma sotti gli auspizi di San Filippo Neri rinnovate nell'anno MDCCLXXVIII.
Parma, Stamperia Reale, [1778].
8vo, pp. 44; title within decorative border; some marginal foxing in places, otherwise clean; in slightly later marbled wrappers; a good copy.
£385

Approximately:
US $465
€444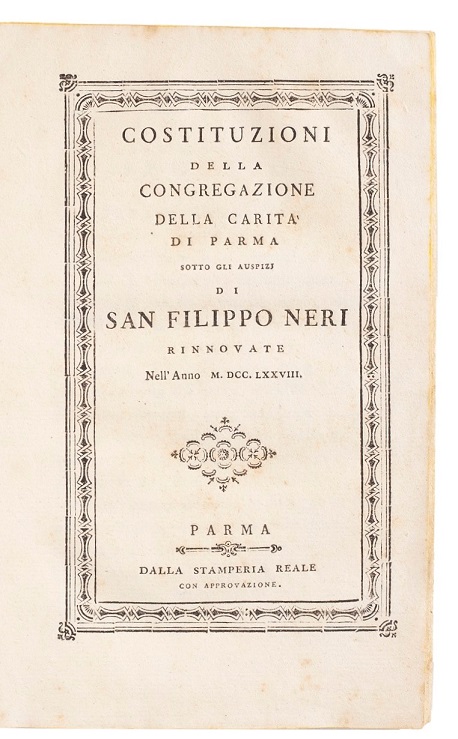 Added to your basket:
Costituzioni della Congregazione della Carità di Parma sotti gli auspizi di San Filippo Neri rinnovate nell'anno MDCCLXXVIII.
Uncommon set of constitutions for the Congregazione della Carità of Parma, printed after its refoundation in 1777. After a brief introduction, the constitutions set out the procedures for the election of the confreres and their reception, the times and order for meetings, discipline within the confraternity, looking for the poor and infirm within the city, the distribution of alms, the administration of medicines, the role of physicians and surgeons, and the care of new mothers, widows, orphans, prisoners, and the shamed. A final section sets out the order of service for the reception of new confreres.

OCLC records two copies outside Italy, at Oxford and UCLA.
You may also be interested in...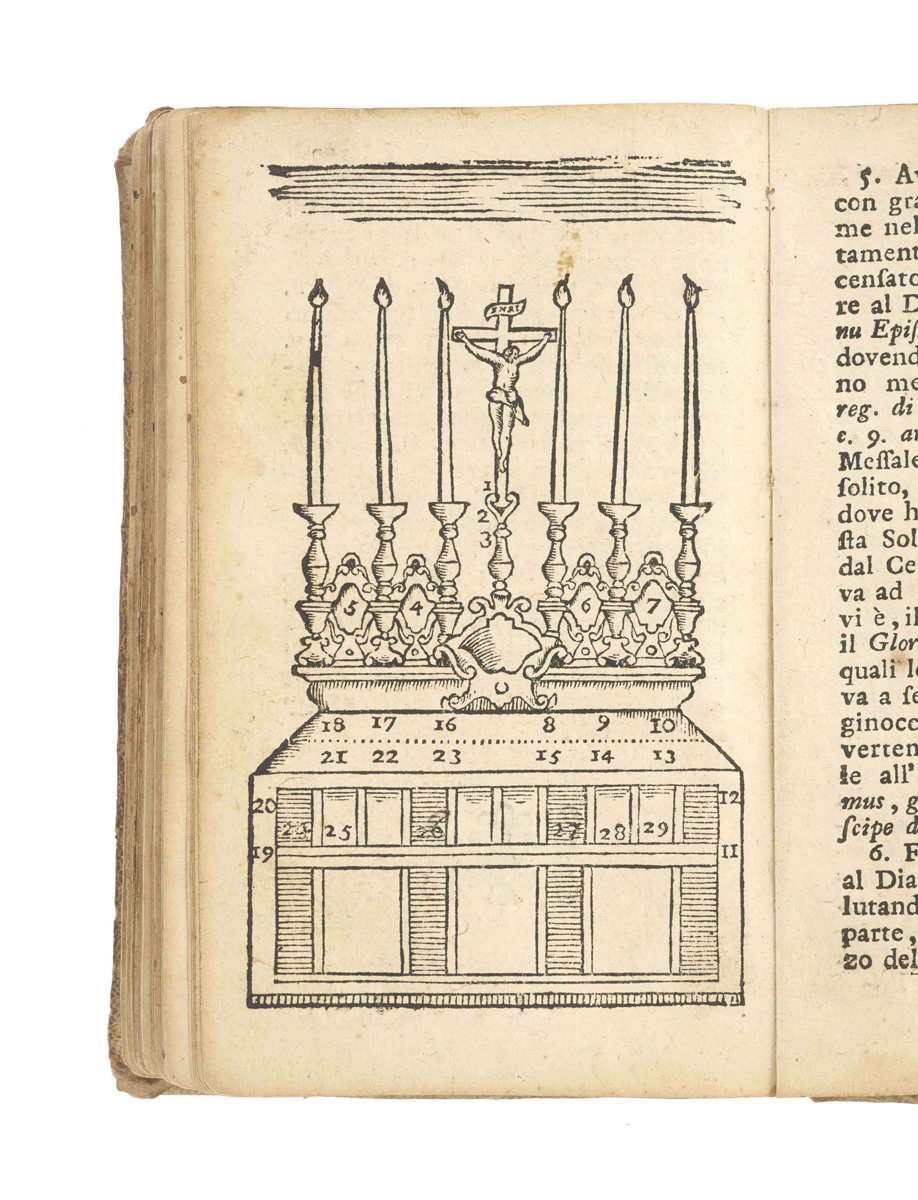 [MASS.]
Cerimonie piu' notabili della messa privata; Cavate dalle rubriche del Missale, ed altri autori da un Sacerdote D.C.D.M. Coll'aggiunta di quelle della messa, e vespri solenni si pei vivi, che pei defunti, col modo di servire alla messa privata. Da un'Alunno del Seminario di Torino.
An apparently unrecorded edition of this uncommon treatise on the celebration of the mass and its associated rituals. Dealing both with private (low) masses and with solemn mass and solemn vespers, the work explains the meaning and performance of the non-verbal aspects of the liturgy: genuflection, the sign of the cross, the communion of the faithful, the movements of the celebrant's hands, the role of acolytes and thurifers (also during requiem masses), the office of the subdeacon and deacon, the use of incense, and instructions for serving at the missa privata. The woodcut on page 200 depicts the altar, annotated with numbers referring to the relevant parts of the text.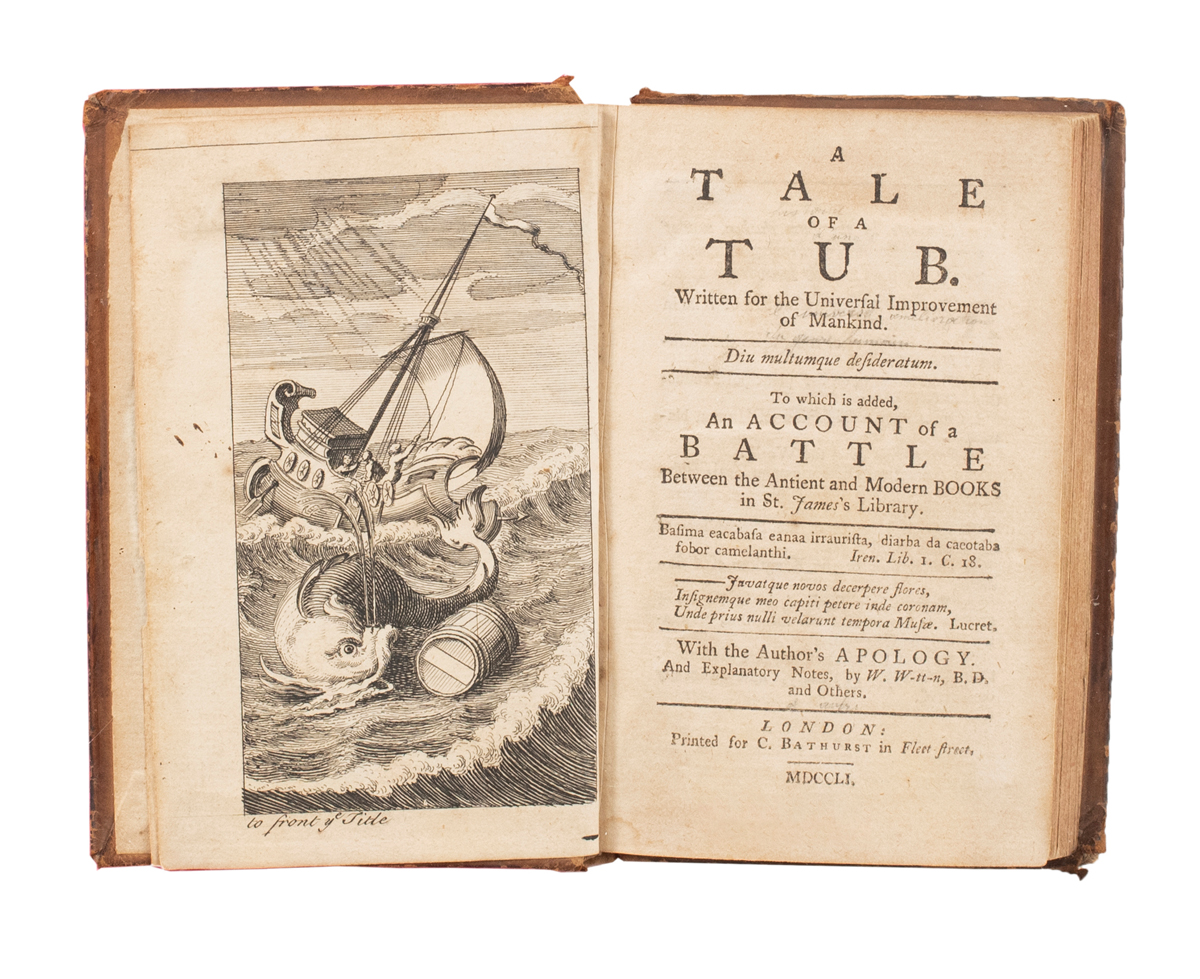 BIBLIOMACHIA SWIFT, Jonathan. 
A Tale of a Tub … to which is added, an Account of a Battle between the antient and modern Books in St. James's Library … with the Author's Apology, and explanatory Notes … 
A scarce later edition of Swift's classic satires on corruption in religion and learning, as exemplified in the conduct of Peter (Roman Catholicism), Martin (Luther), and Jack (Calvin) in the Tale of the Tub, and the spirited fight over the highest peak of Parnassus in the Battel of the Books.  Both pieces were written at Moor Park about 1696-7, when Swift was acting as secretary to Sir William Temple, whose uncritical praise of the spurious Epistles of Phalaris had stirred up the controversy over ancient and modern learning.