CHTETS-DEKLAMATOR.
Chtets-deklamator. Khudozhestvennyi sbornik stikhotvorenii razskazov i monologov dlia chteniia v divertismentakh, na dramaticheskikh kursakh, literaturnykh vecherakh i t. p. I. Declamatorium [in Roman type]: proza i stikhi. II. Satira i iumor. S portretami pisatelei i artistov Mosk. khudozh. i Imperatorskikh teatrov. Izdanie vtoroe. Tom vtoroi [The Reciter. An artistic collection of poetry, tales, and monologues for reading at entertainments, drama courses, literary evenings etc. I. Declamatorium: prose and verse. II. Satire and humour. With portraits of the writers and artists of the Moscow Art and Imperial Theatres. Second edition. Volume II].
[Kiev, I. I. Samonenko, 1906.]
8vo, pp. [iv], 484, viii; title and divisional title printed in red and green, numerous photogravure portraits in the text; light browning to the edges, some coloured pencil marks in the margins; original decorated cloth featuring a coloured Art Nouveau design of a woman reading to front cover, rear cover stamped in blind, illustrated wrappers bound in.
£450

Approximately:
US $629
€513
Ivan and Fyodor Samonenko's hugely popular series (there were at least 12 editions before the Revolution) highlights Russia's passion for performance at the time. The first volume, containing lyric poetry and humorous verse, had appeared in 1902. A second volume, in 1905, of which this is the second edition, expanded by over 150 pages, added prose. Further volumes came out in 1908 (verse and prose), 1909 (contemporary poetry, including from America and Europe), and 1916 (humour and satire).

The present volume includes poetry by, among others, Gorky, Bely, Blok, Balmont, Gippius, Bunin, Sologub, and Teffi, whose well-known satirical poem 'Pchelki' makes an early anthologized appearance here.

OCLC records one copy only, at the University of Leeds.
You may also be interested in...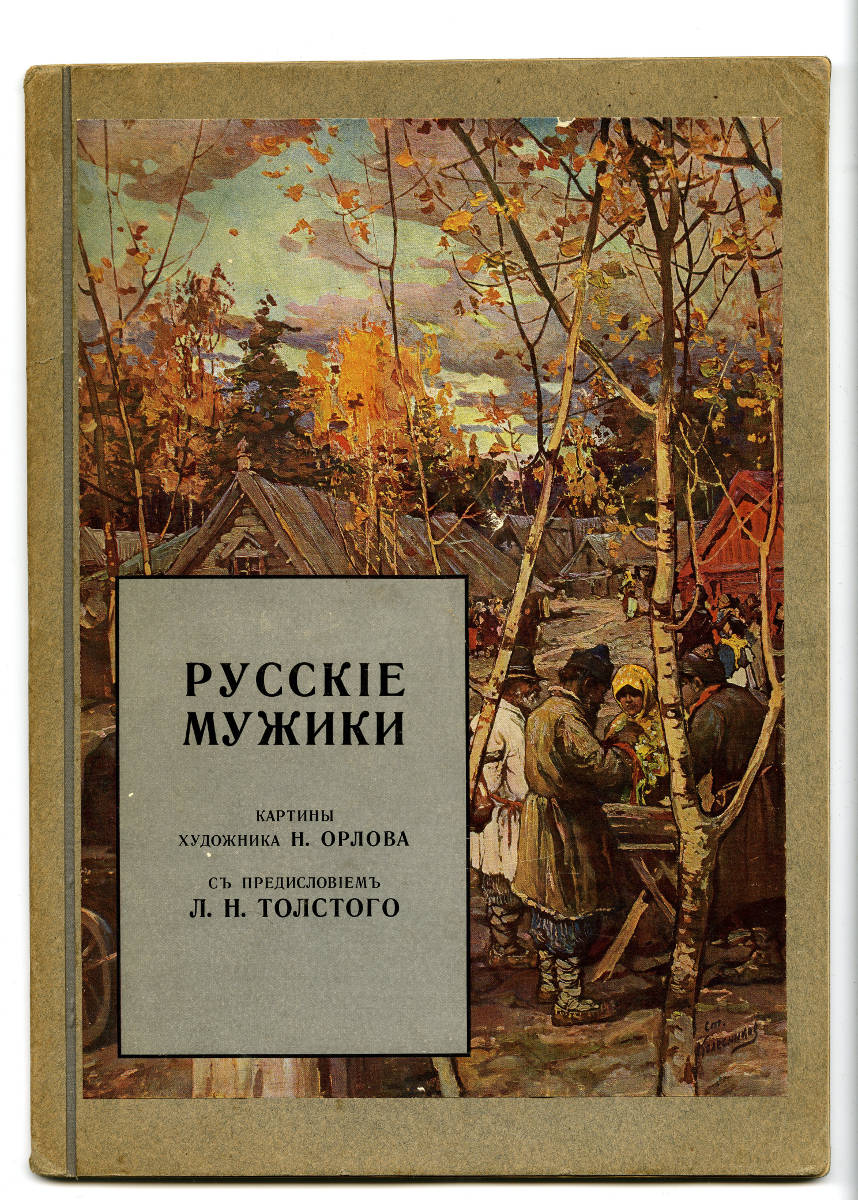 'THE REAL RUSSIAN SALT-OF-THE EARTH PEASANT PEOPLE' [TOLSTOY, Lev Nikolaevich.] ORLOV, Nikolai.
Russkie Muzhiki. Kartiny khudozhnika N. Orlova, s predisloviem Leva Nikolaevicha Tolstogo [Russian Peasants. Pictures painted by N. Orlov, with a preface by Lev Nikolaevich Tolstoy].
First and only edition of this album of nine black and white reproductions of folk-art paintings by the peasant artist Nikolai Orlov, prefaced by an 8-page introduction by Tolstoy. The realistic portrayal of Russian society, especially of the peasantry, was a cause beloved by Tolstoy, and is a key feature of many of his most famous works, including The Cossacks and Anna Karenina.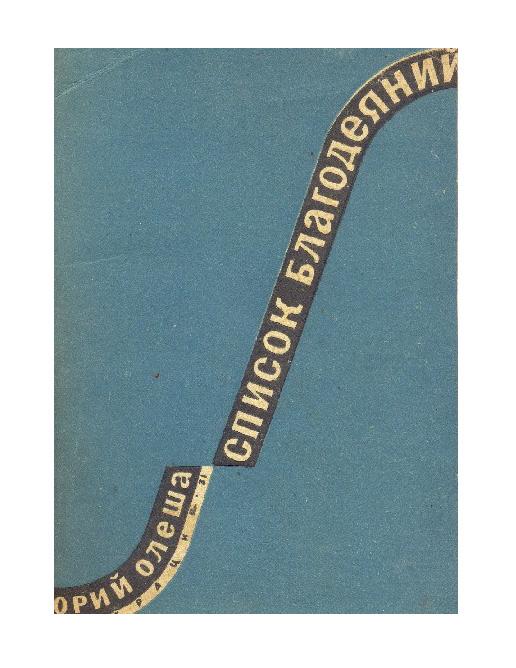 OLESHA, Iurii Karlovich.
Spisok blagodeianii … [List of blessings].
First edition of the writer's only original play. Olesha (1899–1960) is best known for the short novel Zavist' (Envy, 1927), which was fêted by both Soviet and émigré critics and established the young writer's reputation almost overnight. 'A writer of great distinction, … as subtle – and sometimes as elusive – as the best representatives of that Western psychological school with which he had so many affinities, … Olesha wrote comparatively little …, and when the volume of his collected works was published in 1934, it contained all his fiction. Yet his one novel and the several short stories and plays are a more remarkable and lasting phenomenon of modern Russian literature than the many bulky tomes of more fortunate and more popular Soviet writers' (Slonim, Soviet Russian Literature, p. 124f).