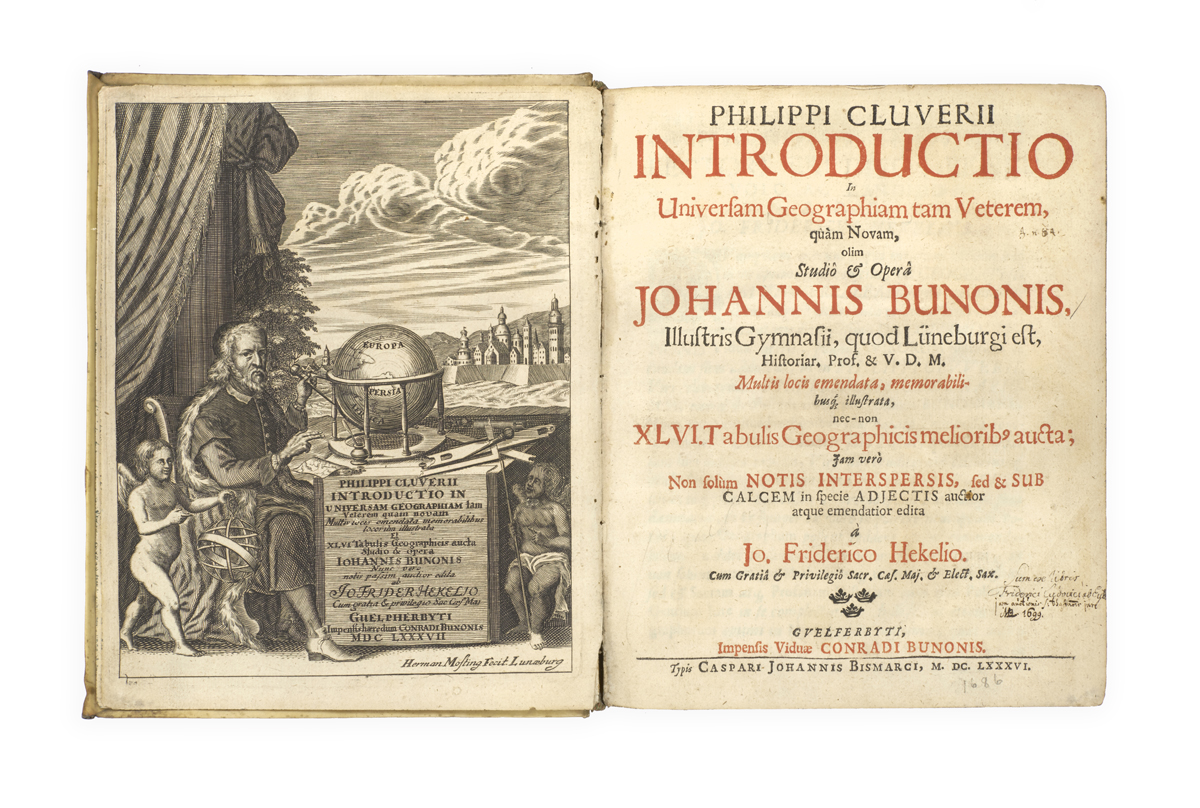 THE INVENTION OF HISTORICAL GEOGRAPHY
CLÜVER, Philipp. 
Introductio in universam geographiam tam veterem, quam novam …
Wolfenbüttel, Caspar Johann Bismarck for Conrad Buno, 1686. 
4to, pp. [28], 607, [101, index], [31, index]; with engraved frontispiece, title-page in red and black, woodcut head- and tailpieces, 47 maps and diagrams of which 30 are folded; some damp staining and browning, fraying to edges of one map; very good in contemporary stiff vellum with later gilt-lettered spine label, yapp edges, edges speckled blue; some marks to spine and covers; with ownership inscription to title 'sum ex libris Friderici Ludovici … iam auctionis … jure MB 1699' (see below).
£2500

Approximately:
US $3087
€2883
Added to your basket:
Introductio in universam geographiam tam veterem, quam novam …
The 1686 edition of perhaps the most important geographical textbook of the early modern period, an introduction to global geography by the German antiquarian and geographical pioneer Philipp Clüver, enlarged and supplemented by the German geographer Johann Buno. 

A former student of the great chronologist and classical scholar Joseph Scaliger at Leiden, Clüver began publishing on geography in 1611 with a study of the ancient Rhine region, before going on to publish works on ancient Sicily, Sardinia, and Italy.  In many ways, Clüver was a typical and erudite example of that particular breed of polymath who came to define the scholarly world of the early modern Republic of Letters.  His primary interest lay in reconstructing the geography of antiquity, in which he combined personal travel and observation with a close reading of the ancients, and which consequently required both the skill of the geographer and the expertise of the antiquarian and philologist.  This, his most complete introduction to world geography, was largely intended as a guide for students and became the standard geographical reference work of the period.  It begins with a discussion of basic, universal, geographical features – mountains, bodies of water, climate, and so forth – before devoting individual books to the geography of various nations.  The majority of the work, books two through to four, covers Europe, subdivided into regions and countries and stretching from Portugal in the south west to Moscow in the north east; book five is devoted to Asia, including India, Central Asia, Persia, the Middle East, and the western border of China; while book six covers the known parts of Africa – which is to say, predominantly Egypt, Ethiopia, and Mediterranean North Africa – as well as North and South America, if rather cursorily. 

The first edition of Clüver's work was published by Elzevir in Leiden in 1624 and was much reprinted – in a number of different versions and formats – in the following decades.  This present copy was published in 1686 and is the work of the publisher Conrad Buno and the printer Caspar Johann Bismarck, both of whom had already collaborated on the first Wolfenbüttel edition of 1661.  Just like earlier German editions, this edition contains a version of Clüver's text edited and supplemented by the German schoolteacher Johann Buno, a professor of geography and history in Luneburg and brother of Conrad.  As a result, the text is far more extensive and detailed than earlier editions (the Leiden first edition ran to less than 250 pages).  This copy also contains the full set of almost fifty engraved maps, which are often missing or only partially present in other existing copies. 

Provenance: perhaps the poet and diplomat Friedrich Ludwig von Canitz (1654–1699).  The Biblioteca Caniziana was auctioned in February 1700. 
You may also be interested in...
THROUGH SYRIA AND LEBANON LA ROQUE, Jean de.
Voyage de Syrie et du Mont-Liban. Contenant la description de tout le pays compris sous le nom de Liban et d'Anti-Liban, Kesroan, etc. ... la description des ruines d'Heliopolis ... avec un abregé de la vie de Monsieur de Chasteuil ... Tome I [– II].
Second edition (first Paris 1722) of La Roque's account of his first journey to the Arab world, undertaken in 1689 when he visited Syria and Lebanon. The son of a Marseille coffee merchant, La Roque (1661–1745) was a journalist, traveller, and one of the founders of the Académie de Marseille. Here he describes local customs and geography, the ancient ruins at Baalbek, the Maronites, and the French hermit François de Chasteuil.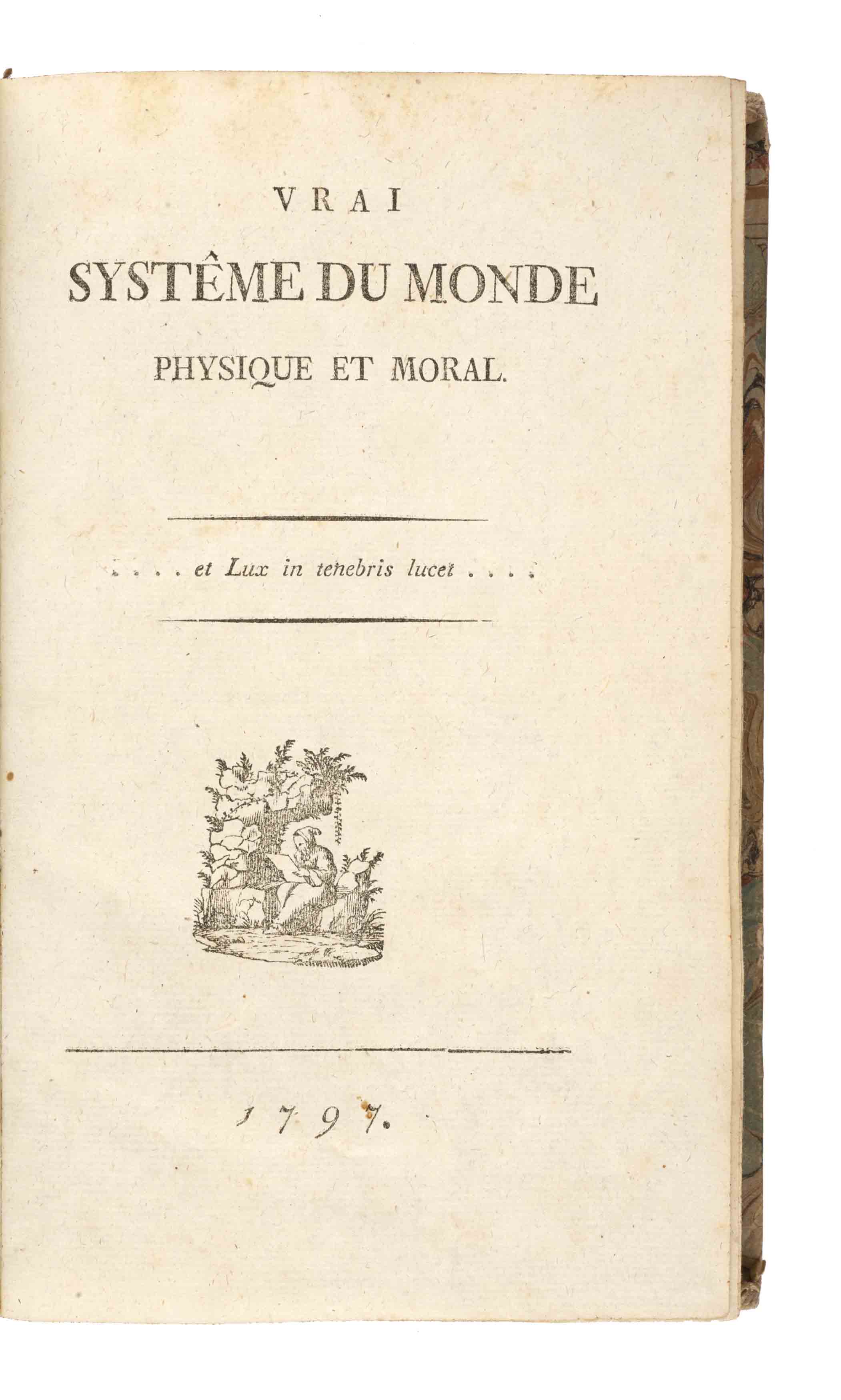 SKETCHING THE IDEAL REPUBLIC FLORENT DE SALES (pseud.).
Vrai systême du monde physique et moral.
Only edition, rare, of this utopia, the identity of whose author, and even of whose printer, remains unknown.