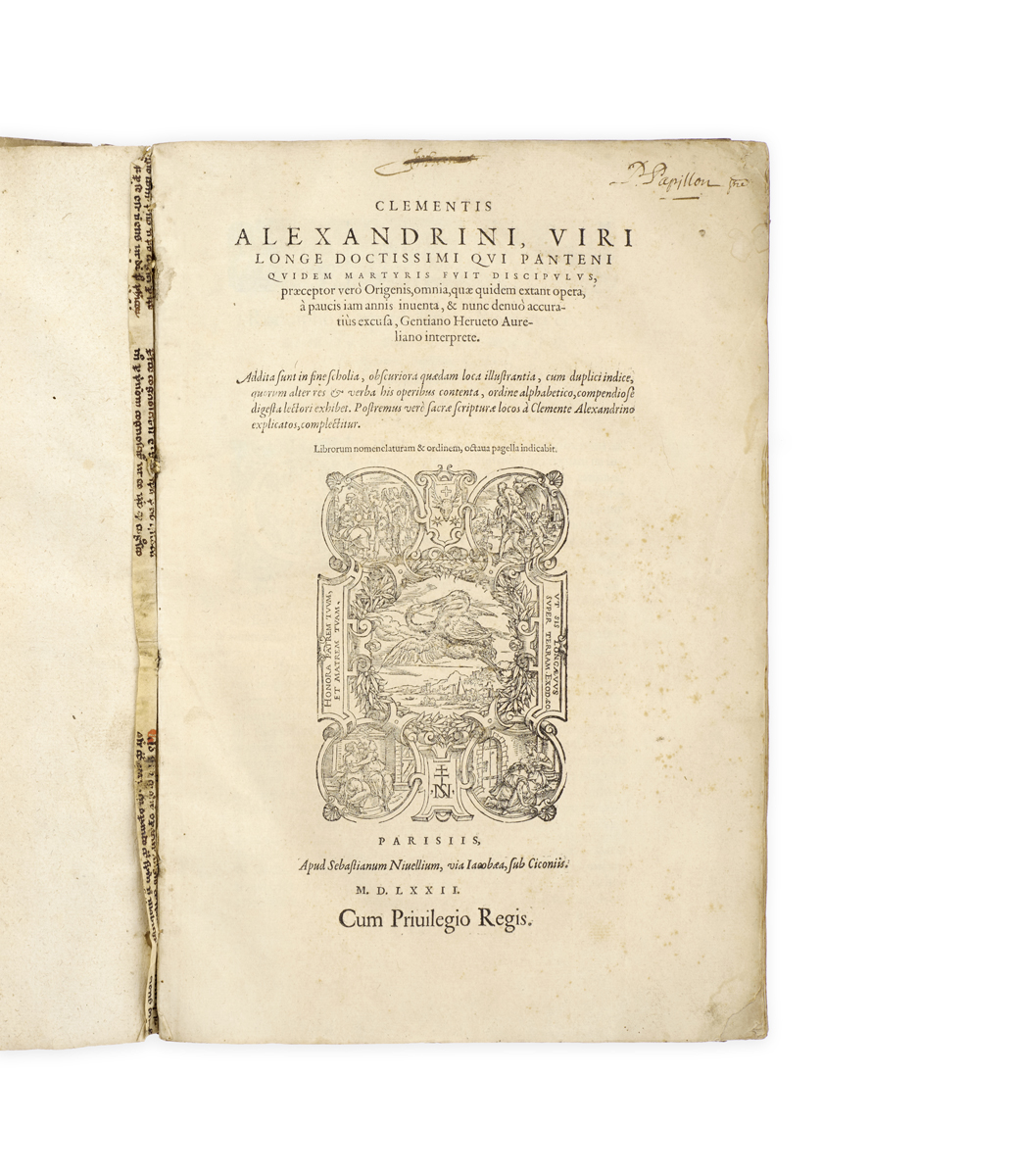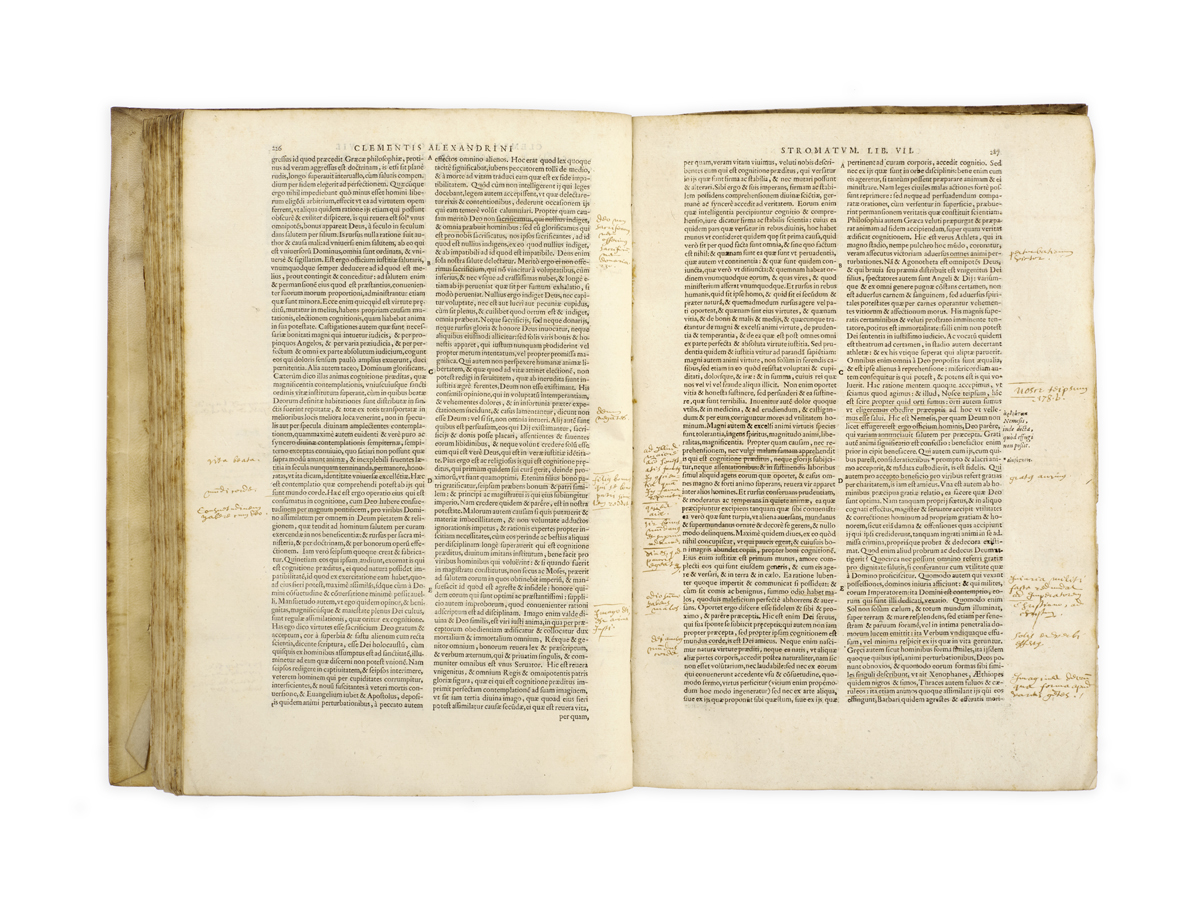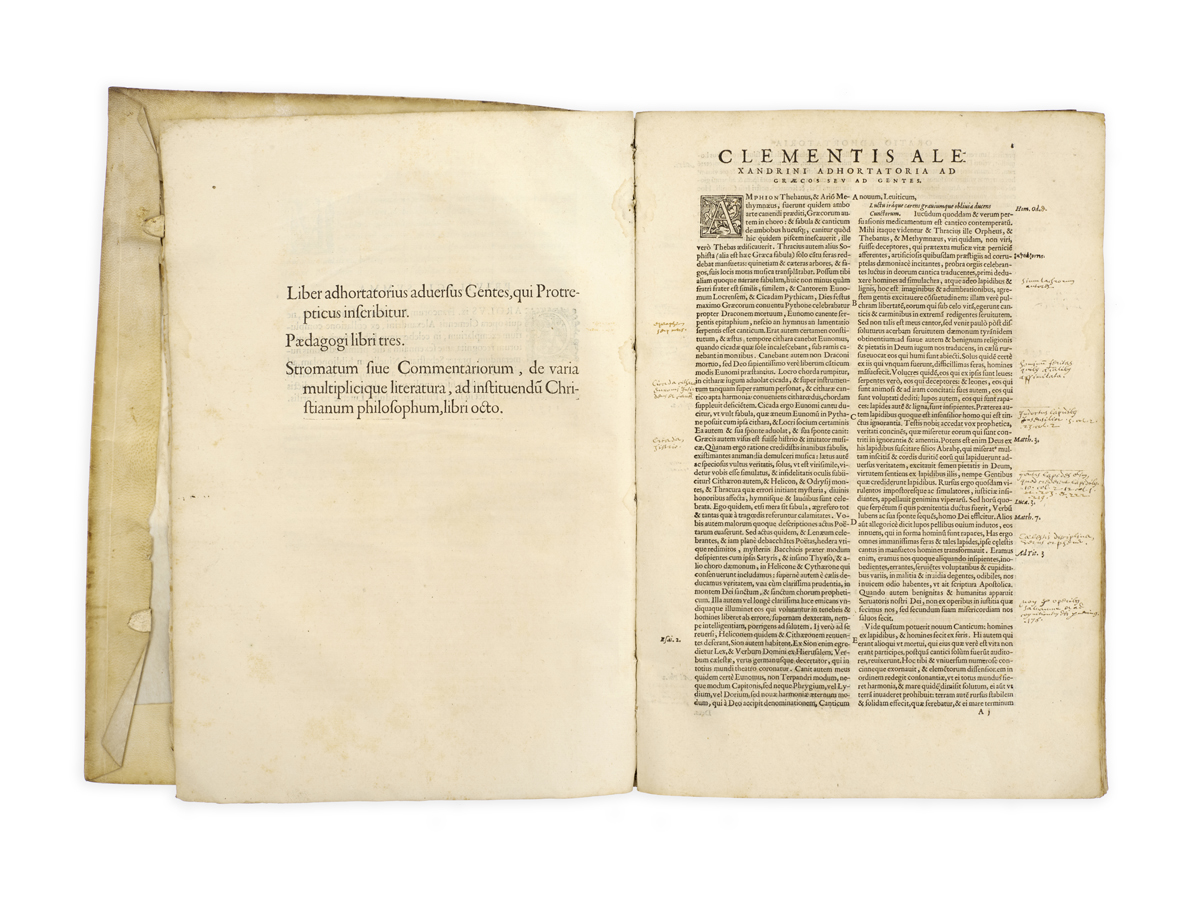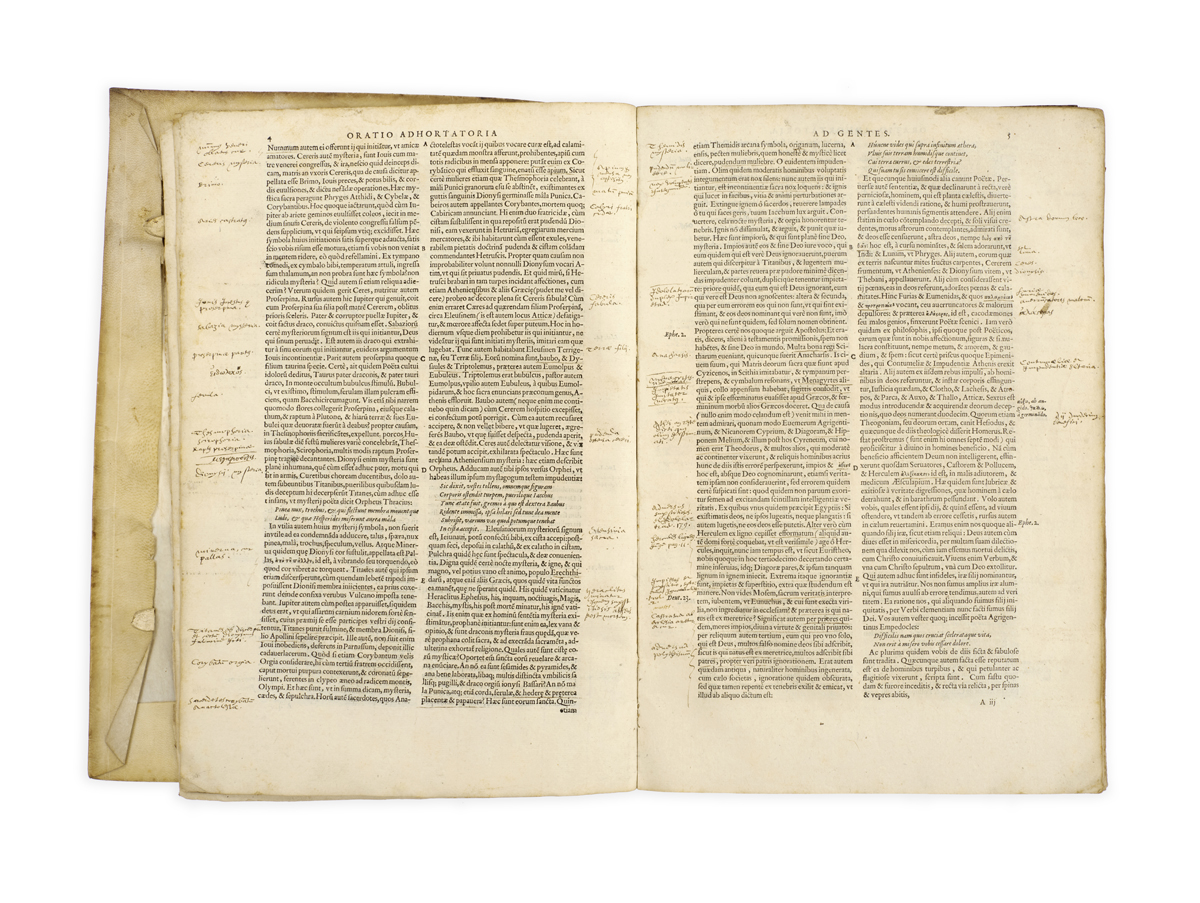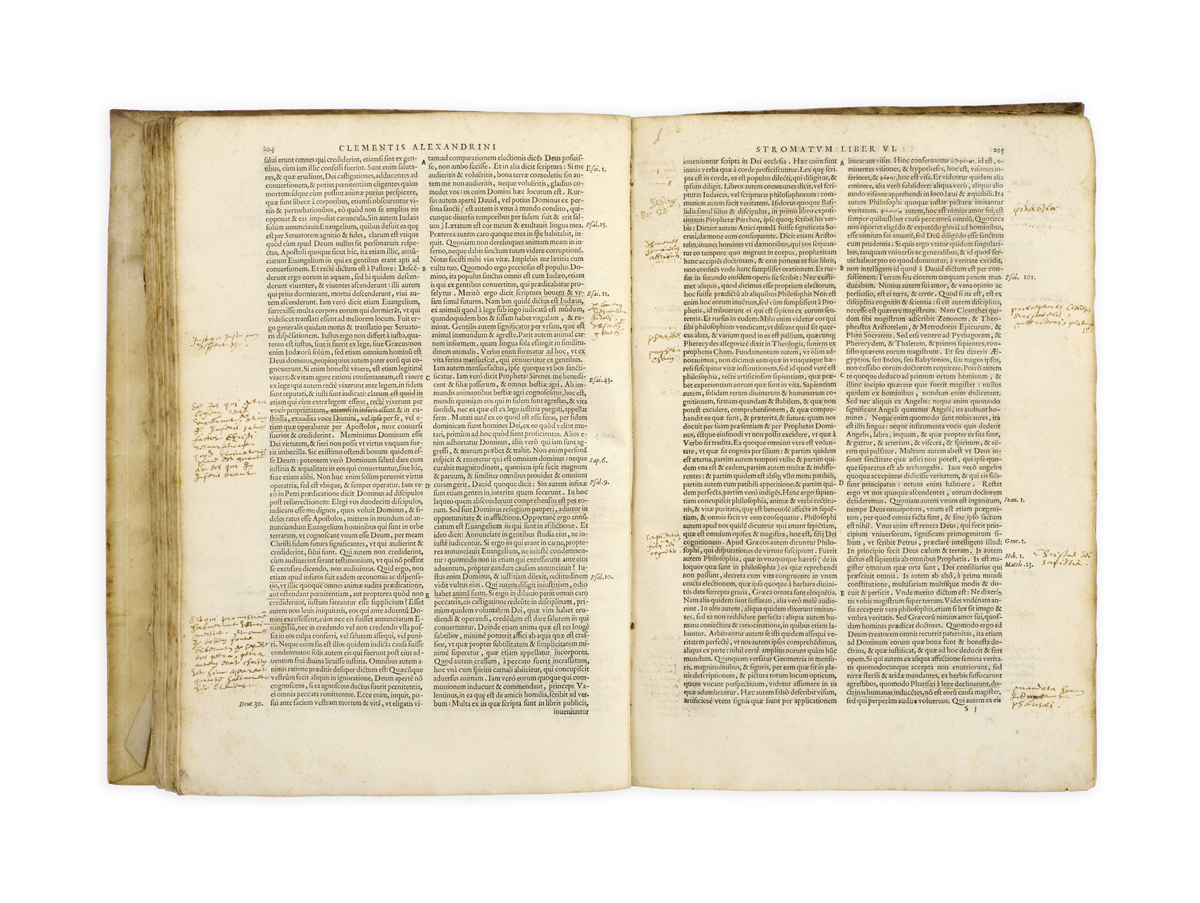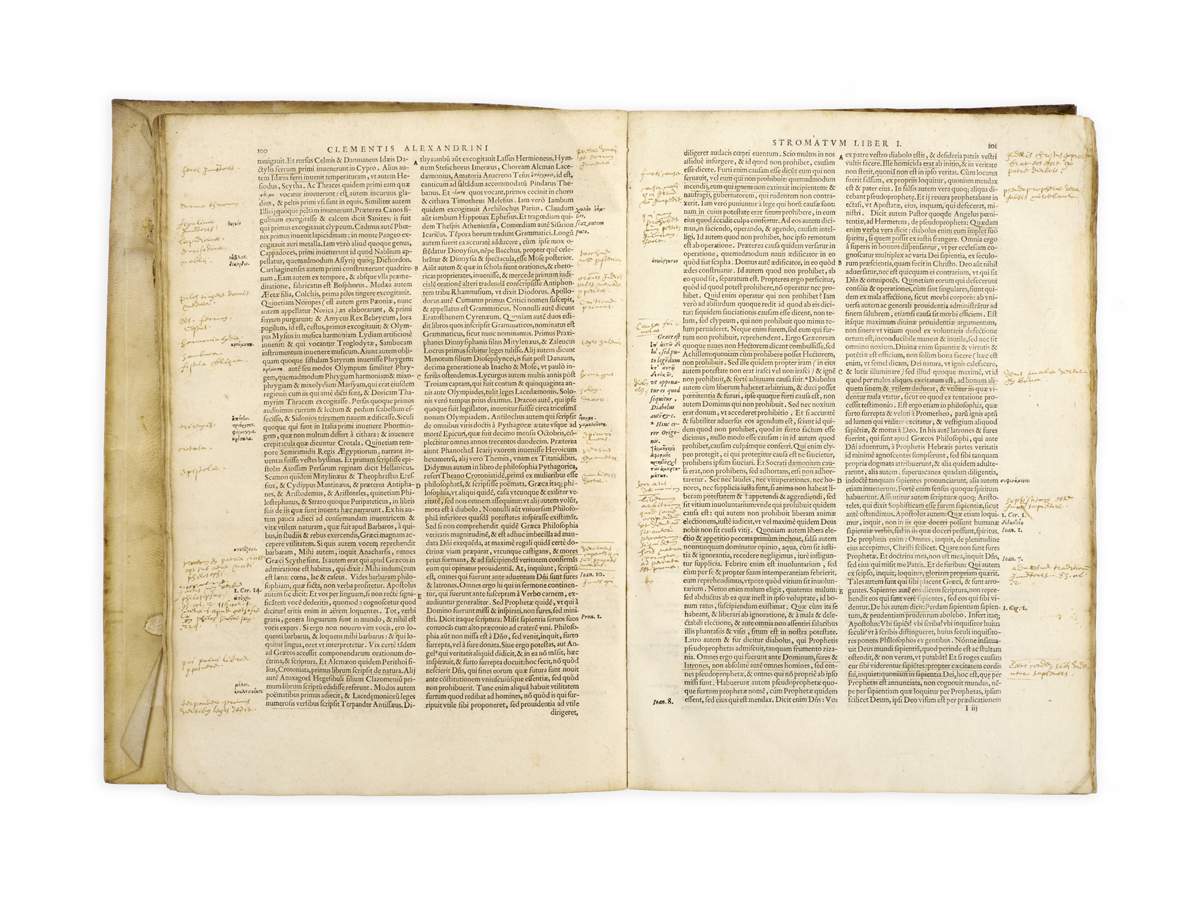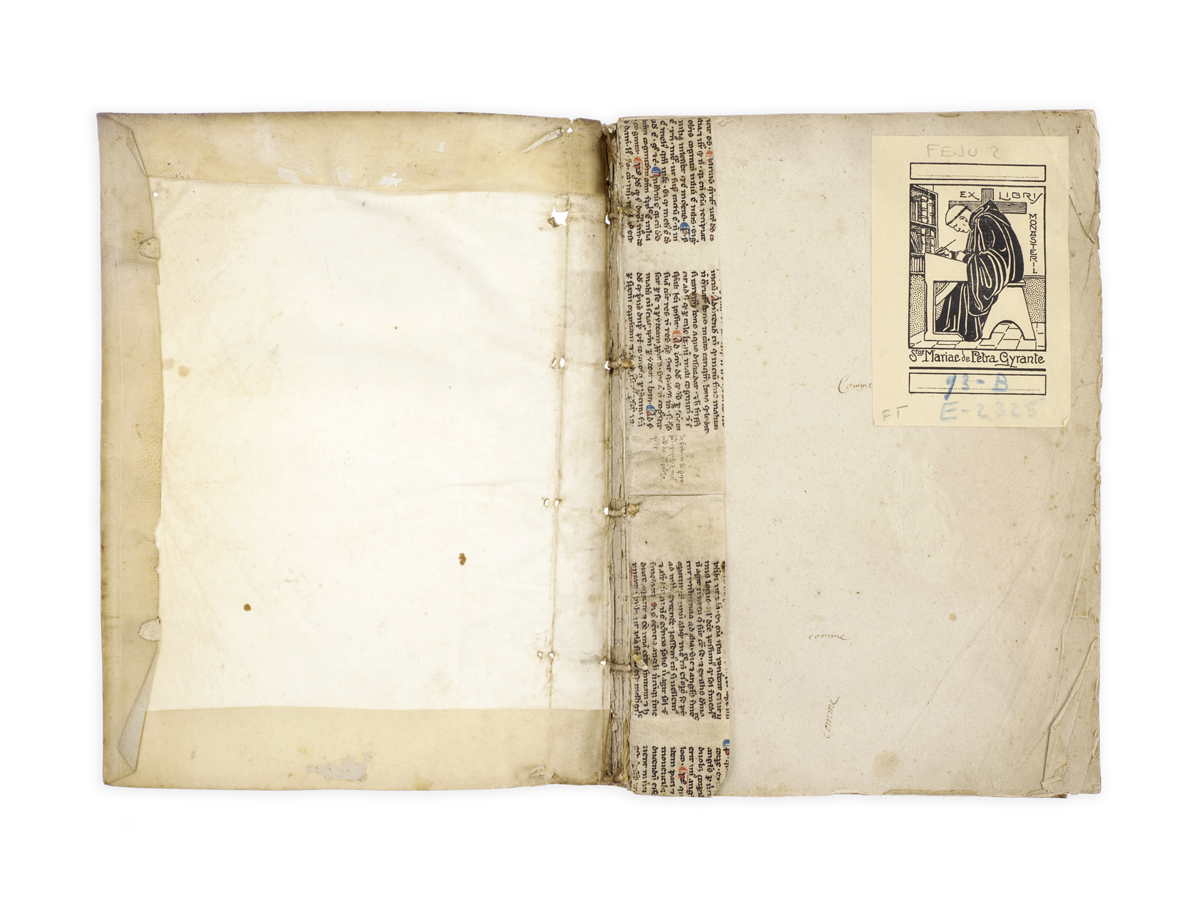 WITH HUNDREDS OF CONTEMPORARY MARGINALIA
CLEMENT OF ALEXANDRIA (Titus Flavius CLEMENS). 
Omnia opera. 
Paris, Sebastien Nivelle, 1572. 
Folio, pp. [viii], 252, [54]; large woodcut printer's device on title, woodcut initials, printed in two columns, running titles, printed shoulder notes; some light foxing and marginal fraying to title, some light marginal waterstaining to pp. 35-100; else a clean and fresh copy in contemporary limp vellum, some soiling, upper hinge split, ties perished; endguards of waste from two different fourteenth-century vellum manuscripts (one on canon law and the other from Giles of Rome, Commentarius in Libros Sententiarum, Book 1); hundreds of contemporary marginal annotations in Latin with some Greek to the text and at the foot of the last page, consistent with the cancelled ownership inscription on title; ownership inscription 'P. Papillon' to title: very likely abbé Philibert Papillon (1666–1738), author of the study Bibliothèque des auteurs de Bourgogne; printed ex-libris of the abbey of Sainte-Marie La Pierre-qui-Vire, diocese of Sens, founded in 1850, to the front free endpaper.
£4750

Approximately:
US $5979
€5540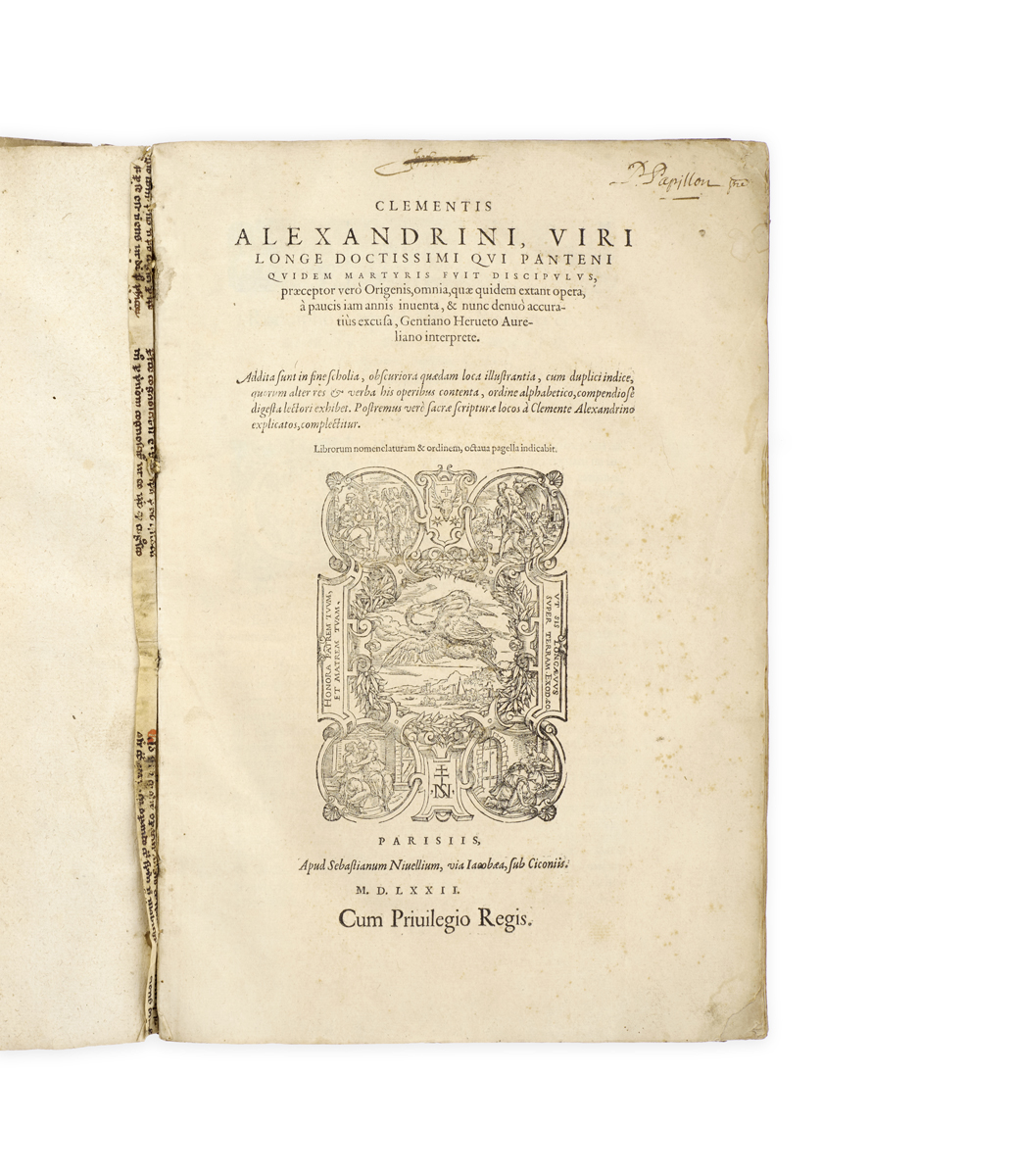 Added to your basket:
Omnia opera. 
A thoroughly annotated copy of this early edition of the complete works of Clement of Alexandria, in the Latin translation of Gentian Hervet.  Clement lived and wrote in the second and third centuries, one of the most important interpreters of Christianity within an established Greek philosophical culture. 

In the Protrepticus he invites Greeks to convert to Christianity, finely weaving theology with mythology and elements of mystery cults with which he was evidently familiar.  The Pedagogus is a work of moral philosophy, illuminating Christian ethics and showing its essential harmonisation with elements of Greek ethics.  The perceived moral corruption of the pagan world had been the main factor in Clement's own conversion, yet he draws greatly on Stoic philosophy and Greek pagan literature, quoting Homer more than sixty times.  It is in this work that Clement champions equality of sexes, arguing that salvation is gifted to all humans with no distinction, asserting that Christ may not be described either as female or male, and championing women's participation in church leadership; his list of inspirational models includes both Biblical and Classical Greek figures.  The more eclectic Stromata returns to the theme of Greek philosophy and its relationship with faith, considers asceticism and martyrdom, discusses the more literary books of the Bible. 

Our annotator is meticulous in studying, summarising, and commenting upon the whole of Clement's corpus, with special attention given to ethical and moral questions of right and wrong, of what amounts to a good life, of moderation and rectitude.  His reading adds, as if in a mirror, a humanistic, Renaissance perspective to Clement's original plan: Clement grafted Christian values and worldview on to an essentially Greek culture; our reader-annotator grafts the values of Classical civilization on to an essentially Christian understanding of the world and of the role played in it by mankind.  The references he makes are then transferred into the final index and the note at the foot of the last folio. 

Brunet II, 93; Pettegree, Walsby, & Wilkinson 62582; USTC 170075. 
You may also be interested in...