ANNOTATED BY WILLY
[COLETTE, Sidonie-Gabrielle - WILLY [i.e. Henri Gauthier-Villars]]. KELLER, Fernand, and André LAUTIER.
Colette (Colette Willy), son oeuvre.
Paris, Éditions de La Nouvelle Revue Critique, 1923.
8vo, pp. 64, with a portrait of Colette and a reproduction of a manuscript; paper browned, some archival repairs to edges of half-title and title; contemporary red half morocco, raised bands on spine; the original printed wrappers and spine bound in.
£900

Approximately:
US $1236
€1054
Added to your basket:
Colette (Colette Willy), son oeuvre.
First edition of this critical work on Colette, with Willy's manuscript annotations throughout. The copy was subsequently in the possession of Willy's friend Pierre Varenne, who has added a pencilled note to the blank endleaf: 'Annotations manuscrites de Willy. P.V.', and a ms. postcard to Varenne from Willy with his photograph: 'Cher Pierrot…', signed 'Yours truly, Willy' and dated 1928 is laid in. Willy's annotations begin on the half-title: 'Réfuter les mensonges…' and continue with frequent comments in the margins, underlinings, and markings in the text.
You may also be interested in...
A PRELUDE TO L'ESPRIT DES LOIS MONTESQUIEU, Charles de Secondat.
Histoire véritable publiée d'après un nouveau manuscrit avec une introduction et des notes par L. de Bordes de Fortage.
Second edition of Montesquieu's philosophical, quasi-oriental tale, a prelude to his great work L'Esprit des lois. Written in the 1730s and again in 1754, and influenced by Lucian and the 18th-century vogue for oriental fiction, the Histoire véritable remained unpublished until 1892. This 1902 second edition is based on a manuscript written prior to that used for the first. The Histoire is a fabulous account of the numerous animal and human incarnations experienced by its narrator: as a little dog he is persecuted by his mistress, while as an ox he is worshipped by the Egyptians; as a human his soul occupies the bodies of a hangman, a cuckolded husband, an underfed poet, a courtier, a fop, a virtuous woman, a eunuch, an African chief, a king's fool, among many others. 'The different reincarnations are so many opportunities to expose human turpitude from the inside and to underscore, from the vantage point of a single conscience, retrospectively enlightened, the corruption and wickedness of men ... Montesquieu's originality is to create, based on conventional processes of narrative fiction at the time, a philosophical tale inducing meditation about the conditions of virtue and happiness ... The Histoire véritable would also raise, in the story's framework, questions to which L'Esprit des lois would try to respond: how to reconcile relativism and norms of universal justice, articulate uniformity and diversity, find constancy in change? To this degree, the work would be, as Alberto Postigliola put it, an "epistemological prelude" to its author's major work' (Carole Dornier in Dictionnaire Montesquieu).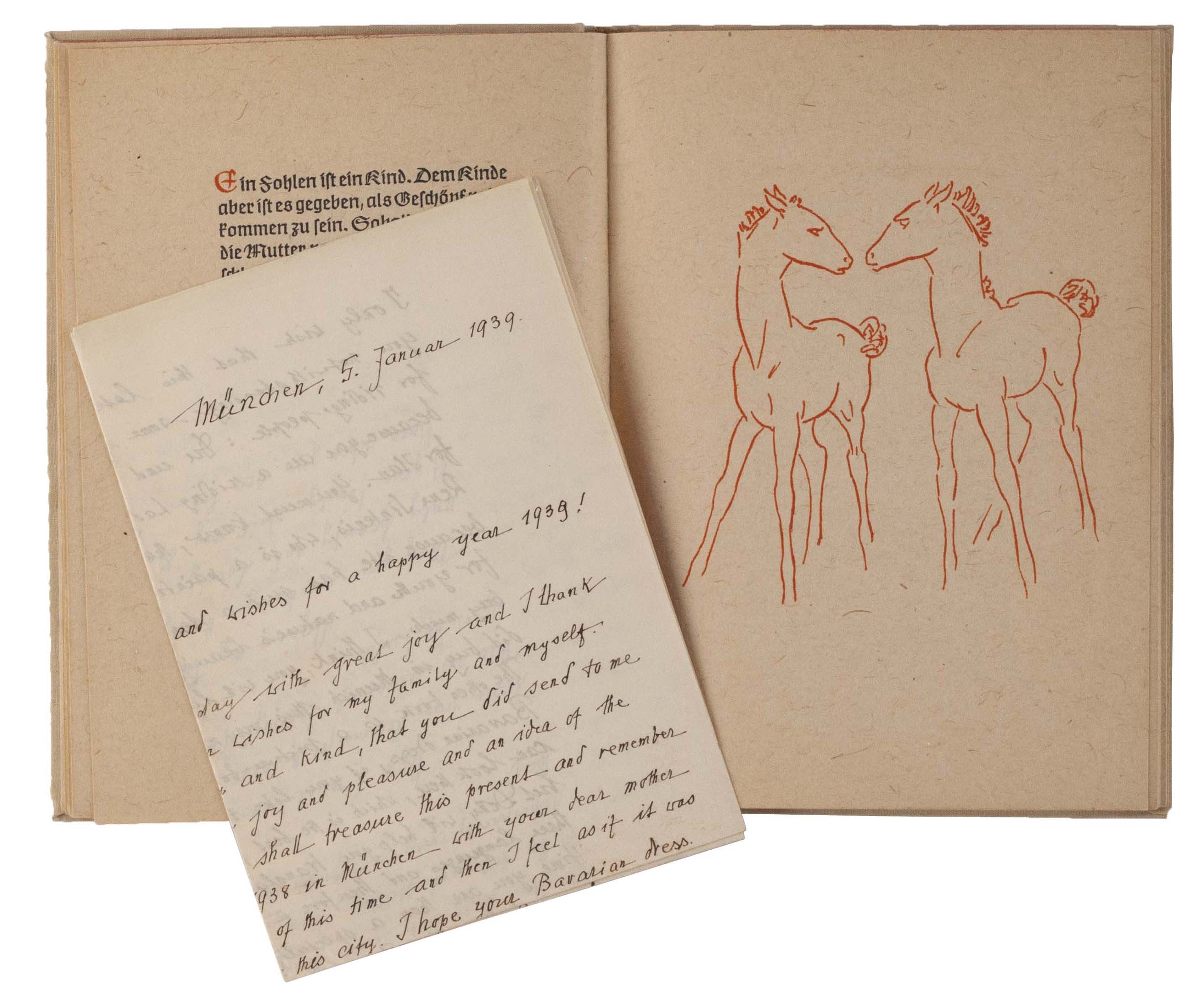 DIKREITER, Otto, and Renée SINTENIS (illustrator).
Du und Dein Pferd: Ein anmutiges, belehrendes, und ergötzliches Brevier für Reiter, Pferdefreunde, und solche, die es werden wollen. Mit 12 Zeichnungen.
First edition (seventh to tenth thousand) of a charmingly illustrated work. The collection of short pieces of poetry and prose relating to horses, gathered from sources ranging from Shakespeare and Goethe to Xenophon and the Koran, is illustrated by the German artist Renée Sintenis (1888–1965), best known for her sculptures of horses.