[COLOGNE.]
Hotel de Belle Vue à Deutz vis-à-vis de Cologne tenu pour J.A. Kimmel. [
Cologne, c. 1850
Lithograph folded broadside (490 x 190 mm.), with a large engraved view of the hotel (mounted), a town map of Cologne and large panorama of the Rhine on the verso; the text is in French.
£250

Approximately:
US $303
€289
Added to your basket:
Hotel de Belle Vue à Deutz vis-à-vis de Cologne tenu pour J.A. Kimmel. [
A ambitious lithograph advertisement for the Hotel de Belle Vue in Deutz, facing Cologne over the Rhine. The finely engraved view of the hotel shows it with its surrounding park lying on the Rhine which is bustling with barges, there is a bridge crossing the river full of promenading people. The litho map of Cologne indicates the places worth visiting in the city. The verso of the broadside is entirely taken up with a litho panorama of the Rhine from Cologne, over Dusseldorf to Mainz. On either side are litho maps for the railway journey from Cologne to Berlin and from Cologne to Paris, at the bottom there is a view of Cologne cathedral.
You may also be interested in...
ST MICHAEL OVERSEES LEGAL THESES [LAW.]
Patrui optimi patrono. Theses utriusque juris. Ex materia sortito ducta ... Has theses ex utroque jure ... praeside cl. v. D. Philippo Lalourcey, J.U.D. consult. facult. Paris. aggregato ... tueri conabitur [blank left for name] die Lunae 14 Februarii, anno Dom. 1757 ab undecima ad primam. Aderunt cum jure sufragii sorte ducti clar. D.D. Aleaume, Desfévres, J. Girard, Boyer, Lalourcey, Deferriere. Parisiis, in antiquo juris auditorio. Pro baccalaureatu.
An unrecorded broadside detailing nine theses in canon law and nine in civil law defended at the law faculty in Paris on 14 February 1757 for the degree of Bachelor of Laws, with a remarkable headpiece depicting St Michael.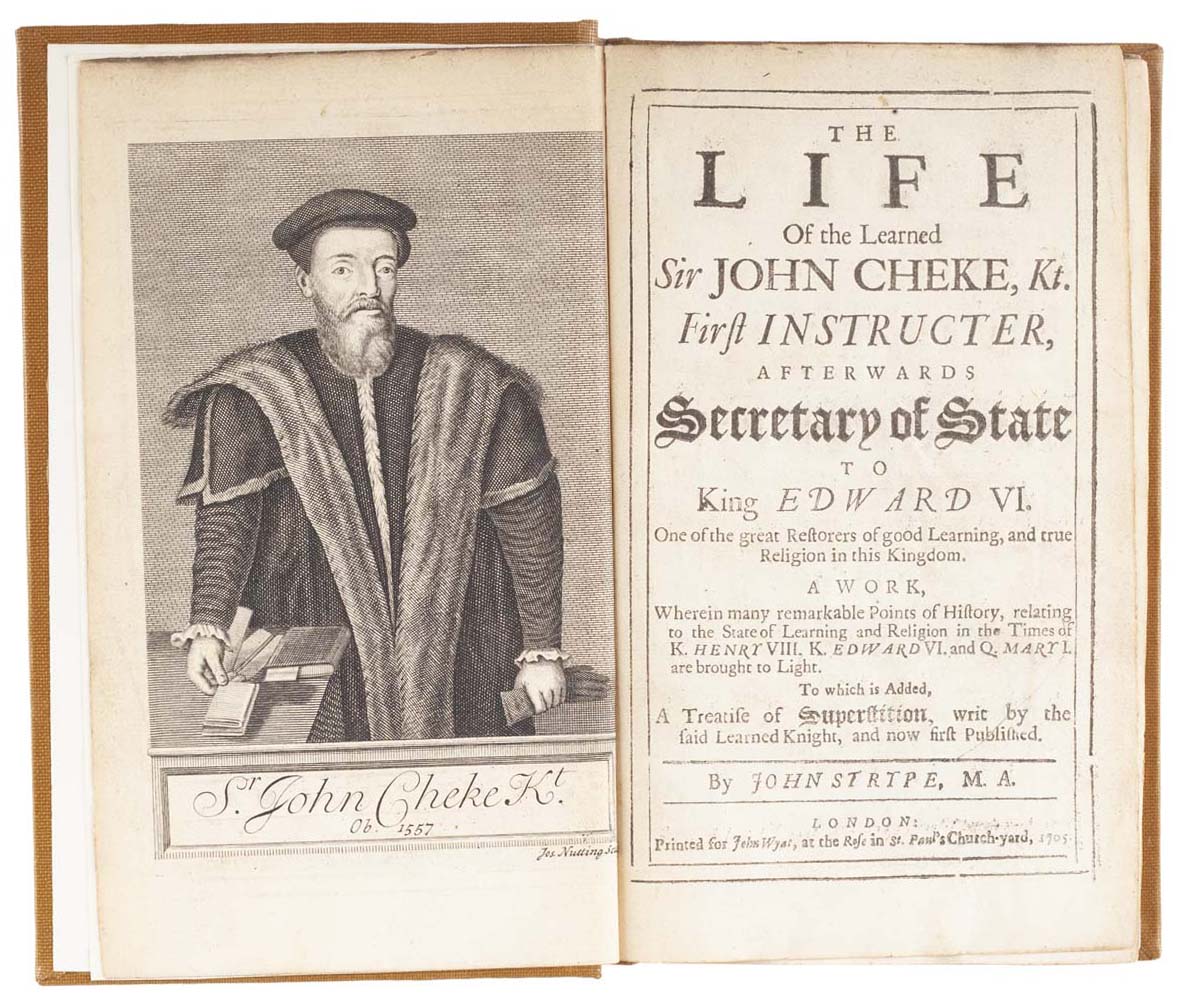 'CANTABRIGIA SEMPER IN ILLO LAETARI DEBEAT' STRYPE, John.
The Life of the learned Sir John Cheke, Kt., first Instructer, afterwards Secretary of State, to King Edward VI., one of the great Restorers of good Learning, and true Religion in this Kingdom … to which is added, a Treatise of Superstition, writ by the said learned Knight, and now first published.
First edition of Strype's biography of the courtier and classicist Sir John Cheke, inaugural Regius Professor of Greek at Cambridge.