[COLOGNE.]
Hotel de Belle Vue à Deutz vis-à-vis de Cologne tenu pour J.A. Kimmel. [
Cologne, c. 1850
Lithograph folded broadside (490 x 190 mm.), with a large engraved view of the hotel (mounted), a town map of Cologne and large panorama of the Rhine on the verso; the text is in French.
£250

Approximately:
US $306
€284
Added to your basket:
Hotel de Belle Vue à Deutz vis-à-vis de Cologne tenu pour J.A. Kimmel. [
A ambitious lithograph advertisement for the Hotel de Belle Vue in Deutz, facing Cologne over the Rhine. The finely engraved view of the hotel shows it with its surrounding park lying on the Rhine which is bustling with barges, there is a bridge crossing the river full of promenading people. The litho map of Cologne indicates the places worth visiting in the city. The verso of the broadside is entirely taken up with a litho panorama of the Rhine from Cologne, over Dusseldorf to Mainz. On either side are litho maps for the railway journey from Cologne to Berlin and from Cologne to Paris, at the bottom there is a view of Cologne cathedral.
You may also be interested in...
[POPULAR DEVOTION].
L'heureuse benediction des maisons.
A wonderful devotional broadside printed in the Breton town of Vannes, comprising a crude woodcut depiction of the scene at Calvary, signed 'Desloge' at the base, with two cantiques spirituels. The image is identical to one that appeared in a similar publication, also undated, that appeared in Mourtain in Normandy, printed by Lebel; the surrounding border and the text, however, differ, and we are unable to establish priority. Similar images, appearing under the same title, were not uncommon in the mid nineteenth century in provincial France, but survivals are very rare. Lamarzelle was the publisher of numerous works, both religious and secular, throughout the nineteenth century. Nicolas de Lamarzelle, the present printer, was active between 1835 and 1849.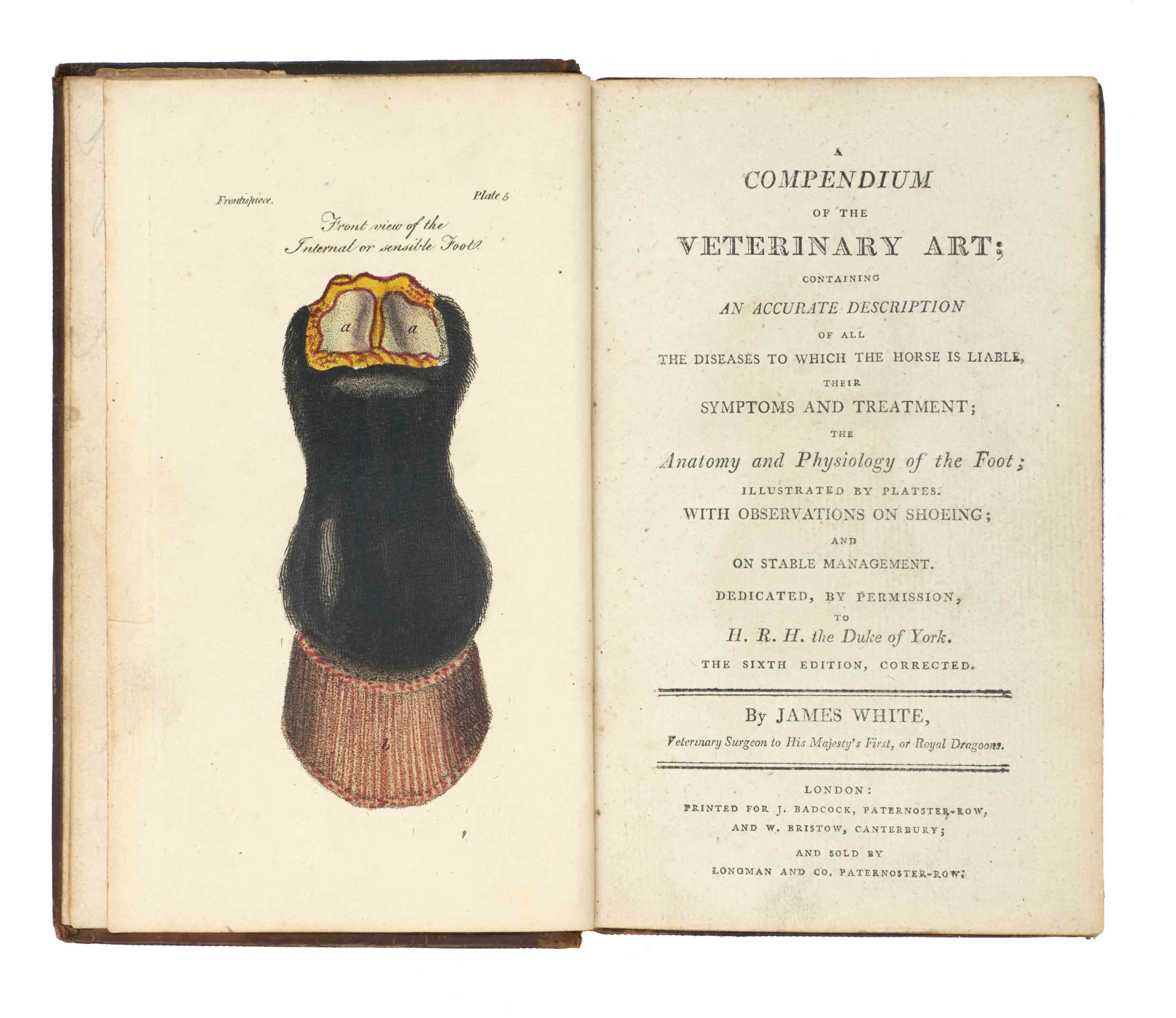 WHITE, James.
A Compendium of the veterinary Art, containing an accurate Description of all the Diseases to which the Horse is liable, their Symptoms and Treatment, the Anatomy and Physiology of the Foot, illustrated by Plates, with Observations on Shoeing and on Stable Management … the sixth Edition, corrected.
Sixth edition. Evidently a successful text, further editions appeared soon after the work's first publication and would eventually be expanded into four volumes (the present edition is often found accompanied by The materia medica and pharmacopoeia).