COMTE, Auguste, and Albert CROMPTON (editor).

Confessions and Testament of August Comte: and his correspondence with Clotilde de Vaux.
Liverpool, Young, 1910.
8vo, pp. xi, [1 (blank)], [2], 547, [1 (blank)]; photographic frontispiece depicting medallion of Comte and Clotilde, and a further two photographic plates; endpapers lightly toned, otherwise a very good copy in original green cloth, spine gilt.
£80

Approximately:
US $89
€90
Added to your basket:
Confessions and Testament of August Comte: and his correspondence with Clotilde de Vaux.
First edition in English of Comte's Confessions, which first appeared with his 'testament' in French in 1884. These take the form of 'Twelve Saint Clotildes', a series of annual confessions which he recited to his muse's grave. Clotilde de Vaux was a divorced woman whom Comte met in 1844 through one of his students; their first recorded letter was written in 1845, in which they are discussing Fielding's Tom Jones. Clotilde rejected Comte's love as a divorced woman and a devout Catholic, though they continued to correspond, until in the following year Clotilde died of tuberculosis, becoming a Saint of the Positivist religion. The 'Testament' is simply Comte's legal will, in which can be found the details of the bequest of his books to various disciples, including the 'small edition of the Divina Commedia, which serves me for daily use'.
You may also be interested in...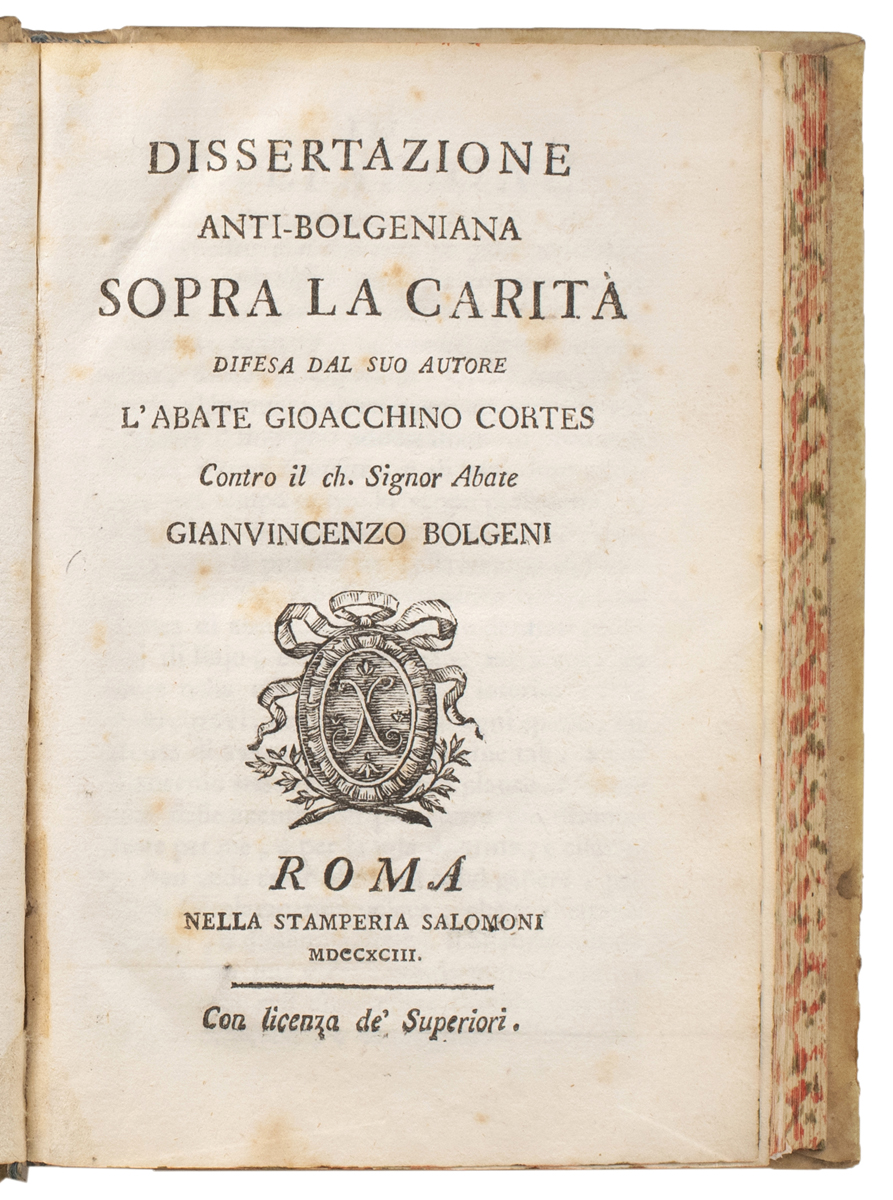 ON CHARITY CORTÈS, Gioacchino. 
Dissertazione anti-Bolgeniana sopra la carità difesa dal suo autore l'abate Gioacchino Cortes contro il ch. Signor abate Gianvincenzo Bolgeni. 
First edition of this response to and attempted refutation of Bolgeni's Della carità o amor di Dio by the Spanish Jesuit Joachim Cortès.  Della carità was the best-known work of the Jesuit theologian and controversialist Gianvincenzo Bolgeni, in which he had argued, against the Dominican de Rubeis, that the theological virtue of charity was rooted in the love of God due to God's goodness to us, rather than due to intrinsic and absolute goodness.  This approach unsurprisingly resulted in a series of responses, often from Bolgeni's former Jesuit confrères, among them Cortès, who published his Anti-Bolgeniana de Amore Dei dissertatio in 1790.  Here, Cortès responds to Bolgeni's reply, addressing Bolgeni's work in detail, quoting chapter and verse, and responding to each of Bolgeni's attacks on Cortès, in which the Italian had attempted to argue that Cortès was a defender of Jansenist doctrines. 
ON POLITICAL THEORY AND EDUCATION JOHN OF SALISBURY. 
Policraticus, sive de nugis curialium, et vestigiis philosophorum, libri octo.  Accedit huic editioni eiusdem Metalogicus.  Cum indice copiosissimo. 
Attractive Maire edition of the two principal works of the twelfth-century scholar, diplomat, and bishop of Chartres, John of Salisbury, both completed by 1159 and dedicated to Thomas Becket.