WITH MANUSCRIPT NEBRASKAN RECIPES
[COOKERY.]
Twentieth Century Cook Book … published by the Ladies Mite Society, St. Pauls Church, Lincoln.
Lincoln (NE), Franklin Press, 1902.
8vo, pp. 32, [2 (ads)], 33-64, [16 (blank, annotated)], 65-117, [1 (blank)], with 4 pp. printed advertisements as endpapers (perhaps lacking front free endpaper); advertisements with woodcut illustrations; lightly browned, a small marginal chip to rear free endpaper, otherwise a very good copy; in the publisher's black cloth, title blocked in white to upper cover; covers very lightly worn; early twentieth-century pencil inscription of Mary Swoboda to title ('Mary Swoboda // 477 So 14 St // Lincoln // Nebr.') with a few pencil markings and 14 pp. of recipes added in pencil, nineteenth-century photograph of a boy (24 x 18 mm, lower corner chipped) and contemporary advertisement for shredded wheat (printed in blue and orange on pink-backed paper) loosely inserted.
£350

Approximately:
US $424
€404
Added to your basket:
Twentieth Century Cook Book … published by the Ladies Mite Society, St. Pauls Church, Lincoln.
First and only edition of a very scarce Nebraska recipe book, printed for the Ladies Mite Society in Lincoln, Nebraska, with additional recipes added in manuscript by a local resident. The broad range of recipes is gathered from many contributors who, other than Mrs J.E. Baum of Omaha and Mrs W.A. Metcalf of St Louis, are surely local women and members of the Ladies Mite Society. Though unidentified, it is possible that the 'M.A.H.S.' (one of few contributors to withhold her name), who suggests recipes for 'Boston Brown Bread' and 'Pork Cake', is in fact the Mary Swoboda who here annotates the texts and adds additional recipes.

Among the additional manuscript recipes are 'Angle [angel?] food Cake' and 'Devils food Cake' (over 2 pp., with filling and coconut balls), a chocolate cake, 'Golden Cake', 'White Cake', and 'Swans Down white cake', 'Seven Minute icing', several cookies (including one filled with figs and raisins), 'Rolled Oats Cakes' and 'Dropped Oatmeal Cookies', two gingerbreads, puddings (cottage, chocolate, and pineapple), and salads, salad dressings, and pickles.

OCLC finds only one copy, at Harvard.
You may also be interested in...
A 'HIDDEN GEM' BY GALILEO'S PUPIL SOLDANI, Jacopo. 
Lezione di Jacopo Soldani sopra il Brindisi recitata da lui nell'Accademia Fiorentina il dì 20 di gennaio nel 1597. 
First and only edition of satirist Jacopo Soldani's 1597 debut address to the Accademia Fiorentina on the art of making a toast.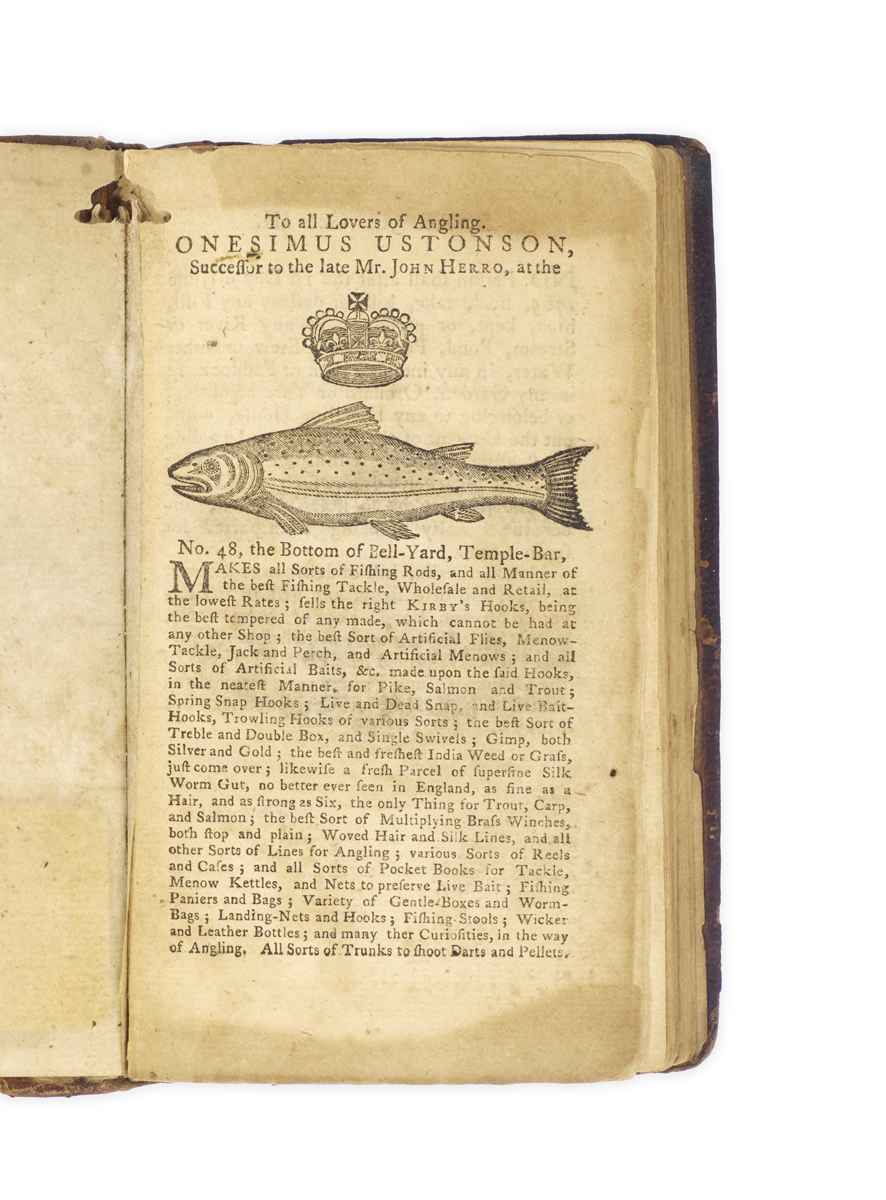 'COME LIVE WITH ME AND BE MY LOVE' [USTONSON, Onesimus.]
[SMITH, John?]. The True Art of Angling: being a clear and speedy Way of taking all Sorts of Fresh-water Fish … To which is added, an Account of the Season and Spawning Time of each Fish, and an Account of the principle Rivers, the Fish they produce, and the proper Places to angle for them in each River.
The last eighteenth-century edition of an angling classic first published in 1696 and much reprinted and updated by other authorities. Having 'passed several editions', the introduction claims, it has been revised to omit 'superfluous' oils and ointments, 'carefully corrected' throughout, and expanded to include the accounts of spawning and of the principle rivers (of London) – in fact these contents had formed part of the work since at least 1740. What are new here are the songs 'The New Angler', 'The Milk-Maid's Song', 'The Milk-Maid's Mother's Answer' and 'Coridon's Song' at the end of the volume. The eagle-eyed will spot that two of these are curious Elizabethan interlopers with no discernible connection to fish: Christopher Marlowe's 'Passionate Shepherd to his Love' and the 'Nymph's Reply' to the same by Raleigh.