CRAWFORD, F. Marion.
Saracinesca ... in three Volumes ...
William Blackwood and Sons, Edinburgh and London. 1887.
3 vols., 8vo., with half-titles; original salmon-brown smooth cloth, blocked in dark brown and gold, spines slightly marked but a fine set.
£280

Approximately:
US $379
€334
Added to your basket:
Saracinesca ... in three Volumes ...
First edition. The prolific American novelist F. Marion Crawford, born in Italy and for most of his life resident in Rome, enjoyed a phenomenal success both in England and America. Saracinesca is the first novel of his Roman tetralogy (with Sant' Ilario, Don Orsino, and Corleone: a Sicilian Story), chronicling the annals of a princely house against a panoramic background of Roman society in the later nineteenth-century. Saracinesca and Sant' Ilario are romances of passion and jealousy--feuds, duels, suicides, and reconciliation. Don Orsino exposes the corruptions of Italian financial life; and Corleone, a belated sequel (1898), is a Sicilian episode that brings the Saracinesca into contact with the Mafia. In these novels the author makes the most of his intimate knowledge of Italian life. Wolff characterizes them, along with Katharine Lauderdale and The Ralstons, as the best of his work. Sadleir 651; Wolff 1579; BAL 4146.
You may also be interested in...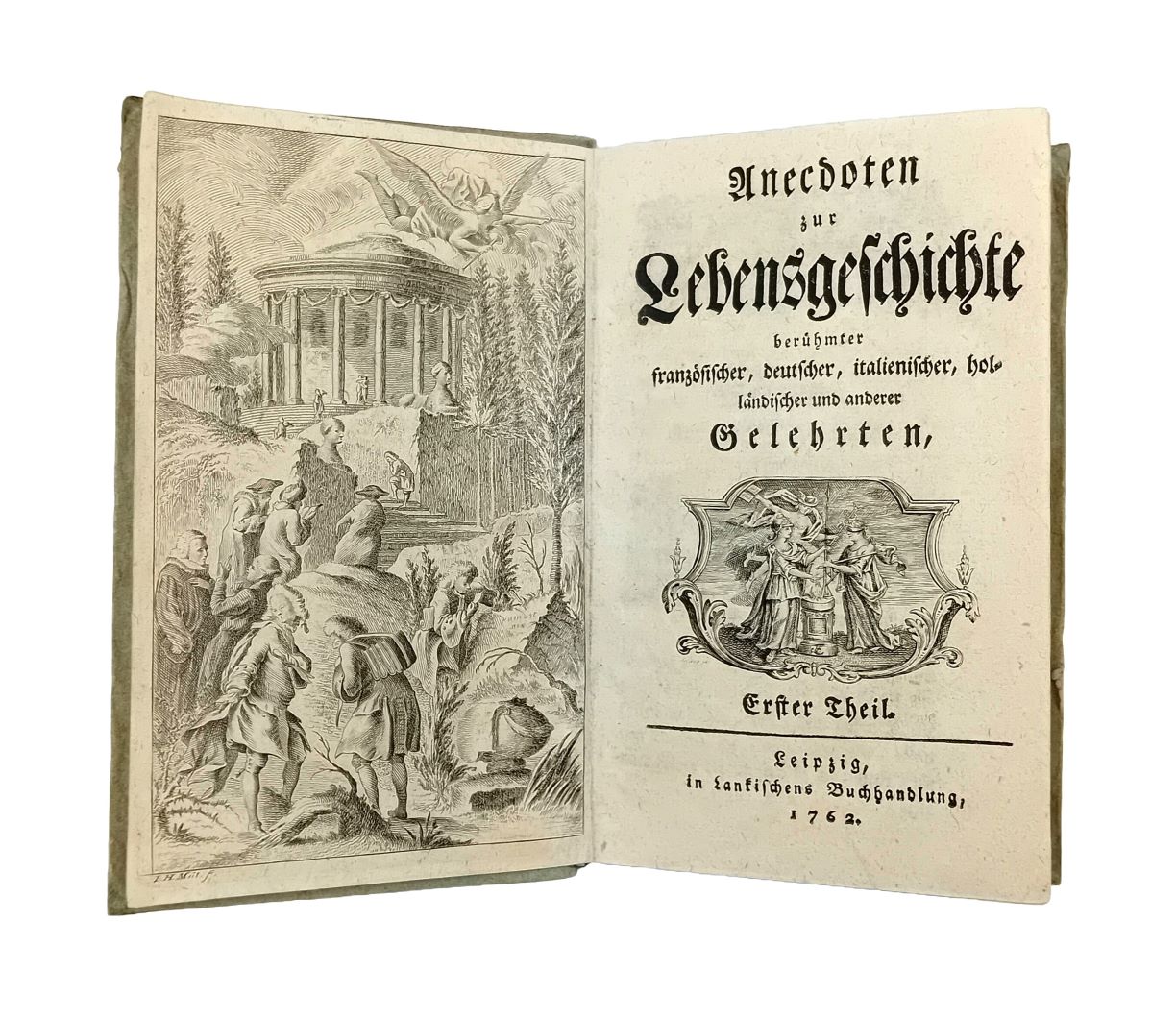 [HILLER, Johann Adam, editor].
Anecdoten zur Lebensgeschichte berühmter französischer, deutscher, italienischer, holländischer und anderer Gelehrten, erster [-zweyter] Theil.
Scarce first edition of Hiller's two-volume collection of literary, philosophical and historical anecdotes. The editor's note at the end mentions the contemporary publication of a French work of similar inspiration, and states the editor's intention to translate it and publish it as a sequel to his original collection. Thus, the sequel came out in the following two years as volumes III and IV, but with the different title Merkwürdigkeiten zur Geschichte der Gelehrten, und besonders der Streitigkeiten derselben, vom Homer an bis auf unsere Zeiten; Aus dem Franzosischen übersetzt.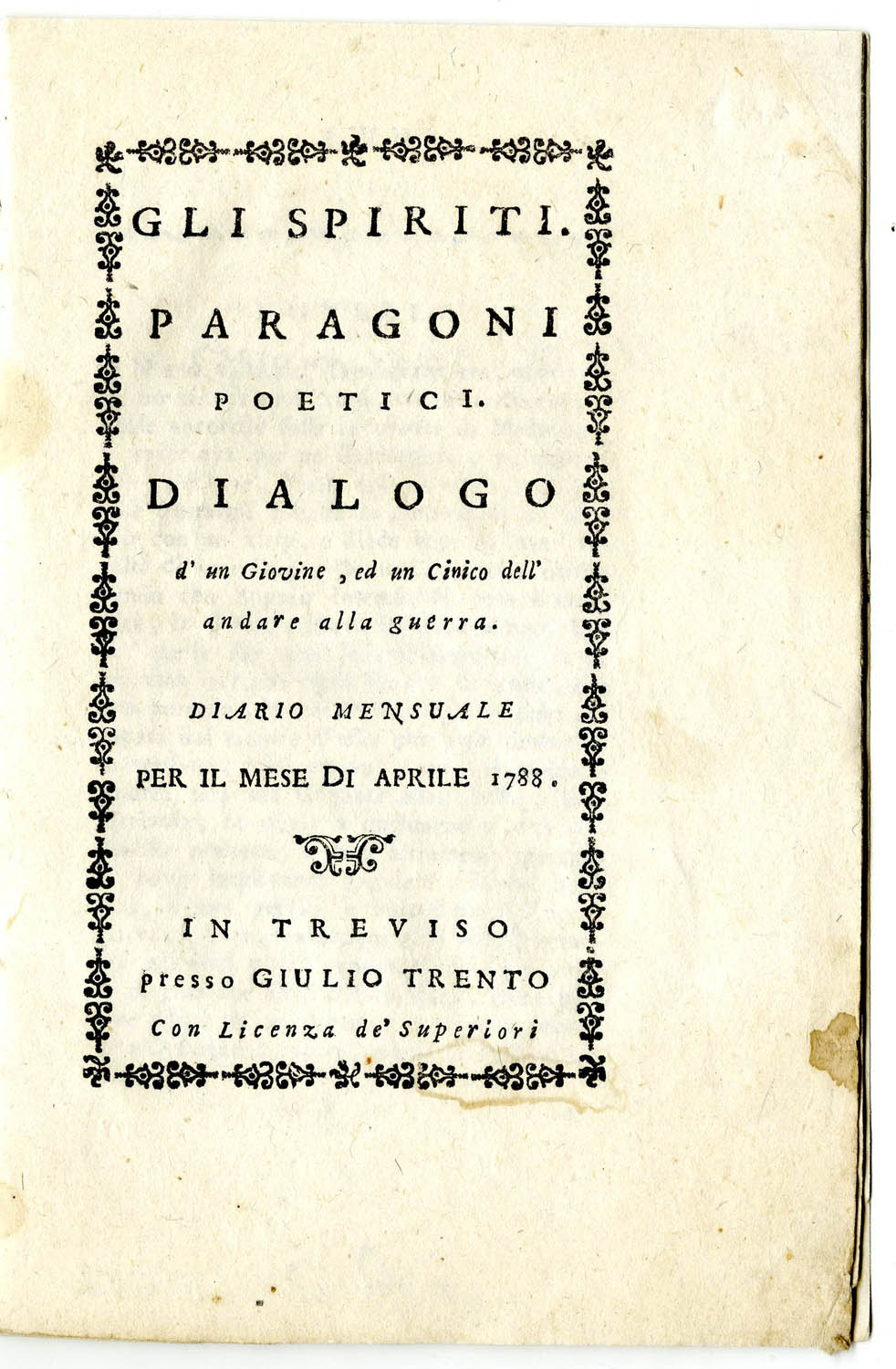 ENLIGHTENMENT LITERATURE IN TREVISOUNRECORDED? [TRENTO, Giulio].
Gli spiriti. Paragoni poetici. Dialogo d'un giovine, ed un cinico dell'andare alla Guerra. Diario mensuale per il mese di Aprile 1788.
Only edition, mentioned only in one or two pieces of local antiquarian history but not recorded in any of the usual library catalogues. An ephemeral publication containing a short story, a literary divertissement linking passages from Parini's Mattino with an unidentified poem on gambling and an ode by Catullus, a further few stanzas on Venice; the most original contribution is a 'Dialogue between a young man and a cynic', in which the two characters discuss war: while the young man seeks glory, sees war as a chance to free oneself from unchosen power structures and to free society from over-exuberant demographics, the cynic describes glory as a vain phantom, and peace as a more effective context for agriculture, commerce and prosperity for growing populations.