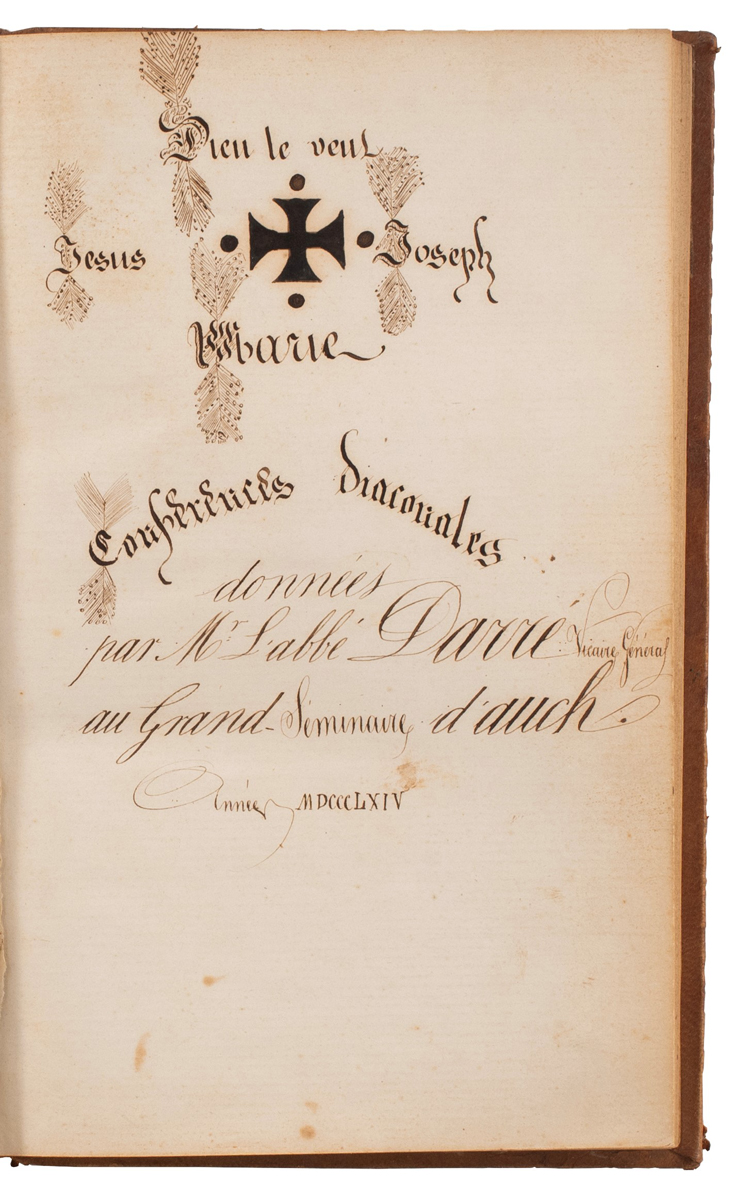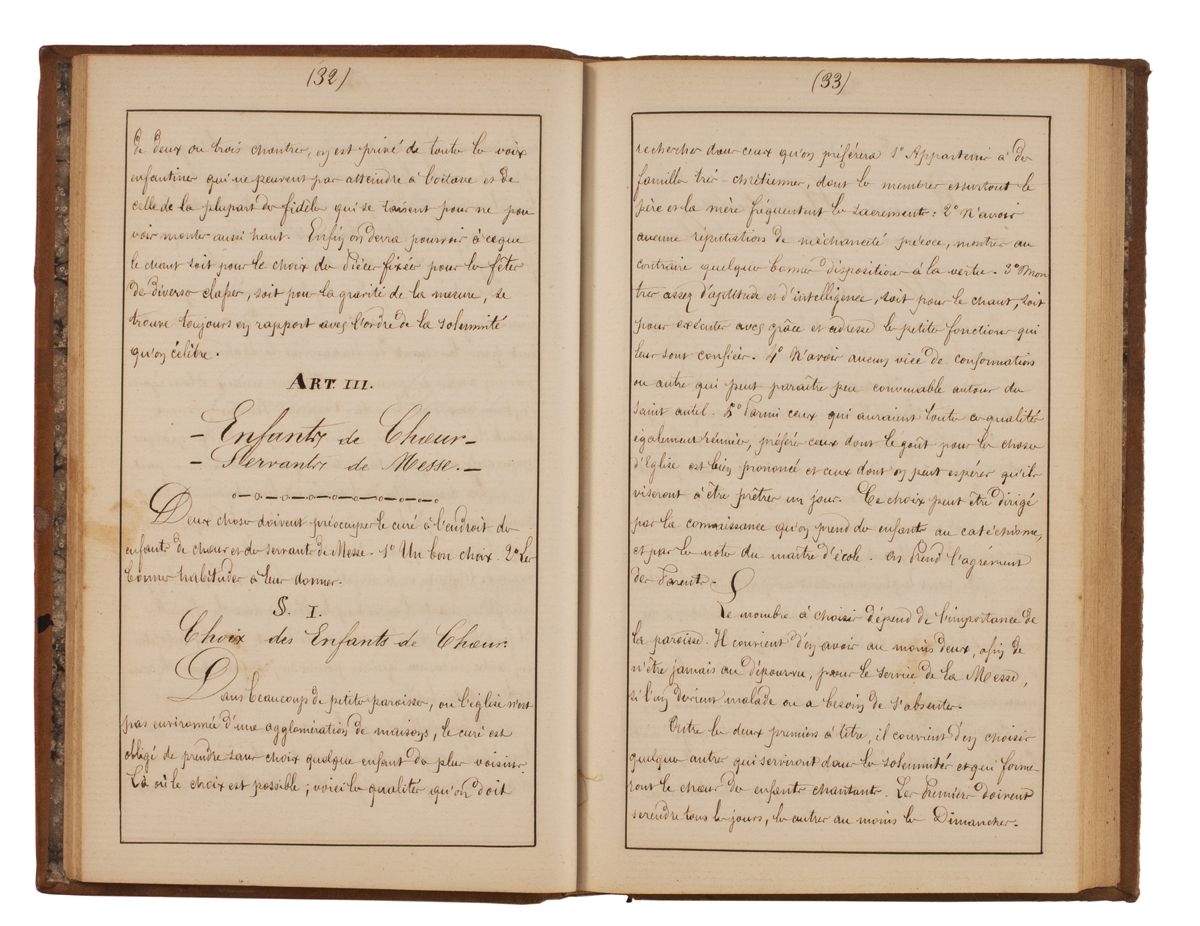 PREPPING PRIESTS: PRE-PUBLICATION
DARRÉ, G.-G.
'Conferences diaconales données par Mr l'abbé Darré, Vicaire Général au Grand-Séminaire d'Auch. Année MDCCCLXIV.'
Auch, 1864.
Manuscript on paper, in French, 8vo (210 x 129 mm), pp. [2], 243 + a few blanks, neatly written in black ink in a single hand, c. 23 lines per page; some creasing to upper corners pp. 191-199, occasional light marks; very good in contemporary sheep, border and central foliate panel blocked in blind to covers, spine tooled and lettered in gilt, gilt board edges, marbled endpapers; some staining to covers, some wear at foot of spine and to corners; faint ink stamp to front free endpaper.
£375

Approximately:
US $457
€420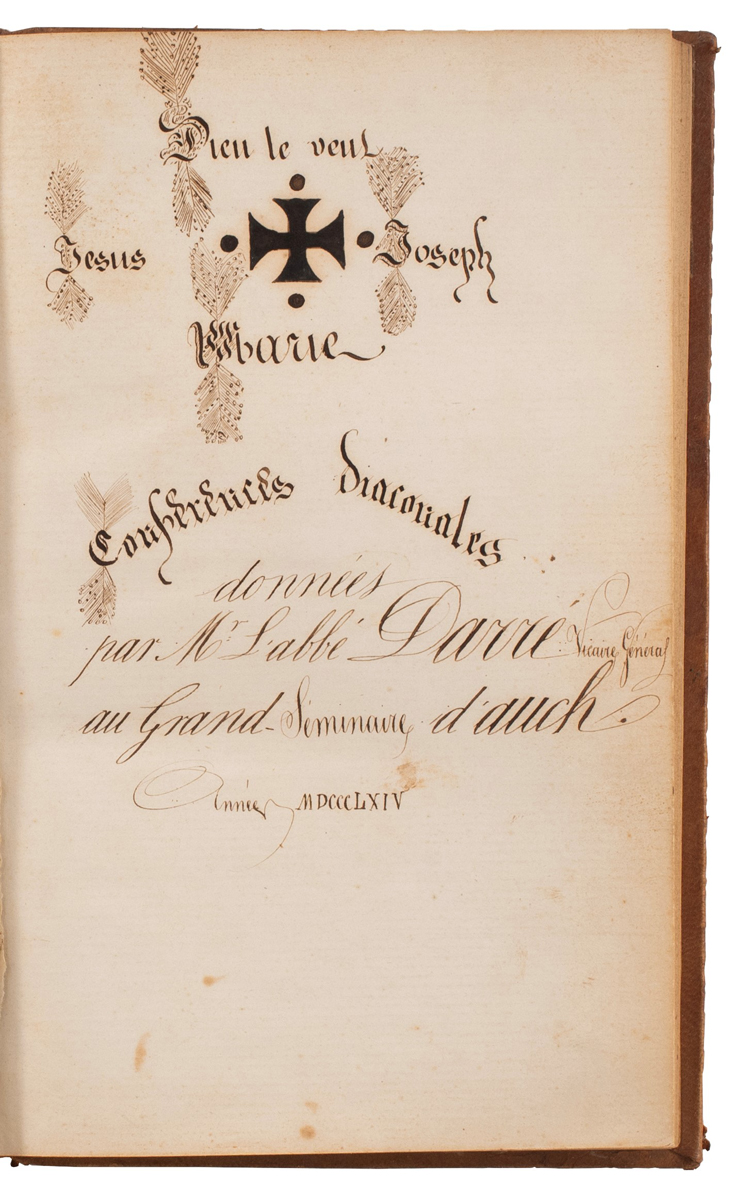 Added to your basket:
'Conferences diaconales données par Mr l'abbé Darré, Vicaire Général au Grand-Séminaire d'Auch. Année MDCCCLXIV.'
An attractively written manuscript of Abbé Darré's practical manual for the use of young priests entering pastoral ministry, the text remaining unprinted, according to OCLC, until 1872.

Darré, who served as vicar general at the seminary at Auch in southwestern France, divides his work into three parts. The first advises the reader, inter alia, on the administration of a parish's goods, on organising a choir, on providing religious instruction and preaching, on ensuring that divine office is 'piously frequented', and on restoring religious observance among lapsed parishioners. Opening with a recommended reading list, the second part covers the sacraments, offering plentiful advice on confessing adolescents, couples wishing to marry, the sick, &c.

The third part, on a priest's private life, is perhaps the most interesting of all, providing the reader with the benefit of Darré's long experience. On hiring domestic help, he warns that two women might struggle to get on but that a male and female servant 'risk getting on too well'! Young clergymen are advised to furnish their bedrooms soberly, to avoid living with their parents (who are described as 'an immense bother'), not to degrade themselves by sitting by the fire in the kitchen, and to shun jokes, laughter, and card games. And recognising the possibility of disagreements between older curates and their younger vicars, Darré provides wise words for the avoidance of clerical conflict.

This manuscript was no doubt written by a pupil and friend of Darré, bearing at p. 231 the colophon 'scripsit amicus memento de 1864'.
You may also be interested in...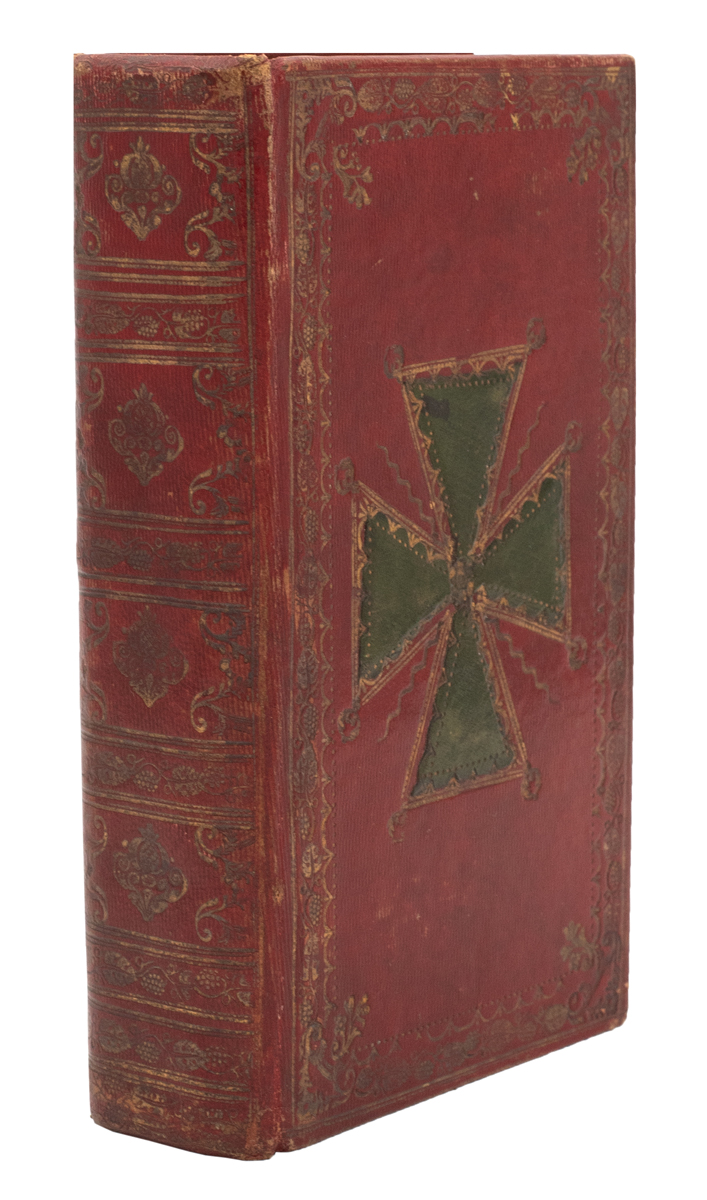 THE SCHOOL OF HEAVEN KELLER, Martialis.
Neueröffnete Himmels-Schule, in welcher aus zwölf, als so vielen Theilen vorgesetzten Lehrpunkten verschiedene Andachts und Tugendsübungen eine christliche Seele zu erlernen hat … zum allgemeinen Nutzen herausgegeben von P. Martialis Keller, Benediktiner in dem Reichsgotteshause Ottobayern.
Rare later edition of this educational and devotional work by the Bavarian Benedictine Martialis Keller, containing prayers, exercises, and points of doctrine, and illustrated with attractive engravings, this copy in a contemporary local binding.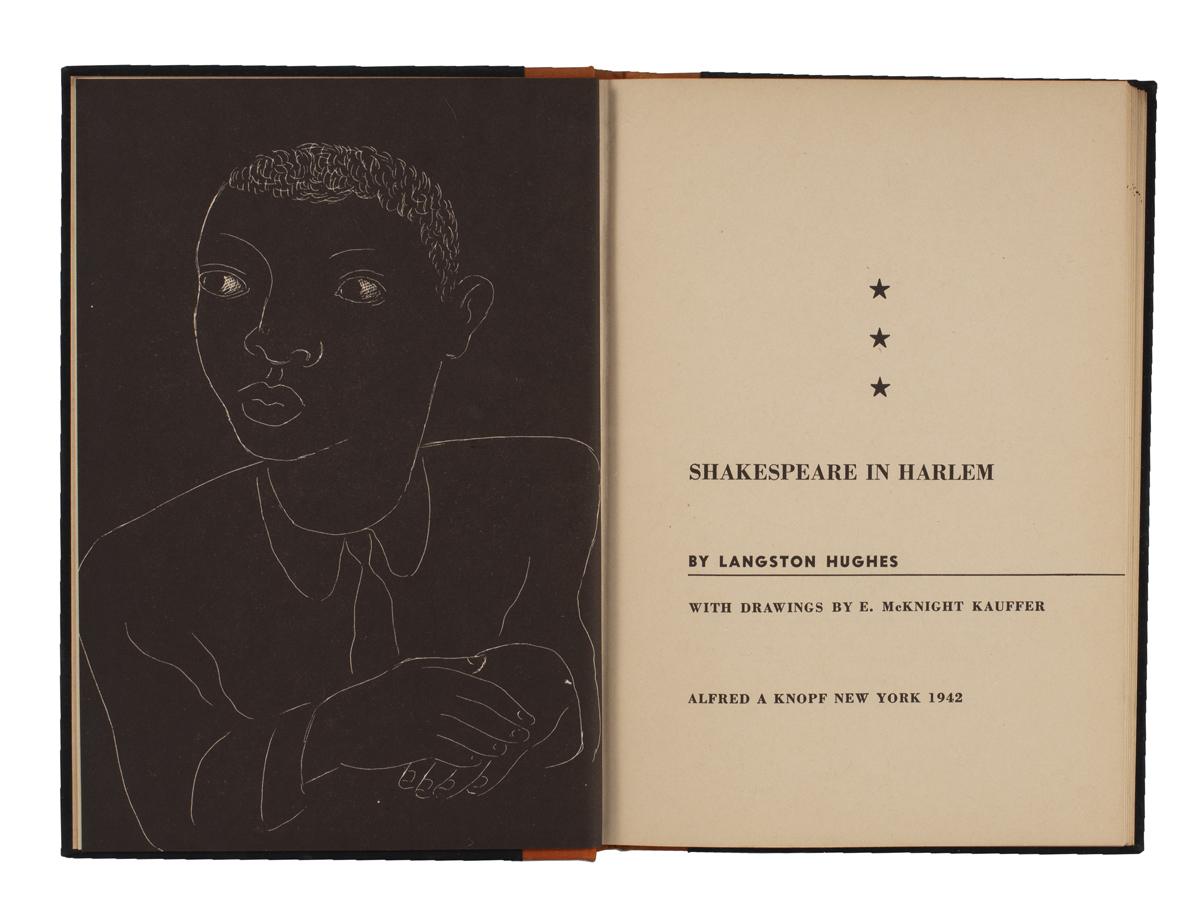 HUGHES, Langston. 
Shakespeare in Harlem. 
First edition of this wartime collection of poems, inscribed shortly after Hughes and Bridson met for the first time: 'For Geoffrey Bridson, with the friendship, and regards of Langston Hughes. New York, January 28, 1944'.