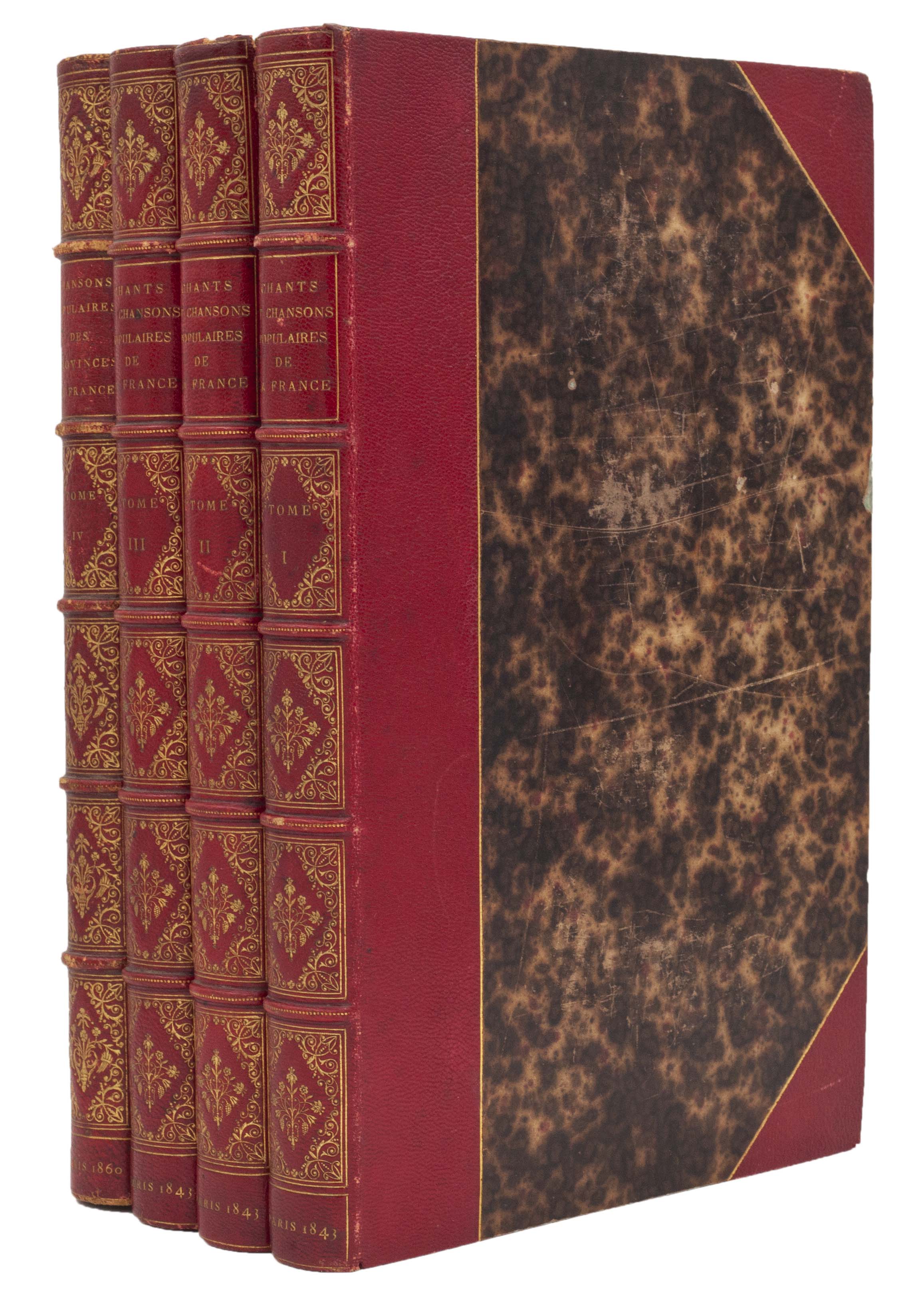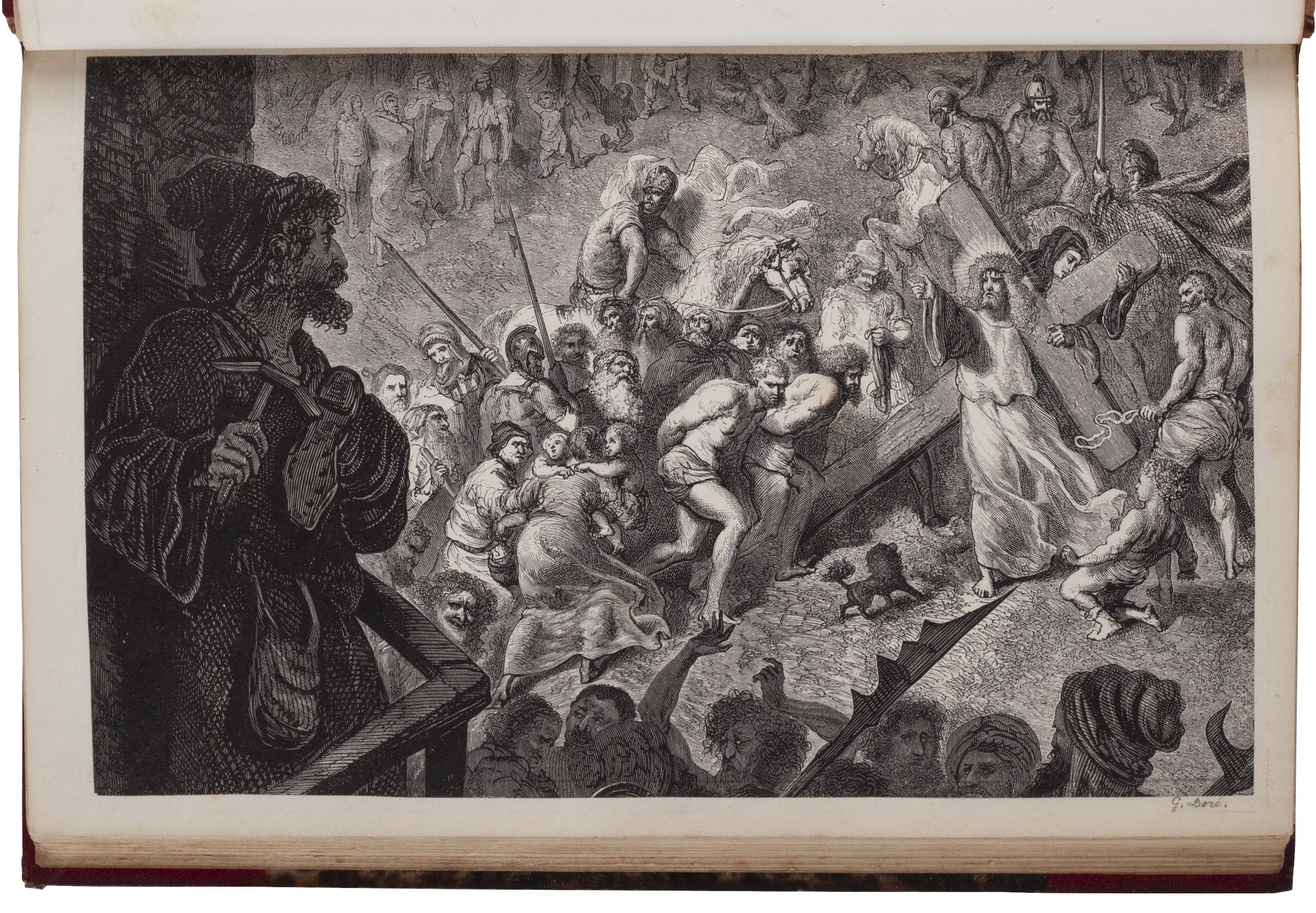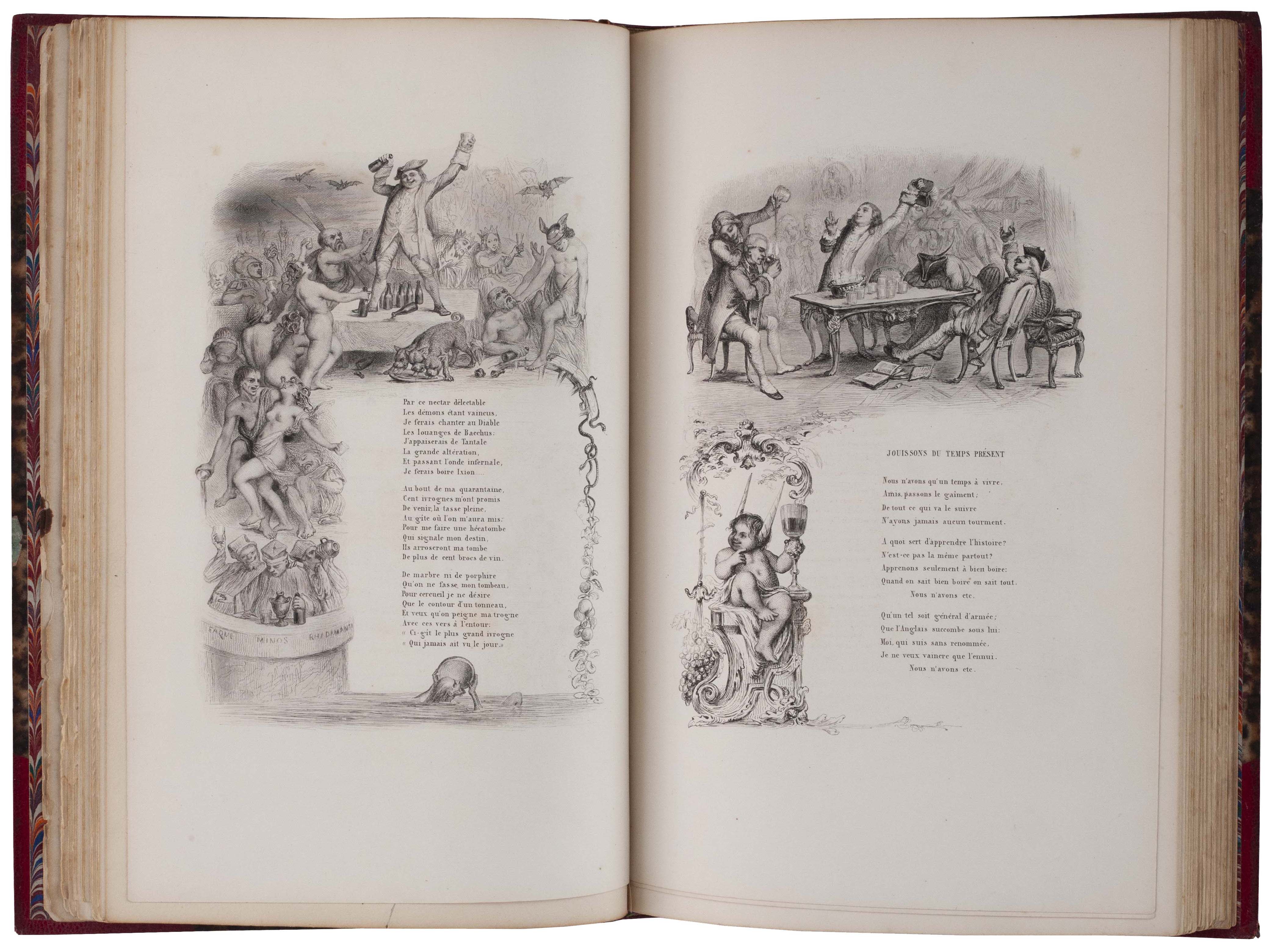 EXTRA-ILLUSTRATED
DELLOYE, H.-L. (editor).

Chants et chansons populaires de la France [– notices par M. du Mersan], première [– deuxième; – troisiéme] série.
Paris, Félix Locquin [– Dondey-Dupré; – Félix Locquin] for Garnier, 1843.
[with:]
CHAMPFLEURY (editor). Chansons populaires des provinces de France … accompagnement de piano par J.B. Wekerlin: Noels, chansons de Mai, ballades, chansons de métiers, rondes, chansons de mariées. Paris, Henri Plon for Lécrivain et Toubon, 1860.

111 (of 112) issues in 4 vols, large 8vo, engraved throughout and copiously illustrated with large steel-engraved vignettes, with 8 pp. prefatory material to each volume, vols I-III with engraved titles and extra-illustrated with two plates each, vol. IV with frontispiece; spotting in places; a very good set in contemporary half red roan with pseudo-marbled sides by Brany, spines gilt in compartments and lettered directly in gilt, non-pareil marbled endpapers; rubbed with light chipping at extremities; early twentieth-century gilt-embossed red paper booklabel with monogram 'JN', bookplates of Antoinette Corwith Dangler to upper pastedowns, inscription dated 1968 to flyleaf vol. I.
£450

Approximately:
US $634
€524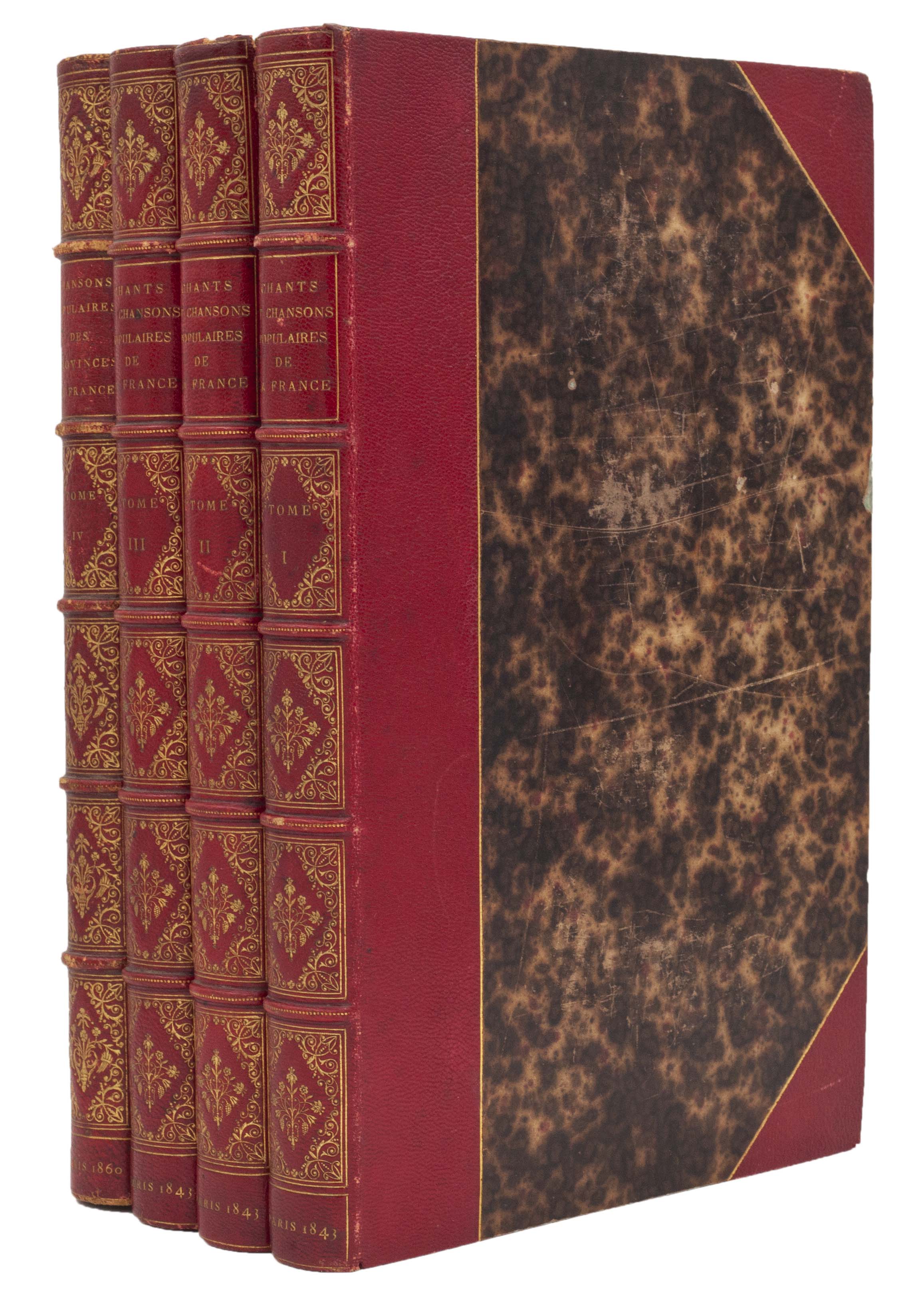 Added to your basket:
Chants et chansons populaires de la France [– notices par M. du Mersan], première [– deuxième; – troisiéme] série.
First edition of a finely illustrated, serially published collection of French music, broad-margined, extra-illustrated, and accompanied by the later fourth series. Formed of four series of twenty-eight issues, sold individually at sixty centimes from February 1842, the Chants et chansons populaires are considered by Carteret to be an 'admirable publication, printed on papier vélin fort, deservedly highly esteemed as one of the most beautiful of the nineteenth century, which can be compared to the handsome illustrated books of the eighteenth century' (trans.).

Each issue consists of two pages of engraved text, four pages of lyrics surrounded by illustrations, and two pages of music. Each volume is prefaced by eight additional pages and an engraved title, provided to subscribers.

The present set is extra-illustrated with six plates, among them Gustave Doré's Juif errant (1856).

Carteret III, pp. 143-154.
You may also be interested in...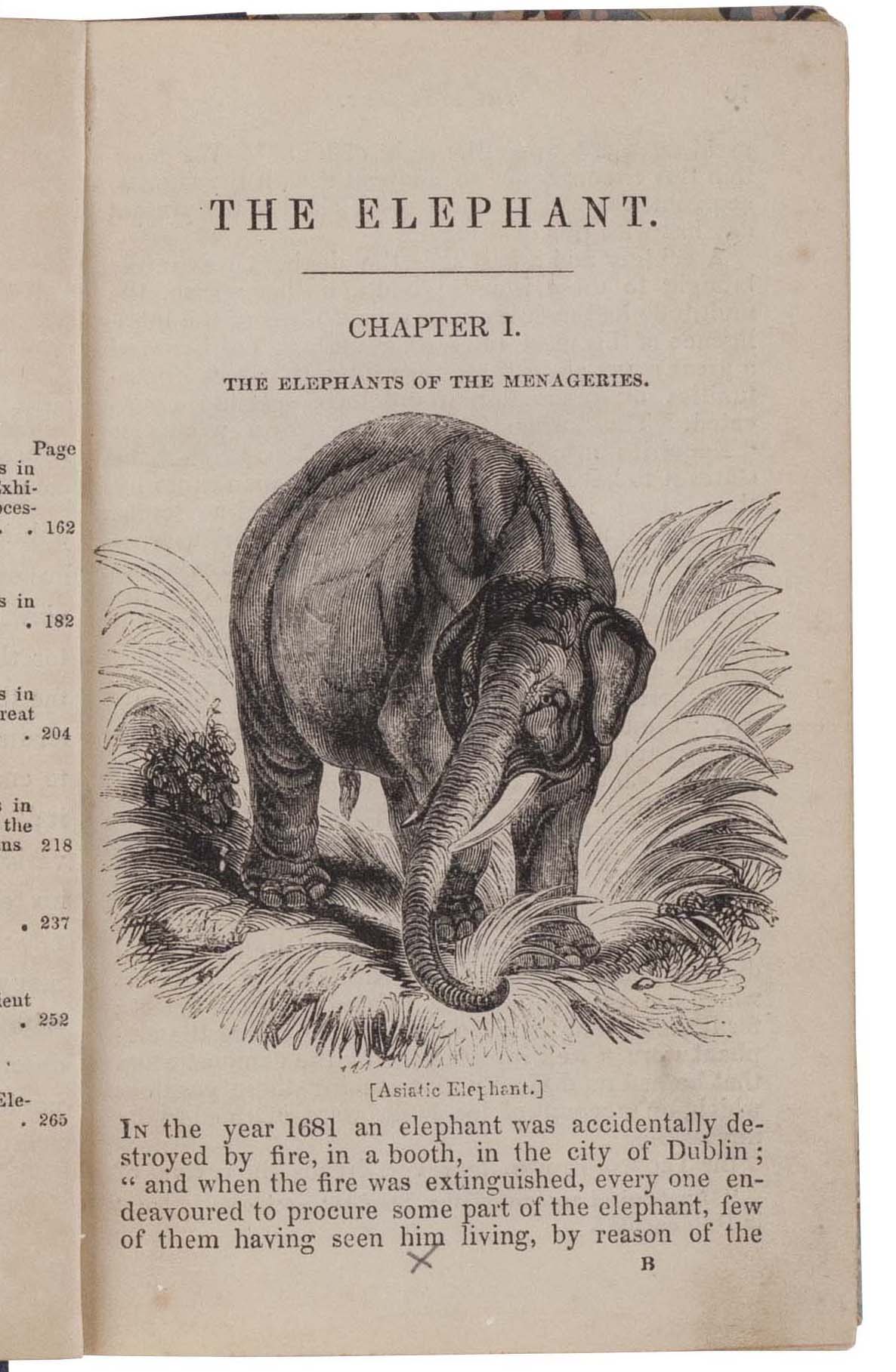 [KNIGHT, Charles.]
The Elephant, principally viewed in Relation to Man: A new Edition, revised by the Author.
First editions of treatises on the elephant and the horse, from Charles Knight's Library of Entertaining Knowledge. The equine text gives accounts of horses and related species in several cultures and climes, and, with The Elephant, forms two works from a series of three, on 'the three quadrupeds who have been the great instruments furnished by Divine Providence to Man, to enable him to "replenish the earth and subdue it"' (2, p. vii). The treatise on elephants, attributed to Charles Knight (1791–1873) himself, was first published in 1830 in the first volume, titled Menageries, of the Library of Entertaining Knowledge, a series published by Knight for the Society for the Diffusion of Useful Knowledge as a complement to the Library of Useful Knowledge, to which Youatt's animal treatises belonged.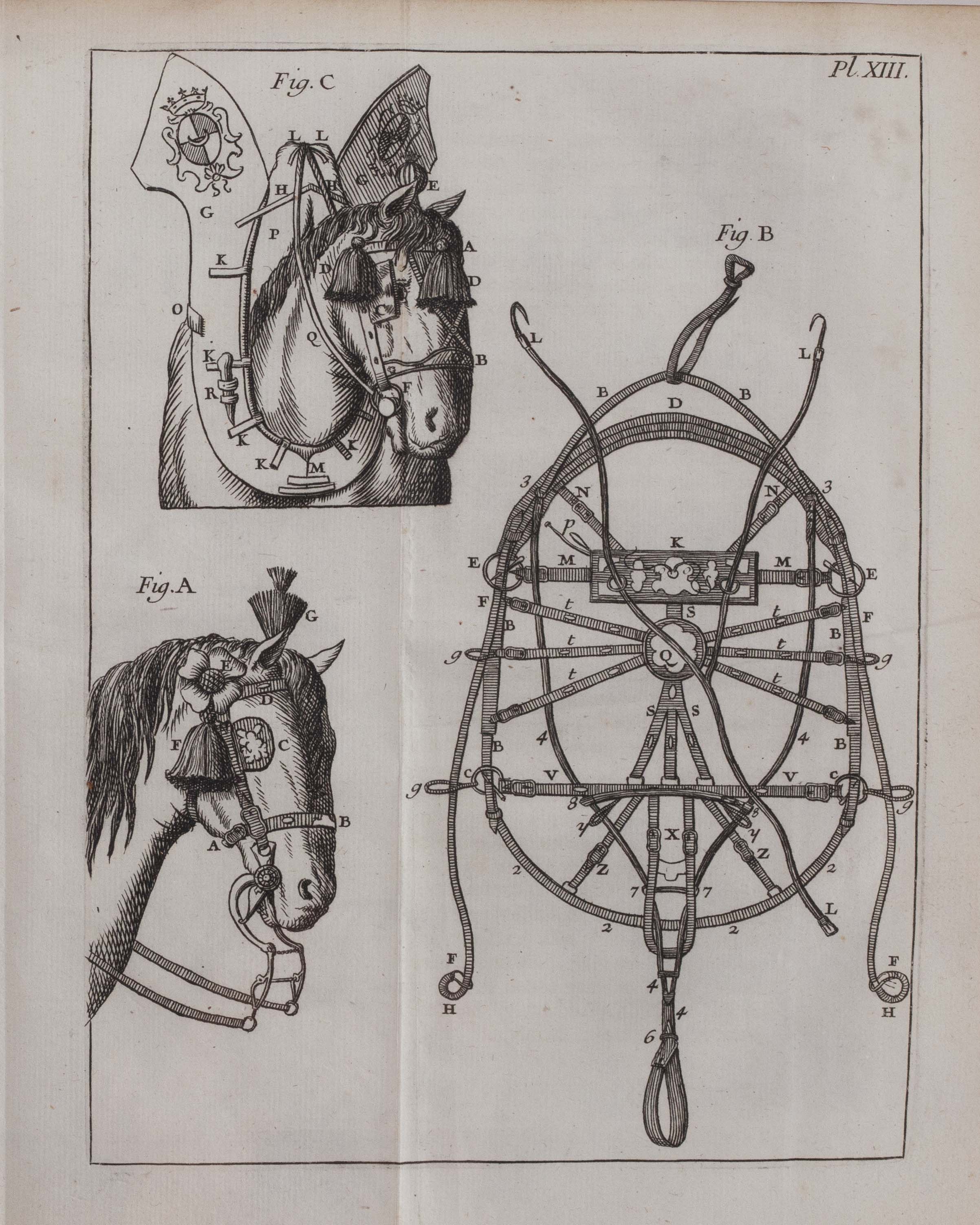 GARSAULT, François-Alexandre de.
Le nouveau parfait maréchal, ou la connoissance générale et universelle du cheval, divisé en sept traités: 1o. de sa construction; 2o. du haras; 3o. de l'écuyer & du harnois; 4o. du médecin, ou traité des maladies des chevaux; 5o. du chirurgien & des operations; 6o. du maréchal ferrant; 7o. de l'apothicaire, ou des remedes; avec un dictionnaire des termes de cavalerie, le tout enrichi de figures en taille-douce.
Fourth edition of one of the most popular French horsemanship manuals. First published in 1741 as a successor to Solleysel's famous Parfait maréchal and reprinted in at least sixteen editions over the following century, Le nouveau parfait maréchal 'is considered to be the best popular French work on the subject, very complete without being too complicated for a general public; nor was it surpassed by any succeeding work' (Dejager). Though François-Alexandre de Garsault (c. 1692–1778) did not follow his grandfather and uncle into prestigious positions in the royal stables, in his career as a naturalist he spent much of his life studying horses and visiting stud-farms around France. He wrote several important works on equestrianism, including reports for the minister for agriculture and entries for the Descriptions des arts et métiers, and published several works accompanied by his own illustrations after nature, as the present.