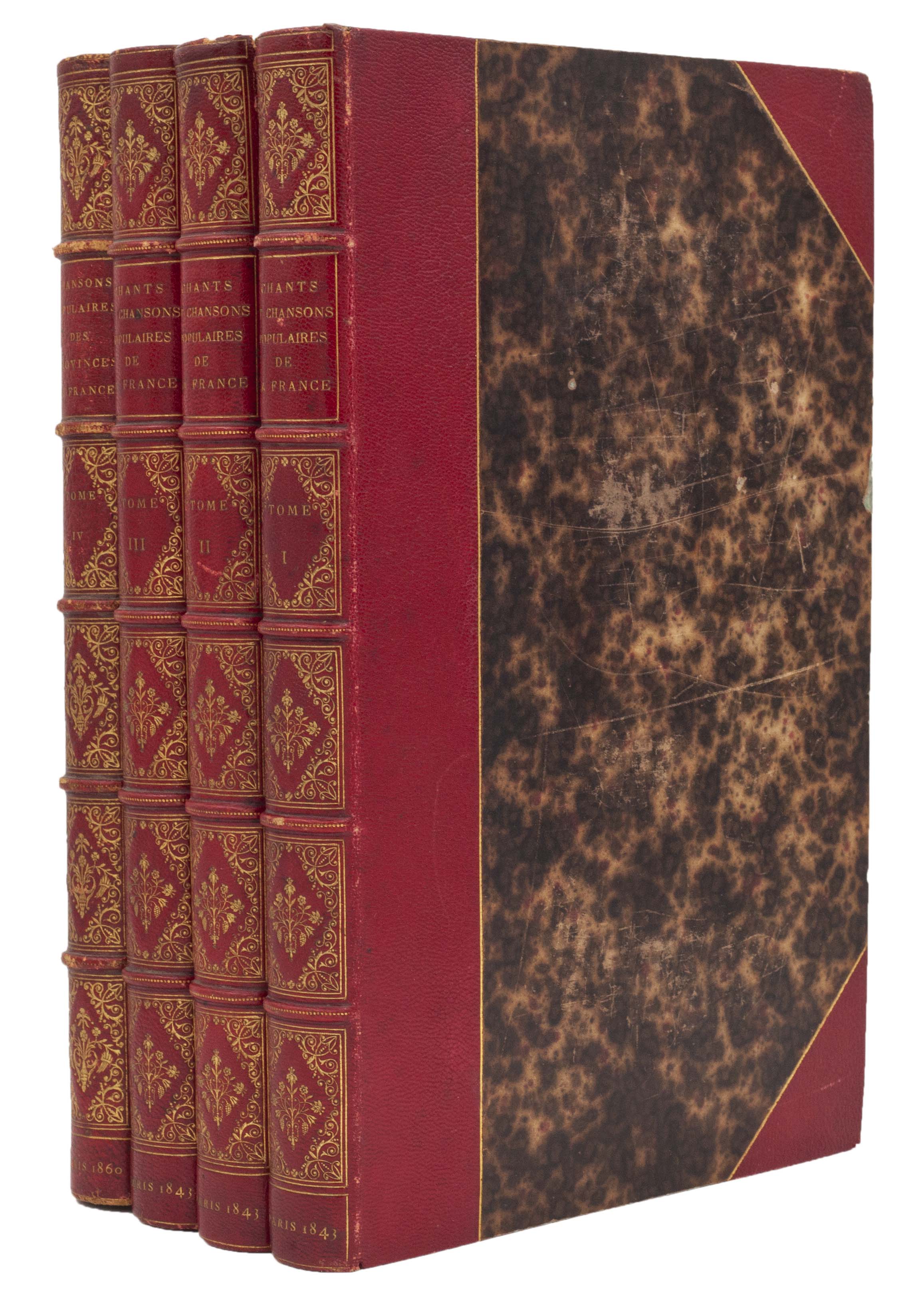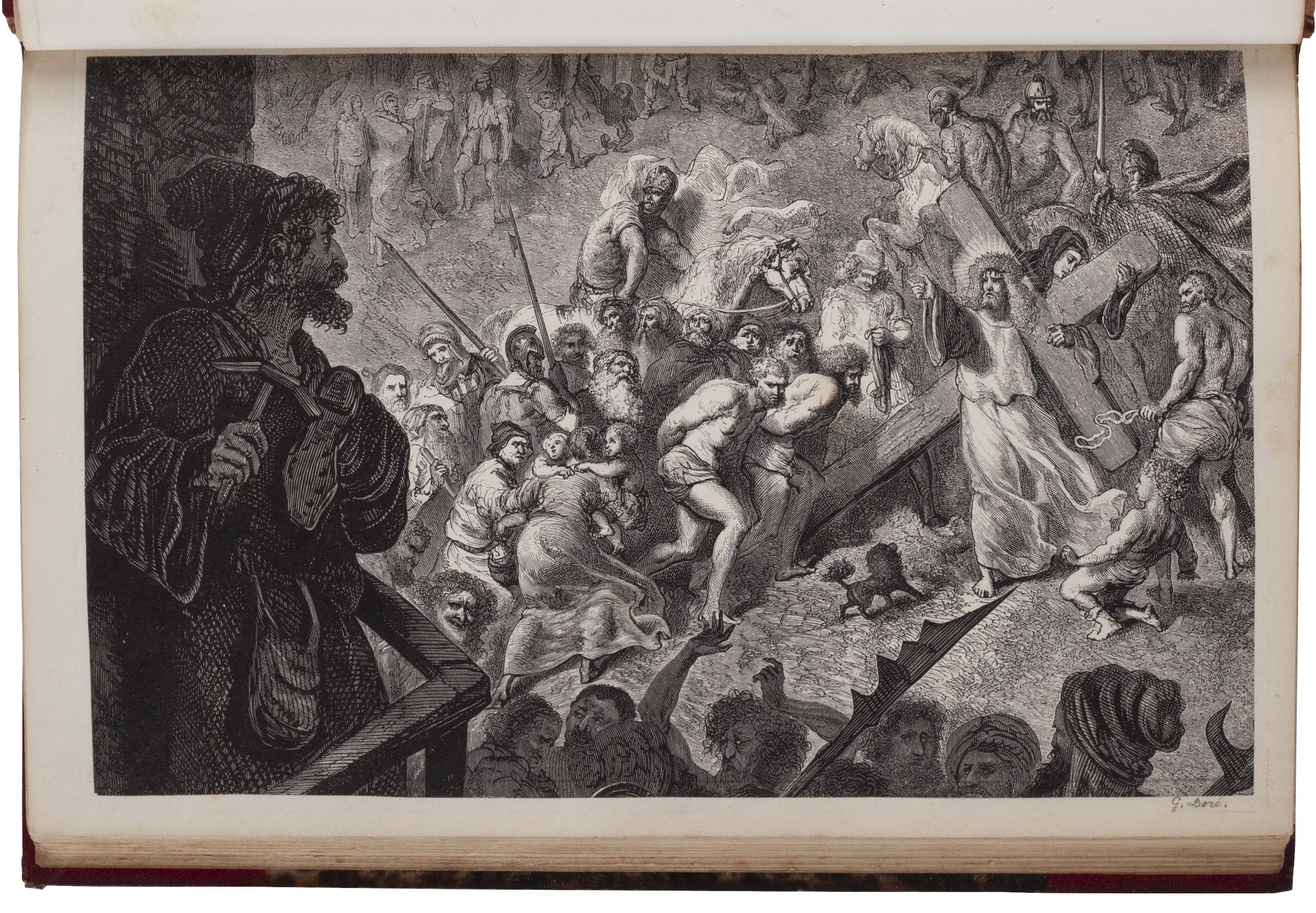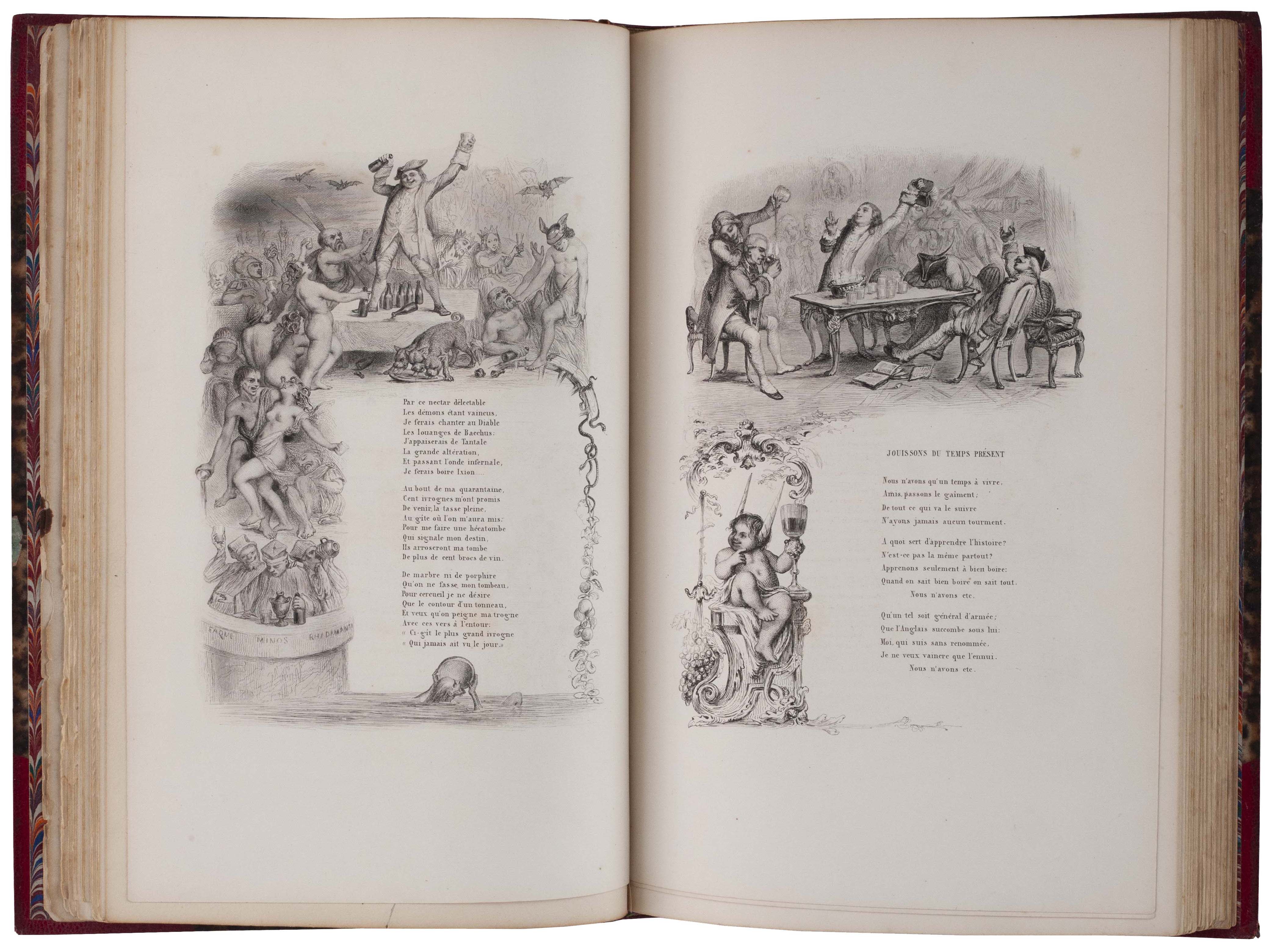 EXTRA-ILLUSTRATED
DELLOYE, H.-L. (editor).

Chants et chansons populaires de la France [– notices par M. du Mersan], première [– deuxième; – troisiéme] série.
Paris, Félix Locquin [– Dondey-Dupré; – Félix Locquin] for Garnier, 1843.
[with:]
CHAMPFLEURY (editor). Chansons populaires des provinces de France … accompagnement de piano par J.B. Wekerlin: Noels, chansons de Mai, ballades, chansons de métiers, rondes, chansons de mariées. Paris, Henri Plon for Lécrivain et Toubon, 1860.

111 (of 112) issues in 4 vols, large 8vo, engraved throughout and copiously illustrated with large steel-engraved vignettes, with 8 pp. prefatory material to each volume, vols I-III with engraved titles and extra-illustrated with two plates each, vol. IV with frontispiece; spotting in places; a very good set in contemporary half red roan with pseudo-marbled sides by Brany, spines gilt in compartments and lettered directly in gilt, non-pareil marbled endpapers; rubbed with light chipping at extremities; early twentieth-century gilt-embossed red paper booklabel with monogram 'JN', bookplates of Antoinette Corwith Dangler to upper pastedowns, inscription dated 1968 to flyleaf vol. I.
£450

Approximately:
US $615
€525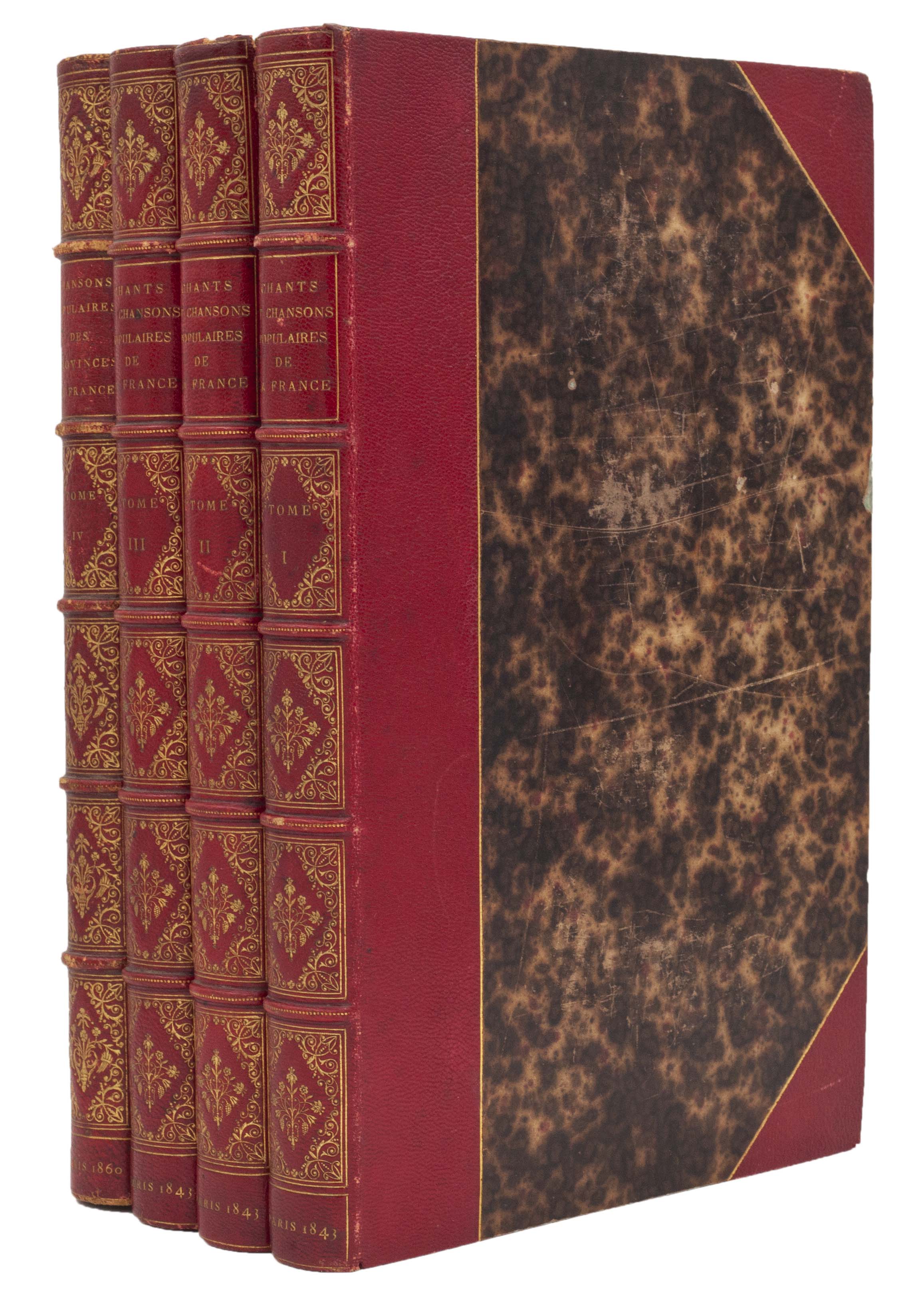 Added to your basket:
Chants et chansons populaires de la France [– notices par M. du Mersan], première [– deuxième; – troisiéme] série.
First edition of a finely illustrated, serially published collection of French music, broad-margined, extra-illustrated, and accompanied by the later fourth series. Formed of four series of twenty-eight issues, sold individually at sixty centimes from February 1842, the Chants et chansons populaires are considered by Carteret to be an 'admirable publication, printed on papier vélin fort, deservedly highly esteemed as one of the most beautiful of the nineteenth century, which can be compared to the handsome illustrated books of the eighteenth century' (trans.).

Each issue consists of two pages of engraved text, four pages of lyrics surrounded by illustrations, and two pages of music. Each volume is prefaced by eight additional pages and an engraved title, provided to subscribers.

The present set is extra-illustrated with six plates, among them Gustave Doré's Juif errant (1856).

Carteret III, pp. 143-154.
You may also be interested in...
THE FOUNDATION OF STRUCTURALISM SAUSSURE, Ferdinand de.
Cours de Linguistique générale.
First edition. In general the study of language in the 19th century concerns philology. While great steps were made at the beginning of that century to put the study of language on a scientific basis, the vital distinction was not made between philology and non-historical linguistics. Saussure made this distinction and gave it its classic formulation. Consequently, for all subsequent linguistics, and especially structuralism, that linguistic theory in which freedom from the influence of philology is most enjoyed, Saussure's position is that of a major thinker and of a founding father.
A PRELUDE TO L'ESPRIT DES LOIS MONTESQUIEU, Charles de Secondat.
Histoire véritable publiée d'après un nouveau manuscrit avec une introduction et des notes par L. de Bordes de Fortage.
Second edition of Montesquieu's philosophical, quasi-oriental tale, a prelude to his great work L'Esprit des lois. Written in the 1730s and again in 1754, and influenced by Lucian and the 18th-century vogue for oriental fiction, the Histoire véritable remained unpublished until 1892. This 1902 second edition is based on a manuscript written prior to that used for the first. The Histoire is a fabulous account of the numerous animal and human incarnations experienced by its narrator: as a little dog he is persecuted by his mistress, while as an ox he is worshipped by the Egyptians; as a human his soul occupies the bodies of a hangman, a cuckolded husband, an underfed poet, a courtier, a fop, a virtuous woman, a eunuch, an African chief, a king's fool, among many others. 'The different reincarnations are so many opportunities to expose human turpitude from the inside and to underscore, from the vantage point of a single conscience, retrospectively enlightened, the corruption and wickedness of men ... Montesquieu's originality is to create, based on conventional processes of narrative fiction at the time, a philosophical tale inducing meditation about the conditions of virtue and happiness ... The Histoire véritable would also raise, in the story's framework, questions to which L'Esprit des lois would try to respond: how to reconcile relativism and norms of universal justice, articulate uniformity and diversity, find constancy in change? To this degree, the work would be, as Alberto Postigliola put it, an "epistemological prelude" to its author's major work' (Carole Dornier in Dictionnaire Montesquieu).