BY THE FOUNDER OF DULWICH PICTURE GALLERY
DESENFANS, Noel Joseph.
Les deux Hermites, dédié a mylord Lyttelton …
A Londres; chez R. Davis … J Ridley … W Owen … 1773.
2 vols. in one, 8vo., pp. vii, [1], 135, [1]; [2], 182; A2 with old tear repaired, a little foxed at the extremities but a good, tall copy in nineteenth-century half vellum, Bridgewater arms to front cover, Bridgewater Library bookplate, Merton House stamp to foot of title.
£650

Approximately:
US $789
€768
Added to your basket:
Les deux Hermites, dédié a mylord Lyttelton …
First and only edition, uncommon, of an epistolary novel by the future art dealer Noel Joseph Desenfans. The scene is Paris in the 1680s, the theme is Enlightenment, and the author's aim was to inspire 'l'horreur de l'oppression, sentiment nécessaire à l'harmonie de la Société, & vertu que les Rois doivent avoir sans cesse auprès de leur Trône. Les maux des siècles derniers en ont épargné au nôtre, & les malheurs retracés seront toujours une instruction utile aux hommes.' This was his second work of fiction, preceded by the novella Sulmiste et Sergi (1772).

Desenfans came to London in 1769 as a language tutor, marrying a wealthy student, Margaret Morris, in 1776. Now financially secure, he explored his native talent as an art dealer, and in 1790 he and his Swiss-born protégé Peter Francis Bourgeois were commissioned by King Stanislaus of Poland to build a national art collection. Desenfans bought heavily from the dispersed collections of the French and Italian nobility, including notable works by Rubens and Rembrandt, and the most important collection of Poussin outside the Louvre; but Poland's partition put paid to the scheme, and in 1799 Desenfans's Plan for establishing a National Gallery, which proposed that the paintings should be added to the British Museum, was also rejected. The 1802 auction catalogue of the 'Polish' paintings is his major work of connoisseurship, and on his death in 1807, the remaining 350 paintings were left to Bourgeois, and thence to Desenfans's widow, on condition that they pass to Dulwich College. Sir John Soane designed the Dulwich Picture Gallery, which incorporates a mausoleum housing the remains of Mr. and Mrs. Desenfans and Peter Bourgeois. It opened in 1817 as Britain's first public art gallery, and the Desenfans-Bourgeois bequest still forms a major part of its collection.

ESTC shows only five complete copies: BL, Taylorian; UC Berkeley, UCLA, Texas, and Toronto; plus three copies of volume I only.
You may also be interested in...
BEAUTIFULLY ILLUSTRATED FAIRY TALES POGÁNY, Willy (illustrator).
Forty-four Turkish Fairy Tales, collected and translated by Dr Ignácz Kúnos, with Illustrations by Willy Pogány.
First edition of this attractive collection of Turkish fairy tales, gathered by the Hungarian folklorist Ignác Kúnos and beautifully illustrated by Willy Pogány.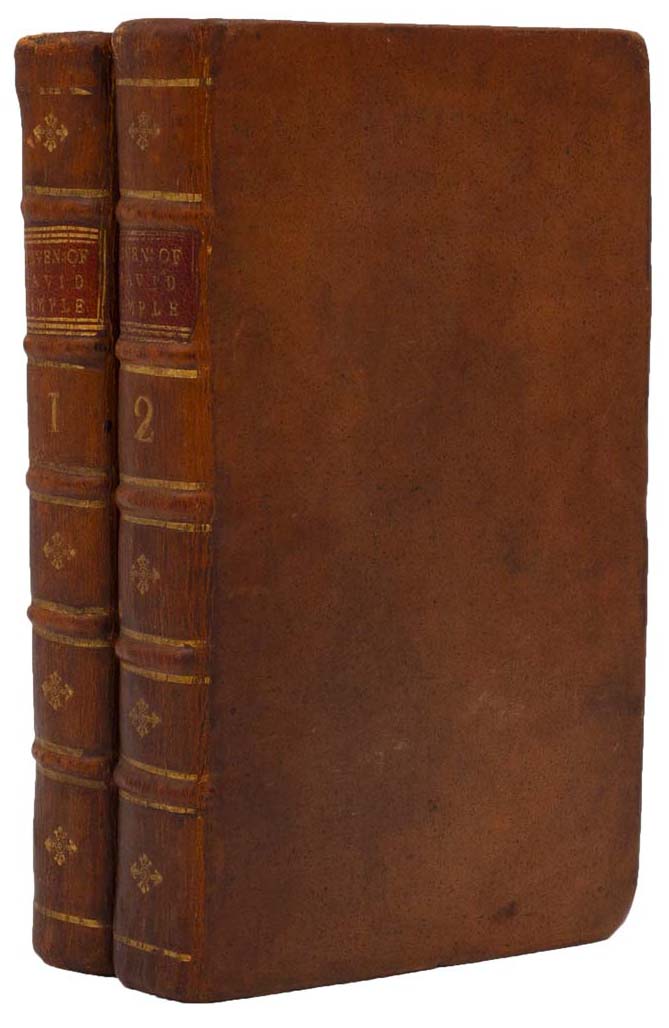 QUIXOTIC LONDON [FIELDING, Sarah.]
The Adventures of David Simple: containing an Account of his Travels through the Cities of London and Westminster, in search of a real Friend. By a Lady. In two Volumes …
First edition, very fine. The first and most popular novel of Sarah, the sister of Henry Fielding, who was to provide a preface and a few revisions to the second edition. A Quixotic satire, it follows the fortunes of its hero, disillusioned by the discovery that his younger brother has attempted to cheat him by means of a forged will. As he sets out 'in search of a true friend' his first experiences do not go well, convincing him that mercenary motives govern the world. Then he meets Cynthia, excluded from her father's will and ill-treated by an employer, and Valentine and Camilla, a distressed brother and sister whose stepmother has alienated their father's affection. The four young people wander about observing London and Westminster, discussing what they see, and listening to stories, until, inevitably, David and Camilla and Valentine and Cynthia are betrothed. The novel offers a wonderful picture of the London scene.