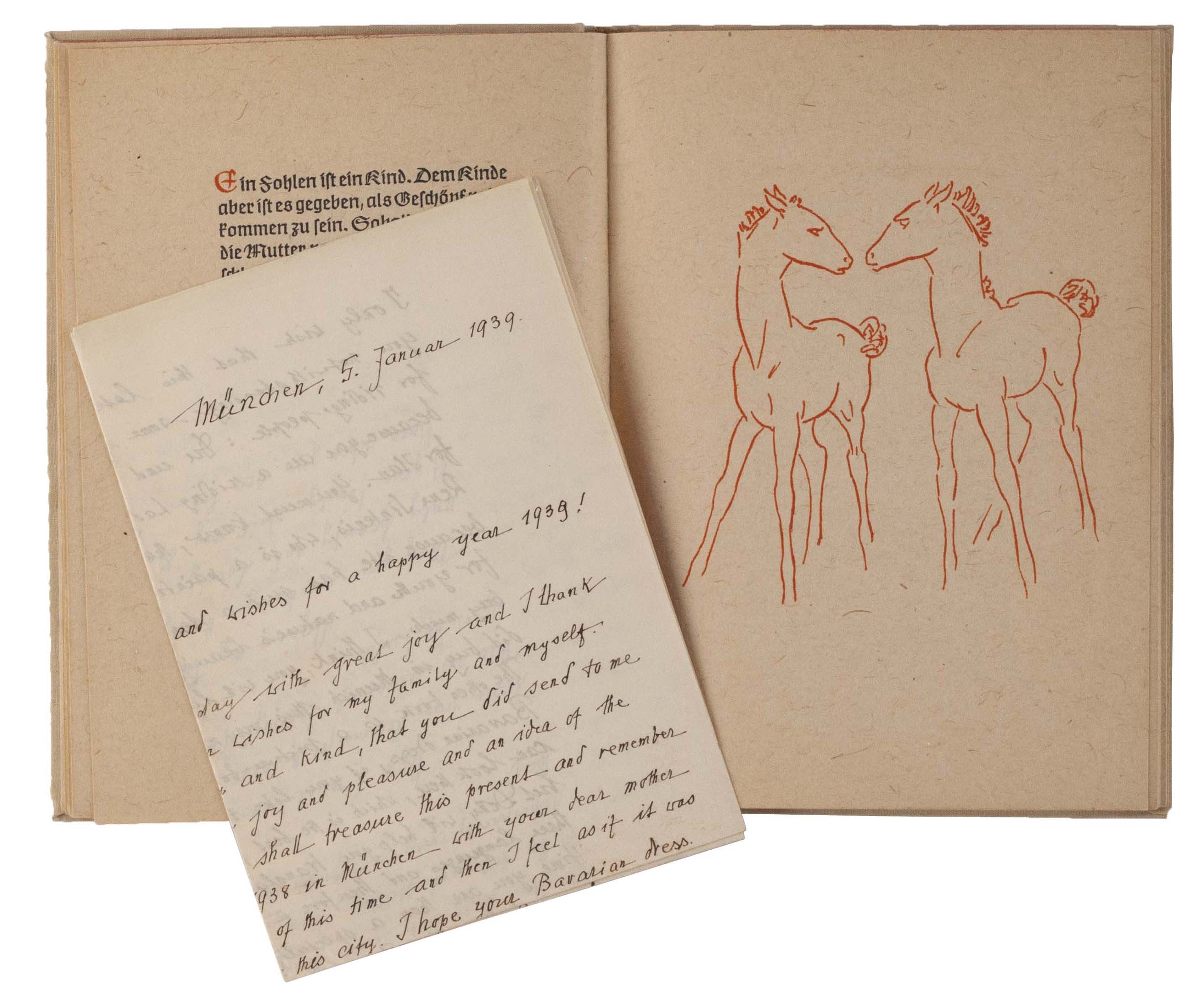 DIKREITER, Otto, and Renée SINTENIS (illustrator).

Du und Dein Pferd: Ein anmutiges, belehrendes, und ergötzliches Brevier für Reiter, Pferdefreunde, und solche, die es werden wollen. Mit 12 Zeichnungen.
Berlin, Königsberg, & Leipzig, Kanter Verlag, [c. 1938].
8vo, pp. 63, [1 (blank)]; printed in red and black on coarse paper with 12 woodcut illustrations printed in red; a very good copy in publisher's cloth with image printed in brown, top-edge stained red, pictorial dust-wrapper in red and brown; wrapper a little dust-stained with ink-splash and short tear; front free endpaper inscribed 'To Han, Who loves riding, from her German Friend Wilhelm Ernst, 1938-39', with a Munich postcard and letter addressed to the same, the latter dated 5th January 1939.
£80

Approximately:
US $97
€94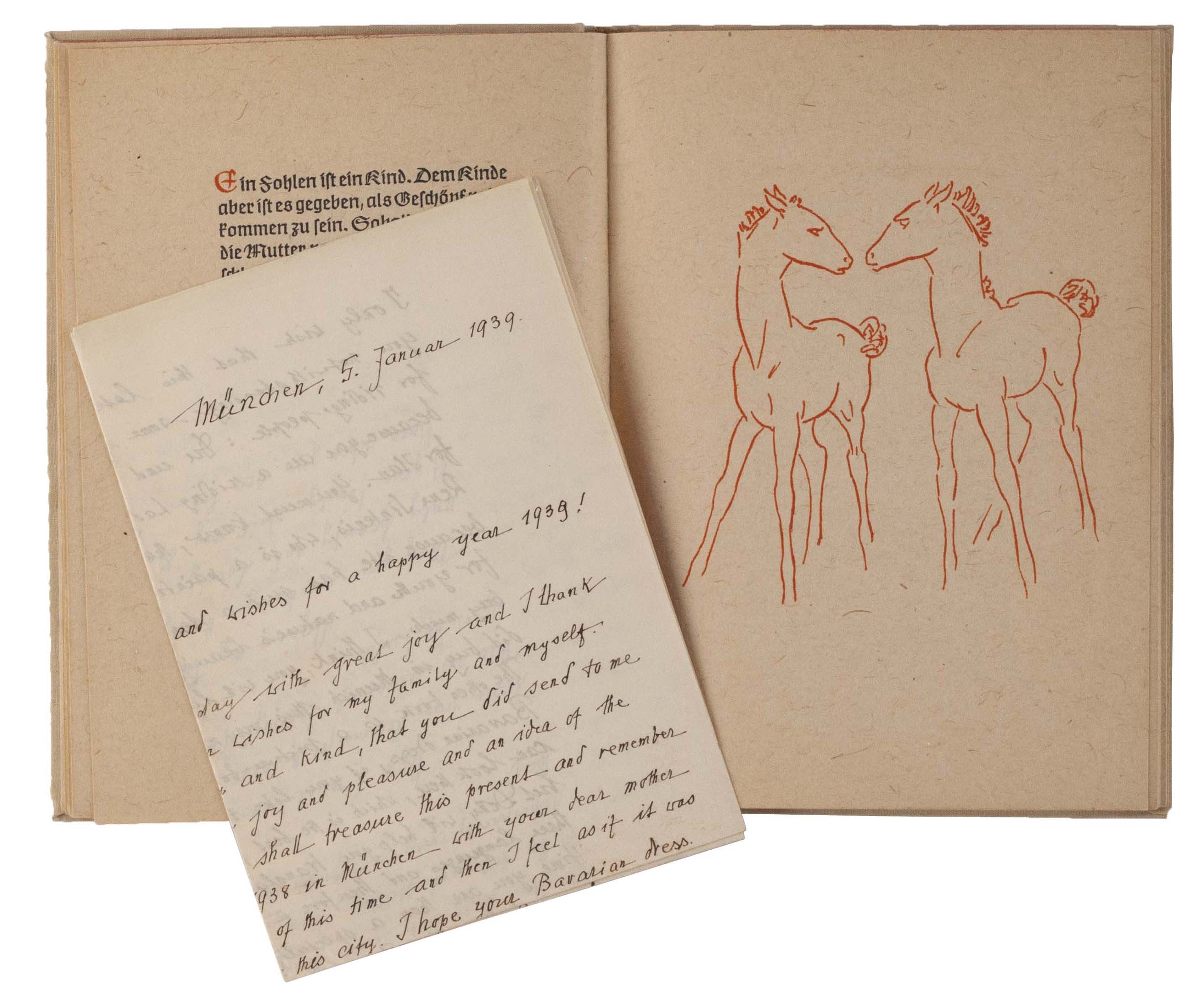 Added to your basket:
Du und Dein Pferd: Ein anmutiges, belehrendes, und ergötzliches Brevier für Reiter, Pferdefreunde, und solche, die es werden wollen. Mit 12 Zeichnungen.
First edition (seventh to tenth thousand) of a charmingly illustrated work. The collection of short pieces of poetry and prose relating to horses, gathered from sources ranging from Shakespeare and Goethe to Xenophon and the Koran, is illustrated by the German artist Renée Sintenis (1888–1965), best known for her sculptures of horses.

The present copy is a pre-War gift from an unidentified Münchner, Wilhelm Ernst, to his American friend Han, accompanied by a letter detailing the book's appeal: 'The one is a little book for riding people: Du und Dein Pferd (Thou and Thine Horse) and because you are a riding Lady, so I thought it would be a good present for Han. You must know, that I especially like these pictures of Rene [sic] Sintenis, who is a paintress in Germany I revere very deeply, because she has such a tender, lovely style and such a fine feeling for youth and nature's beauty. This living mobility of her modells [sic] I admire very much. I think, you will like it too.'
You may also be interested in...
POCKET POPE POPE, Alexander.
The Poetical Works of Alexander Pope, with his last Corrections, Additions, and Improvements, in four Volumes, from the Text of Dr. Warburton, with the Life of the Author.
A good set of Pope's works, printed for inclusion in Bell's The Poets of Great Britain. Initially imported from Edinburgh and issued with new titles, Bell's Poets of Great Britain was intended to provide attractive and portable works of British poets 'from Chaucer to Churchill', sold both individually and together as a 109-volume set. Bell's first London-printed Pope appeared in 1786, followed by the present edition a year later.
ST MICHAEL OVERSEES LEGAL THESES [LAW.]
Patrui optimi patrono. Theses utriusque juris. Ex materia sortito ducta ... Has theses ex utroque jure ... praeside cl. v. D. Philippo Lalourcey, J.U.D. consult. facult. Paris. aggregato ... tueri conabitur [blank left for name] die Lunae 14 Februarii, anno Dom. 1757 ab undecima ad primam. Aderunt cum jure sufragii sorte ducti clar. D.D. Aleaume, Desfévres, J. Girard, Boyer, Lalourcey, Deferriere. Parisiis, in antiquo juris auditorio. Pro baccalaureatu.
An unrecorded broadside detailing nine theses in canon law and nine in civil law defended at the law faculty in Paris on 14 February 1757 for the degree of Bachelor of Laws, with a remarkable headpiece depicting St Michael.