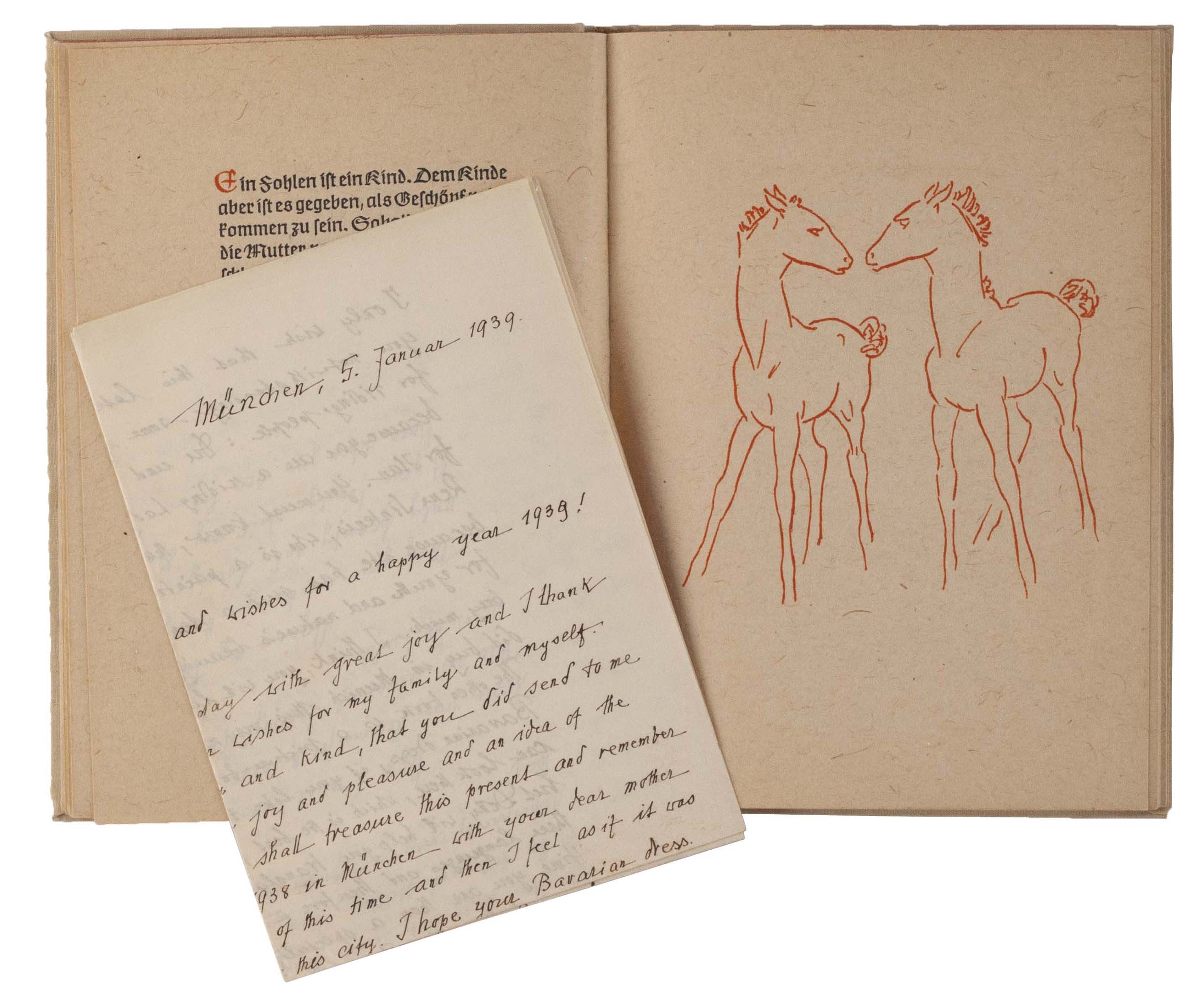 DIKREITER, Otto, and Renée SINTENIS (illustrator).

Du und Dein Pferd: Ein anmutiges, belehrendes, und ergötzliches Brevier für Reiter, Pferdefreunde, und solche, die es werden wollen. Mit 12 Zeichnungen.
Berlin, Königsberg, & Leipzig, Kanter Verlag, [c. 1938].
8vo, pp. 63, [1 (blank)]; printed in red and black on coarse paper with 12 woodcut illustrations printed in red; a very good copy in publisher's cloth with image printed in brown, top-edge stained red, pictorial dust-wrapper in red and brown; wrapper a little dust-stained with ink-splash and short tear; front free endpaper inscribed 'To Han, Who loves riding, from her German Friend Wilhelm Ernst, 1938-39', with a Munich postcard and letter addressed to the same, the latter dated 5th January 1939.
£80

Approximately:
US $109
€93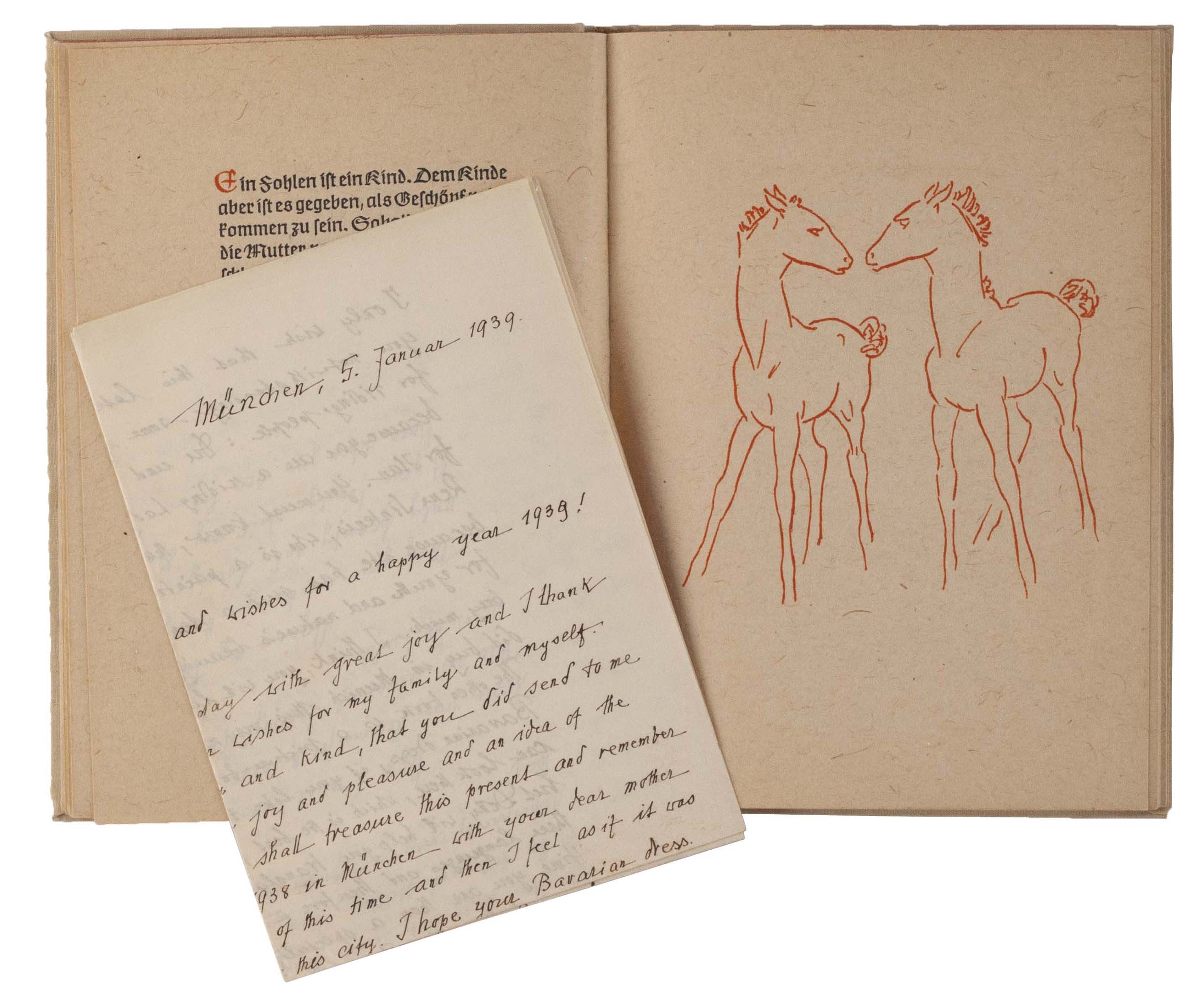 Added to your basket:
Du und Dein Pferd: Ein anmutiges, belehrendes, und ergötzliches Brevier für Reiter, Pferdefreunde, und solche, die es werden wollen. Mit 12 Zeichnungen.
First edition (seventh to tenth thousand) of a charmingly illustrated work. The collection of short pieces of poetry and prose relating to horses, gathered from sources ranging from Shakespeare and Goethe to Xenophon and the Koran, is illustrated by the German artist Renée Sintenis (1888–1965), best known for her sculptures of horses.

The present copy is a pre-War gift from an unidentified Münchner, Wilhelm Ernst, to his American friend Han, accompanied by a letter detailing the book's appeal: 'The one is a little book for riding people: Du und Dein Pferd (Thou and Thine Horse) and because you are a riding Lady, so I thought it would be a good present for Han. You must know, that I especially like these pictures of Rene [sic] Sintenis, who is a paintress in Germany I revere very deeply, because she has such a tender, lovely style and such a fine feeling for youth and nature's beauty. This living mobility of her modells [sic] I admire very much. I think, you will like it too.'
You may also be interested in...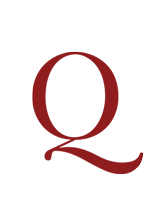 [PETERLOO.]
In the King's Bench. Between Thomas Redford, plaintiff; and Hugh Hornby Birley, Alexander Oliver, Richard Withington, and Edward Meagher, defendants, for an assault on the 16th of August. Report on the proceedings on the trial of this cause at Lancaster … and the judgement of the Court of the King's Bench in Easter Term following … Taken from the short-hand notes of Mr. Farquharson.
First edition of this report of the private prosecution brought by Thomas Redford, a hatter from Middleton and a flag-carrier at the St. Peters Field meeting , against members of the Yeomanry, including Hugh Hornby Birley who led the charge. It contains numerous eyewitness reports of the Peterloo massacre. The suit failed, representing the final exoneration of Birley.
MILL, John Stuart.
L'assujettissement des femmes. Traduit de l'anglais par E. Cazelles. Deuxième édition.
Uncommon second French edition, in effect a reissue of the similarly rare first of 1869, of Mill's Subjection of Women, translated by Emile Honoré Cazelles (1831-1908), also known for his translations of Bentham and Herbert Spencer. Mill's work, "the last of [his] great political tracts" (ONDB), argued that not only was the current position of women in society bad for women, it was also bad for the development of society. Working from utilitarian principles, and the need to balance the self-interests of men and women, Mlll advocates equality between the sexes, a reform of marriage laws, emancipation, education and right to vote for women, arguments all extremely controversial at the time.