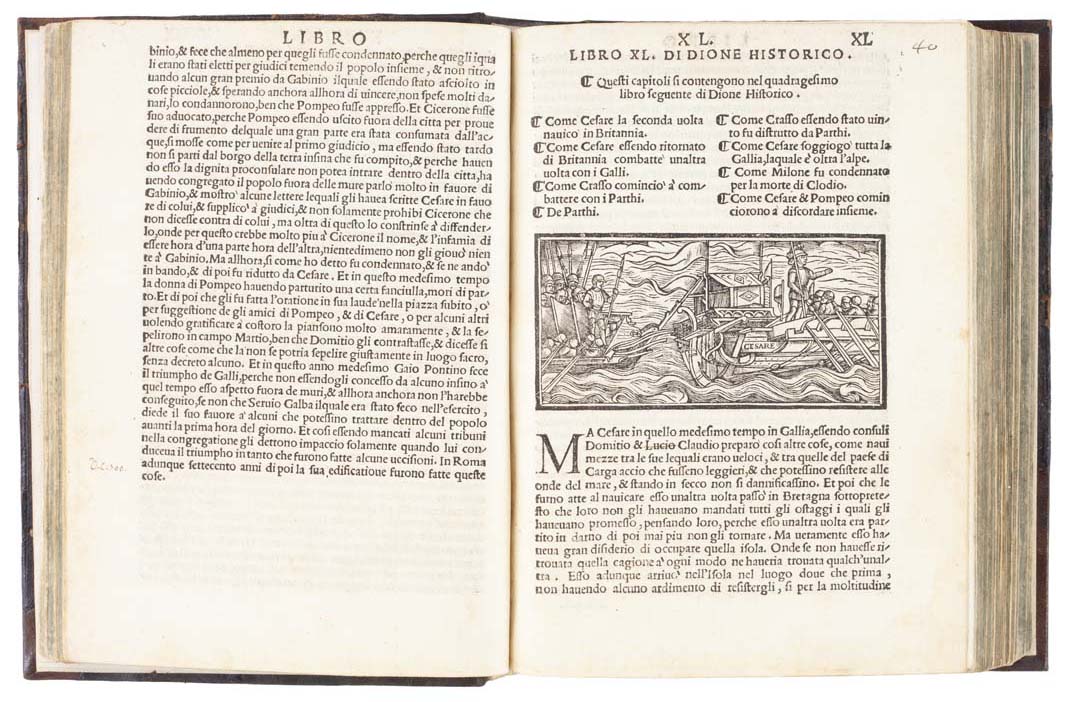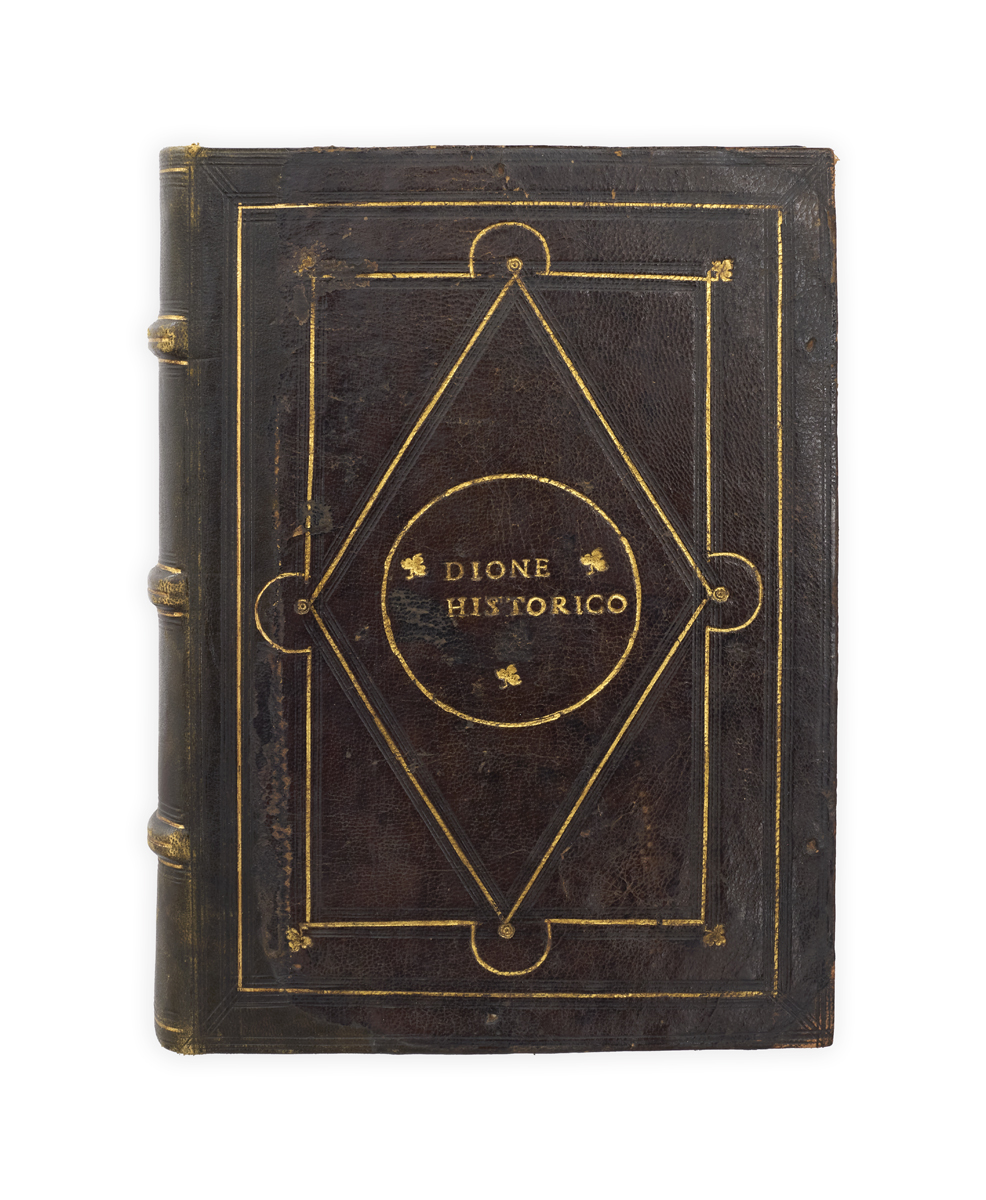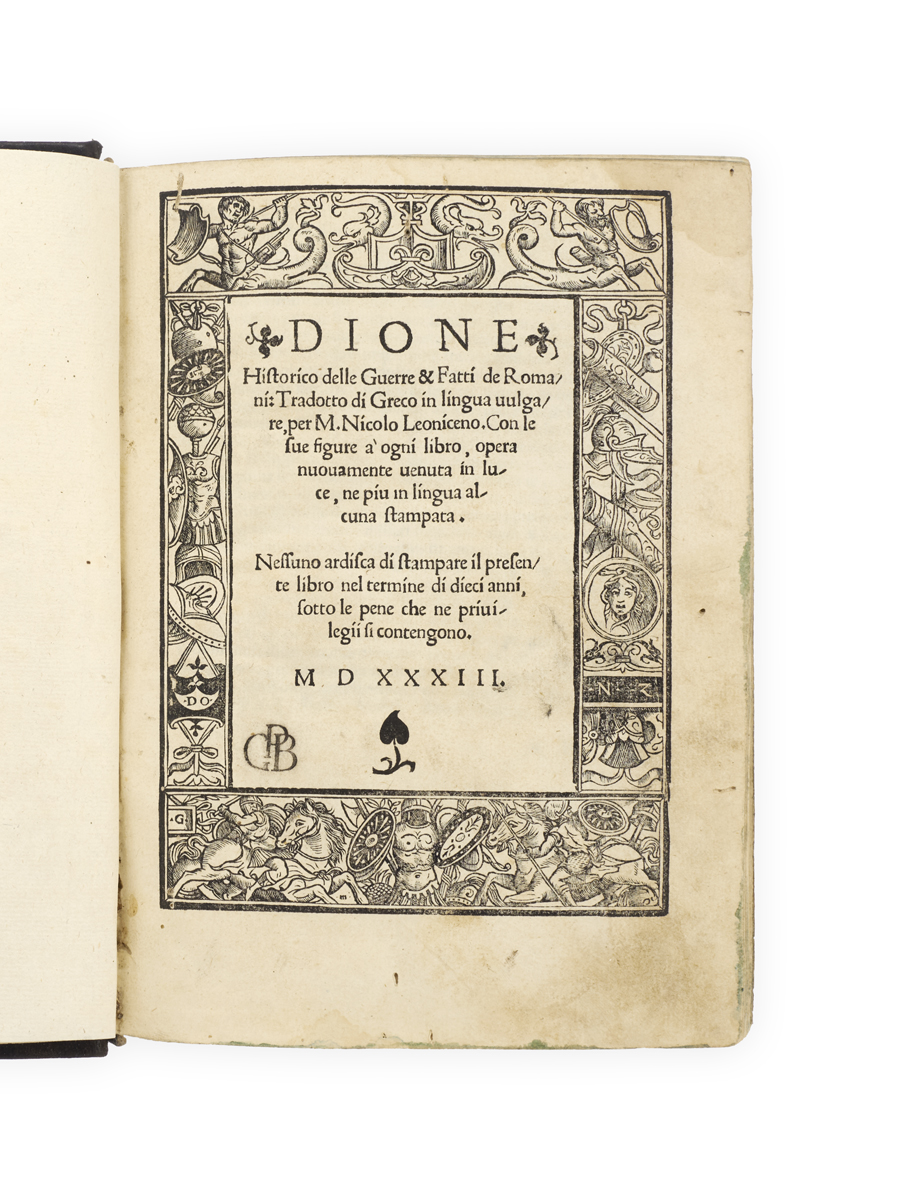 ROMAN HISTORY
FIRST EDITION, ILLUSTRATED WITH WOODCUTS
DIO CASSIUS.
Dione historico delle guerre et fatti de Romani. Tradotto di Greco in lingua vulgare per M. Nicolo Leoniceno. Con le sue figure a ogni libro, opera nuovamente venuta in luce, ne piu in lingua alcuna stampata ...
Venice, Niccolò Zoppino, March 1533.
4to in 8s, ff. [6], CCLXXXII; title within woodcut border, woodcut portrait of Dio Cassius to *4v, 22 oblong woodcut scenes at the opening of each book; very slight marginal worming to first few quires, occasional light staining; very good in remains of near contemporary calf, covers decorated in gilt and blind to a panel design, upper cover lettered in gilt 'Dione Historico'; rebacked and recornered, endpapers renewed, some rubbing to extremities and light abrasions to covers; occasional marginal annotations in two seventeenth/eighteenth-century hands, initials 'G.P.B' stamped in ink to title.
£2750

Approximately:
US $3380
€3170
Added to your basket:
Dione historico delle guerre et fatti de Romani. Tradotto di Greco in lingua vulgare per M. Nicolo Leoniceno. Con le sue figure a ogni libro, opera nuovamente venuta in luce, ne piu in lingua alcuna stampata ...
First edition of Dio's Roman History in any language, translated into Italian from the original Greek by Niccolò Leoniceno and preceding the Greek editio princeps, printed by Robert Estienne in 1548, by some fifteen years.

Born and raised at Nicaea in Bithynia, Dio (c. 164–235) served as a senator and consul in Rome, composing his famous Roman History in eighty books over the course of two decades, beginning with the landing of Aeneas in Italy and ending with his own retirement in 229. About a third of the work has come down to us intact, with books 36-54, covering the years 69-10 BC, surviving complete.

This Italian rendering of books 37 to 58 was undertaken by the eminent Italian physician and humanist Niccolò Leoniceno (1428–1524), being completed by 1488 but remaining unpublished until this Zoppino edition. The text, encompassing the lives and deeds of Julius Caesar, Pompey, Mark Antony, Cleopatra, Augustus, Tiberius, and Caligula, is handsomely illustrated with oblong woodcuts at the opening of each book, variously signed 'm.f.' and 'm.p.f.' These include numerous depictions of Caesar, fighting the Gauls and sailing to Britain for example, as well as of Brutus on his deathbed and the emperor Augustus.

This copy contains some interesting marginalia by two early readers. Notes to books 50 and 51 in a neat seventeenth-century hand show a particular interest in the story of Antony, Cleopatra, and Caesar, while those in an elegant eighteenth-century script record the names of various consuls and refer to other writers, including Tacitus and Flavius Josephus.

Adams D511; EDIT16 CNCE 17205; Essling II, p. 660; Sander 2436.
You may also be interested in...
A HUSBAND AND A COACH FOR FORTY SHILLINGS [LOTTERY SATIRE.] 
A Scheme for a New Lottery: or, a Husband and Coach and Six for forty Shillings.  Being very advantageous to both Sexes; where a Man may have a Coach and Six, and a Wife for Nothing.  Here's a Whim Wham newly come over, and who will prick at my Lottery-Book?  With a Scheme to prevent the Downfal of the Ch[aritab]le Cor[poratio]n.  By an old Sportsman … To which is prefix'd the Author's Picture drawn to the Life; being fit to be hung in the Lodgings of all Ladies of Pleasure, as a Memento Mori.  With a recommendatory Poem in favour of the said Lottery, to encourage Maids, Widows, single Women, Batchelors and Widowers to put in.  Also a Scheme scored in Lines, with the several prizes, where Ladies may divert themselves by pricking Blindfold in the said Lottery before the Time of Drawing, to try their Fortunes.  And likewise a View of the Town by the Highgate Spy, taken thro' a Glass of the Projector's own making … in which you may see those who can't see themselves: with an Account of what Persons of both Sexes are excluded the Advantage of putting into the said Lottery. 
First edition of this facetious proposal to match, for the fee of forty shillings each, 50,000 'maids and widows' with a similar number of 'gentlemen and tradesmen', by lottery.  The 'gentlemen and tradesmen' include '500 Lawyers, 200 Petty-foggers … 2 Scotchmen, both Pedlars, 500 Broken Booksellers' and an astonishing '21,000 Publishers'.  Many of these professions appear on an inserted folding game sheet on which ladies may try their luck in advance (blindfolded, with a pin).  The text includes a ludicrous multiplicity of technical conditions pertaining to the scheme, some of which involve allusions to such contemporary figures as Colley Cibber, Alexander Pope, and the eccentric 'Orator' Henley. 
SOPHOCLES. 
Aiax flagellifer.  Callimachi Cyrenaei Hymni in Iovem & Apollinem.  Ioanne Lonicero interprete.  Genetliacon divo Vilhelmo iuniori Cattorum principi sacrum, Ioanne Lonicero autore. 
First separate edition of Sophocles's Ajax, with a facing Latin version by humanist philologist and theologian Johann Lonitzer (c. 1499–1569), printed with his translation of Callimachus's hymns to Apollo and Zeus and his ode celebrating the birth of the future Wilhelm IV of Hesse-Kassel (1532–1592).