EPICUREANISM
DIOGENES LAERTIUS.
[Greek title] De vitis, dogmatis & apophthegmatis eorum qui in philosophia claruerunt, libri X. (Edited by Henri Estienne).
[Geneva], Henri Estienne, 1570.
2 parts bound in 2 vols., 8vo, pp. 8, 494, f. [1] (blank); pp. 40, 432; printed in Greek and roman letter; woodcut printer's device on title; a very good copy in early 19th century sprinkled paste boards.


£1400

Approximately:
US $1735
€1561
Added to your basket:
[Greek title] De vitis, dogmatis & apophthegmatis eorum qui in philosophia claruerunt, libri X. (Edited by Henri Estienne).
First Estienne edition of The Lives of the Philosophers, a very important edition in the original Greek, "in which appear for the first time many passages discovered in manuscripts by Estienne. The volume also contains 36 pages of important textual annotations by Henri Estienne and 3 pages of notes on the Fragments of Pythagoras by Willem Canter" - Schreiber, 178.

The Lives, in ten books, is often anecdotal and trivial, but it contains a vast amount of information and is of particular value for the quotations it includes. The whole of the last book is devoted to Epicurus and preserves his three letters and all forty of the "Sovran Maxims", the principal articles in his doctrine. "The account of Epicureanism, given with long direct quotations from letters of Epicurus, is perhaps the most valuable feature of Diogenes' book, not only for modern students, but also because it gave the Quattrocento humanists a fresh and reliable body of information about a philosophical school which Cicero had ridiculed and misunderstood..." (N.G. Wilson, From Byzantium to Italy, p. 33).

Diogenes also preserves the famous epitaph of Callimachus on Heraclitus "They told me, Heraclitus, they told me you were dead..."
You may also be interested in...
[ZATTA, Antonio].
Il filosofo del nord, ovvero Corso di morale filosofia.
First edition under this title of this course of moral philosophy, broadly construed, where the author attempts to invoke the authority of the "philosophers of the North" (inter alia Hobbes, Bacon, Clark, Addison on one side of the English Channel, Bayle, Pascal, La Mettrie, Grotius and Formey on the other) to give weight to his prescriptions to an Italian public.

The work, in three parts, is divided into 26 lessons. Among the topics are the superiority of contemporary moral philosophy over that of the ancients, the difference between moral philosophy and religion, the ways of judging virtue, the importance of exercise and bodily health, the duty to live sociably, the government (and acknowledgement) of the passions and the appetites, the duty to educate children, especially the very young, the obligations imposed by marriage. Of particular interest is what the author recommends we read: apologetics by Samuel Clarke, Houtteville, and Galateri, but also Rollin on Roman history, the Scienza della legislazione of Filangieri, and Derham's Astrotheology. The reader should also keep abreast of periodicals, Il Caffè for one; and read Thompson's Seasons, and Richardson's Clarissa and History of Charles Grandisson ('ma come? Della cattedra filosofica si propongono da studiare romanzi! Si! Quando sono opere d'un Richardson io riguardo il raccomandarli un dovere').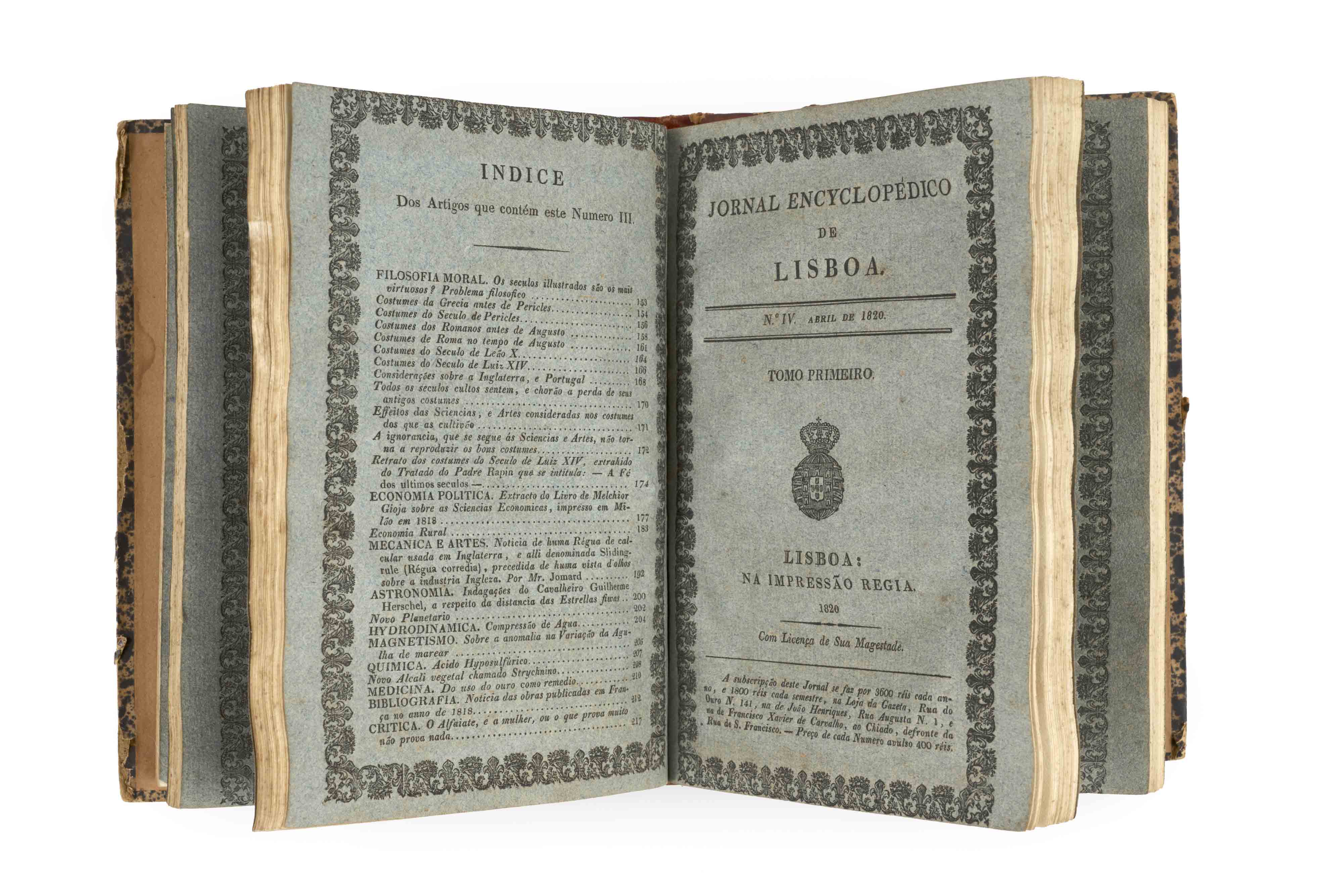 [MACEDO, José Agostino de, editor].
Jornal encyclopédico de Lisboa, coordenato pelo P. J. A. de M. Tomo primiero [-segundo].
First edition, complete, of this rare periodical, edited and in large part written by the prolific writer, pamphleteer, court preacher, and controversialist José Agostoni de Macedo (1761-1831).