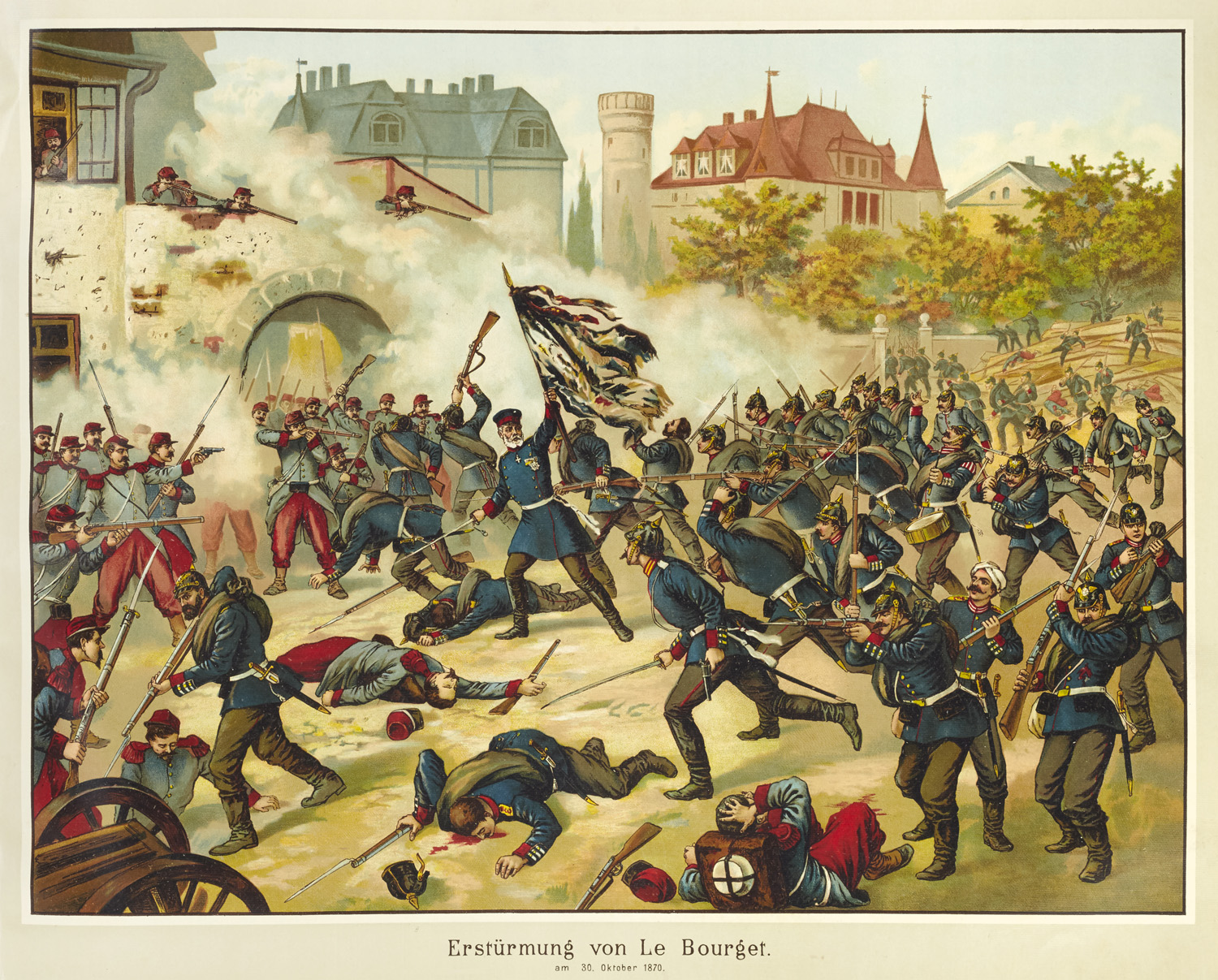 'WIR DEUTSCHEN FÜRCHTEN GOTT UND SONST NICHTS AUF DER WELT!'STRIKING CHROMOLITHOGRAPHIC PLATES
DITTRICH, Max, and Max HENZE, artist.
Der Deutsch-Französische Krieg 1870 und 1871. Gedenk-Blätter in Wort und Bild an die Ehrentage der deutschen Nation.
Dresden and New York: 'Druck & Verlag von H.G. Münchmeyer', 1895.
Oblong folio (440 x 570 mm), pp. [ii], 86; title printed in red and black within decorative border in brown, 24 chromolithographic and two plain plates, wood-engraved illustrations in the text, one full page, wood-engraved initials; text within red and black borders enclosing wood-engraved vignettes or decorative borders printed in brown; lightly browned, a few tears; original brown cloth boards, upper board blocked in gilt with title enclosed within black strapwork border, lower board blocked in black with German imperial arms within strapwork border, patterned endpapers, marbled edges; some loss of gilt on upper board, extremities a little rubbed and bumped, nonetheless a very good example.
£750

Approximately:
US $1024
€873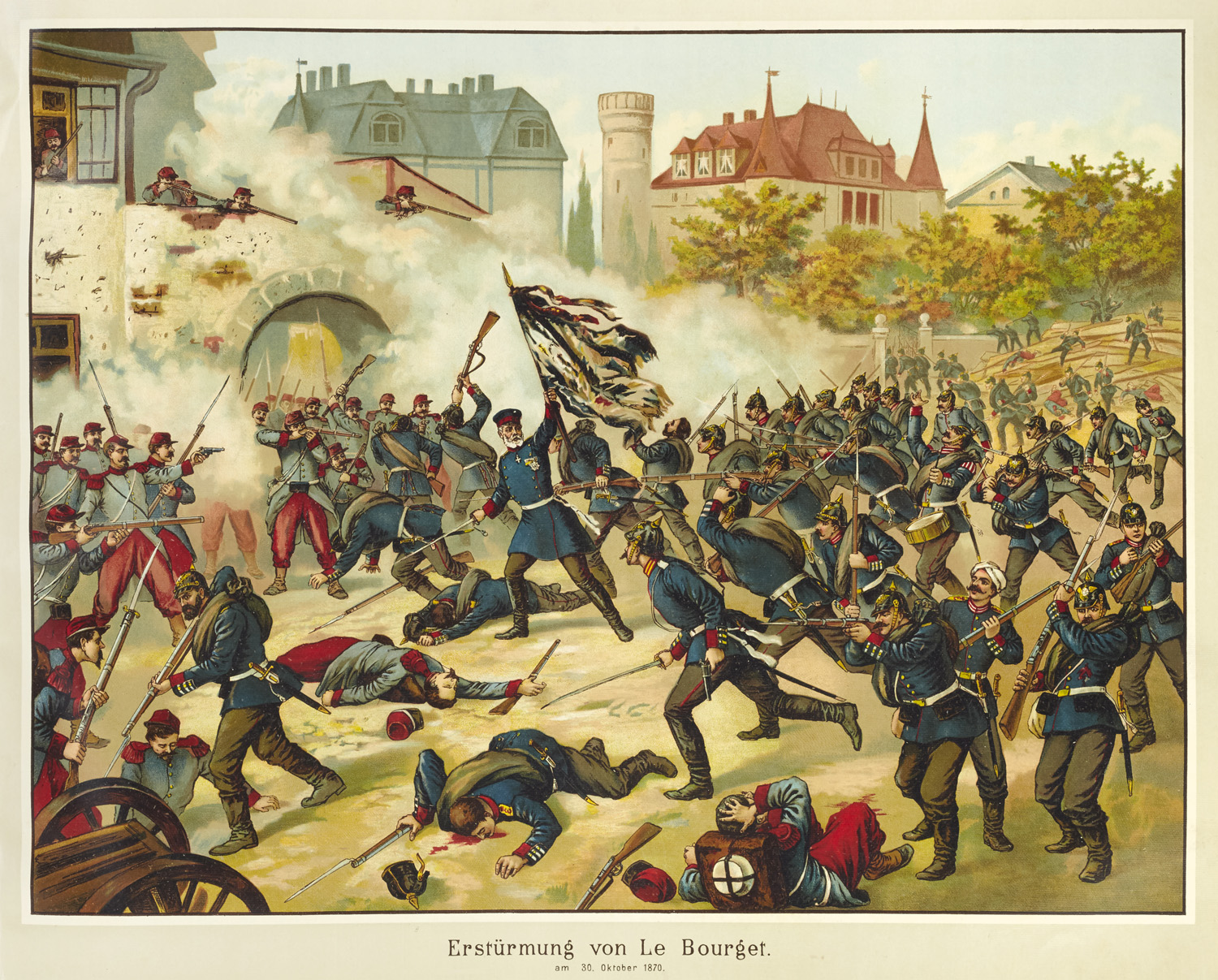 Added to your basket:
Der Deutsch-Französische Krieg 1870 und 1871. Gedenk-Blätter in Wort und Bild an die Ehrentage der deutschen Nation.
Fortieth edition and 25th anniversary 'Jubel-Ausgabe'. This lavishly-illustrated account of the Franco-Prussian War was published to commemorate the twenty-fifth anniversary of this conflict that was, in retrospect, a harbinger of the political and military turmoil of the following century: 'the kingdom of Prussia and her German allies totally destroyed the military power of Imperial France. For nearly eighty years the defeated nation had given the law in military matters to Europe, whereas the victor, ten years earlier, had been the least of the continent's major military powers. Within a month Prussia established a military pre-eminence and a political hegemony which made the unification of Germany under her leadership a matter of course, and which only an alliance embracing nearly every major power in the world was to wrest from her half a century later' (M. Howard, The Franco-Prussian War (London: 1961), p. 1).

In Prussia at the time, the War of 1870 was seen (as is demonstrated by this work celebrating the 'Wiederaufrichtung des deutschen Reiches') as 'a heroic epoch; the deeds of those times were to be treasured, admired and, when necessity arose, repeated [...]. It has been left to a German historian of our own generation, writing nearly a century later, to see the full significance of the struggle: how during its course there emerged for the first time "that sinister problem of modern national War, from which we have foundered twice in succession". It is this which makes the Franco-Prussian War an event of importance far transcending the specialist field of the military historian, or even the historian of nineteenth-century Europe. Germany's magnificent and well-deserved victory was, in a profound and unforeseeable sense, a disaster: for herself, and for the entire world' (op. cit. p. 456).

Scarce in the UK: COPAC records a single copy only (Cambridge University) of an unidentified edition.
You may also be interested in...
SCHLÖZER, August Ludwig.
Öffentliches und privat= Leben, von ihm selbst beschrieben. Erstes Fragment. Aufenthalt und Dienste in Russland, vom J. 1761 bis 1765, Litterar Nachrichten von Russland in jenen Jaren.
Scarce first edition of Schlözer's auto-biography, which covers the period he spent in St. Petersburg as a private teacher and as scientific assistant to Gerhard Friedrich Müller, and subsequently as professor of Russian history at the Academy. A second part was intended, but was never published. In 1828 Schlözer's son Christian undertook a more complete biography of his father, which was issued in two volumes.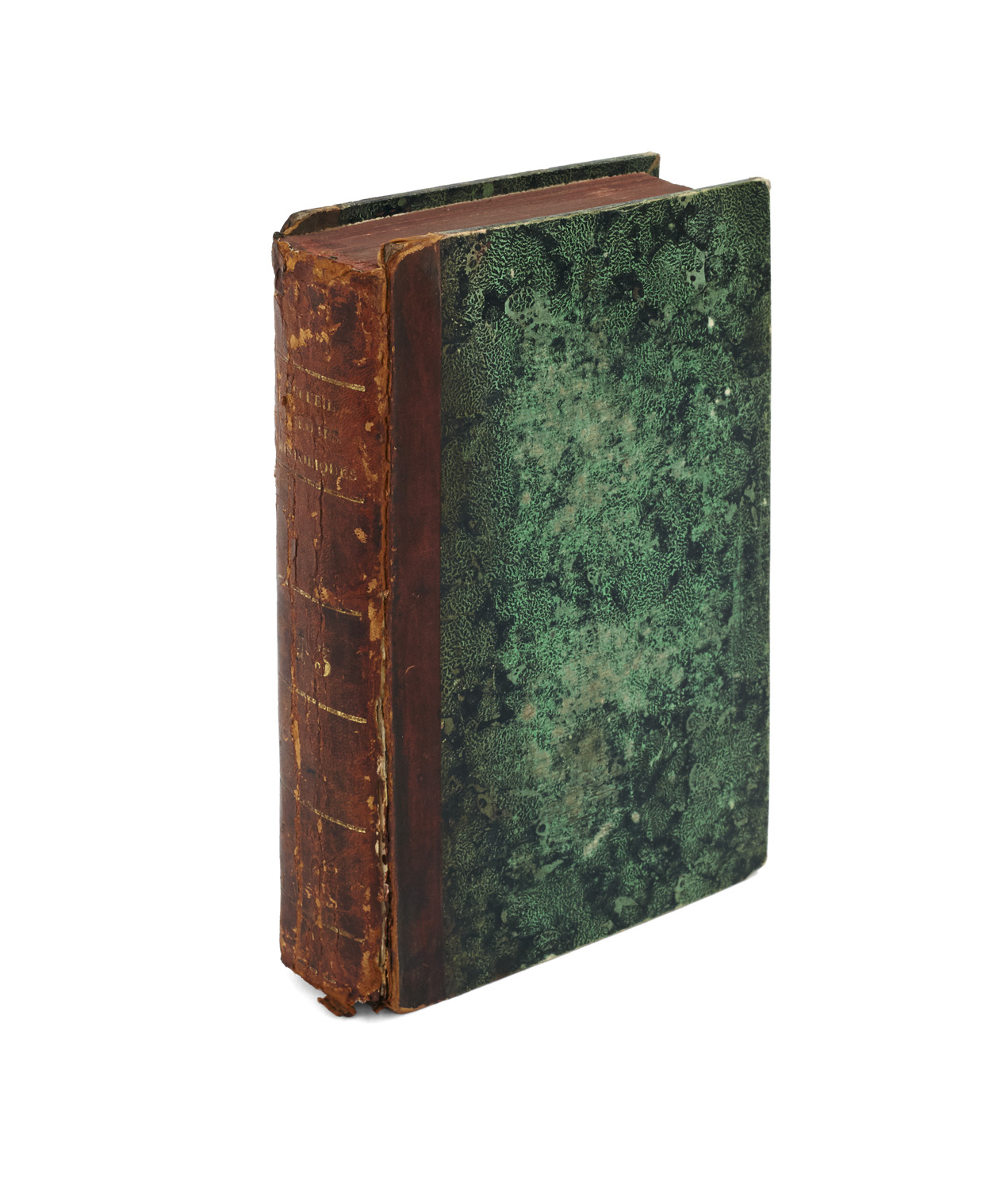 EULOGY AS MANIFESTO [NECKER, Jacques.]
Eloge de Jean-Baptiste Colbert, Discours qui a remporté le prix de l'Académie Françoise, en 1773.
First edition of Necker's first work. Necker (1732–1804) was the opponent of Turgot (whose position he was to take over in 1777) in action as well as in theory, agreeing with Forbonnais on the side of State-regulation. The encomiastic function of this work, his first book, is in fact a thin cover for what is effectively Necker's first exposition of his 'interventist' sensibility in economics. Here as in his later works Necker loses no opportunity of emphasising his dissent from 'laissez-faire' and the Tableau économique. His declamatory appeals to the rights of humanity and attacks upon landed property, though probably incited by political ambitions, bring him into close harmony with State-socialists, who, like himself, favoured substantial government intervention; and the Physiocrats had always to reckon with him as a determined adversary.