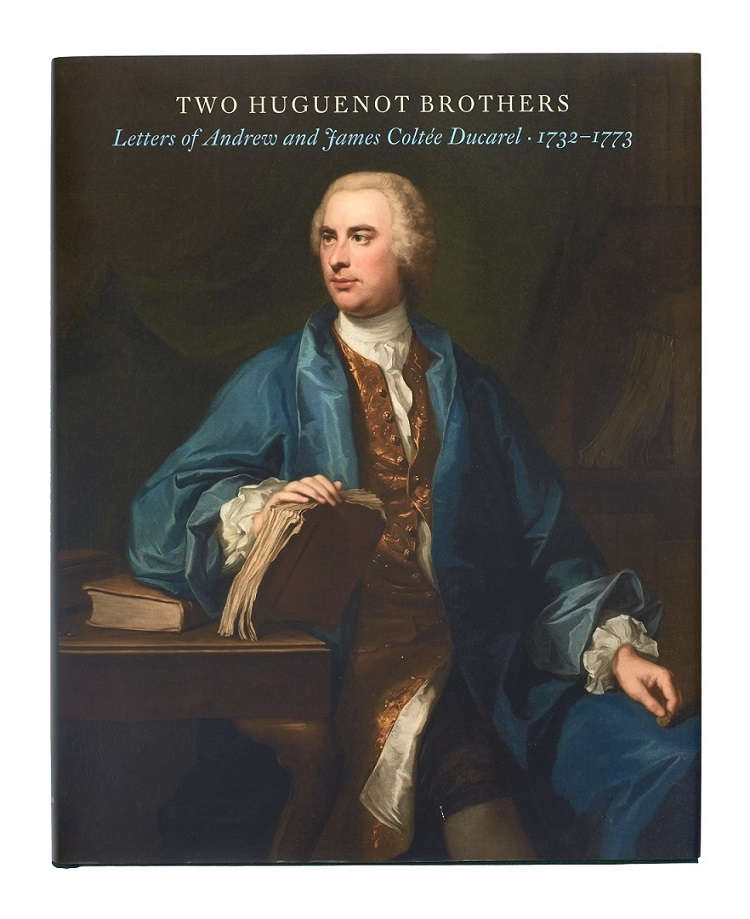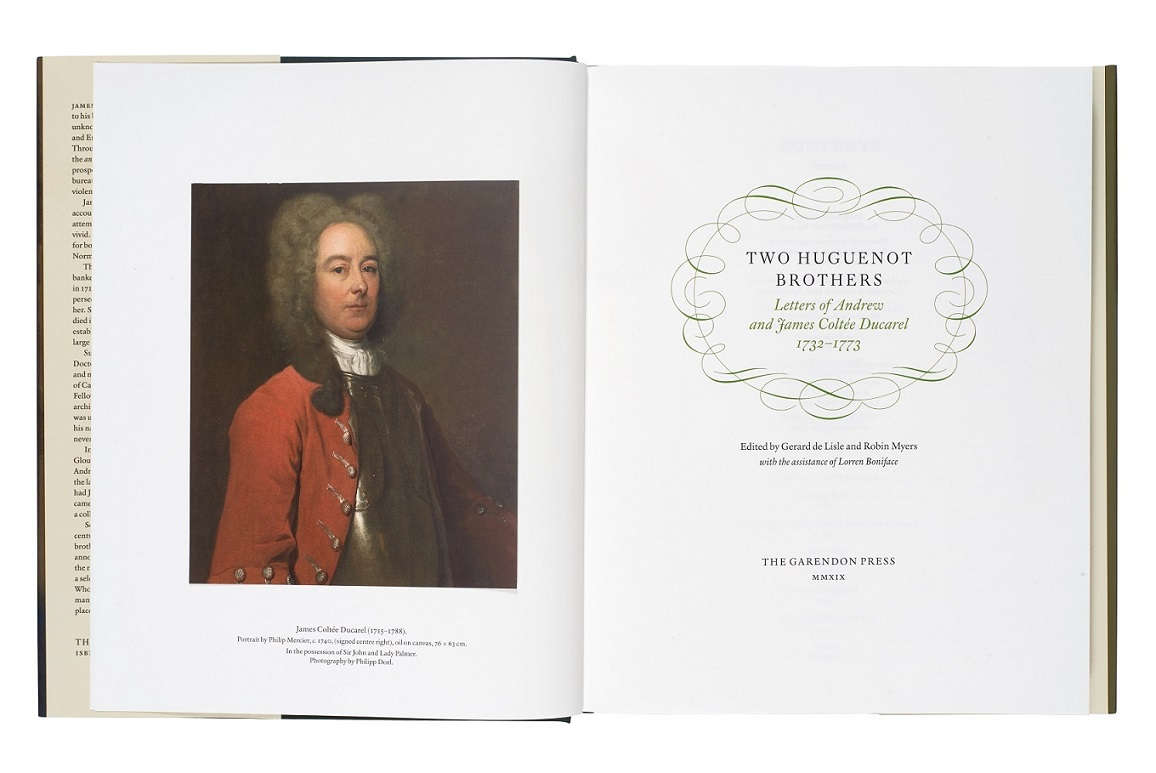 DUCAREL, Andrew & James Coltée, and Gerard DE LISLE & Robin MYERS, eds.
Two Huguenot Brothers: Letters of Andrew and James Coltée Ducarel 1732-1773.
Leicester, The Garendon Press, 2019.
4to, (310 x 250 mm), pp. 240, and 21 colour plates; green cloth, pictorial dust-jacket.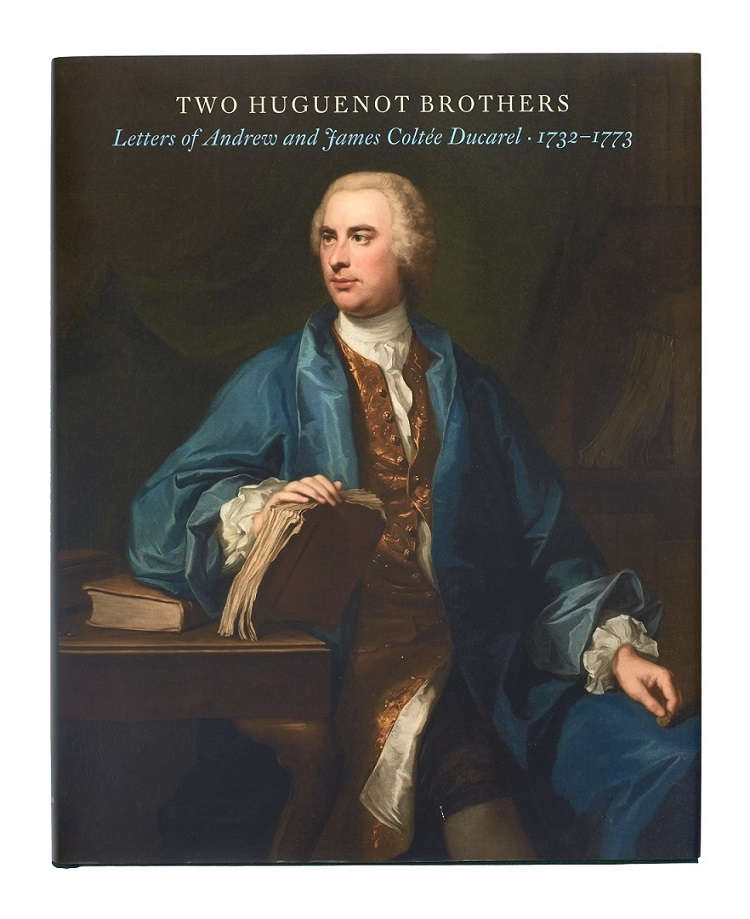 Added to your basket:
Two Huguenot Brothers: Letters of Andrew and James Coltée Ducarel 1732-1773.
James Coltée Ducarel's letters sent from France to his elder brother Andrew in London are a hitherto unknown resource for the study of the Enlightenment and the French Huguenots in the mid-eighteenth century.

Andrew kept James's letters and had them bound. 216 years later they came into the possession of Gerard de Lisle, a collateral descendent. The letters paint a picture of the last years of the ancien régime with its cumbersome bureaucracy, growing anticlericalism and increasing violence underlying surface prosperity – all ominous signs of approaching revolution. James's lively, gossipy style, his accounts of hazardous travels through France as he attempts to recover the family patrimony, his hunt for books, prints and drawings for his brother and the Archbishop of Canterbury and his visits to abbeys and cathedrals on Andrew's behalf are vivid and engaging.

Scholarly essays, by Randolph Vigne on the Huguenots in eighteenth century France and by Robin Myers on the life and times of the brothers precede the fully annotated transcript of the letters. An appendix includes family trees tracing the ramifications of the extended Ducarel family and a select bibliography. A special feature is the Who's Who compiled by Lorren Boniface giving details of the host of names mentioned, many not to be found elsewhere. There is a full name, place and subject index.

Two Huguenot Brothers is illustrated with fine colour portraits and miniatures from oil paintings in the possession of the family, a map of old Normandy and facsimile pages of a few of the letters. The volume is designed by Robert Dalrymple and printed by Albe De Coker, Antwerp.

Published in a limited edition of 200 numbered copies.

ISBN 978-1-5272-3722-3

You may also be interested in...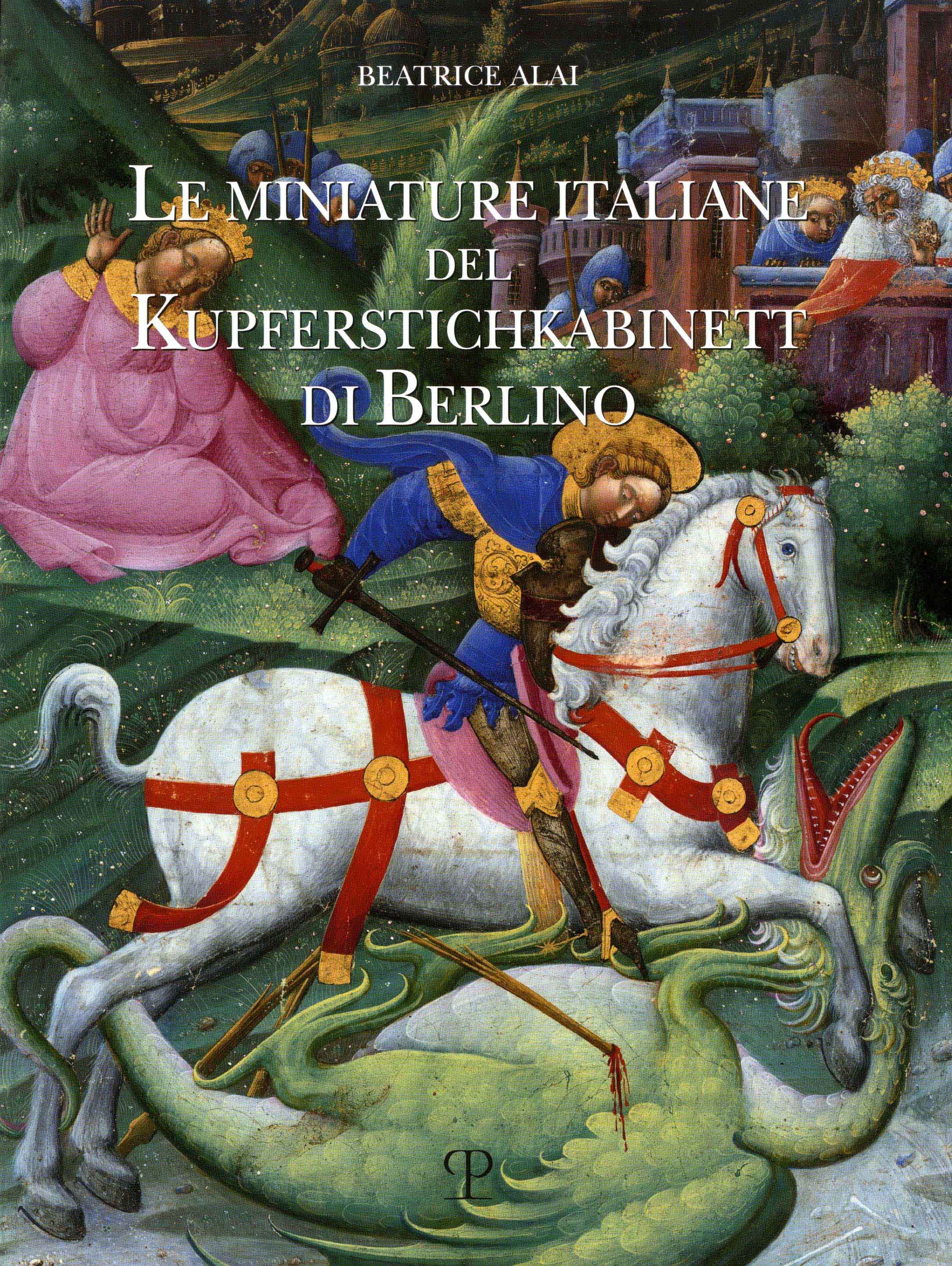 ALAI, Beatrice.
Le miniature Italiane del Kupferstichkabinett di Berlino.
From the presentation leaf: 'Bernard Quaritch Ltd is delighted to be a sponsor of this magnificent publication. We feel sure that our German founder, both as publisher of scholarly works and dealer in medieval manuscripts, would have been proud to support Beatrice Alai's catalogue of the Italian miniatures in one of the great German collections. Quaritch would certainly have known the Kupferstichkabinett's illustrious director Friedrich Lippmann, for in 1888 he published Lippmann's The Art of wood-engraving in Italy in the fifteenth century, the same year in which Lippmann acquired from Quaritch the splendid Roman calendar leaf which is described within these pages.'
LINDSETH, Jon A., and Alan TANNENBAUM, eds.
Alice in a World of Wonderlands: the Translations of Lewis Carroll's Masterpiece.
This is the most extensive analysis ever done of translations of any single English language novel. On 4 October 1866 Charles Lutwidge Dodgson/Lewis Carroll wrote to his publisher Macmillan stating "Friends here [in Oxford] seem to think that the book is untranslatable." But his friends were wrong, as this book shows with translations in 174 languages.