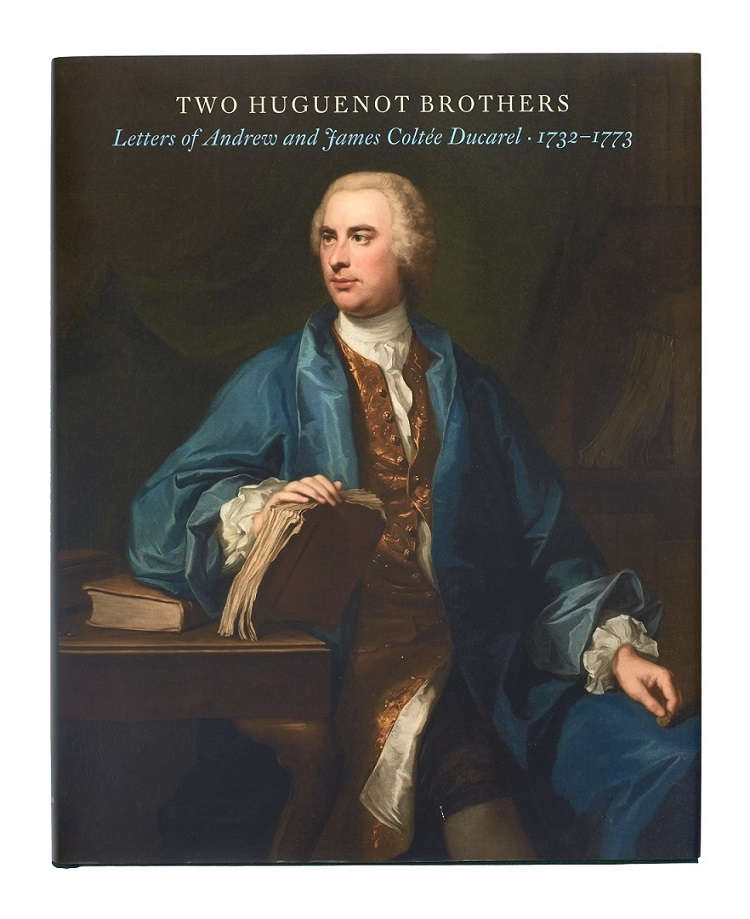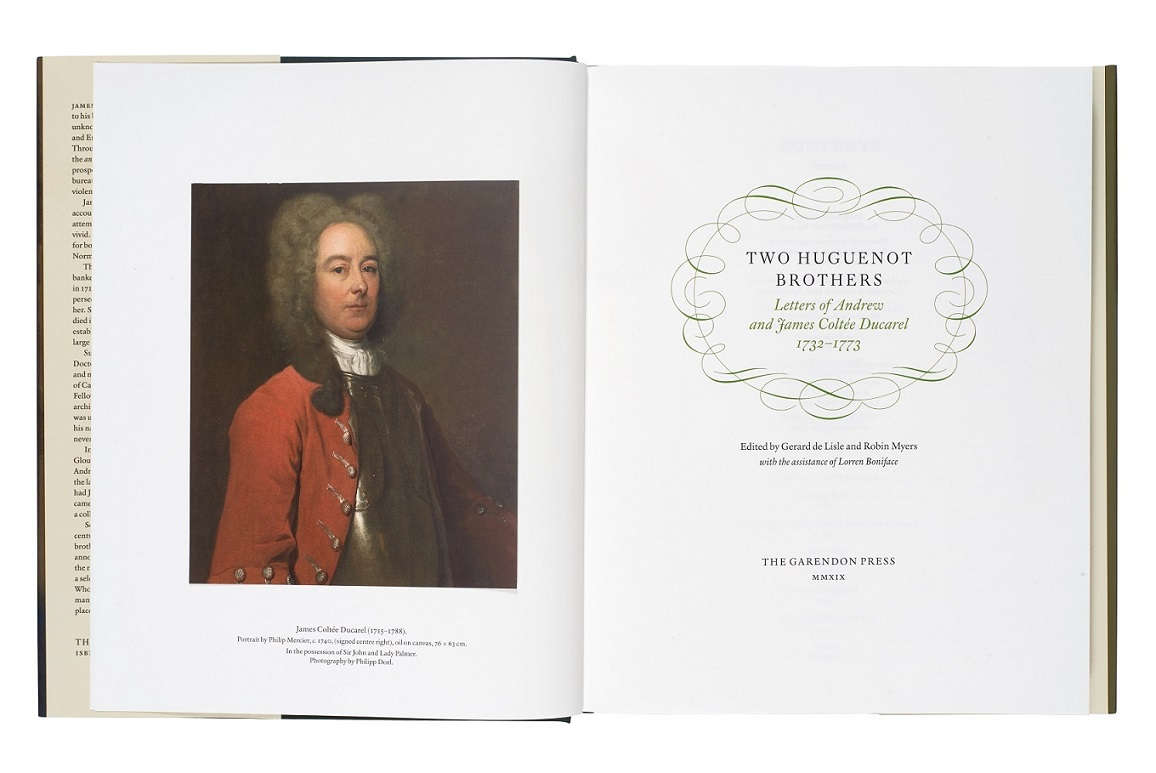 DUCAREL, Andrew & James Coltée, and Gerard DE LISLE & Robin MYERS, eds.
Two Huguenot Brothers: Letters of Andrew and James Coltée Ducarel 1732-1773.
Leicester, The Garendon Press, 2019.
4to, (310 x 250 mm), pp. 240, and 21 colour plates; green cloth, pictorial dust-jacket.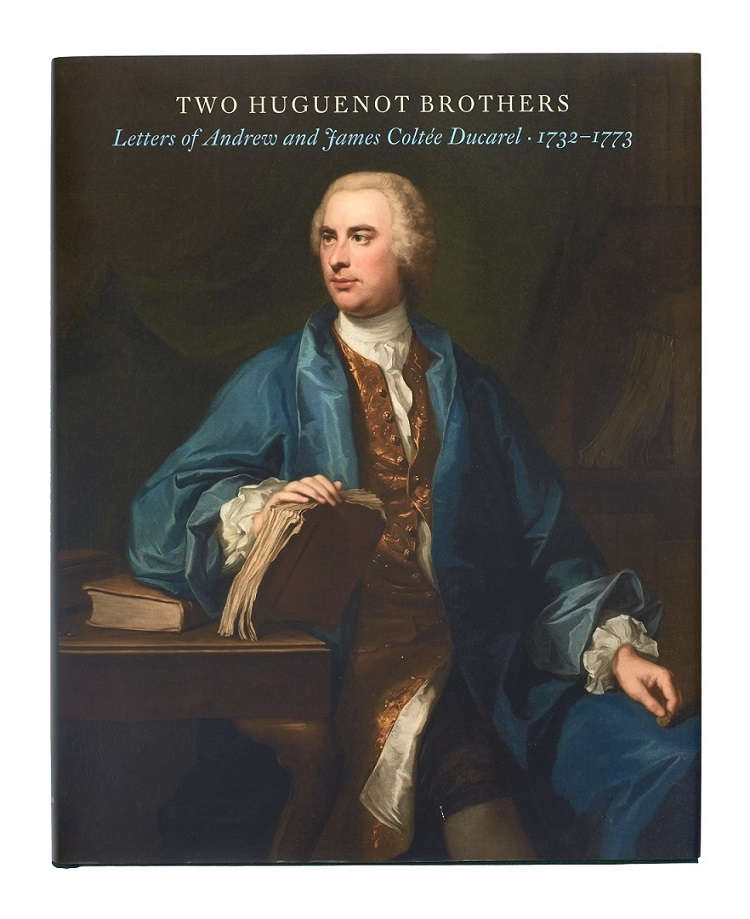 Added to your basket:
Two Huguenot Brothers: Letters of Andrew and James Coltée Ducarel 1732-1773.
James Coltée Ducarel's letters sent from France to his elder brother Andrew in London are a hitherto unknown resource for the study of the Enlightenment and the French Huguenots in the mid-eighteenth century.

Andrew kept James's letters and had them bound. 216 years later they came into the possession of Gerard de Lisle, a collateral descendent. The letters paint a picture of the last years of the ancien régime with its cumbersome bureaucracy, growing anticlericalism and increasing violence underlying surface prosperity – all ominous signs of approaching revolution. James's lively, gossipy style, his accounts of hazardous travels through France as he attempts to recover the family patrimony, his hunt for books, prints and drawings for his brother and the Archbishop of Canterbury and his visits to abbeys and cathedrals on Andrew's behalf are vivid and engaging.

Scholarly essays, by Randolph Vigne on the Huguenots in eighteenth century France and by Robin Myers on the life and times of the brothers precede the fully annotated transcript of the letters. An appendix includes family trees tracing the ramifications of the extended Ducarel family and a select bibliography. A special feature is the Who's Who compiled by Lorren Boniface giving details of the host of names mentioned, many not to be found elsewhere. There is a full name, place and subject index.

Two Huguenot Brothers is illustrated with fine colour portraits and miniatures from oil paintings in the possession of the family, a map of old Normandy and facsimile pages of a few of the letters. The volume is designed by Robert Dalrymple and printed by Albe De Coker, Antwerp.

Published in a limited edition of 200 numbered copies.

ISBN 978-1-5272-3722-3

You may also be interested in...
FREEMAN, Arthur.
Bibliotheca Fictiva: a Collection of Books and Manuscripts Relating to Literary Forgery 400 BC – AD 2000.
An inventory of books and manuscripts relating to literary forgery. Spanning some twenty-four centuries, the book seeks also to define and describe the controversial genre it represents. Individual entries offer specific commentary on the forgers and their work, their exposers and their dupes. A broad prefatory overview surveys the entire field in its topical, historical, and national diversity.
OWEN, John.
John Owen's Epigrams for Prince Henry. The Text of the Presentation Manuscript in the Library of Trinity College Cambridge. With introduction and notes by Nicholas Poole-Wilson.
Printed here for the first time is the text of an autograph manuscript of the epigrams which John Owen presented to Prince Henry, eldest son of James VI of Scotland (I of England), on the occasion of his becoming Prince of Wales in 1610. The small quarto, preserved at Trinity College, Cambridge, is the only surviving manuscript in Owen's own hand. It contains 105 epigrams, of which 25 appear in print here for the first time; others present a text frequently at variance with the printed versions which Owen published in 1612, the year of Henry's death.  The subjects are a characteristic cross-section of his bitter-sweet jests and jibes.