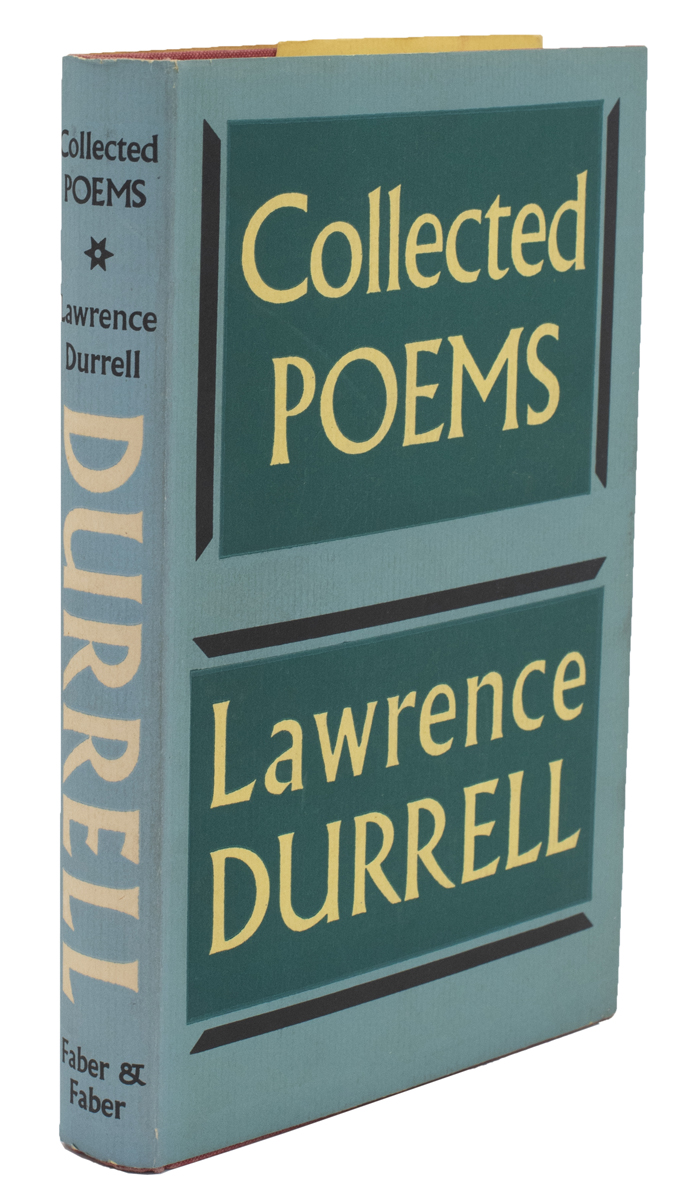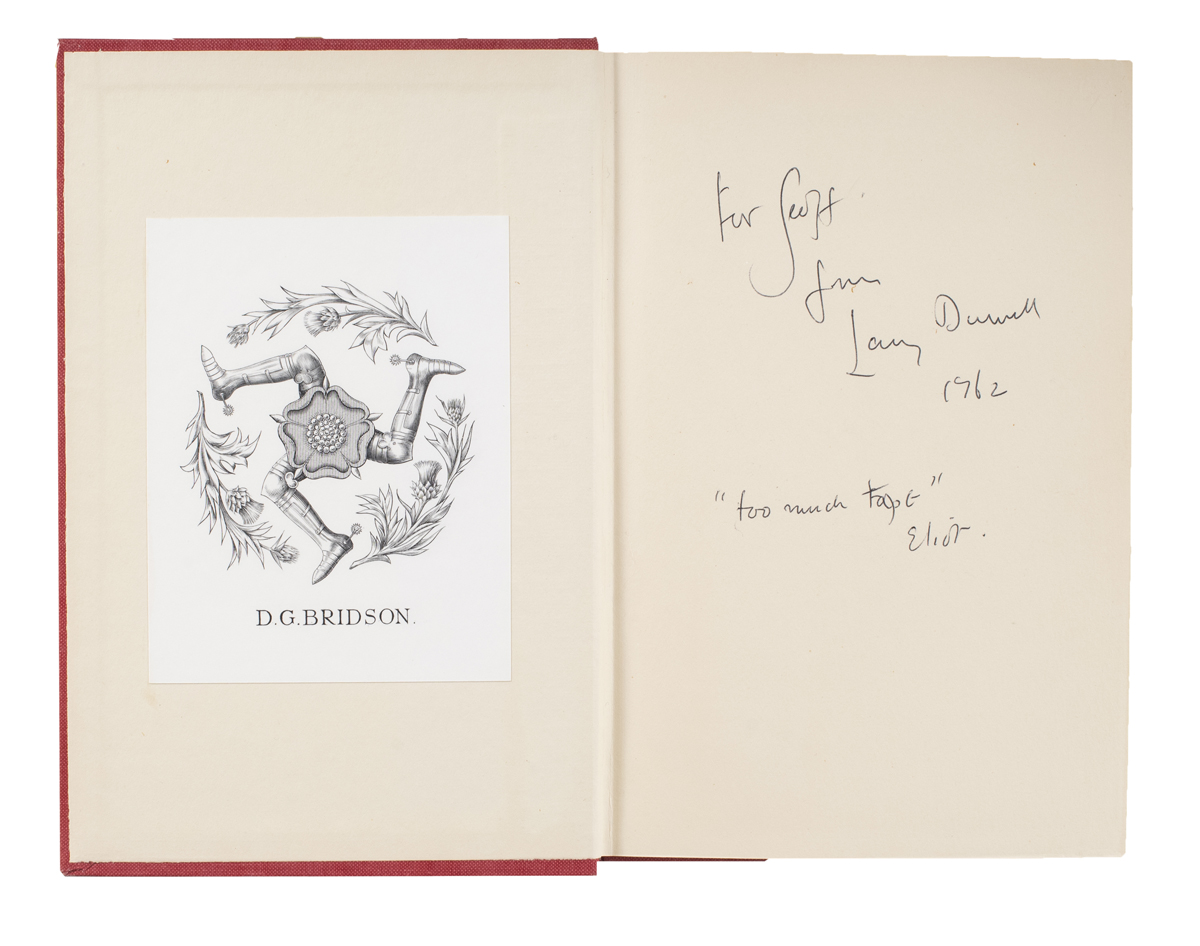 DURRELL, Lawrence.
Collected Poems.
London, Faber and Faber, [1960].
8vo, pp. 288; publisher's red cloth, yellow dust-jacket printed in black, blue, and green; a fine copy in a fine jacket; bookplate of D. G. Bridson; minor autograph corrections on p. 51 and 280, the contents list numbered in pencil according to a list of Durrell's publications on the rear endpaper.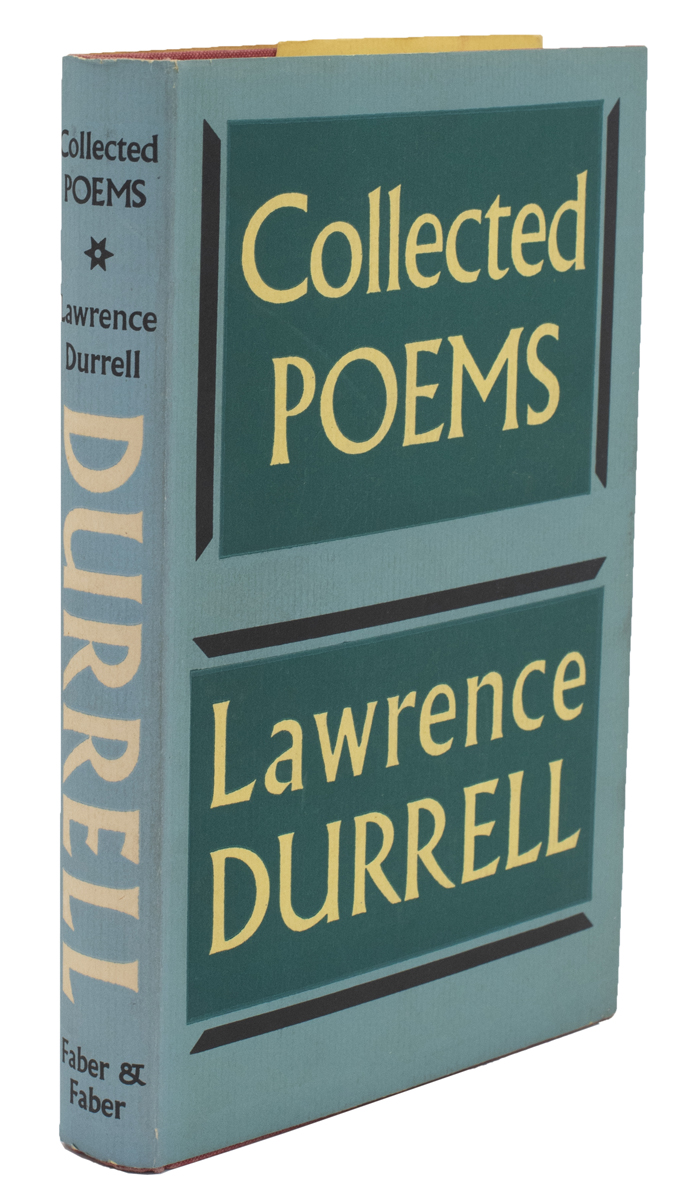 Added to your basket:
Collected Poems.
First edition, inscribed 'For Geoff from Larry Durrell 1962 / "too much tape [?]" Eliot'. Eliot had been the editor at Faber when Durrell submitted The Black Book in 1937, but had only recommended publication with cuts that Durrell was unwilling to make. Eliot did however publish Durrell's poetry in 1943; we have not been able to work out what Durrell is referring to here.

Bridson visited Durrell in the South of France in 1962 to interview him for the 'Third Programme'. 'We got on well together, and I couldn't have wished for a better host. After Graves, he seemed remarkably compact, and under his Provençal grizzle, his grin had the same sprightliness as the leprechaun that he sketched for me on the tablecloth of the local bistro. His farm was pleasantly tucked away against the Mistral about half an hour's drive out of Nı̂mes … Comically enough, our first attempt at recording was completely wrecked by the aerobatics of the French Mystères which zoomed and cavorted, rocketed and machine-gunned away in a mock invasion practice nearby. Our only recourse was to the pastis … Considering the quantity of it we consumed over the next few days, our conversations were remarkably lucid and unblurred. Durrell was a natural born talker …' They discussed time and the novel, relativity, etc. Bridson met Durrell again, along with Henry Miller, later that year in Edinburgh for a further recording, broadcast on 8 October 1962. The present volume was inscribed on the latter occasion. The French conversations were broadcast on 21 and 27 January 1963, and a selection of poems on 29 January.
You may also be interested in...
EXAMINATIONS IN ELEGIAC COUPLETS [OXFORD.] 
Carmina quadragesimalia ab Aedis Christi Oxon. alumnis composita et ab ejusdem Aedis baccalaureis determinantibus in Schola Naturalis Philosophiae publice recitata [– volumen secundum]. 
First edition of humorous verses in Latin, composed by bachelors at Christ Church Oxford as part of scholastic Lenten disputations on natural philosophy. 
SKETCHES IN THE SOUTH OF FRANCE [SOUTH OF FRANCE.]
'Routes de Privas à Nîmes 1892'.
A nice sketchbook, by an anonymous artist, recording a trip to the South of France in 1892, capturing the beauty of the landscape, as well as some of the historic monuments in the départements of Ardèche, Gard, and Vaucluse.