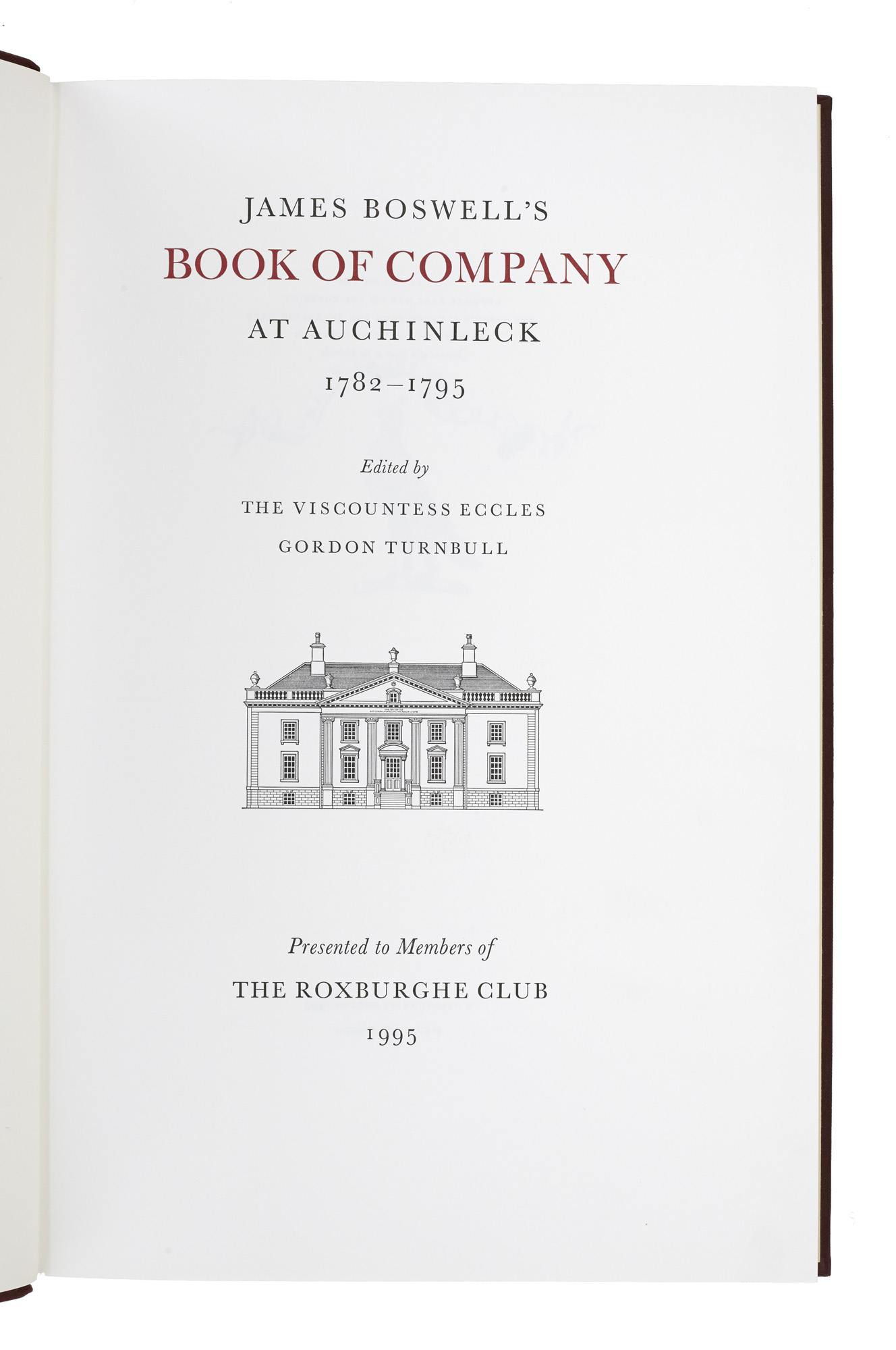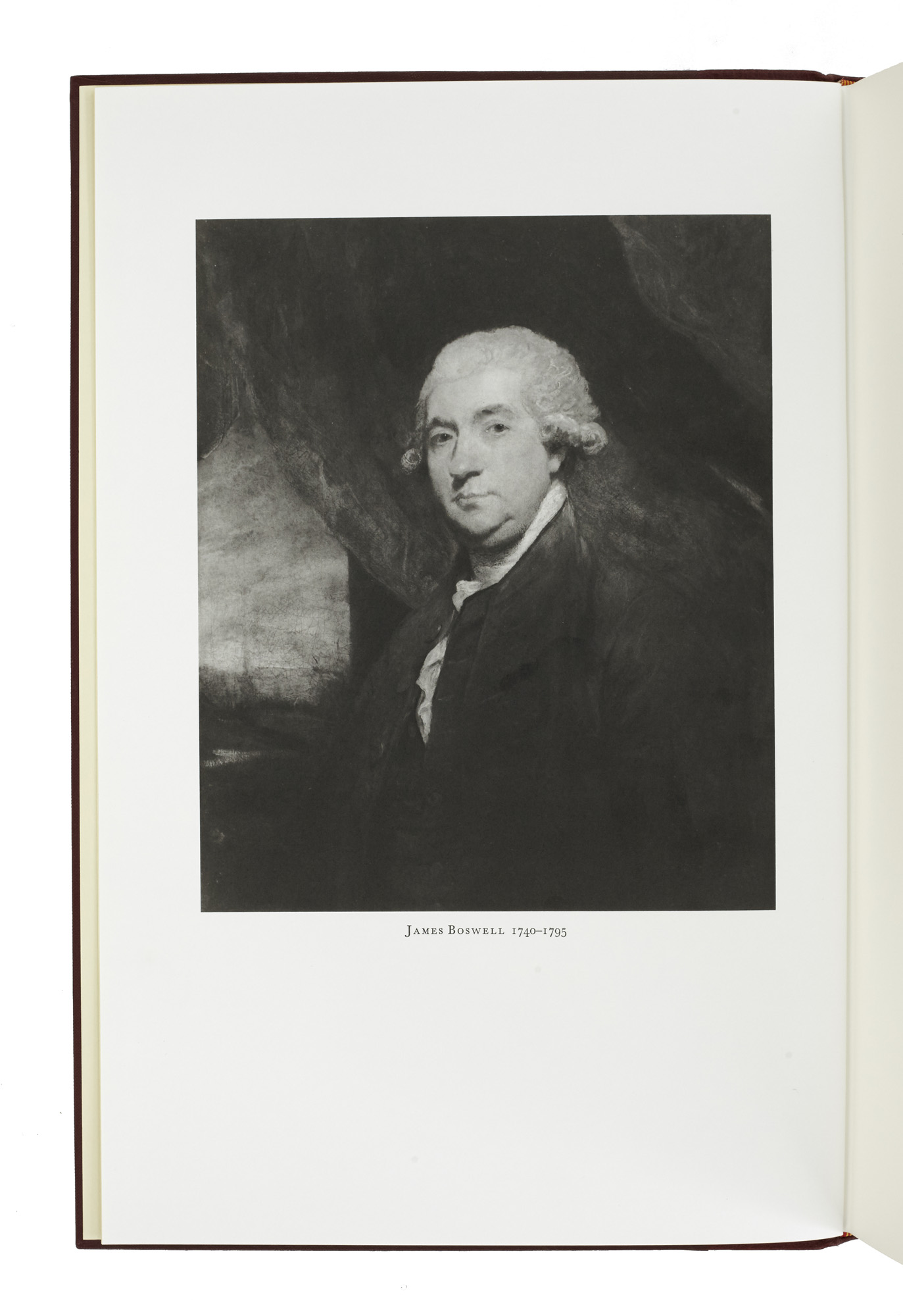 ECCLES, Mary, Viscountess, and Gordon TURNBULL, eds..
James Boswell's Book of Company at Auchinleck.
The Roxburghe Club, 1995.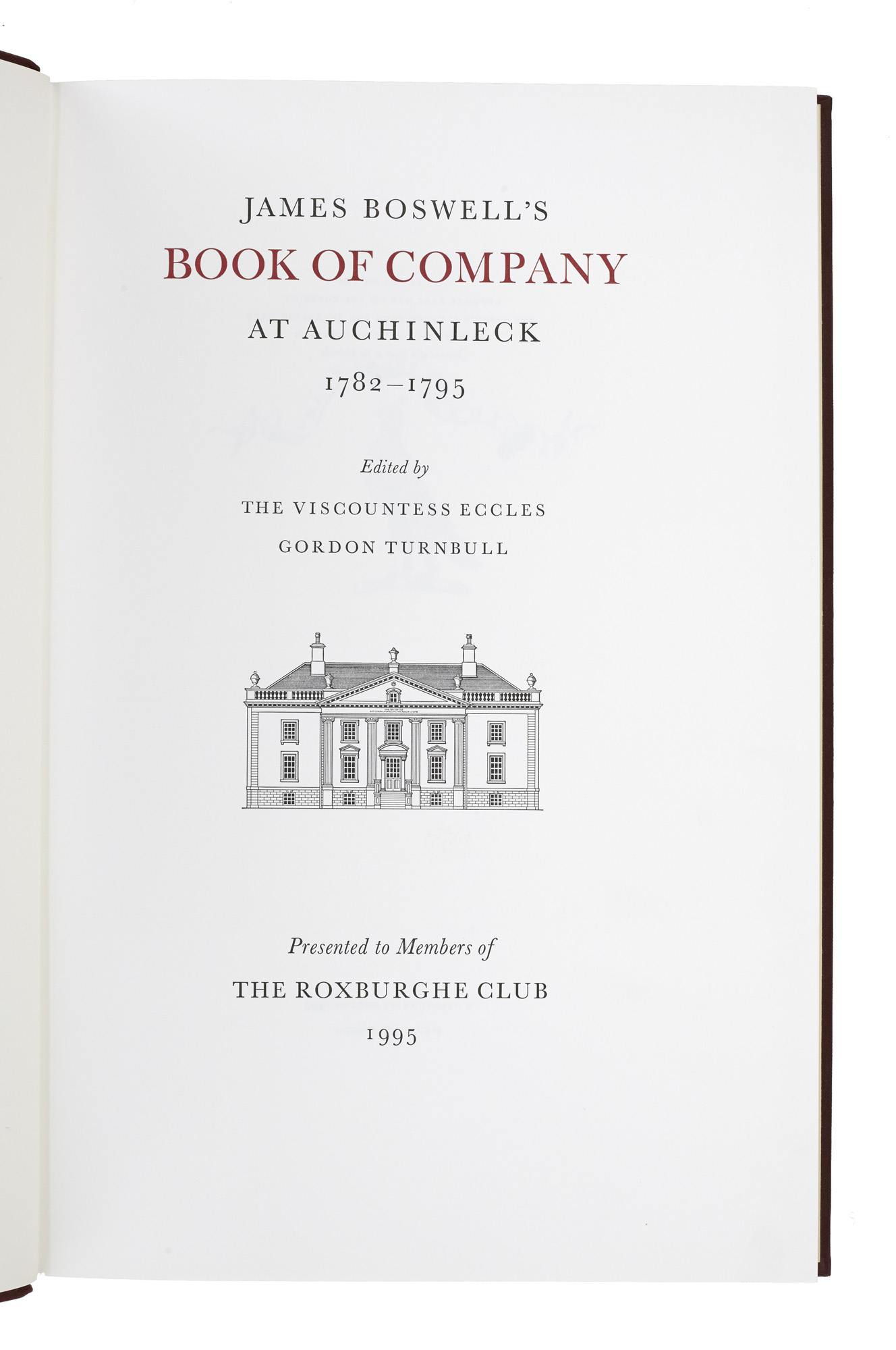 Added to your basket:
James Boswell's Book of Company at Auchinleck.
The Book of Company is much more than a visitor's book, since James Boswell comments on the men and women he met and entertained, and the occasions of his doing so, are all his own. It is therefore an important addition to his many-sided self-portrait. Beginning in 1782, two years before Samuel Johnson died, and ending five months before Boswell's own death in May 1795, it reflects Boswell's anguished uncertainties, as well as the everyday details of where he was, with whom he dined, whom he saw in the evening and – punctually recorded – how many bottles of wine and spirits were dispatched. The book is here reproduced in full facsimile, interleaved with a transcript on facing pages. At the foot of each page is a commentary, largely drawn from Boswell's correspondence and journals, which converts it into a comprehensive day by day diary of his thoughts and actions throughout the period.
You may also be interested in...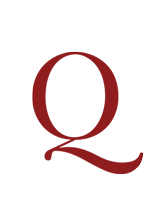 WITH CHARMING PLATES HOWITT, Samuel.
The angler's manual; or, concise lessons of experience, which the proficient in the delightful recreation of angling will not despise, and the learner will find the advantage of practising ... Embellished with twelve plates, of fish, fishing, baits, and tackle, designed and etched by S. Howitt.
First edition of this angling classic, with excellent plates by the painter and etcher Howitt (1756/7-1823), depicting a variety of fish, as well as charming scenes of minnow-, fly-, pike- and float-fishing. A keen sportsman, hunter, rider and angler, Howitt became a professional artist when financial difficulties forced him to earn a living, exhibiting at the Royal Academy and illustrating many sporting and zoological books. His early work was influenced by his brother-in-law Thomas Rowlandson but he soon developed his own style, capturing rural sport with great fluidity and excitement.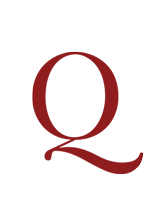 PARRY, ROSS, AND THE NORTHWEST PASSAGE ACCOUNT OF THE MOST REMARKABLE VOYAGES (An)
from the Discovery of America by Columbus to the present Time.
First and only edition of a compendium of exploration and discovery for children, taking in Columbus, Drake, Parry, Look, Franklin etc. True to its promise to record adventures up 'to the present time', the most recent voyage recorded here is Captain Ross's attempt to discover the North-West passage. With 'what degree of success … is not yet known' – Ross did not return to England until 1833. An Account was also issued as the first volume of Darton's Juvenile Cyclopaedia (Darton H832).