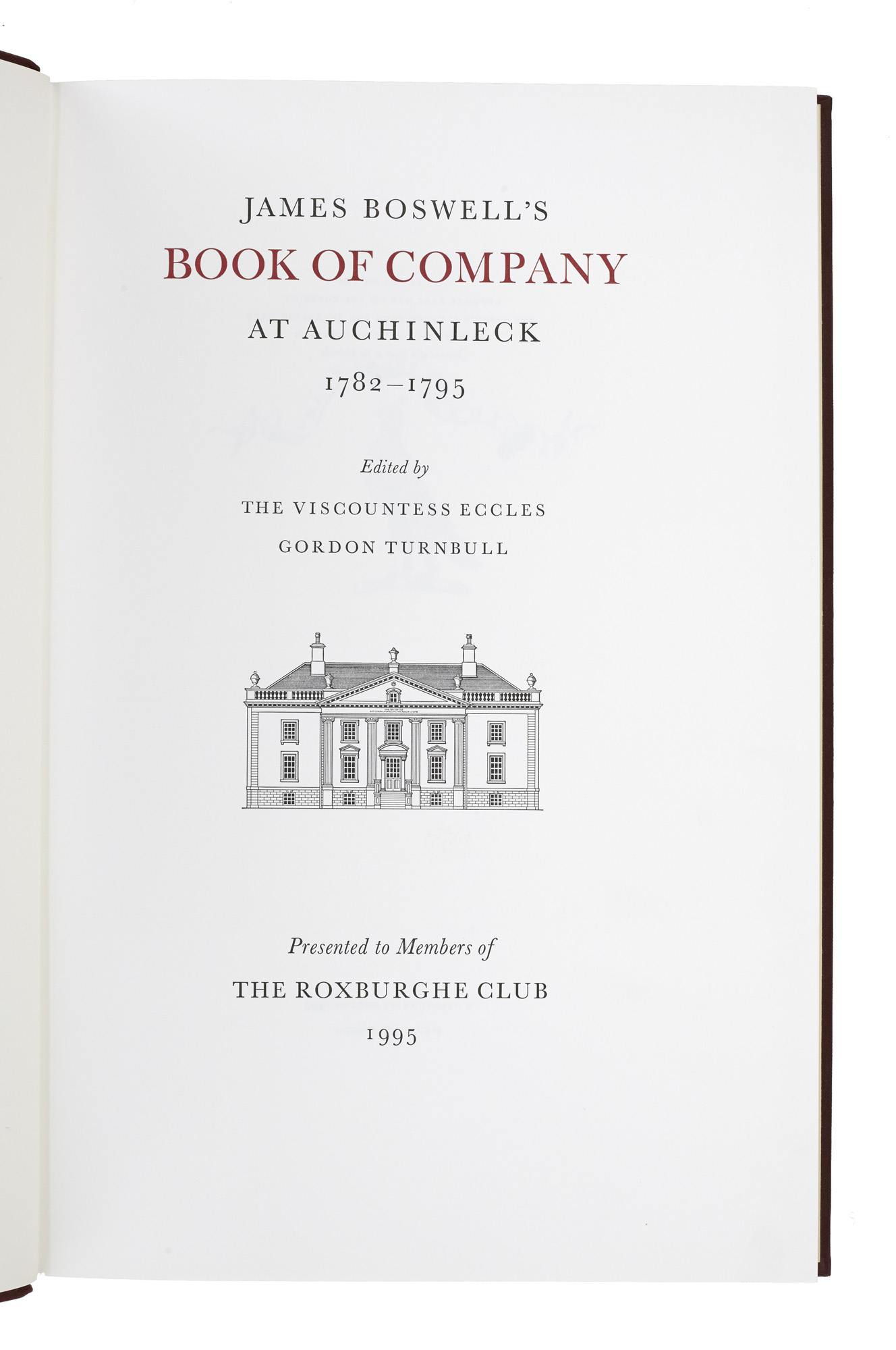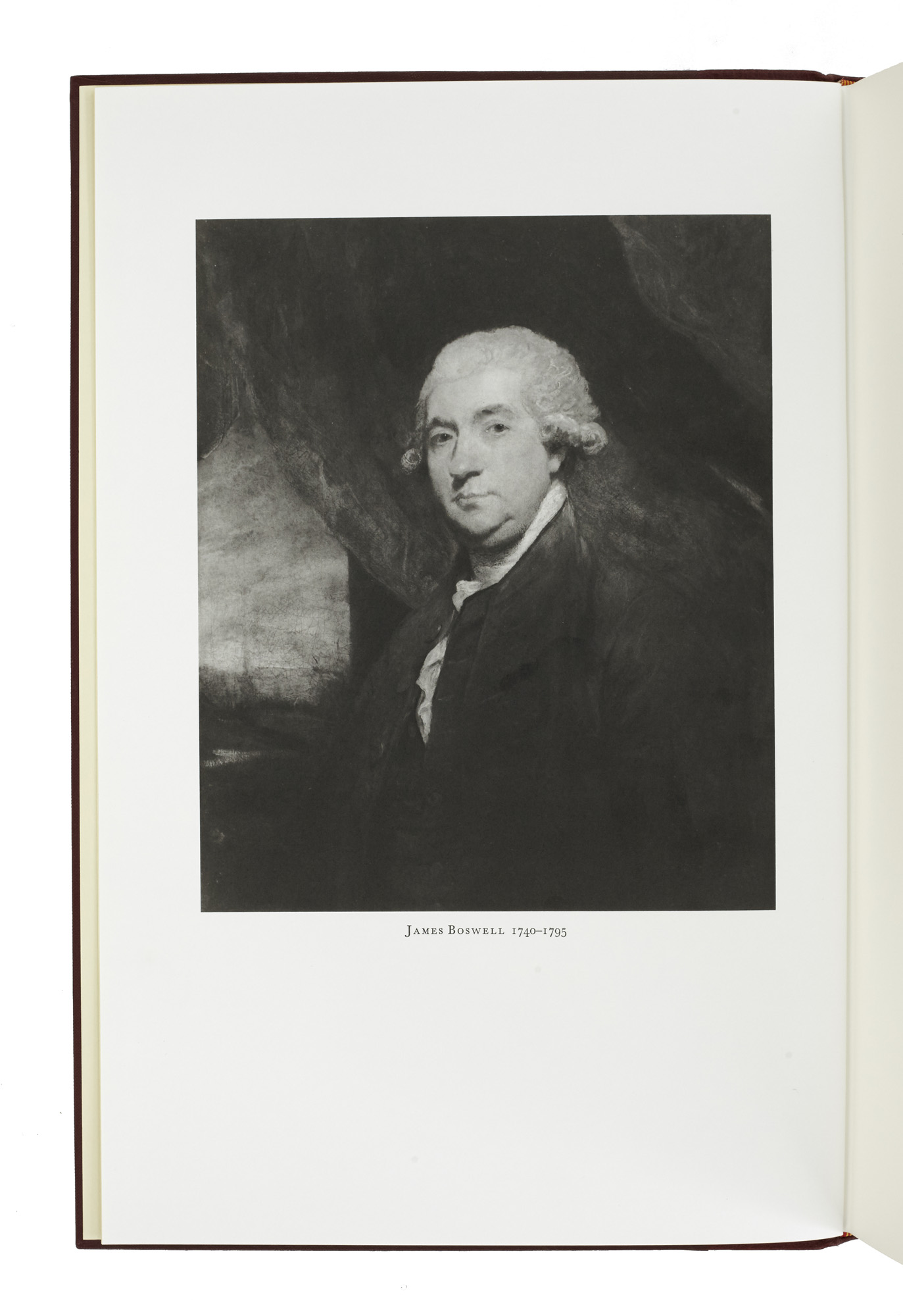 ECCLES, Mary, Viscountess, and Gordon TURNBULL, eds..
James Boswell's Book of Company at Auchinleck.
The Roxburghe Club, 1995.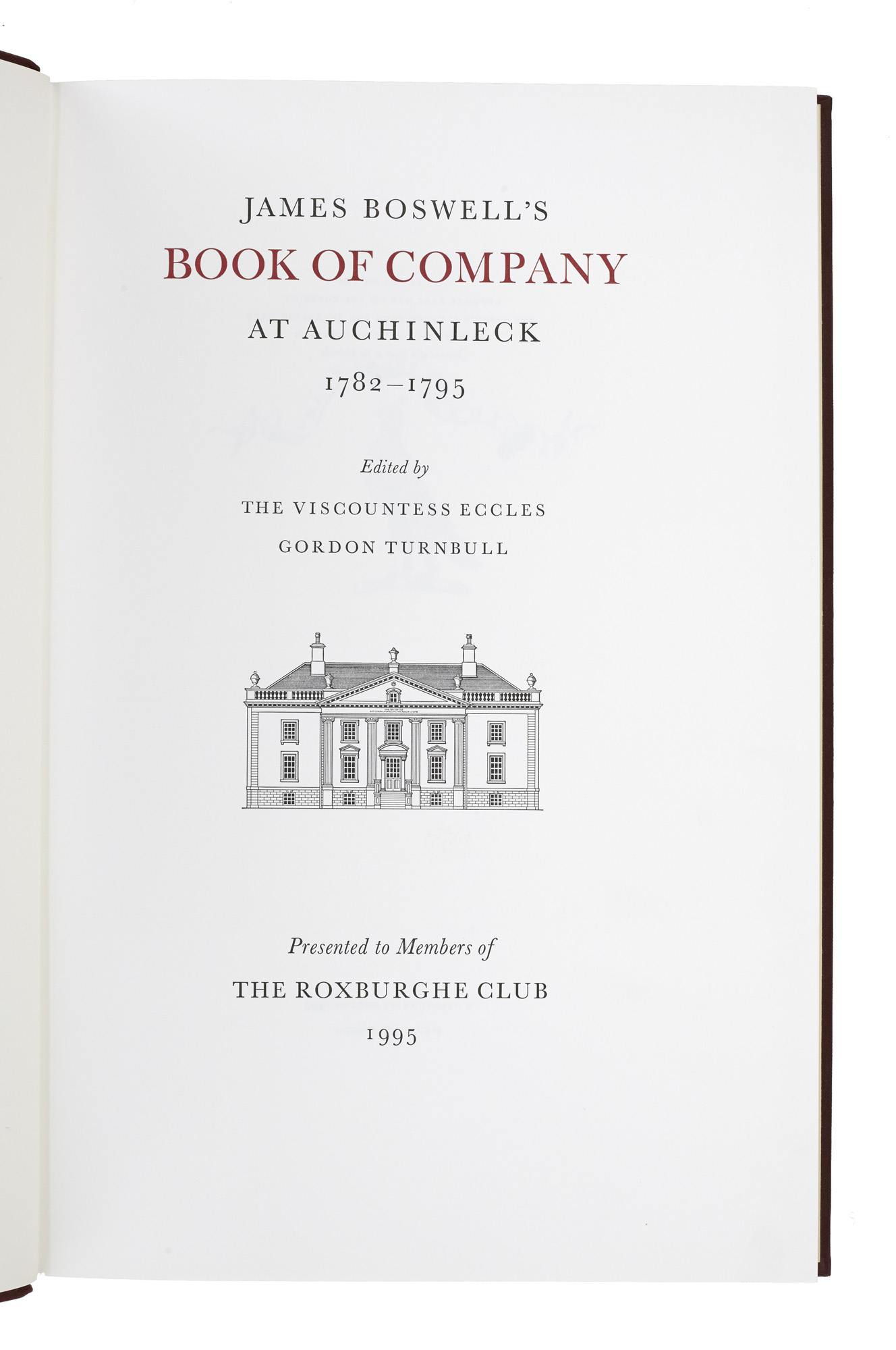 Added to your basket:
James Boswell's Book of Company at Auchinleck.
The Book of Company is much more than a visitor's book, since James Boswell comments on the men and women he met and entertained, and the occasions of his doing so, are all his own. It is therefore an important addition to his many-sided self-portrait. Beginning in 1782, two years before Samuel Johnson died, and ending five months before Boswell's own death in May 1795, it reflects Boswell's anguished uncertainties, as well as the everyday details of where he was, with whom he dined, whom he saw in the evening and – punctually recorded – how many bottles of wine and spirits were dispatched. The book is here reproduced in full facsimile, interleaved with a transcript on facing pages. At the foot of each page is a commentary, largely drawn from Boswell's correspondence and journals, which converts it into a comprehensive day by day diary of his thoughts and actions throughout the period.
You may also be interested in...
VETERINARY EDUCATION IN BRITAIN CLARK, James.
A Treatise on the Prevention of Diseases incidental to Horses, from bad Management in Regard to Stables, Food, Water, Air, and Exercise, to which are subjoined Observations on some of the surgical and medical Branches of Farriery … second Edition, corrected and enlarged.
Two important texts on farriery (second and third editions respectively), with a preface instrumental to the foundation of the Royal Veterinary College in 1791. Farrier to the King for Scotland, James Clark's arguments for a veterinary school after the model of the continental colleges were read and promoted by Granville Penn (1761-1844), the future chairman of the London Committee which would establish the Royal Veterinary College. Dedicated to one of the College's early patrons, the Duke of Buccleugh, the title describes the author as 'Honorary and Corresponding Member of the Society of Agriculture &c. at Odiam [Odiham] in Hampshire', the agricultural society from which the movement for a British veterinary college was beginning. Upon the death of the College's first Professor in 1793, Clark was encouraged to accept the position but declined, believing he would soon be appointed to lead a new veterinary school in Edinburgh, though this would not be founded for another thirty years.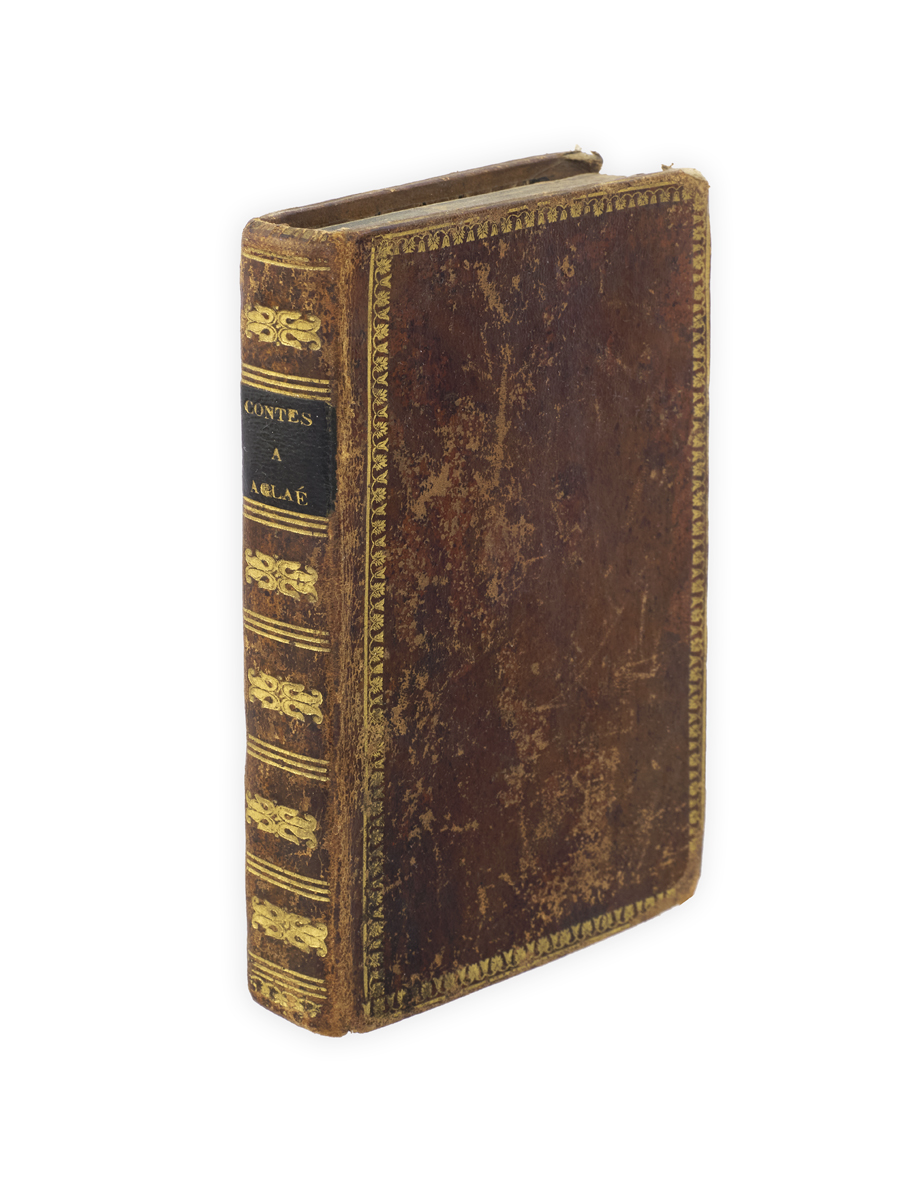 [RENNEVILLE, Sophie de?].
Contes a Aglaé, ou la jeune moraliste.
Very uncommon edition, possibly the first, of this collection of educational contes moraux, sometimes attributed to the prolific children's author and journalist Sophie de Renneville (1772-1822). Aimed at children of both sexes, the book contains sixteen short contes on subjects ranging from first communion and eternal regrets to bank notes and true happiness. Some of these themes are illustrated in the attractive hand-coloured plates.
Not in OCLC; the only copies we have traced of the work have 178 pages, and only fourteen of the contes, at the BnF, Bodleian, and the Enoch Pratt Free Library in Baltimore.