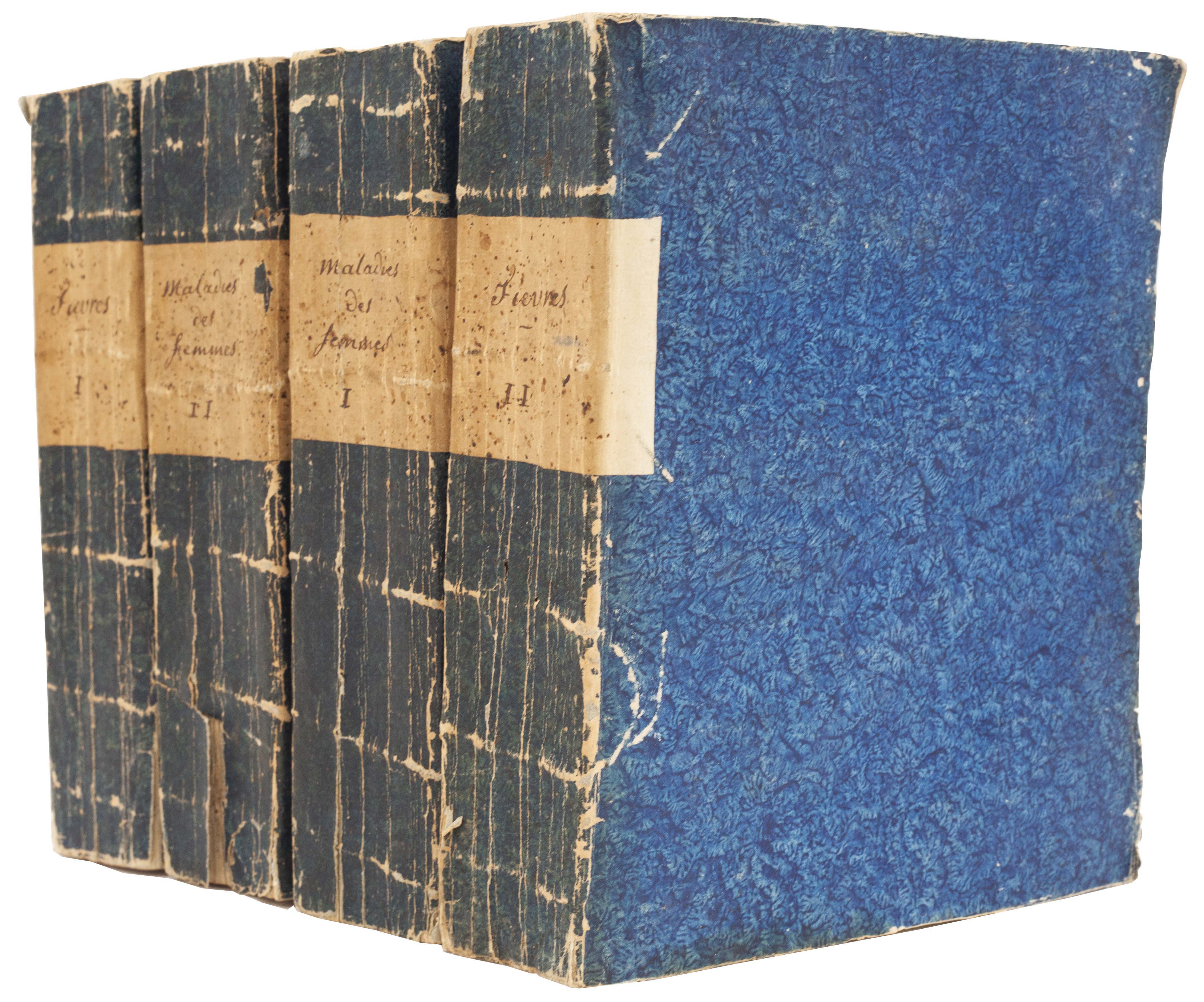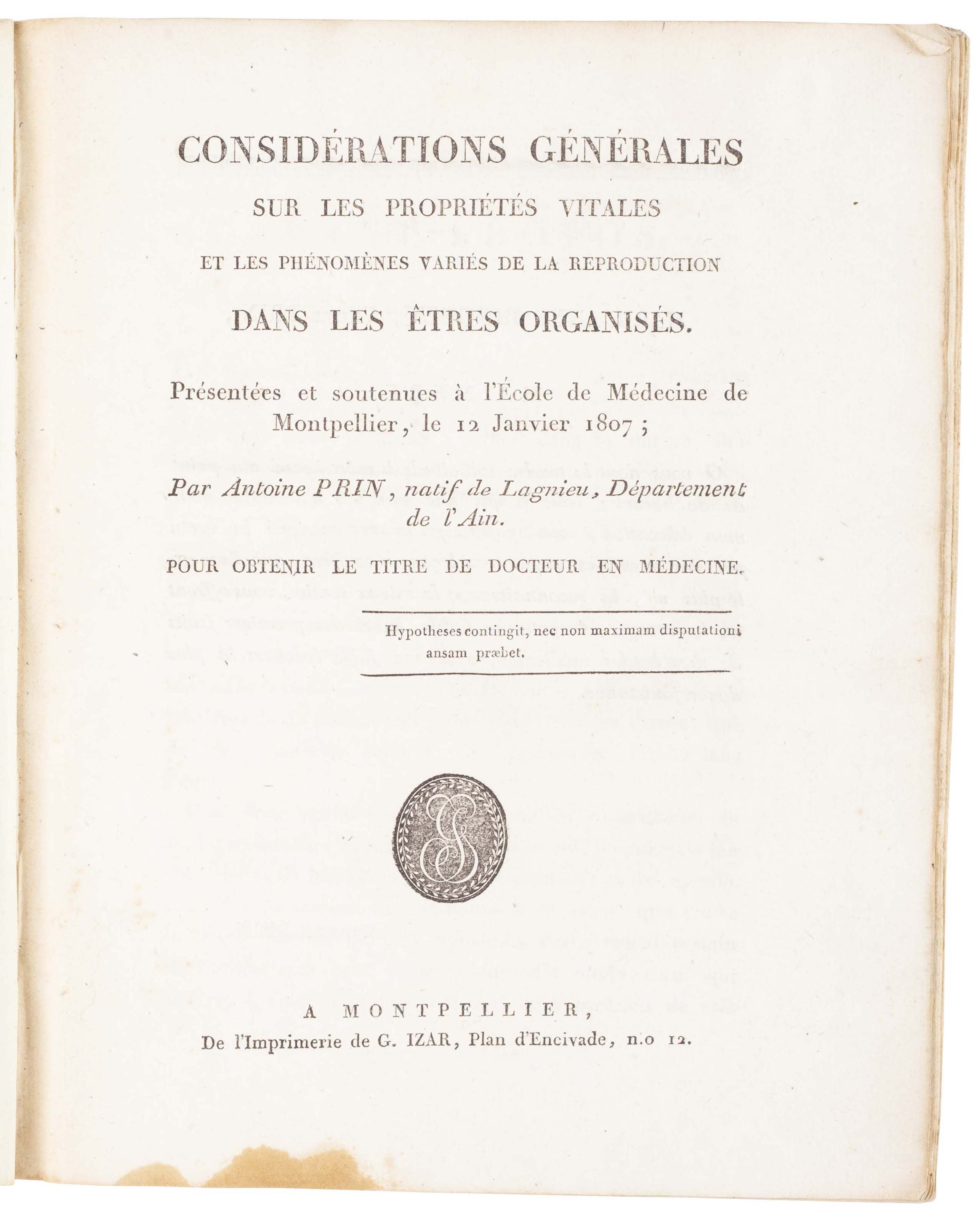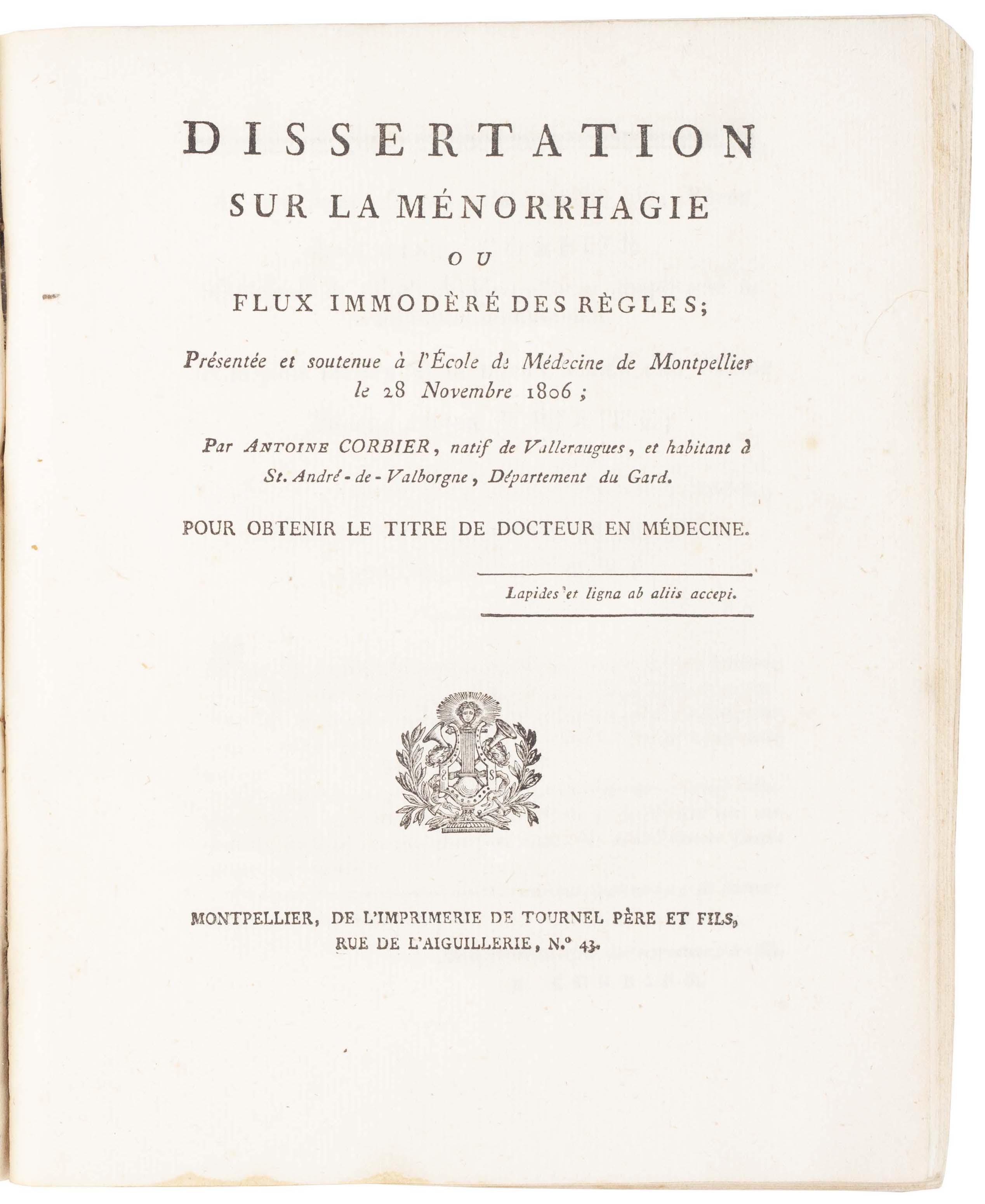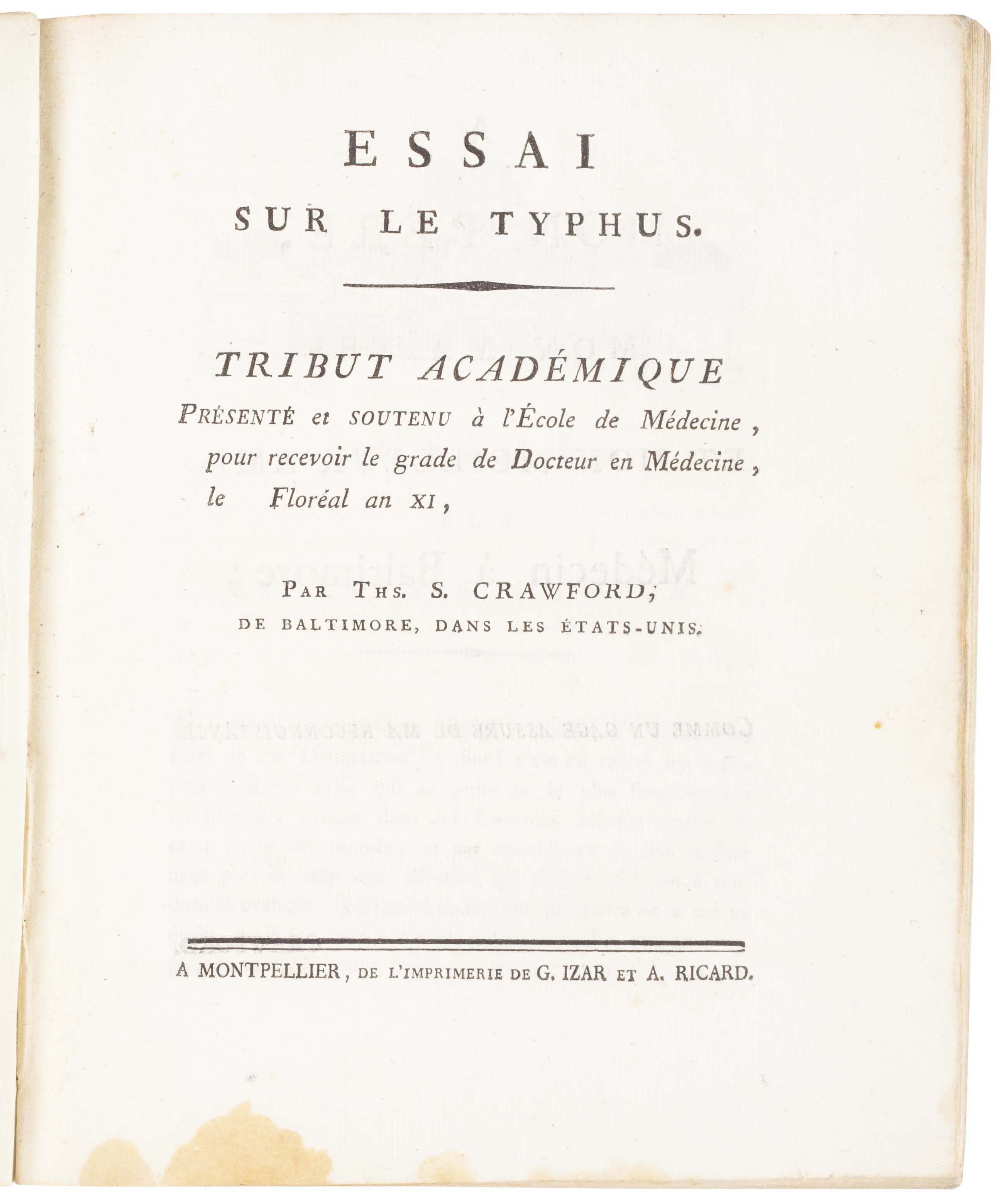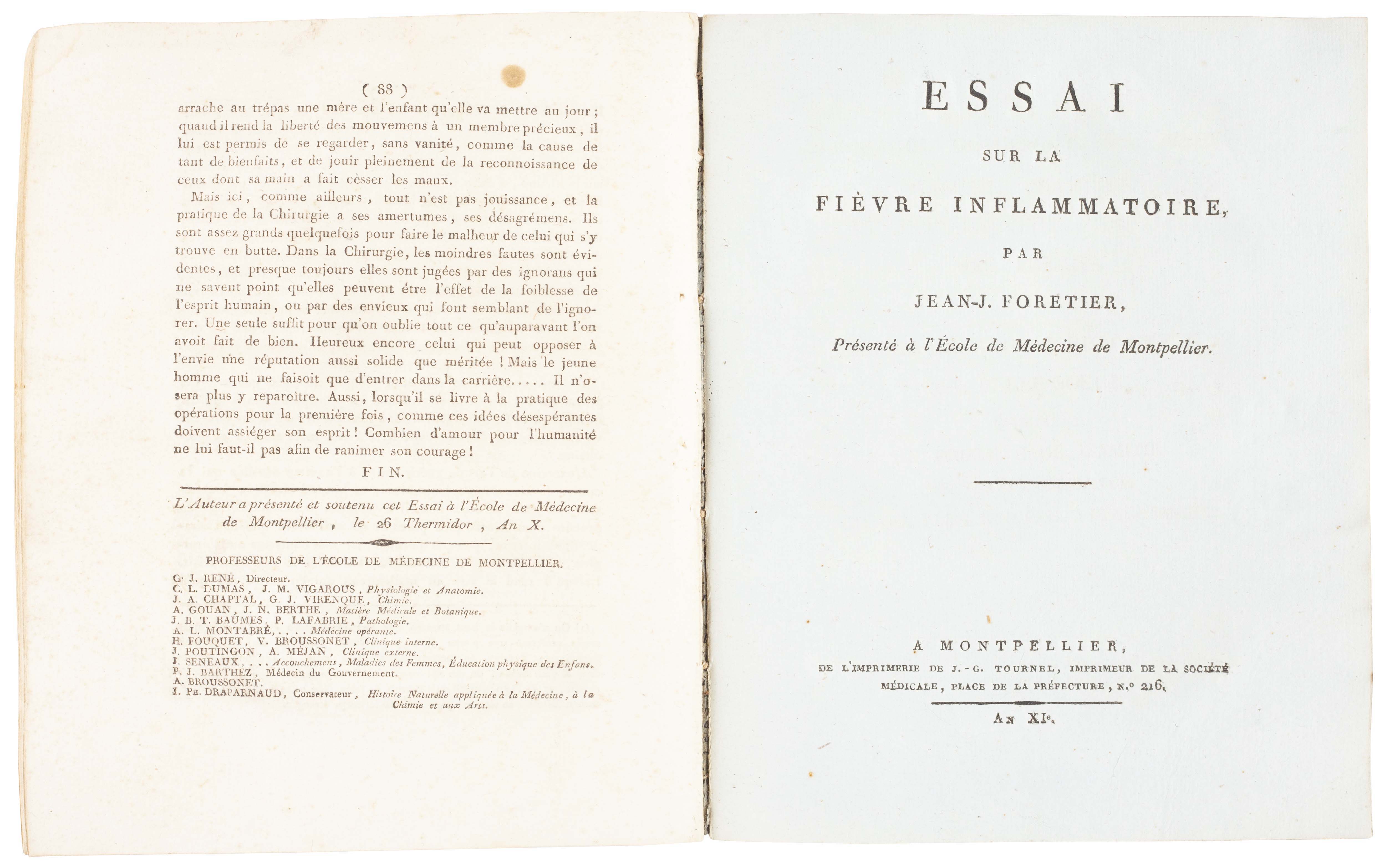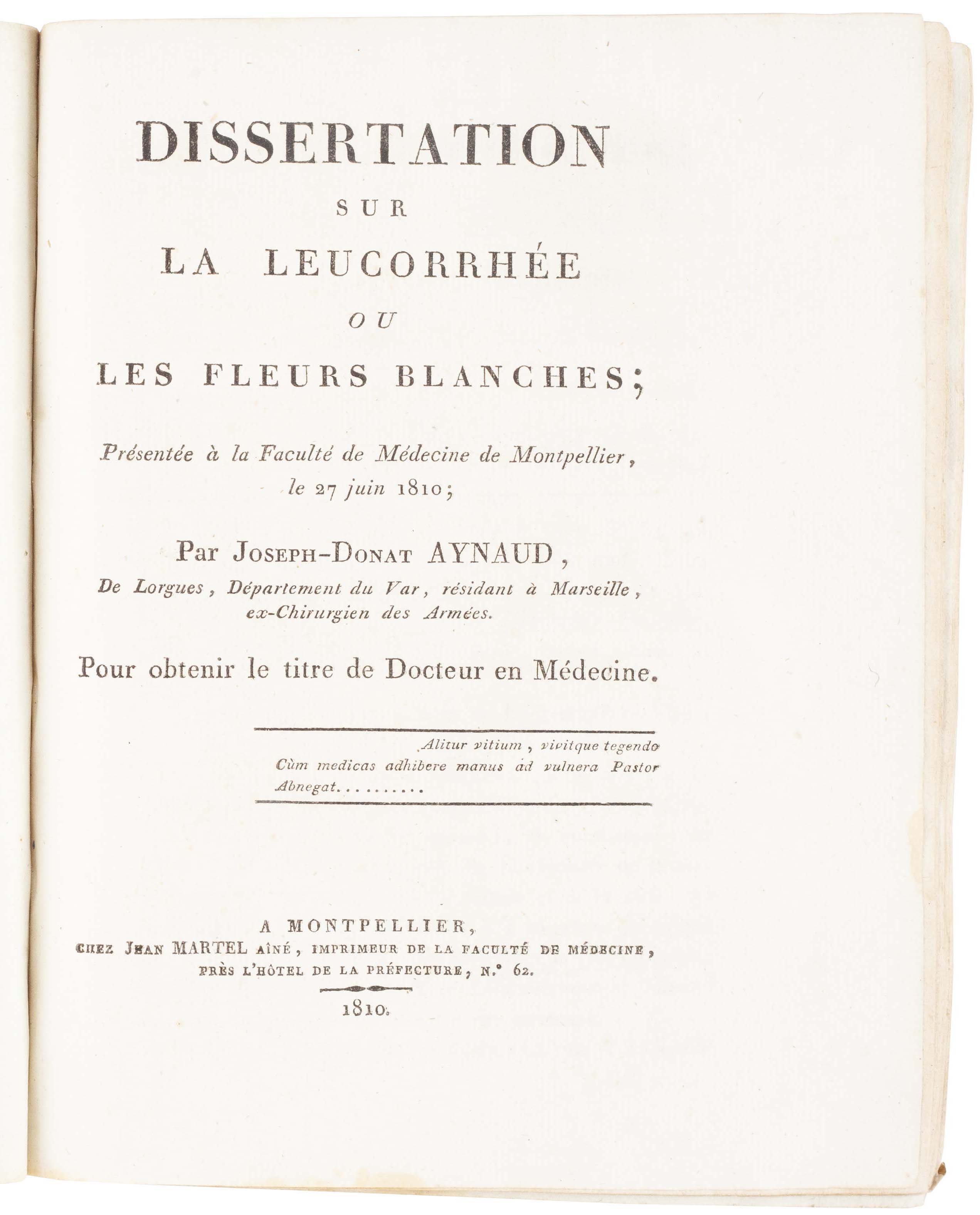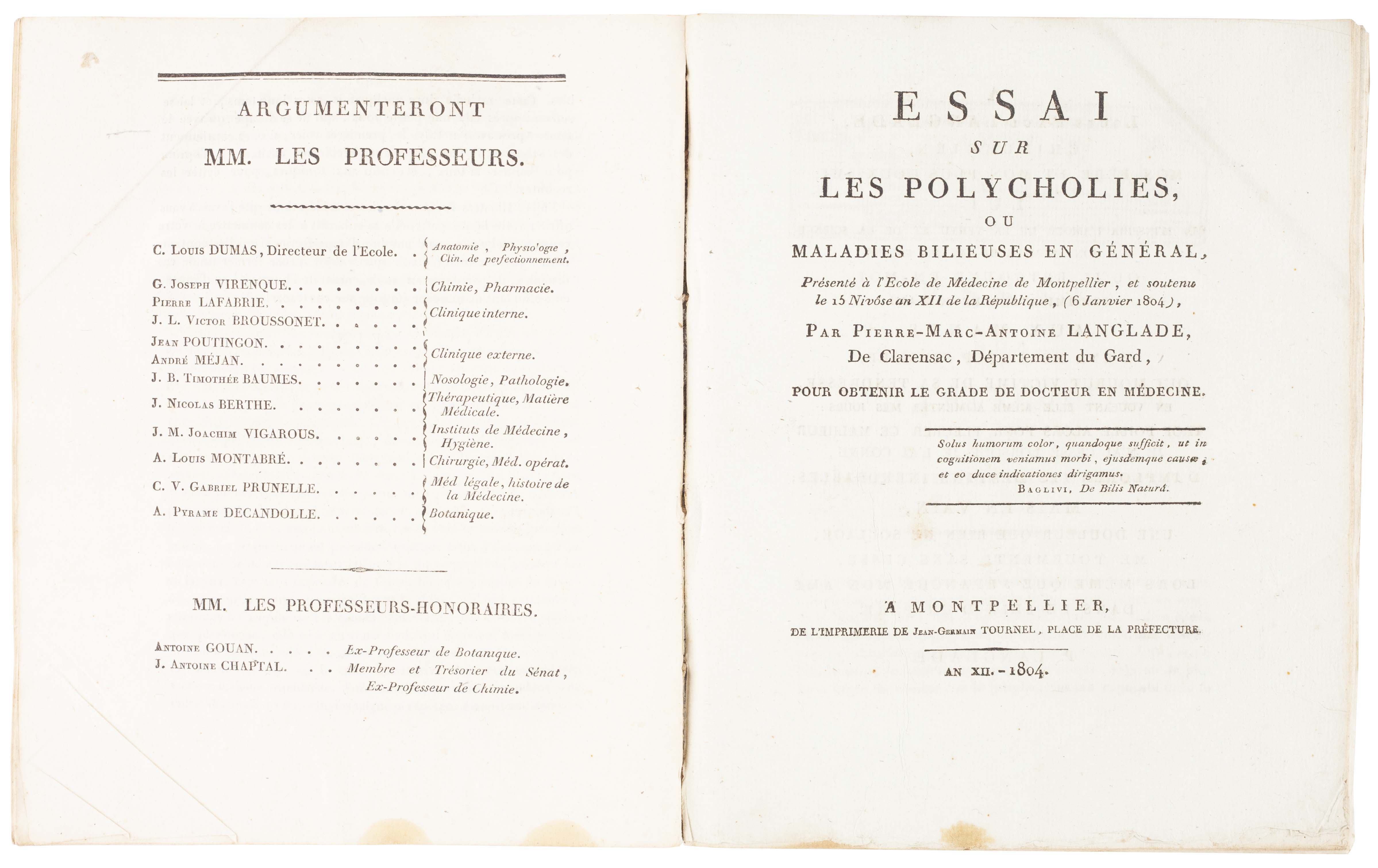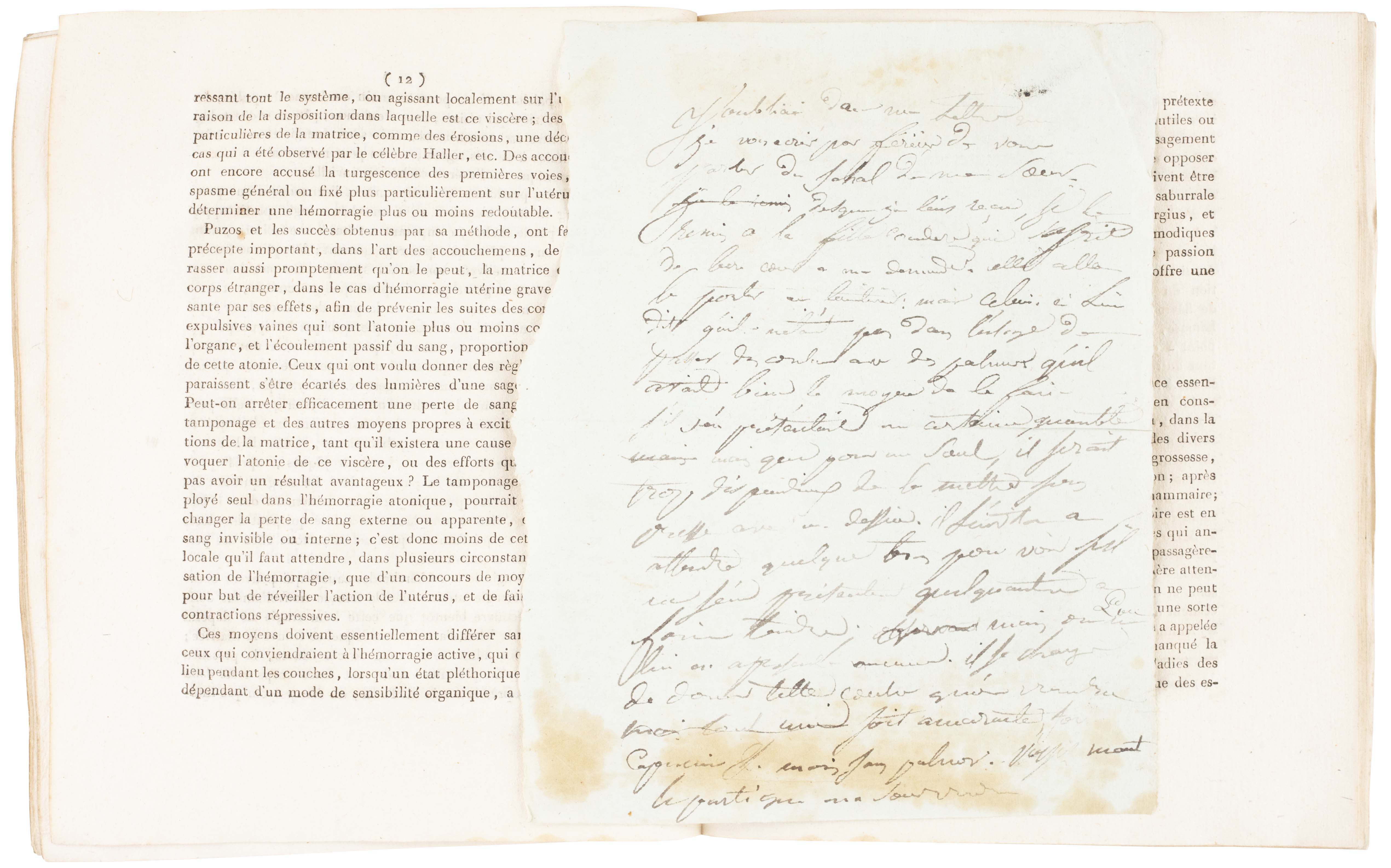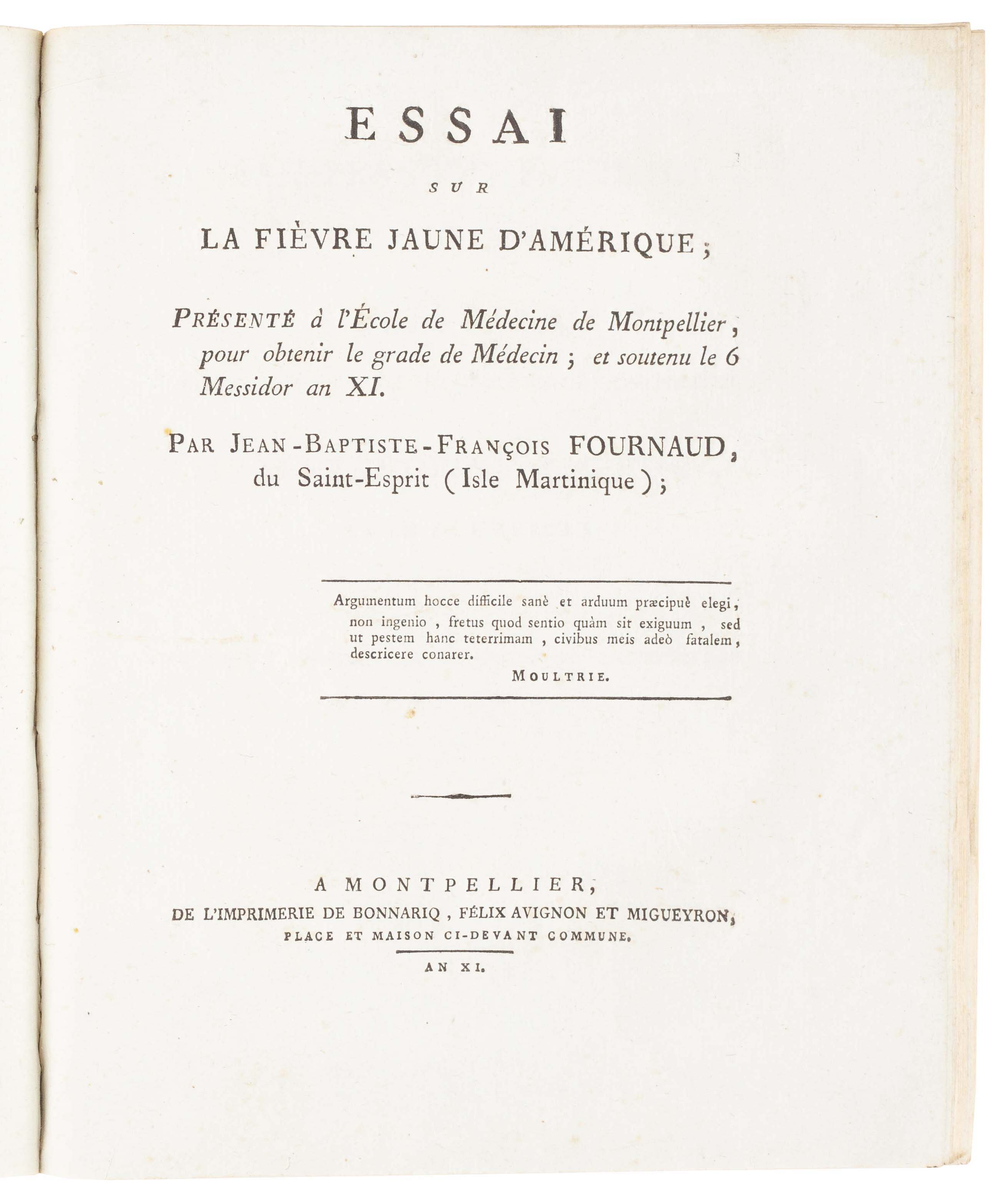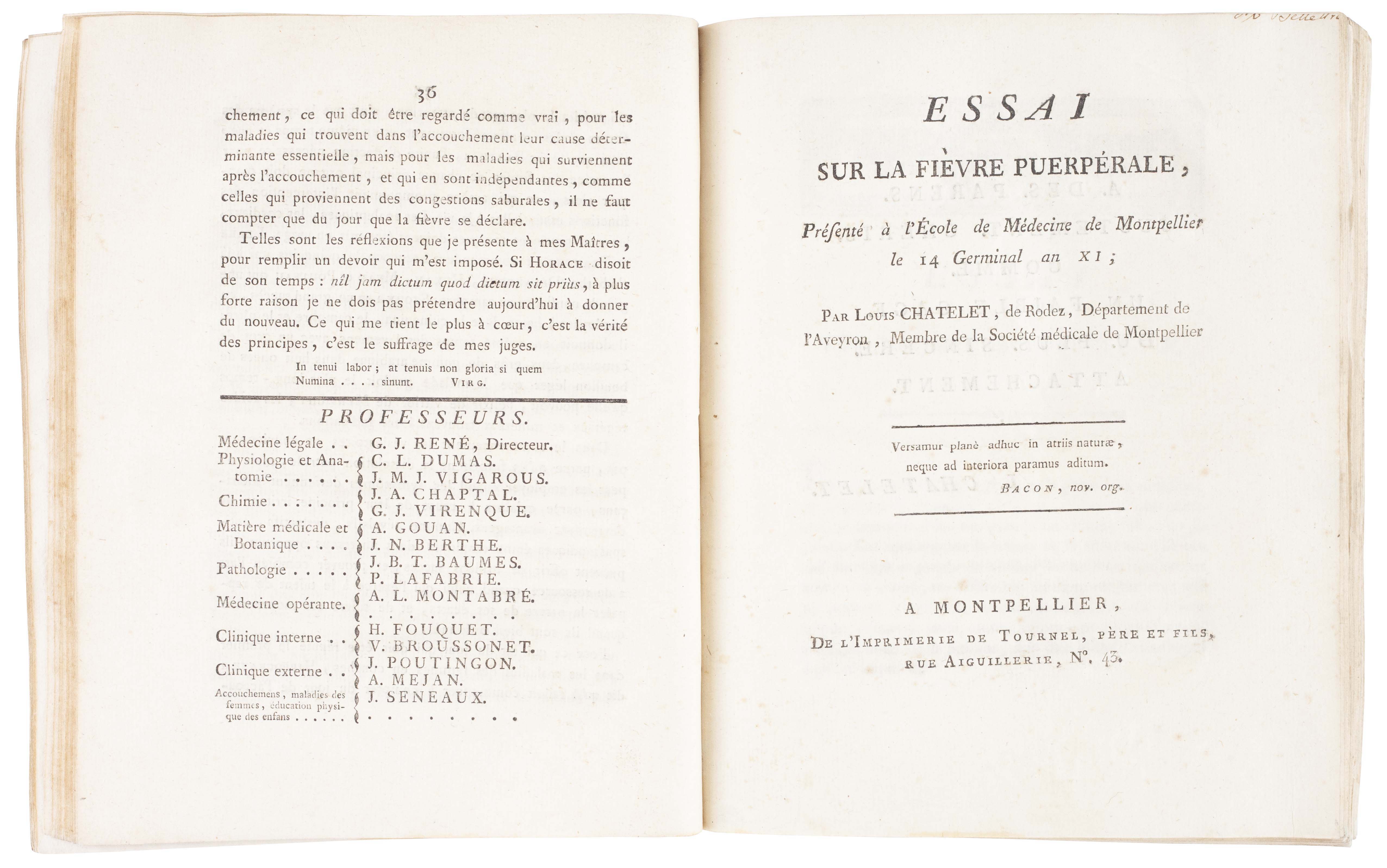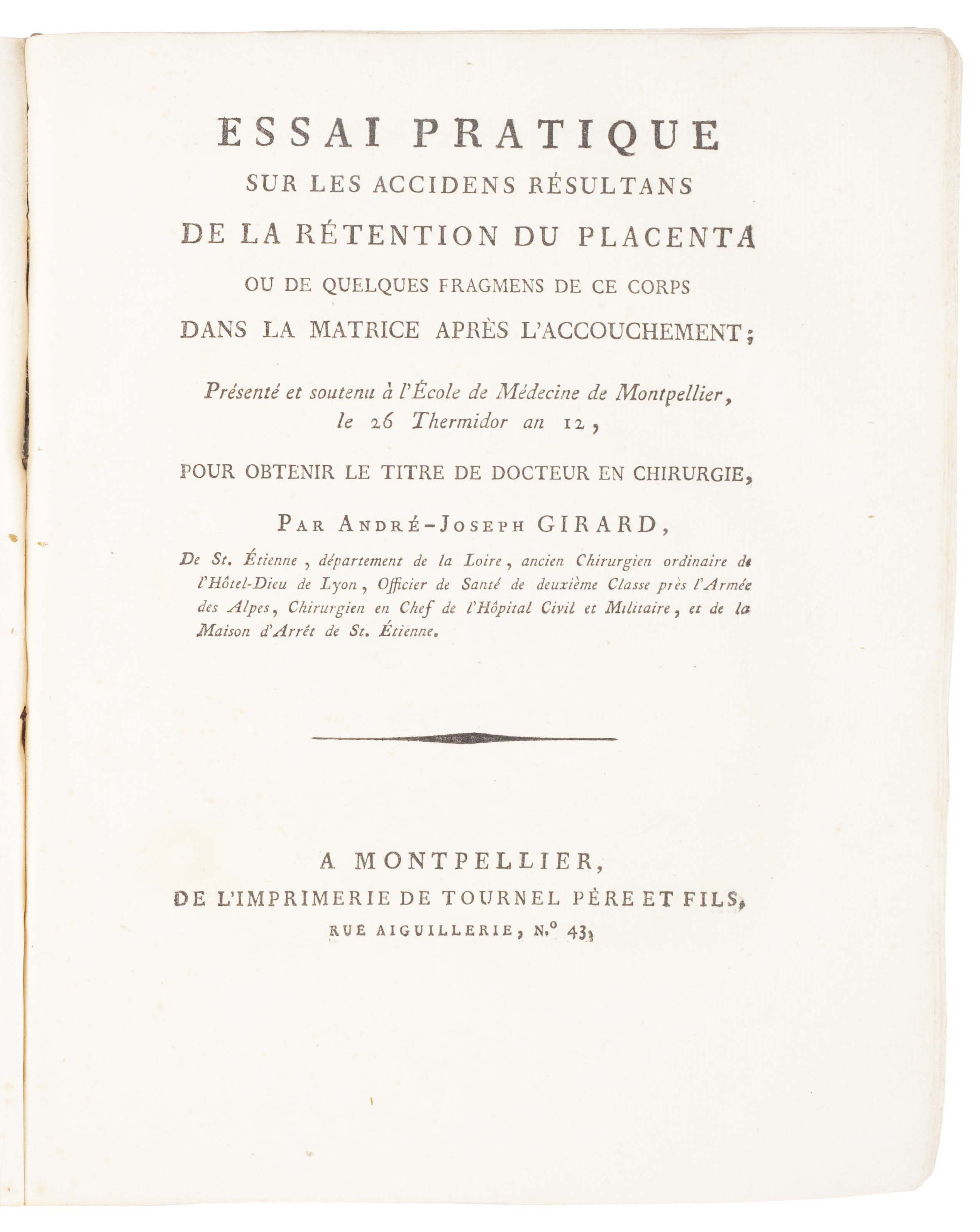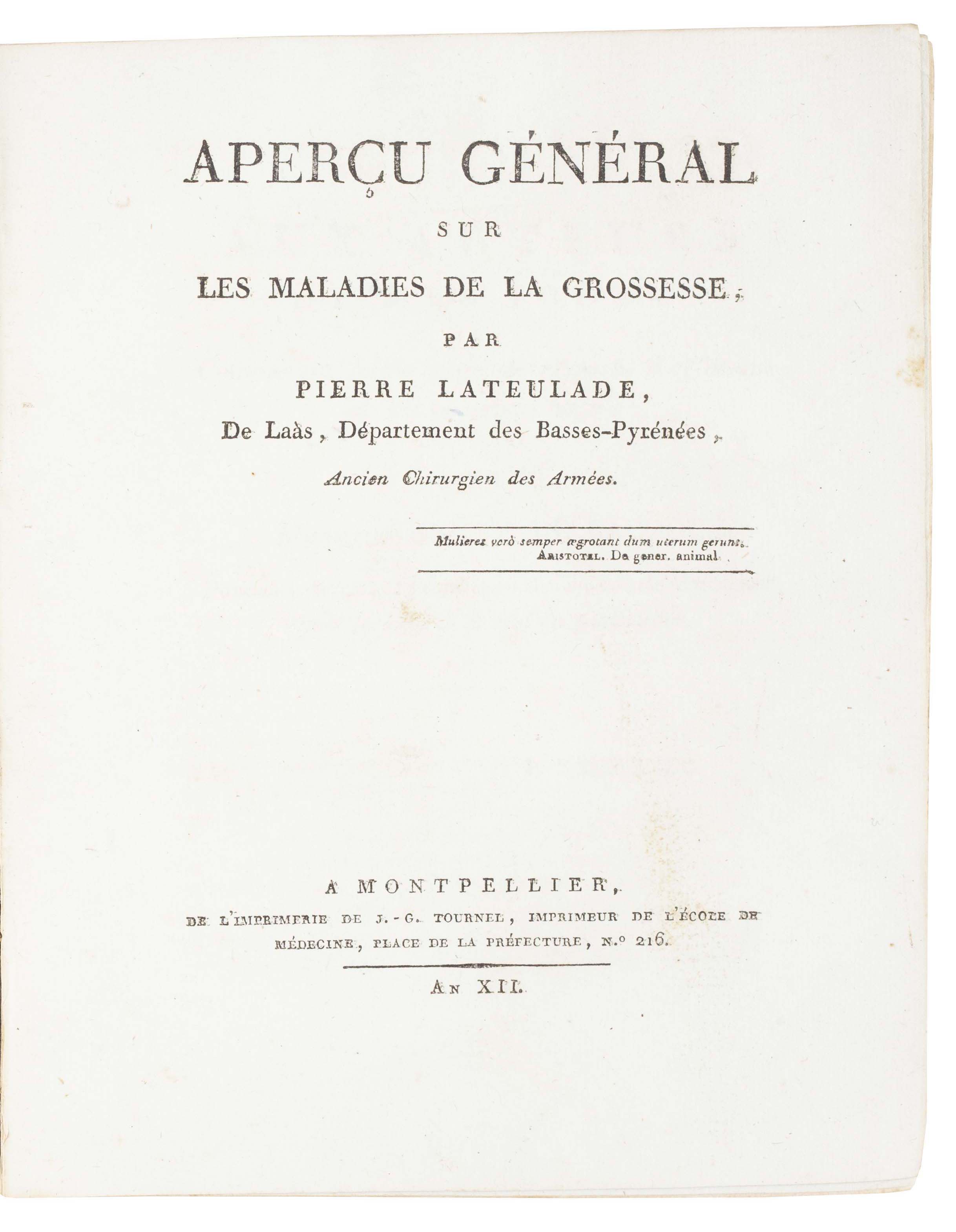 University Dissertations on Fevers and Gynaecology
ECOLE DE MEDECINE DE MONTPELLIER.
A collection of eighty-seven doctoral dissertations presented to and defended at the Medical School in Montpellier.
Montpellier, various publishers, 1800–1810.
4 vols, 4to, comprising 87 dissertations in all, ranging from 20pp to 118pp; some printed on blue paper; occasional contemporary annotations, underlinings, and crossings out, but otherwise, aside from the odd bit of staining to head and foot of the first few leaves of each volume, clean and fresh throughout; the penultimate dissertation wanting one gathering, otherwise complete; uniformly bound in blue wrappers with hand-written paper labels on spines, more or less contemporary; some wear to wrappers, but still a very attractive set.
£1750

Approximately:
US $2161
€2018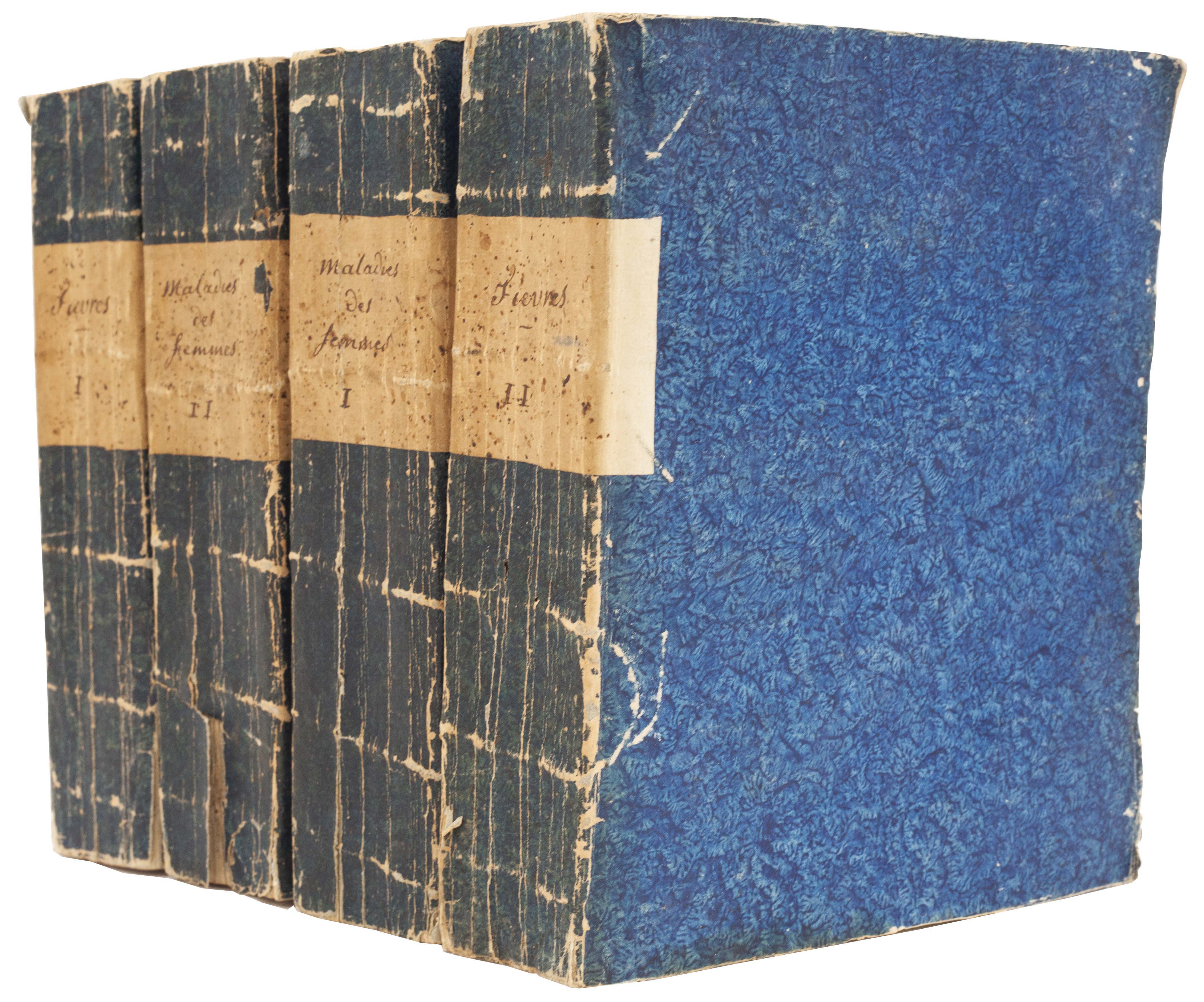 Added to your basket:
A collection of eighty-seven doctoral dissertations presented to and defended at the Medical School in Montpellier.
An extraordinary collection, bound up very soon after the last was published, of eighty-seven doctoral dissertations presented to the ancient medical school at Montpellier in the first ten years of the nineteenth century. The four volumes are divided into two sets, the first containing theses on fevers (including a number on yellow fever and tropical diseases), and the second on gynaecology, including a number of studies of puberty in girls, on puerperal fever, and on pregnancy. The doctors presenting their theses (almost all, if the dedications are to go by, from medical families) come from all over France and beyond; a thesis on typhus, dated 1803, is by Thomas S. Crawford of Baltimore, demonstrating some of the links between Napoleonic France and the still new United States.

Among the dissertations are works on the qualities required in a surgeon in cases of fever, essays on gastric fever, a study on gangrene in hospitals, reflections on the outbreak of yellow fever on board Le Formidable during the French campaign in Saint Domingue, general studies of human and mammalian reproduction, works on menstruation and barrenness, medico-legal studies of virginity and rape, sterility, and infanticide, essays on problems with breastfeeding, several essays on chlorosis, and one on nymphomania.

All of the dissertations are rare; while almost all are held by one or two French libraries, and the British Library, most are not represented beyond, and even the most common shows only two or three locations outside Continental Europe.

A full list, with collations, is available on request.
You may also be interested in...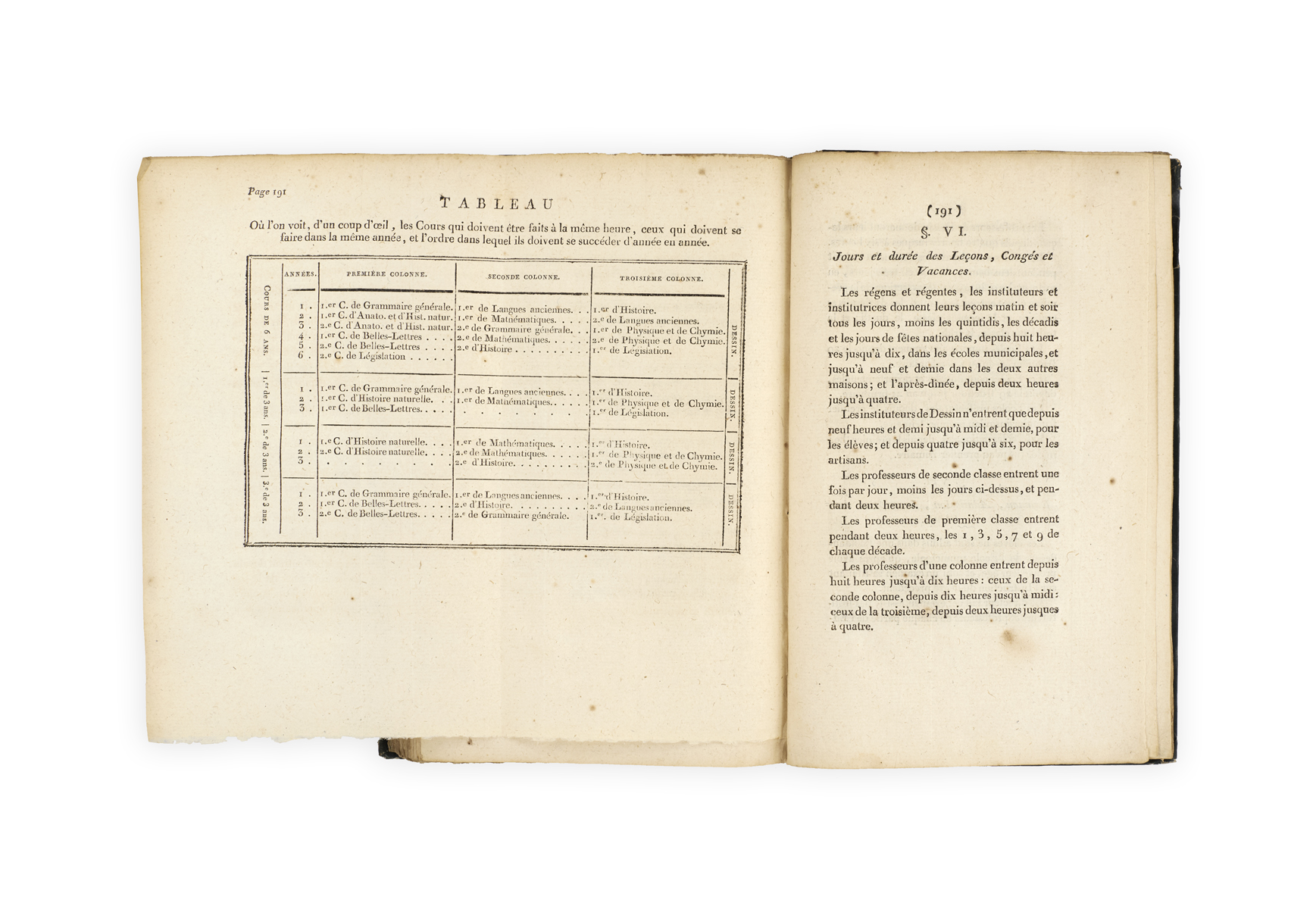 THREE TREATISES ON TEACHING GOSSELIN, Charles-Robert. 
Plan d'éducation, en réponse aux académies de Marseille et de Châlons, dont l'une a proposé pour sujet de prix, à distribuer dans le courant de cette année… 
A most interesting sammelband of three rare French works on education from the late eighteenth and early nineteenth centuries. 
ARM'S OF TILLY (The). 
The Virtues and Effects of the Remedy, named Medicamentum gratia probatum, id ist: the Remedy approved by Grace …
Unrecorded printing of an advertising broadside for Haarlem Oil, a panacea containing ingredients such as sulphur and terebinth oil which is still sold today as a dietary supplement.  The oil was first marketed in 1696 by Claes Tilly, a Haarlem schoolmaster, who was succeeded by his step grandchild Leendert Johnkout, and then in 1762 (or 1764 here) by Claes (Nicholas) de Koning Tilly, who seems to have been responsible for expanding the business into more international markets.