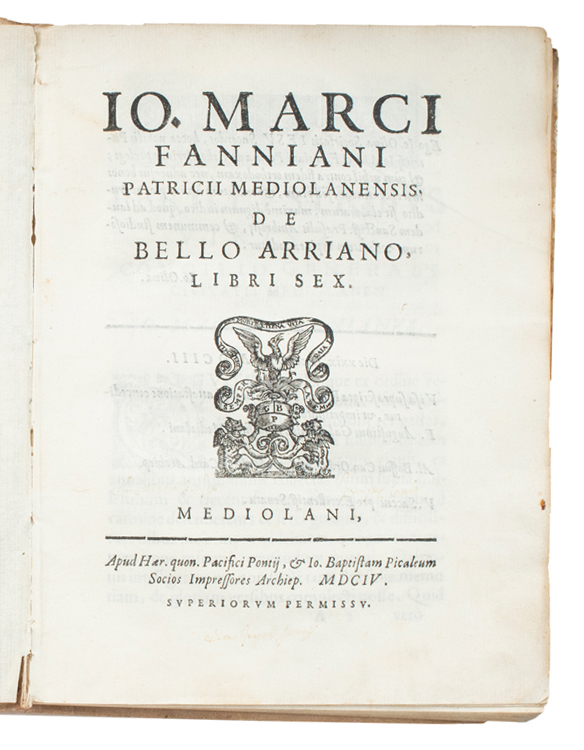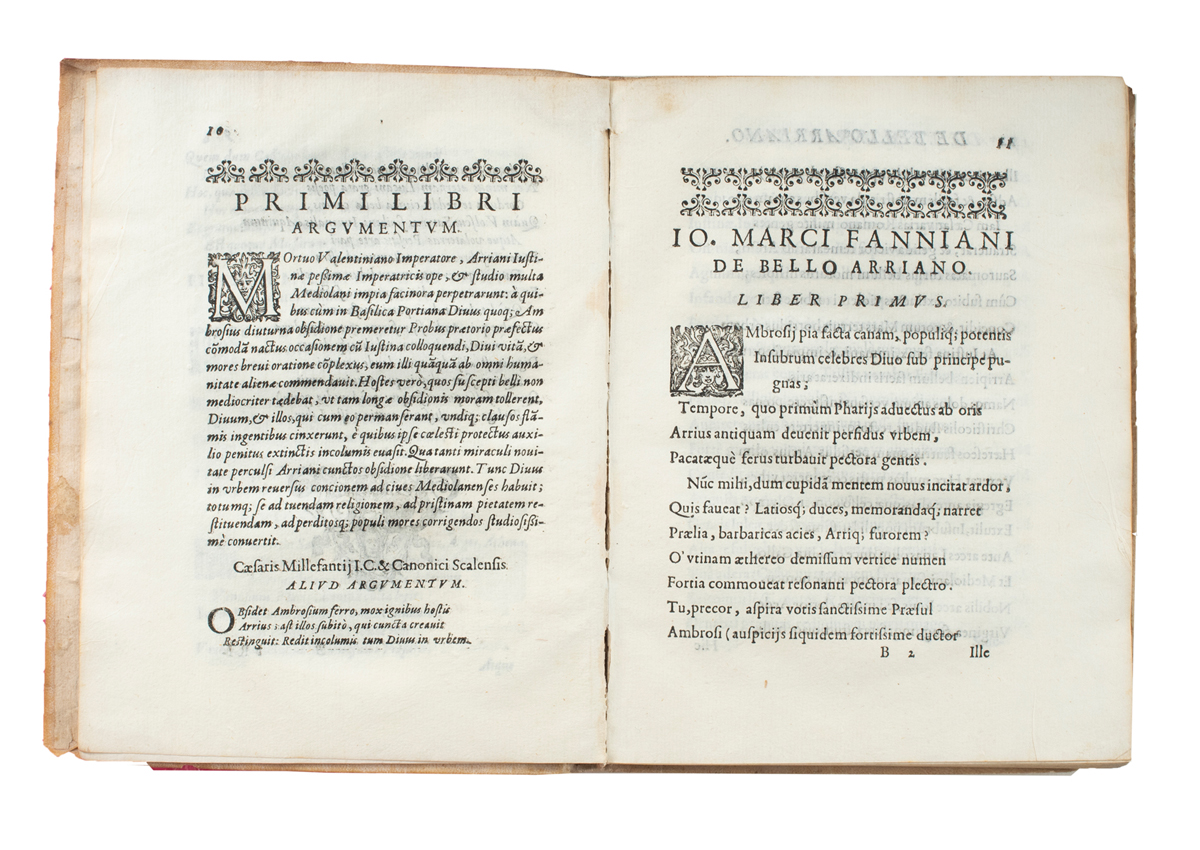 ST AMBROSE FIGHTS ARIANISM
FAGNANI, Giovanni Marco. 
De bello Arriano libri sex. 
Milan, heirs of Pacifico da Ponte and Giovanni Battista Piccaglia, 1604. 
4to, pp. 159, [1 (blank)]; woodcut Picaglia device to title, woodcut initials, woodcut and typographic headpieces and ornaments throughout; some very light browning to edges; very good in contemporary limp vellum, title inked to spine; some ink marks to covers, a little wear to edges, upper hinge split; contemporary ink inscription 'Coll. […] Soc. Jesu […] scriptus catalo. / ex dono Joannis Ferarii' to title (lightly erased).
£900

Approximately:
US $1103
€1046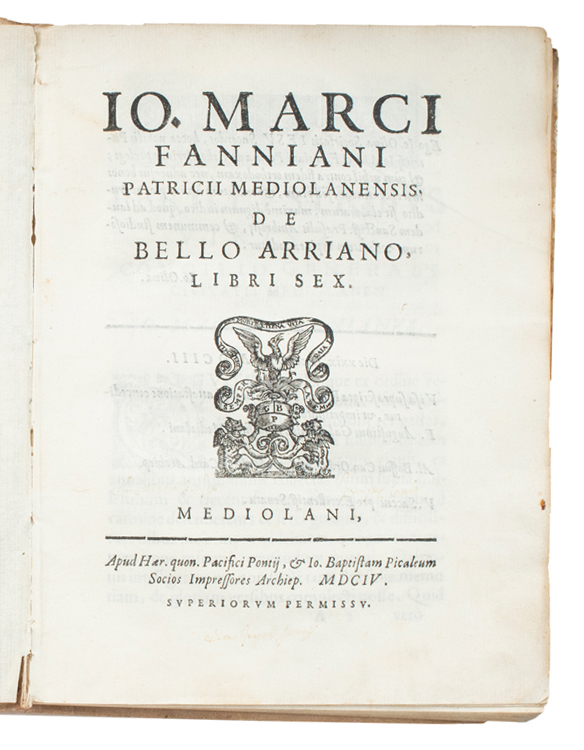 Added to your basket:
De bello Arriano libri sex. 
First and only edition of the sole published work by the Italian nobleman Giovanni Marco Fagnani (1524–1609), an epic poem recounting Ambrose of Milan's campaign against local Arians in late fourth-century Lombardy. 

The poem, composed of six books in dactylic hexameters, recounts how Ambrose managed to drive the Arians out of Milan, before eventually defeating them in Varese, where a church was subsequently erected in his honour.  Ambrose was a common symbol of Milanese pride, and his victory over the Arians is presented by Fagnani not so much as the victory of a pious saint over the evils of heresy, but rather the victory of the valiant, brave Milanese subjugating and expelling a pernicious foreign force: even Ambrose is described as 'not only of exceptional holiness, but also truly skilled in the art of war' (p. 5 trans.).  In doing so, Fagnani appears to have been partly influenced by the work of the Milanese historian Gaspare Bugati, whom Fagnani cites.  In his Historia Universale, first published in 1570, Bugati had also claimed that Ambrose 'defended Catholicism not only with orations and with fasting; but often with arms' (p. 87). 

Also included are a number of short poems prefixed to each book by Cesare Millefanti (1556-1640), a canon at the church of Santa Maria della Scala. 

OCLC finds three copies in the US (Harvard, Illinois, and Newberry) and two in the UK (BL and Bodley). 

USTC 4030293; see Canellis, 'La figure d'Ambroise de Milan d'après le De Bello Arriano de Giovanni Marco Fagnani (1604)' in Étudier les humanités aujourd'hui: nouveaux enjeux, nouvelles méthodes (Paris, 2022), pp. 521-538. 
You may also be interested in...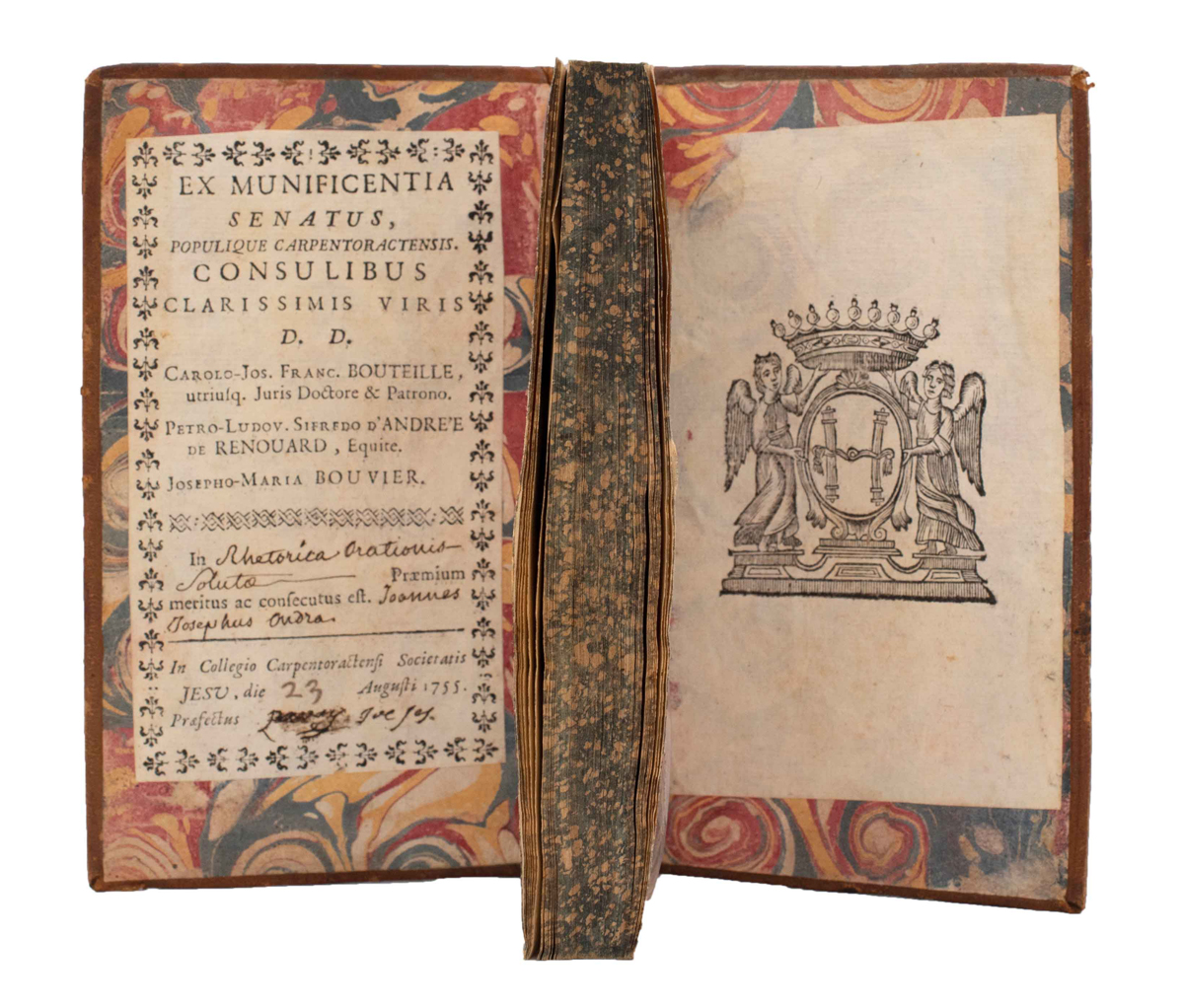 A PRIZED COPY PELLISSON, [Paul]. 
Histoire de l'Academie Françoise par M. Pelisson [sic], nouvelle edition, augmentee des deux discours de M. l'Abé [sic] de St. Pierre sur les travaux de l'Academie. 
An attractive prize copy of Pellisson's history of the Académie française, with a printed presentation label from the Jesuit college in the Occitan town of Carpentras, outside Avignon. 
'WHO SHALL DECIDE, WHEN DOCTORS DISAGREE' POPE, [Alexander]. 
Of the Use of Riches, an Epistle to the Right Honorable Allen Lord Bathurst. 
First edition, first issue, with p. 13 uncorrected and the erratum on p. 20.