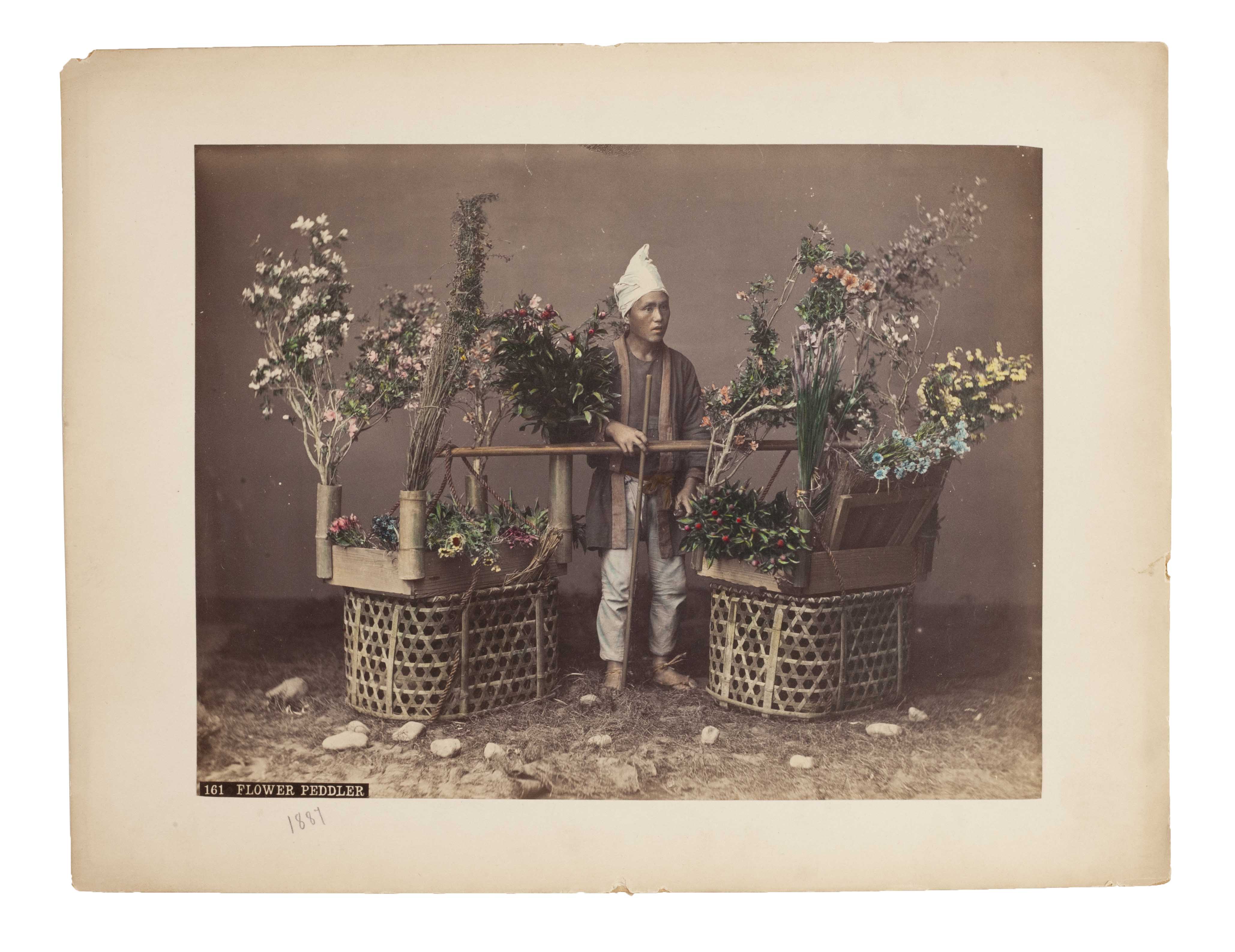 [FARSARI, Adolfo, Studio of.]

Japanese flower seller.
[Yokohama?, c. 1887.]
Hand-tinted albumen print (18.7 x 24.5 cm), captioned in the negative '161 Flower peddler', pasted on contemporary card mount (24.3 x 32 cm); a few small chips to edges of mount, mount slightly browned; '1887' pencilled at foot of mount; overall very good.
£200

Approximately:
US $276
€230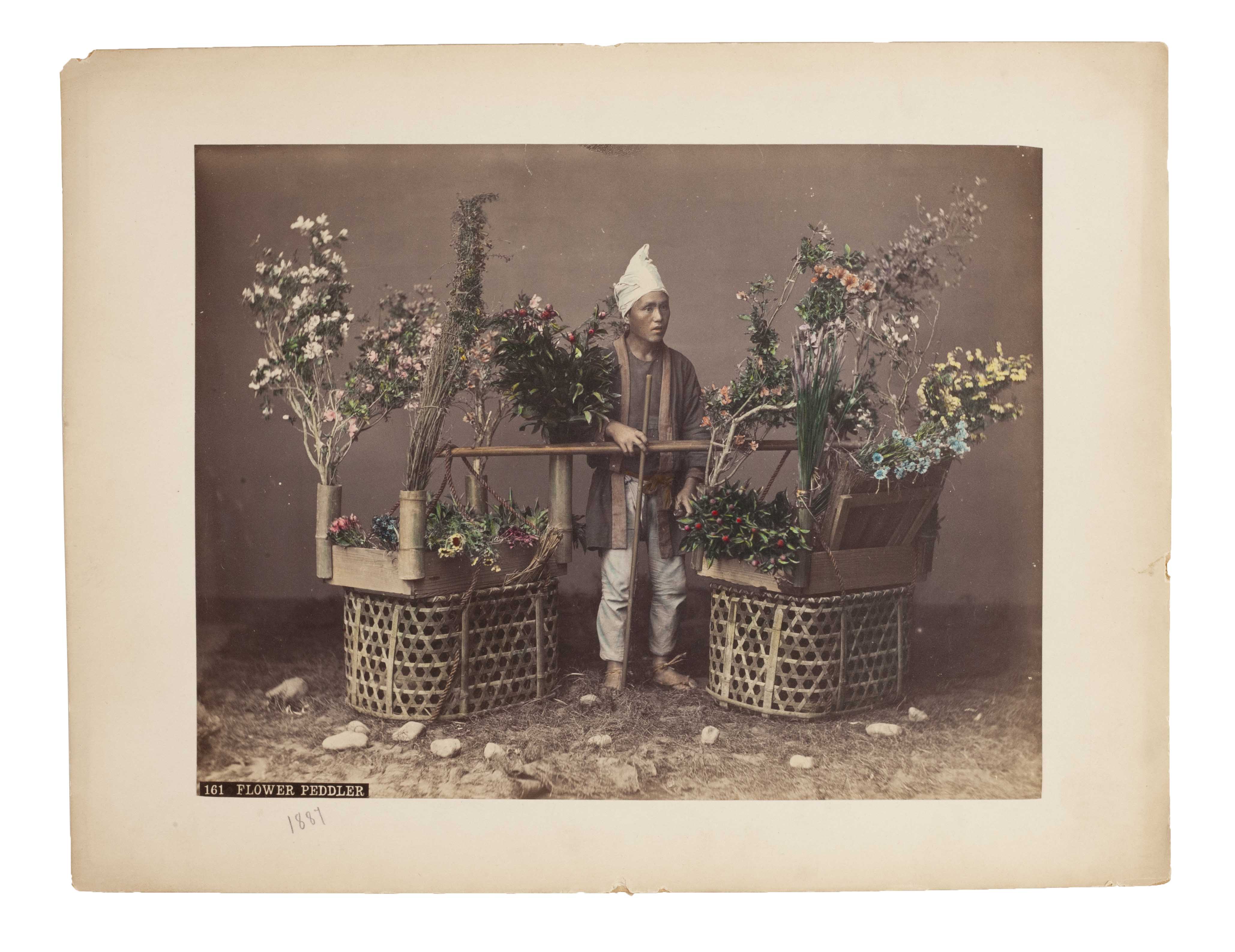 Added to your basket:
Japanese flower seller.
A striking image of a Japanese flower vendor, with delicate contemporary hand colouring, most notably to the flowers. After time spent in America, where he fought in the Civil War, Adolfo Farsari (1841 - 1898) moved to Japan in 1873, establishing himself in Yokohama. In 1885 he opened his own photographic studio, subsequently touring Japan to create a portfolio of over 1000 images. The quality of his work and innovative approach to hand colouring brought him commercial success. His firm was the last important Western photography studio in Japan.
You may also be interested in...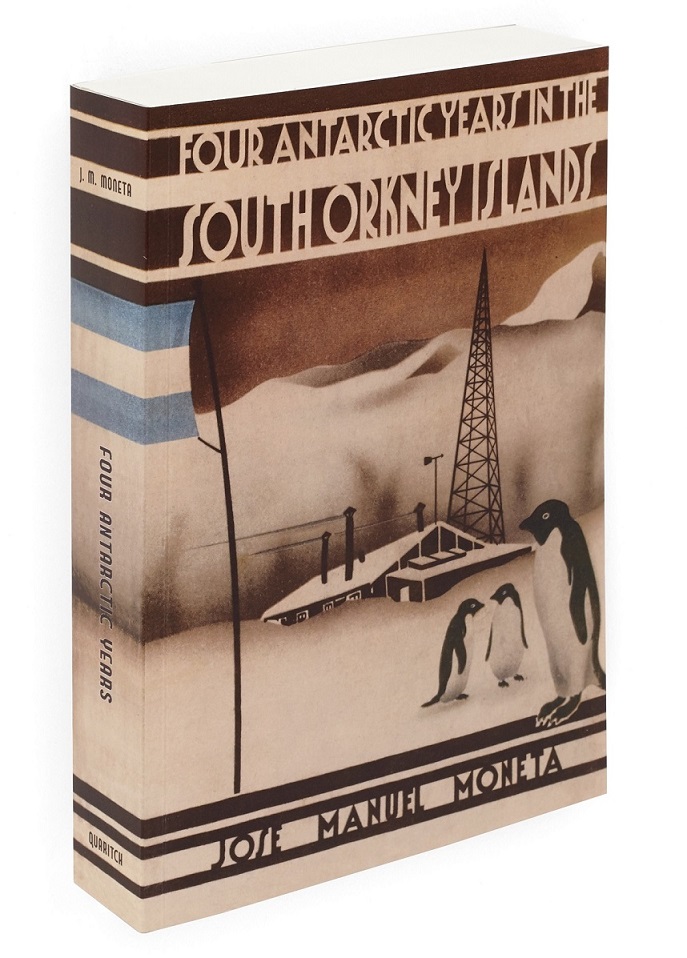 MONETA, José Manuel, and Robert Keith HEADLAND, (ed.).
Four Antarctic Years in the South Orkney Islands: an Annotated Translation of 'Cuatro Años en las Orcadas del Sur'.
One man's fascinating record of four winters in the Antarctic during the 1920s, the period of transition from the isolation of the Heroic Age to the beginnings of radio communication with the world outside.
BORLASE, William.
The natural History of Cornwall: The Air, Climate, Waters, Rivers, Lakes, Sea, and Tides; Of the Stones, Semimetals, Metals, Tin, and the Manner of Mining; The Constitution of the Stannaries; Iron, Copper, Silver, Lead, and Gold, found in Cornwall; Vegetables, rare Birds, Fishes, Shells, Reptiles, and Quadrupeds; Of the Inhabitants, their Manners, Customs, Plays or Interludes, Exercises, and Festivals, the Cornish Languages, Trade, Tenures, and Arts; illustrated with a new Sheet Map of the County, and twenty-eight Folio Copper-Plates from the original Drawings taken on the Spot.
First edition of Borlase's monumental survey of Cornwall. Though aged over sixty at the time of publication, William Borlase (1696 – 1772), rector of Ludgvan, toured central and eastern Cornwall between 1752 and 1757, gathering material for his Natural History. The result, though less ambitious than intended, provides a detailed account of the county, its flora, fauna, geology, and culture, elegantly illustrated with large copper plates.