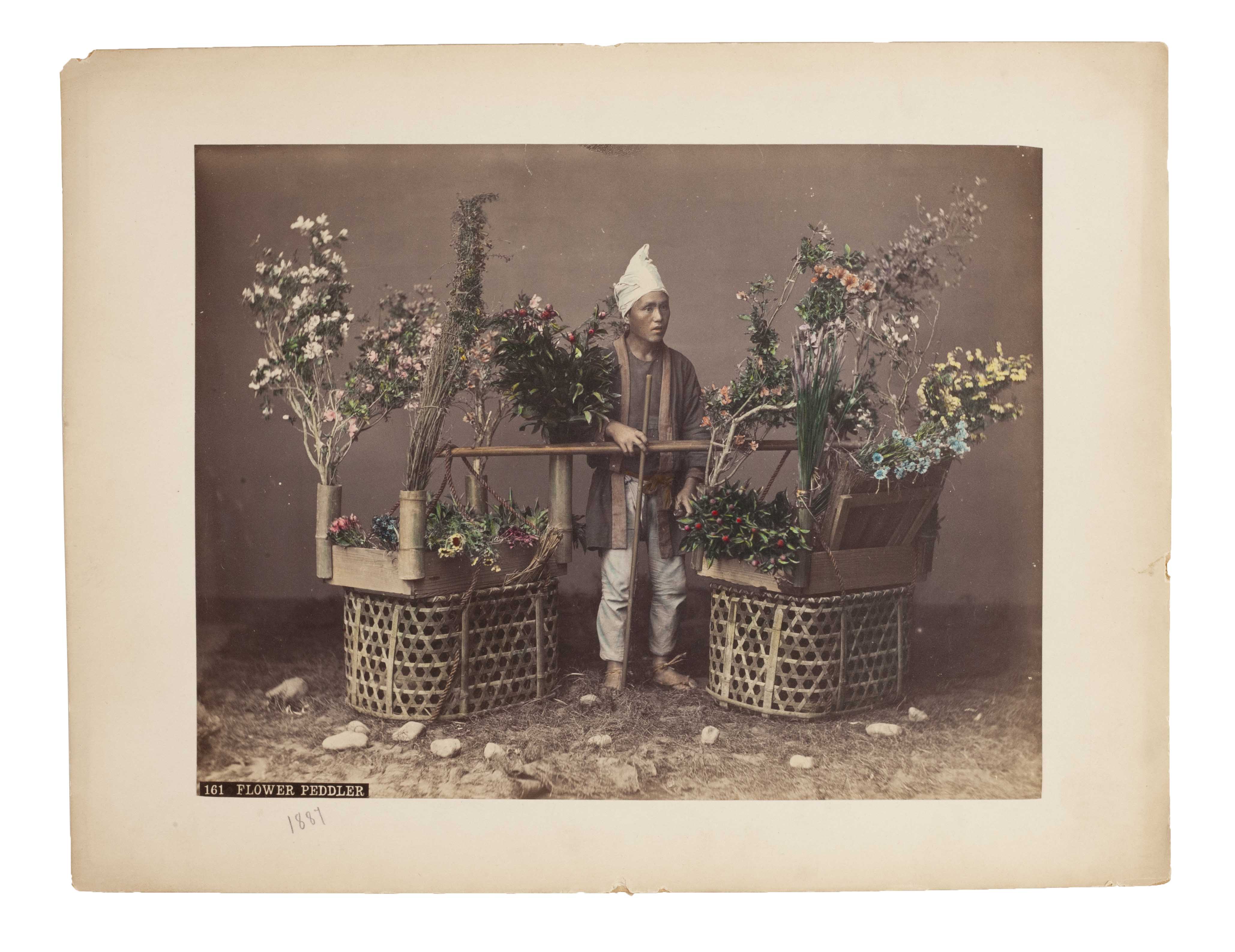 [FARSARI, Adolfo, Studio of.]

Japanese flower seller.
[Yokohama?, c. 1887.]
Hand-tinted albumen print (18.7 x 24.5 cm), captioned in the negative '161 Flower peddler', pasted on contemporary card mount (24.3 x 32 cm); a few small chips to edges of mount, mount slightly browned; '1887' pencilled at foot of mount; overall very good.
£200

Approximately:
US $274
€237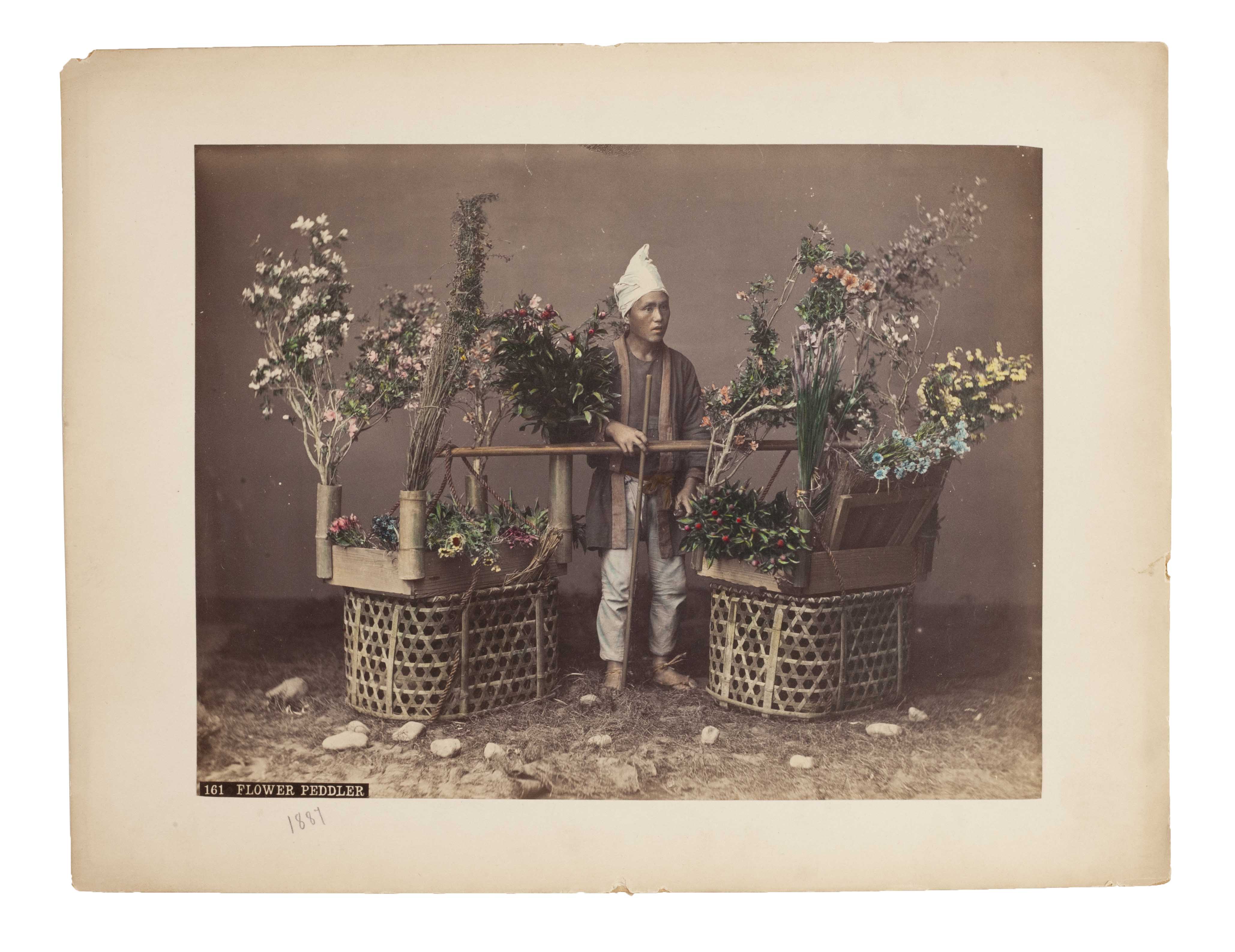 Added to your basket:
Japanese flower seller.
A striking image of a Japanese flower vendor, with delicate contemporary hand colouring, most notably to the flowers. After time spent in America, where he fought in the Civil War, Adolfo Farsari (1841 - 1898) moved to Japan in 1873, establishing himself in Yokohama. In 1885 he opened his own photographic studio, subsequently touring Japan to create a portfolio of over 1000 images. The quality of his work and innovative approach to hand colouring brought him commercial success. His firm was the last important Western photography studio in Japan.
You may also be interested in...
PRE-WAR SINGAPORE [DICKSON, George.
Singapore flight.
Apparently the first and only edition of a fascinating personal diary of an 18,000-mile flight from Southampton to Singapore made in 1938 (pp. 1–36). It includes accounts of stop-overs in Athens, Basra, various parts of the Indian subcontinent, Malaya, Java, Batavia (Jakarta), Bandoeng (Bandung), Alexandria and Rome. The final destination strikes Dickson as 'a lovely heavily wooded island with everything extremely clean' (p. 24). On sightseeing in the Sultanate of Johor, he comments: 'the visit was admirable and the monkeys around the place were as tame as I, but a hundred times smaller and slimmer and, I guess cooler' (p. 26). There is also a description of the 1938 Empire Exhibition in Glasgow, which attracted twelve million visitors (pp. 37–44), and of a 1939 trip to New York, with photographs of the Rockefeller Centre (pp. 55–59). Dickson incorporates a poem entitled 'The Night Ashore' (pp. 45–54). In poignant contrast to the glamour of air travel, the journal gives an insight into a world which, on the brink of war, was still feeling the effects of the 1929 crash: while in New York, Dickson 'went walking in some of the poorer streets, where 15 cents. is a lot of money. Unemployed men and women walked around sadly, hopelessly, it seemed, in droves . . . America has her own troubles. If there is a war, when will she enter it? . . . Chamberlain must declare war this time' (p. 58). There volume has no title page, seemingly as issued; and author and title are taken from the cover, which is illustrated with an evocative sketch of a sea plane.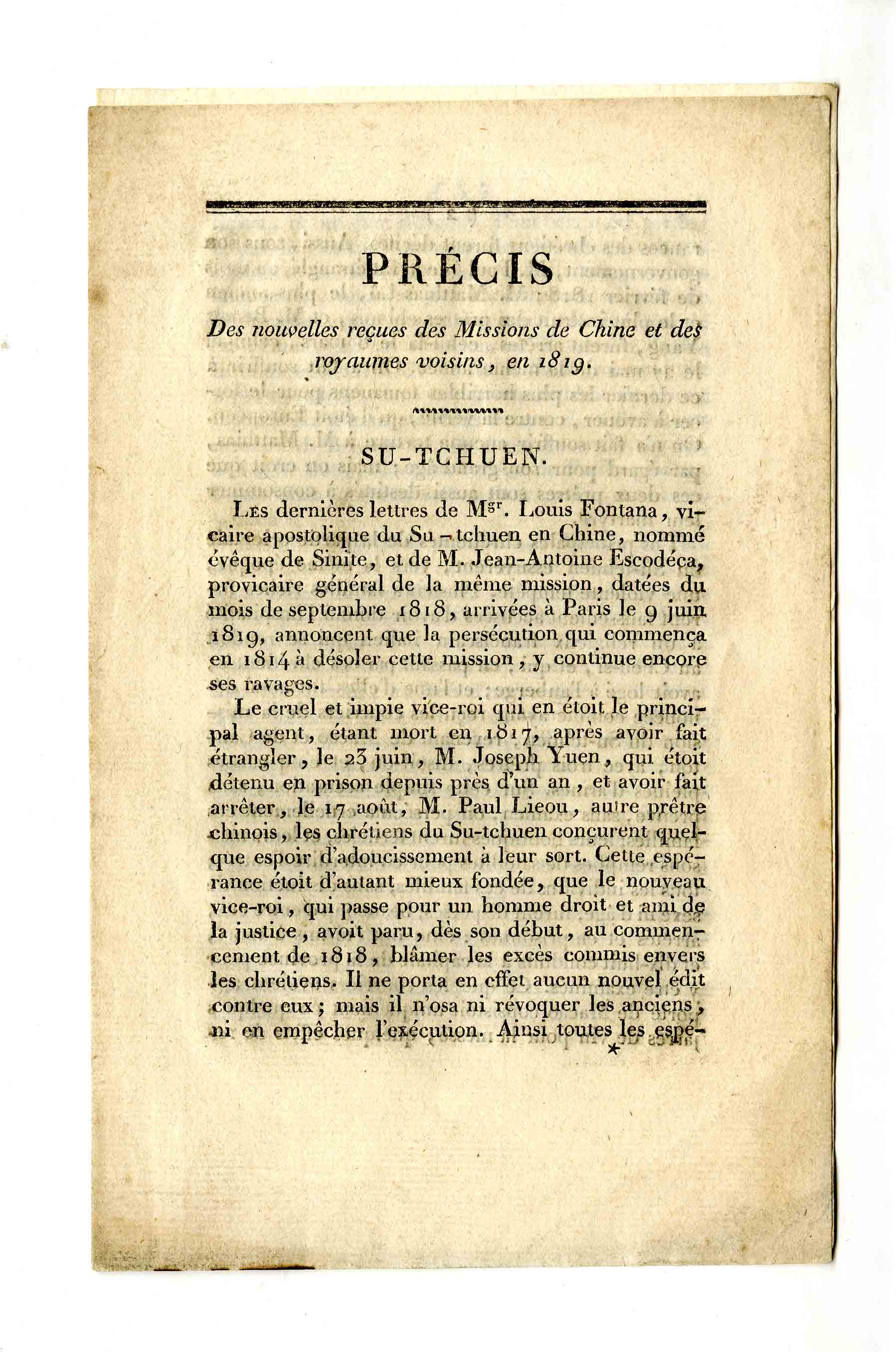 ON FRENCH MISSIONS IN CHINA - UNRECORDED [CHINA.]
Précis des nouvelles reçues des missions de Chine et des royaumes voisins, en 1819.
An extremely rare summary of the state of French Christian missions in Su-Tchuen (China), Tong-King (Vietnam), Cochinchine (Vietnam), Siam (Thailand), and Pondichery (India) in 1819.