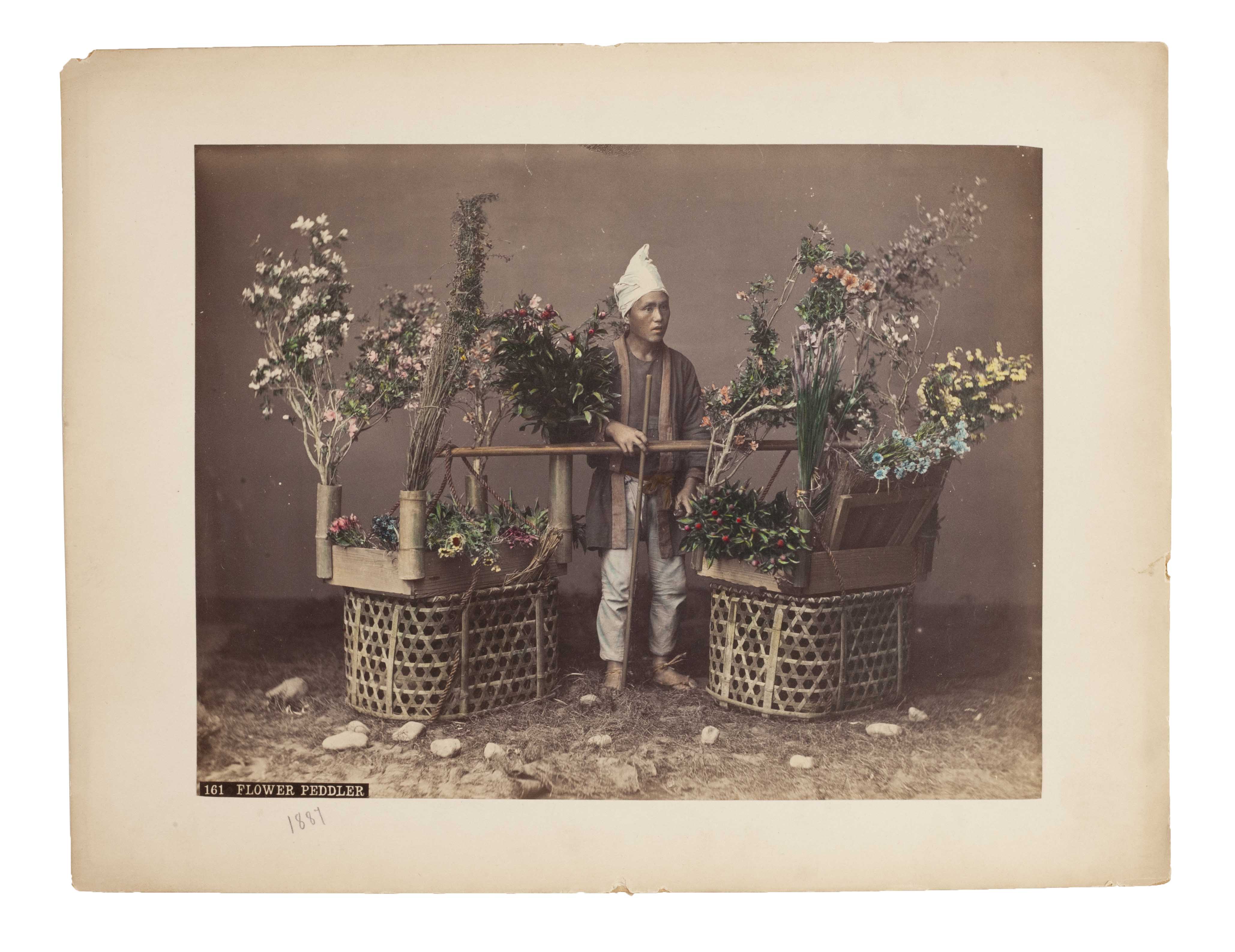 [FARSARI, Adolfo, Studio of.]

Japanese flower seller.
[Yokohama?, c. 1887.]
Hand-tinted albumen print (18.7 x 24.5 cm), captioned in the negative '161 Flower peddler', pasted on contemporary card mount (24.3 x 32 cm); a few small chips to edges of mount, mount slightly browned; '1887' pencilled at foot of mount; overall very good.
£200

Approximately:
US $244
€231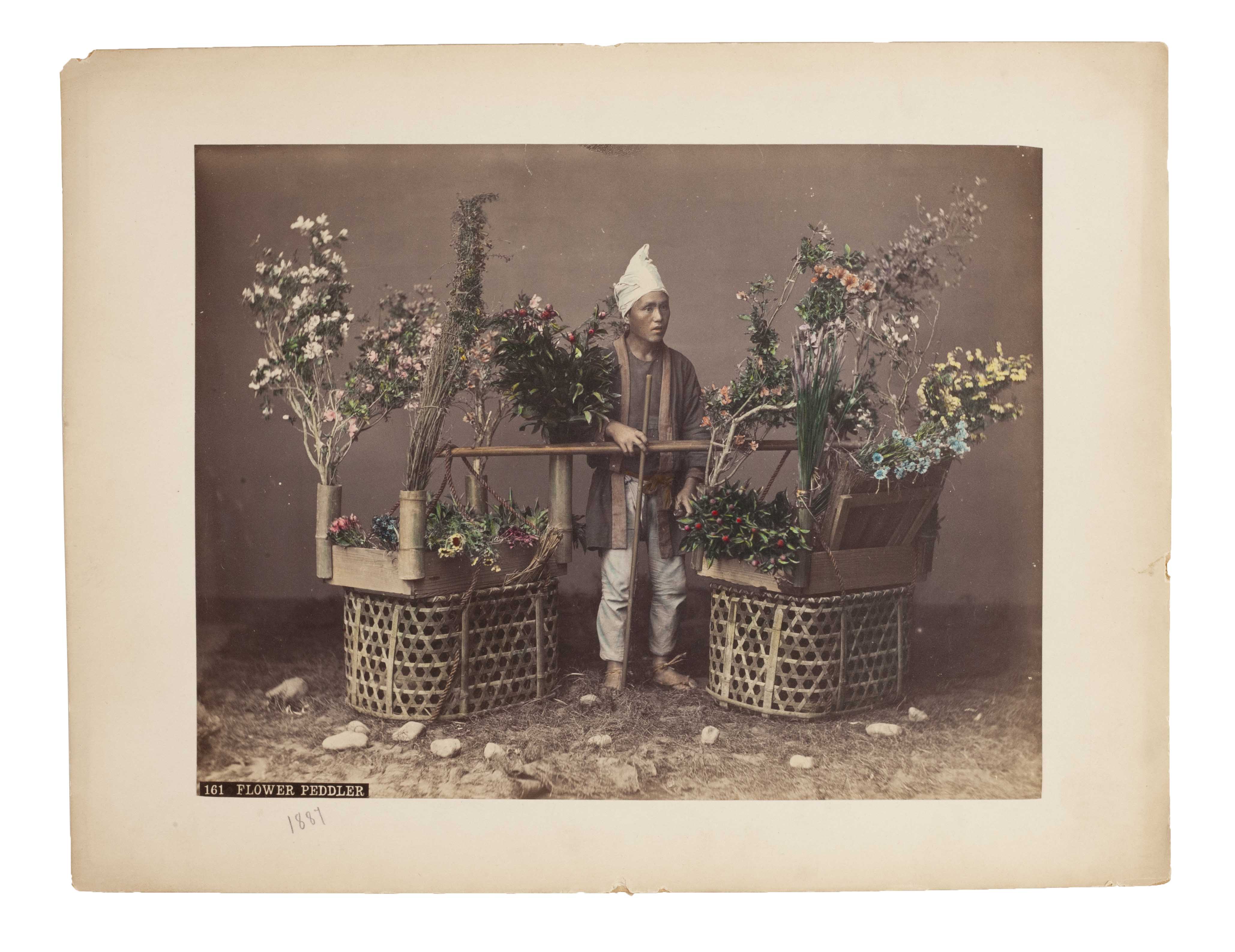 Added to your basket:
Japanese flower seller.
A striking image of a Japanese flower vendor, with delicate contemporary hand colouring, most notably to the flowers. After time spent in America, where he fought in the Civil War, Adolfo Farsari (1841 - 1898) moved to Japan in 1873, establishing himself in Yokohama. In 1885 he opened his own photographic studio, subsequently touring Japan to create a portfolio of over 1000 images. The quality of his work and innovative approach to hand colouring brought him commercial success. His firm was the last important Western photography studio in Japan.
You may also be interested in...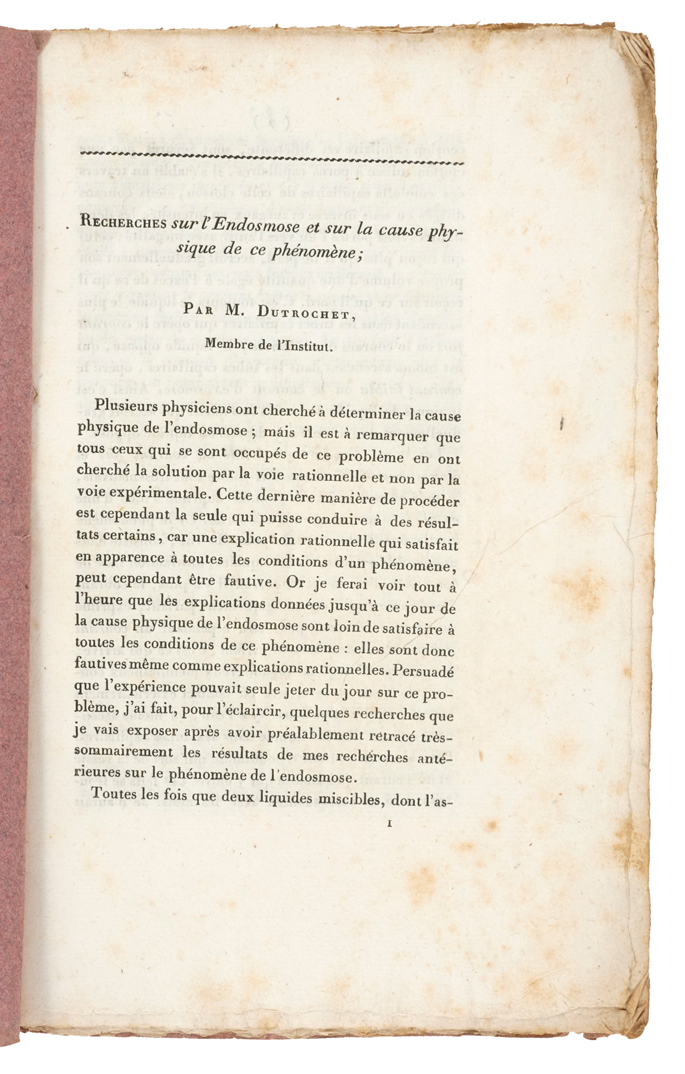 ON OSMOSIS DUTROCHET, Henri. 
Recherches sur l'endosmose et sur la cause physique de ce phénomène (Extrait des Annales de Chimie et de Physique, Avril 1832). 
An interesting article on endosmosis by the important French physiologist Henri Dutrochet (1776–1847), renowned for his work on osmosis and cell theory.  'Although the conditions of Dutrochet's experiments were rather simple and did not allow of great accuracy, he made the first important steps toward the study of osmosis and diffusion.  He constructed an osmometer for measurements of osmotic pressure and pointed to such pressure as the possible cause of circulation and rise of sap in plants, absorption of nutrients in plants and animals' (DSB). 
PATRIOTIC PARKS OF PARIS ROBINSON, W.
The Parks and Gardens of Paris, considered in Relation to the Wants of other Cities and of public and private Gardens, being Notes on a Study of Paris Gardens … third Edition, illustrated.
Third edition of an attractively illustrated guide to the parks and gardens of Paris. The gardener and horticulturalist William Robinson (1838–1935) combines descriptions of the green spaces of the city with observations on the methods of their maintenance, and compares French horticulture with its English equivalent. Though he staunchly insists on English superiority (ODNB notes that he was a 'belligerent and capricious character' whom Lutyens found 'boring and cantankerous'), Robinson acknowledges the particular skills of French gardeners in fruit-culture, which he advocates adopting in England.