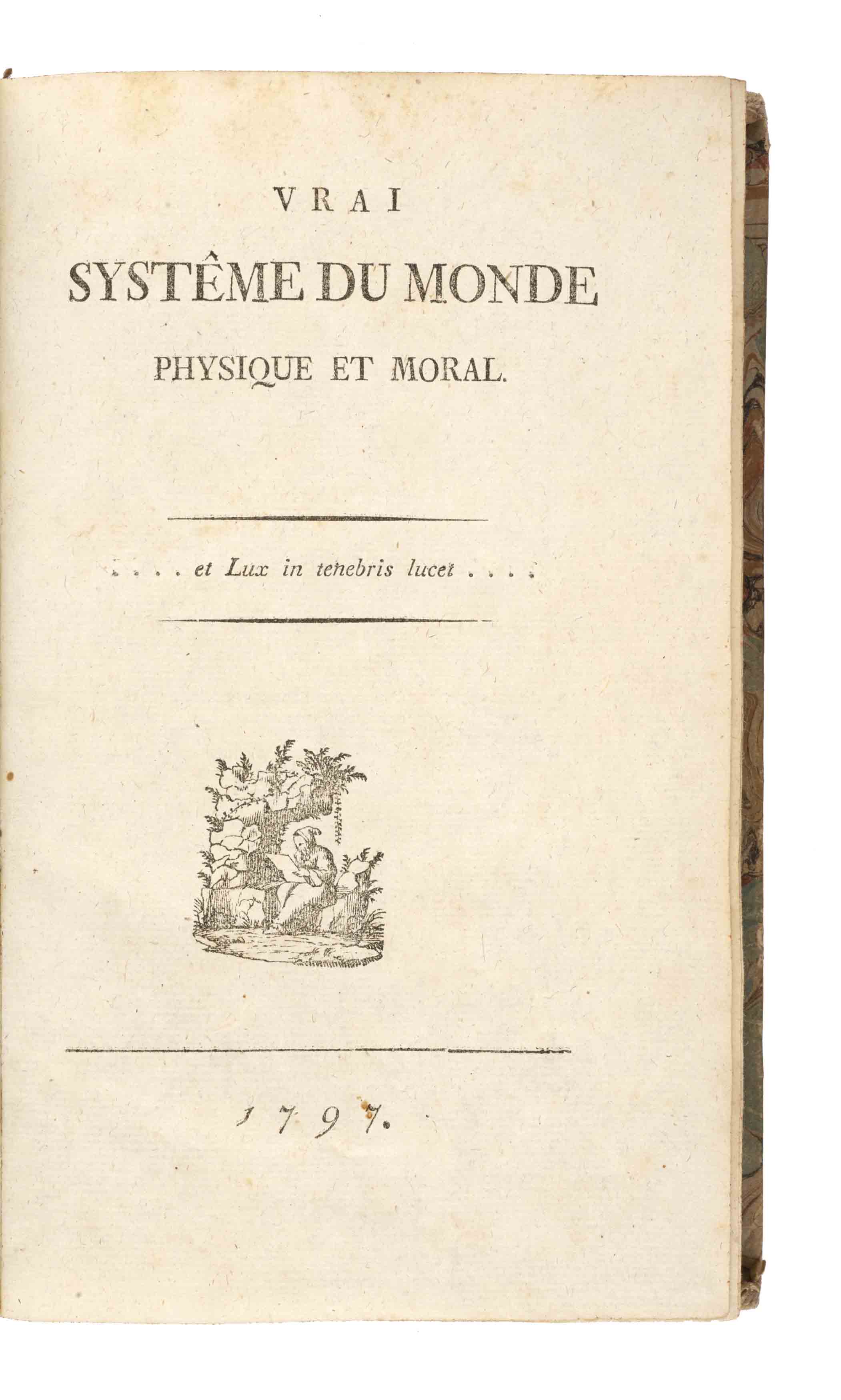 FLORENT DE SALES [pseudonym].
Vrai systême du monde physique et moral. [s.n., s.l., but Switzerland], 1797.
[s.l., but Switzerland], 1797.
8vo, pp. [iv], [vi], 5-351, [1] blank; table des matières of six pages bound after first two leaves; some foxing in places, but largely clean and crisp throughout; in contemporary Swiss marbled boards, paper label lettered in ink at head of spine; very light wear to corners, but a good copy.
£1750

Approximately:
US $2169
€1951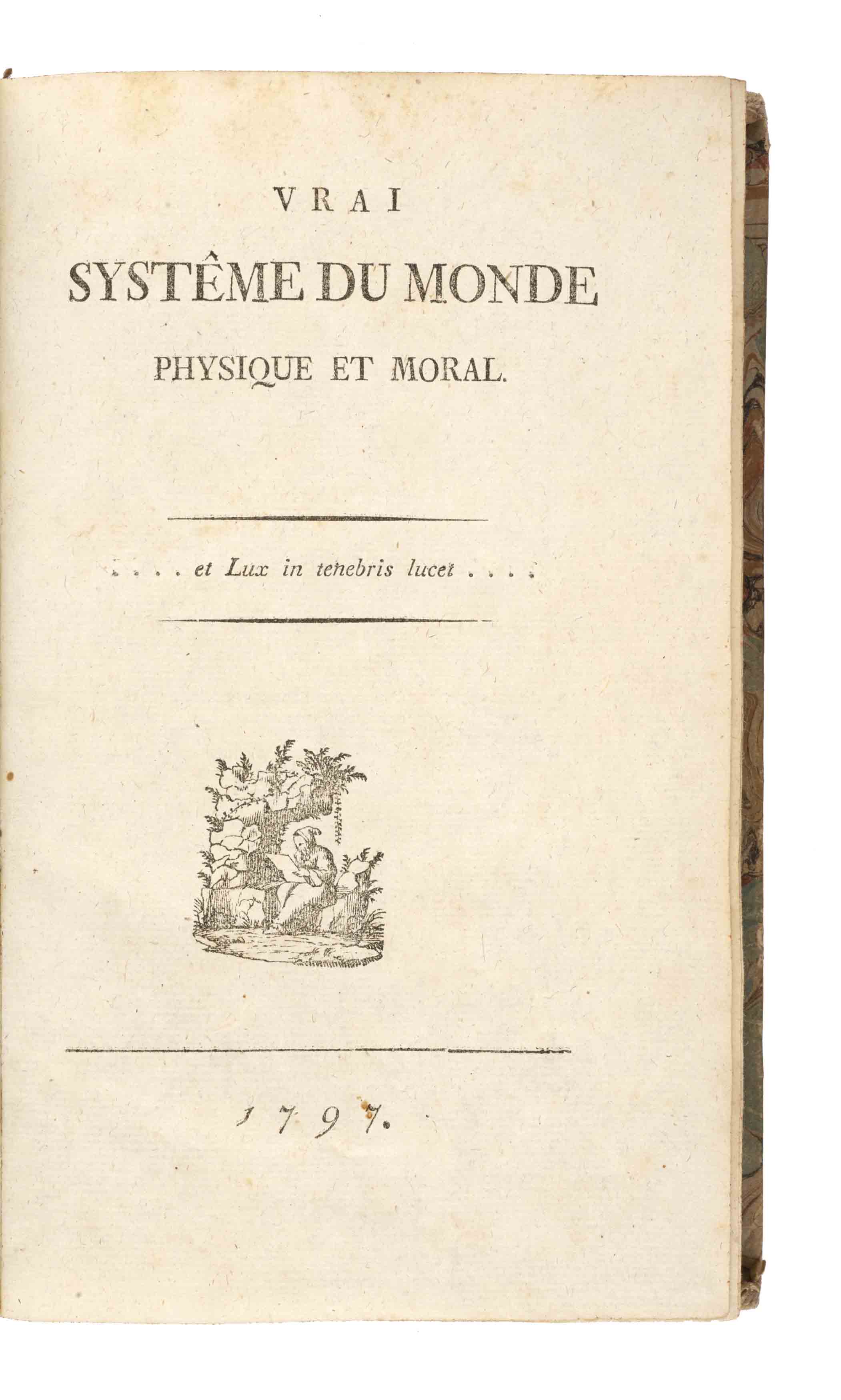 Added to your basket:
Vrai systême du monde physique et moral. [s.n., s.l., but Switzerland], 1797.
Only edition, rare, of this utopia, the identity of whose author, and even of whose printer, remains unknown.

Subtitled 'Voyage de Laspidi écrit par lui-même. Traduit de l'Indien', little of the book is as it seems. To start with, it is divided into six books, but starts with book three. The book deals with physics and natural philosophy, psychology and moral philosophy, political theory, legislation and the constitution of the ideal state, and the nature of happiness, and it is largely composed of a dialogue between Laspidi, a native of Surat, but well versed in European science and philosophy, and a Bonze from Formosa, who agree that the job of the philosopher is to identify what is true and to go no further (a task completed successfully, according to the preface, only by Locke). The preface reminds us that the sciences no more belong to Christians than they do to Muslims or anyone else: 'in this work, we want only to speak the naked truth, such as appears to the eyes of the enlightened person; something that only the wise can pretend ever to have seen'.

In the course of their journey, Laspidi and his interlocutors range from duels to freedom and equality, by way of the nature of reason, the ethics of suicide, and more. Book seven, however, focusses on the Republic of Formosa, home of the Bonze, and it is here that the author sketches an ideal republic: he presents a constitution, and describes the rights of the citizen, the functioning of the justice system, property rights, the system governing inheritance and marriage, the educational system, penal laws, taxation, and the relation of religion and the state.

Not in Barbier; OCLC records copies at the BL, Basel, BnF, and the International Institute of Social History.
You may also be interested in...
MARKHAM, Gervase.
Markhams Maister-Peece, containing all Knowledge belonging to the Smith, Farrier, or Horse-Leech, touching the Curing of all Diseases in Horses, drawne with great Paine, and most approved Experience, from the publick Practise of all the forraigne Horse-Marshals in Christendome, and from the private Practise of all the best Farriers of this Kingdome, being divided into two Books, the first containing all Cures physical, the second all belonging to Chyrurgery, with an Addition of 160 principall Chapters, and 370 most excellent Medicines, never written of nor mentioned in any Author whatsoever, together with the true Nature, Use, and Quality of every simple spoken of through the whole Worke, now the sixt time newly imprinted, corrected, and augmented, with above thirty new Chapters, and above forty new Medicines that are most certaine and approved, and heretofore never published, which you shall finde noted thus, all which never was before made knowne, but concealed in the Authors Breast for his owne Credit.
Sixth edition of the first work on farriery by an Englishman since Blundeville's translation of Grisone. Published after his Discourse of Horsemanshippe (1593) and Cavelarice (1607), Gervase Markham (1568?-1637) likely wrote Maister-Peece (1610) to satisfy a popular demand for a work on cures for horses, though much of the material is unscrupulously drawn from Blundeville. Markham's prolific output of equestrian books, many covering similar subjects, led some to suggest he was writing purely for profit, Smith to dismiss him as a charlatan, and the Stationers' Company to force from him an agreement 'hereafter never to write any more book or books to be printed of the deseases or Cures of any Cattle, as Horse, Oxe, Cowe, Sheepe, Swine, Goates etc.'.
PREPARING ROMANTICISM HEMSTERHUIS, François.
Sophyle ou De la philosophie.
First edition, a fine copy of this work by the Dutch philosopher and aesthetician François Hemsterhuis (1721-1790), whose ideas influenced the German romantic thinkers F. H. Jacobi and J. G. Herder as well as the two Schlegels and Novalis. Sophyle belongs to the second period of Hemsterhuis's career during which he wrote four Platonic dialogues for Amalia Golitsyna. Taking the form of a discussion between Sophyle and Euthyphron, beginning 'Oh, que la Philosophie est une bonne chose', it examines the relation between the soul and the body and is also an attack on materialism. A fine example of printing, with a narrow column of text surrounded by wide margins, Sophyle was printed, like most of Hemsterhuis's works, in a small and anonymous edition for private circulation. 'Professor P. J. Buijnsters has associated Hemsterhuis's printing commissions with the mysterious translator, factotum, and secret agent, Charles-Guillaume-Frédéric Dumas (ca. 1725-80). No one, it seems, has identified the printer or printers of Hemsterhuis's falsely-signed 'Paris' imprints, but since the days of Barbier they have been localized to Haarlem and Den Haag' (Stoddard).