FORDYCE, James.
Addresses to young Men … The second Edition.
London: Printed for T. Cadell … 1777.
Two vols., small 8vo, pp. [4], viii, 329, [3, ads]; [4], 368; offset from turn-ins to title-pages else a fine copy in contemporary speckled calf, spines gilt, red morocco labels.
£200

Approximately:
US $279
€226
Second edition, uncommon, of Fordyce's popular conduct book for young men. The work was published a sequel to his Sermons to young Women (1766), a work probably best known for its censure by Mary Wollstonecraft and its pointed appearance in the hands of Mr Collins in Pride & Prejudice. Here, similarly unenlightened chapters deal with 'the Respect due to Young Men', 'On a Manly Spirit, as opposed to Effeminacy' etc. If Mr Collins chooses the Sermons to be read aloud to the women of the Bennet family, it is the Addresses that he takes as his own moral compass.

You may also be interested in...
AN 18TH-CENTURY HOUSEHOLD AT TURKEY COURT CHRISTMAS BOOK – Susanna WHATMAN.
Susanna Whatman; Her Housekeeping Book. Introduced by Thomas Balston.
First edition, one of 250 copies, 'printed for presentation to the friends of the Printer of the University of Cambridge'. The daughter of a Huguenot exile, Susanna Bosanquet (1753-1814) married the celebrated paper maker James Whatman II in 1776, and lived with him first at Turkey Court, near Maidstone, and then, in 1787 or 1788, at the adjacent Vintners. Her housekeeping book contains notes on all practical aspects of the running of the Whatman household, including cleaning, the care of the library – '[t]he books are not to be meddled with, but they may be dusted as far as the wing of a goose may go' (p. 13) – the days on which the cook should bake (Wednesdays and Saturdays), the care of food that would go off in a hot kitchen, the laundry maid's duties, etc., together with notes on receipts for apples, sweetmeats, and walnuts.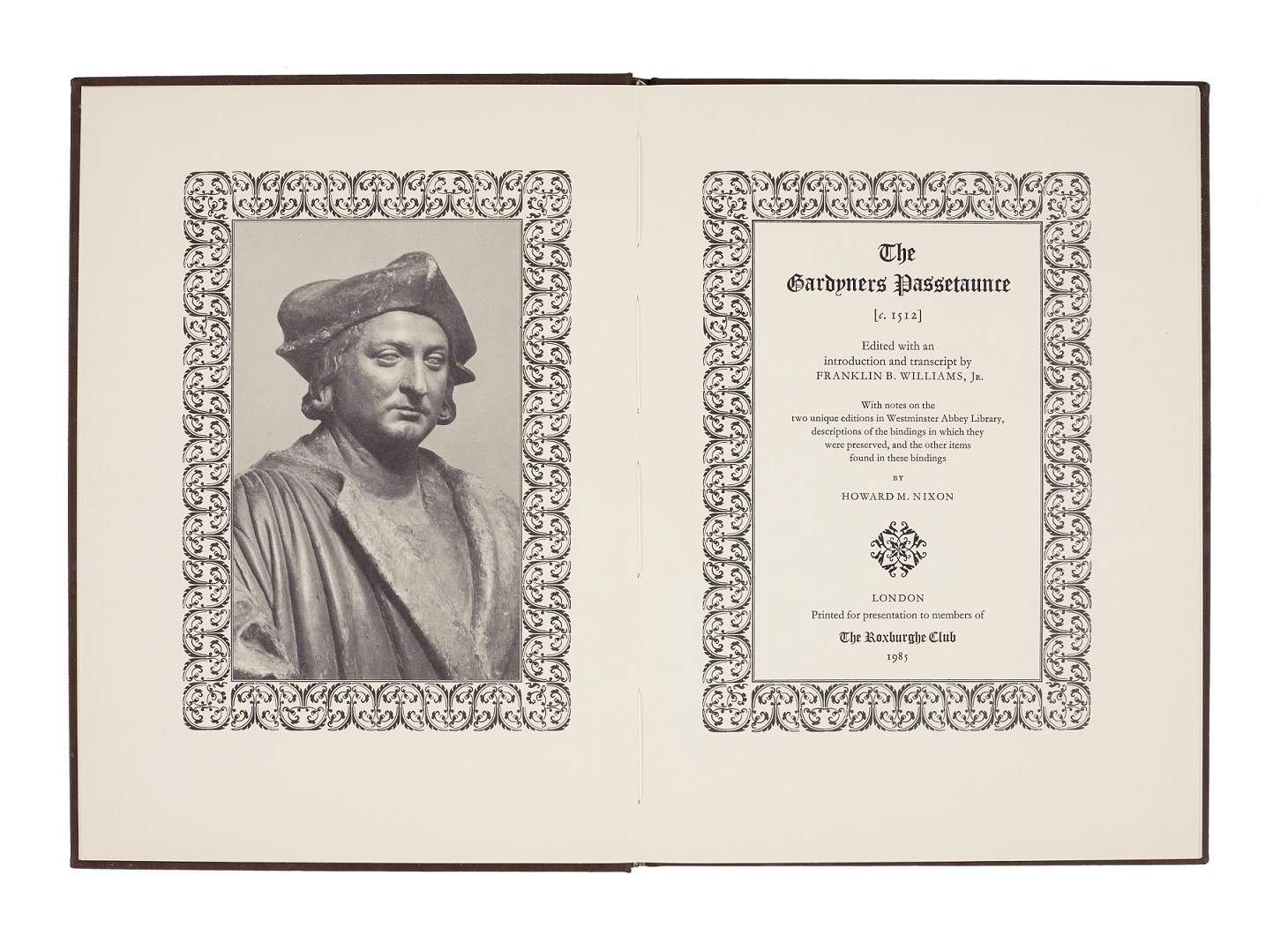 WILLIAMS, Franklin B., ed., with introduction and transcript by.
The Gardyners Passetaunce (c. 1512). With notes on the two unique editions in Westminster Abbey Library by Howard M. Nixon.
The book contains notes on the two unique editions in Westminster Abbey Library, descriptions of the bindings in which they were preserved, and the other items found in these bindings by Howard M. Nixon. I t has an image of a bust of Henry VIII by Torrigiani as frontispiece, facsimiles of the Pynson edition in full and the existing fragments of the Goes edition, images of bindings and other fragments in the text.