GRAVE CONCERNS
[FRANCE.]
L'Ombre du feu Cardinal: or, Cardinal Fleury's Ghost. Translated from the original French Manuscript of the Abbè de V[ertamont]; formerly one of His Eminency's Domesticks: and now a State-Prisoner in the Bastille, at Paris …
London, Printed, and sold by J. Roberts … B. Milles … and the Booksellers of London and Westminster. 1743.
8vo., pp. [8], 62; one letter punched out on final page; disbound.
£350

Approximately:
US $440
€390
Added to your basket:
L'Ombre du feu Cardinal: or, Cardinal Fleury's Ghost. Translated from the original French Manuscript of the Abbè de V[ertamont]; formerly one of His Eminency's Domesticks: and now a State-Prisoner in the Bastille, at Paris …
First edition, ostensibly translated from a manuscript rescued by an Officer of the Guards at the Bastille, but in fact an original English thrust at French foreign policy following the death of Cardinal André-Hercule de Fleury, the able chief minister of Louis XV and political ally of Sir Robert Walpole.

It takes the form of a dialogue between 'the restless unhappy shade of the late Cardinal' and fellow minister Pierre Guérin de Tencin, Archbishop of Lyons, in which the ghost takes Tencin to task over his poor performance: 'Business of Importance will never prosper in your Hands, and no Man is more unfit for it, than your Eminence'. Much of the heated interview centres on threats to French foreign policy: Spanish commercial gains in America, the future strength of Russia, and the growing influence of Britain. 'Dreadful Prospect! How chang'd! how wretched! how alter'd is poor France become, in a short Space of Time!'
You may also be interested in...
[FRANCE and ITALY.]
A collection of manuscript and printed material pertaining to French territorial ambitions in Italy.
A collection of memoranda concerning French ambitions in the Italian peninsula during the sixteenth and early seventeenth centuries.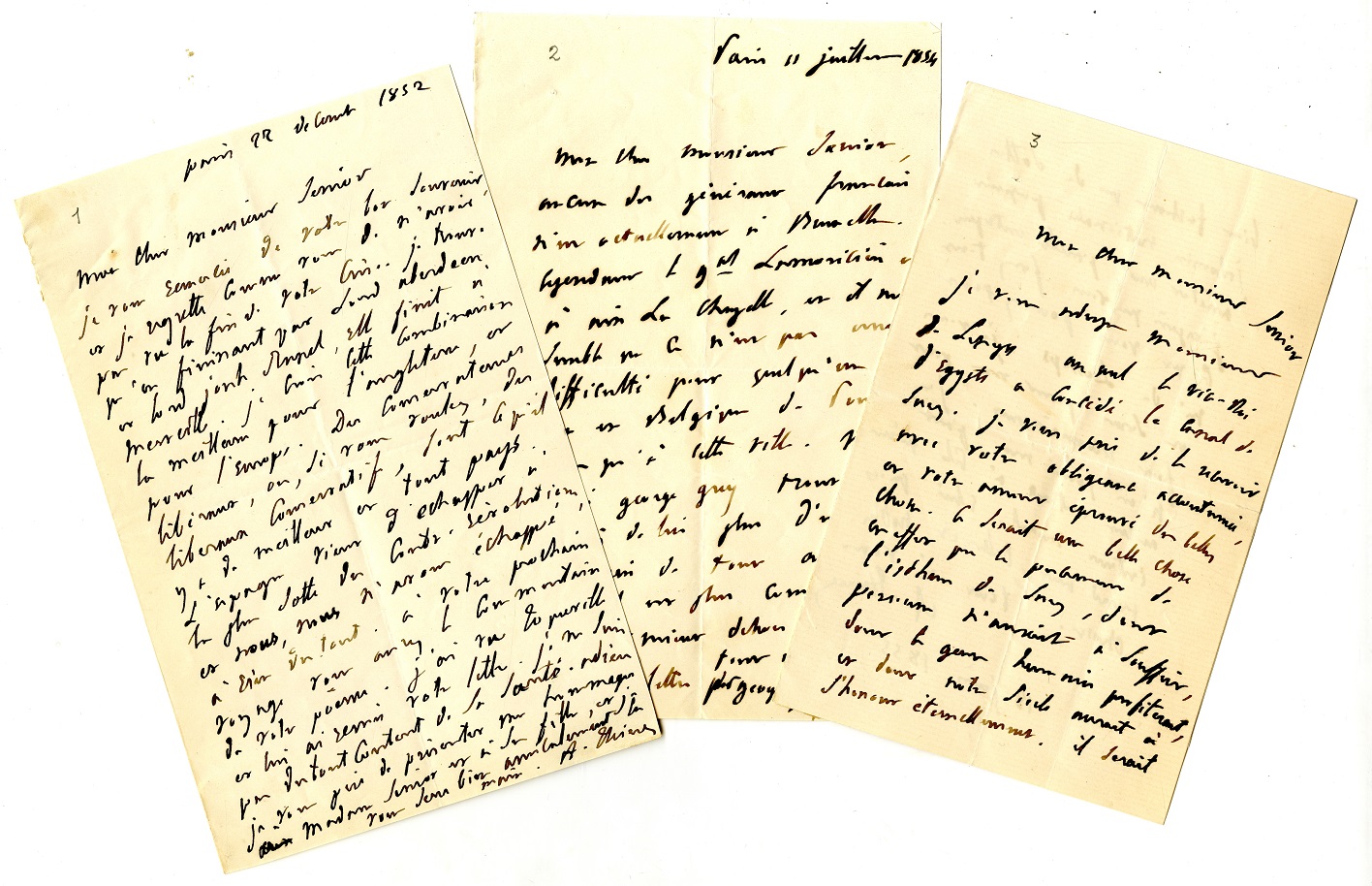 Discussing European politics and the Suez Canal THIERS, Adolphe (1797-1877), French politician and historian.
Three autograph letters signed ('A Thiers') to Nassau Senior.
A set of interesting letters from Thiers to the English economist Nassau Senior. Thiers was a French politician and historian who served as prime minister under Louis Phillipe. Following the overthrow of the Second Empire he again came to prominence as the French leader who suppressed the revolutionary Paris Commune of 1871.