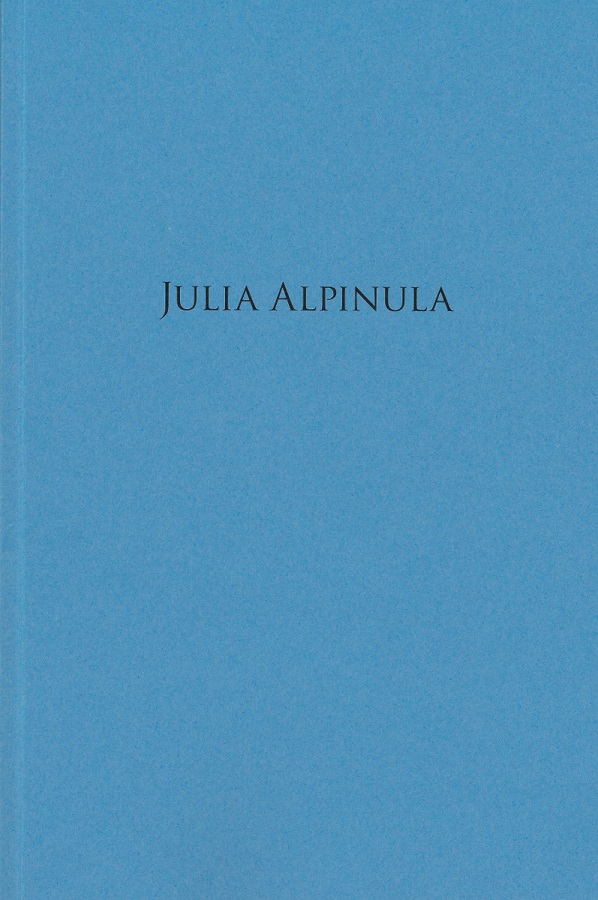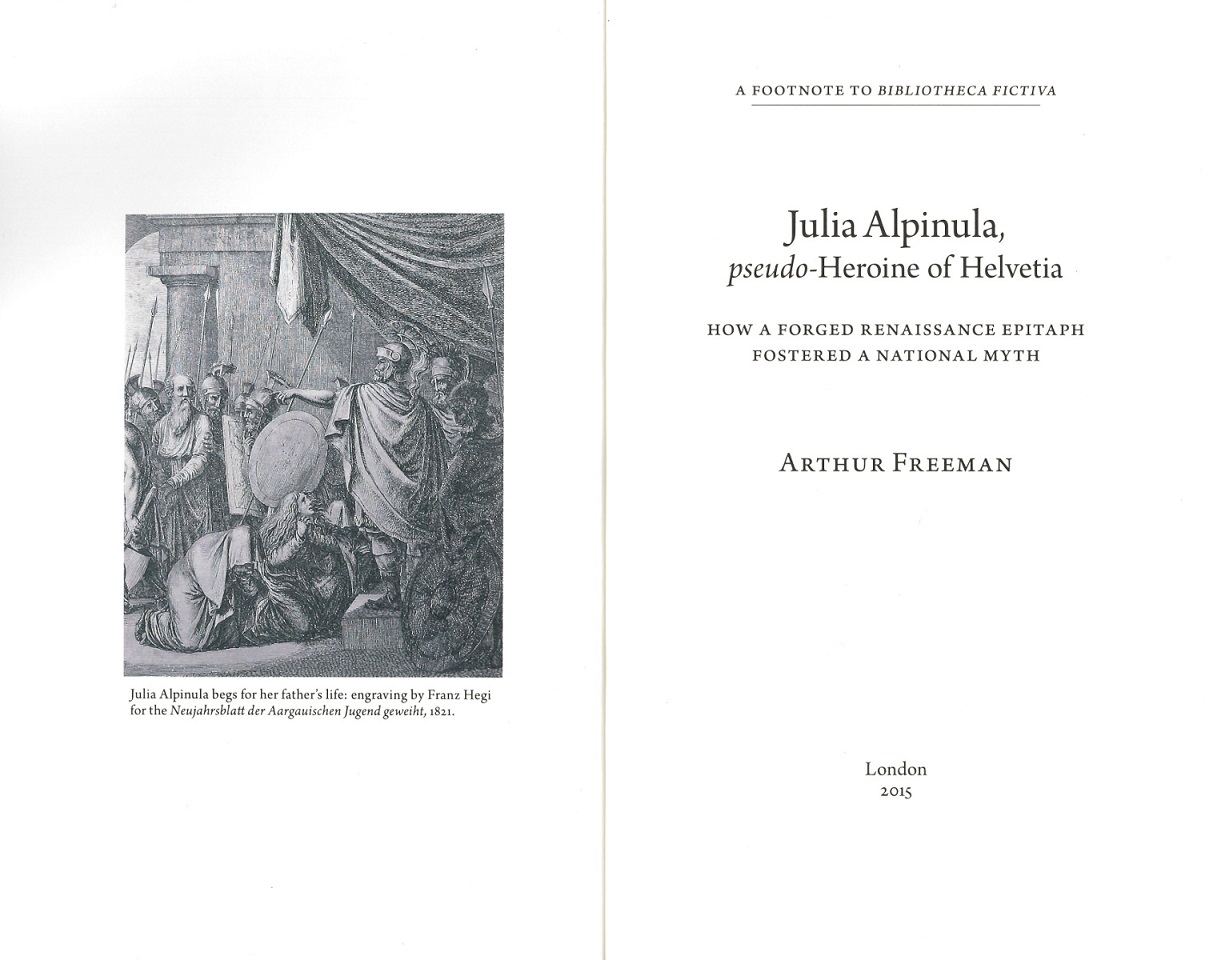 FREEMAN, Arthur.
Julia Alpinula, Pseudo-Heroine of Helvetia: How a Forged Renaissance Epitaph Fostered a National Myth.
London, The Author, 2015.
8vo, (235 x 155 mm), pp. 72; four illustrations; in paper wrappers.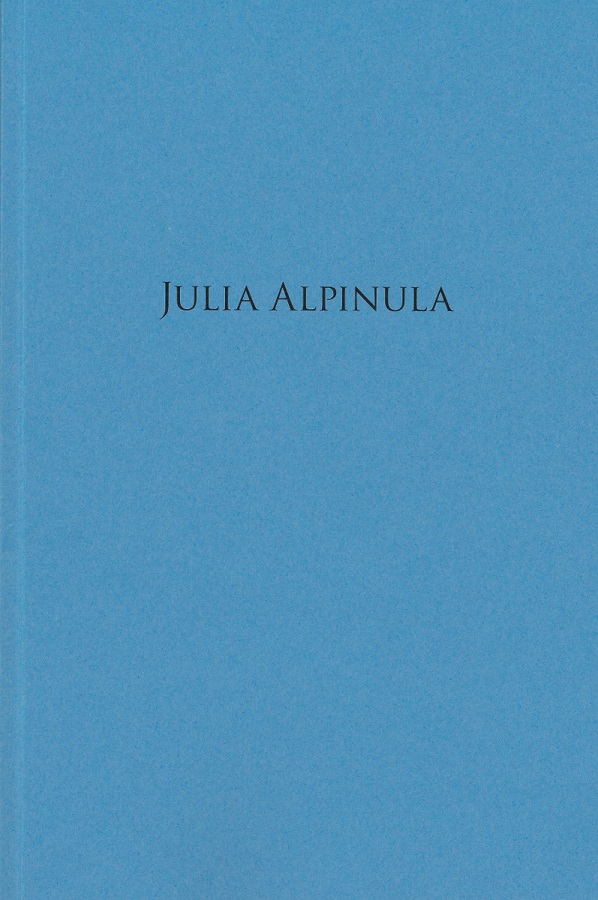 Added to your basket:
Julia Alpinula, Pseudo-Heroine of Helvetia: How a Forged Renaissance Epitaph Fostered a National Myth.
Julia Alpinula is a legendary Swiss heroine, whose pathetic fate in AD 69 inspired popular historians, dramatists, artists, and poets – including an infatuated Byron – over a period of more than two hundred years. Her very existence, however, was based entirely on a funerary inscription first published in 1588 and ultimately shown to be a humanist forgery. Julia Alpinula is a fully documented account of her Romantic celebrity, the exposure of the 'Alpinula' myth, and the identification of its scholarly perpetrator.

Arthur Freeman is a rare book dealer and writer living in London. In 2014 Quaritch published his Bibliotheca Fictiva: a Collection of Books and Manuscripts Relating to Literary Forgery 400 BC – AD 2000. Julia Alpinula is a footnote to that book.

ISBN 978-0-9933762-0-7


You may also be interested in...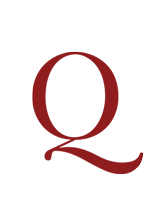 GRINKE, Paul.
From Wunderkammer to Museum.
A revised and illustrated edition of our 1984 catalogue of early books on cabinets of curiosities and collecting, written by Paul Grinke, who has added a new preface and a selective bibliography of books on the subject published since 1970.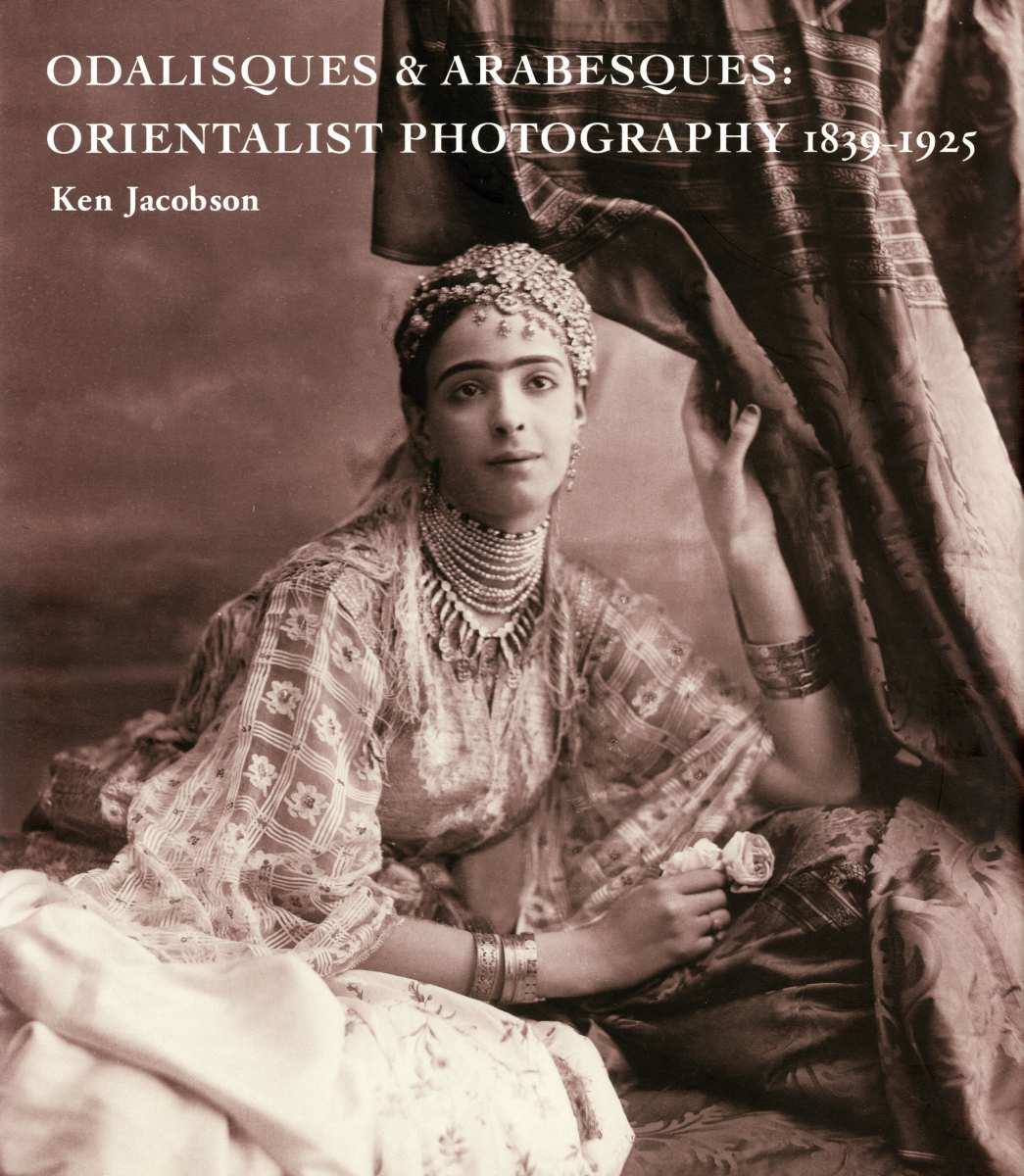 JACOBSON, Ken.
Odalisques & Arabesques: Orientalist Photography 1839–1925.
Profusely illustrated, this is the most comprehensive survey to date of nineteenth- and early twentieth-century photography of the Middle East and North Africa. Using Orientalist painting as a counterpoint, it primarily relates the extraordinarily rich visual documentation of the peoples and cultures of the 'Orient'. Many of the photographs reproduced here have never been published before. Biographies of more than 90 photographers are given, with details of their various identifying marks, allowing now the correct attribution of works that have hitherto been anonymous or misattributed.