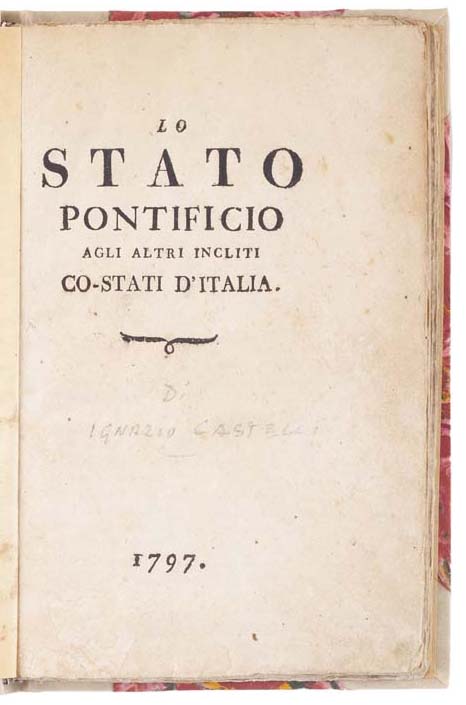 [FRENCH REVOLUTIONARY WARS.]
Lo Stato Pontificio agli altri incliti co-stati d'Italia.
[S.l.,] 1797.
8vo, pp. 68; slight browning with a few light spots throughout; in recent half vellum with marbled sides, spine lettered in black; modern book-label 'Castelli' to upper pastedown.
£450

Approximately:
US $501
€511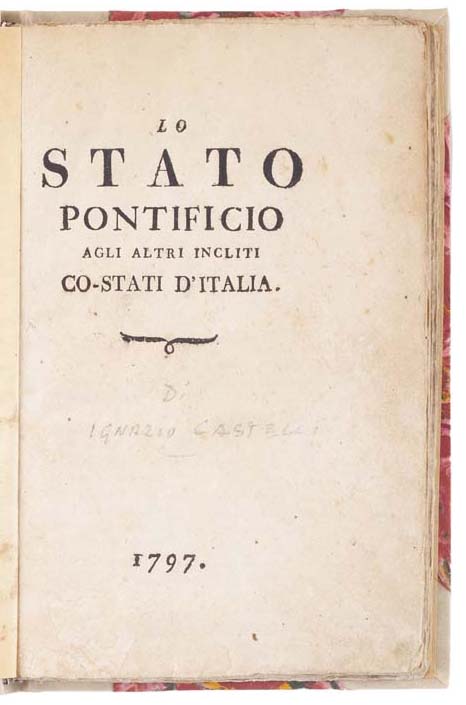 Added to your basket:
Lo Stato Pontificio agli altri incliti co-stati d'Italia.
Anonymous anti-French pamphlet, which saw a number of printings in 1796 and 1797, and calls for a general insurrection against the French in Italy. The pamphlet draws very heavily, albeit without any acknowledgment of its debt, on Francesco Gusta's 1794 Saggio critico sulle cruciate, in which he argued both that the Crusades against the Turks were justified on the grounds that the Turks wished both to destroy Christianity and to enslave Europe, and that the Republican French wished to do the same; therefore he argued for a similar popular movement against the French. Lo Stato Pontifico presents itself as the Papal States' attempt to rally support for such a movement throughout Italy.

Outside continental Europe, OCLC records only one copy of any printing, a 1796 issue at Harvard.

See G. Schettini, '18th-Century Crusaders: The War against France and the Catholic Counterrevolution, 1789-99' in Pestel, Reboul, Lok (eds), Cosmopolitan Conservatisms: Countering Revolution in Transnational Networks, Ideas and Movements (c. 1700-1930) (Leiden, 2021).
You may also be interested in...
DEBATING DANTE DANTE Alighieri, and Pompeo VENTURI (commentator).
La divina commedia … col commento di P. Pompeo Venturi; edizione conforme al testo cominiano del 1727.
The attractive first Remondini edition of Dante's Commedia, in three volumes, with highly controversial commentary by the Jesuit scholar Pompeo Venturi (1693–1752) reflecting the volatile relationship between language and religion in the eighteenth century.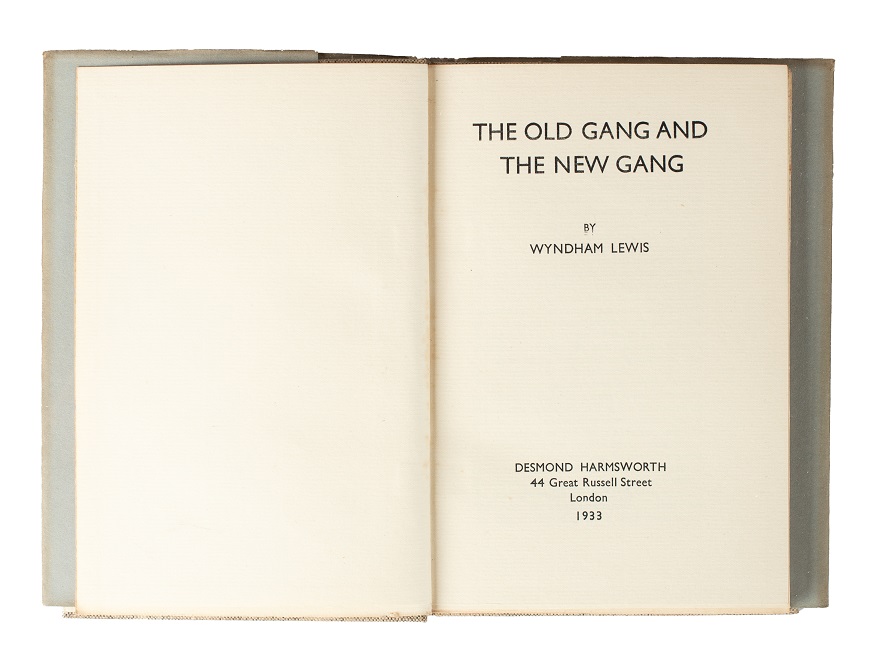 review copy LEWIS, Wyndham.
The Old Gang and the New Gang.
First edition, binding variant (1), a work on 'youth cults' and the rise of European dictatorships. Bridson's review was not especially complimentary, noting 'that peculiar "kiddish" idiom which Mr. Lewis uses to advantage in his satiric novels and to little purpose elsewhere … We can excuse his wasting of our time, perhaps, but we cannot so easily excuse the wasting of his own.' Pound & Grover A19a; Morrow & Lafourcade A20.