EUGENE ARAM, PHILOLOGIST
[FRYER, Michael, editor.]
The Trial and Life of Eugene Aram; several of his Letters and Poems; and his Plan and Specimens of an Anglo-Celtic Lexicon …
Richmond: Printed by and for M. Bell … 1832
Small 8vo. in fours, frontispiece facsimile of a letter in Aram's hand; a very good copy in smooth brown contemporary calf.
£100

Approximately:
US $122
€115
Added to your basket:
The Trial and Life of Eugene Aram; several of his Letters and Poems; and his Plan and Specimens of an Anglo-Celtic Lexicon …
First edition. The unfortunate Yorkshire schoolmaster Eugene Aram, implicated with the shoemaker Daniel Clark in fraud in 1745, and twelve years later accused of Clark's murder, was convicted and hanged in 1759. While in prison in York, without books and papers, he produced the Plan and Specimens published here (pp. 71-106), proposing to trace Latin and Greek back to Celtic as a single mother tongue.

Publication of the present work was prompted by the success of Edward Bulwer's best-selling novel of 1832.
You may also be interested in...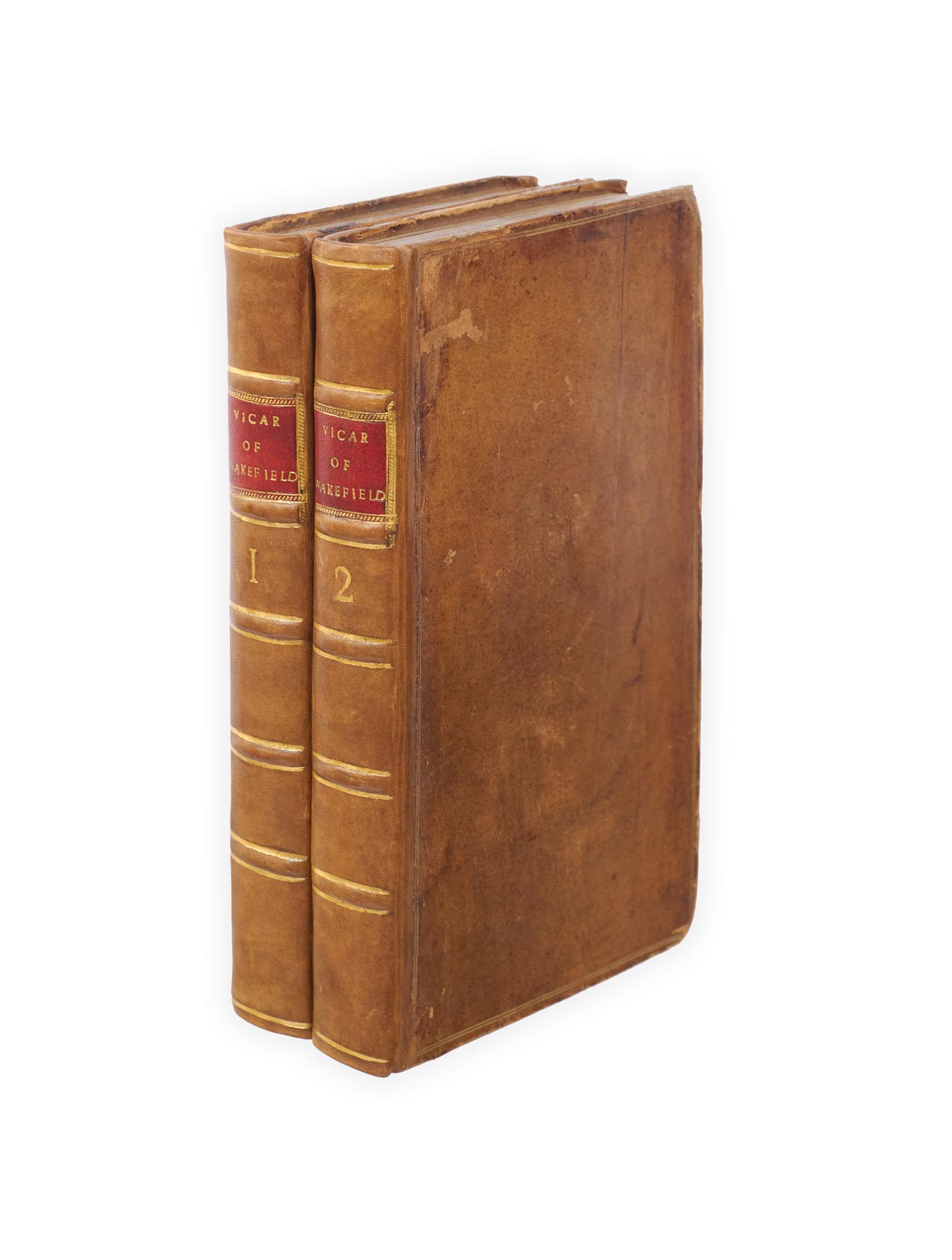 THE DEFINITIVE TEXT [GOLDSMITH, Oliver].
The Vicar of Wakefield: a Tale. Supposed to be written by himself ... The second Edition. Vol. I. [-II].
Second edition, published two months after the first, printed by William Strahan in 1000 sets, and revised throughout by Goldsmith, with more than 450 new substantive readings, nearly all of them accepted by Arthur Friedman as authorial and admitted into the definitive Oxford text (Collected Works, 1966, volume IV). Although the next three editions also appeared in Goldsmith's lifetime, Friedman is convinced that he did not revise any of them. 'They contain occasional new substantive readings, [but] when Goldsmith revised [a work] he always made ... frequent and extensive changes, so that his hand is clearly visible. In these three editions the changes are ... infrequent and ... minor [and] none ... has been admitted into the edited text' (Collected Works, IV, 11-12).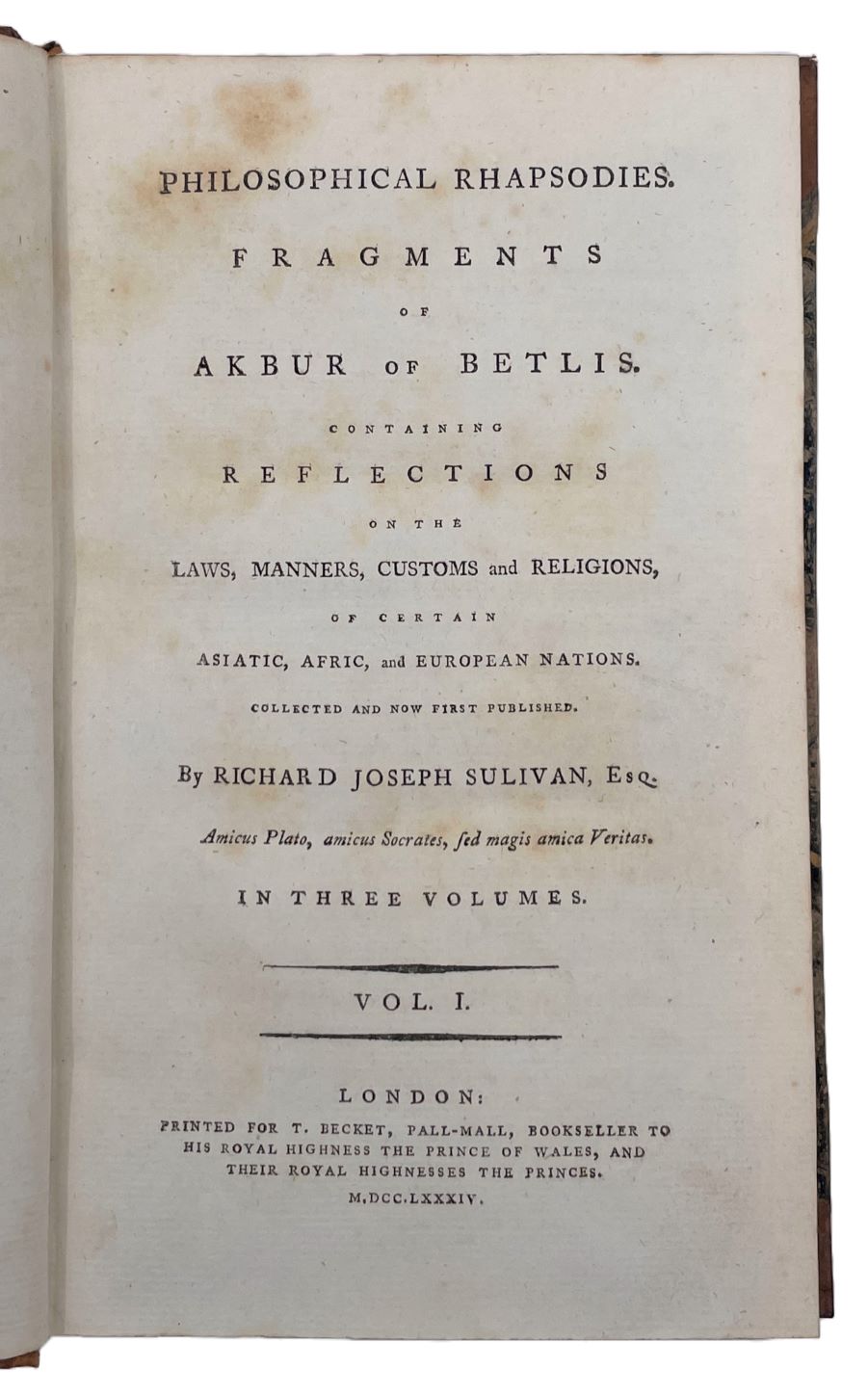 INDIAN TRAVEL SULIVAN, Richard Joseph.
Philosophical Rhapsodies. Fragments of Akbur of Betlis. Containing Reflections on the Laws, Manners, Customs and Religions, of certain Asiatic, Afric, and European Nations. Collected and now first published … In three Volumes …
First edition of this eccentric travel-inspired treatise drawing upon the author's experience in India and his travels in Europe. The prefatory 'advertisement' establishes the fiction that 'the following fragments were written by a native of Assyria [Akbur], who … was removed to the continent of Europe, and thence to England … he then travelled; and in various countries threw together the reflections which appear in the following sheets'. Compartmentalised into 'fragments' rather than chapters, the work is generically indistinct, and offers a compilation of fiction, philosophy, history and travel to reflections on foreign lands, notably China, Japan, Tartary, Hindostan, Greece and the Middle East. Sulivan cites widely in order to illustrate his points, emphasising Akbur's familiarity with Milton, Pope, Thomson, and Dryden, as well as law, the classical canon and contemporary scholarship.