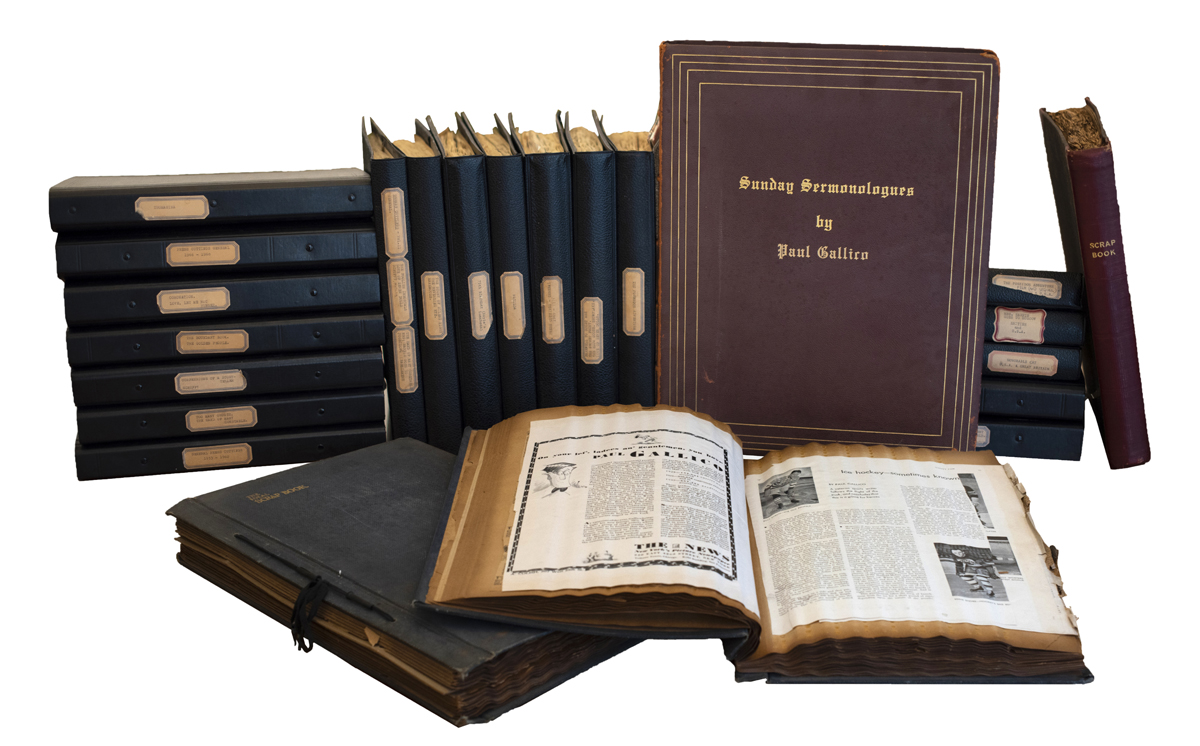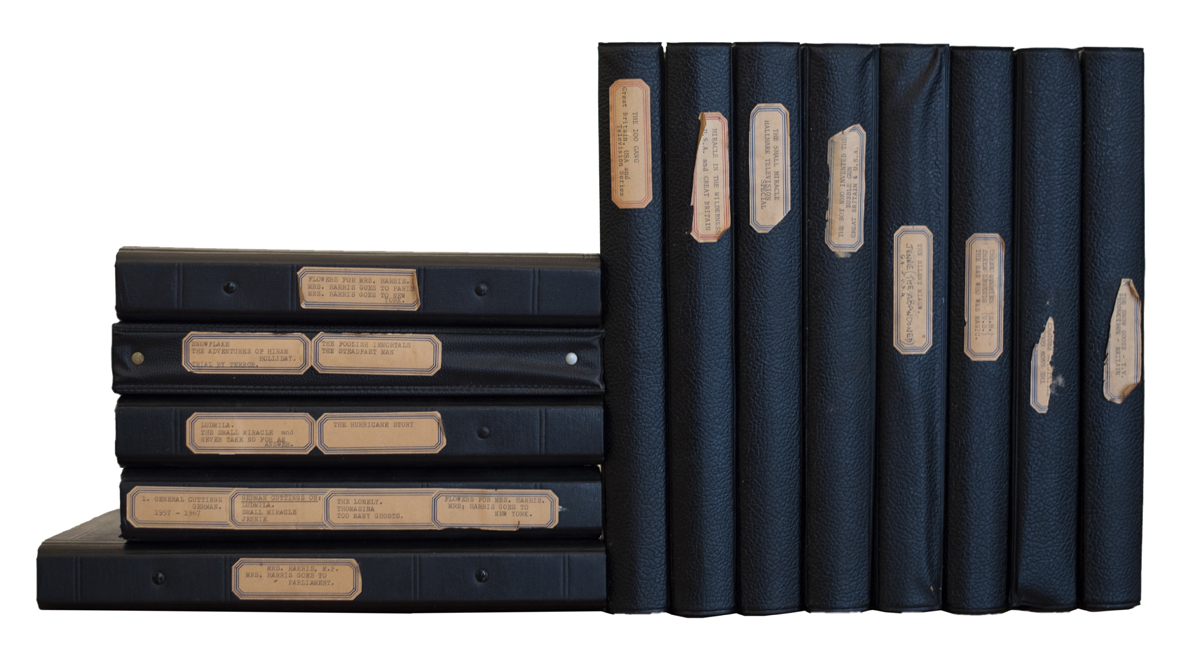 GALLICO, Paul.
An archive of thirty-four scrapbooks compiled by Gallico.
1928–1972.
30 black A4 ringbinders, each containing between 30 and 120 leaves, and four bound folio scrapbooks, with letters, newspaper cuttings, photographs and ephemera pasted in; in very good condition.
£5500

Approximately:
US $6724
€6238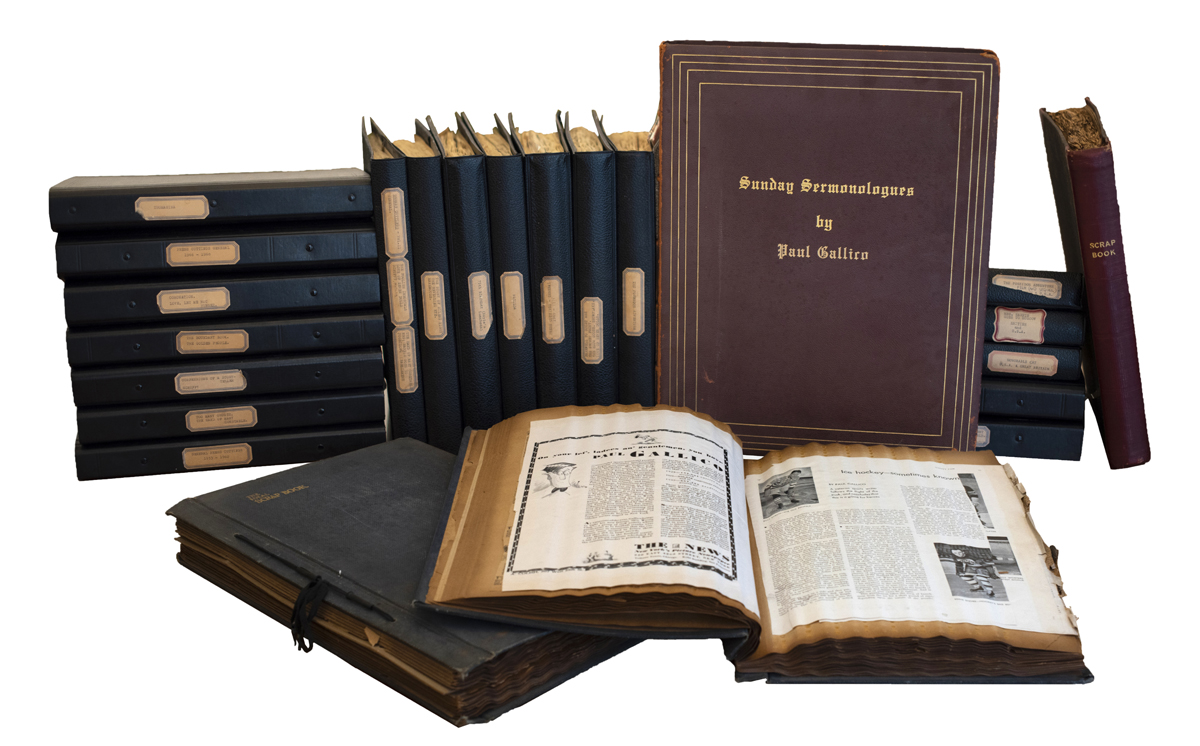 Added to your basket:
An archive of thirty-four scrapbooks compiled by Gallico.
A lovingly and meticulously compiled archive of the writing career of the novelist Paul Gallico. The scrapbooks are arranged chronologically and by book/film with letters, telegrams, publicity materials, photographs and ephemera neatly intermingled with copies of reviews and reactions from local, national, and international press.

Paul Gallico (1897–1976) was a prolific writer, starting his career as a sports reporter (his break came when he described being knocked out by boxer Jack Dempsey during an interview), and becoming a full-time novelist in 1938. He wrote 41 books, several of which were adapted for film and television, as well as many short stories and press reports. His best-known book, The Snow Goose (1941), was one of the winners of the O. Henry Award in 1941, and was turned into an award-winning BBC television film, starring Richard Harris and Jenny Agutter, in 1971. His 1969 novel, The Poseidon Adventure, about a capsized liner, attracted relatively little notice until it caught the attention of producer Irwin Allen and became a hugely-successful 1972 film which held the number one spot at the US box office for twelve weeks and won two Academy Awards, a BAFTA and a Golden Globe.

This archive not only includes every newspaper and magazine article written by Gallico in any publication in the UK and US, it also contains almost every mention of him in the press, from book and film reviews to reports of his being among the passengers of the Nieuw Amsterdam on one of its sailings from New York, and his inclusion in a list of 'The Ten Most Unbeautiful Men' in the Daily Mail in 1958 (a small adjacent cutting from the following day's paper comprises a telegram from Gallico in response: 'Thanks … for inclusion in the hideous club stop our slogan apes of the world unite unquote cordially Paul Gallico'). Interspersed with this comprehensive record of his written output are letters from friends and notable acquaintances including Noel Coward, Clementine Churchill, and Marlene Dietrich, and ephemera relating to his books, films and personal life.

There are several scrapbooks containing 'General Cuttings' and ephemera, arranged chronologically, the earliest of which contain full runs of Gallico's sport columns for the years 1928, 1929 and 1931. A large morocco-bound folio volume, embossed in gilt with the title 'Sunday Sermonologues' contains around forty neatly pasted-in cuttings of Gallico's 'Thinking Aloud' columns from 1939, all illustrated by Sam Berman. The volume, which is inscribed to Gallico from his father, also has an attractive manuscript title page and contents page, and includes a telegram from fellow-columnist Walter Winchell on 31st January 1949, discussing the controversy around the cancelled tour by pianist Walter Gieseking. Winchell writes 'Hooray for your piece on Gieseking today. I was amazed by the number of editorial writers and other on the newspapers who took the opposite view.' Gallico had written that Gieseking 'may not have been a member of the Nazi Party but he lent the cause aid, comfort and sympathy by collaboration'. Among interesting later articles included in the scrapbooks are a series of reports written by Gallico about the coronation of Queen Elizabeth II in 1953. The articles were published in a number of local and national newspapers in both the UK and the US and, as well as cuttings of all of the reports, there are letters and telegrams of thanks from the Cuneo and Kemsley groups, thanking him for the 'absolutely brilliant pieces'. There is one typescript poem by Gallico among the scrapbooks: a two-page poem dated 26th July 1968 (Gallico's 71st birthday) entitled 'That's Gratitude', declaring that on birthdays 'it's better to receive than to give'! A few nice family items include a printed menu from a restaurant in Brussels with an ink note from Gallico's wife, Virginia, reading 'We love you so much we are even eating this! V' against 'Les Crêpes Galico'. Gallico and his wife were also close with Prince Rainier and Princess Grace of Monaco whilst living in the Principality in the 1960s and there are many formal invitations to dine, menus and place cards among the scrapbooks, including an invitation to a lunch to mark the visit of the Duke of Edinburgh for the centenary of Monte Carlo in December 1966. An amusing little item is a piece of the Princess's monogrammed notepaper claiming to be 'Princess Grace's shopping list, June 1968'; the only item on it, noted in pencil in Princess Grace's hand, is 'Kwells'! Other notable friends of Gallico include the Duke and Duchess of Norfolk, and Marlene Dietrich and there are several letters from the Duke, and two from Dietrich among the archive. There is a 1967 invitation from the Aga Khan to a dinner in Paris given in honour of the visit of President M. Ayub Khan of Pakistan, and a 1968 invitation (on behalf of Princess Margaret) and ticket to the Queen's birthday parade. In 1972 a Foyle's Literary Luncheon was held for Gallico's 75th birthday and there are several items among the scrapbooks relating to the event including a guest list and several photographs from the event showing Gallico with the Duke and Duchess of Bedford and John Profumo among others.

Alongside the General Cuttings are folders containing reviews and ephemera for most of Gallico's books and several films and adaptations. A folder for the film of The Poseidon Adventure contains Gallico's ticket to the premiére, and a copy of the typed 'Preliminary Production Notes', an eleven-page document introducing the story, the production, the director, producer and writers and the characters and cast. There is also a note from Irwin Allen, alongside a small cutting reporting the box office figures, reading 'All our dreams are coming true. You can't be bigger than the biggest.', and a series of photographs taken on the set. An autograph letter from Noel Coward praises Gallico's 'verbal economy' and states 'I didn't actually read it hanging upside down from the glass chandelier but I was certainly hanging from the chandelier for several days after I had finished it. I was utterly enthralled'.

A remarkably comprehensive archive of the life and work of this prolific and charismatic author.
You may also be interested in...
LOGIC MANUSCRIPT ILLUSTRATED WITH EMBLEMS GASPAROLI, Carlo Maria.
Dialectica sive manuductio ad logicam dictata a R. P. Bar. De Somere. Scripta a me Car. Mar. Gasparoli. Antv. in Gym. S. I. convictore. Anno 1753.
A handsome manuscript comprising a thorough course in logic and dialectic, executed by a student at the Jesuit college in Antwerp, and illustrated with an extraordinary decorative programme inspired by printed emblems.
BULLEIN, William. 
[Bulleins Bullwarke of Defe[n]ce against all Sicknes, Sornes, and Woundes, that dooe daily assaulte Mankind …  Gathered and practiced fro[m] the moste worthie learned, both old and newe: to the great Comforte of Mankind … ended this Marche, anno salutis. 
First edition, very scarce, of an important work of medical humanism written in prison by William Bullein (c. 1515–1576), this copy imperfect (though with minimal loss to the main text) but heavily annotated in a near-contemporary hand.  Bullein and Sir Thomas Smith were 'the most accomplished dialogue-writers of their generation', and Bullein's work, though long-neglected, deserves fuller appreciation.  He was the only writer of medical works in English in the sixteenth century to employ the dialogue form, allowing the physician as counsellor to engage in 'political digression and autobiographical anecdote' alongside the medical content (Withington).